Click to enlarge
If you've been reading the college football section of the Ticker this fall (or if you follow me on Twitter), you've probably become accustomed to seeing the daily tweets from Blaise D'Sylva, who's been celebrating college football's 150th anniversary by documenting the history of NCAA helmets, in miniature form, one school at a time. Yesterday, for example, he showed the helmet history for UCLA:
We continue the #CFB150
helmet history tour today with UCLA. @UCLAFootball (102/130) has 24 different helmets, all pictured. 1/2@UniWatch @PhilHecken @wilnerhotline@UCLA_Nation@BruinReport@latbbolch@thucnhi21@GoJoeBruinUCLA@UCLA_Recruiting@CoachNeuheisel#CFB150 pic.twitter.com/1yhNI1KbqC

— Blaise D'Sylva (@wtfcoach) December 11, 2019
This project is tangential to another one of Blaise's projects. Whenever an FBS team debuts a new helmet, he notes it and keeps a running total of how many new helmets have been worn by the school and cumulatively by FBS teams:
Troy @TroyTrojansFB with its 6th new helmet of the season and its 2nd chrome version (L). It is similar to the one worn in week 4 vs Akron (R) but now the logo matches the stripe colors.#CFB2019HelmetWatch#SeasonTotal250@UniWatch @PhilHecken @SimplyMoono pic.twitter.com/70HuQd7Qhj

— Blaise D'Sylva (@wtfcoach) November 29, 2019
I wanted to learn more about Blaise and his helmets. Instead of doing a formal interview, I sent him some questions to use as guidelines for an essay, which he then wrote as a sort of "self-interview." It turned out great — take it away, Blaise.
My College Football Helmet Collection
By Blaise D'Sylva
Who am I?
I'm a huge sports fan who grew up in Seattle and graduated from Washington State. I've lived most of my adult life in Chicago. I currently live in Dallas and work for Topgolf in the global partnerships group. My football teams are the WSU Cougars and the Seattle Seahawks. [As an aside, Blaise has a WSU membership card. — PL]
How did I get started?
It goes back to my childhood in the 1970s and the football memorabilia we used to collect. You have to remember that it was a different era and that the merchandise available today wasn't so widespread back then. So anytime you could find something with a team logo on it, you wanted to have it. We would buy those gumball helmets for 25¢, for example, and I also remember collecting the lids from the 32-oz. Gatorade glass bottles. They did a promotion for two years where the underside of each lid had the helmet of an NFL team. Those two things are what I remember the most about collecting sports memorabilia as a kid. And while they were both about the NFL, not college football, both items were helmet-focused.
Now, fast forward to the early 2000s. By that time, my collections were long gone. But two things influenced me to get back into helmet collecting. The first was a trip I made in August 2001 to the Pro Football Hall of Fame. It was induction weekend, and there were some vendors set up. One of them, I'm fairly certain, was from Riddell. As part of their display, they had a set of NFL Pocket Pro helmets — their initial throwback set that they eventually made available for sale to the public.
I had never seen these Pocket Pro-sized helmets before, and they were so cool. They were bigger than the old gumball helmets and had higher-quality graphics that were printed right onto the helmet — no stickers. And this throwback set had some helmet designs that I vaguely remembered or hadn't seen before — gold Steelers, two Broncos orange helmets, the Jets with the airplane logo (which they should've worn as a throwback instead of the bland navy blue NY Titans helmet).
But that day, they were only for show, not for sale. I kept offering the guy more and more money, but he wouldn't (or couldn't) take it. I went away empty-handed but I didn't forget about those helmets.
Hawaii is the featured team today in our helmet history tour. @HawaiiFootball (Team 87/130) has 25 different helmets (23 pictured & 2 missing from '18).@hawaiiwworld@RobDeMelloKHON@IanScheuring@kanoaleahey@FerdLewis@bhiga12@UniWatch@PhilHecken@MWCwire@waynekai#CFB150 pic.twitter.com/2wmRwT71nu

— Blaise D'Sylva (@wtfcoach) November 26, 2019
The other thing that had a big impact on me was eBay. Now I could relive my childhood by finding all the things I used to collect but had discarded over the years. So I became an eBay junkie. I bought tons of gumball helmets and tracked down those Gatorade lids, buying sets not only myself but also for my brother (who collected them with me when we were kids) and for friends.
Finding the gumball helmets started me down the path that has led me to where I am today. While I was buying the gumball helmets on eBay, I came across the Pocket Pros again. This was around 2001-03, and first I found all the sets Riddell was making. I bought the then-current NFL set, along with the ACC, Big 10, Big 12, Pac 12, and SEC. At some point there were the two different NFL throwback sets (the original one I had seen and then another one a few years later), then I added the Ivy League and the MAC.
While I was buying the Riddell-produced sets, I also found people on eBay who were selling custom Pocket Pros for teams or schools that Riddell wasn't making. So I started buying various helmets from multiple sellers. (At one point, in an attempt to cash in on this collectibles marketplace, I actually partnered with an eBayer to mass-produce our own set of USFL helmets. Unfortunately, we didn't quite have the success we were looking for.)
I had started small — my original goal was to get all the different NFL helmets. But with more and more eBay sellers offering custom helmets for various leagues, my collection and obsession were both growing. One day in 2003, I bought more than 40 Arena Football League helmets from a seller, and after the purchase was completed he asked me, "What else do you want?"
"Everything," I said. And that's really when this journey really took off.
That was 16 years ago. I've been working with that same guy ever since (he prefers to remain anonymous). Every two or three months, he'd send me about 100 helmets of his choice. We were doing everything — NFL, CFL, USFL, WFL, XFL, NFLE, WLAF, Continental League from the 1960s, AAFC from the 1940s. We even did every NFL team from the 1920s, '30s, and '40s. We did indoor leagues, too — Arena Football, Arena 2, PSFL, IFL, SFL — but I ended up sending those back years later to reuse the helmets because I didn't have space for them all and decided to focus on outdoor leagues only.
And then there were college helmets. Back in the mid-2000s, our focus with college was going backwards, as there weren't that many new helmets within a season and a handful of changes season-to-season. At first, we worked toward doing everything back to the late 1950s when numbers started appearing on helmets. Eventually though, he decided to take it back to 1930! Of course, that was the leatherhead era, and we didn't have a leather replica to use. But as part of their throwback sets, Riddell made a two-bar helmet model, which we decided to use for our leather replicas.
In a perfect world, all of the helmets from 1930-1969 would be two-bar helmets but we had already started making helmets going back to the 1950s with Riddell's more modern design, plus we didn't buy enough of the two-bars before they stopped making them. So in my collection you will see a mix of helmet styles in some cases. But overall, I'd say most of the 1930s-'40s helmets are two-bar.
I'm posting the helmet history of 1 FBS team/day and today it's Colorado St. @CSUFootball (Team 85/130) has 24 different helmets (23 pictured & 1 missing from '19). 1/2 @CSURams@KyleNeavesCSU@UniWatch@PhilHecken@Ram_Ruckus@KellyLyell@kevin_lytle@mbrohard@MWCwire#CFB150 pic.twitter.com/CJoYS8N8rt

— Blaise D'Sylva (@wtfcoach) November 24, 2019
How do I do the historical research?
Not only did my guy produce all the helmets, but he also did all the research for many years. I was the collector and I would ask questions about certain helmets or teams and do some fact-checking on specific helmets, but for the most part I stayed out of his way. It was not until 2016 that I decided to get fully involved in the research.
One of my main sources for historical photos is E-Yearbook.com. An annual subscription is $20 and you can find quite a bit combing through each school's yearbook collection. It can be hit or miss, but overall this is a great place to start (although most of the photos are black-and-white, so it can be hard to be sure of the original colors). I've spent the better part of the last year going through nearly every yearbook for helmets from the 1930s through the 1970s, looking at photos and double-checking my helmets. Based on this research, I maintain a running list of existing helmets in my collection to fix and new ones to make.
I also took the time to review about 25 teams from the past decade or so that tend to have a lot of helmets — Oregon, Oklahoma State, Mississippi State, Texas Tech, Arizona State, etc. I would search on Google for photos from each game and save a photo to make sure I had every helmet for those schools. And sure enough, I found a few I was missing. For example, with Oregon, they will wear the same helmet shell but change the color of the "O" logo on the back (black, neon green, silver, etc.). If you don't look at a picture closely, you might miss a version.
In addition to yearbooks, the best website out there with historical helmet information is The Helmet Project. It's been a big help and I recommend it to everyone. Also, Helmet Hut has been a great resource.
How do I keep up with all the changes today?
Starting with the 2016 college season, I decided to get more involved in the research process because I wanted to help move the production along more quickly. We were starting to fall behind and it was my fault because I had ordered over 10 different school sets (300-plus helmets) for people as gifts. It's the best gift you can give someone! But it cost us almost a year. So for that season, I did the research work on half of the college teams (the ones that change helmets most frequently), and then in 2017 I started doing the research in-season each week for all teams.
In 2018 I decided to do something new: If a team debuted a new helmet design during the season, I tweeted it (which I have continued doing in 2019). When I do this, I'm not trying to be first with breaking news. Indeed, many new helmets are released on social media during the week before a game, or even before the season starts, well prior to my tweets. What I try to do is add some context, like identifying what has changed compared to a previous helmet, or noting how many new helmets the team has had this year, or another relevant info (like Minnesota coach PJ Fleck having 61 different helmets in 89 games coached).
Minnesota @GopherFootball 6/6 in new helmets in '19, this time putting a number on one side. HC PJ Fleck 56/83 (67%) in new helmets/games coached at MN & W.MI which is better than his winning percentage (57%).#CFB2019HelmetWatch#SeasonTotal135@UniWatch@PhilHecken@SimplyMoono pic.twitter.com/jS7JDpn1LJ

— Blaise D'Sylva (@wtfcoach) October 13, 2019
Each week I keep a spreadsheet of every team, with columns for new/old, helmet, facemask, striping, and logo. I gather some info during the week as teams post what they'll be wearing, but I do look at each game, either live on TV or via photos, to confirm what was worn. The research, tweeting, and spreadsheet maintenance takes at least eight to 10 hours per week.
What counts as a "new" helmet? It can range from something obvious (a new shell color) to something relatively small (a new facemask color, a new outline around the primary logo, a shift from glossy shells to matte). Still, there are some limits: If a team changes the slogan or logo on its front or back bumper, I don't count that as a new helmet.
Going into this season's conference championship games, there have been 264 new helmets in 2019, which is just about on pace with 2018's total of 282 (including the bowl games). The teams with the most helmets in 2019 have been Minnesota (11 designs in 12 games), Memphis (10/12), Arizona State and Missouri (9/12), Kent State (8/12), and Akron (7/12).
The teams that carried over an existing design from previous years and stuck with it all season are Alabama, Auburn, Central Michigan, Clemson, Florida State, Georgia, Hawaii, Notre Dame, San Diego State, South Alabama, Tennessee, Texas A&M, USC, Washington, and Wyoming. There are also three teams that debuted a new design to start the season and then stuck with it for the rest of the year (Michigan, Pittsburgh, UCLA) and there are teams that didn't wear a new helmet but wore multiple pre-existing versions during the course of the season.
So how do I produce the helmets?
This is a question I get asked a lot. To be clear, I don't make the helmets. The short version is that we buy Riddell Pocket Pro sets, strip the paint, repaint, and apply decals. Here's a longer version from my partner:
To strip the Pocket Pros, I use Testors Easy Lift Off. You can also use Brasso and Blue Magic, but Easy Lift Off is the best.
 
I also use wax on non-painted Pocket Pros. Be careful with wax on painted surfaces.
 
As for applying colors, I primarily use spray paint for everything — first a primer, then a top coat. I prefer Rustoleum to Krylon because of a better gloss finish. Tamiya has the best spray paint, but it's expensive and the cans are very small! I also use automotive paints (Duplicolor). They are expensive but the results and quality are excellent.
  
Clear finishes can be found in all brands: gloss, satin, matte/flat, pearl, etc.
 
Logo designs are found primarily via web research. I also have scanned physical books, magazines, periodicals, etc.
 
All graphics are made/printed from Adobe Illustrator, which I have been using since 1993. The decals are printed on white printable vinyl (Cricut) and then covered with a layer of clear vinyl (Oracal 651) and applied gingerly with a heat gun.
I've added a second person producing helmets this year because my original guy decided he had to stop due to family commitments. I was worried about finding someone but luckily, through some connections, was able to find a new person. He started making college helmets from 2017 while I asked my original guy to complete everything 2016 and prior.
So how many helmets do I have?
I have around 4,700 college helmets (130 FBS schools, eight Ivy League schools, and Idaho since they used to be FBS). I have another 1,100 across NFL, CFL, USFL, WFL, AAFC, Continental, NFLE, WLAF, and XFL. They are displayed in my garage — broken down by conference and then by team within conference — on shelves built on two walls. The big wall has nine rows with 12 cases per row and 40 helmets per case!
As you can imagine, it's a pretty obsessive hobby. My wife tolerates it. Every time I get a shipment, she asks, "More helmets?" And I say, "It never ends." I had started this before I met her, though, so she knew what she was getting into.
My son is hit and miss. When he was much younger — maybe four or five — he was into helmets and could name every college or pro team. In fact, he chose his favorite NFL team, the Jets, because he loved their 1963 airplane helmet. Nowadays, if I'm home on a Saturday, he'll sometimes sit with me as we "go around the dial" and check all the games to see all the helmets. I joke with him that he'll have to continue this when I give the collection to him. He says he'll sell it!
Are they for sale?
My helmets are not for sale. And the people I work with are not taking on any additional customers. But you can find people on eBay still making and selling custom Pocket Pros.
Why am I posting one college team per day?
I've always wanted to share my collection. To me, it is my priceless artwork! But the only people who get to see it are the ones who come over to my house. So I always wanted to get it in front of a bigger audience because football fans loves helmets, and it's natural for collectors to want to play show-and-tell with their collections.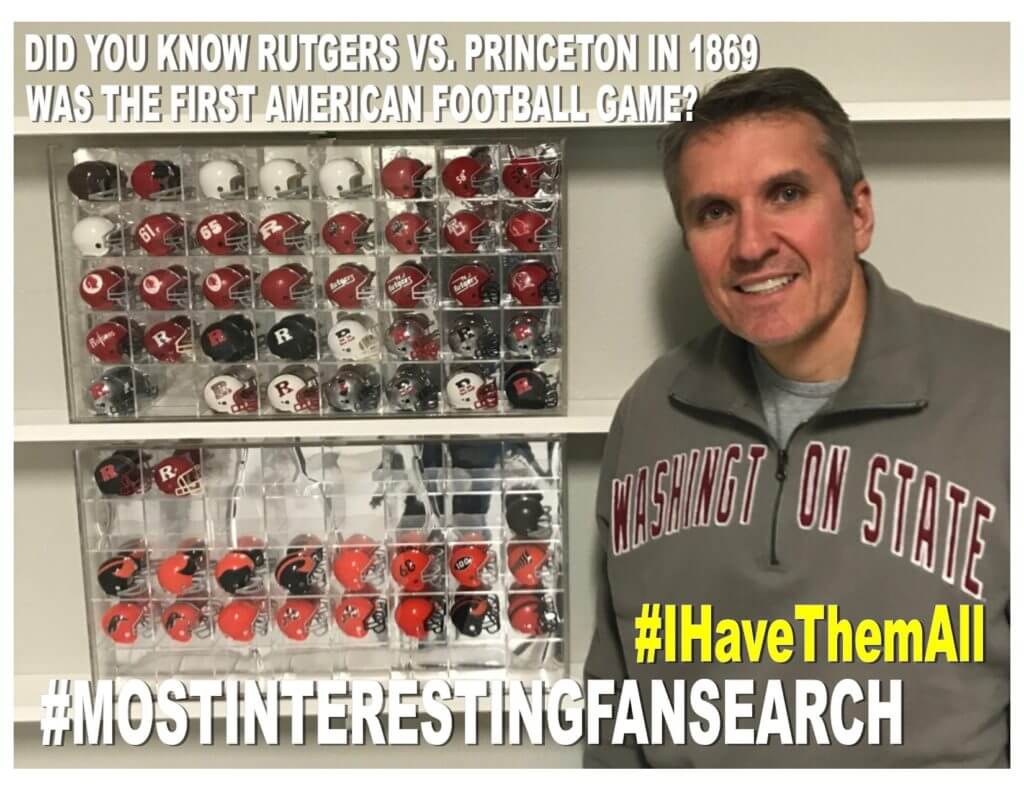 A couple of years ago I entered the Dos Equis "Most Interesting College Football Fan" conest because the grand prize was a statue of yourself displayed at the College Football Hall of Fame for one year. When I submitted my entry, I decided that if I won, I would offer up my collection to be displayed as well. Unfortunately, I didn't win.

So then I had the idea to create a road tour, with my helmets as the centerpiece, for the 150th anniversary of college football. The idea was that the tour would stop in every FBS city/school except Hawaii — 129 stops over 150-plus days. I had it mapped out and worked with a sports marketing agency to put together the details. Unfortunately, we ran into some issues that made it unfeasible.
So then I decided to celebrate the CFB150 by posting helmet photos every day from the first day of the season (Aug. 24) through the Championship Game (Jan. 13). That's 143 days to fill. I'm doing all 130 FBS schools — alphabetical by conference, and then alphabetical by school within the conference. I also included the eight Ivy League schools because I have those helmets and that conference played a key role in college football history. And finally, I'm going to fill out the last five days with my top 10 helmets of all time. I'll post two helmets a day for the final five days, and that will end this project. (You probably won't see any traditional helmets on my list.)
I've gotten great feedback from people during this project. Some people just tell me what their favorite helmets are (everyone's opinion is different!), but others give me information on helmets that I'm missing or that I've gotten wrong, which helps me make the collection better. I've already been making some of the changes based on those responses.
This has been a big project because of all the different things I've been doing since early summer. This includes double-checking research across every team (especially the 1960s which had more helmets than you might think, and we didn't always have the best pictures to work from). I've also had to work with my production guys to get helmets fixed or new ones made in time to shoot the photos for posting for each school/conference. And because the helmets are displayed by conference with each team following one another, I have to pull out the helmets for each team and shoot the photo and then put them back. Finally, I have to research who to tag when I post for each school in hopes of getting more exposure. It's easily been 20 to 30 hours of work per week.
And to just add more work, I also decided I would also post a picture for each team of their college football centennial 1969 helmet if they wore the special "100" logo. So I spent countless hours poring over yearbooks and other sources to come up with the definitive list. It wasn't easy, because in some cases teams only wore the logo for select games. In fact, I thought I had the list finalized, and then recently I got a picture of an Oregon 100 logo that I had not seen in the four other game pictures I had from that season.
To celebrate the 100th anniversary of CFB in '69 Oregon wore the 100 logo but not for every game. It could've been as few as one game (pictured vs San Jose St.). I have photos from 3 other games and they are not wearing it. 5/5#CFB150 pic.twitter.com/nfM6sRoKBc

— Blaise D'Sylva (@wtfcoach) December 8, 2019
I still have few other things in the works: I'm going to start posting NFL helmets in January, leading up to the Super Bowl, to celebrate the league's 100th anniversary. I will also post my CFL helmets, maybe to start the season next year.
It's a fun project and I love doing it, but I'll be happy when it's over!
What is the end game?
Right now, there is no end game. Just keep going. As I mentioned, there are close to 300 new helmets in college football each year, and I'm running behind now as it is. I think I'm going to do all of 2018 and 2019 for the power five conferences next, and then fill in the rest. I think we can be caught up probably through 2020 by the beginning of the 2021 season. I've also considered dropping three conferences (Conference USA, MAC, Sun Belt). Those conferences create nearly half the changes every year, which makes it hard to keep up. I'm not sure I'll do that, but I've been thinking about it.
If you're going to be 0-12, you might as well make your helmets interesting. Akron @ZipsFB with its 7th new helmet of the year, this one featuring Zippy the kangaroo mascot. 9th version overall with Zippy.#CFB2019HelmetWatch#SeasonTotal245@UniWatch @PhilHecken @SimplyMoono pic.twitter.com/U3TgIplM3A

— Blaise D'Sylva (@wtfcoach) November 27, 2019
My dream still is either to take the helmets on tour or have them displayed in the College Football Hall of Fame. When you enter the Hall, they have full-size helmets in the lobby of every college from all levels. It is very popular and one of their most photographed spots. I'd love to have my collection be part of that.
———
Paul here. That is some seriously awesome stuff from Blaise — please join me in thanking him for sharing his story with us.
Blaise has one other helmet-centric project worth mentioning. I'll get to that soon — stay tuned.
• • • • •
• • • • •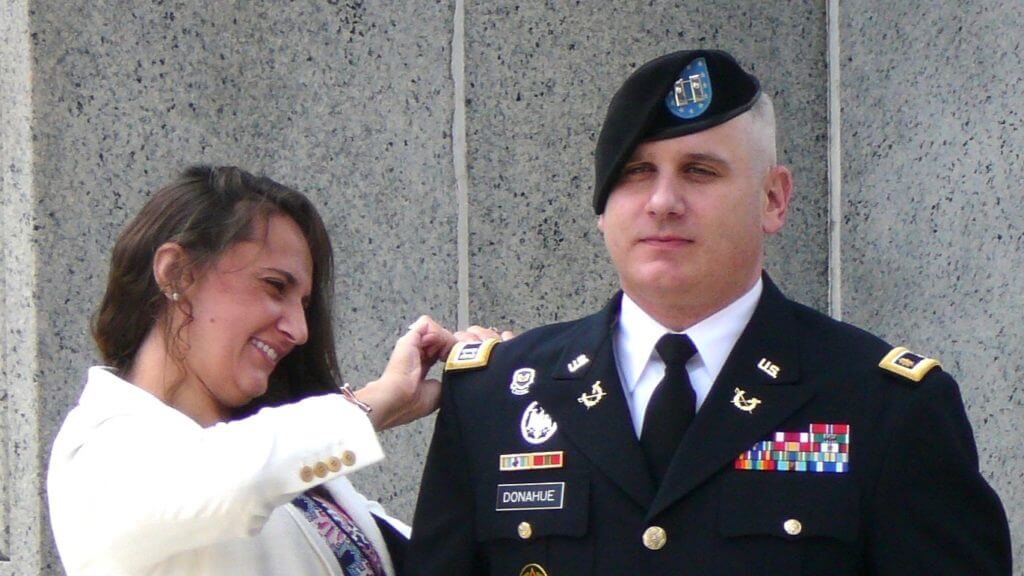 ICYMI: Yesterday's interview about military uniforms with Timmy Donahue generated more positive response, both in the comments and via email, than any Uni Watch entry in months (and justifiably so — Timmy provided heaps and heaps of fascinating info). If you missed it, it's well worth your time. Check it out here.
• • • • •
• • • • •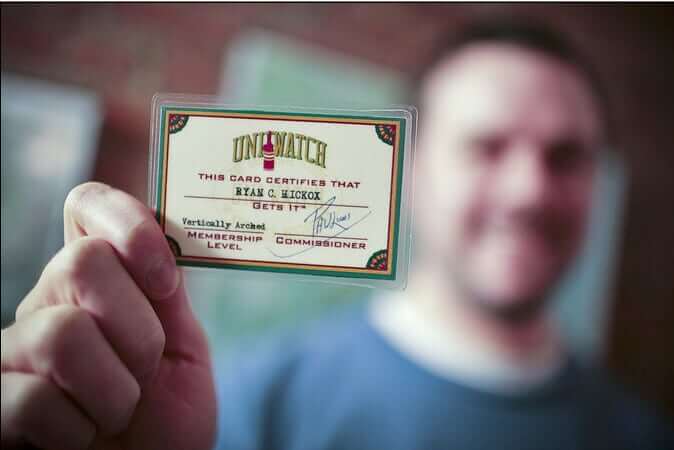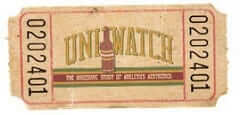 ITEM! Yet another membership raffle: Today I'm raffling off a membership generously donated by reader Louis Griffel.
This will be a one-day raffle. To enter, send an email to the raffle address by 8pm Eastern tonight. One entry per person. I'll announce the winner tomorrow. Big thanks to Louis for sponsoring this raffle.
Meanwhile, the winner of yesterday's membership raffle is Bill Erdek. Congrats to him, and thanks to Mike Rosenberg for sponsoring that one.
• • • • •
• • • • •
Click to enlarge
That's nuts: I opened a can of peanuts yesterday and was surprised to see these two drawings on the lid.
On the one hand, I generally find diagrams like these to be inherently pleasing (all the more so when they're stamped into metal). It's also sort of endearing that they numbered the illustrations, just to make it idiot-proof.
On the other hand, the whole thing seems unnecessary. Like, doesn't everyone already know how to open a pop-top lid? The unit cost of having this stamped into every lid was no doubt just a small fraction of a penny, but when you add that up over many thousands of units, is it really worth it? Hmmmmm.
• • • • •
• • • • •
The Ticker
By Paul

'Skins Watch: The school district in Menomonee Falls, Wis., will stop calling its teams the Indians at the end of this school year. It's not yet clear what the new team name will be (from Matthew Algeo). … The school board in Concord, N.H., has voted to remove a Native American mascot image from gym banners. … In Killingly, Conn., the school board decided last summer to change the name of the local high school's teams from Redmen to Red Hawks. But after some turnover on the board following last month's elections, there was a movement to go back to Redmen. In a vote last night, Red Hawks was scrapped but Redmen fell one vote short of reinstatement, leaving the school without a team name, at least for now (from John Dankosky).

Baseball News: All 30 MLB teams will extend the protective netting at their stadiums in 2020 (from Jim Vilk). … Looks like Cardinals SS Paul DeJong is switching back to No. 11. "He wore 11 during his rookie season, then switched to 12 in 2018 when Jose Oquendo became third base coach," explains Ryan Bowman. For now, the team's official active roster still shows him with No. 12, but that Twitter video suggests that a change is in the works. … D-backs players wore their now-outdated snakeskin-clad jerseys for a community event earlier this week (from Josh Pearlman). … New presenting partner sleeve advertiser for the Portland Pickles (from Andrew Dillon).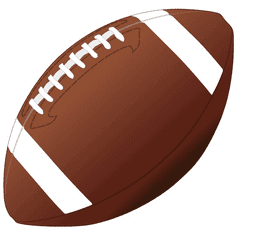 Football News: The Titans will go mono-light-blue this Sunday. … A current ACC Network ad appears to be using a photo of a UNC player from over 10 years ago. … In the recent MAC championship game, Central Michigan wore a memorial decal for radio broadcaster and alum Don Chiodo, who was killed in an auto accident last week (from Paul Smielewski). … In 1968, BYU wore enormous helmet numbers and royal blue jerseys over powder blue pants. Also, in that last link, note what appears to be an official wearing a green cap! (From Kurt Crowley.) … For Saturday's Army/Navy game, Navy LB Nizaire Cromartie will wear a patch honoring one of the victims of last week's naval base shootings in Pensacola, Fla. (from Timmy Donahue). … A researcher at Stanford is trying to create a water-filled football helmet (!) that he says will prevent brain injuries, although experts say he's wasting his time (NYT link) (from Tommy Turner).

Hockey News: Here's a look back at the Predators' most controversial uniform. … Yesterday was the 37th anniversary of the NHL's first all-Cooperalls game (from Jerry Wolper). … The Sabres have an "Aud Night" promotion tonight. Colored giveaway T-shirts have been draped on the seats to simulate the old Aud seating pattern (from several readers). … Ugly Sweater sweaters this Saturday for the Chicago Steel (from Steve Johnston). … I've been saying for years that equipment guys deserve more attention than they get, but not like this: The Avs have put the equipment manager of their AHL affiliate, the Colorado Eagles, on administrative leave after photos surfaced of him dressing up as a black player, including blackface, at a 2011 Halloween party. The player, Nigerian-born Akim Aliu, is the same player whose account of a racial slur recently led to the resignation of Flames coach Bill Peters.

College Hoops News: Rutgers wore throwbacks last night. Here's a comparison of the throwback jersey and the original on which it's based (from @bricep10). … Throwbacks upcoming for Louisiana Tech, too.

Soccer News: Some trademark applications suggest what the new Charlotte MLS team may be called (from James Gilbert). … The U.S. national teams are letting fans vote on captaincy armband designs (from our own Jamie Rathjen). … Also from Jamie: "Interesting thing at French club Saint-Étienne: Two players on the men's and the women's teams, Zaydou Youssouf and Nawëal Ouinekh, are married to each other and both wear No. 28."

Grab Bag: Here's a great look at the uniforms worn by NYC doormen and doorwomen. … Japanese streetwear designer Hiroshi Fujiwara has been hired to create the uniforms for a private Japanese high school. … U.S. Navy sailors can now wear neck gaiters during cold weather and two-piece swimsuits for the physical readiness test, among other new uniform regulations. … Here's a look at the history of the UNICEF logo. … Typography geeks are upset about the non-curly apostrophe in the new Levi's logo. … The city of Bellevue, Wash., is getting a new logo. … The Sheriff's Office in Flathead County, Mont., is asking high school students to design the department's new logo. … A high-ranking NYC police officer who, according to court records, ordered subordinates to disproportionately direct their law enforcement efforts against black and Hispanic people, has been described by a fellow officer as "David Duke in uniform."
• • • • •
Tomorrow (I hope): The annual year-end raffle.