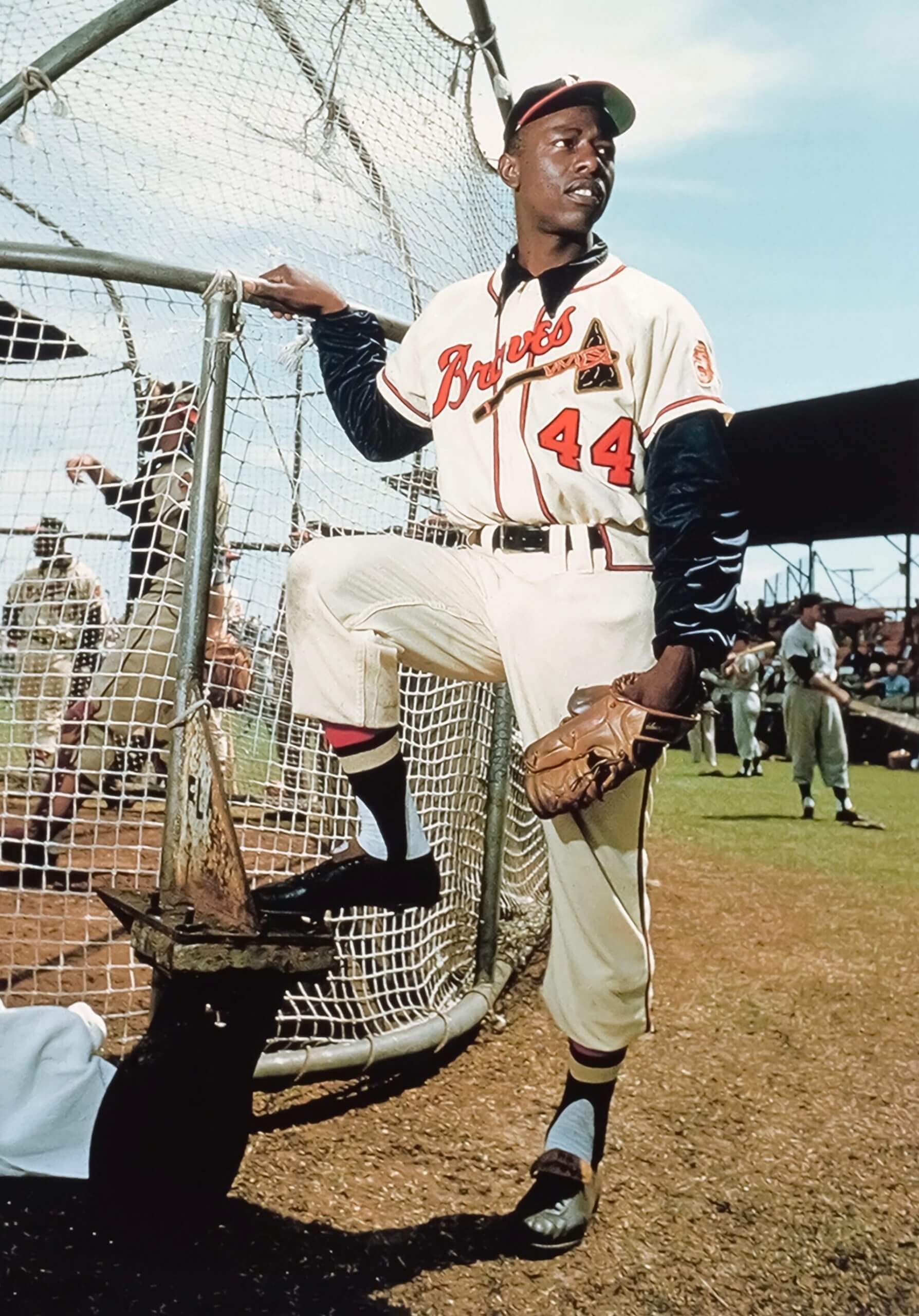 For most photos in this section, you can click to enlarge
Good morning! Greetings from Uni Watch HQ, where are three inhabitants continue to be safe and healthy. Hope things are also good at your home.
As we all know by now, Henry Aaron died on Friday. Phil shared some great content about Aaron and his uniforms on Saturday, which I recommend checking out, but I want to add my own thoughts today.
At first glance, Aaron's uniform career wasn't as interesting as, say, Frank Robinson's or Joe Morgan's, since Aaron played his entire career for just two teams. But as I went through my mental storehouse of Aaron uni trivia, I found that his career included a surprisingly large number of uni-notable aspects. Here are a dozen of them: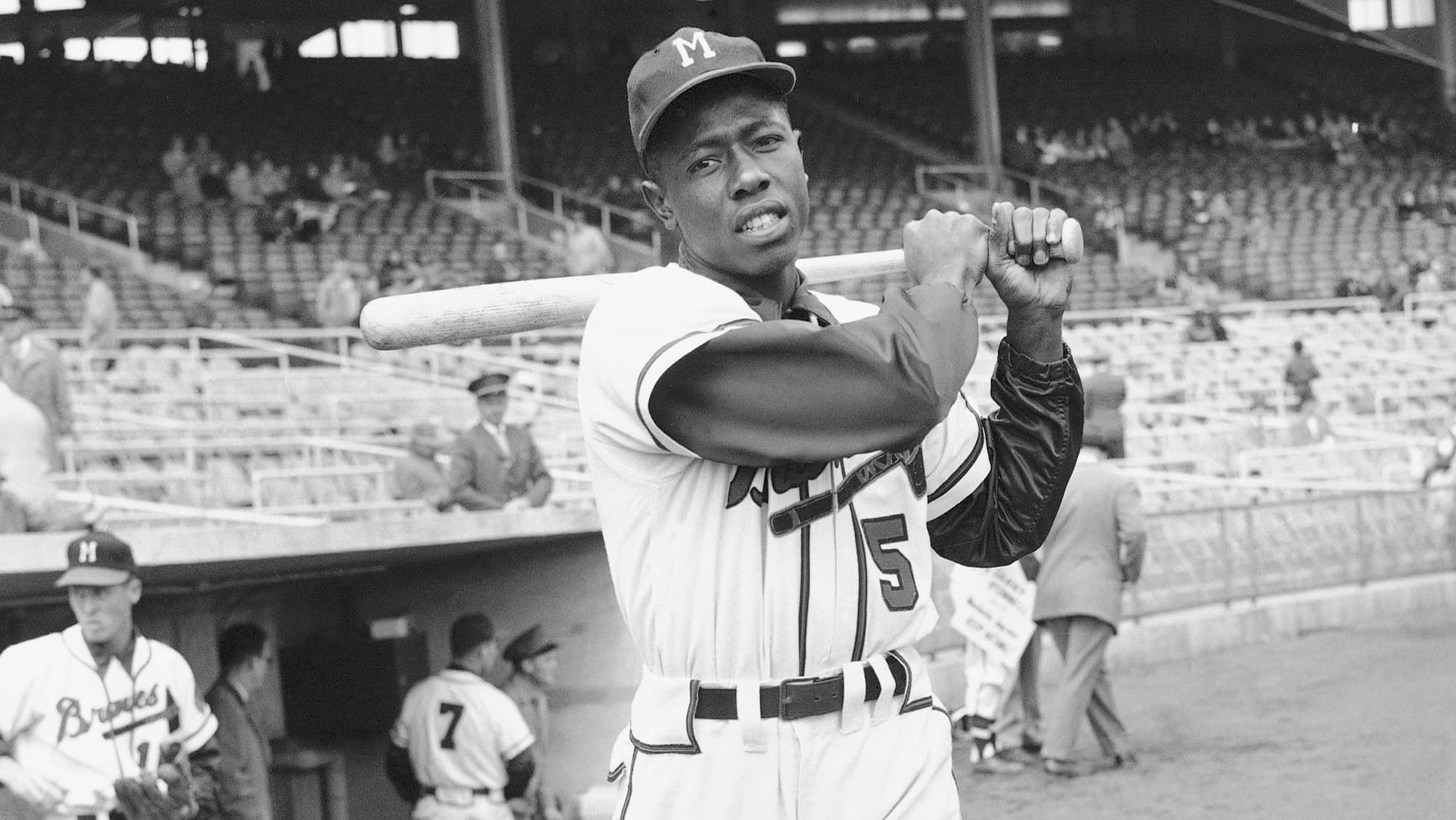 1. He didn't always wear No. 44

Although Aaron is usually associated with No. 44 (a number that, because of him, has become largely synonymous with sluggers), he wore No. 5 during his rookie season of 1954. Here's a rare action shot of him wearing that number: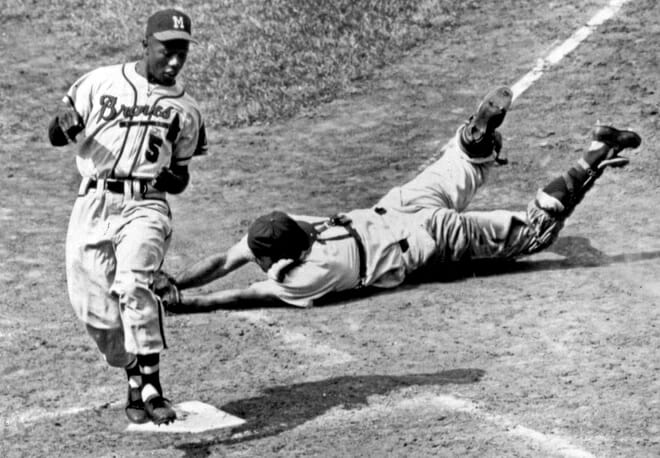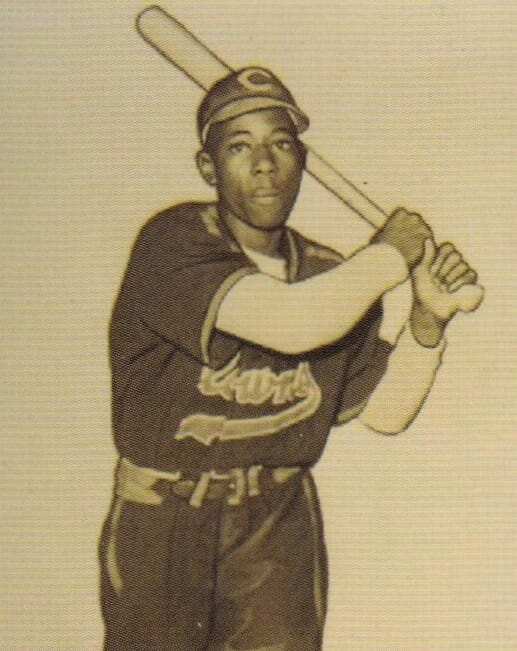 2. He played in the Negro Leagues

Aaron played with the Indianapolis Clowns in 1952. The photo shown above is the best one I could find of him in a Clowns uniform. If anyone knows of a better one, please post the link in today's comments.
Technically speaking, Minnie Miñoso was the last Negro Leaguer to play in an MLB game. But Miñoso's cameo appearances in two White Sox games in 1980, when he was 54 years old, were just a Bill Veeck publicity stunt. Aaron, whose final season was with the 1976 Brewers, was the last legitimate MLB player to have played in the Negro Leagues.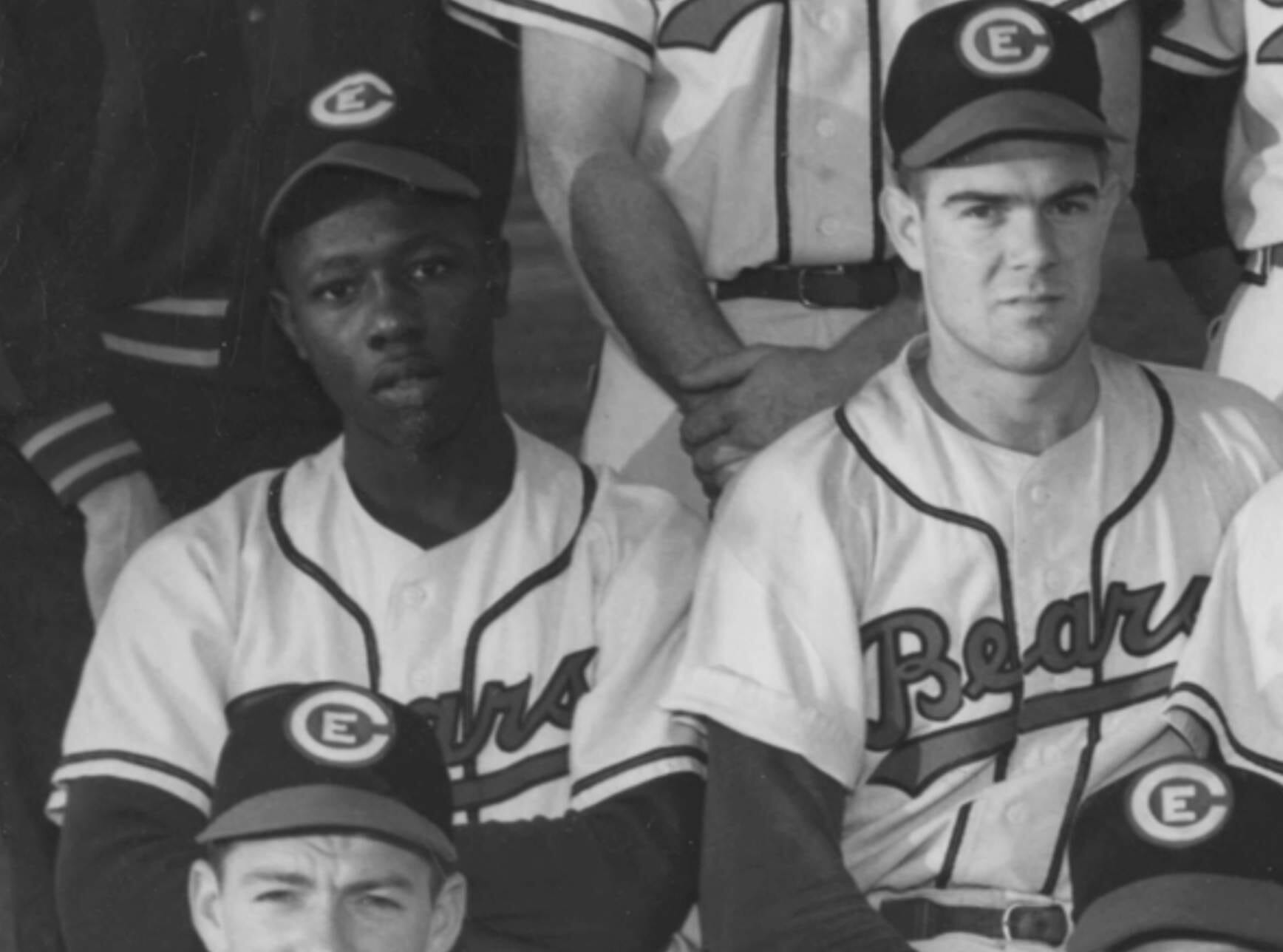 3. He played for two minor league teams

After the Braves purchased Aaron's contract from the Clowns in the middle of the 1952 season, they sent him to their Class-C farm team, the Eau Claire (Wis.) Bears. The photo shown above is from a team portrait and is the only decent shot of Aaron in a Bears uniform that I'm aware of. I included his teammate sitting next to him so you can get a better sense of the jersey.
The following year, 1953, Aaron played for the Jacksonville (Fla.) Braves: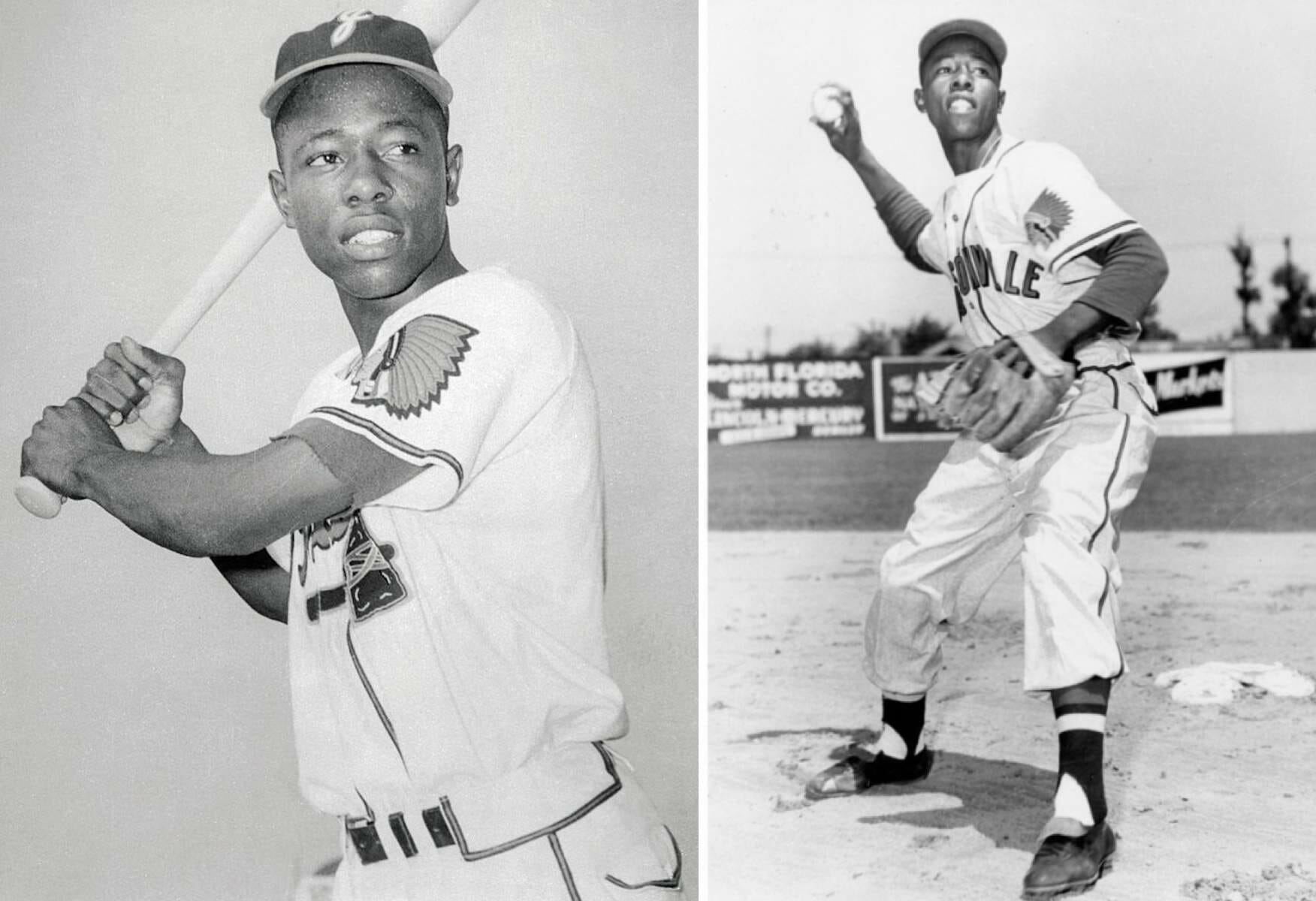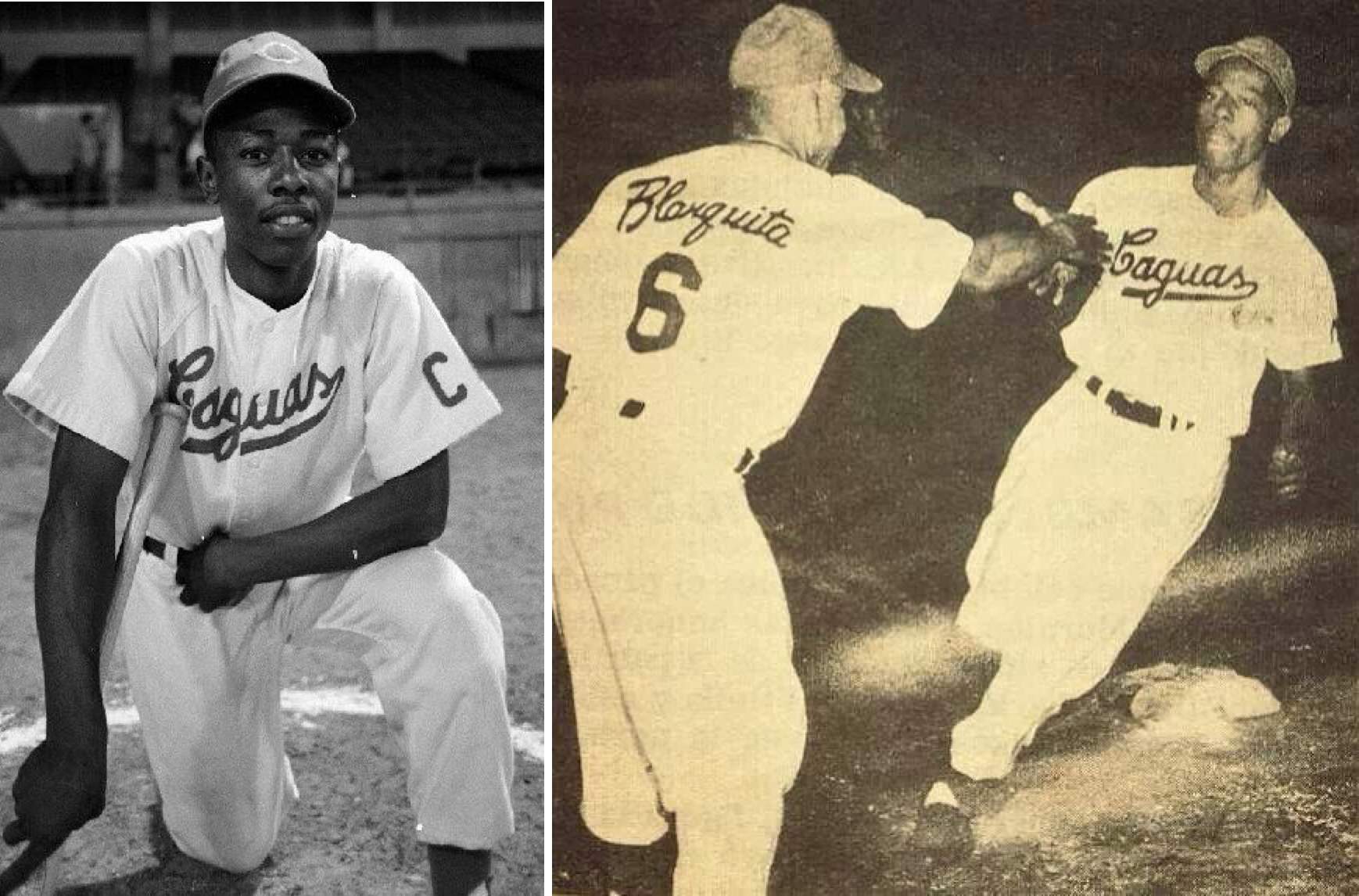 4. He played winter ball in Puerto Rico

After Aaron's 1953 season with Jacksonville, the Braves sent Aaron to Puerto Rico so he could work on his defense with the Criollos de Caguas.

5. He initially batted cross-handed

As a youth, and in his initial games in the Negro Leagues and minor leagues, Aaron batted cross-handed, with his left hand above the right. It was a Braves scout who finally got him to reverse his hands. I couldn't find any photos showing his cross-handed grip, but the Negro Leagues Museum sells a bobblehead depicting him in his Clowns uniform with the unorthodox batting style.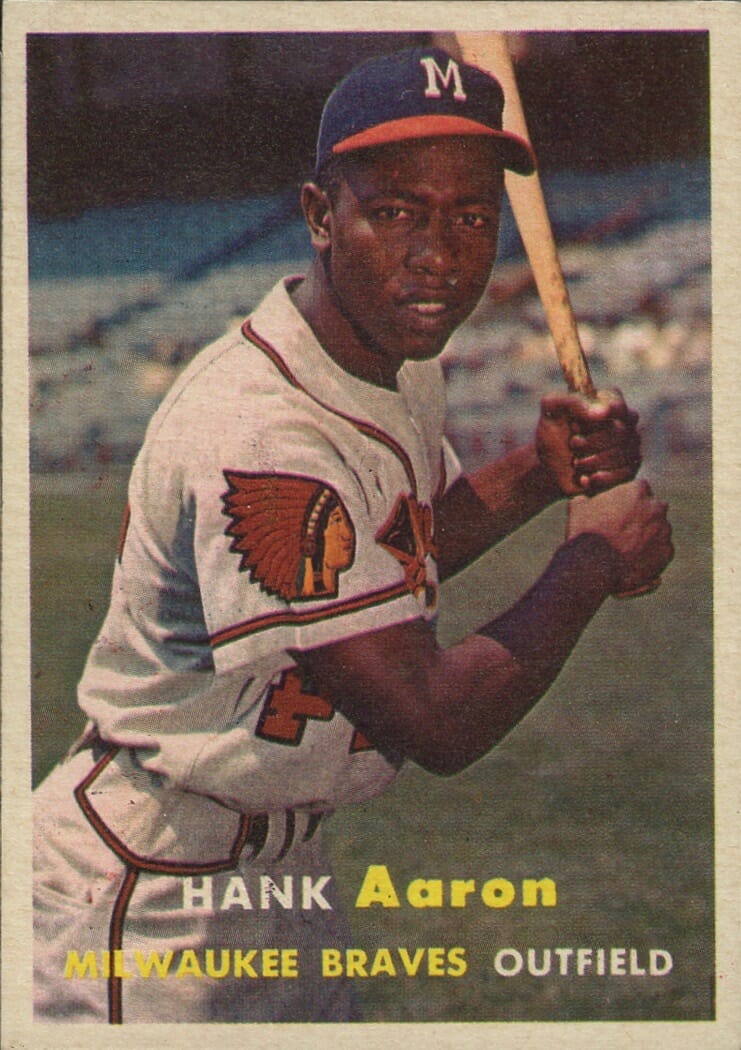 6. His 1957 baseball card was backwards

In 1957 — the year Aaron led the Braves to a championship and won his only MVP award — Topps mistakenly flopped the film negative on his baseball card, depicting him as a left-handed batter. The "M" cap logo is visually palindromic, but you can see a backwards "4" on his jersey.
I first learned about this card in 1975 (I was 11 years old and a big card collector at the time), when Topps did a series of cards honoring past MVPs. There were 24 cards in the series — one for each year from 1951 through 1974 — and each card showed that season's American and National League MVPs and their Topps cards from that year. Here's the one for 1957: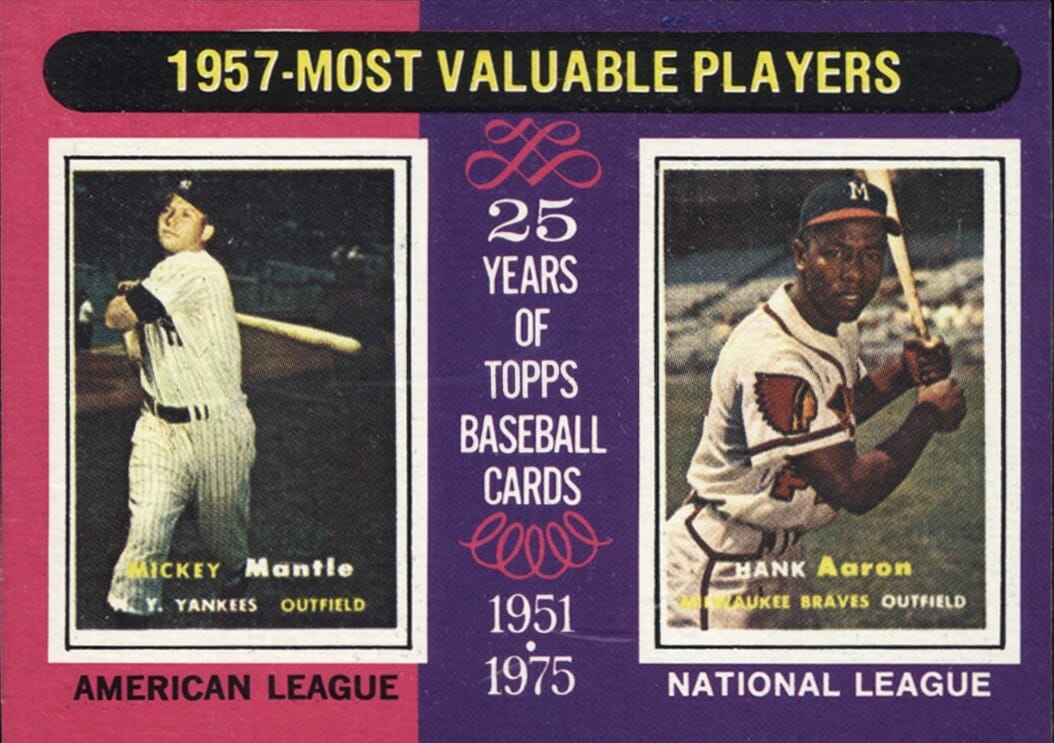 Right away, I was puzzled by the Aaron card. At first I thought maybe they had flopped the 1957 image when making the 1975 card — but the lettering wasn't flopped, so that explanation didn't sense. It was all very confusing, and there was no internet where I could look things up!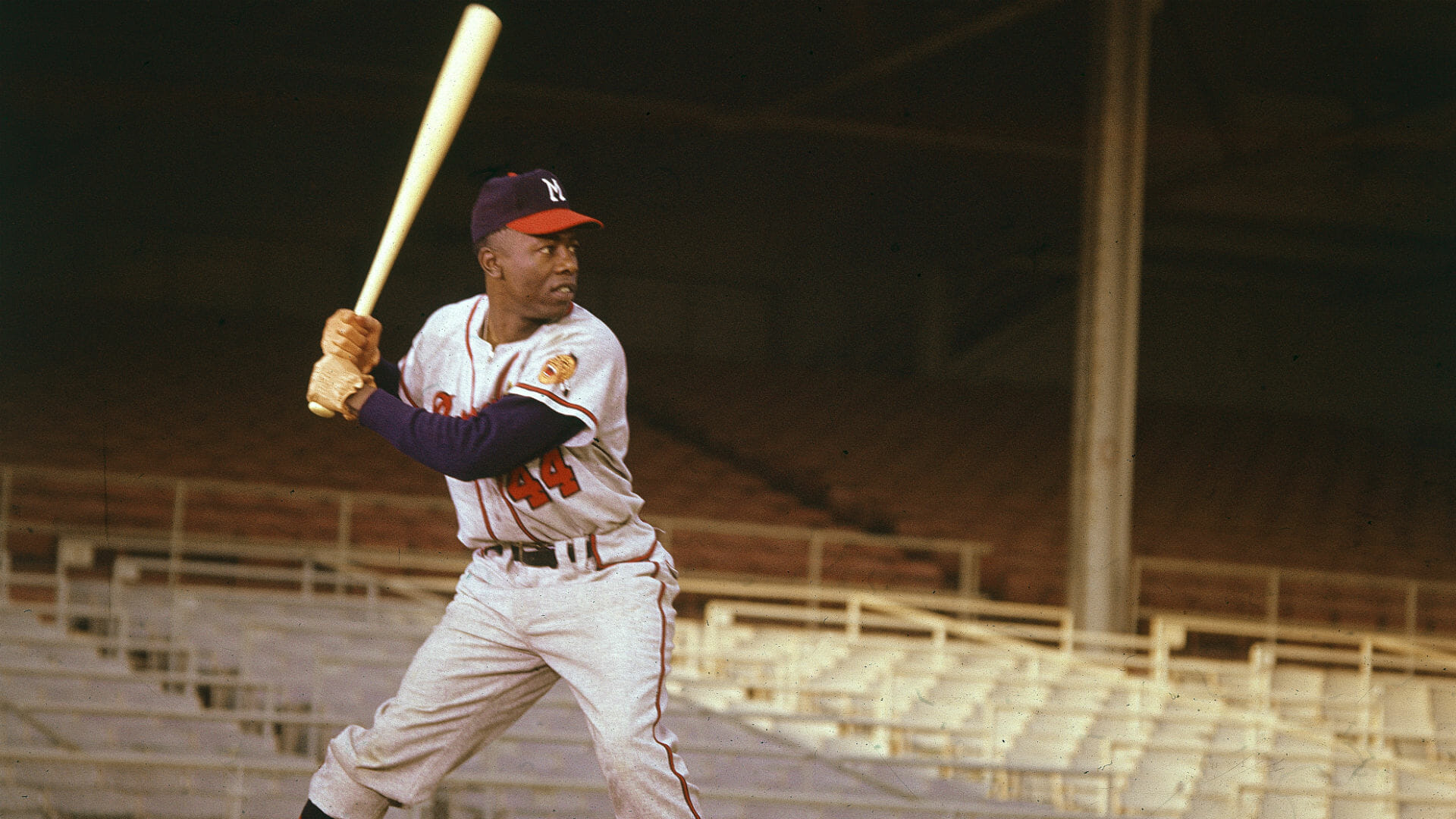 7. He didn't wear batting gloves — except on Home Run Derby

To my knowledge, Aaron batted bare-handed throughout his career. (If anyone has visual evidence to the contrary, please share it!) But in December 1959, he participated in the filming of Home Run Derby, a short-lived TV show formatted much like the event that MLB currently presents on the day before All-Star Game. The participants on the show wore their regular team uniforms, and Aaron wore gloves — sometimes on both hands, sometimes just on his bottom hand — presumably to protect against blisters from all the swings he was taking. The gloves looked more like handyman's gloves from the hardware store than batting gloves (which didn't yet exist as a standard, mass-produced item).
Most of the Home Run Derby episodes are available on YouTube. Here's one where Aaron wore one glove while facing off against Senators outfielder Jim Lemon:
Update: Reader/commenter Chris Hickey notes that Aaron wore a glove on his top hand at least once — in Game Three of the 1969 NLCS: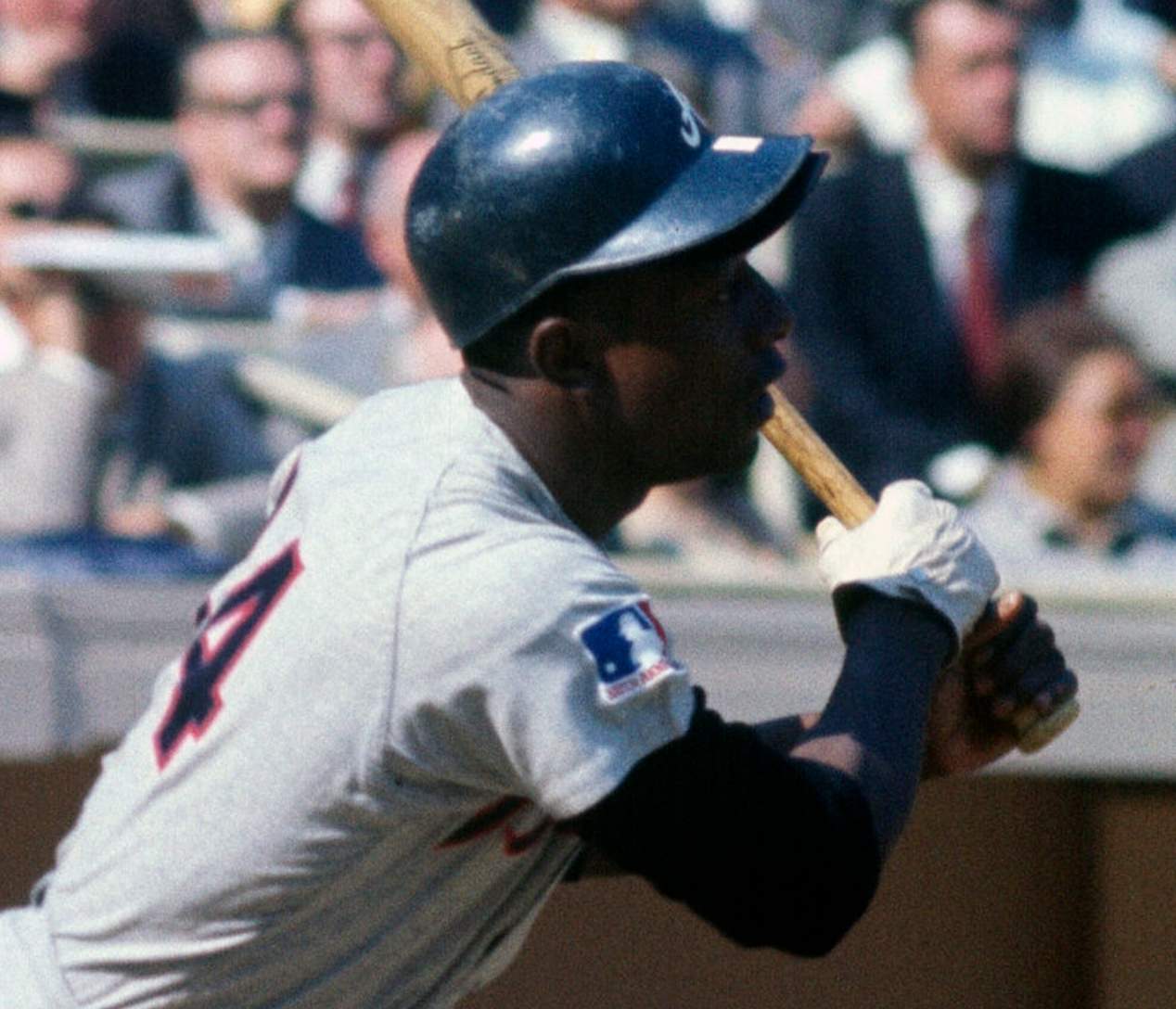 Chris also found two bottom-hand occurrences from the early 1970s: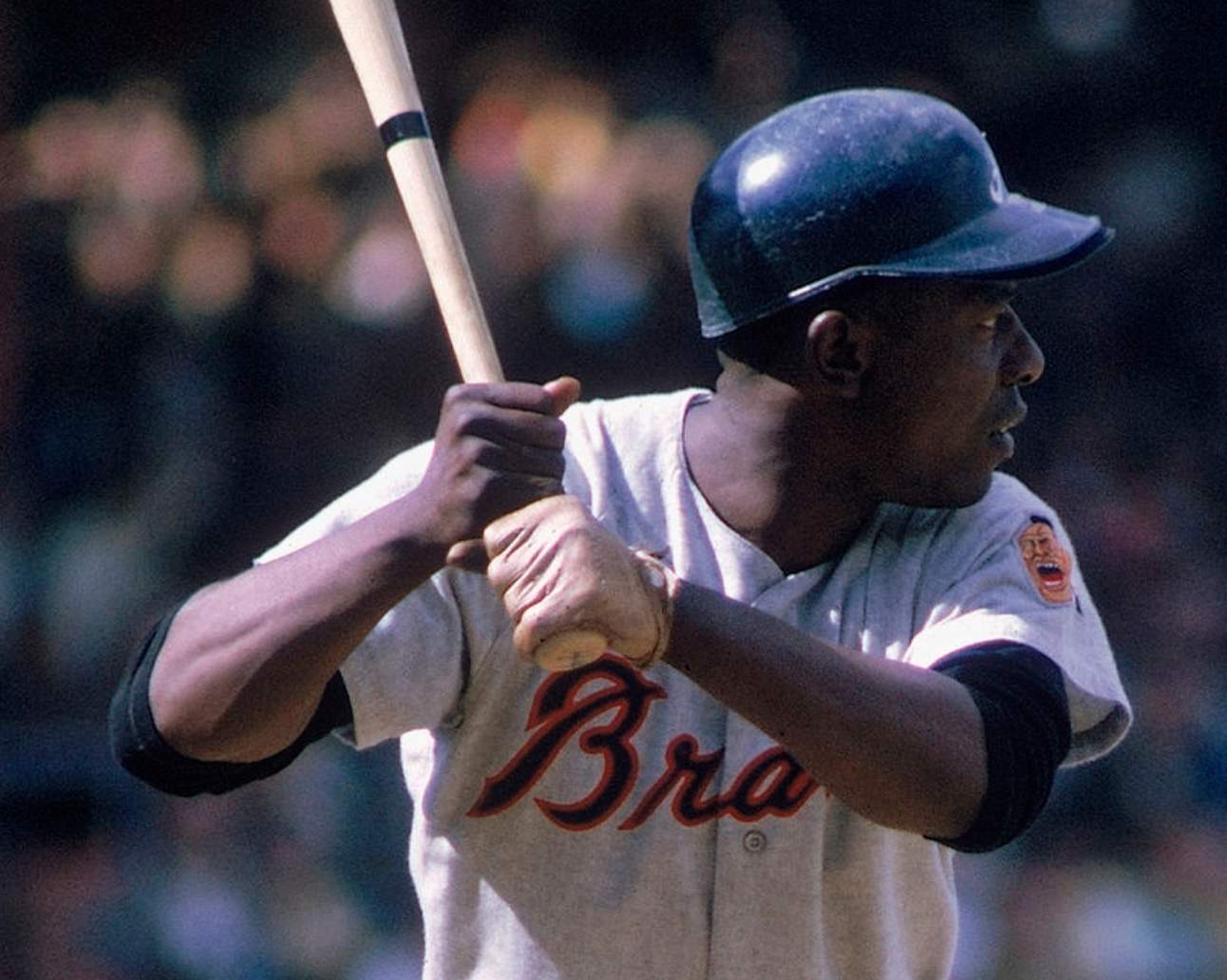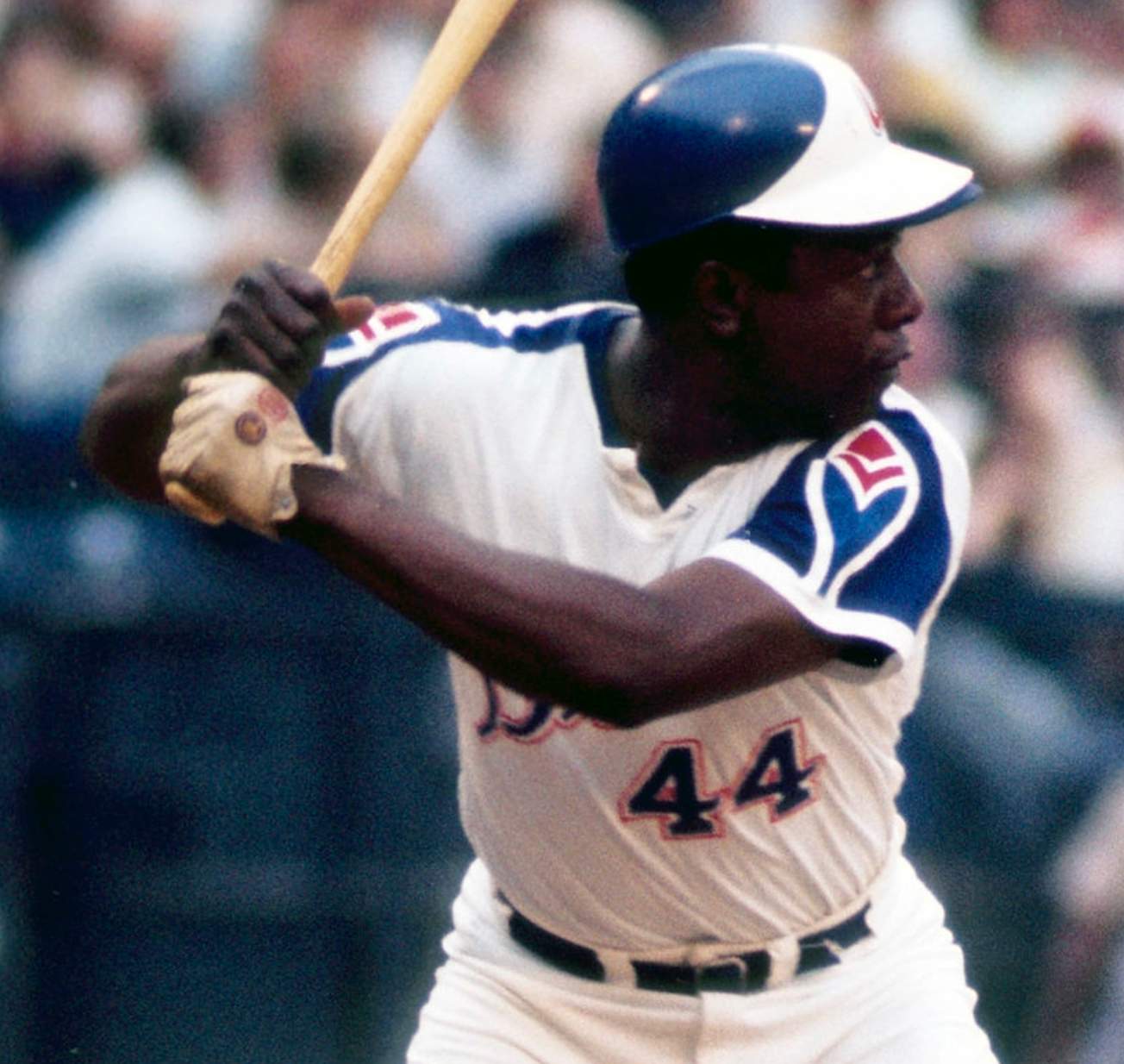 So contrary to what I originally thought, Aaron clearly did wear batting gloves on select occasions. But it was a rare thing for him.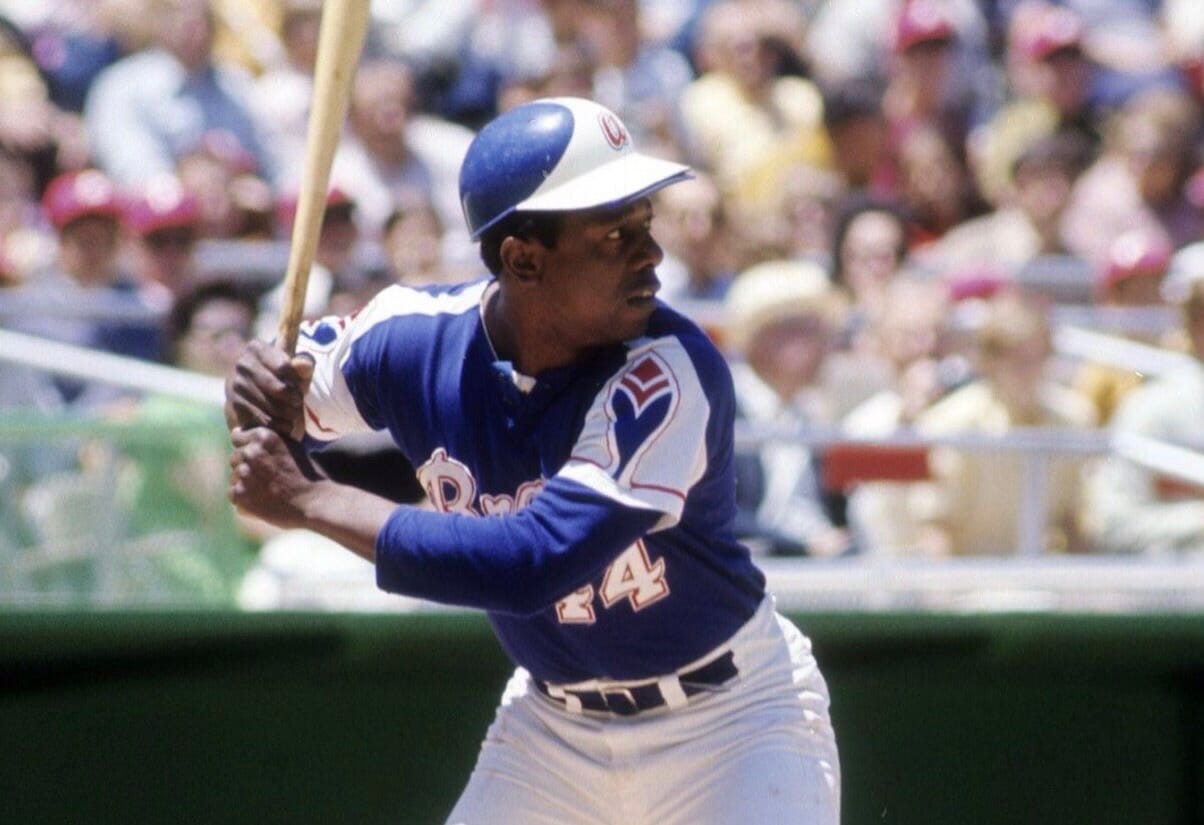 8. He put the blue in Atlanta's early-'70s road uniforms

In a 2015 interview, former Braves graphics director Wayland Moore told uniform historian Todd Radom how Aaron made a key suggestion regarding the team's "feather" uniforms: "Hank Aaron and Eddie Mathews served as our models. We prototyped a couple or three uniforms for each guy. They walked around on the field. Hank suddenly said to me, 'Wayland — there's way too much red. I like blue, not red.' The road uniform was originally a red top, but after that, we switched it to blue."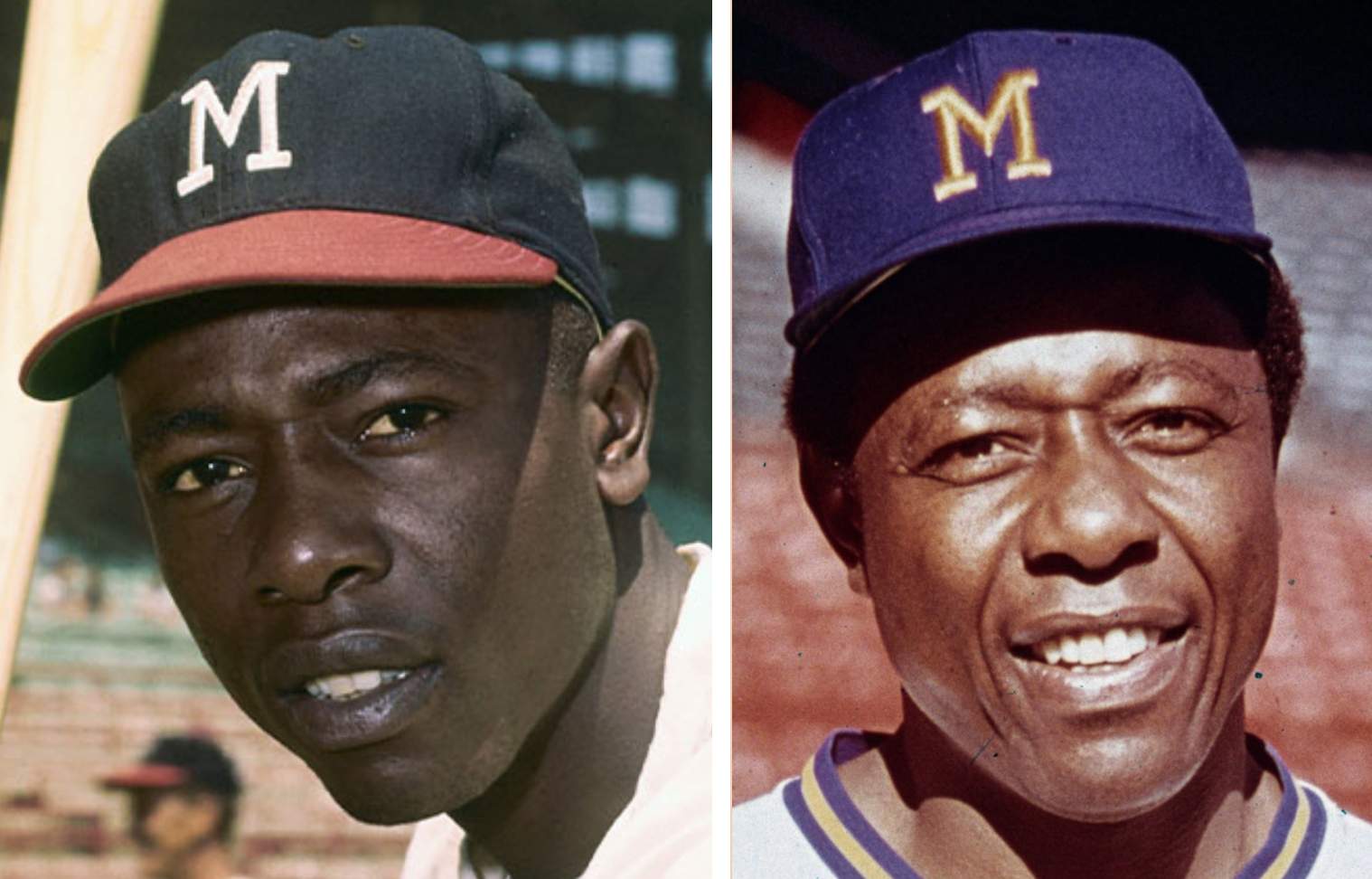 9. He wore the same cap logo for two different teams

When Aaron joined the Brewers in 1975, his new cap probably looked familiar, since it had essentially the same "M" logo he'd worn with the Milwaukee Braves. (I say "essentially" because cap logos weren't as rigorously standardized in those days, so you can see some variations in the old cap logos from the Braves' Milwaukee era.) Aaron isn't the only player to wear matching headwear marks for two different teams — the same could be said for anyone who played for the old New York Giants and then for the Mets (including Willie Mays), or who played for any two of the teams that contemporaneously wore the wishbone-C, or for the Cardinals and Browns — but it's still a fun and uncommon quirk.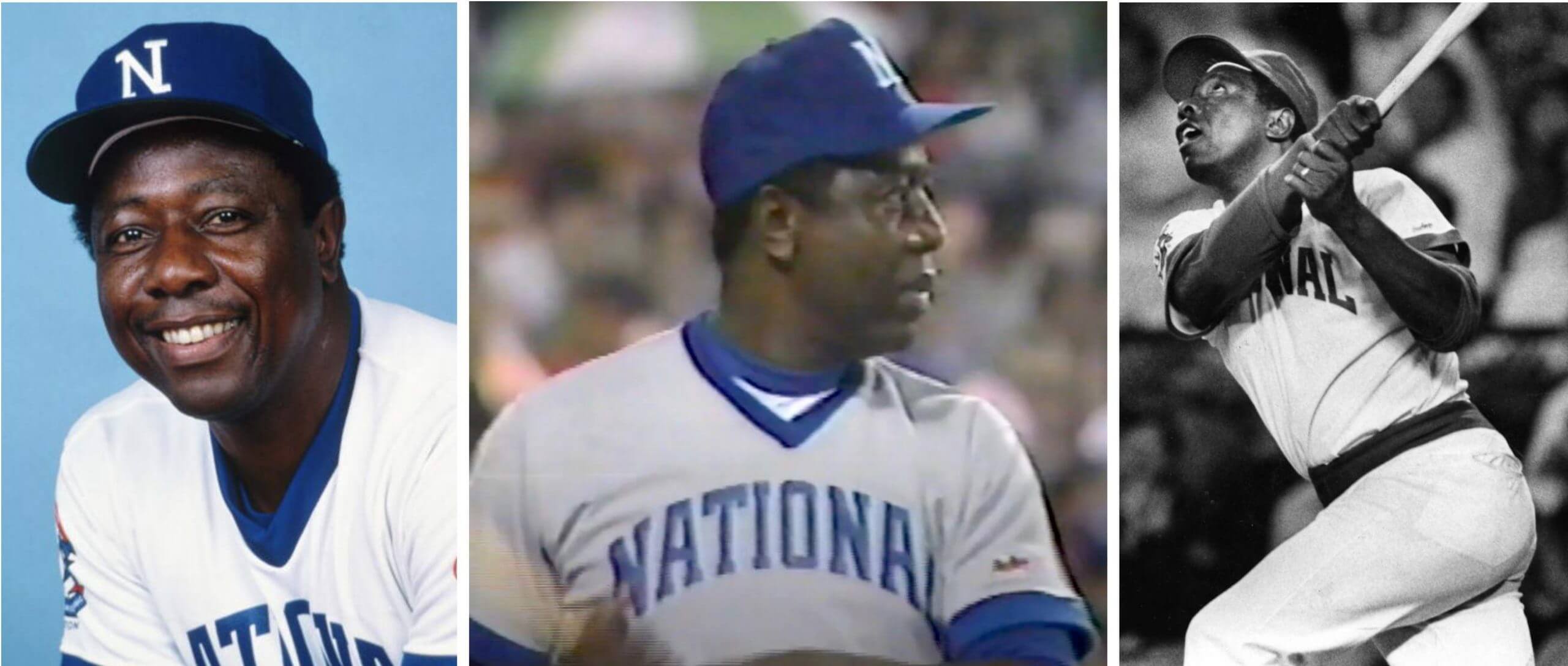 10. He played in the Cracker Jack Old-Timers Classic

Starting in 1982, Aaron played for the National League team for several years in the Cracker Jack Old-Timers Classic, an annual exhibition held at RFK Stadium in Washington. The two leagues alternated as the designated home team, so Aaron wore both the home and road uniforms, depending on the year (and, as you can see in one of the photos above, wore his wedding band while playing). Here's a shot of him and Willie Mays wearing the NL's home whites in 1983: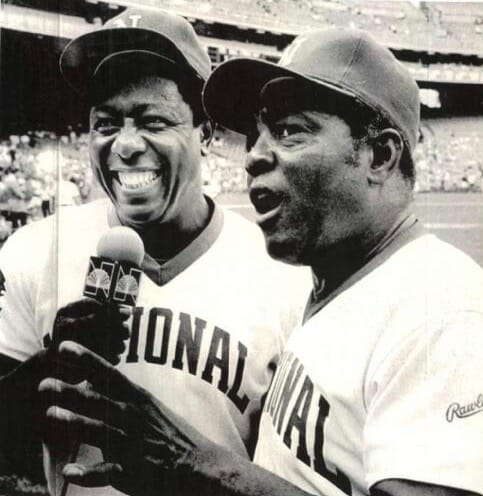 And here's some video of Aaron wearing the road greys while hitting a home run off of Bob Feller in 1984:
11. He wore a Korean uniform in Korea

On Aug. 28, 1982, Aaron took part in a home run derby in Korea to help celebrate the KBO League's inaugural season. He wore a Braves cap with a pretty wild Korean uniform (including a "44" on the upper-left pant leg!). Although the commentary on the video embedded above is in Korean, it's pretty clear that Aaron is enjoying himself — it's a joy to watch.
12. And there's more…
The following items, while not all uni-related, are at least uni-adjacent:
• From the moment Aaron made his big league debut in 1954, his name went to the very top of the all-time alphabetical list of MLB players. When I was growing up, that seemed very appropriate — he was first in a lot of categories, so it felt right that his name should be listed first alphabetically as well. When Giants pitcher David Aardsma reached the bigs in 2004 and supplanted Aaron from the top spot, it bugged me a bit. Like, I had nothing against Aardsma, but it somehow didn't feel right that he should be leapfrogging ahead of Henry Aaron, you know?
• Aaron is part of a strange phenomenon that I call the Prodigal Slugger Syndrome. It involves upper-echelon sluggers who finished their big league careers by having cups of coffee back in the cities where they started, providing a bit of municipal closure. For example: Babe Ruth began his career with the Boston Red Sox and ended it with the Boston Braves; Willie Mays began his career with the New York Giants and finished it with the New York Mets; Jimmie Foxx began his career with the Philadelphia A's and finished it with the Philadelphia Phillies; and so on. In Aaron's case, his career began with the Milwaukee Braves and finished with the Milwaukee Brewers.
• Aaron had already moved on to the Brewers by the time the Braves wore their famous nickNOBs in 1976. If he had still been in Atlanta, what would his nickNOB have been — Hank? Hammer? Hammerin' Hank? HR King? Too bad we never got to find out.
———
And there you have it. Obviously, I'm on record as being opposed to all the Native American imagery that Aaron wore. Just as obviously, it's not his fault that he spent most of his career with a team whose uniforms were problematic in that way. It is what it is.
I never saw Aaron play in person, but I saw him on TV lots of times — including on April 8, 1974, when he broke Babe Ruth's all-time home run record. It was a Monday night, and NBC carried the game as a national broadcast. My parents were watching with me when it happened:
The thing that really gets me is when those two fans come chasing up behind Aaron as he trots from second base to third. As a 10-year-old at the time, I didn't realize Aaron had been getting death threats since the previous year from White supremacists who didn't want to see a Black man eclipse Ruth's record. On the one hand, what must have flashed through his mind when he saw those two White fans running at him? Yikes. On the other hand, seeing those two fans patting him on the back and celebrating his moment still makes me smile.
A lot has been written about Aaron's role as a hero in the Black community and about his lifelong devotion to civil rights. I won't add anything to that except to say that his advocacy in this area continued right up to the end, as he publicly received a coronavirus vaccination earlier this month to set a positive example for Black Americans who might be wary of the vaccine (additional info here).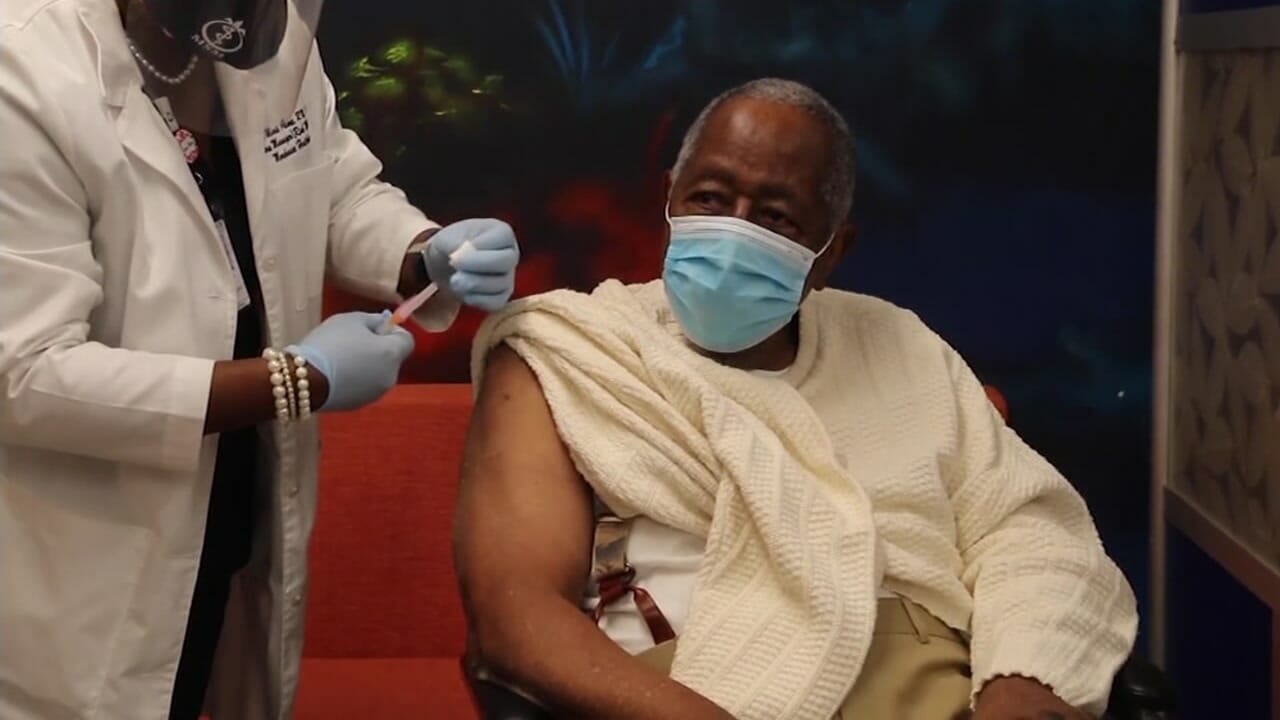 Tragically, the coincidence of Aaron's death just a few weeks after his vaccination may end up having the opposite effect, even though the two things were not related. A good way to honor his legacy is for all of us to get vaccinated as soon as our turn comes up, and to encourage others to do the same.
Aaron and Willie Mays, whose careers largely paced and mirrored each other, have seemed ageless and eternal over the decades, at least to me. I grew up watching them at the tail ends of their careers and have spent my adulthood watching them function as elder statesmen and ambassadors for the sport. Aaron's death is a good reminder that a certain chapter of my life is ending, as all chapters eventually do. R.I.P.
(Big thanks to Jeremy Brahm, Chuck Gerl, William Yurasko, and @DickYoungsGhost for their research assistance.)
• • • • •
• • • • •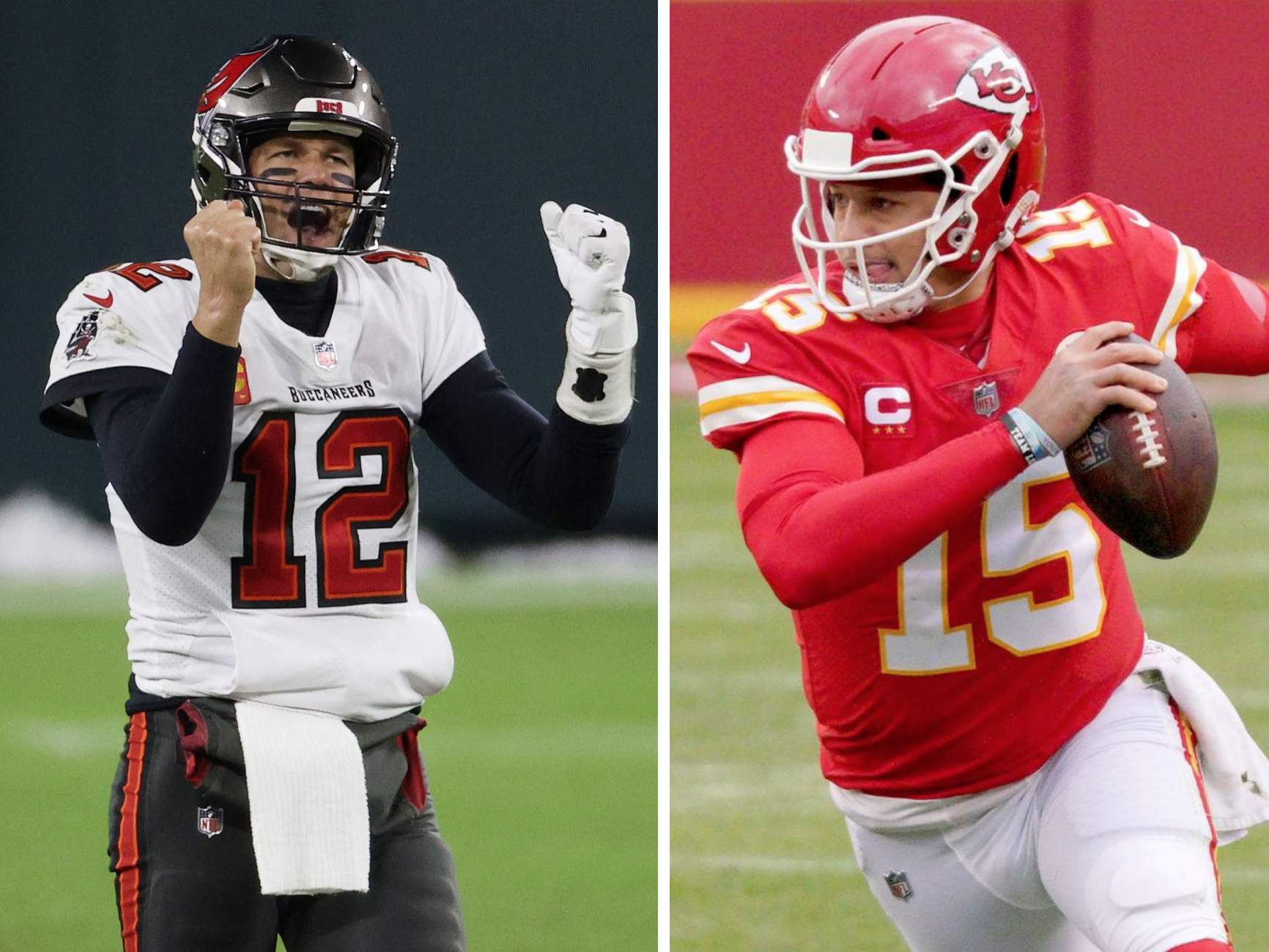 Monday Morning Uni Watch: Okay, so our Super Bowl pairing is set: KC against the Bucs. From an aesthetic standpoint, I'm rooting for the uni matchup shown above — Bucs in white/pewter, KC in red/white — mainly because I think that Bucs combo is by far their best.
Is that what we'll get? Too soon to say, because the Bucs are the home team (that designation alternates by conference, and this year it's the NFC's turn) and to my knowledge haven't yet announced what they'll wear. One the one hand, they wore white at home three times this season, so it's possible that they'd do it for the big game; on the other hand, those three games were all early in the season, when the weather was warmer and they were looking for a chromatic advantage, which presumably wouldn't apply in February. So we'll see.
If the Bucs disappoint me and opt to wear red for the Supe, then the game will look like this Week 12 game from two months ago: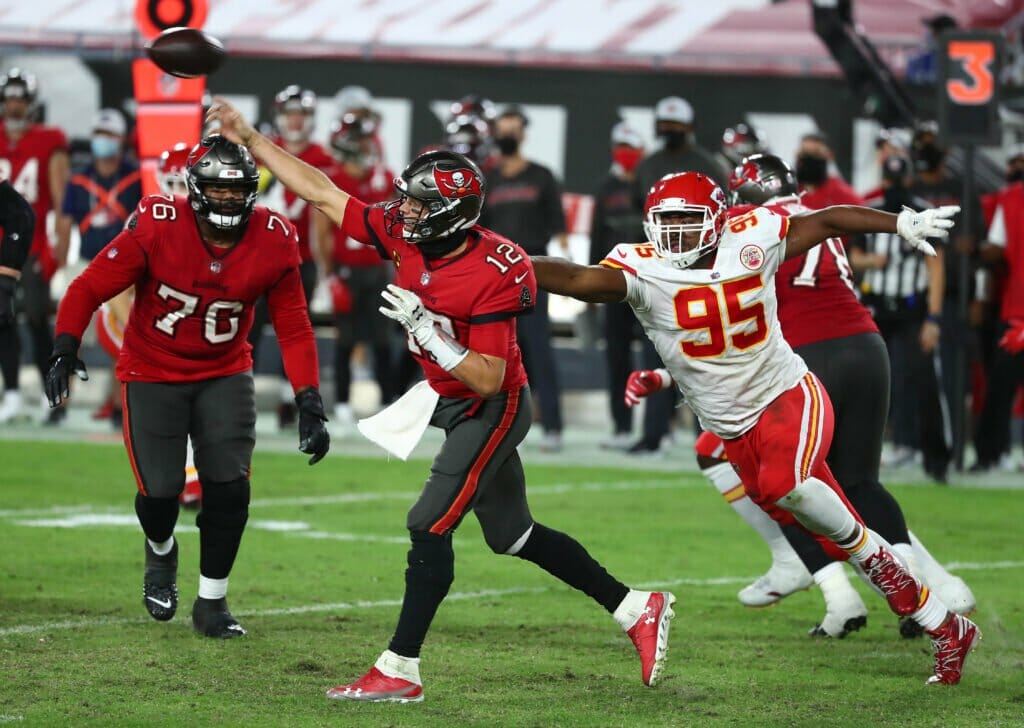 The Bucs lost that game — another reason why they might consider choosing white for the Supe.
On the other hand, if the Bucs wear red, they'd be wearing essentially the same uniforms they wore 18 years ago for Super Bowl XXXVII, which they won: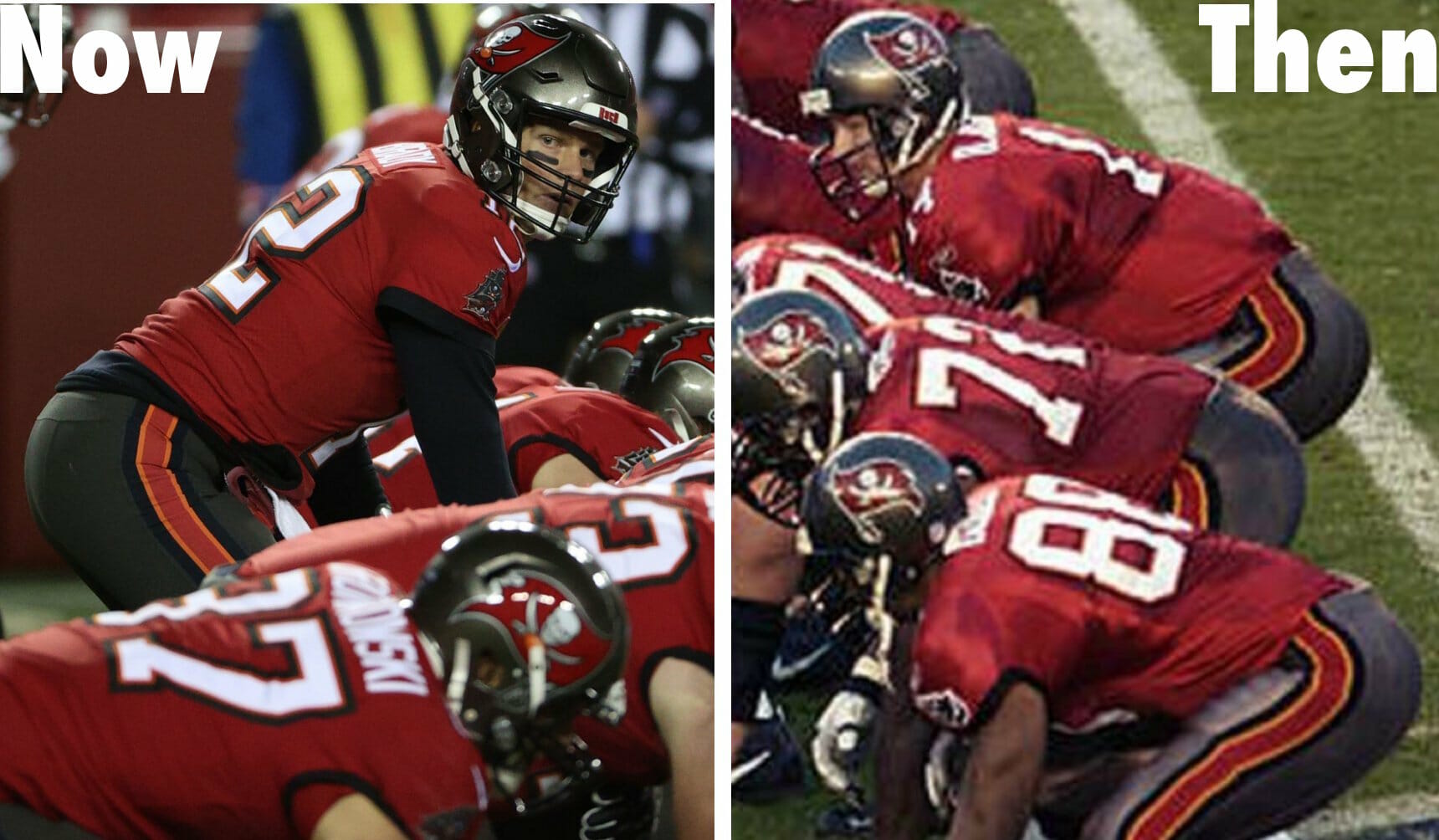 Either way, the addition of the Super Bowl jersey patch means Bucs quarterback Tom Brady will extend his record for wearing the most patches in NFL history, and also means KC's captains will once again suffer from patch overload.
And no, the Bucs will not go Creamsicle (too bad) and will not go mono-pewter (thankfully), so let's not even go there. Thanks.
Meanwhile, two notes from yesterday's games:
• KC cornerback L'Jarius Sneed's American flag helmet decal was partially peeled off of his helmet. I'm not sure I've ever seen that before: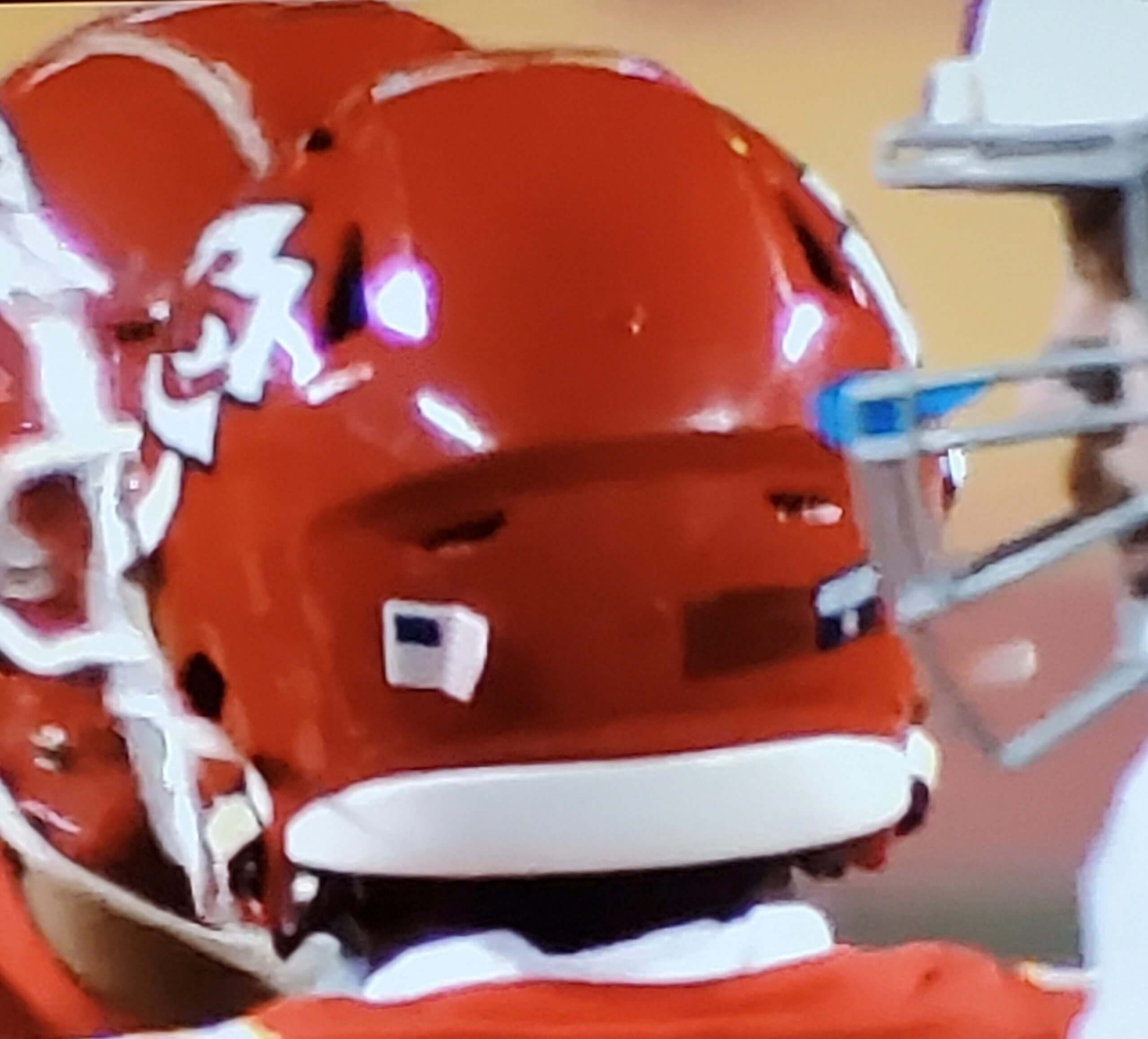 • Bucs coach Bruce Arians wore his Super Bowl mask upside-down during the postgame festivities: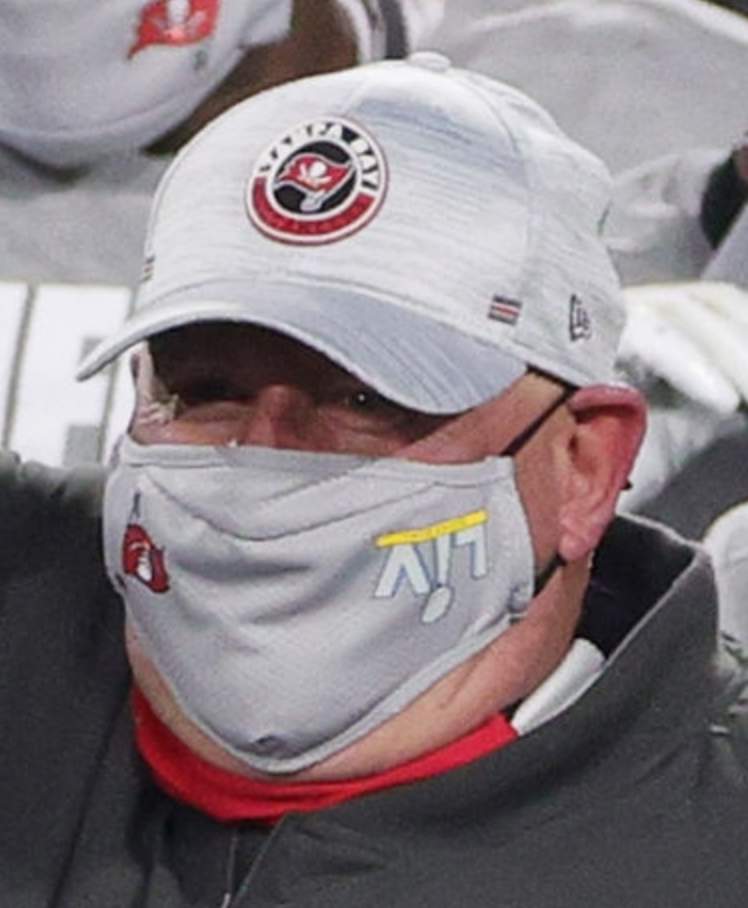 (My thanks to Max Weintraub for the L'Jarius Sneed screen shot.)
• • • • •
• • • • •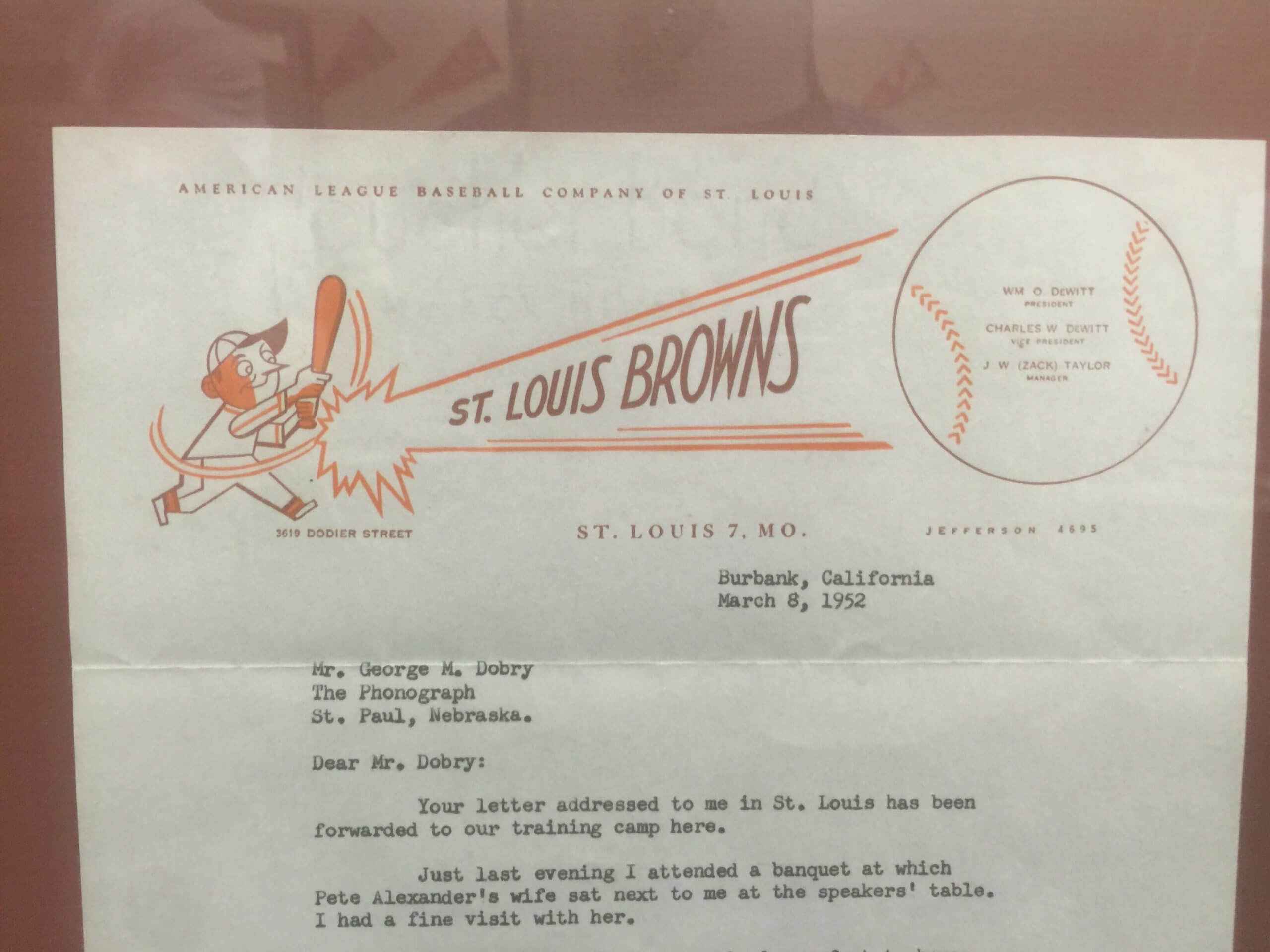 Click to enlarge
Too good for the Ticker: Oh man, how awesome is this St. Louis Browns letterhead that Tyler Maun got a photo of? So good that I don't even mind the absence of Brownie the Elf!
It's so sad that we'll never know the identity of the graphic artist who created this. Whoever it was, let's raise a glass in tribute!
• • • • •
• • • • •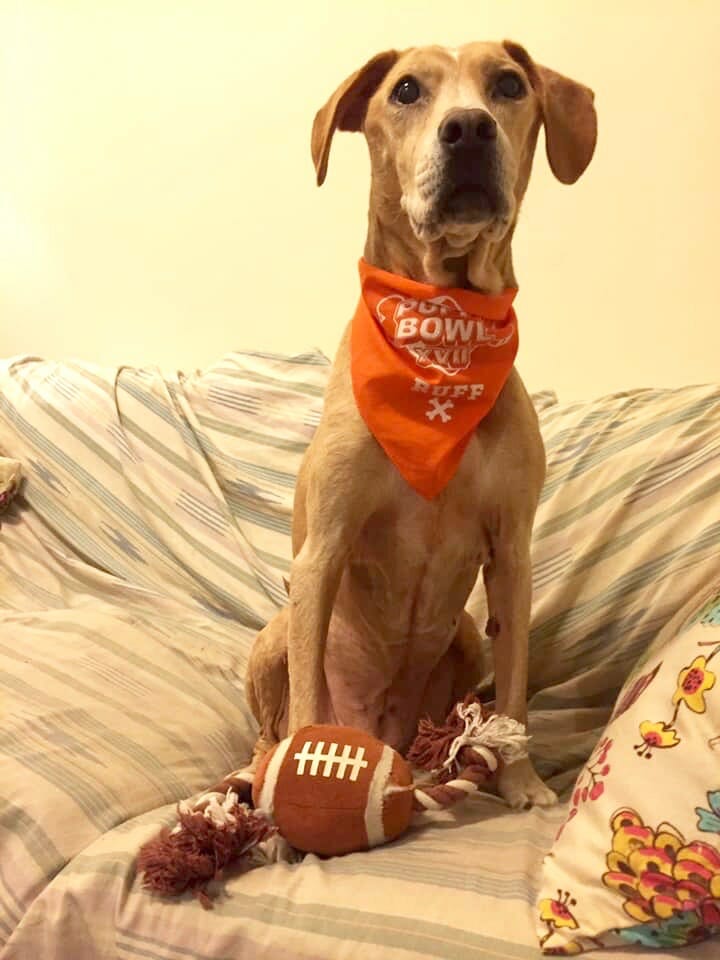 Click to enlarge
ITEM! Puppy Bowl news: As many of you know, for the past decade I've been lucky enough to cover the annual taping of the Puppy Bowl, which is pretty much the best assignment any reporter could hope for. The taping takes place each October at a studio in Manhattan, and then the finished/edited version is broadcast on Animal Planet on Super Bowl Sunday in February.
If you're wondering if they're still doing the Puppy Bowl this year, the answer is yes. For obvious reasons, they didn't allow any press to cover the taping this time around, but on Friday I received a box filled with assorted Puppy Bowl swag, including a pair of official Team Ruff and Team Fluff bandanas, just like the ones worn by the actual Puppy Bowl puppies! Sort of the Puppy Bowl version of an authentic retail jersey.
Since we don't own any pooches ourselves, we figured we could give the bandanas to our friends who have dogs. And sure enough, the next day our neighbor Jason walked by with his wonderful dog, Tillie, during our Pandemic Porch Cocktails™ session, so we gave them the Team Ruff bandana and then Jason sent me a photo later on. Looking good, Tillie!
• • • • •
• • • • •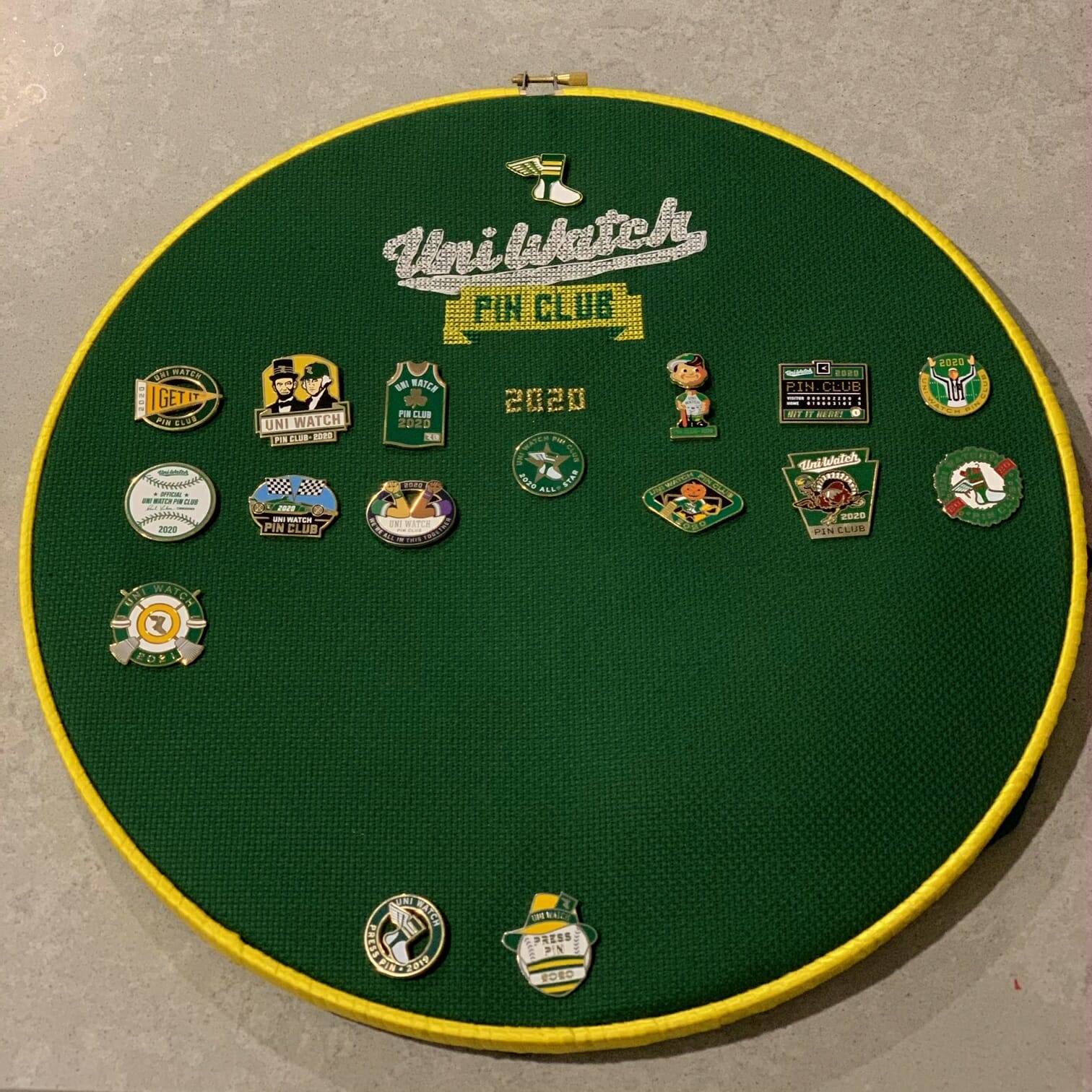 Click to enlarge
Pin Club update: One of the most amazing things about the Uni Watch Pin Club is how many of our non-USA readers collected 'em all, despite the hefty international shipping charges. One of those readers is Mark Thierry, who lives in Dandenong, Australia, and has created his own cross-stitch display for his pins!
As you can see, Mark has left enough room for the 2021 pins, and he also has our annual Press Pins along the bottom and the basic winged stirrup pin at the top. Nicely done!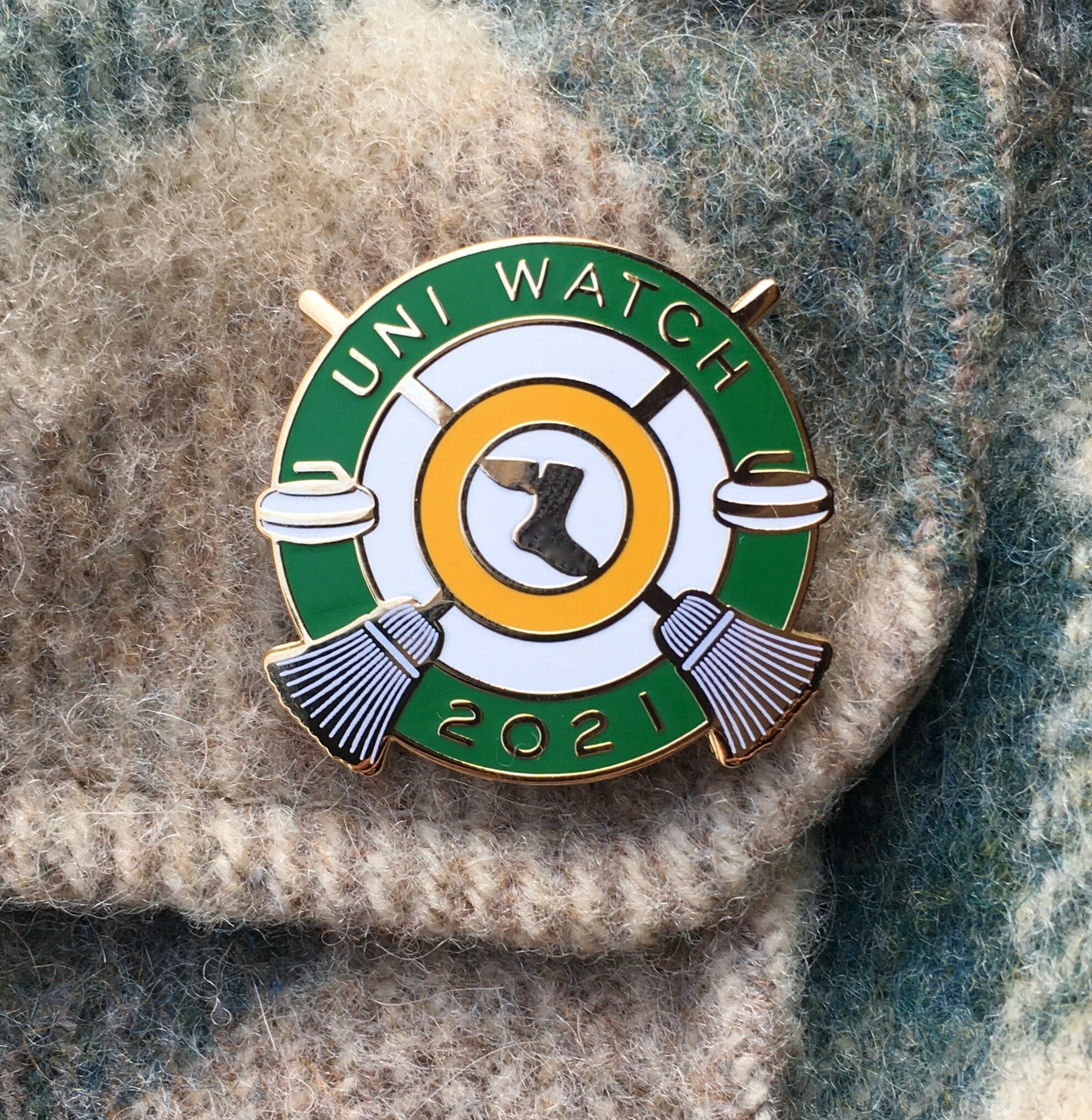 Speaking of the Pin Club:
• We're down to about 40 of the January 2021 pin (shown at right). If you want one, it's available here.
• The February 2021 pin will be released next Monday, Feb. 1.
• All of our remaining 2020 pins have been discounted from $13.99 to $9.99. They're shown below, and they're all available in the Uni Watch Shop.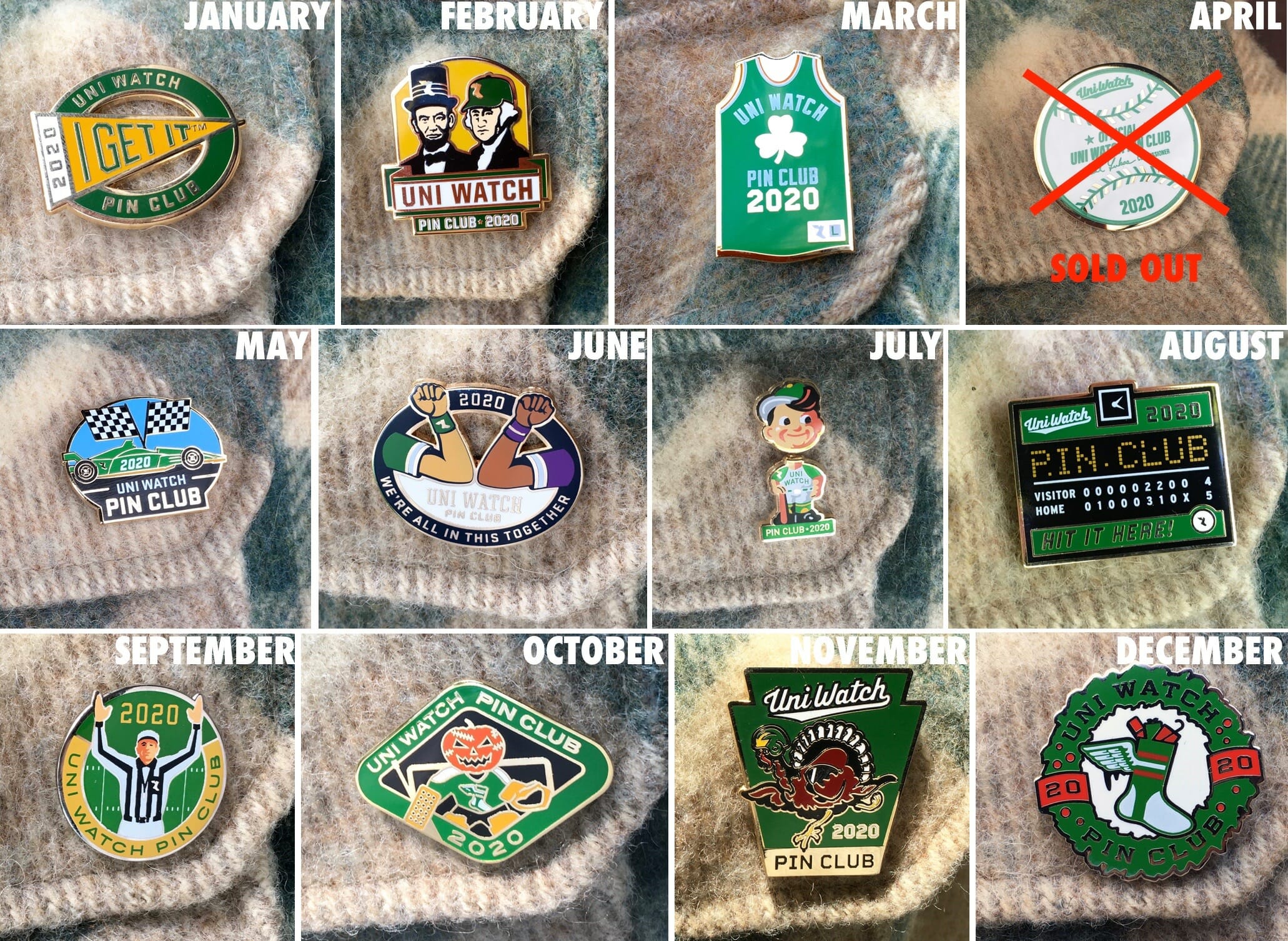 • • • • •
• • • • •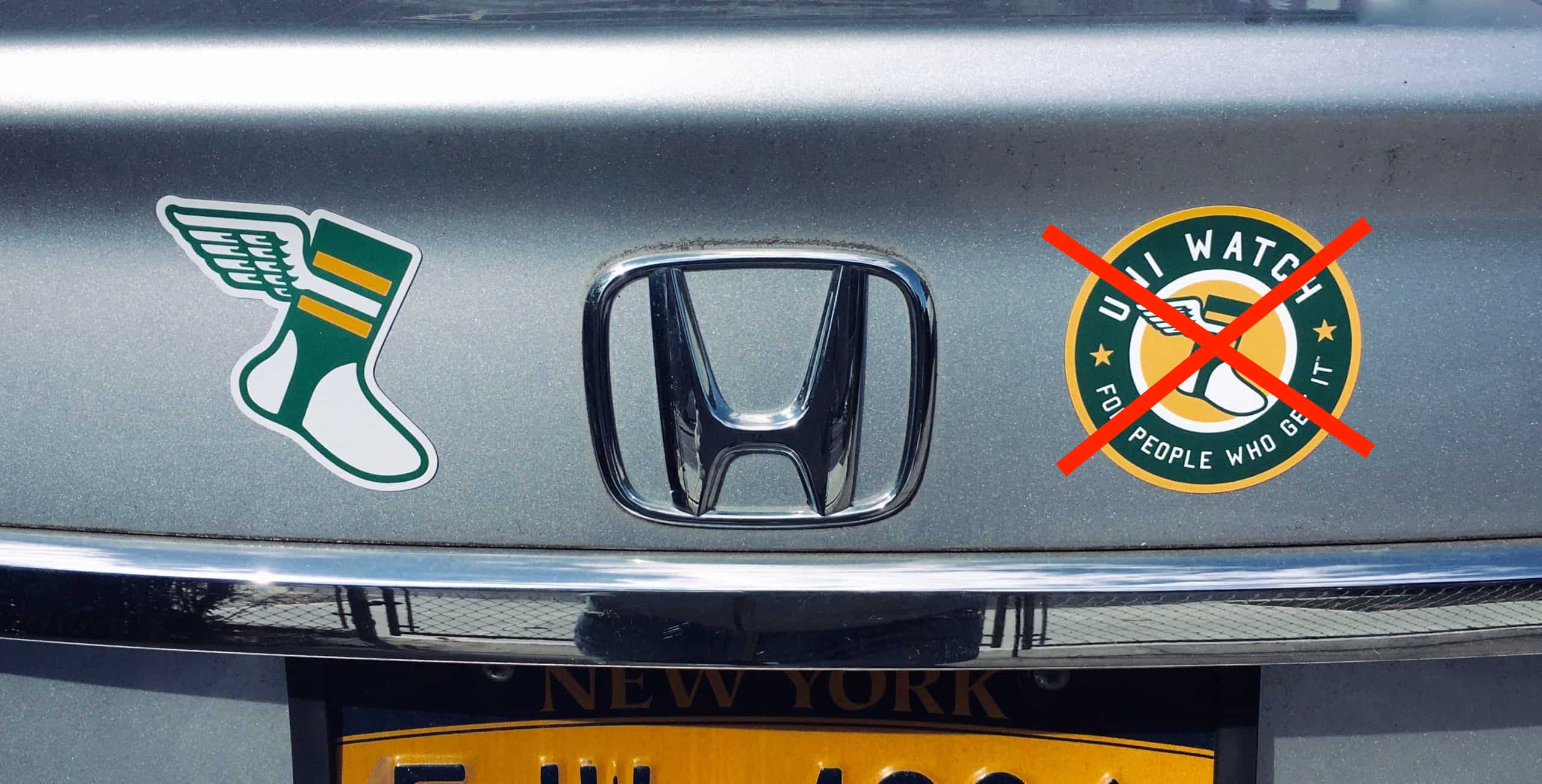 Click to enlarge
Magnet reminder: Paul here. I've procured another small supply of winged stirrup magnets (but not the round ones, sorry). They measure about 3″ x 3″, and they're thin and flexible, so they'll conform to curved surfaces as well as flat ones. Perfect for your car, fridge, file cabinet, gym locker, or wherever.
I have about 35 of these left. They're available here.
• • • • •
• • • • •
The Ticker
By Jamie Rathjen

Baseball News: WaPo collected Hank Aaron cards from every year of his MLB career (from David Goodfriend and @bryanwdc). … The next two Japan items are from Jeremy Brahm: The Central League's Chunichi Dragons have a new alternate. … The Hanshin Tigers are starting a women's rubber-ball baseball team that will be dressed similarly to their NPB counterparts.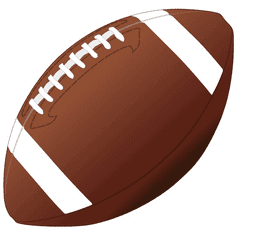 Football News: Players in the Senior Bowl are wearing a Hank Aaron memorial decal, because the game is played in his hometown of Mobile, Ala., and will also wear decals with their home area codes (from @Wilds_Lee and Cody Reeder). … Georgia Tech lit up their stadium over the weekend as a memorial tribute to Hank Aaron (from James Gilbert). … In this video from 1990, Falcons C Jamie Dukes was wearing a NNOB No. 70 jersey (from Michael Lingenfeller). … If you're a fan of the Steelers' Batman uniforms, you can see them in action in some 1967 highlight footage here and here (from Jerry Wolper).

Hockey News: The neutral zone of the NWHL's Lake Placid bubble rink is lavender instead of white, for cancer awareness. … Former Boston University players in the NWHL are wearing the same Travis Roy memorial decal that the Bruins have been wearing. … Metropolitan Riveters C Kelly Babstock wore a handwritten memorial decal for George Armstrong, an early professional Indigenous player. Babstock is at least half-Ojibwe (from @ohhhsourry). … Buffalo Beauts coach Pete Perram was wearing a fedora on the bench (from Wade Heidt). … Also from Wade: Most of the non-jersey parts of the Devils' reverse retro uniform debuted in practice on Saturday. … Flyers LW Oskar Lindblom has received league permission to wear a cancer-awareness helmet decal for the rest of the season. Lindblom was diagnosed with Ewing's sarcoma, a form of bone cancer, a little over a year ago (from Mike Chamernik).

Basketball News: Color-vs.-color college games yesterday included Middle Tennessee State and Western Kentucky's men's teams (from @Wilds_Lee) and Indiana and Northwestern's women's teams (from Kenneth Traisman). … Two new uni number assignments for the Wizards.

Soccer News: In Germany, Werder Bremen have a different ad this month for "Veganuary," which encourages people to eat vegan in January. … An English Women's Super League game between Aston Villa and Reading started with a white ball and finished with a yellow one because snow started towards the end of the game. … Meanwhile, three snow-affected FA Cup fourth round matches in West London used yellow versions of other balls instead of the FA Cup ball. Chelsea/Luton Town and Fulham/Burnley used the Premier League ball and Brentford/Leicester City used both the English Football League ball and the English League Cup variation of the same. There is allegedly a yellow version of the FA Cup ball, at least according to the FIFA video game, and the other games this weekend used the white version, which also has not been updated with the cup's new logo. … Fulham also painted their lines sky blue. … A Belarusian site explored why so many of their clubs' crests are generic (from Ed Żelaski). … Yesterday was the anniversary of the first time an English club wore an ad, which was non-league Kettering Town in 1976. They were not the overall first to wear one, though (from Trevor Williams). … Also from Trevor: Ukranian side FC Lviv is letting fans vote on the team's new logo. … The USL is planning to start a women's league in 2022, and expects that some of its men's teams are to participate but that it won't compete with the NWSL. It previously ran the USL W-League from 1995 to 2015.

Grab Bag: Egypt handball left-back Ali Zein apparently had part of his NOB missing — it should say "A. Zein" — at the ongoing men's world championships yesterday (from Julian Orlando). … England's netball team was supposed to play Jamaica, but couldn't, so the replacement was a Netball Superleague all-star team that wore a nice black kit for a series ending yesterday. England players also wore the names of somebody influential to them below their crest — all chose a parent or a coach. … The cycling team Canyon-SRAM has new jerseys. … Western Michigan's gymnastics team added a "United as One" patch to their team jackets (from Griffin Smith).
• • • • •
• • • • •
Click to enlarge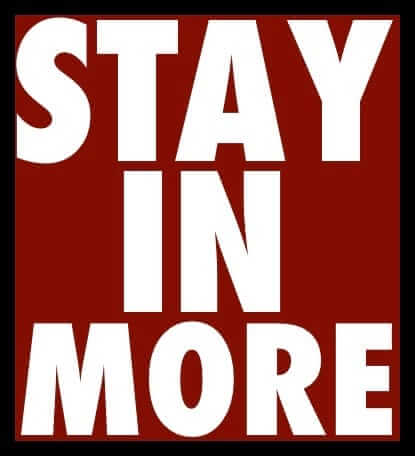 What Paul did last night: Got the rare double-dog photo yesterday. In addition to the pooch that was walking by as I set up for my daily photo, you can also see our neighbor's beautiful collie, Marley (or maybe Marly, or Marlie — we're not sure of the spelling), on the porch across the street. Good dogs!
As always, you can see the full set of Pandemic Porch Cocktails™ photos — now more than 310 of them — here.