Click to enlarge
Frank Robinson died yesterday. You probably know that he was MLB's first black manager, that he's still the only player to have been named the MVP of both leagues, and that he was fourth on the all-time home run list when he retired and is still tenth on the list today. But you might not know that Robbie had a very uni-notable career — in part due to the teams he played for and the teammates he had, and in part because of his own idiosyncrasies.
For example:
1. He wore the Reds' drop-down NOB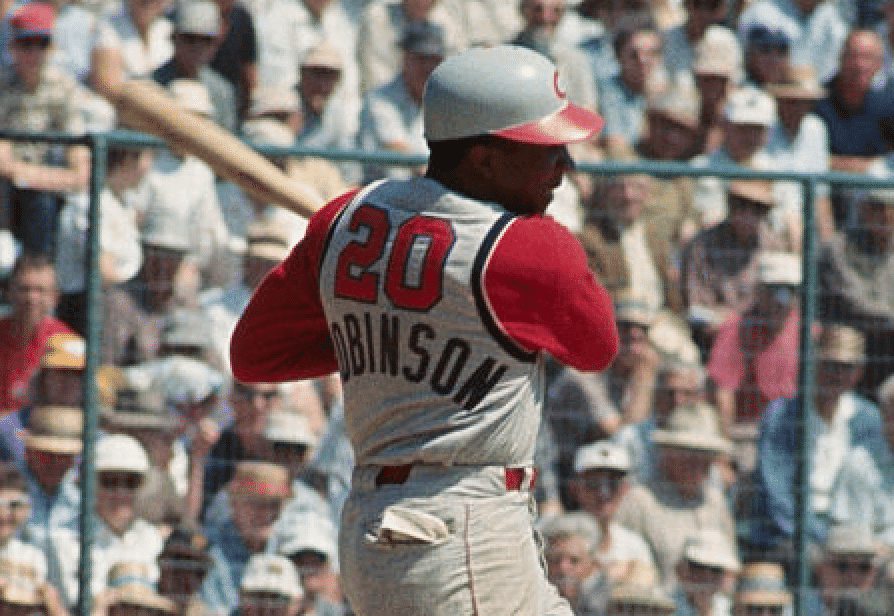 Probably no NOB in MLB history has looked as weird as Cincinnati's below-the-number lettering from the early 1960s. They put the players' names beneath the numbers because their vest jerseys didn't offer enough space across the shoulders, and they made them arched because, well, NOBs were still a new thing and all the ones above the numbers were arched, so why not? A very strange look, especially with the relatively small, compressed numerals.
2. He wore a white batting helmet
That same photo we were just discussing shows Robbie in a white helmet. As we've discussed on Uni Watch before, that's a very rare MLB phenomenon.
3. He wore FIOB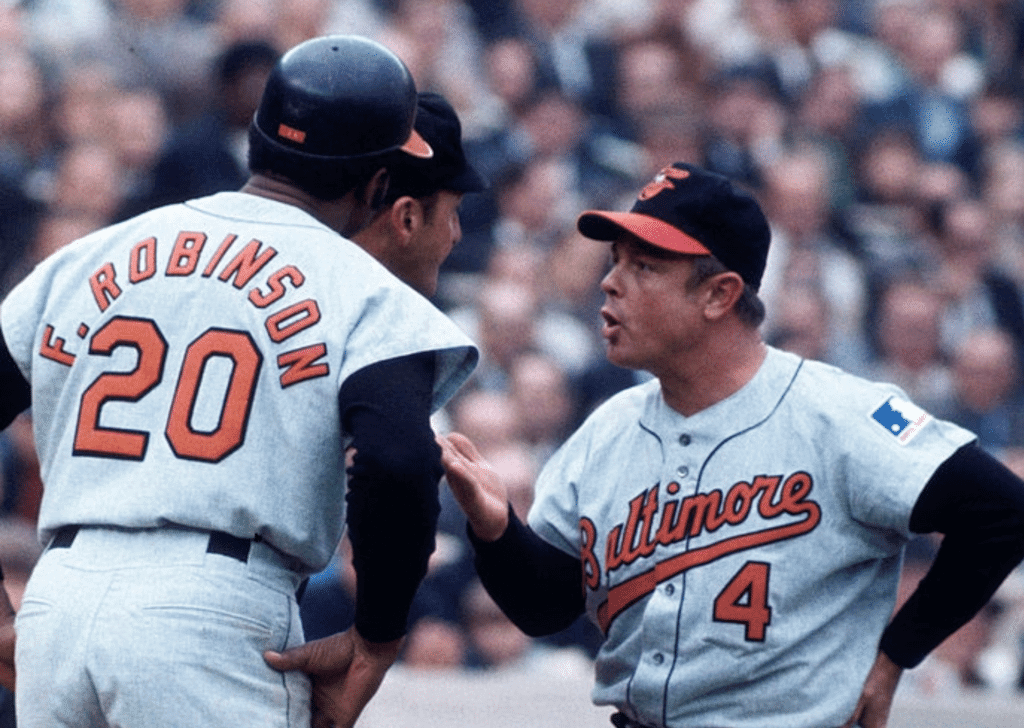 Robinson's time with the Orioles overlapped with that of Brooks Robinson, so they both wore their first initials.
4. He wore VAL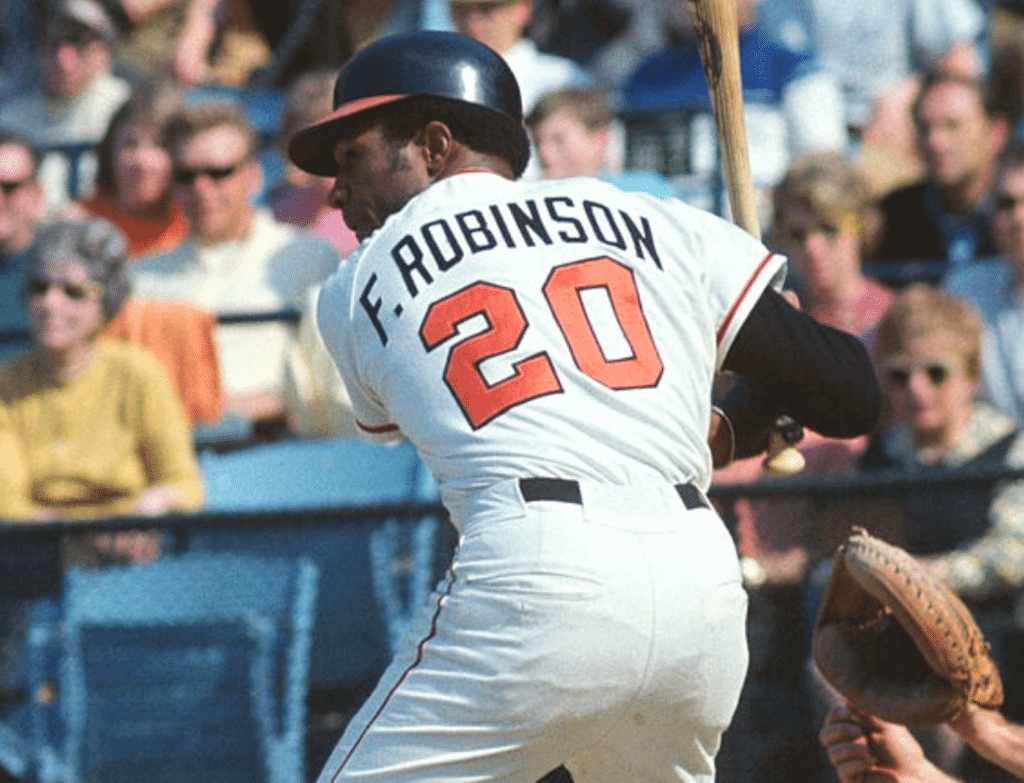 During part of Robinson's tenure in Baltimore, the Orioles used vertically arched lettering on their NOBs. FIOB + VAL = Mmmmmmmmm.
5. He wore mono-orange and mono-red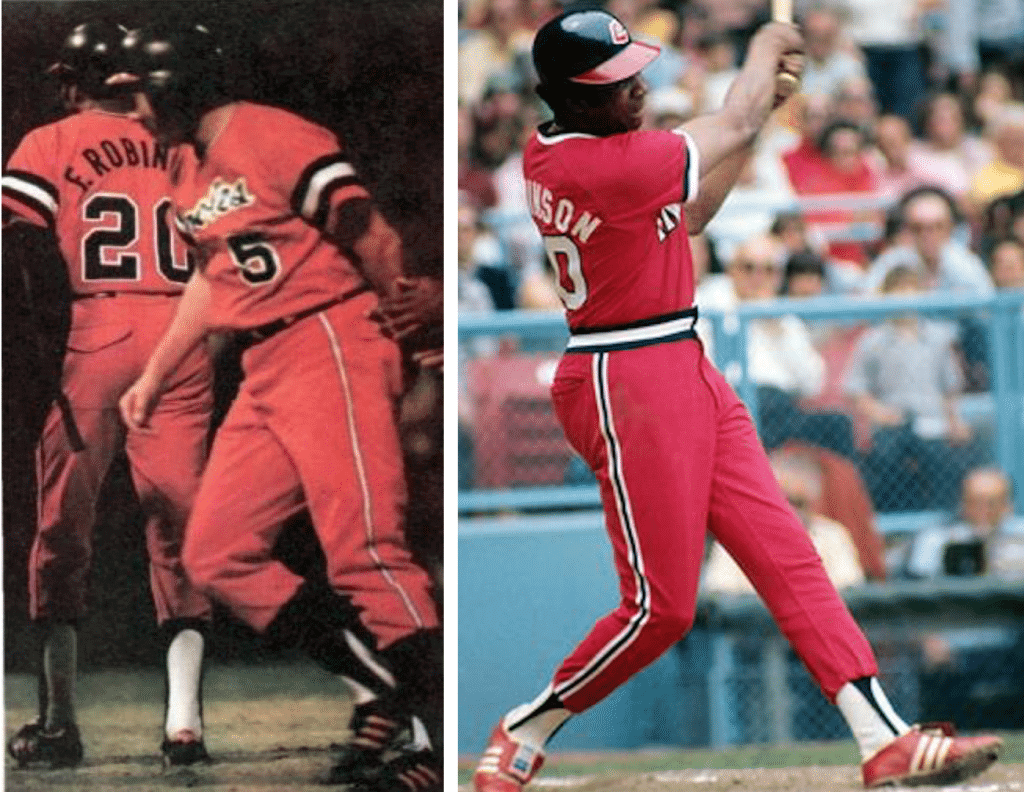 Robbie was with the O's when they wore their experimental orange uniform in late 1971, and he was also with Cleveland during their blood-clot era. He's not the only player with this distinction — Boog Powell also wore both of those unis — but it's still pretty damn rare.
6. He wore vests for two different teams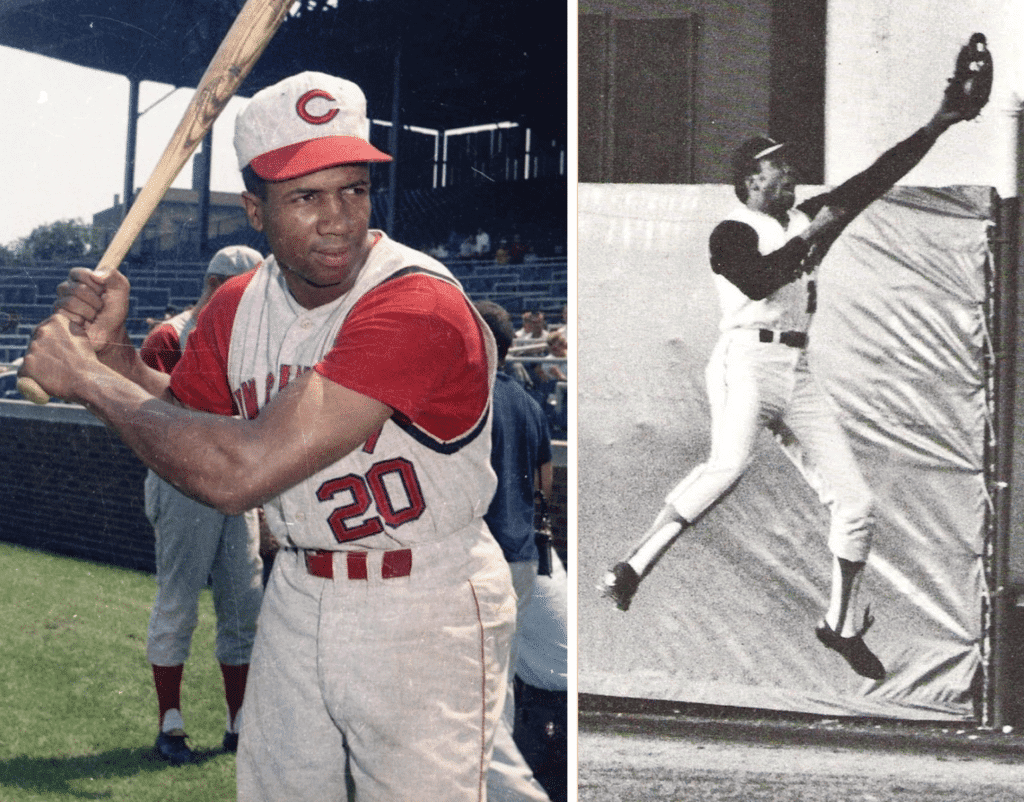 Everyone knows Robinson wore vests in Cincinnati, but it's easy to forget that he also wore the Orioles' vest a handful of times in 1968 and '69. The O's rarely used this jersey, and I couldn't find a color photo of Robbie wearing it, but you can see good pics of lots of other Baltimore players wearing it here.
7. He was partially undressed during the World Series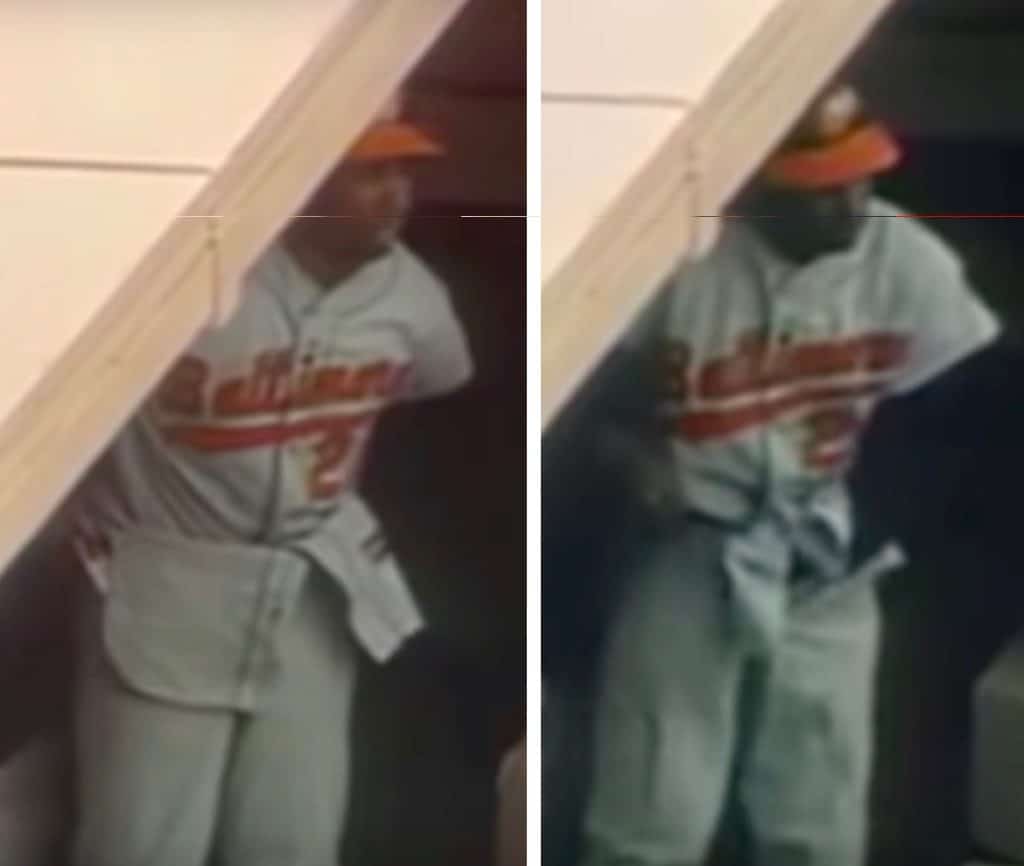 There was a bizarre sequence during the sixth inning of Game Five of the 1969 World Series, when Robinson was hit by a pitch but the plate ump ruled that the ball had hit his bat first, so it was a foul ball. While O's skipper Earl Weaver came out to argue, Robinson went into the dugout and retreated back to the clubhouse, apparently to receive treatment on the spot where the ball had hit him, delaying the game for several minutes. When he came back to the dugout, he was still tucking his jersey into his unzipped pants — a unique World Series uni moment. (You can see the entire sequence, enlivened by the great Lindsay Nelson's magnificent broadcasting, here.)
8. The whole stirrup-lengthening thing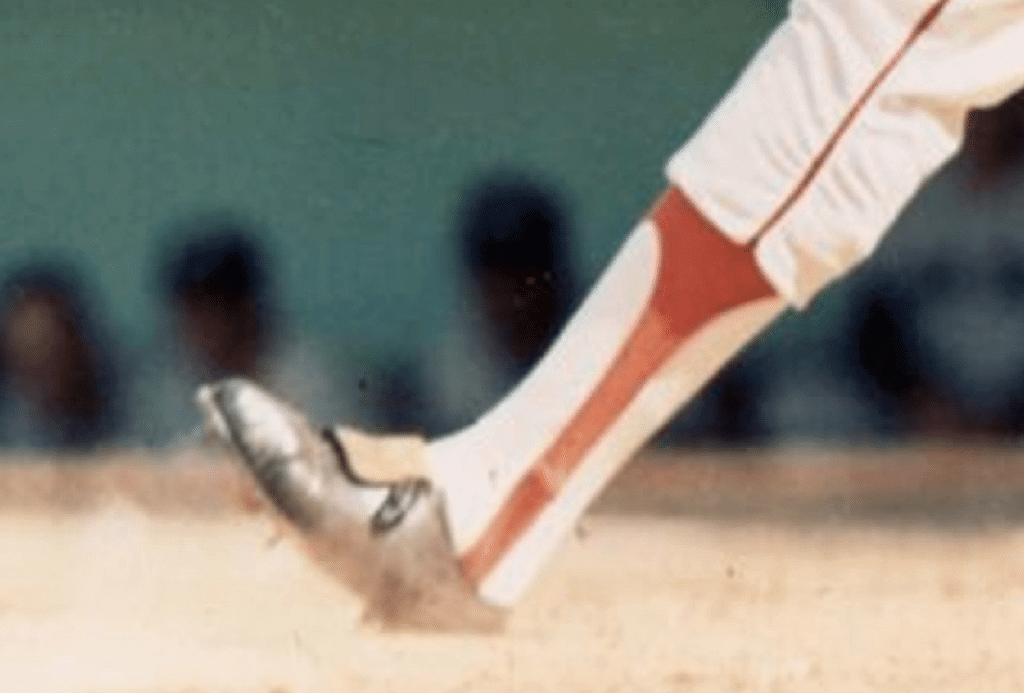 In Jim Bouton's seminal 1970 book Ball Four, there's this passage, which I've quoted many times over the years:
It has become the fashion — I don't know how it started, possibly with Frank Robinson — to have long, long stirrups with a lot of white showing. The higher your stirrups, the cooler you are. Your legs look long and cool instead of dumpy and hot. The way to make your stirrups longest, or what are called high-cuts, is to slice the stirrup and sew in some extra material.
I first read that text in 1976, when I was 12 years old. It wasn't until 40 years later that I learned the full extent of Robinson's hosiery shenanigans. It turns out that Robbie's stirrup modifications had been so controversial that they led the American League to impose a new rule regarding stirrup height in 1967 (which they pretty much stopped enforcing in 1968 and abandoned altogether in 1969). You can get the full scoop on that amazing story here.
Robinson appeared in lots of other uniforms — as a player (Dodgers, Angels), as a manager (Giants, Expos, Nationals), and as a coach (Brewers). But I want to circle back to his time with the Reds and show you one last photo that's pretty special: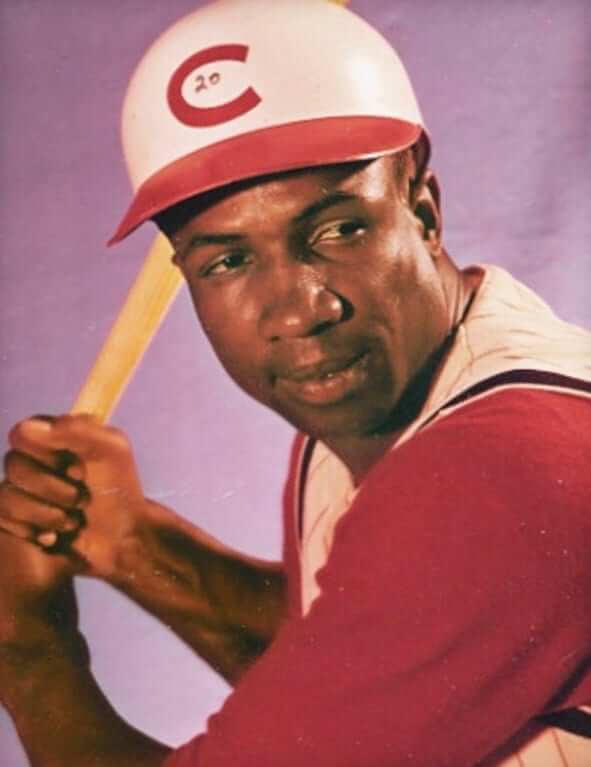 So much to like in that shot. Note the non-wishbone-C, and also the little handwritten "20" inside of it. The Cubs routinely did this in the 1960s and '70s, but I wasn't aware of the Reds having done it until yesterday. A nice little detail to learn about.
Finally: I don't usually like to speculate about memorial patches when the body isn't even cold yet, but Robinson is a special case. It seems fairly obvious that the Reds and Orioles will both wear a patch for him, and ditto the Indians (because he was the first black manager) and possibly ditto the Nationals (because he was the team's inaugural manager and was also a bridge from franchise's Montreal days). League-wide and MLB-wide patches notwithstanding, I believe that would set a record for the most teams memorializing the same person. Just one more distinction for a guy who had a lot of them. RIP, Robbie.
(My thanks to Jeff Ash and Steve Schapansky for their assistance in locating the 1969 World Series sequence, and to Phil for that final photo.)
• • • • •
• • • • •
Click to enlarge
Black lightning: The Lightning unveiled and game-debuted their long-rumored alternate uniform last night. It's not the worst thing ever, but seeing it next to the Blues' classic look kinda puts things in perspective, no?
There's an interview with the Adidas designer here.
• • • • •
• • • • •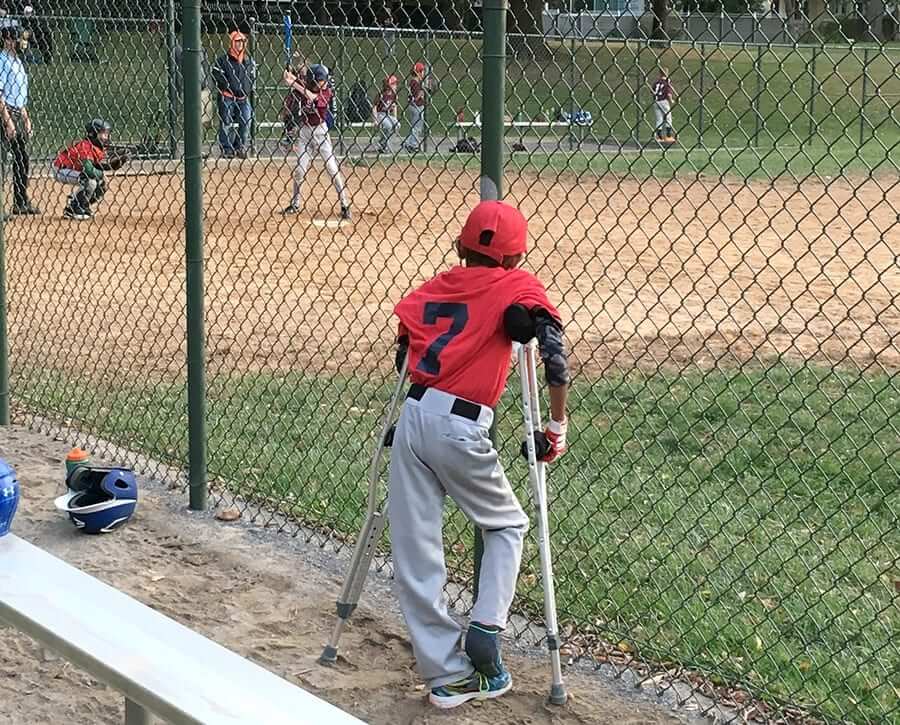 The DL is dead, long live the IL: ESPN's Jeff Passan broke the news yesterday that MLB is changing the name of the disabled list to the "injured list." The reasoning was spelled out in a memo that was distributed to MLB teams in December:
In recent years, the commissioner has received several inquiries [from advocacy groups for disabled people] regarding the name of the 'Disabled List.' The principal concern is that using the term 'disabled' for players who are injured supports the misconception that people with disabilities are injured and therefore are not able to participate or compete in sports. As a result, Major League Baseball has agreed to change the name 'Disabled List' to be the 'Injured List' at both the major and minor league levels.
I confess that this had never occurred to me, but I can see how it makes sense, especially since some disabled people play baseball. So sure, why not rename the list? Done and done.
What's the history of the DL anyway? According to this Baseball Prospectus article:
"Disabled" or "injury" lists go all the way back to the early 1900s. Rosters held only 21 players, and several managers and National League clubs were upset at how the strict limit punished those unhealthy or unfortunate. … In response, the National League created the first official disabled list on July 12, 1915; it allowed players to be removed from the roster for a ten-day recuperation period. Even though they were not allowed to play, injured players could remain with the team as a "coacher."
Interesting! I love learning about this type of stuff.
• • • • •
• • • • •
Click to enlarge
Cap update: Behold — three dozen flex-fit Uni Watch Alternate Caps! After taking that photo, I sealed up the boxes, addressed them to everyone who pre-ordered them a few weeks ago, and brought two dozen of them to the post office. The remaining dozen will ship out today.
I have ten five three two of these caps remaining. All are flex-fit size S/M. I will continue to sell them at the closeout price of $10.99 plus $5 for shipping (I was originally charging $4 but didn't realize that postal rates have gone up). If you want one, please do one of the following:
1. Send me $15.99 via Venmo, using @Paul-Lukas-2 as the payee. (This is my preferred payment method, because there are no fees.)
2. Send me $15.99 via Zelle, using plukas64@gmail.com as the payee. (Again, no fees.)
3. Send me $15.99 with this Amazon Payments button (if you don't see the button, refresh the page):
Whichever payment method you choose, please email me and give me your shipping address after making your payment.
Sorry, American customers only for this deal. Thanks!
(Doubleplusthanks to Ryan and Jon, whose very generous assistance helped make these cap shipments possible.)
• • • • •
Raffle results: The winner of the Chicago Fire jersey is Josh Broome. Congrats to him, and thanks to all who entered. We'll have another raffle kicking off on Monday.
• • • • •
• • • • •
The Ticker
By Yianni Varonis

Baseball News: Looks like there's a red versions of the Nats' spring training cap (from @j_nelsn and William Yurasko) … From Phil: The Reading Fightin Phils will wear jerseys with the names of current and former military members on the back on July 2. After the game, the players will present the jerseys to the 25 military honorees or their families. … Newly acquired P Nathan Karns will wear No. 36 with the Orioles (from Andrew Cosentino). … The Dayton Dragons will celebrate their 20th season with an exhibition game between the current team and a team of alums still playing in the Reds' farm system. This is what they'll wear (from @SeanC227). … For one night, the Portland Sea Dogs will become the Maine Whoopie Pies, celebrating the state's official treat (from Mike Tully and @trstnandrw). … The Hartford Yard Goats appear to have a number of different jerseys that will be worn next season, including a hockey-style uniform paying homage to the old Hartford Whalers (from @mikeDfromCT and Jeff Taylor). … UNC has a new set of uniforms for the upcoming season (from James Gilbert). … New charcoal uniforms for Virginia Tech (from Al Jones). … Long Beach State has several new uniform options this year (from @JJfiddler and Andy Garms). … DIII Kalamazoo College will wear throwback jerseys this season. … The Purdue Fort Wayne softball team has a new name, new colors, and a new set of uniforms (from Derrick Sloboda). … Check out the great uniforms worn by the 1947 Topeka Owls (from @WheatLeague). … Here's more about what the latest corporate bank merger will mean for the name of the Braves' ballpark (from Jake Patterson).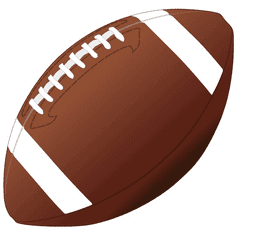 Football News: ESPN ran a graphic featuring former Ohio State QB Dwayne Haskins in the uniforms of prospective draft destinations (from Tyler Ford). … Based on a photograph inside an Indiana facility, it appears that the football team will wear a new road uniform featuring candy stripes on the sleeves (from Ryan Cotter). … Will the Texas Longhorns ever go BFBS? Not if AD Chris Del Conte has anything to say about it (from Chris Mycoskie).

Hockey News: The Stars wore "AF" decals on their helmets last night in memory of Arlene Forbes, the mother of video coach Kelly Forbes, who recently passed away (from Jake Patton). … In Wednesday's lede, Paul asked for examples of players wearing jerseys from other sports during championship parades. Reader Mario Scibilia reminded us that former Detroit Pistons F Rasheed Wallace wore a Red Wings jersey after winning the 2004 NBA championship. … The Rangers are celebrating the 25th anniversary of their 1994 Stanley Cup championship. G Henrik Lundqvist will do his part by wearing this mask paying homage to former Rangers G Mike Richter, who manned the net that season (from Moe Khan and Al Kreit). … The Maple Leafs are suing rapper Snoop Dogg for copyright infringement because they claim that the name and logo of the cannabis he's marketing is too similar to the team's own name and logo. … Speaking of the Leafs: The team recently took the subway to an outdoor practice and got some pretty great photographs out of it (from Will Leslie and Wade Heidt). … Also from Wade: The Canucks will celebrate Lunar New Year and the year of the pig by wearing red warmup sweaters with a commemorative patch on Feb. 11. … The Western Hockey League's Calgary Hitmen wore Calgary Cowboys throwbacks in recognition of the team that played in the World Hockey Association from 1975-1977. More information here on the Hitmen's tribute to three former Calgary hockey teams (from multiple readers). … Today, Alabama will wear cancer-awareness sweaters that will then be auctioned-off for charity (from Griffin Smith). … Cross-listed from the baseball section: Minor league baseball's Hartford Yard Goats appear to have a number of different jerseys that will be worn next season, including a hockey style uniform paying homage to the old Hartford Whalers (from @mikeDfromCT and Jeff Taylor).

NBA News: Odd look for two legacy teams last night as the Lakers wore yellow on the road while the Celtics wore green at the Garden (from @HitTheGlass [I watched part of this game at a bar and was struck by how the green-clad Celtics players blended in with the green-painted lane — PL]). … Cross-listed from the hockey section: In Wednesday's lede, Paul asked for examples of players wearing jerseys from other sports during championship parades. Reader Mario Scibilia reminded us that former Pistons F Rasheed Wallace wore a Red Wings jersey after winning the 2004 NBA championship. … PG Retin Obasohan, of the D League's Northern Arizona Suns, wears a black shoe with white laces and a white shoe with black laces to symbolize the importance of racial harmony (from Griffin Smith). … The D League's South Bay Lakers will wear uniforms celebrating Lunar New Year (from Moe Khan). … With the NBA trade deadline having passed yesterday, there are now lots of players with new teams and jersey assignments: with the Bulls, SF Otto Porter Jr. will wear No. 22; with the Wizards, SF Wesley Johnson will wear No. 4, PF Bobby Portis will wear No. 5, and PF Jabari Parker will wear No. 12; with the Heat, PF Ryan Anderson will wear No. 31; with the Cavs, PF Marquese Chriss will wear No. 3 and G Brandon Knight will wear No. 20; with the Kings, G Alec Burks will wear No. 13, F Harrison Barnes will wear No. 40; with the Pistons, SG Svi Mykhailiuk will wear No. 19; with the Suns, G Tyler Johnson will wear No. 16; and with the Mavericks, SF Justin Jackson will wear No. 44 (from Etienne Catalan).

College Hoops News: In recognition of Black History Month, Arizona State will wear uniforms inspired by the Harlem Renaissance (from Erik Gamborg). … Last night, the North Carolina women hosted a blackout game vs. Duke and passed out to fans a bobblehead doll of HC Sylvia Hatchell (from James Gilbert). … Drake is wearing throwbacks to commemorate the 50th anniversary of its 1969 Final Four team (from Andrew Musgrove and David Hanson). … Here's an article on college hoops hairstyles (from Marc Viquez).

Soccer News: English club Fulham has a new kit it will wear during the preseason in honor of the team's 140th anniversary (from Ed Zelaski). … Nike is encouraging its client, Barcelona MF Frenkie de Jong, to wear his first name on the back of his shirt, instead of his surname, "from a merchandizing point of view" (from Josh Hinton). … New Mexico United, of the USL Championship, has unveiled its inaugural home kits. More information here (from Paul and multiple readers).

Grab Bag: Golf's Players Championship has a new sterling-silver and 24k-gold trophy (from Michael Brighton). … Reader Graham Clayton sent a tidbit that 1970s-era Australian racecar driver Robyn Hamilton had to have a custom-made racing suit because existing suits didn't fit her. … Air Force four-star Gen. Joseph Lengyel called himself out on social media for accidentally wearing his ribbon rack upside-down during the State of the Union address this week. … Here's an interesting piece on how a Brooklyn-based costume designer manages to do his job on a tight budget (NYT link). … Gucci has removed a jumper from its line that had been heavily criticized for "resembling blackface" (from J. Max Weintraub). … Meanwhile, Adidas has responded to criticism by pulling an all-white sneaker that had been created for Black History Month. … The city of Lansing, Mich., has a new logo that has been met with mixed reactions from residents.