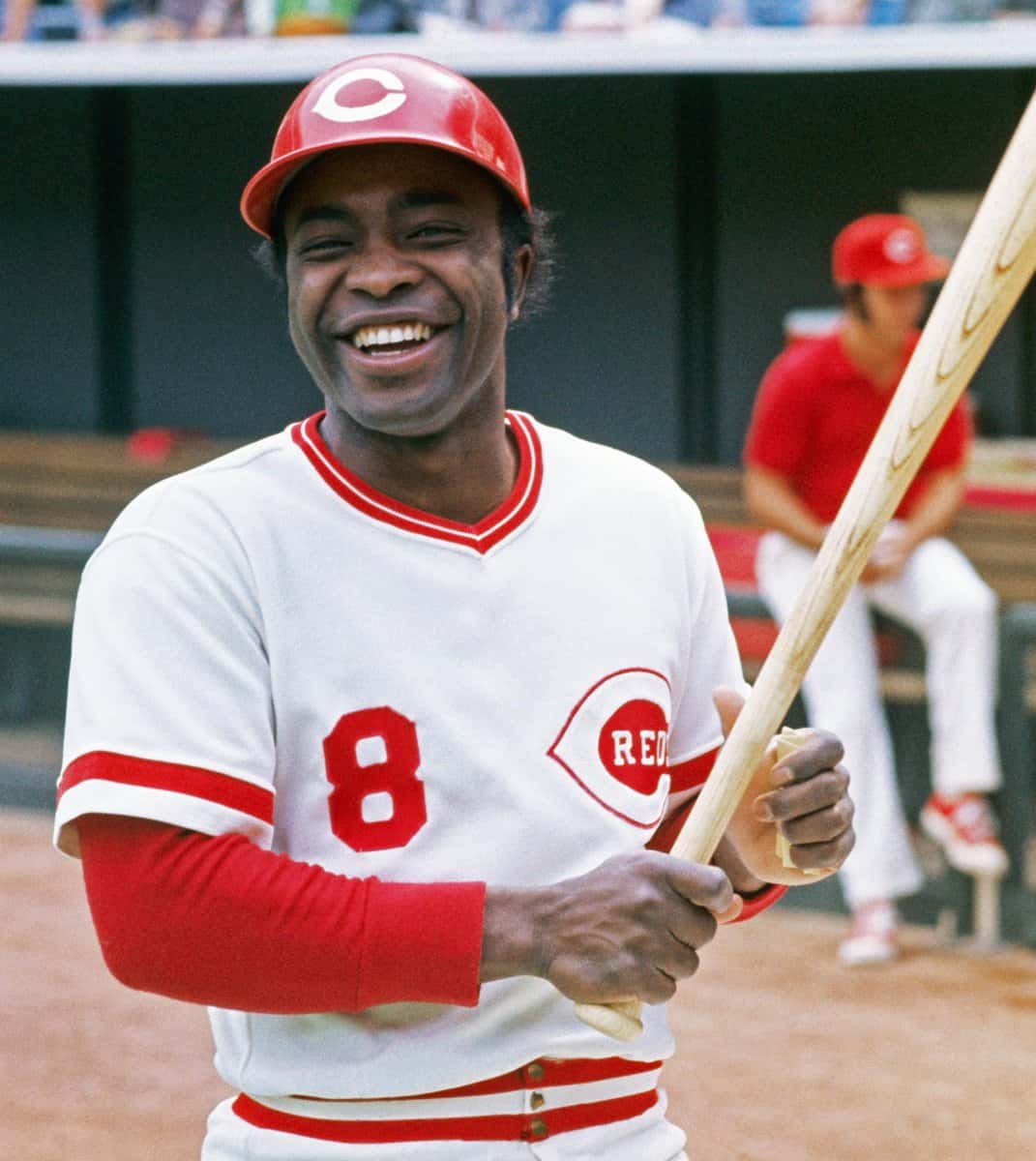 Click to enlarge
Baseball Hall of Famer and two-time National League MVP Joe Morgan died yesterday at the age of 77. I was lucky enough to grow up watching him play during his prime in the 1970s — he was the real deal.
Although Morgan is usually associated with the Reds, he played for several other teams during his 22-year career — and wore an unusually high number of top-echelon MLB uniforms. Let's take a look at some of them: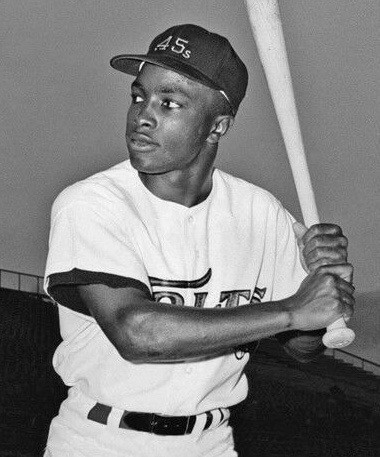 Houston Colt .45s, 1963-64

Morgan signed with Houston and played a total of 18 games for them in 1963 and '64, when the franchise was still known as the Colt .45s. As such, he got to wear the team's famous "smoking gun" jersey. The photo shown above is the best shot I could find of him in this uniform, although you can also see him in this group shot (click to enlarge):
(That last shot was for a gimmick promotion that the Colts ran during their last homestand of the 1963 season: They fielded an all-rookie lineup!)
In 1965, the Colt .45s became the Astros, which leads us to Morgan's next notable uniform…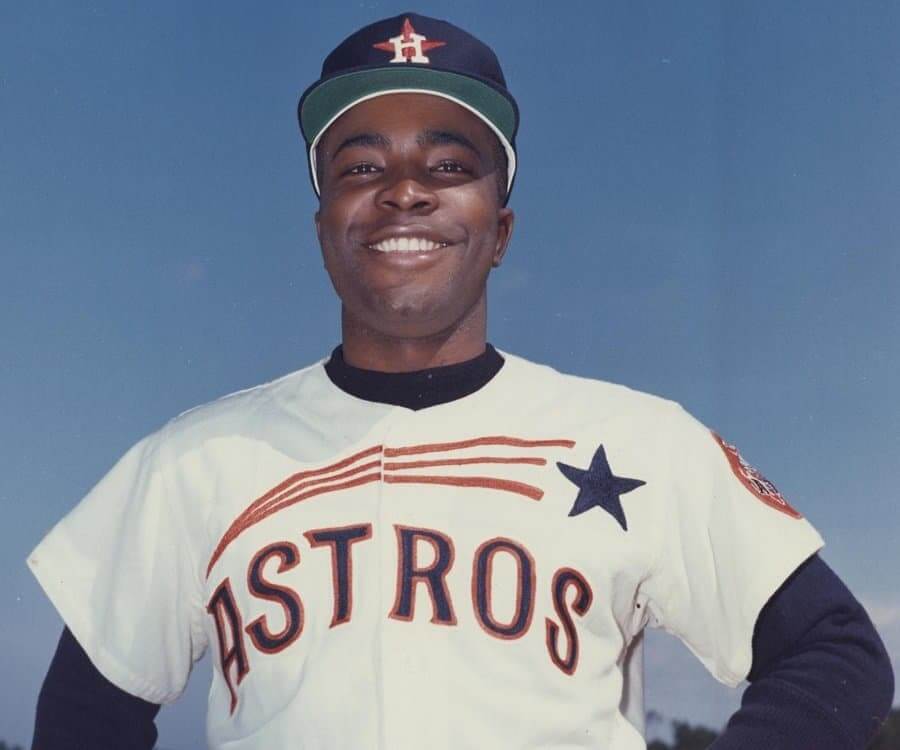 Houston Astros, 1965-71

Morgan became an everyday player in 1965, just in time to wear the inaugural version of the Astros' awesome "shooting star" uniforms. If you look closely at the photo shown above (which you can click to enlarge), you can see that the jersey's lettering and graphics were all chain-stitched — magnificent!
Here's an action photo: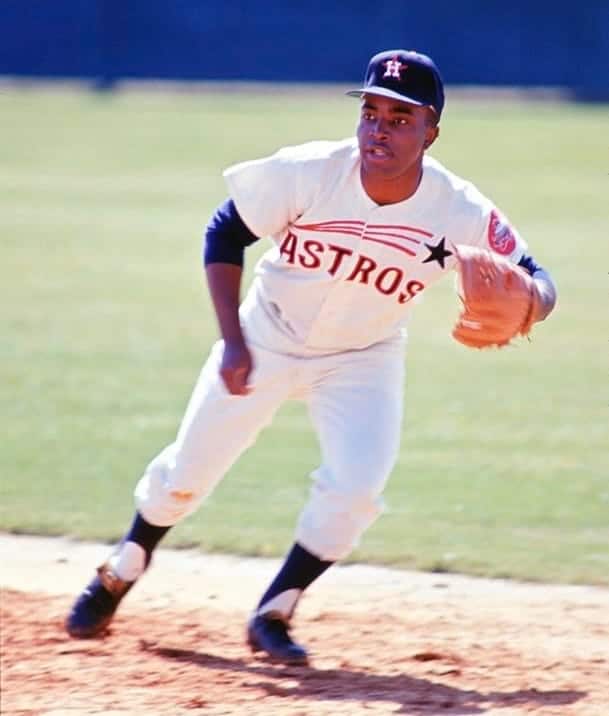 Morgan also wore the 1971 version of this uniform, which had orange lettering, but I couldn't find a photo of him wearing that design. Anyone..?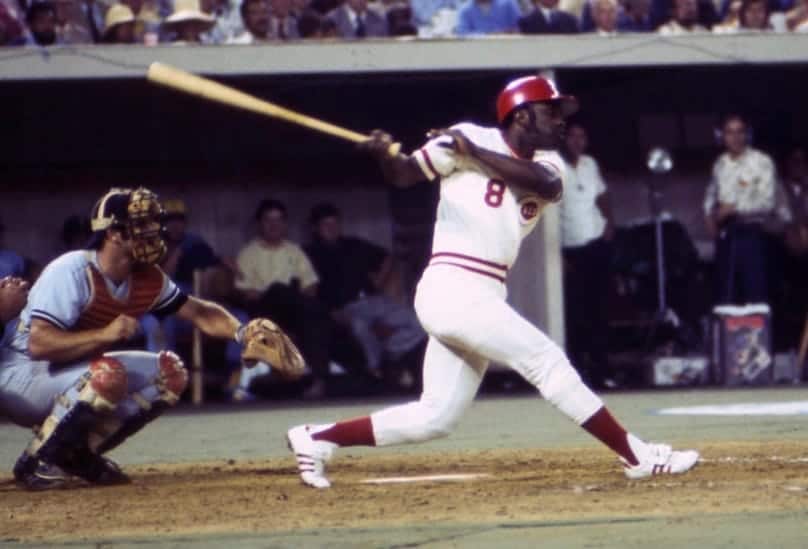 Cincinnati Reds, 1972-79

Morgan spent eight seasons with the Big Red Machine, whose uniforms remained unchanged during his time there. Although the Reds were famously fussy about their players' look — low-cut stirrups, plain black shoes, beardlessness were all mandatory — Morgan, like several other Cincy players at the time, pushed the boundaries a bit at All-Star Games. The photo shown above is from the 1974 ASG, where he wore white shoes; three years later, he wore red:
A Red wearing red shoes may not look so outlandish today. But at the time, it was unheard of!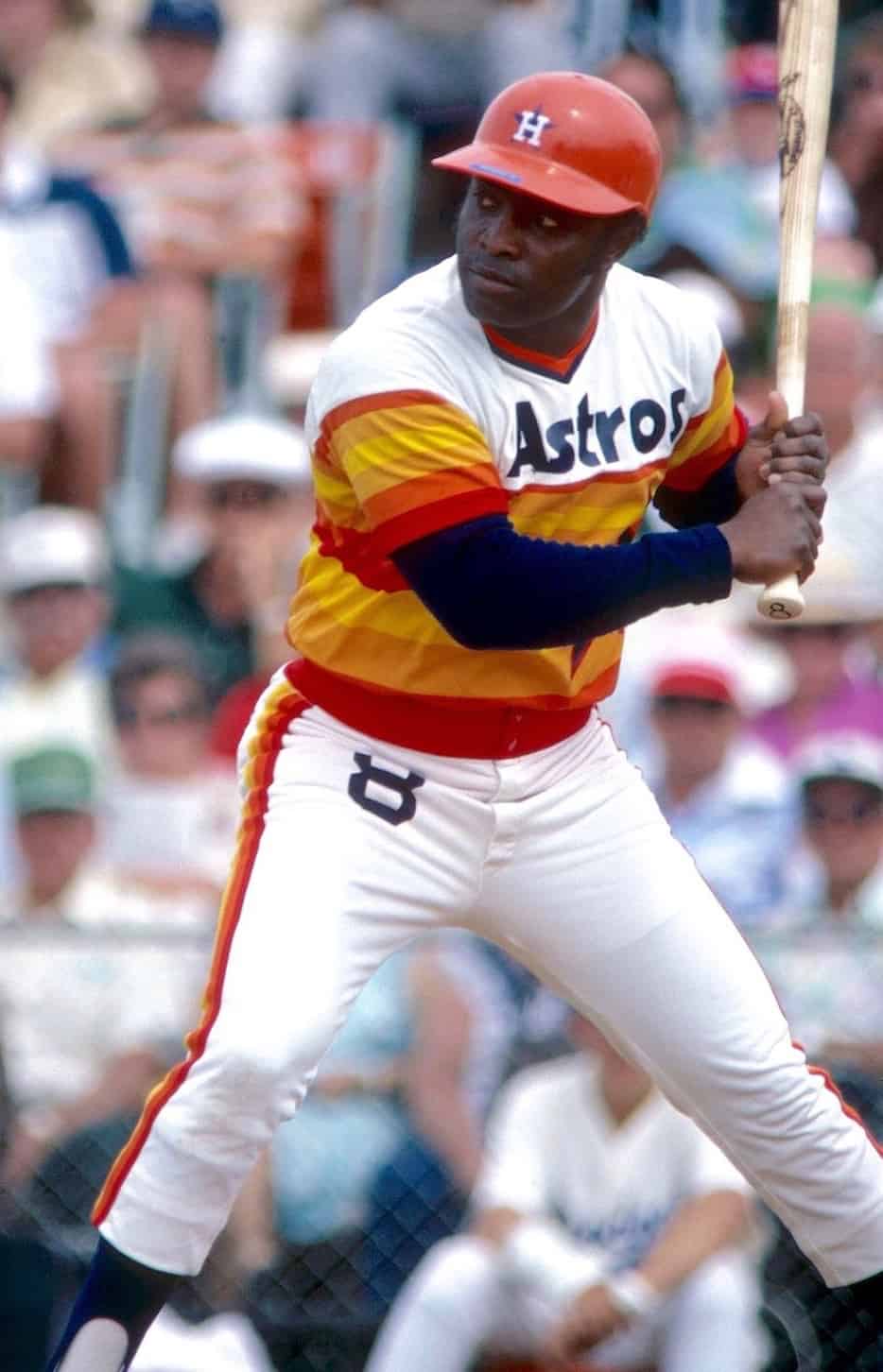 Houston Astros, 1980

Morgan had a return stint with the Astros in 1980, allowing him to fill in the tequila sunrise box on his uniform bingo card. Hmmm — is he the only player to wear all three of the iconic Houston designs (smoking gun, shooting star, tequila sunrise)?
Update: Reader/commenter Rich Loup says Houston pitcher Larry Dierker also wore all three of those.
San Francisco Giants, 1981-82
Embed from Getty Images
After his one-year return trip to Houston, Morgan moved on to the Giants, where he wore one of my favorite (and, to my mind, underrated) uniform sets. Dig how suave he looked in that Giants script! And of course he also got to wear the team's orange and black jerseys:
Embed from Getty Images
As an aside: While looking for Giants pics of Morgan, I found this shot of him running sprints during spring training in 1982. Look at that fence!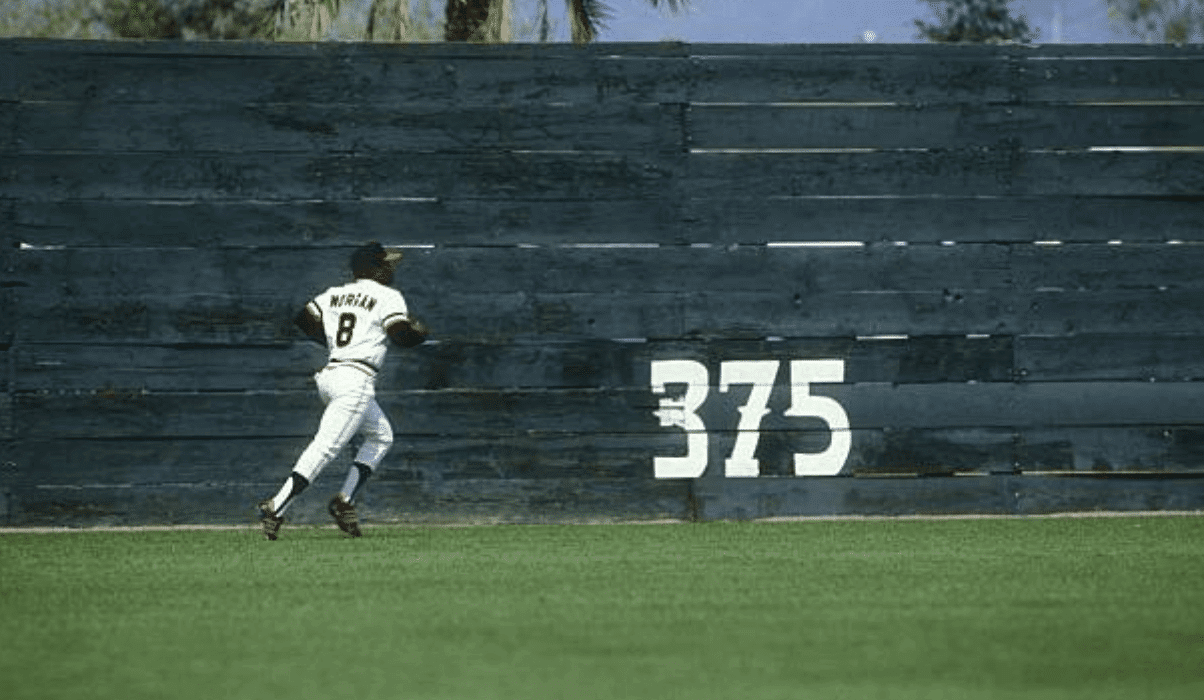 Philadelphia Phillies, 1983

Embed from Getty Images
Morgan reunited with former Reds teammates Pete Rose and Tony Perez on the 1983 Phillies. This move, in addition to punching his ticket to another World Series, allowed him to wear powder blues for the first time in his career:
Embed from Getty Images
One thing that's clear in these Phillies and Giants photos is that Morgan enjoyed the freedom to wear high-rise stirrups once he was no longer subject to the the Reds' dress-code strictures.
Oakland A's, 1984
Embed from Getty Images
The final stop in Morgan's career was in Oakland, where he got to wear the bright A's colors. Obviously, the photo shown above just shows workout gear, but I like the pose and the look on his face. Here are some more conventional uniform pics:
Embed from Getty Images
These next two show Morgan wearing BP jerseys (at least one of them is clearly from spring training), but they still look great: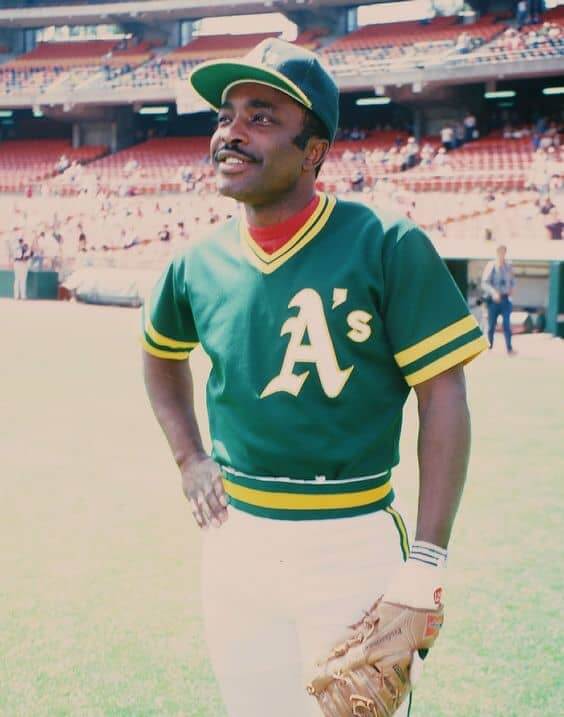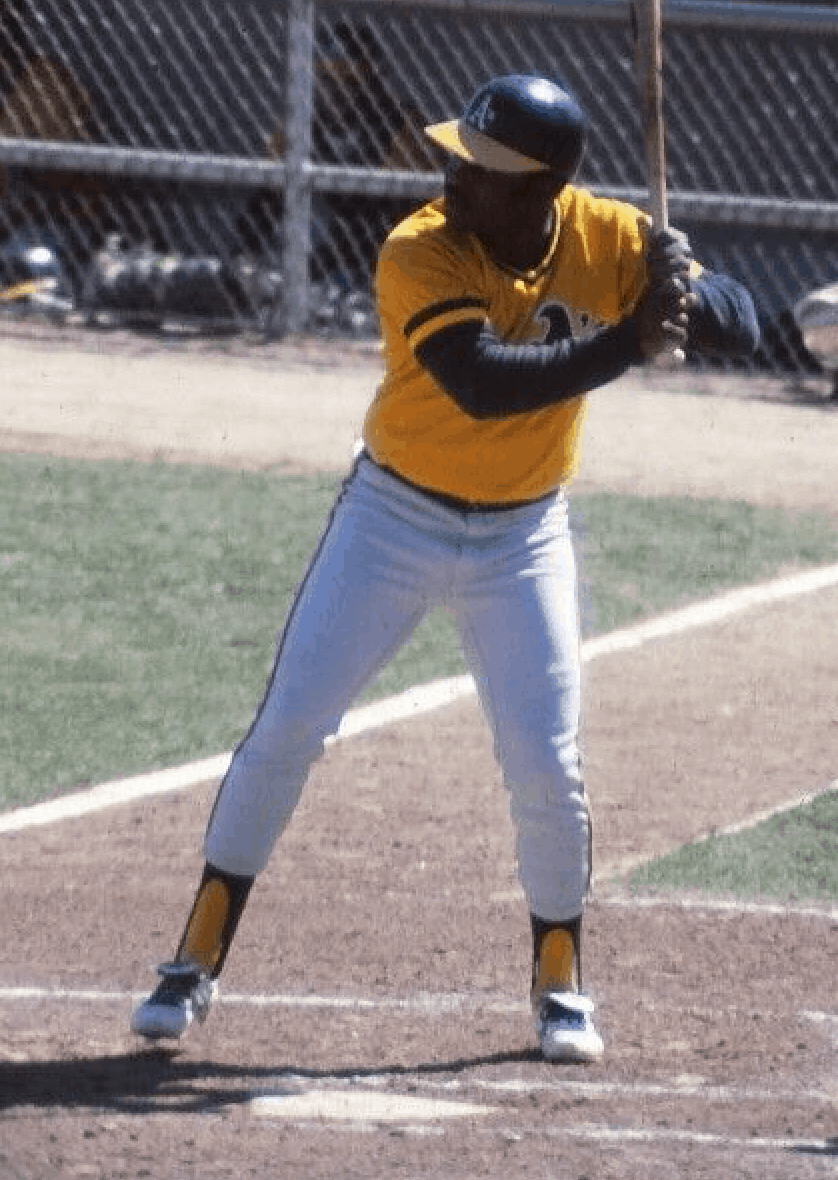 And that's a wrap. Quite a uniform odyssey!
Finally, no assessment of Morgan's visual history would be complete without a mention of his signature elbow flap, a timing mechanism that I've never seen on any other ballplayer:
Nowadays, some coach would probably try to make a player stop doing that, right? Glad that didn't happen to Morgan.
I interviewed Morgan once, in 2008, for an ESPN story about Pirates outfielder Dave Parker's assorted masks. (Morgan felt that the masks made Parker more reckless — and therefore more dangerous to a small-ish middle infielder — when running the bases.) This was around the time that Morgan was routinely being ridiculed online for being a lousy broadcaster on Sunday Night Baseball, so maybe that had made him a bit grumpy, or maybe I just caught him on a bad day. Either way, it was, frankly, an uncomfortable interview — he was very guarded.
But Morgan clearly had his more freewheeling, humorous side. In Jim Bouton's seminal book Ball Four, he describes how Astros outfielder Norm Miller pretended to be a broadcaster interviewing Morgan in the Houston dugout after Morgan struck out during a game on Sept. 1, 1969, and how Morgan played along:
"Joe, Joe Morgan, may I have a word with you?"

"Sure, Norm, how's it going?"

"Fine, Joe, fine. We wanted to ask you about that pitch you missed. What was it?"

"Norm, that was a motherfucking curve."

"Can you tell our listeners, Joe, what's the difference between a regular curve and a motherfucking curve?"

"Well, Norm, your regular curve has a lot of spin on it and you can recognize it real early. It breaks down a little bit, and out. Now, your motherfucker, that's different. It comes in harder, looks like a fastball. Then all of a sudden it rolls off the top of the table and before you know it, it's motherfucking strike three."

"Thank you very much, Joe Morgan."
As a 12-year-old, I couldn't stop laughing at that. I still like it today. R.I.P., Joe.
• • • • •
• • • • •
BALL HAWK 👐@NasirAdderley | #BoltUp pic.twitter.com/fSKGStYT57

— Los Angeles Chargers (@Chargers) October 13, 2020
Who dat looks like crap? Quite the study in contrasts in last night's Chargers/Saints game, with the Bolts looking super-sharp in their new yellow pants, gorgeously accented by the blue socks, while the Saints looked dreary in mono-black. It was like one team was playing in Technicolor while the other was stuck in black-and-white. (You can see lots of additional photos here.)
For the life of me, I can't understand why the Saints keep wearing their black bodysuits at home. They look good, and then some, when they pair the black jerseys with the gold pants — why move away from that? Such a mistake.
• • • • •
• • • • •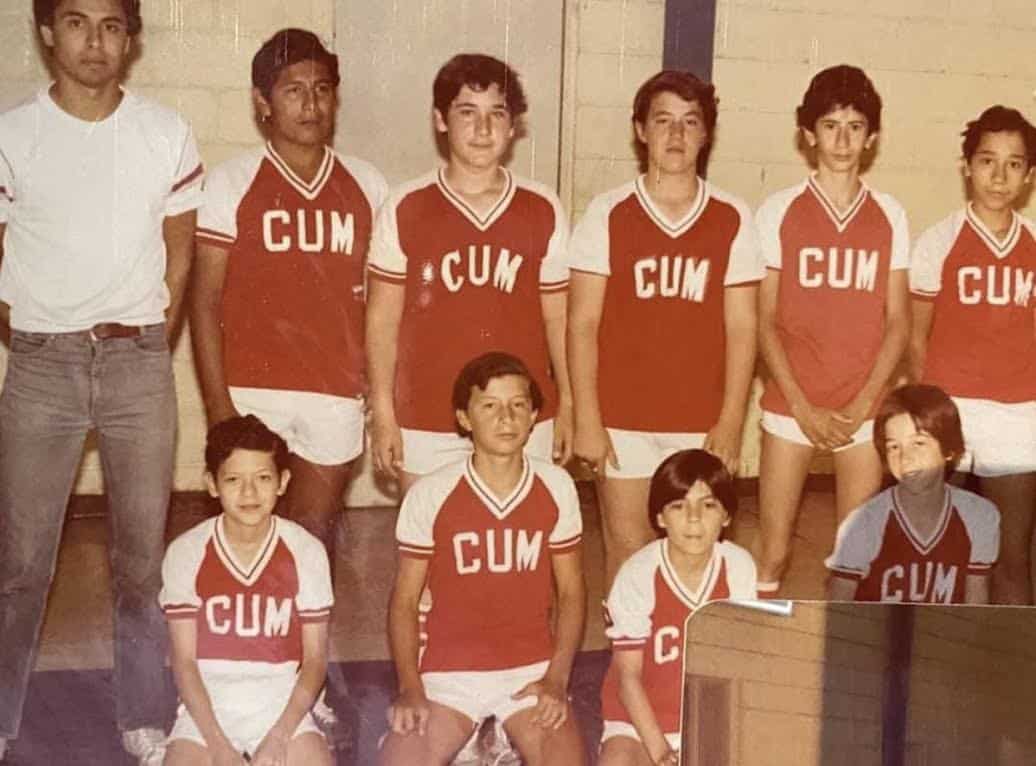 Click to enlarge
Too good for the Ticker: Here's a simple test: If the first thing you notice when you look at this 1980s photo is "Some have straight lettering and some have arched," or "At least one guy has a different font than the others," or "Hey, those two guys in the top row don't have any sleeve striping," then congratulations — you just earned your Uni Watch diploma.
(My thanks to Jimmy Lonetti for this one.)
• • • • •
• • • • •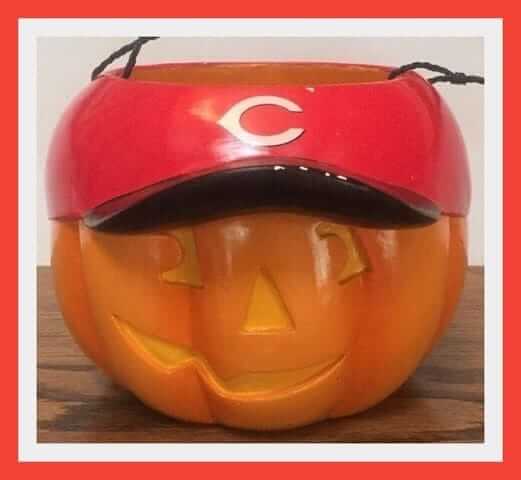 Collector's Corner
By Brinke Guthrie
Follow @brinkeguthrie
We're getting in the Halloween spirit on this week's edition of Collector's Corner, starting with this story from my youth: One Halloween around 1966, I was carrying my plastic pumpkin full of candy down a long, downhill road in our winding Louisville subdivision. I paused for a sec, standing by a sewer grate. It was right about here, but I don't see the grate anymore. Anyway, the strap broke, the pumpkin fell, all the candy went down the sewer, and I came home empty-handed. Is that a Charlie Brown moment or what?
Hopefully, the strap is more secure on this Cincinnati Reds Jack-O-Lantern bucket. Just the thing to hold your trick-or-treating goodies — assuming door-to-door trick-or-treating actually takes place this year, that is.
Here are the rest of this week's picks:
 • One more Reds-related item, this 1966 Spring Training Auxiliary Roster. What's an "Auxiliary Roster," anyway?  A separate booklet just for the scrubs and minor leaguers?
 • Came across this vintage January 1972 issue of Life magazine with Roger Staubach and Tom Landry on the cover, and I thought, "Oh, I've seen that photo before."
 • Going back over a century for this item — a 1910s pillowcase adorned with baseball player tobacco inserts, including Ty Cobb.
 • Phil Rizzuto, the "famous short-stop of the New York Yankees," recorded this 78-rpm record in the 1950s for the Good Luck Clover Newspaperboy Contest. It seems that Good Luck was a brand of margarine. Includes "Hints on How to Win," and "What to Say to Your Customers."
 • One more record: This time it's "Keep the Ball Rollin'" by Jay and the Techniques, a song for the 1981 Philadelphia Eagles.
 • How to Throw Curves and Other Pitching Secrets is the title of this 1930s Babe Ruth booklet, sponsored by Quaker Oats. ("Tastes good, and they're good for you!")
 • This 1969 Philadelphia Phillies scorecard is signed by Steve Carlton and Mike Torrez.
 • Staying with the Summer of '69, here's a Seattle Pilots coffee mug.
 • This eBay auction is for a vintage 10″ tall New York Rangers bobblehead bank of unknown vintage.
 • Here we have an auction for various 1971 Chicago Cubs memorabilia items, including a WGN sticker and an ad that says, "Win With a Sticker, Stick With a Winner." Give that copy writer a bonus!
But wait! There's more…
With Halloween now 18 days away, you still have time to visit your local pumpkin patch, where you can grab a pumpkin to emblazon with your favorite team's logo! Don't know where to find the right stencil for your team? Don't worry — Collector's Corner has you covered with this list of links to pro team logo stencils!
Don't see your team listed there? Try dropping the team's logo into this handy-dandy stencil maker! That's what we did to create these stencils of the Uni Watch winged stirrup and circular logo.
If you make a uni-themed pumpkin (whether with a team logo or a Uni Watch logo), be sure to send photos to Paul!
• • • • •
• • • • •
ITEM! New Halloween-themed Color Remix caps, tees: With Halloween on the horizon, designer Bryan Molloy and I thought we should add some black and orange to the Uni Watch Color Remix series. Let's start with the caps (click to enlarge):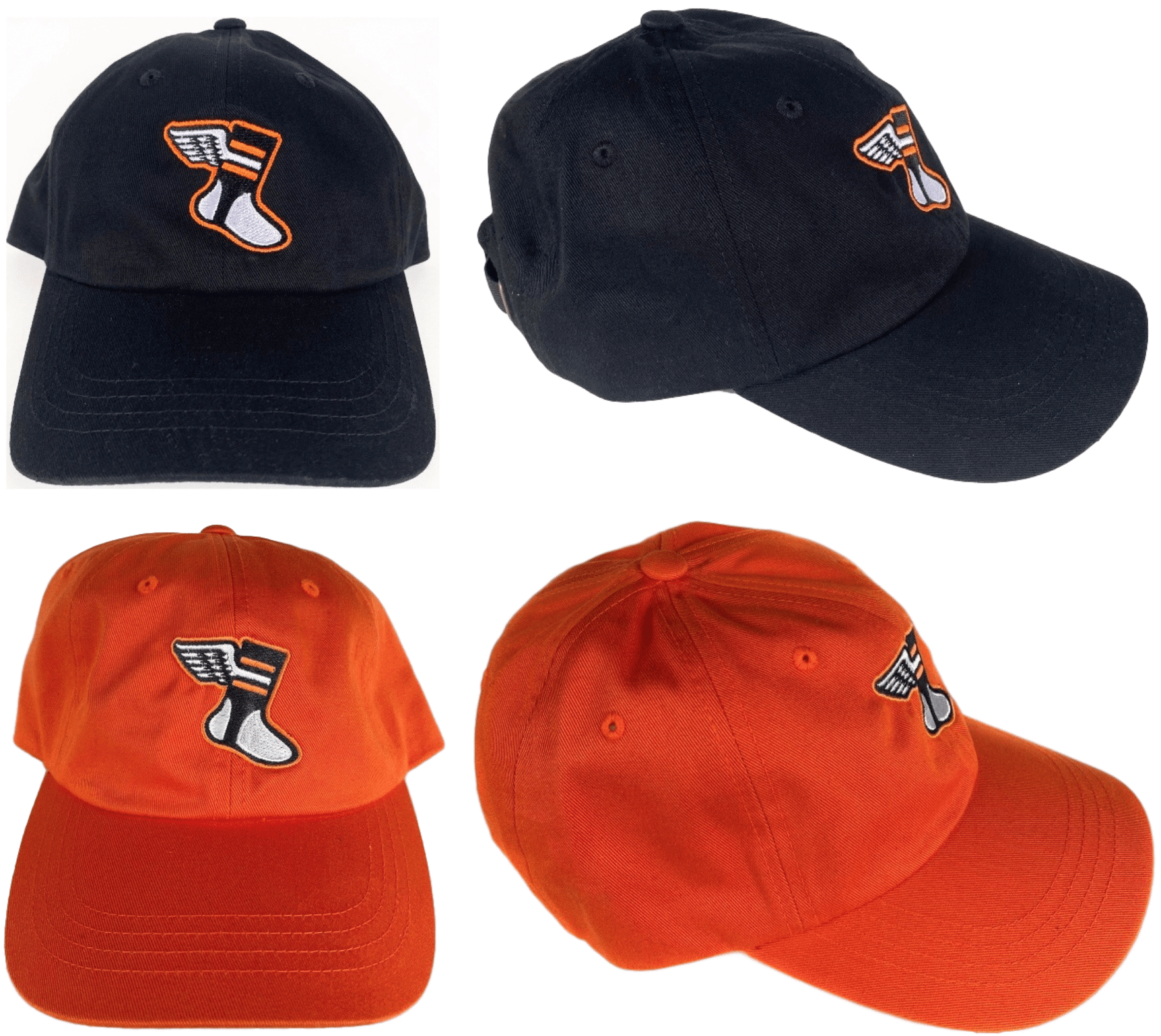 These will be available for a limited time here.
In addition, we have corresponding T-shirts: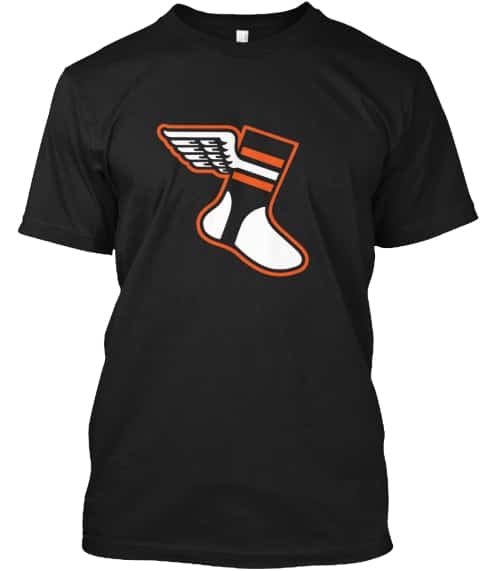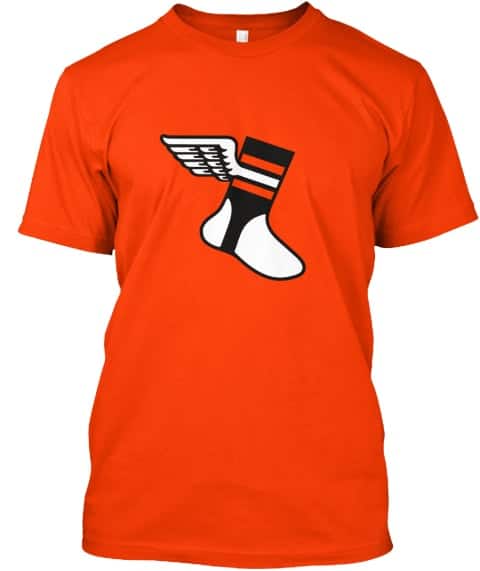 Here's where you can order the black and orange versions. They will remain in the Uni Watch Shop for the foreseeable future.
Finally, this is the last week for ordering the first round of Color Remix caps, so move fast if you want any of those. Thanks!
Meanwhile, as long as we're talking merch: In case you missed it yesterday, Uni Watch Koozies are now available in a new design: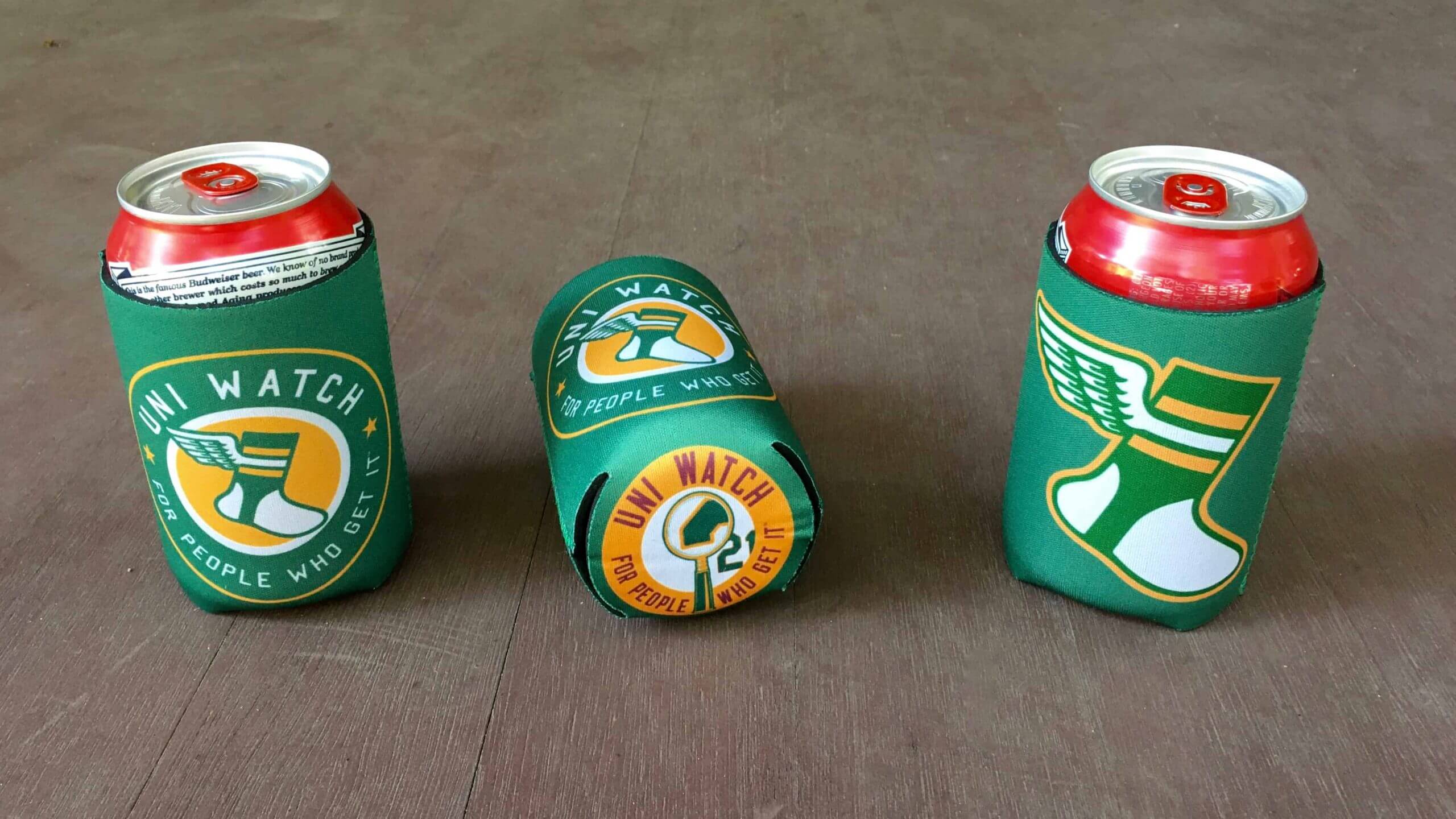 Plus you can save on shipping if you combine a koozie order with some of our other products. Full details here.
• • • • •
• • • • •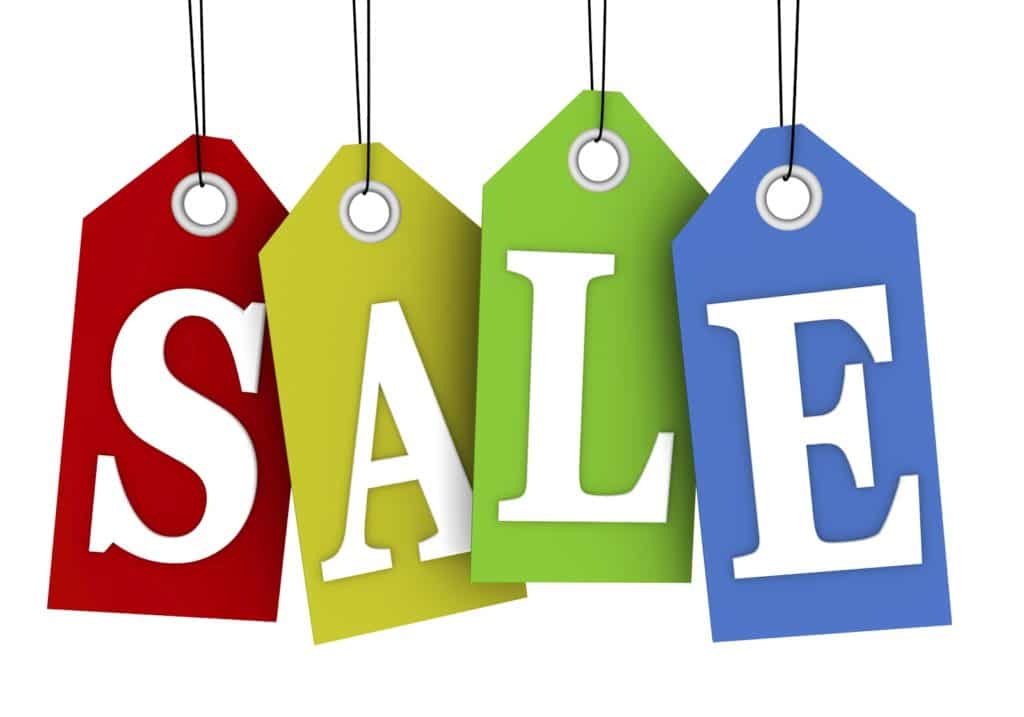 Teespring sale reminder: In case you missed it yesterday, Teespring is running another one of its periodic sales. Until midnight tonight you can get 10% off your order by using the checkout code HARVEST10. That means you'll save some coin and Uni Watch will still get its full share of the earnings — a win-win!
This offer applies to the everything in the Uni Watch, Uni Rock, and Naming Wrongs shops.
My thanks, as always, for your consideration.
• • • • •
• • • • •
The Ticker
By Alex Hider

Baseball News: For anyone into bat knob decals, the Astros had you covered yesterday with this photo they shared on social media (from @SteveinLC). … Speaking of the Astros, manager Dusty Baker was wearing his mask upside-down yesterday (from @jsweezy87). … During that game, which was played in San Diego, a phantom Padres logo was still visible behind home plate (from Austin John). … Rays OF Randy Arozarena wore the wrong cap for at least part of Sunday's game (from Jonathan Coffey). … Fromer umpire John Hirschbeck lost his son in 2014 lost his son to a rare neurological disease called ALD. Hirschbeck's son was an avid memorabilia collector, and after going through the collection with a friend, the pair realized they can use the collection to raise money to fight the disease (via The Athletic, hard paywall)  (from Tim Dunn). … After Andrew Taylor's father died of ALS in 2017, Andrew organized a charity softball tournament to raise money for the Joe Martin ALS Foundation in Charlotte. Here are the shirts and masks he's designed for this year's event. … Pretty funny moment in this video from the 1967 World Series — third base ump Augie Donatelli steals the cap right off 2B Julian Javier's head as the team celebrates! Here's more on the theft (From BSmile and Jason Halpin). … Each year, a group of Pirates fans gathers at the last remaining piece of Forbes Field to relisten to the radio broadcast of Game Seven of the 1960 World Series. With the pandemic limiting social gatherings, the Pirates have invited some of those fans to PNC Park this year to give them a bit more space (from Mike Rosenberg).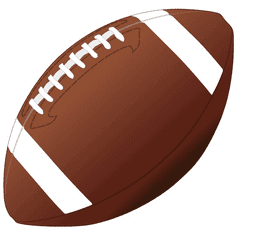 Football News: In 1988, the Bengals wore a small sleeve patch to mark Cincinnati's bicentennial for one preseason game —the Hall of Fame Game against the Rams (from John Thrift). … BYU will be wearing gray facemasks this weekend against North Alabama (from  @donky_fromshrek and @brandongutie). … Tennessee Coach Jeremy Pruitt said earlier this year he wanted the Vols to wear black uniforms this season to fundraise for local organizations fighting for racial equality. However, Nike's apparel contract will prevent them from doing that this season (thanks to all who shared). … Waukesha North High School in Wisconsin uses an upside-down University of Miami "U" as a logo (from David Petroff). … Here's more on the University of Maine's extremely rare apparel contract with New Balance (from James Gilbert).

Hockey News: The Rangers signed rookie LW Alexis Lafrenière yesterday, and a graphic they shared on social media showed Lafrenière in a sweater with a smaller NOB font that included an accent mark. Better yet, the sweater didn't have a maker's mark! (!) (from Matthew Brooks and Brandon Wheatkings). … The Newfoundland Growlers, an ECHL affiliate of the Maple Leafs, have a new Leafs-inspired alternate (from Mike Lucia). … Notre Dame G Nick Sanford has a new pad set that features the golden dome on the school's "Main Building" (from Anthony Nuccio and Warren Junium).

Basketball News: Anyone voting at State Farm Arena in Atlanta — home of the Hawks — will get a special basketball-themed "I Voted" sticker (from David Petroff). … New "Dallas" alternates for SMU (from Chris Mycoskie). … Huntingburg High School in Indiana had a pretty awesome number font back in the 1950s (from @BallparkHunter).

Grab Bag: Atherton High School in Louisville, Ky., says it will retire its "Rebel" mascot, and the county's school system is asking other schools to review their mascots as well (from Josh Claywell). … Luis Fernando is back with another NASCAR/football jersey crossover for driver Austin Dillon. … eBay will soon launch a sneaker authentication program.
• • • • •
• • • • •
• • • • •
Tomorrow: The Uni Watch 2020 Press Pin.