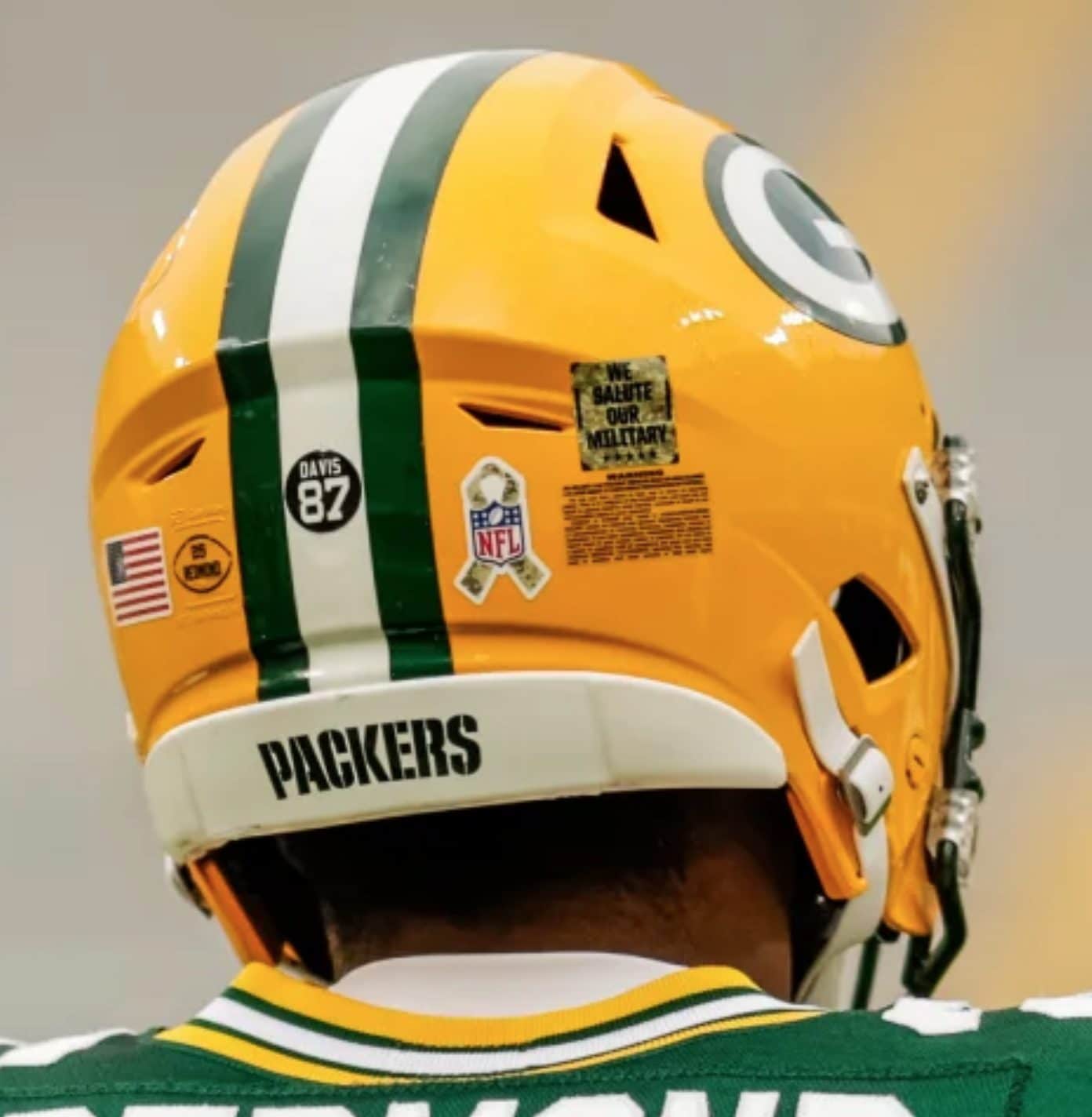 For all photos, click to enlarge
Good morning! Greetings from Uni Watch HQ, where all three inhabitants continue to be safe and well.
Yesterday was the first day of November, which means it was also the start of NFL's annual G.I. Joevember virtue-signaling program. As you can see above, there's a new component to it this year: In addition to the camouflage ribbon rear-helmet decal, teams are also wearing a decal that says, "We Salute Our Military."
Also, remember how this year's cancer-awareness program, which ran in October, included new rainbow visor tabs? If so, then you won't be surprised that G.I. Joevember now features camouflage tabs for the first time: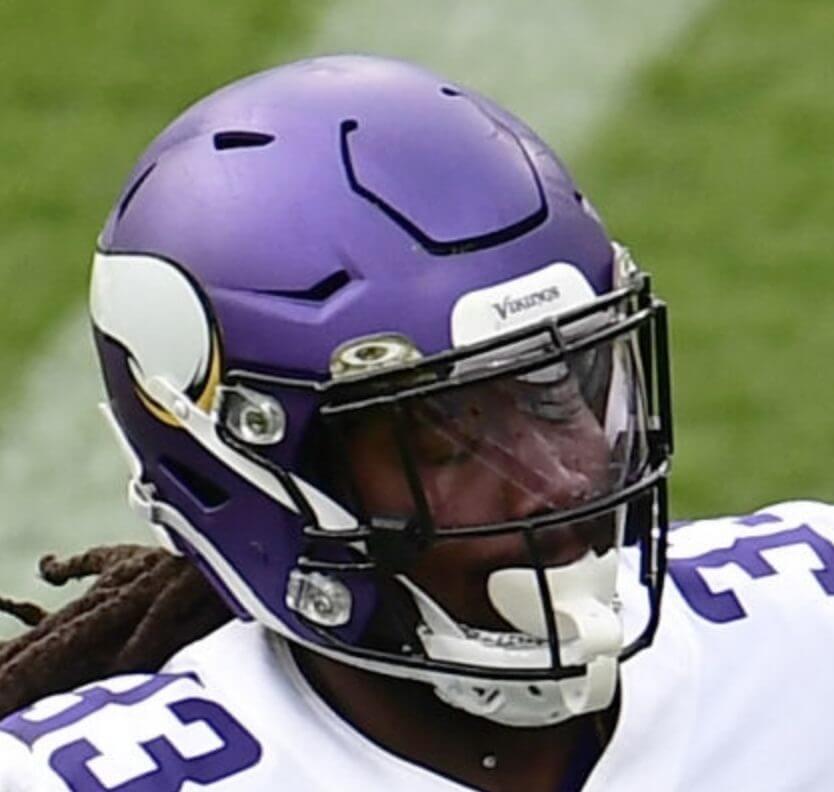 Only certain games were designated as part of the G.I. Joevember program yesterday, so some teams wore these uni elembents and others didn't. But all will do so by the end of the month.
Interestingly, though, most of the camouflage accessories that we've seen in previous years — gloves, waistband towels, hand-warmer pouches, compression sleeves goalpost pads, and so on — had little or no presence yesterday, so the overall visual effect was definitely less camo-heavy than in the past.
Except, that is, in Philadelphia, where the Eagles wore plenty of camo gear. Speaking of the Eagles, they wore "JJ" and "RT" decals for Jason Jones and Robin Towns, a pair of Eagles fans who died while serving in the military (additional info here):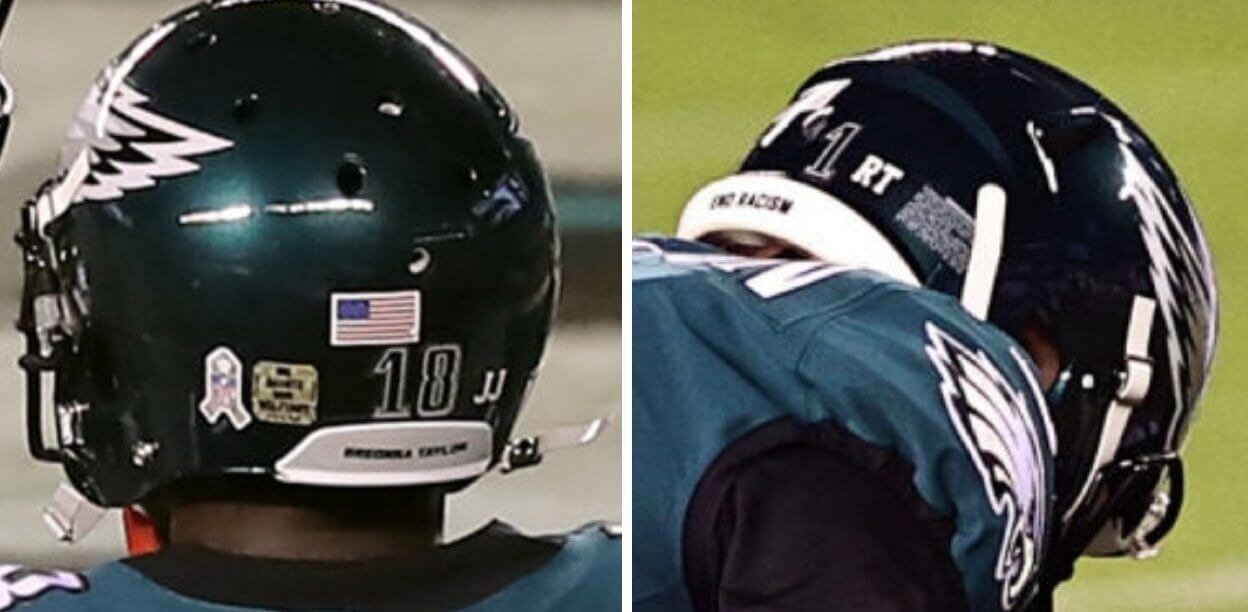 Update: Reader/commenter Tom explains that the offense wore "JJ" and the defense wore "RT."
In addition, Eagles defensive back Avonte Maddox wore a base layer undershirt with a camouflage ribbon and American flag on the right sleeve: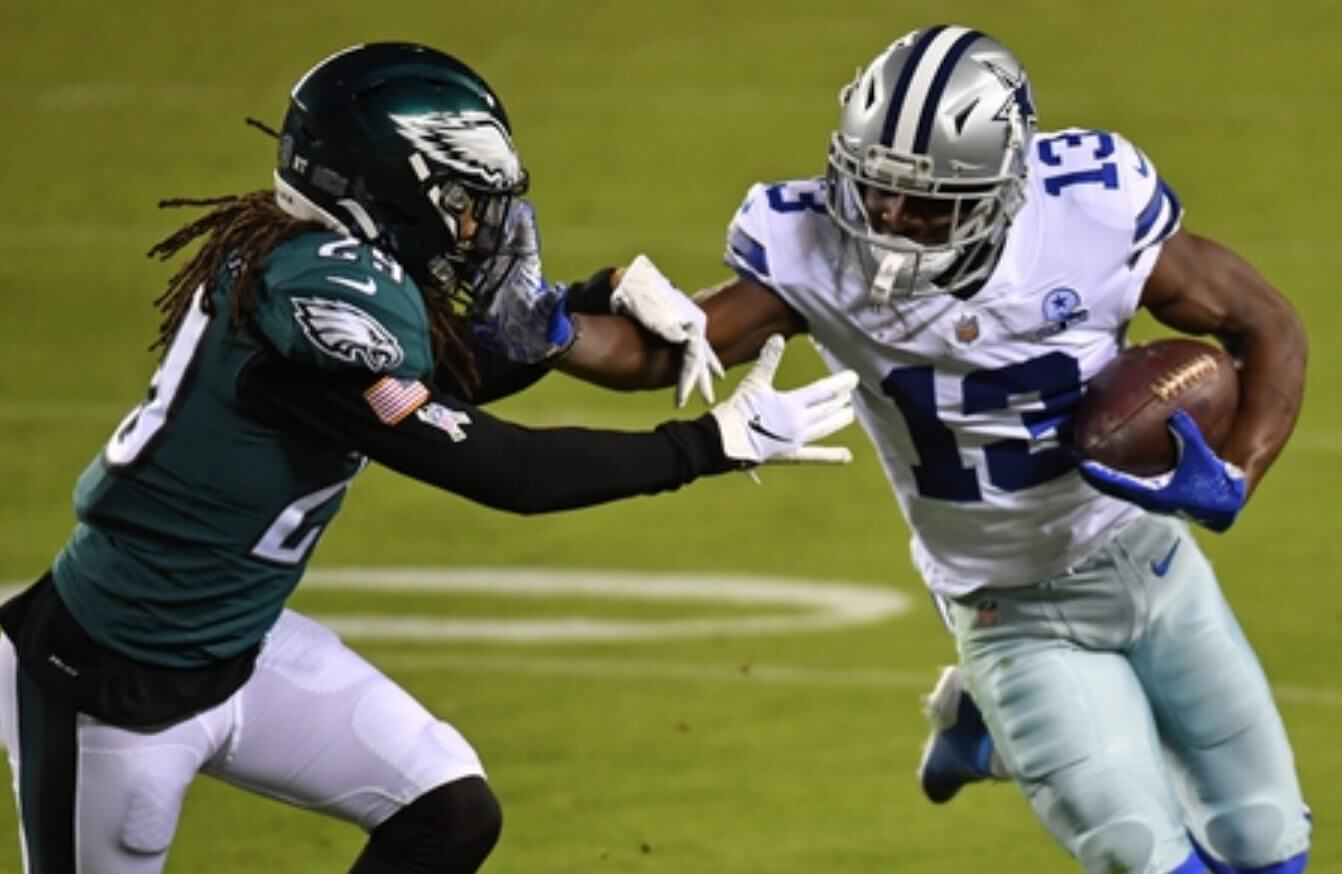 Not sure I've ever seen that before. Looks like it may have been the same hoodie that Eagles coach Doug Pederson was wearing, but with the hood cut off.
In other news from around the league yesterday:
• As you can see in that photo at the top of the page, the Packers did not add a memorial decal for Herb Adderley, who died on Friday. A bit surprising.
• The Bengals wore their mono-white alternates at home:
• For the second time in three weeks, the 49ers wore their white throwbacks: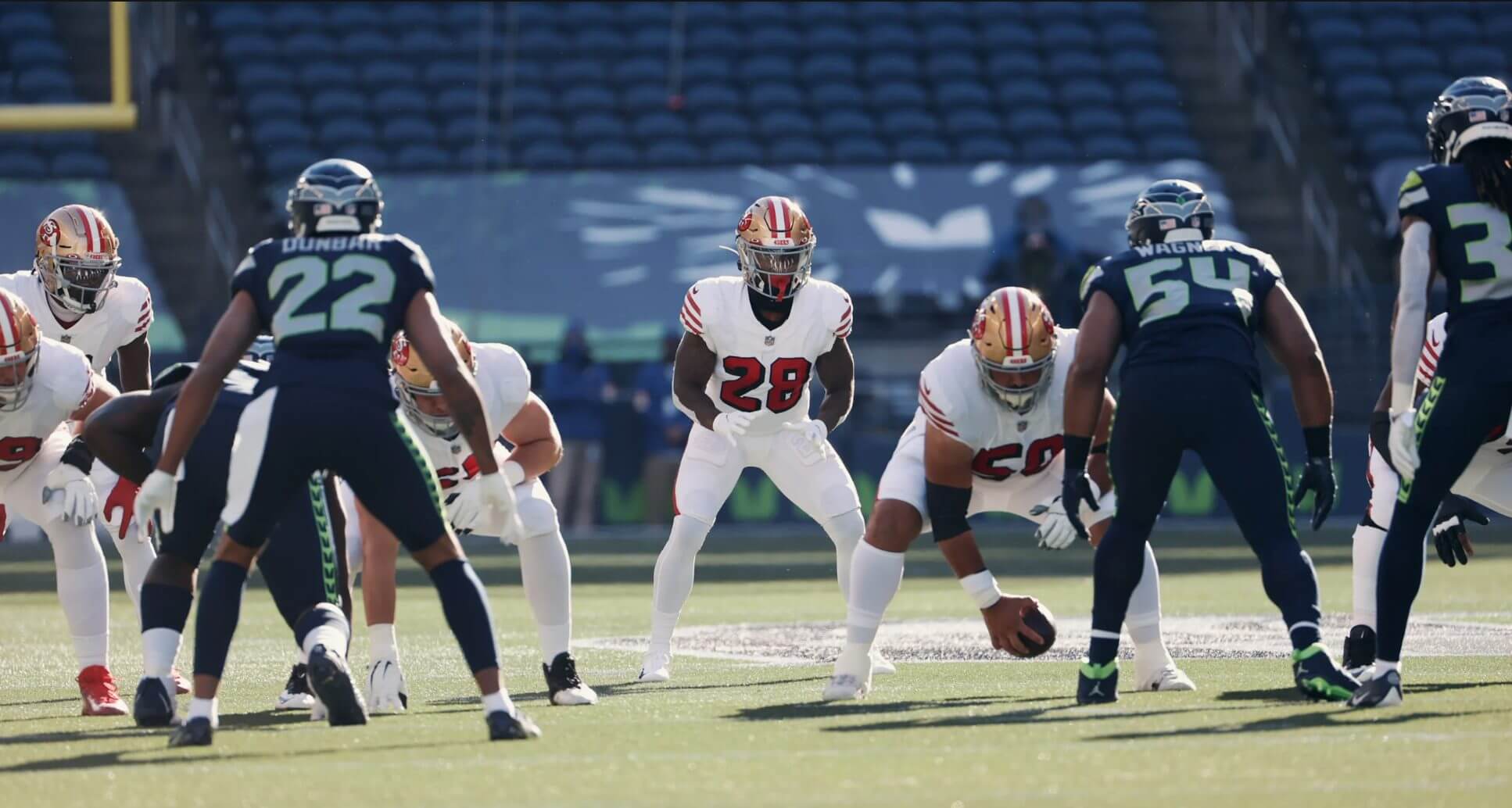 • The Bills and Pats played an inversion game — blue-over-white vs. white-over-blue:
ZACK MOSS! It's a @buffalobills TD! @PresMoss2

📺: #NEvsBUF on CBS
📱: NFL app // Yahoo Sports app: https://t.co/VpbDsNEjOj pic.twitter.com/mg15cjE4g7

— NFL (@NFL) November 1, 2020
• Chargers running back Troymaine Pope's left-side helmet number got badly dinged up: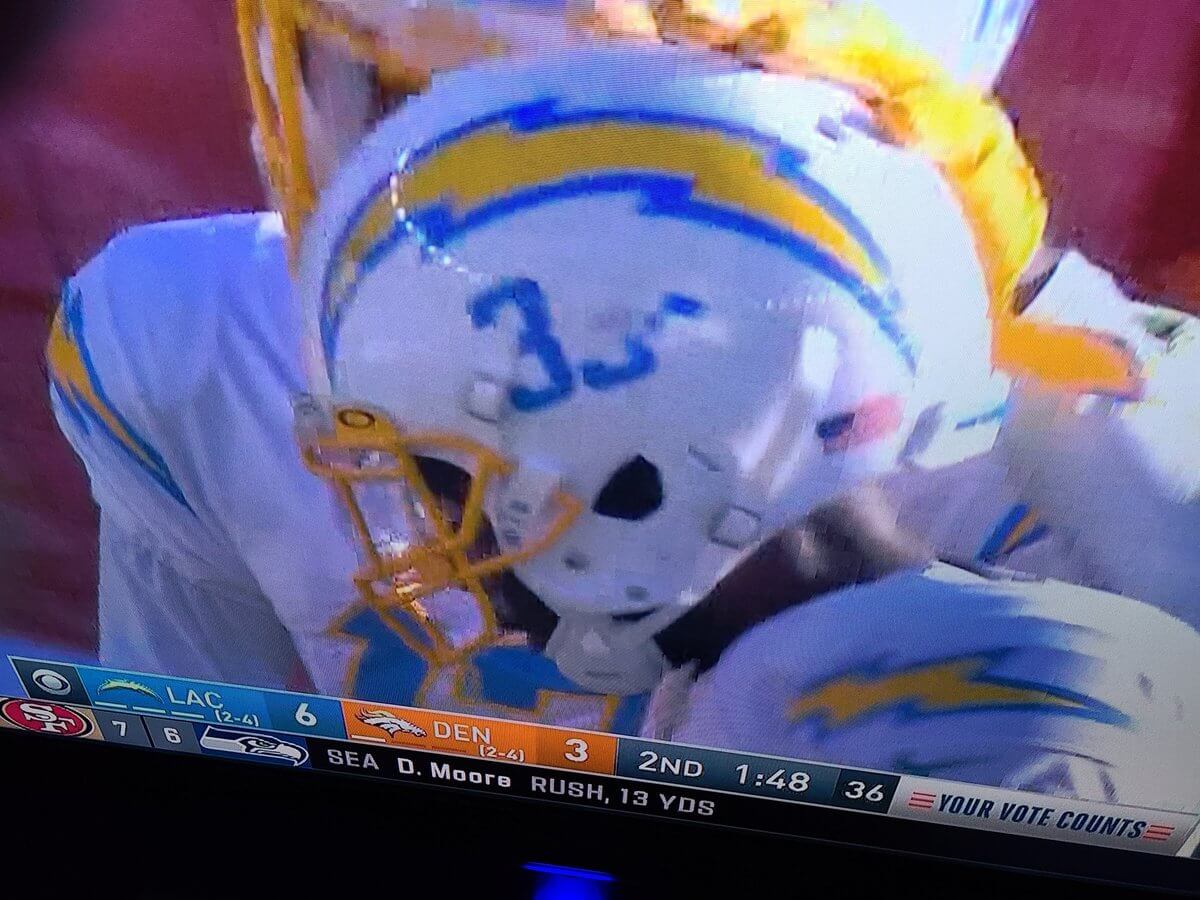 • No visuals, but radio in Bears quarterback Nick Foles's helmet apparently malfunctioned during yesterday's game, so teammate Cordarrelle Patterson ran a new helmet out to him. That led a lot of people to ask me how that could be allowed under the one-shell rule. As I explained to all of them, the rule is designed to minimize the use of multiple helmets, not to eliminate them.
• Speaking of the Bears, the "E" in their on-field "Vote" graphic was styled to resemble the team's sleeve and sock striping: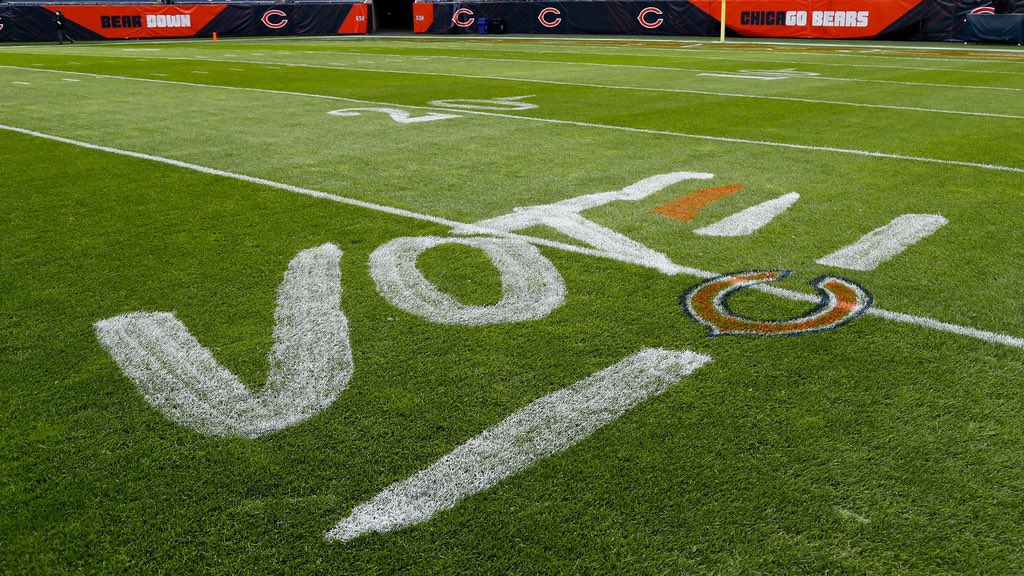 • In a related item, Oxford Pennant's latest victory banner for the Bills was a pro-voting message:
• In my favorite uniform detail of the day, referee Clete Blakeman, who was working the Bills/Pats game, was wearing a pre-2013 jersey. Here's a comparison — yesterday's game with Blakeman wearing the wrong jersey on top, and a game from last year showing him wearing the proper jersey on the bottom: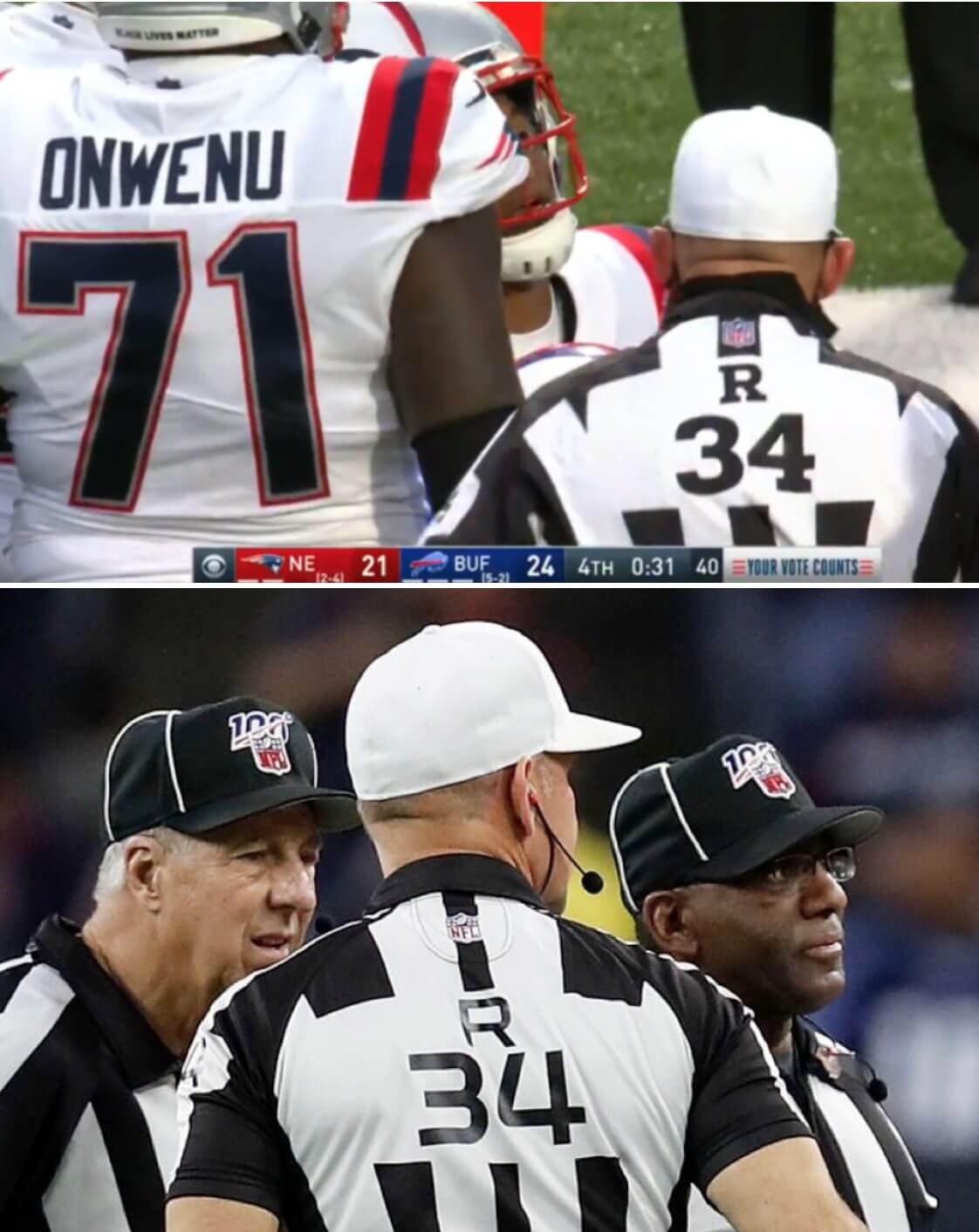 According to the Gridiron Uniform Database, the older style with the serif font, which Blakeman wore yesterday, was last worn in 2012, while the newer sans serif style debuted in 2013. But according to the very wonderful FootballZebras.com site, whose existence I wasn't even aware of until yesterday, this isn't the first time since that changeover that an NFL official has worn an outdated jersey:
Former referee Bill Leavy wore his [Reebok-era jersey] on Halloween night in 2013, and former head linesman George Hayward sported his during a preseason game in 2014. [Referee] Mike Carey even adhered his number 94 in black tape to a blank-backed jersey in October 2013.
That is awesome info right there. I need to up my game!
• You know who else needs to up their game? The Fox Sports graphics department:
@UniWatch another rough day for @FOXSports graphics department. Andrew Van Ginkel scores for the Miami Dolphins, Fox awards it to the Rams. Then when Jakeem Grant had a punt return for a TD, they awarded it to Van Ginkel. pic.twitter.com/9Cdvy5OrJ1

— Preston Feiler (@phfeiler) November 1, 2020
• Meanwhile, NBC ran a little item about the woeful state of the NFC East by showing four generic players — including a Washington player wearing gold pants, which the team hasn't worn since Week 17 of 2018, and a Giants player wearing the blue home jersey with the red road socks: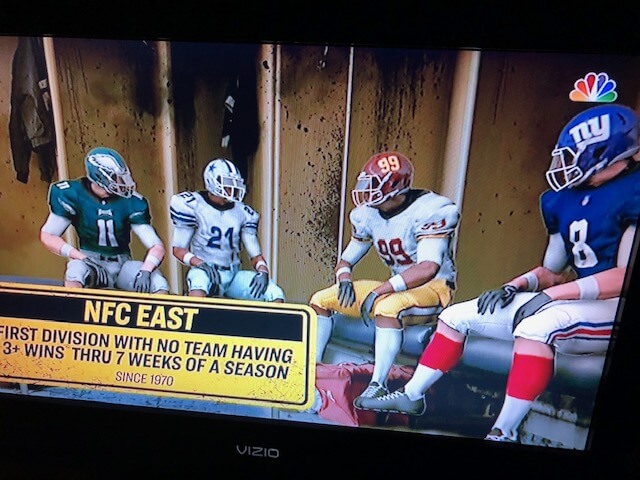 • I'm not sure we've ever run an item about NFL press box aesthetics before, but yesterday was literally the first time ever that sportswriter Sid Hartman wasn't alive to report on a Vikings game. The Packers, who were hosting Minnesota yesterday, had a nice memorial setup for him in their press box:
The first game in Vikings history for which Sid Hartman is not alive is today at Lambeau Field. Nice touch by the Packers to memorialize Sid in the press box. pic.twitter.com/DxL1htwtnV

— Ben Goessling (@GoesslingStrib) November 1, 2020
• In addition to the aforementioned Bengals, one other team wore white at home: the Dolphins.
(My thanks to Mike Chamernik, Timmy Donahue, Will Gabel, Kenny Kaplan, and Matthew Wolfram for their contributions.)
• • • • •
• • • • •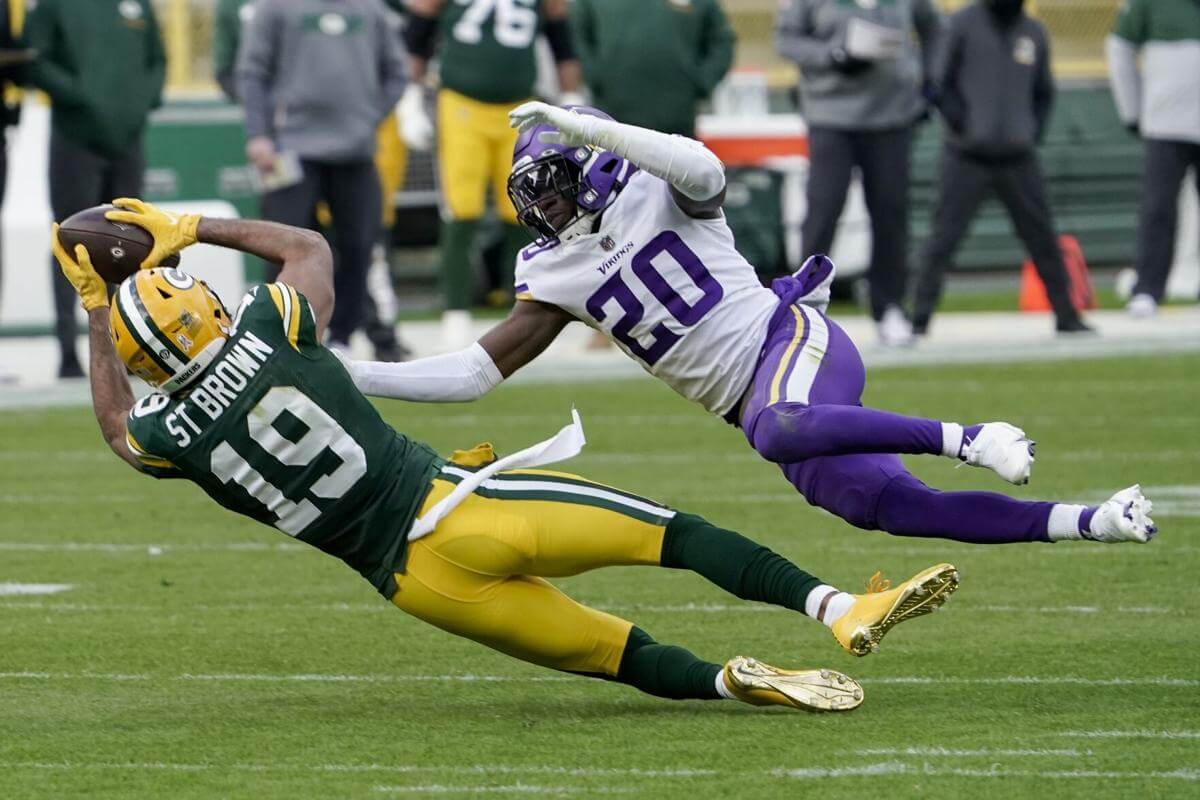 Periodically speaking: Here's something I noticed during yesterday's Packers/Vikings game, but it isn't new and wasn't specific to that game, so I'm giving it its own section. To wit: Packers wide receiver Equanimeous St. Brown's NOB doesn't have a period. It's been like that since he joined the Packers in 2018, but I never noticed until yesterday. (In fairness to myself, he didn't play at all last year due to injury, and yesterday was only his third game this season.)
On the one hand, the missing period isn't so remarkable — I've written before about how lots of NFL teams don't bother including the period after "JR" or "SR" suffixes. But it's rare to have a period in the middle of your surname, as St. Brown does. Omitting the period in the middle of the NOB somehow looks worse than omitting it at the end, at least to me.
St. Brown played college football at Notre Dame, which means he only wore NOBs during bowl games. (The Irish go NNOB for the regular season.) So on those rare occasions when he got to wear his name, did they include the period? Yup, as you can see in this shot from the 2018 Citrus Bowl: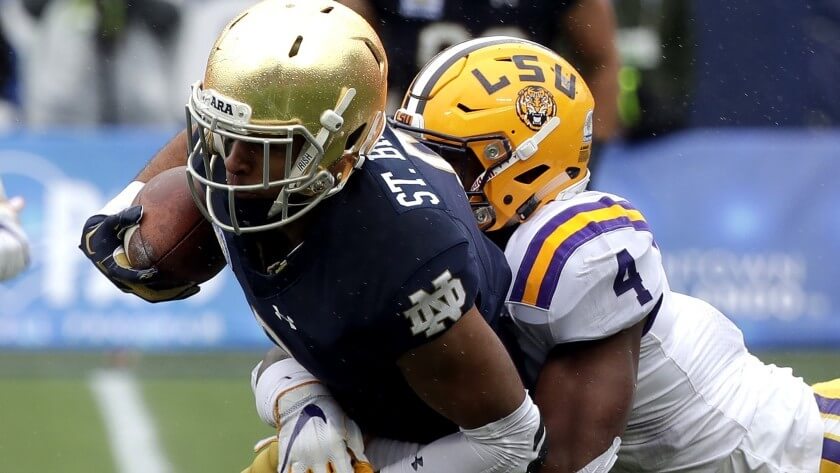 That seems much better.
• • • • •
• • • • •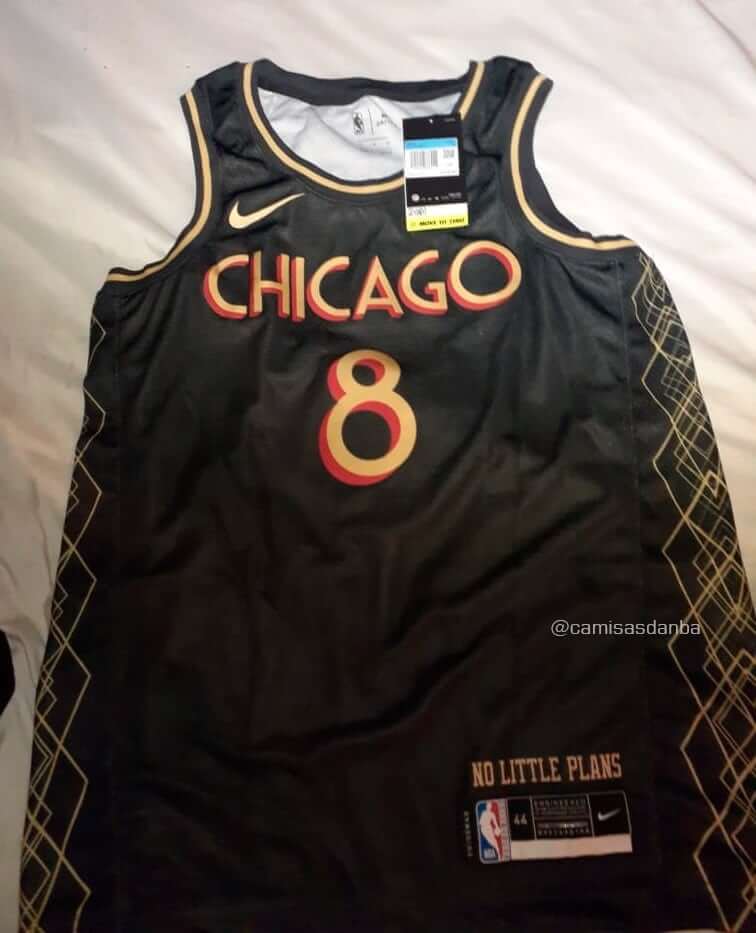 Click to enlarge
NBA leak-o-rama continues: Brazilian Twitter-er @camisasdanba continues to share what he says are new NBA jersey designs. The latest one is for the Bulls. The design may seem like a head-scratcher, but a clue regarding its inspiration comes from the words "No Little Plans" above the jock tag. That's part of a famous quote from Chicago architect and urban planner Daniel Burnham, who created the influential Plan of Chicago.
As for the side detailing and lettering, Twitter-er Dave Farmar says, "The side striping echoes [architect] Louis Sullivan's terra cotta detailing and the font is synonymous with [Frank Lloyd] Wright." So this design appears to be an ode to Art Deco-era architecture — an interesting approach, although Todd Radom points out that they could have done so much more with it:
One man's opinion-they came up small with a very vanilla, uninspired take here. If it's an embrace of Chicago Deco design, why not look to letterforms with authenticity and relevance? My two minute Google image search around an ownable and extendable theme: pic.twitter.com/VouRm7CF9x

— Todd Radom (@ToddRadom) November 1, 2020
As an aside: Louis Sullivan is the man who coined the design truism "Form follows function." I wonder what he'd say about the form and function of the NBA's endless alternate uniforms.
This leak's legitimacy has not yet been confirmed. But several of @camisasdanba's previous leaks have turned out to be legit, and none have been refuted, so he's looking like a fairly reliable source.
Whatever you may think of the designs, it's certainly interesting that the NBA and Nike are referencing people like Jean-Michel Basquiat, Daniel Burnham, and Louis Sullivan in their uniform designs. If they keep this up, people might actually learn something!
• • • • •
• • • • •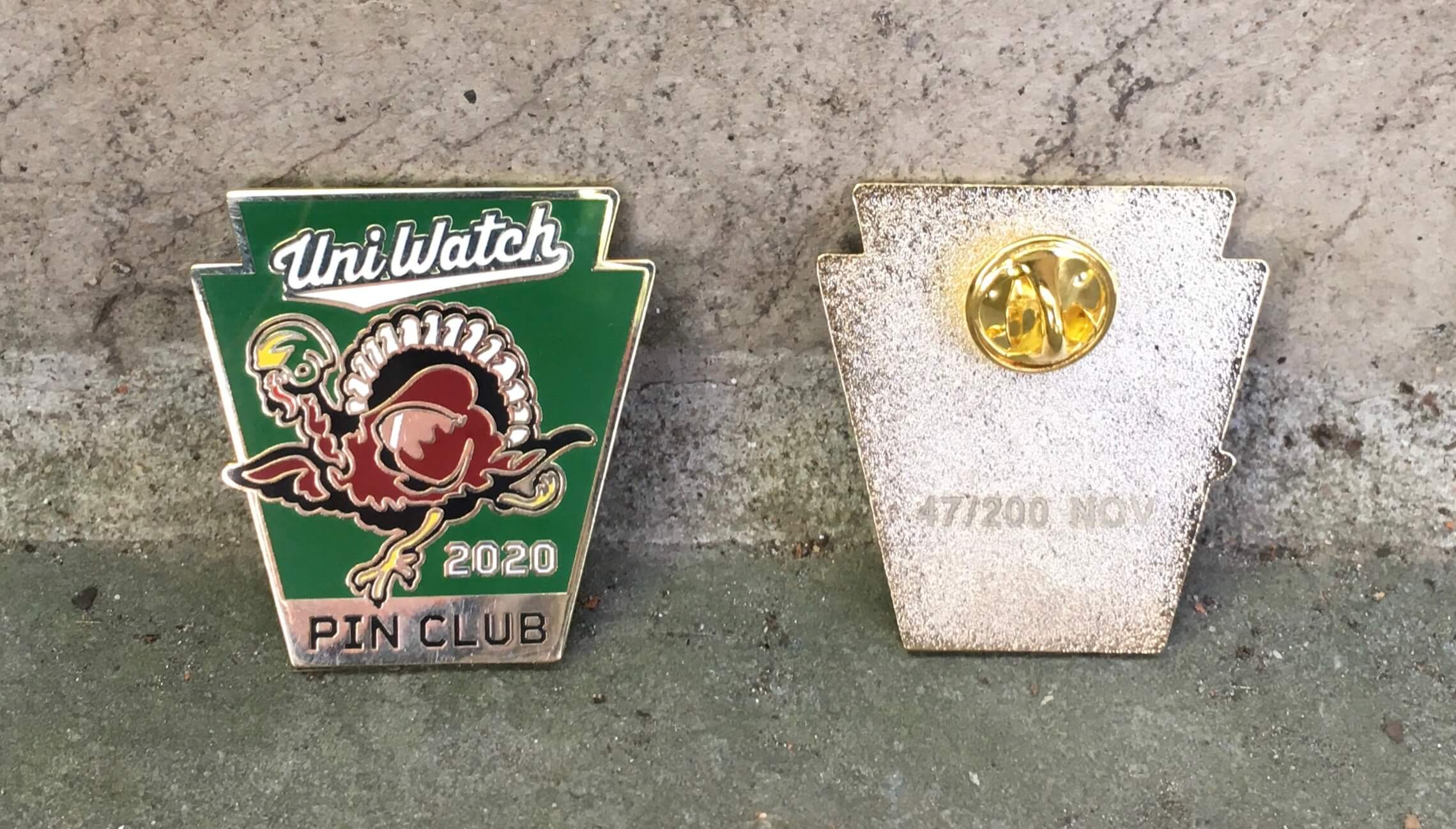 Click to enlarge
ITEM! The latest Pin Club launch: Gobble-gobble! With Thanksgiving coming up later this month, our latest Uni Watch Pin Club design features a leatherhead-helmeted turkey carrying the pigskin. It's been produced in a numbered edition of 200, and you can order it here.
Need to get caught up? Here are our January, February, March, May, June, July, August, September, and October  pins. (Sorry, April sold out!)
• • • • •
• • • • •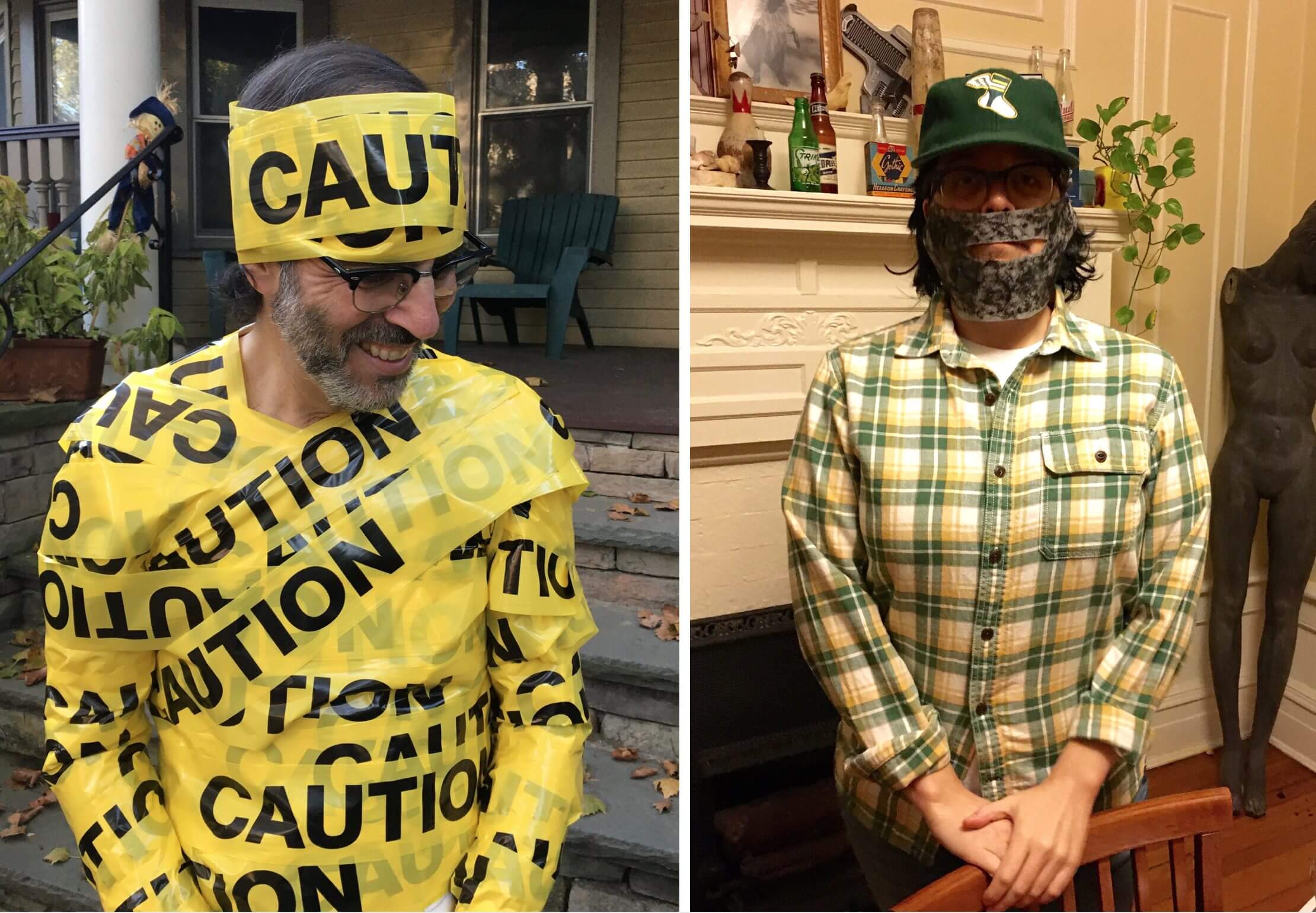 Click to enlarge
Halloween recap: The Tugboat Captain and I have a video call with a bunch of our friends each Saturday, and it was decreed that everyone had to be in costume for this past Saturday's call. I'm usually not great at costume ideas, but I this year I had a good one: I dressed up as the pandemic's most annoying catch phrase — an abundance of caution. (My costume ended up being featured this morning as one of sportswriter Peter King's tweets of the week, because King is apparently as annoyed by that phrase as I am.)
As for the Captain, she dressed up as me! Our friends all enjoyed the joke.
Hope you enjoyed your Halloween as much as we enjoyed ours.
(My thanks to Jerry Wolper for the Peter King note.)
• • • • •
• • • • •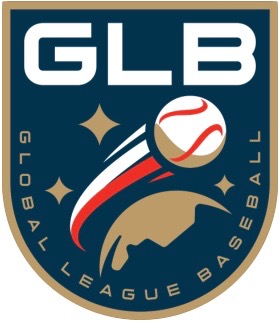 New advertiser shout-out: As you may have noticed, we have a new advertiser in the right-hand sidebar. That would be the Global League Shop, a fun new venture run by Nick Griffith. I'll let him explain it to you:
I'm a Uni Watch fan with over 20 years of experience working in the sports marketing industry and a lifelong obsession for sports logos. For years I created fantasy team concepts in my head and worked with professional designers to bring them to life. Now I've decided to make T-shirts, hoodies, youth apparel, stickers, and more to share these creations with the world.

Baseball teams are aligned under the Global League Baseball banner, and bowling teams are part of the Mid-American Bowling League, or MABL for short (inspired by my dear Aunt Mabel). New teams are added on a regular basis and announced at @GlobalLeagueShop on Instagram and Facebook. I'm thrilled to promote the shop to the Uni Watch community!
My thanks to Nick for his advertising support, and to Uni Watch readers for considering our advertisers for your shopping needs.
• • • • •
• • • • •
The Ticker
By Jamie Rathjen

Baseball News: The promotional photo for the rock band the Strokes' appearance on Saturday Night Live this weekend featured them wearing tequila sunrise-themed jerseys (from multiple readers).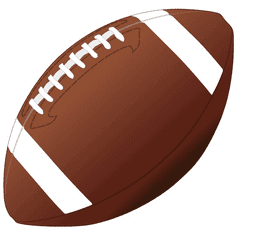 Football News: It looks like almost all Big Ten teams wore "#B1GVote" helmet decals this weekend. The only apparent exception was Illinois (from @jffdmrly).

Hockey News: The Blackhawks plan to read an Indigenous land acknowledgement before home games and other team events. I've seen Australian teams and leagues do something similar, at least on their websites, but not anything live-action like the Blackhawks are planning (from Mike Chamernik). … Two more Saskatchewan Junior Hockey League teams that have been wearing practice jerseys in preseason games are the Nipawin Hawks (yellow) and Melfort Mustangs (green) (from Wade Heidt). … "The soccer team Toronto FC is currently playing games at Pratt & Whitney Stadium at Rentschler Field in East Hartford, Conn.," says Andrew Paluch. "Sunday was the first game with fans and they showed a logo that was a cross between the team's TFC logo and the Hartford Whalers. They even played the Whalers' goal song, 'Brass Bonanza,' when they scored goals."

Soccer News: Poppy season has begun in England, where all 16 Premier League teams that have played so far this weekend and a few lower-league teams wore the Remembrance Day patches. It didn't look like women's or Scottish teams were participating yet, so some clubs like Liverpool had one senior team wear poppies but not the other. … Many of those same teams wearing poppies also wore black armbands in memory of England's 1966 World Cup-winning midfielder Nobby Stiles. … Manchester United midfielder Nemanja Matić is one of the players that doesn't wear the poppy for varying personal reasons, in his case since 2018, and once again went without it. … Aside from the above, English Championship team Queens Park Rangers debuted a third kit. … In Brazil, Flamengo midfielder Éverton Ribeiro, who normally wears No. 7, changed to No. 007 this weekend in memory of actor Sean Connery (from @black_bile). … Speaking of Connery, did you know he played for Scottish then-junior team Bonnyrigg Rose in the early '50s? … Elsewhere in Scotland, Heart of Midlothian's Bands FC/Frightened Rabbit warm-up shirts that we mentioned on Saturday had an additional Scottish Cup ad patch. … Hearts' women's team also wear a mix of Scotland's new NOB and old number fonts. … A 2001 Bundesliga game saw Bayern Munich wear white training bibs over their shirts because they packed the wrong kit for a trip to 1. FC Köln. … Cross-listed from the hockey section: "Toronto FC is currently playing games at Pratt & Whitney Stadium at Rentschler Field in East Hartford, Conn.," says Andrew Paluch. "Sunday was the first game with fans and they showed a logo that was a cross between the team's TFC logo and the Hartford Whalers. They even played the Whalers' goal song, 'Brass Bonanza,' when they scored goals."

Grab Bag: One of Australia's Twenty20 cricket teams, the Brisbane Heat, annually wear teal ribbons for ovarian cancer in the Women's Big Bash League — not a patch, actual ribbons pinned on the sleeve. … The Dutch public broadcaster NOS has been removing its logos from its vehicles to attempt to help prevent its employees from being harassed or threatened. … A competitive fishing team composed of Black women, the Ebony Anglers (NYT link), wears distinctive purple windbreakers.
• • • • •
• • • • •
Click to enlarge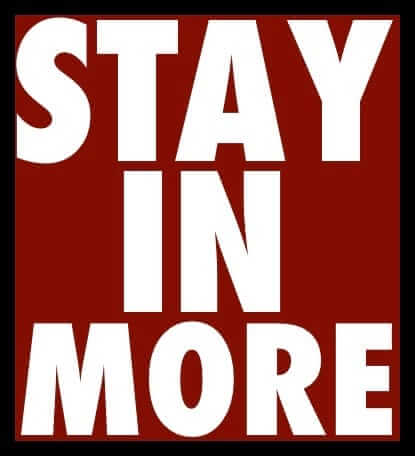 What Paul did last night: Now that the clocks have moved, cocktail hour is likely to be taking place in the dark for the foreseeable future. That will likely require a bit of an emotional adjustment, because we probably won't see as many neighbors walking by during our porch sessions (and even if some folks do walk by, they probably won't be as chatty in the dark). But we still plan to hit the porch each evening, at lest for now.
As always, you can see the full set of daily Pandemic Porch Cocktails™ photos — now 230 of them — here.