Click to enlarge
The photo above shows Lions cornerback Darius Slay Jr. tackling Saints wide receiver Ted Ginn Jr. in a game that took place back on Oct. 15. As you can see, both players wear the generational suffix on their NOBs, but there's a difference: Ginn's JrOB includes a period; Slay's doesn't.
That isn't just a random omission on Slay's jersey. The Lions' protocol is to omit the period on their JrOBs and SrOBs, as you can see in these shots of wide receiver Marvin Jones Jr. and defensive back Tavon Wilson Sr.:
Or at least that's their current style. Back in 2012, they included the period, at least for wide receiver Titus Young Sr.:
The Lions aren't the only team that currently omits the period. Look at these Giants photos, for example, and you'll see that they do the same thing:
Another team that omits the period: the Ravens. They've been skipping the period for several years now:
Yet another team that consistently goes without the period — the Browns: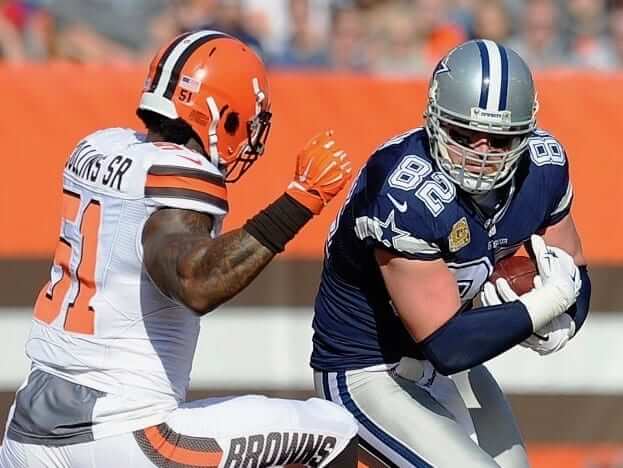 And then there are the Falcons, Broncos, Seahawks, Browns, and Panthers — they also choose to omit the period: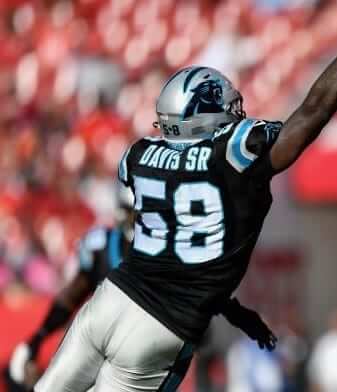 Some teams are inconsistent, such as Washington. At different times, they've gone period-inclusive and period-free:
The Buccaneers have been even more inconsistent, using both styles at various times for the same player:
This is probably the smallest detail I've ever been obsessed with, but the obsession is strong. Period vs. no period — how had I never noticed the distinction until now? It jumps off the screen now when I'm watching a game. I haven't yet researched all 32 NFL teams (to say nothing of the 90 other Big Four teams), but it seems like something worth looking into. Anyone want to take a crack at it?
I should probably mention here that I don't think generational suffixes belong on NOBs to begin with. But if they're going to be there, I think they should include the period. I mean, teams always include the period for first initials, right? So why not for "Jr." and "Sr."? I admit that omitting the period makes the NOB look a bit cleaner, but it just feels wrong.
Discuss.
• • • • •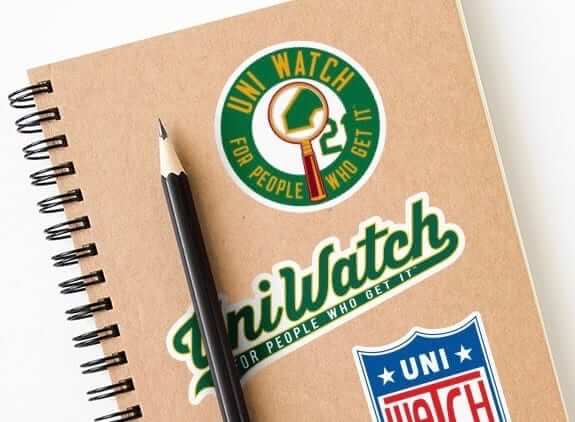 Sticky fingers: We've occasionally offered stickers from the good people at StickerYou. They've now set up a little Uni Watch sticker shop on their site. If you click on the "Make Custom Stickers" button, you'll see that we're offering a bunch of designs that originally ran on our T-shirts. You can order a full sticker sheet of the same design, or build a mix-and-match variety sheet.
Are there other sticker designs you'd like to see? Would you like to see Naming Wrongs stickers? Anything else? Let me know.
Also: Remember our recently launched Uni Watch shield T-shirt? Rob Ullman, who designed that logo, went ahead and ordered a few dozen stickers of the shield, which he's selling on Etsy. You can buy those as individual stickers, instead of a full sheet. But once those few dozen are gone, that's it, so move fast.
• • • • •
The Ticker
By Kris Gross

Baseball News: The Gwinnett Braves are expected to announce a name change this month. The announcement, which will select the winner from six possible options, is expected on the morning of Dec. 8, one week from today (thanks Phil).

NFL News: After all the "Will they or won't they?" drama, Washington went ahead and wore mono-burgundy uniforms for last night's game against Dallas. … Also from last night, Washington safety DJ Swearinger honored Sean Taylor with his cleats and facemask tape (from Robert Hayes and @SteveBCreations). … Cowboys WR Dez Bryant warmed up in socks because he gave his shoes to a Make-A-Wish kid (thanks Brinke). … More "My Cause, My Cleats" designs, as Bengals DE Carlos Dunlap and Packers DE Mike Daniels target bullying. … Steelers RB Le'Veon Bell and OL Alejandro Villanueva support work for veterans (thanks Alex and Jake Elman). … Seahawks coach Pete Carroll is even getting in on the "My Cause" action. … Here is a list of all the Raiders players that will wear special cleats this weekend. … The Titans will go mono-navy on Sunday. … Andrew Gordon did a little math, and figured out that 15 of the 32 NFL teams (47%) have the team name on the front of their jerseys. … Marty Hick has set up a Christmas tree decorated with NFL helmets, with the league logo as the tree topper.

College Football News: TCU will wear black helmets, white jerseys, and black pants for tomorrow's game against Oklahoma, while FIU will go mono-blue for their game against UMass. … Here's a chart that breaks down UNC's record by uniform from 2012 through the present (from James Gilbert). … Stanford will have chrome helmet logos and striping tape for tonight's game against USC (from David Hirx).

Hockey News: The Blues wear bedazzled warmups to honor a fan who died from cancer (from @mrmichael21). … Check out this story on a man who makes hockey jerseys out of chain mail (from Daren Landers). … The Rangers wore their Winter Classic helmets in practice. "They haven't had just the word 'Rangers' on their helmets since 1996," says A.J. Frey.

Basketball News: Reader Michael Romero points out that the Westchester Knicks, the Knicks' G-League team, have an old-school Knicks logo on their court. … Michigan State wore throwback unis representing the university's name in the early 1900s, Michigan Agricultural College.

Soccer News: Our own Jamie Rathjen passed along new information on the NWSL team that is moving to Utah from Kansas City. They will "wear yellow shirts, which makes them the first team in the league not to have blue, red, or the color of their city's MLS team". … Here's a follow-up from a story a while back: The mayor of Montpelier, Vt., thanked the French soccer team Montpellier HSC for sending the team's misspelled jerseys (from David Pottel). … A rare reversal of the corporate naming trend: Cambridge United's stadium is going back to being called the Abbey (from The Boot Room). … Remember designer Mark Willis? He's the guy behind the Soccer Out of Context project, and he was interviewed here on Uni Watch back in 2013. Unhappy with Nike and the U.S. soccer federation, he has now created his own USMNT jersey, which he's calling "The People's Jersey." More info here, and you can pre-order the jersey here.
• • • • •
Happy birthday to Ticker intern Anthony Emerson. Enjoy your special day, buddy!