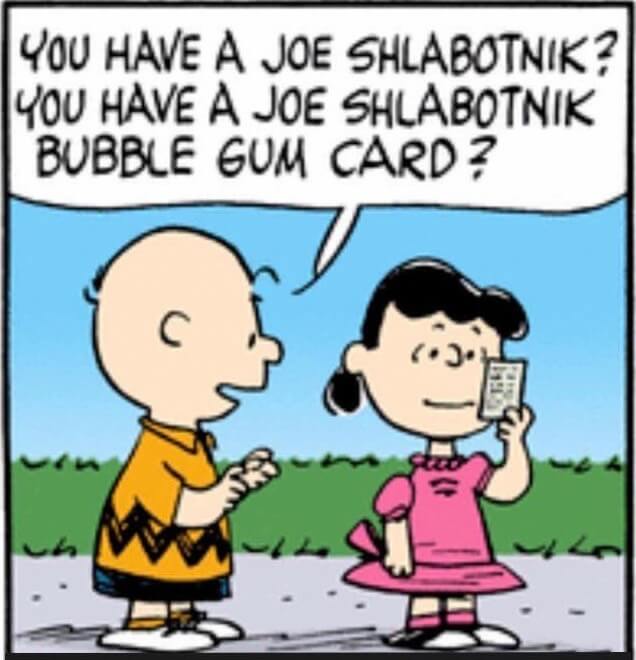 Our story so far: Last December I told you how I was going to be featured on my very own Topps trading card. Exciting! In February I provided an update on how that was coming along. Also exciting! And then in May I shared the news that MLB had put the kibosh on my card because I've been such a meanie to them over the years. Kinda sad, but mostly funny!
As I explained in that May post, my plan was to turn the whole experience into a new creative project by collaborating with illustrator/designer extraordinaire Rob Ullman on my own one-off card, with each card coming with a piece of the shirt I wore for my Topps photo session.
It took a little longer than I expected (Rob and I have both been busy, plus you may have heard that the world has been a little off-kilter lately), but the card is now finished. Take a look (for this and all images that follow, you can click to enlarge):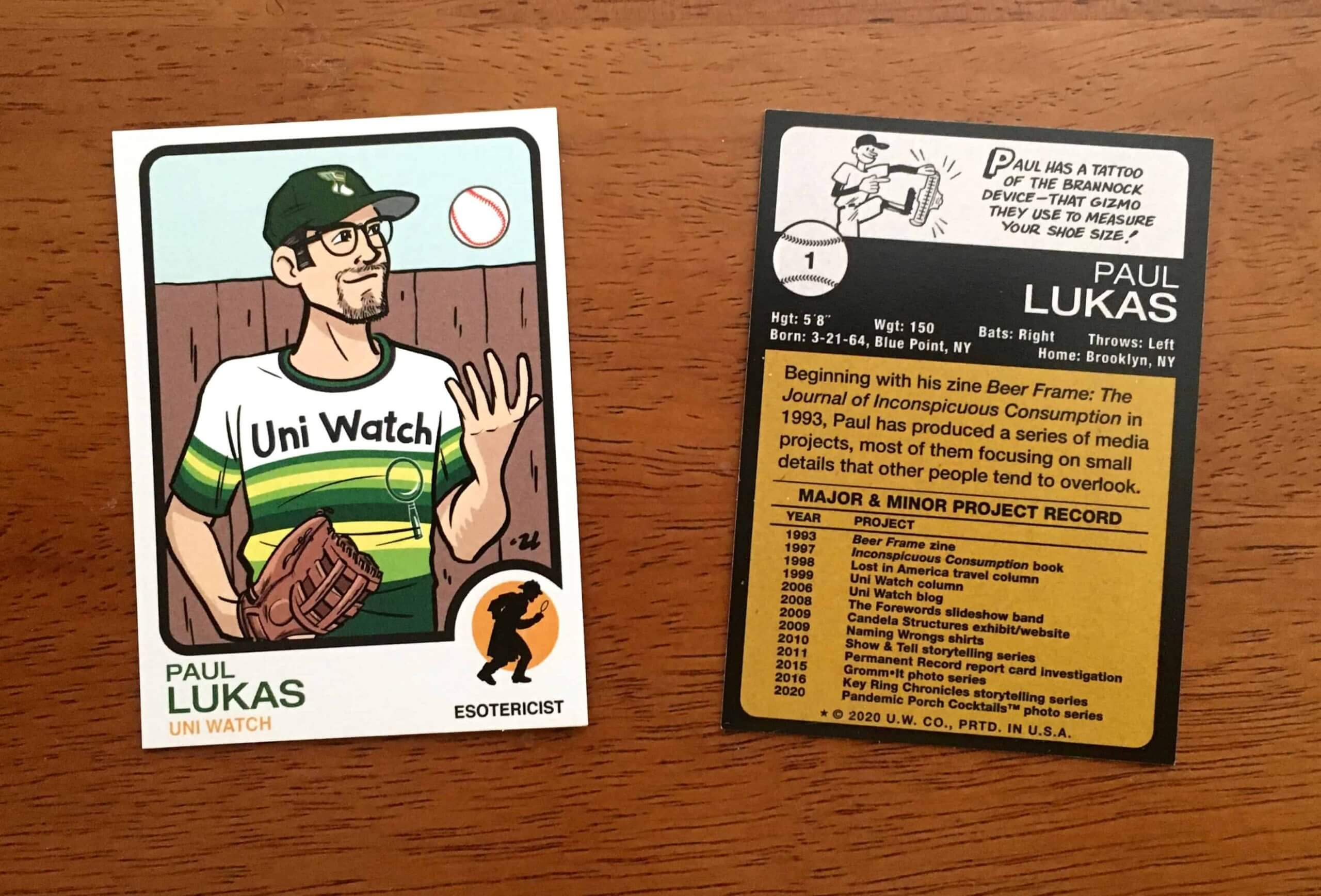 Not bad, right? Those are sample cards from the printer. Here's a closer look at the design for the front of the card: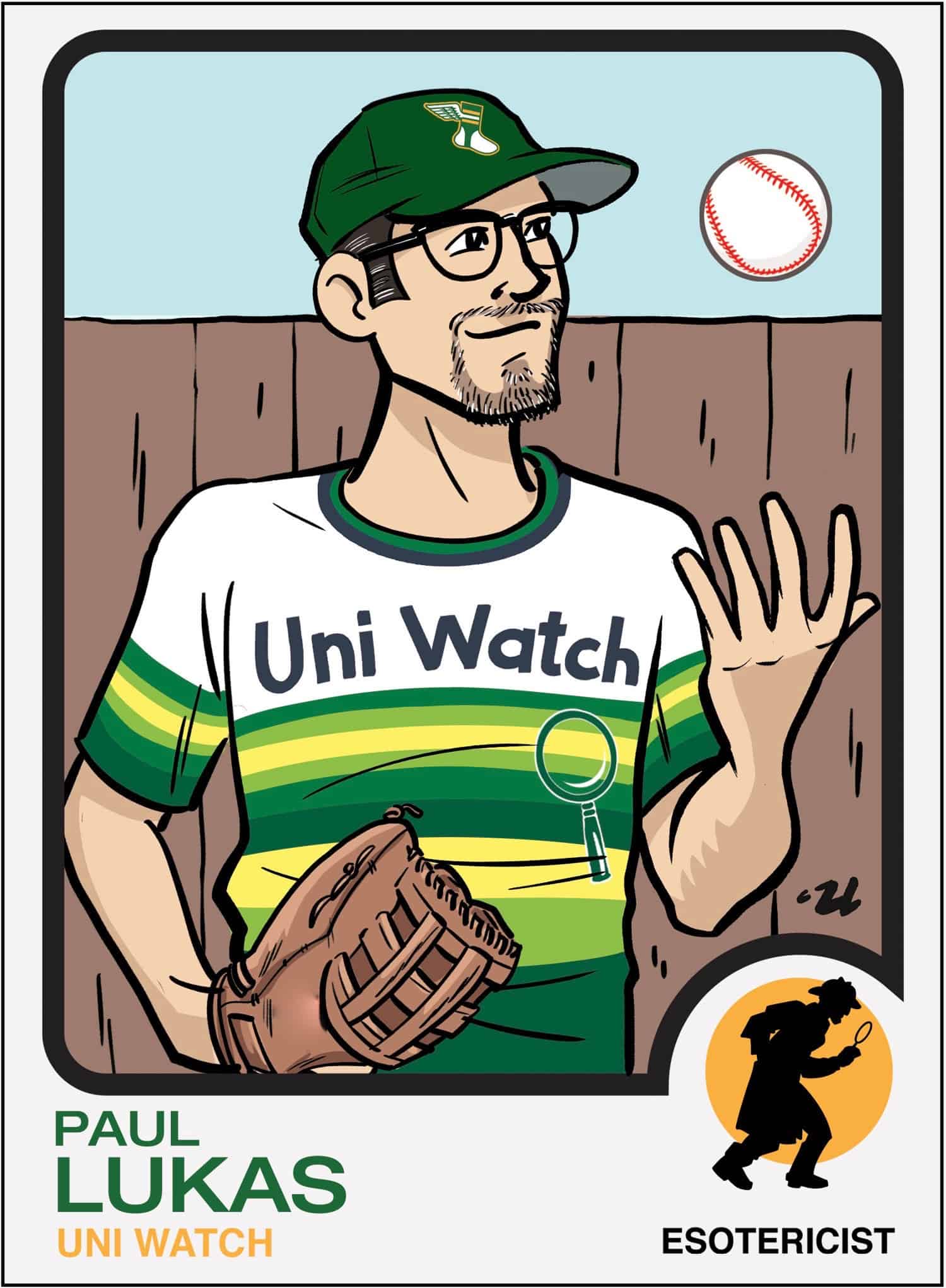 If you're old enough, and/or if you're a card aficionado, you'll recognize that we patterned the design after the 1973 Topps baseball set — one of my favorite card templates. (Uni Watch reader John Okray, who's a serious card collector and provided invaluable advice throughout this project, tells me the '73 set is held in low regard by the collecting community, which I was surprised to hear, but whatever — I love it!) The front illustration is based on one of the photos I had submitted to Topps for the card they were going to do of me. As is usually the case with a Rob Ullman illustration, he made the subject — in this case, me — look a lot cooler than the real thing. Thanks, Rob!
For my "position" in the lower-right corner, I chose "Esotericist," because it sums up my career and my way of looking at the world (and because "Minutiae Fetishist" wouldn't fit). The little silhouette of the inspector/detective guy with a magnifying glass is perfect.
My original plan was to leave the back of the card blank, but Rob convinced me that we should do a back design. Again, we patterned it after the 1973 Topps set: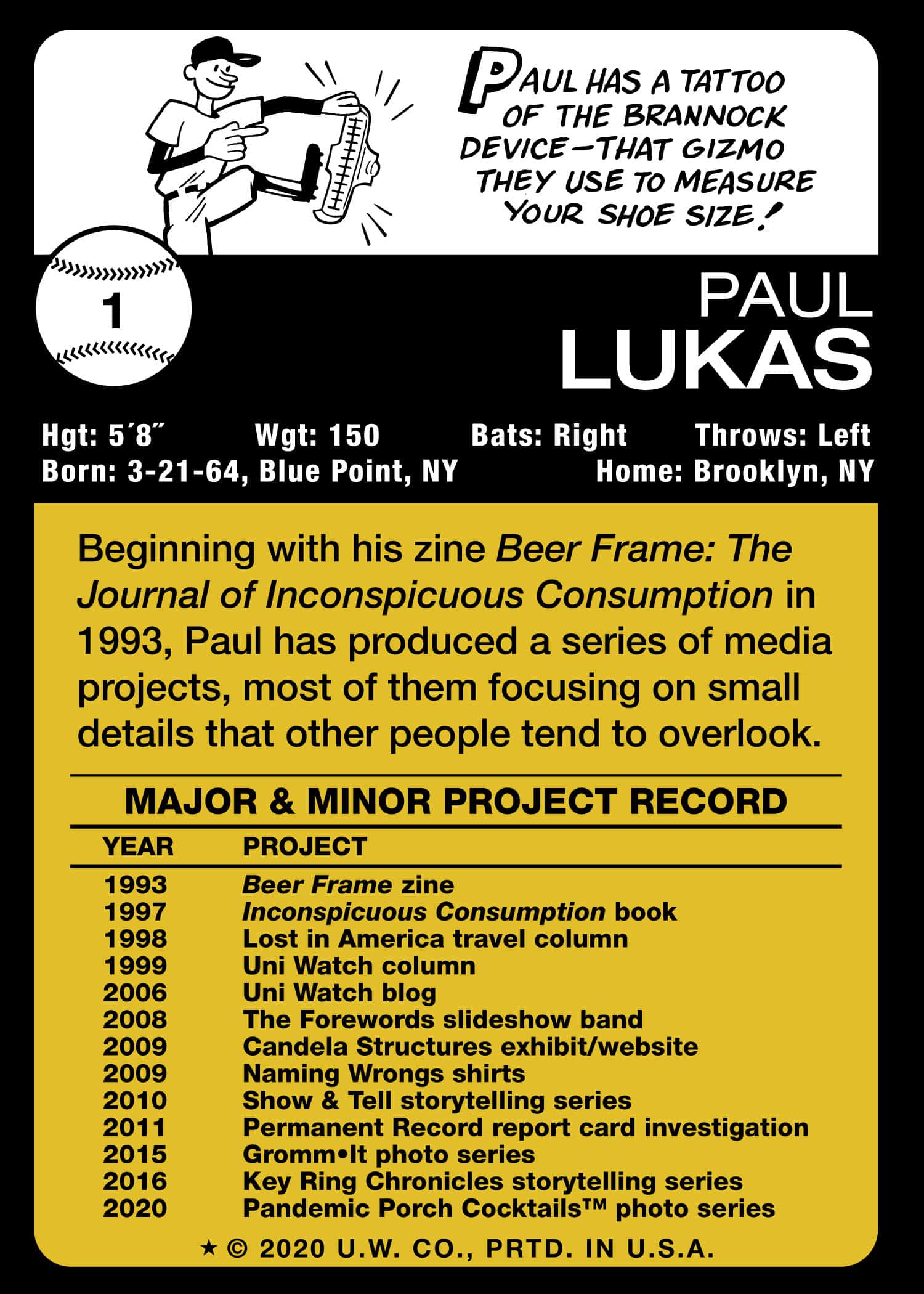 Oh man, I love how Rob perfectly captured the feel and spirit of the little cartoon at the top. Since I didn't have any statistics to list, we just went with a timeline of my various creative projects (including Uni Watch, obviously). Fun!
Okay, so what's next? Here's the deal:
1. I've had 500 of these cards printed. They're on the way and should arrive at Uni Watch HQ in a couple of days.
2. I will sign 10 of the cards in green ink (these will be numbered 1/10, 2/10, etc.) and one in purple ink (1/1). The pens I'll be using for this will be Staedtler Lumocolors, which John Okray tells me are the same pens Topps has athletes use when signing their cards. The signed cards will go randomly into the set.
3. Each card will be placed in a plastic "penny sleeve" and then in a green-bordered "toploader" (two terms I wasn't familiar with until working on this project). So if you order a card, it will arrive like this: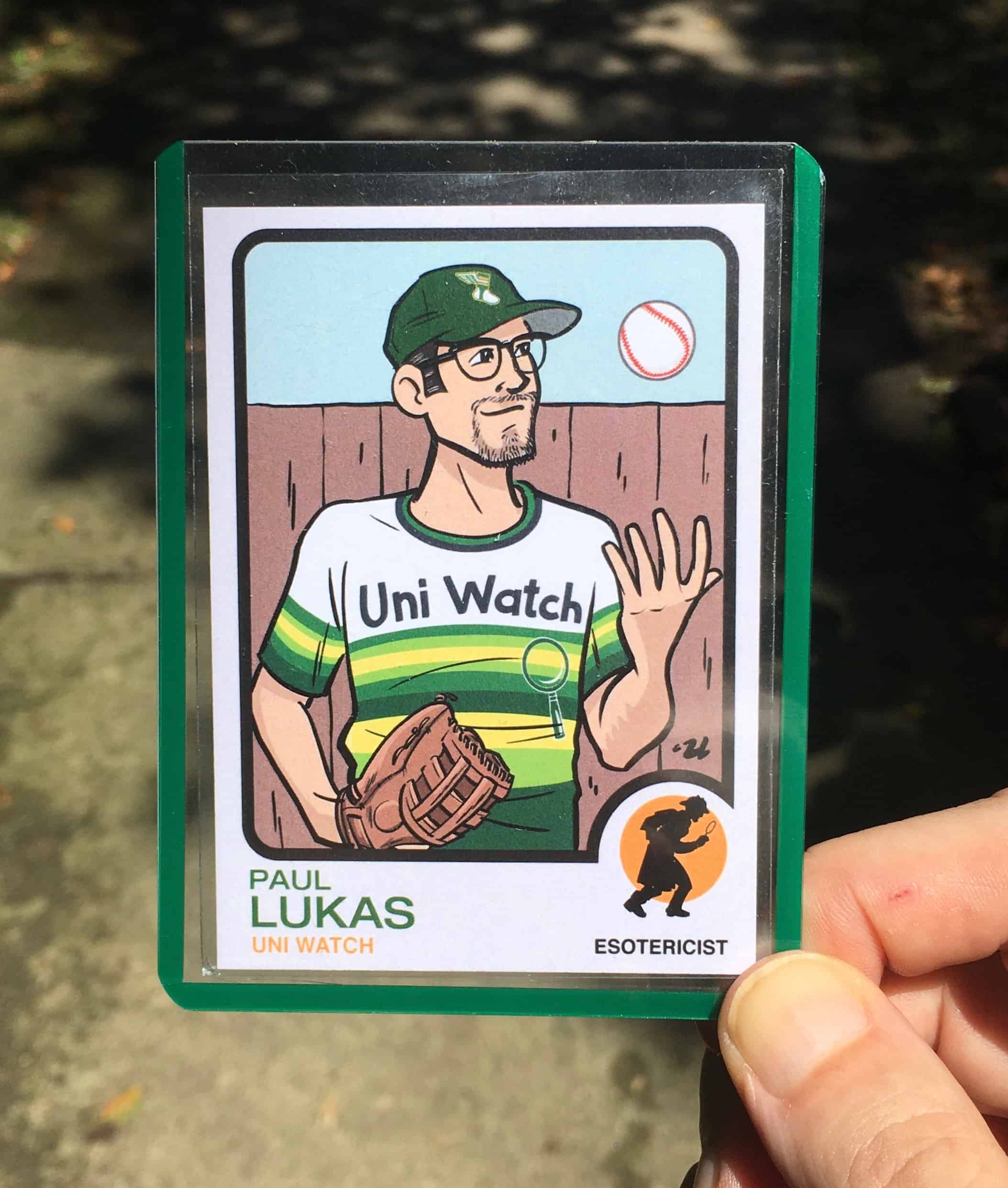 4. In addition, I will slip a 7/8″ square piece of my Uni Watch Tequila Sunrise Deluxe shirt — the same one I was wearing for the Topps photo that the card illustration is based on — into the back of each sleeve. So every card will be a relic card, and the relic will represent the overall experience of getting to have my own Topps card, then having that opportunity taken away, and then creating this new card in its place: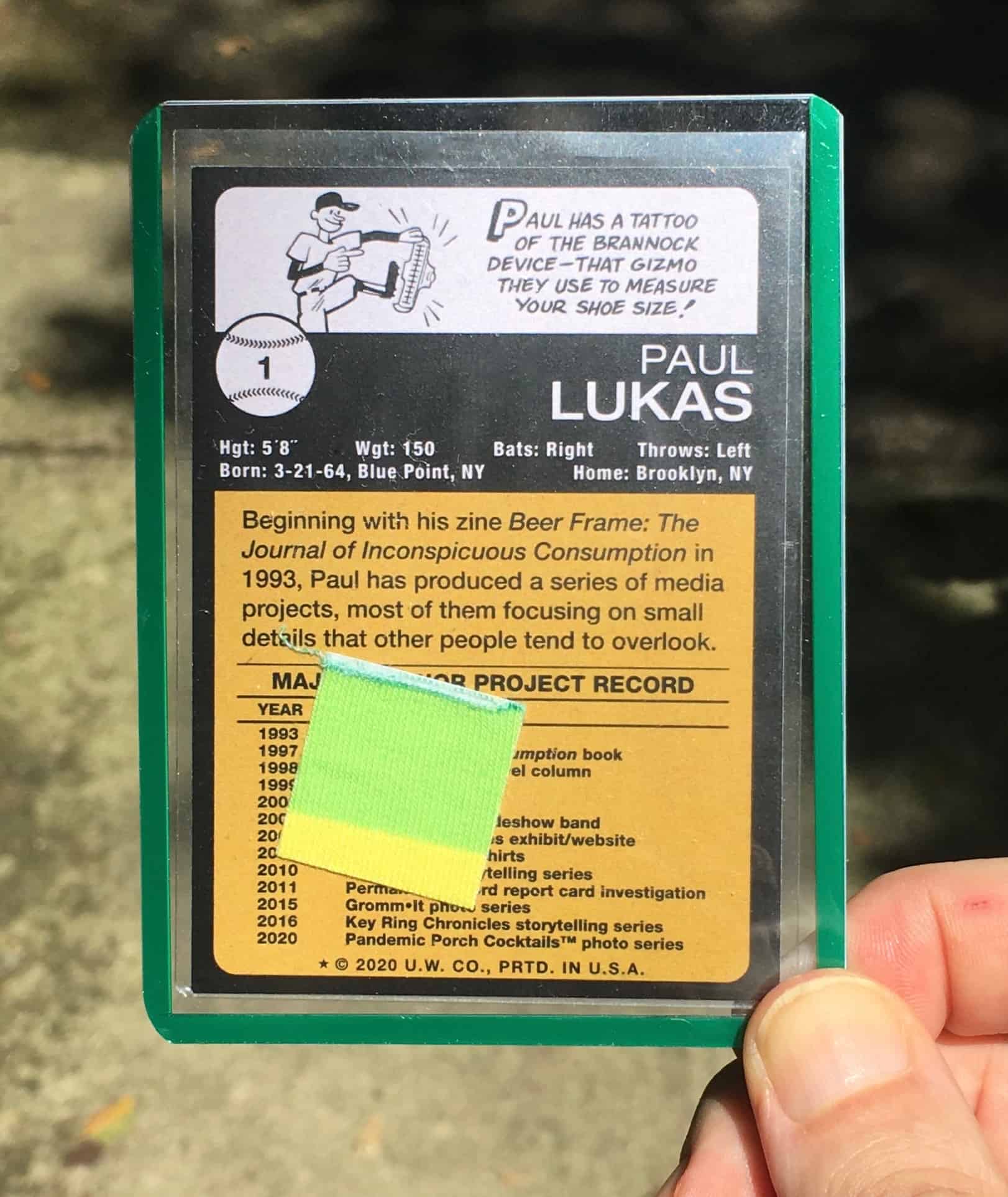 Topps relic cards come with the relic pieces sealed into the card. That wasn't an option for us (too tricky, too expensive), so Rob and I initially planned to have a relic piece affixed to the front of each card with spray-mount adhesive, so it would look something like this. But I ultimately decided that it was better to leave the relics free-floating and loose — that way the card isn't defaced and you can enjoy the relic on its own. (Of course, if you want to affix the relic to the card, you're welcome to do so!)
5. Although I don't yet have the cards on hand (or the sleeves, for that matter, although they too are on the way), I'm ready to start taking pre-orders. Here's the deal:
• For one card or two cards, the price is $2 per card plus $1 for shipping.
• For more than two cards, the price is $2 per card plus $5 for shipping. (That's because anything more than two cards will need to be shipped in a bubble mailer at the package rate.)
• If you want to combine a card purchase with a seam ripper and/or a key ring, contact me and I'll give you a total that includes a combined shipping charge. (Sorry, you can't combine an order for this card with any other Uni Watch merch except rippers and key rings, because everything else ships from other locations.)
• Tally up the total for your purchase and then send me the proper amount via Venmo (use @Paul-Lukas-2 as the payee), Zelle (plukas64@gmail.com), or PayPal (newcollegeuni@gmail.com). If you'd rather use Apple Pay or a paper check, contact me and I'll give you the info you need.
• After sending payment, email me with your mailing address.
• If you're outside of the USA, contact me so I can calculate the shipping charge and arrange an alternate form of payment for you.
———
That's it. Thanks for indulging me with all of this.
There are so many people I need to thank for their roles in this project, beginning with Topps brand manager Patrick O'Sullivan. If he hadn't contacted me last winter and invited me to be featured on a card, none of this would have happened. He also turned out to be the World's Nicest Guy and was incredibly supportive and helpful, even after MLB nixed my card. When the pandemic is finally over, I'll definitely be taking him out for a beer. Thanks so much, Patrick, and to all your Topps colleagues as well.
I've been a Rob Ullman fanboy for more than a dozen years now. It's always a privilege to get to collaborate with him, and it was a particular treat to do so on this project. He was super-patient with my fine-tuning, always extremely enthusiastic, and a total pleasure to work with. As soon as I conceived of this project, I knew he was the right guy for it, and he proved me right at every turn. Thanks, buddy!
I know almost nothing about the card-collecting world. Fortunately, longtime Uni Watch reader John Okray knows quite a bit. He served as a my unofficial consultant throughout the project, patiently responding to my many questions and giving invaluable advice and info on everything from which pens to use when signing the cards to how the cards can be mailed. I learned a ton from him along the way, and I'm grateful to him for sharing his specialized expertise.
The photo I originally sent to Topps, which then became the basis for the illustration on this card, was taken on a cold December morning by the Tugboat Captain. She's been super-supportive throughout this whole saga, and has never once said, "Do you think maybe you're getting a bit full of yourself with this whole trading card thing?" (although I'm sure she was tempted a few times). Thanks, sweetie — you're the best.
Finally, I also want to thank whoever it was at MLB who blacklisted me from the Topps set and thereby made this project possible. Sure, it was a bit of a drag that the original card didn't happen, but the larger experience has absolutely been worth it. No hard feelings, guys, and thanks for opening up a new creative outlet for me. Who knows — this might even be the start of a whole Uni Watch card series.
• • • • •
• • • • •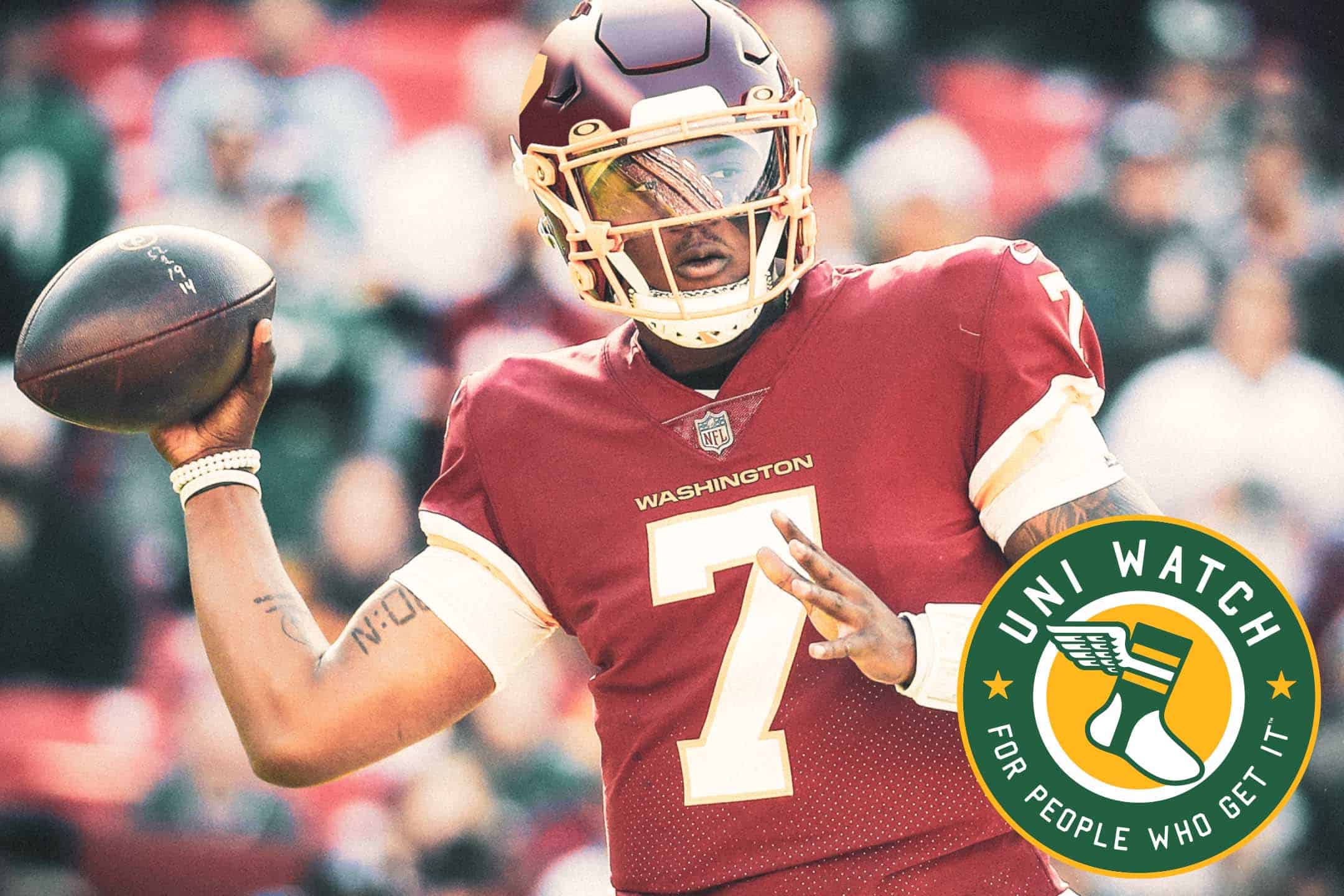 ITEM! New NFL Power Rankings: My latest piece for InsideHook is a new edition of the Uni Watch NFL Power Rankings, with all 32 NFL uni sets ranked and assessed. Check it out here.
• • • • •
• • • • •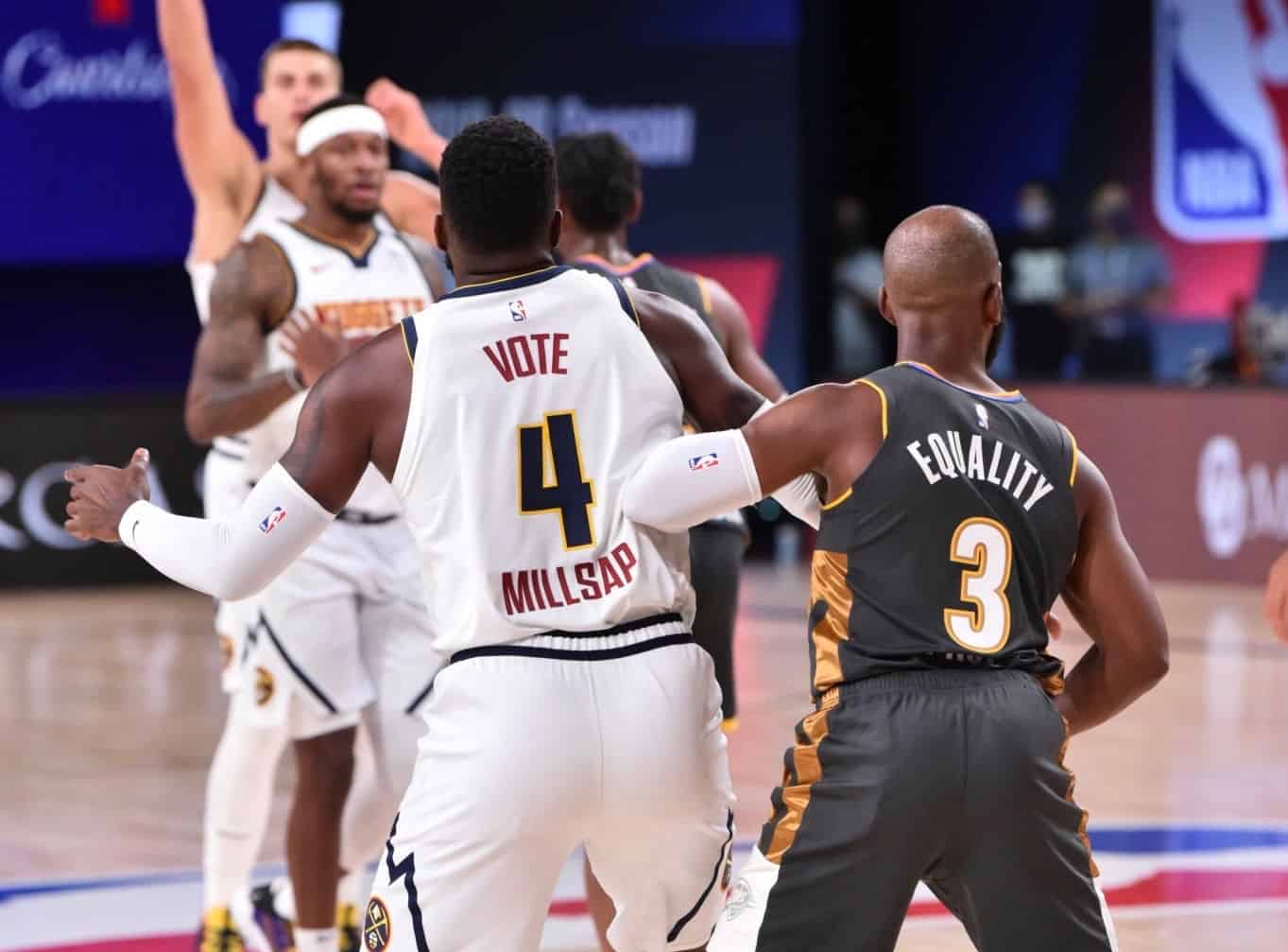 Click to enlarge
Early and often: Now that we've passed the first four days of the NBA's restarted season, players who've chosen to keep the social justice messages above their numbers have had their NOBs added below their numbers. (That plan was originally announced back on July 3, although most fans don't seem to have been aware of it.) In the case of Nuggets forward Paul Millsap, the combination of his "Vote" message, uni number, and name makes the back of his jersey look like a campaign ad. Vote for Pedro!
And if you think that's weird, check out Thunder guard Shai Gilgeous-Alexander, whose prodigious surname looks particularly odd when positioned below his number: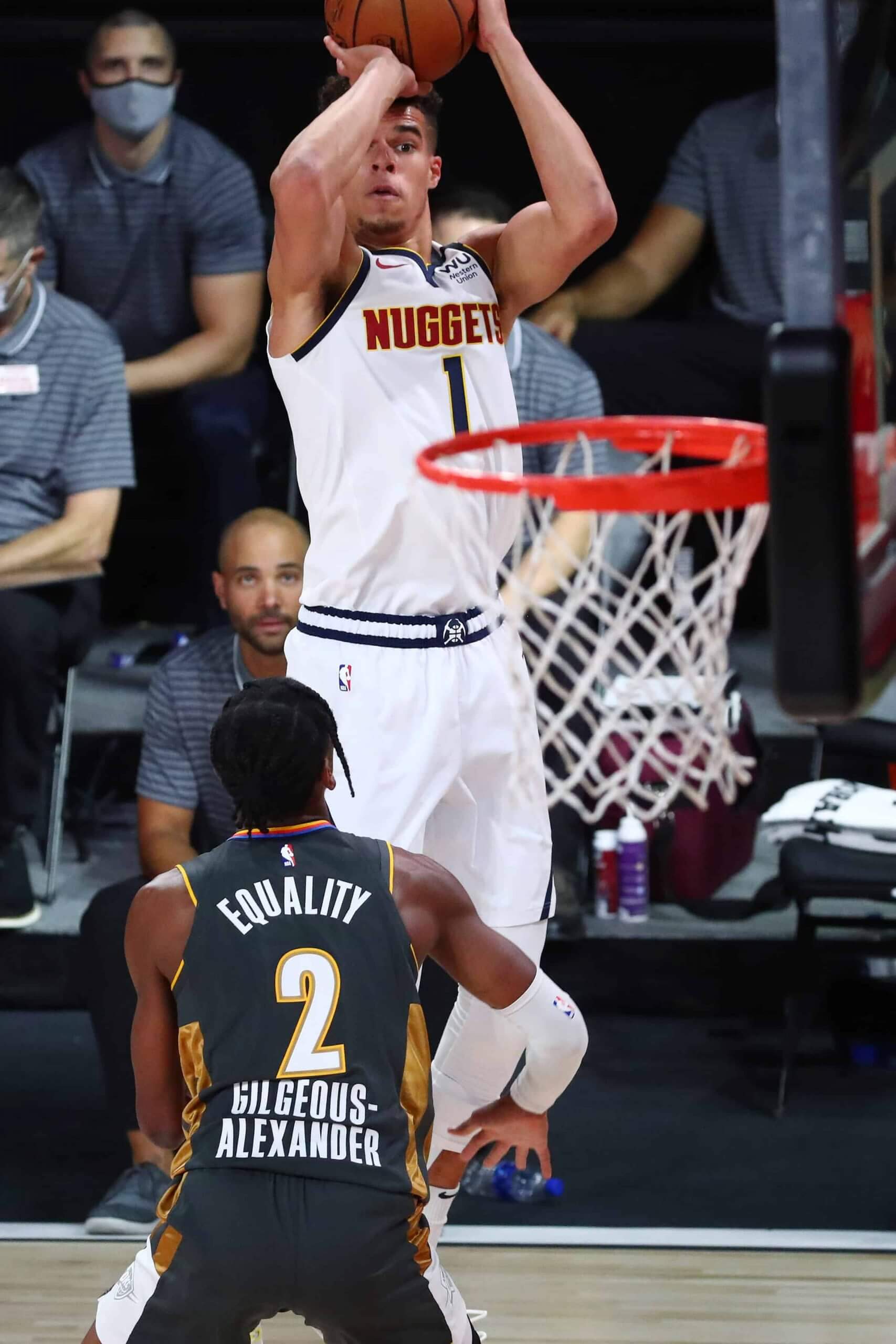 Just more stuff to file in the "Only in 2020" folder.
• • • • •
• • • • •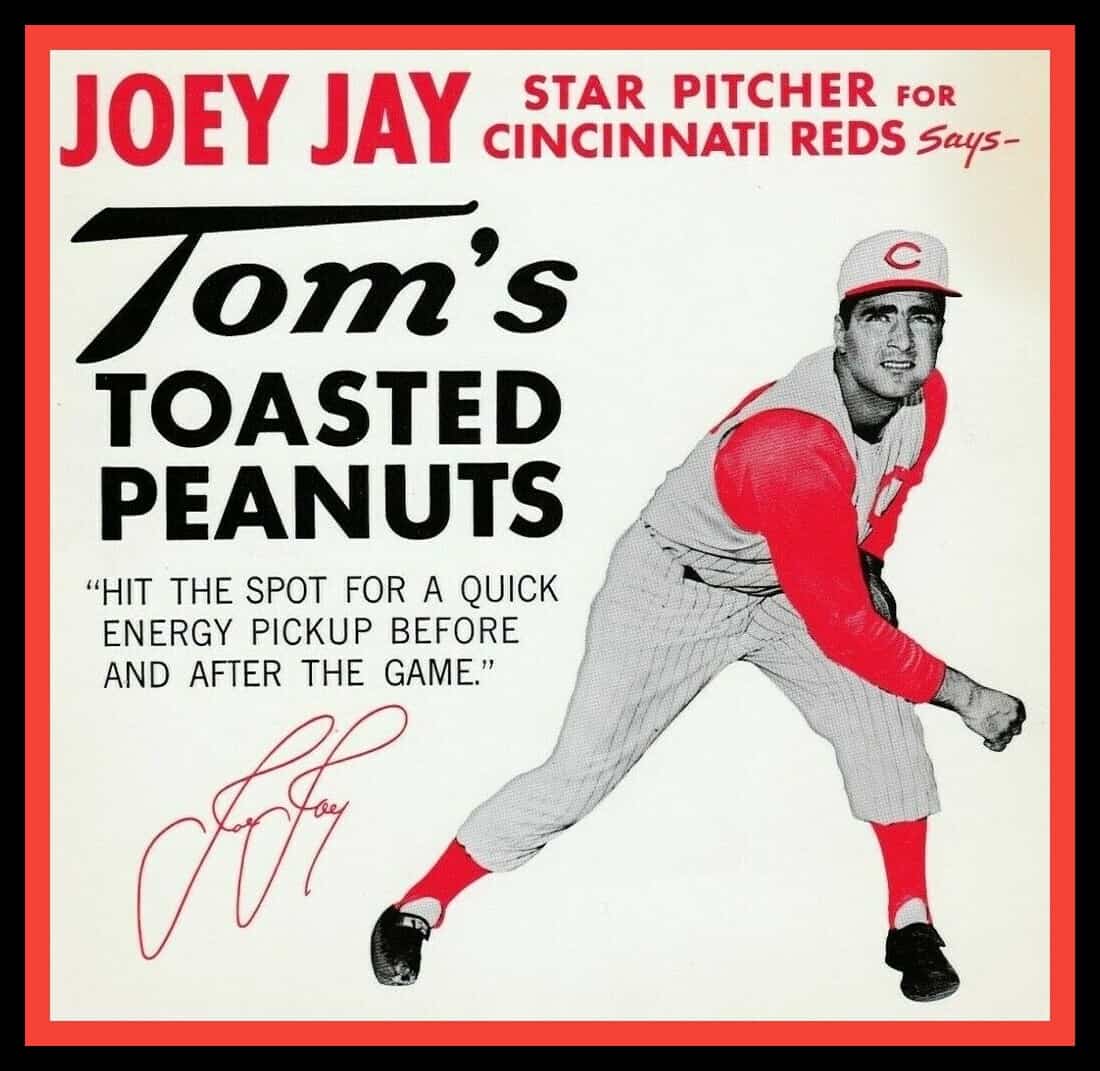 Click to enlarge
Collector's Corner
By Brinke Guthrie
Follow @brinkeguthrie    
Peanuts! Getcha peanuts heeyah! That's the time-honored sales pitch heard at baseball parks for decades, but an added bit of promotion from a big-leaguer — like, say, Reds pitcher Joey Jay, as seen on this display card — never hurt. Speaking of Jay, he had a decent 13-year career, including back-to-back 21-win seasons in 1961 and '62. But he finished with 99 career wins and 999 strikeouts — so close to the big milestone numbers! Maybe a few more peanuts would've put him over the top.
Another one from the Reds as long as we're here: these 1961 N.L. Champions buttons refer to the team in quotation marks — the "Reds." Weird.
Now for the rest of this week's picks:
• How about this 1960s Joe Namath thermal cup! Notice the helmet logo is football-shaped, as it should be — but instead of "Jets," it has Namath's initials, "JWN" (for, of course, Joe Willie Namath).
• This 1970s plastic Baltimore Colts beer cup says "Council of Colts Corrals" on the side.
• Another cup to check out is this one for the Chicago Cubs. You've got a cartoon pitcher and batter, and the interesting thing is a snap-on lid that says "This Is [print your name in Sharpie here] My Mug." So when it gets stolen from the break room, the thief will know who it belonged to!
• And two more from the drinkware department: This 1983 Roy Rogers promo Philadelphia Phillies glass shows a variety of team logos from their 100-year history up to that time, and this 1980 Phillies decanter celebrates the team's 1980 World Series win.
• This is a 1952 Brooklyn Dodgers "plastic scraper emblem." I had no idea what that was until I read the fine print — it's an ice scraper!
• This Cleveland Browns bumper sticker says, "The Winningest Team in Pro Football." When was that exactly? (I don't think it was referencing the Paul Brown/Otto Graham era.) In any event, they were nattily attired back in the day, as QB Brian Sipe shows us on this 1982 Superstar QB Calendar.
• "Talkin' Baseball" singer Terry Cashman was the fellow singing on this picture disc album of Earl Weaver, called The Earl of Baltimore. You can hear the song here, and no post about Weaver would be complete without this oldie but goodie video clip. Boom! You run yourself, Earl! (NSFW, but everyone is WFH, right?)
• This 1957 baseball board game, Mickey Mantle's Big League Baseball, has some great cover art, and is "a baseball game for the entire family — authentic, suspenseful, and exciting!" Plus it comes with an autographed photo and playing record!
• This Boston Red Sox lunch box comes with a Thermos inside. The seller makes no reference to its age; I'll say early 1960s for this one, and it appears to be in perfect shape.
• One more for the Sawx: This 1960s Red Sox/Fenway Pahk snowglobe could use a bit of water, or whatever goes in those.
• Here's an NFL paper placemat set of unknown vintage. Fifteen to a set. No team logos on the uniforms, unfortunately.
• • • • •
• • • • •
Click to enlarge
Auction reminder: In case you missed it on Monday, the one-of-a-kind Brooklyn Branches jersey is now complete (and completely amazing!). We're auctioning it off and donating the proceeds to the Arbor Day Foundation. Full details on the jersey, and how you can bid on it, here.
• • • • •
• • • • •
Click to enlarge
August Pin Club reminder: Another thing you may have missed on Monday is that the Uni Watch Pin Club's new design for August — a salute to old-school baseball scoreboards, complete with a few misfiring light bulbs — is now available. (If you want more info on the line score and the 4:07 time on the clock, there's an explanation here.)
This is a limited/numbered edition of 250. As of this morning, there are 102 remaining, so we've already sold through more than half of them. You can get yours here.
While we're at it: There are now fewer than 50 of the July bobble-pins remaining. Still available here while supplies last.
• • • • •
• • • • •
The Ticker
By Paul, pinch-hitting for birthday boy Alex Hider

'Skins Watch: Years after the University of Illinois officially retired its Chief Illiniwek mascot, Native American imagery and costumes stubbornly persist among certain fans (from Kary Klismet). … Good article on how the minor league Spokane Indians have partnered with the local Spokane Tribe (NYT link) for a variety of respectful initiatives. … North Quincy High in Massachusetts is changing its cartoon mascot from a Native savage to a colonial patriot (from Paul Friedmann). … Wisconsin brewery Leinenkugel's — which I toured in 1999 and quite enjoyed — is retiring its logo featuring a Native American woman.

Working Class Wannabes™: Nebraska defensive line coach Tony Tuioti says freshman Nash Hutmacher "is as blue-collar as it gets." … Speaking of Nebraska football, an article about their outside linebackers says they "have the blue-collar type of mentality needed to play at Nebraska." … An article about the upcoming NFL season says the Patriots lost a "a handful of blue-collar defensive starters." The writer then adds that the team's defense "is largely a collection of blue-collar guys who thrive in skill-specific roles" and goes on to say that "New England's collection of fundamentally sound, blue-collar defenders will simply get the job done by flying to the football and making solid tackles." Get this guy a thesaurus!

Baseball News: Minor league teams are looking to generate much-needed revenue by repurposing their ballparks for golf. … "The Iowa High School State Baseball Tournament, which just concluded this past weekend, always includes several uni-notable moments," says Kary Klismet. "Among this year's highlights are Gilbertville Don Bosco's grey raglan sleeves on blue road jerseys, unconventional faux-headspoons for Council Bluffs St. Albert, and, as always, plenty of teams with great stirrup games." Lots of additional photos here. … The Mariners have added a cutout of Steve Bartman to their stadium, near the corresponding spot where he infamously sat at Wrigley Field. "Odd case of trolling, since the M's and Cubs are in different leagues and don't play each other this year," notes Mike Chamernik. … The Covid-stricken Marlins announced a flurry of roster moves yesterday, and Shane Bua notes that two of their new pitchers include Josh A. Smith and Josh D. Smith. Could make for some interesting NOBs. … Great observation from Chris Falvey, who notes that the Cardinals' schedule includes a 25-game stretch against teams with a "C" in their logo. … If you build it, they might not come after all: The Cards/Chisox Field of Dreams game in Iowa, originally scheduled for Aug. 13, has been postponed to 2021 (Mike Chamernik again). … Giants skipper Gabe Kapler wore the wrong hat for last night's game against the Rockies. … Good eyeglasses vs. eyeglasses matchup during last night's Cubs/Royals game (from @DTW94).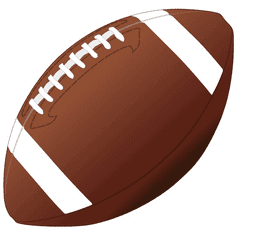 Football News: The Broncos have an interesting walk-through body sanitizer at their training facility. Does every team have this? (From Mike Chamernik.) … Houston LB Grant Stuard will wear No. 0 this year (from Ignacio Salazar). … New uniforms for Rutgers, and they look pretty solid. … Can't say the same, alas, for Fresno State (from Phil Neslund).

Hockey News: This is pretty great: At the Edmonton NHL bubble, they're putting the attendance on the scoreboard (from Alan Kreit). … Hurricanes RW Andrei Svechnikov scored a hat trick yesterday. Since there were no fans on hand to throw hats onto the ice, his teammates left a bunch of hats in his locker (from Mike Chamernik). … New 50th-season center-ice logo for the Prince Albert Raiders (from Kim Johnston).

Basketball News: NBA coaches are enjoying not having to wear suits in Orlando (from Mike Chamernik). … Here's the story of how "Education Reform" ended up as one of the NBA's social justice jersey messages. … New court designs for Young Harris College in Georgia and the new Little Rock Southwest High in Arkansas (from Kary Klismet).

Soccer News: New home shirt for Manchester United (thanks, Anthony). … New custom font for German side Hertha (from Ed Zelaski). … Also from Ed: New kits for Polish side Wisla Krakow. … From our own Jamie Rathjen: "There's a bizarre stat related to English Football League playoff finals that comes into play for Tuesday's Championship final: Teams that traditionally wear red and white striped shirts and black shorts — irrespective of whether they wore that combo in the playoff final — have never won a playoff final in any of the three EFL tiers, losing all 15. If Brentford loses on Tuesday, the streak will be 16." … Also from Jamie: The English Football League has a new ball, a yellow version of which debuted last week in the Scottish Premiership. … Portuguese side Santa Clara will now be outfitted by Kelme (Ed Zelaski again). … And yet another from Ed: New home kit for Serbian side Red Star Brigade.

Grab Bag: An electronic system, instead of live line judges, will be used for most tennis matches at this year's U.S. Open (NYT link). … Did you know chips and pretzels were at one point packaged in soda-style cans so they could be sold in soda vending machines? It's true! (Thanks, Anthony.). … This story from Nevada Public Radio examines the implications of UNLV's decision to remove a statue of its "Hey Reb" mascot from campus (from Kary Klismet). … Here are some of the new Mississippi state flag design proposals that people have submitted (thanks again, Anthony). … The Heartland Collegiate Athletic Conference — that's a D3 conference consisting mostly of schools from Indiana, Ohio, and Kentucky — has a new logo (from Craig McKean). … After her divorce, Princess Diana refused to wear the Chanel logo because it reminded her of Prince Charles and Camilla Parker Bowles. … New logo for fast food chain Bojangles. … New logo and name for South Dakota School of Mines & Technology. … Holy moly, check out this spectacular curling sweater that Wafflebored spotted at a vintage shop! The patches are magnificent, but the buttons really put it over the top.
• • • • •
[adrotate group="2″]
• • • • •
Click to enlarge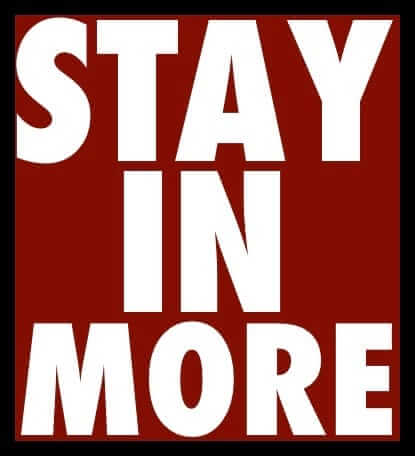 What Paul did last night: Rare bit of uni content in today's installment of Pandemic Porch Cocktails™, as a guy in an Aaron Judge Yankees jersey passed by yesterday. Hadn't really occurred to me before that we almost never see people in jerseys while sitting on the porch.
It was very calm outside yesterday evening. It was the calm before the storm, as the Hurricane with the Odd Name is heading our way today. Shouldn't be too bad by the time it reaches us, but we're supposed to have a very rainy, windy day.
As always, you can see the full set of daily Pandemic Porch Cocktails™ photos — now 140 of them! — here.
• • • • •
Tomorrow: Some new additions to the Uni Rock Shop. See you back here then. — Paul