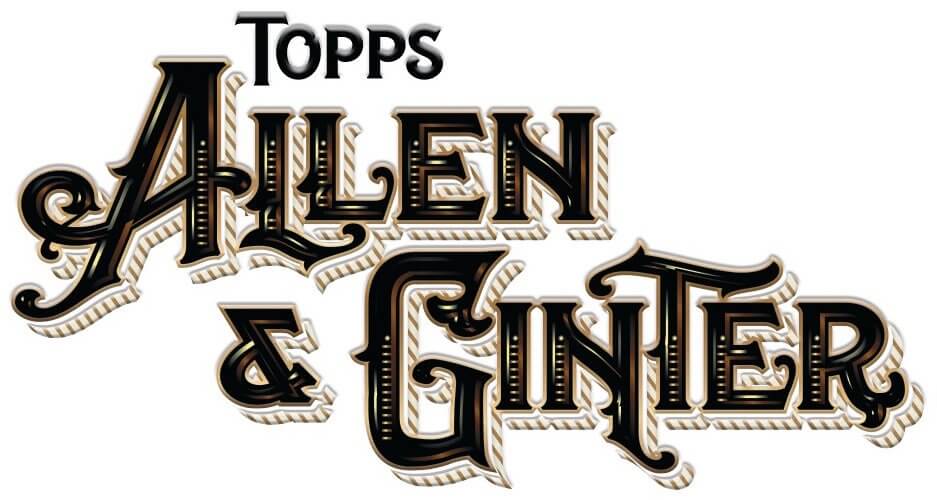 When I was a kid, I figured I was going to grow up to be a big league ballplayer. I mean, it was obvious, wasn't it? I was a big baseball card collector at the time, and I knew that Topps cards from certain years included the players' signatures as part of the card designs, so I'd take the duplicate cards of lousy players and practice autographing them, because I figured I'd better get accustomed to signing my name in a baseball card–sized space. Since some players' cards were oriented horizontally instead of vertically, I practiced signing on some of those as well, in case my own card turned out to be horizontal.
Of course, I didn't turn out to be a big league ballplayer (yet). But it turns out that I am going to have my own official Topps trading card — and I'm even going to get to autograph it.
Here's the deal: I was recently contacted by a Topps brand manager. He said there were several Uni Watch fans in the Topps offices and asked if I'd like to be part of Topps's 2020 Allen and Ginter trading card product. In case you're unfamiliar with Allen and Ginter (I confess that I didn't know anything about it myself until now), that was the name of the tobacco company that marketed the first cigarette trading cards in the 1880s. Topps revived the brand name in 2006 and has used it since then for a line of cards with an old-timey look (additional examples here):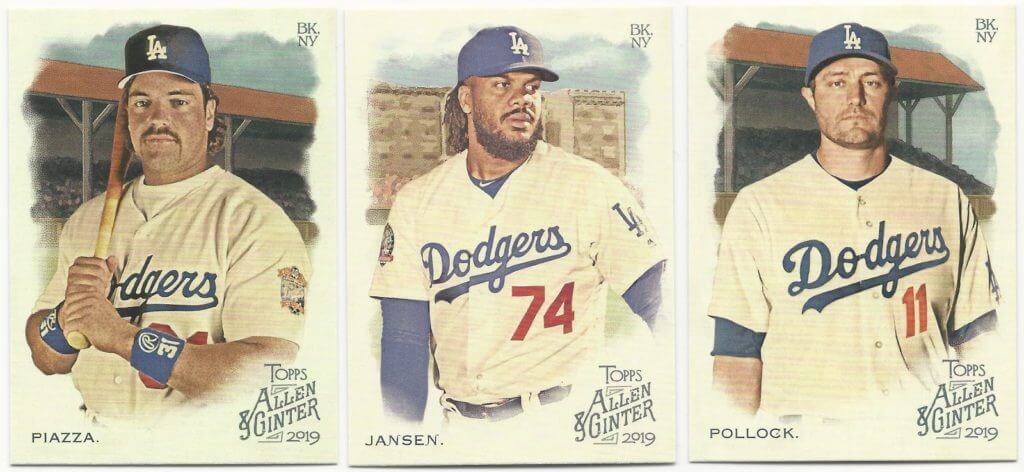 Some of the A&G cards are "rip cards," meaning you can rip them open to reveal another card, possibly more valuable, inside:
The A&G cards include baseball players, obviously, but they also include some non-baseball athletes and non-athlete celebrities. That's where I come in — I'll be one of the "celebrity" cards for a set due to come out next July. As I understand it, my card will be one of the smaller, cigarette-sized cards and will be printed in an edition of 260something. I'll sign each one individually — 10 in red ink (which will go inside of rip cards) and the rest in blue ink (which will be randomly scattered into packs and boxes). So all those practice autographs on cards when I was a kid will finally pay off! It's like I've been preparing for this moment my entire life.
After I told the Topps guy that I'd be happy to participate, he said, "Great! So after we hang up the phone, just email me a good photo of yourself and we'll take it from there." I was like, "Are you kidding? If I'm gonna be on a genuine Topps trading card, I'm not sending you an old photo. I'll pose for a new one!"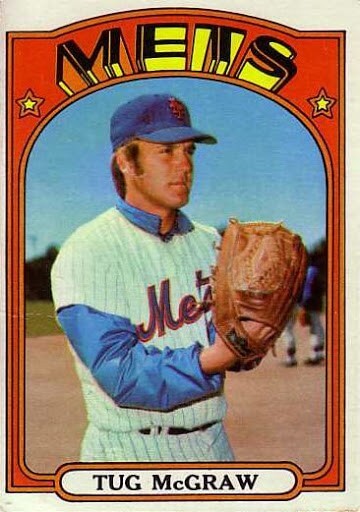 That led to a slew of internal deliberations: What should I wear — Uni Watch apparel? One of my vintage flannel jerseys? "I'm Calling It Shea"? If I wear stirrups, will they even appear on the card or will they be cropped out? Should I wear a windbreaker under my jersey, as so many players did in the 1970s when being photographed at spring training for their cards (including Tug McGraw, in the 1972 card shown at right)? How should I pose? Should I be holding a ball? A bat? My glove? Where should the photo be taken — on a baseball diamond? On my front porch? Somewhere else?
Realistically, most of these questions will probably end up being moot, because the A&G autographed cards are small to begin with and the images are cropped pretty significantly to allow space for the signature, so there probably won't be very much of me on the card. Still, I wanted to look as good as possible under the circumstances. So remember those photos of myself in Uni Watch attire that I showed you a few days ago? They're from a quick photo session that the Tugboat Captain and I did on Sunday morning: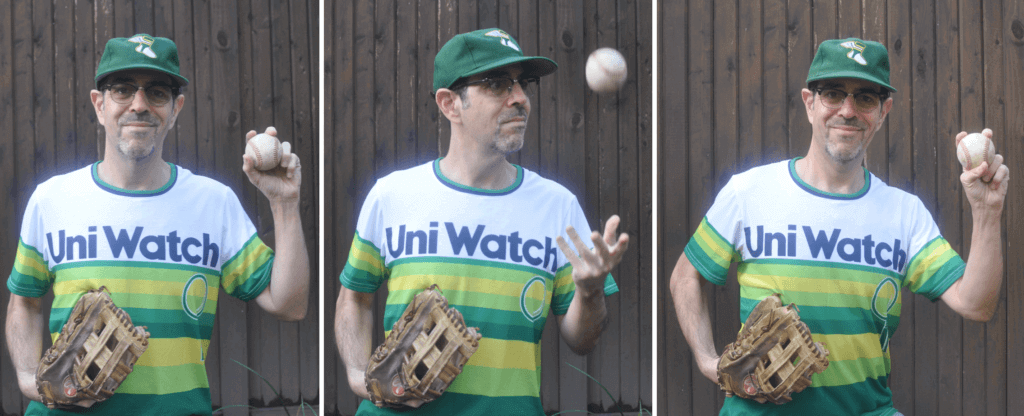 One of those shots will likely end up being used on the card. I did a lot of that "holding the ball" pose as a reference to the countless ballplayers whose cards looked like this (I always thought it would've looked better if they were holding the ball).
I don't yet know what will be on the back of the card. I also don't yet know how I'll be referred to on the card ("Journalist"? "Writer"? "Uniformologist"? "Minutiae Fetishist"? "XFL Skeptic"?), but all of that will be sorted out soon enough.
I'm sure many of you know much, much more about A&G than I do. Feel free to enlighten us in today's comments about what I've gotten myself into. Thanks in advance!
• • • • •
• • • • •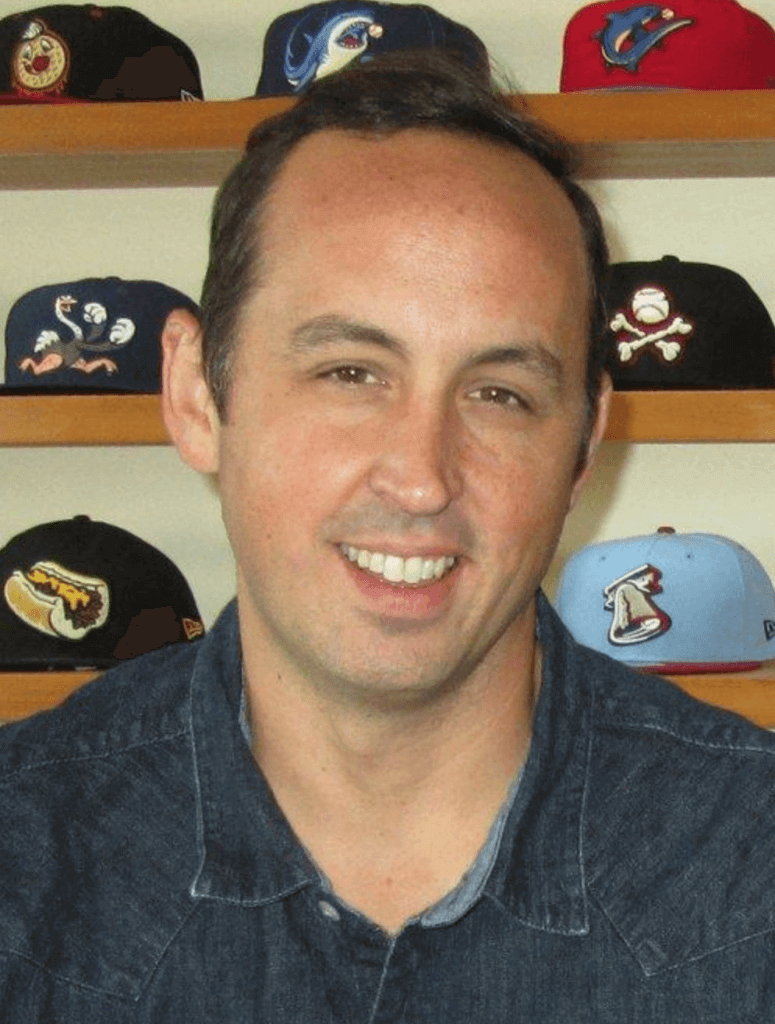 Brandiose update: Tuesday's entry about my recent visit with the Brandiose guys prompted a lot of good discussion about the Brandiose "style," the goals of good design, and so on. After the piece ran, I received a really interesting email on that point from Brandiose co-founder Casey White (shown at right; he's the one who does all those great sketches at the start of each Brandiose project). It was so good, I asked Casey if I could reprint it here on the site, and he said sure. Here it is:
Concerning the article, our ultimate goal is to help Minor League Baseball's popularity grow, and over the last 20 years we've been able to figure out a bunch of ways to help with that. And while I'd love to do more work that's reminiscent of stuff we've done for MLB or Nike, that's not what sells well in the minor leagues. Fans want fun, light-hearted, cartoony, clever, and narrative logos. Just when I think we've gone too far in those directions, the fans only embrace it more ravenously.

I used to be pretty hard on myself for not offering more variety of design styles to our MiLB clients. I used to think if I just sketched more concepts or pushed myself more outside of my comfort zone, then maybe I could find a new style that felt Minor League but was completely new. The truth is, when I did offer a greater variety of design styles, management usually didn't choose those concepts. And in the few instances when they did choose them, the fans didn't buy them.

So now I see our job as pushing our designs for MiLB in a different way. How do we push the Minor League brand of fun in new and novel ways? What untold small-town story can we unearth and reweave into the fabric of Americana? How do we distill complicated narratives while packing each logo full of Easter eggs and thematic elements that bring moments of surprise on the fourth and fifth examination? How do we find new ways to design narrative logos that also embroider well? How do we find fresh ways to make the characters in our logos feel like they're actively determined and not angry or stoic? (The initial feedback from owners is "It's too angry!" or "It feels too serious!")

I guess what I'm saying is the only part of your article that I disagree with is that MiLB and Brandiose would be better off with fewer Brandiose logos. I feel like our continuing contributions are a positive for the sport and the league. I feel like we have lots more to contribute, fresh things to say, and room to evolve as designers. I wait with anticipation to see the fresh design styles that the next class of designers comes up with to revolutionize MiLB's logo landscape in the future. In the meantime, Jason and I are honored to continue to contribute to this chapter of Minor League Baseball's history.

Happy Holidays, thanks again, and until next time!
I really appreciate the thoughtfulness and introspection in that communiqué. Big thanks to Casey for letting me share it with you here.
In retrospect, I should have sat down and interviewed Casey and his Brandiose partner, Jason Klein. If I had done that, we could have explored these issues up front and gotten them into Tuesday's piece. So why didn't I interview them? For starters, my visit to their studio was more of a social occasion. Also, SportsLogos.net's Chris Creamer was also there, and it seemed weird to be actively reporting in his presence, so I didn't take any notes or run the tape recorder during my visit. Looking back, maybe Chris and I should have collaborated on a piece that could have run on both of our sites, or I should have interviewed Casey and Jason by phone sometime after my visit.
My bad for not considering either of those things. But maybe it sets the stage for a follow-up piece that I can do later on. I'll put it on my list!
• • • • •
• • • • •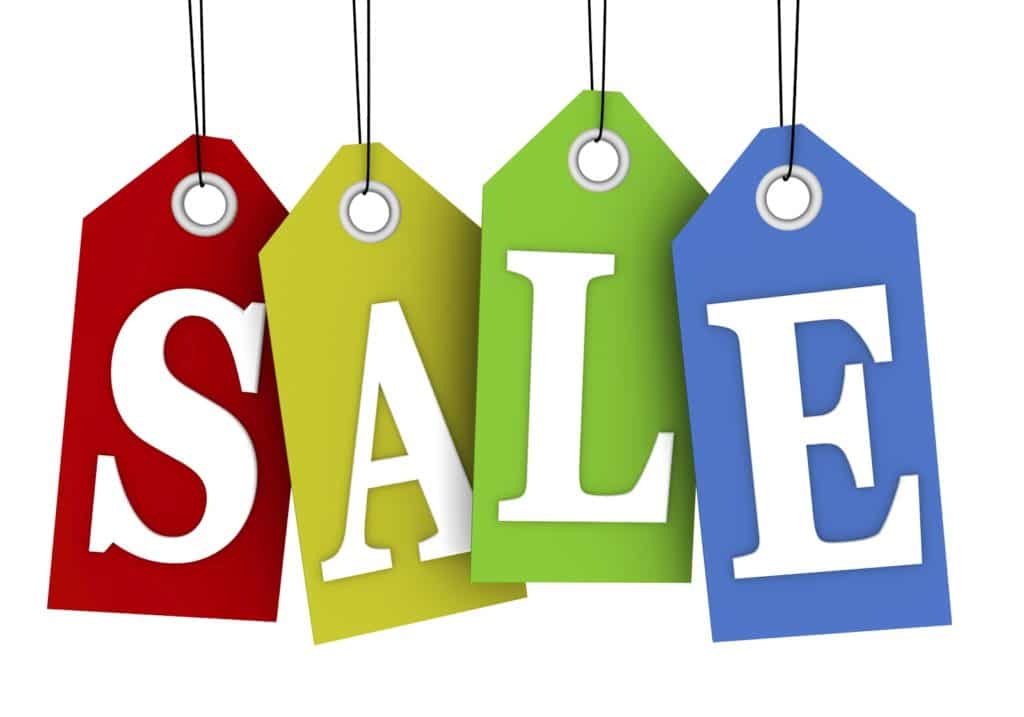 ITEM! New Teespring sale: Teespring is running one of their periodic site-wide discounts. From now through the end of Saturday, you can get 10% off of anything in the Uni Watch Shop (which includes T-shirts, hoodies, mugs, pins, cufflinks, and stickers) and the Naming Wrongs Shop by using the checkout code BL1ZZARD. (Yes, that's sort of cringe-inducing, but I didn't choose the code word.)
If you use this checkout code, you'll get the discount but Uni Watch will still get its full profit on each item — the discount will come out of Teespring's end — so it's a win-win. My thanks, as always, for your consideration of our products.
• • • • •
• • • • •
Click to enlarge
Soooo satisfying: A new shipment of Uni Watch Classic Caps arrived yesterday at the home of cap-fulfillment manager Mark LaFountain, who took the photo shown above. Seeing all those yellow squatchees lined up is so pleasing, it almost seems like a shame to remove the caps from the box, no?
While we're at it: Adelph Wear honcho Nathan Haas sent along these pics of the Uni Watch basketball jerseys and shorts that he was about to mail out (just in time for Christmas!):
Nathan really nailed it with those green mailers, am I right? Thanks, buddy!
• • • • •
• • • • •
Click to enlarge
Year-end raffle reminder: In case you missed it last Friday, our annual year-end raffle is now underway, with dozens of cool items available for you to win (including the Padres cap shown above). Full details here.
• • • • •
• • • • •
The Ticker
By Paul

Baseball News: Two of Cleveland skipper Terry Francona's stolen World Series rings have been recovered. … The MLB Network Photoshopped newly signed D-backs P Madison Bumgarner into one of the team's now-obsolete snakeskin jerseys. … Gross: The Yankees' introductory presser for newly signed P Gerrit Cole provided our first look at a Nikefied Yanks jersey in the wild. … Meanwhile, as you can see in that last photo, Cole has complied with the Yanks' grooming code by shaving his beard. … Speaking of the Yanks, I'm quoted in this New York Post story about the new Nike/MLB/Yanks relationship. … The Giants used an email announcement about a new retail merch shop to break the news, albeit softly, that they'll be wearing a 20th-anniversary patch for their stadium next season. I can confirm that the patch design, which commemorates the ballpark's 20 years at 24 Willie Mays Plaza, is the same as what's shown on the key ring in that email (from Gilbert Lee). … Reader Erik Johnson did a great job of removing the New Era logo from his White Sox cap. Nicely done!

NFL News: The Titans will go mono-navy this weekend against the Saints. … The Jags will wear white over turquoise this weekend, marking only the second time they've worn the turquoise pants. … "My cousin George Chaump was on Buccaneers coach John McKay's coaching staff in the late 1970s and got this equipment bag for me when I was a little boy," says Art Savokinas. "Notice the NFL Players Association logo on it, and photos of the players on the side."

College Football News: Schools are reportedly recruiting defensive lineman prospects by promising them single-digit uni numbers. … Sorta cool, sorta gross: Oklahoma gave each of its new recruits his own personal logo (from @ChancePlett). … Looks like LSU will wear white jerseys with no CFB150 patch in the Peach Bowl. … Here's how the Las Vegas Bowl patches look on Washington's and Boise State's jerseys, and also the Liberty Bowl patch on Navy's jersey (all that from CFBowlWatch). … Here's our first look at the CFP logo on an Oklahoma helmet (from Sam McKinley). … "In memory of former Iowa coach Hayden Fry's death on Wednesday, The Cedar Rapids Gazette has republished this story about how Fry was responsible for the creation of Iowa's Tigerhawk logo," says Kary Klismet. "And this article captures his many other contributions to the uni-verse, including modeling Iowa's uniforms after the Pittsburgh Steelers', painting Kinnick Stadium's visiting locker room pink, and adding the 'ANF' (America Needs Farmers) decal to the team's helmets during the Farm Crisis in the '80s. And as this article explains, he always wore white pants on the sidelines so his quarterbacks could pick him out." … New logo and advertiser next year for the Music City Bowl. … The latest school in Blaise D'Sylva's helmet history tour is Coastal Carolina.

Hockey News: Coyotes D Ilya Lyubushkin got a penalty for playing without a helmet the other night, even though his helmet had been removed by an opposing player (from Mike Chamernik). … The Islanders will retire John Tonelli's No. 27 and Butch Goring's No. 91 in February, but Tonelli has given his blessing for current Isles captain Anders Lee to keep wearing No. 27 (from Alex Peck and @OlegKvasha). … Oh baby, check out this spectacular Iowa Oak Leaf throwback that the AHL's Iowa Wild will be wearing this weekend — super-tasty! (Big thanks to Drew Hicks.) … A student caroler performing at a hospital in Michigan, of all places, wore a Rangers-style jersey with "Santa" lettering instead of "Rangers" (from Brandon Weir).

NBA News: NBA refs are increasingly whistling players for having untucked jerseys. … The Rockets will give away bobbleheads of James Harden wearing a City alternate uni on Jan. 11 (from Ignacio Salazar). … Yesterday I had a photo showing the prodigious combined NOBs of Nets G Timothé Luwawu-Cabarrot and Pelicans G Nickeil Alexander-Walker. Here's a similarly impressive shot from earlier this season of Alexander-Walker with Thunder G Shai Gilgeous-Alexander, who happens to be his cousin (from @OKCTracker).

College Hoops News: Halloween-style matchup last night, as Cincinnati and Tennessee went black vs. orange (from Jack Owen). … Syracuse G Shaun Belby wore teammate Joseph Girard III's warmup top last night (good spot by Timmy Donahue).

Soccer News: New match ball for the Ekstraklasa, the top-tier Polish league (from Ed Zelaski). … Bayern Munich MF Philippe Coutinho apparently wore a retail replica jersey on the pitch the other day. … The Russian national team is getting new uniforms, after fans complained the color sequence on the sleeve trim depicted the country's flag upside-down. … In the "You've gotta be fucking kidding me" dept., the NPSL now has a preferred ball stand partner (from Joseph Pitirri).

Grab Bag: Astute analysis from this review (NYT link) of the new Star Wars movie: "The struggle of good against evil [in the the movie] feels less like a cosmic battle than a longstanding sports rivalry between teams whose glory days are receding. The head coaches come and go, the uniforms are redesigned, certain key players are the subjects of trade rumors, and the fans keep showing up." … Microsoft released a new logo for Windows and nobody even noticed. … Would you like to live in a house that looks like a familiar brand logo? … Good article on the history of the peace symbol. … New logo for auto maker Kia. … New logo for the London Underground. … The new logo for a Chinese tourism bureau sure looks a lot like the Walt Disney logo. … More skin rashes and other problems reportedly being caused by Delta's flight attendant uniforms. I feel like we keep hearing about this on a semi-regular basis, no? (From James Poisso.) … We often see time-lapse videos showing the conversion of an arena from hockey to basketball, but how about hockey to volleyball? That's the NHL's Pittsburgh Penguins' arena getting prepped for the NCAA volleyball final four (from Jeremy Brahm). … Oooh, check out this amazing old curling sweater! (Big thanks to @jsdeery.) … Faaaascinating article on how a WWII-era intelligence agency called the Office of Strategic Services had a huge effect on 20th-century American design (from Adam Herbst). … I was impressed by this podcast interview with ESPN writer/podcaster/analyst Mina Kimes, who comes off as a very interesting person. Recommended. … Wondering about the economics of being a freelance writer? Here's an admirably transparent thread about what one writer was paid for her freelance pieces this year.