As you may recall, two years ago I got to throw out the first pitch as part of the Syracuse Chiefs' Brannock Device Night promotion (further details here). The whole first pitch thing was interesting — the lead-up to it, practicing for it, worrying that I might screw it up, etc. — and I wondered how other people dealt with that.
I was still working for ESPN at the time, so I pitched (ahem) my editor a story about what throwing a first pitch was like for various people. At first I thought I'd include quotes from pretty much anyone who'd ever thrown a first pitch, so I put out a call for people who'd done it. But then my editor decided that the story should just be about non-baseball athletes who'd thrown out a first pitch — a much more ESPN-friendly angle.
So I began compiling a list of athletes who'd done that and contacting their team publicists (or agents, or management companies, etc.) to set up interviews. It turned out to be slow going, plus I had a bunch of other projects going on, and I ended up back-burnering the project after interviewing only three athletes. I figured I'd pick it up again the following spring, but that turned out to be when ESPN let me go.
So the project stayed on the back burner, and I had frankly forgotten all about it until the Tugboat Captain and I were recently talking about the skateboarder Tony Hawk, and she said, "You interviewed him for that first pitch story, didn't you? Whatever happened to that?"
True enough, Hawk was one of the three athletes I had interviewed for that project. Did I still have the audio files of those interviews? Yes! So I decided to run the transcripts as a mini-series here on Uni Watch, beginning today with Hawk.
So! Tony Hawk is from San Diego and has thrown out the first pitch at three different Padres games. The first time was on Aug. 19, 2011 (the photo at the top of this page is from that same appearance). He wore a Padres jersey, no cap, and no glove, threw from the mound, and appears to have thrown a strike:
Embed from Getty Images
The next time was on April 11, 2015. Hawk was one of five San Diego sports figures who threw first pitches in unison. This time he wore a Padres cap, a T-shirt for the lifestyle brand Nixon, and no glove, and threw from in front of the mound (as did the other four pitchers). It's not clear what happened to his pitch, because the video doesn't show that:
Embed from Getty Images
The third time was on Sept. 7, 2017. This time he was once again by himself and back on the mound, dressed the same way he was the first time (in fact, if you compare the 2011 photo to this next one, they're nearly identical — Hawk had very consistent form!), and once again threw a strike:
Embed from Getty Images
When I interviewed Hawk in June of 2018, he was in his car, driving his daughter to Disneyland, along with a bunch of her friends, for her birthday — not the best conditions for an interview, but I had to take what I could get. Here's how it went:
Uni Watch: Did you play baseball or softball when you were younger?
Tony Hawk: I did. I played baseball up until the time that I got serious into skating. I played Little League from ages, I think, nine to 12, maybe..? I think I quit when I was 12. That was basically when I stopped playing all team sports.
UW: When you were preparing to do these first pitches, did you just practice tossing a ball around beforehand, just to get reacquainted with the feel of throwing a ball?
TH: I did. I think I did it at least one or two days beforehand. My brother was very nervous that I would, for lack of a better word, Baba Booey it, so he made me practice with him. We actually measured the distance out in my front yard.
UW: Was he more concerned about you messing up than you were?
TH: I think so, yeah.
UW: Did you even own a glove at the time, or did you have to go buy one?
TH: I think all three times I had to go to a sporting goods shop and buy a new glove so I could practice.
UW: When you got out there on the field, especially the first time, were you nervous?
TH: I was, yeah. It wasn't as bad when I was doing it with other people. But when I was by myself, that was definitely a lot more nerve-wracking. But I think that was my best pitch, actually.
UW: You're obviously used to performing in front of people and dealing with pressure. But this is a different sort of a situation — it's not your usual sport, it's out of your usual comfort zone. Was that an interesting experience for you, as an athlete?
TH: It was. It helped that, like I said, I had played baseball as a kid. On the flip side, I was recently invited to participate in this charity golf tournament. I'm terrible at golf, and it shows — that's more nerve-wracking to me, because I know I can't really fix it in that moment.
But also: My skating is freestyle-based, so I have the luxury of falling and getting back up, especially in exhibition situations, because I'm less focused on competition these days. So I sort of have the freedom to fail. But with a first pitch, you only get one shot — you can't blow it. So that's more pressure, even though tossing a ball is a simpler act. It kind of put me back in the competitive mode.
UW: Most people who throw out the first pitch stand in front of the mound. But I was watching the video of your pitches, and I saw that you've often chosen to stand right on the pitching rubber. Was that a conscious choice on your part, like you wanted to do it from the official distance?
TH: Yeah. And honestly, this might be naïve, but I think it's easier when you're higher.
UW: That's the idea for a major league pitcher, yeah — you're throwing downhill. But I think the general thinking for people throwing out a first pitch is that unless you've practiced on a mound, the change in elevation can sort of mess you up.
TH: Yeah, that makes sense.
UW: Would you do it again?
TH: Sure, definitely!
UW: Anything to add?
TH: It's nice that there are some celebrities who have set the bar very low, so that removes some of the pressure.
———
At that point I had to wrap it up. Honestly, I wanted to ask him a lot more questions about what he wore, whether he considered wearing a baseball glove, and so on, but I didn't want to take any more of his time on his daughter's birthday.
Anyway: That's the debut of our "Uni Watch First Pitchers" series. I'll run the second and third installments in the weeks to come.
One footnote/apology: As I mentioned earlier, I initially thought this project would be about "normal people" throwing out the first pitch, not athletes. At the time, I put out the call for Uni Watch readers to participate: "If you've ever thrown out a first pitch at a ballgame, I'd like to hear from you," or something like that. Lots of readers responded (probably including lots of you reading this right now), so I emailed all of them the same set of questions, and and most of them sent back their answers — which I don't seem to have kept. I think I trashed them when my ESPN editor made me change the focus of the article to athletes. Sorry about that! But if any of you want to discuss your first pitch experiences in today's comments, please feel free.
• • • • •
• • • • •
There are no words: The Instagram post embedded above was posted eight days ago by former NBA player Stephen Jackson, so many of you have probably seen it already, but I didn't see it until yesterday. It shows murder victim George Floyd, who was Jackson's close friend, in his football uniform for Yates High School in Houston.
Floyd also played high school basketball and went to South Florida Community College (now South Florida State) on a hoops scholarship. Here he is in his basketball uniform — he's the one at far left, No. 5 (click to enlarge):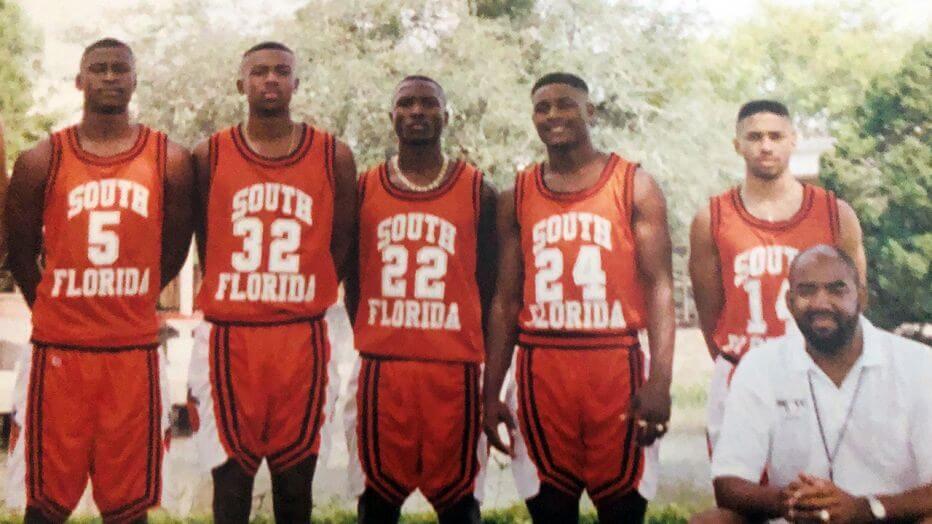 Again, I realize many of you may already have seen that photo. But for those who haven't, I wanted to share these pics of Floyd in uniform. R.I.P.
• • • • •
• • • • •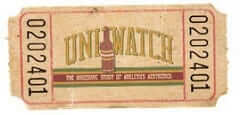 ITEM! June pin raffle: Reader Diego Bauzá has generously offered to purchase one of the Uni Watch Pin Club's June pins for me to raffle off, so that's what we're going to do today.
This will be a one-day raffle. To enter, send your name and mailing address to the raffle address by 8pm Eastern tonight. One entry per person. I'll announce the winner tomorrow.
Speaking of the June pin, as of this morning we have fewer than 70 of them left, so move fast if you want one.
Need to get caught up? We still have some of the May pins left, along with the March, February, and January pins. (Sorry, April is sold out.)
Speaking of which: If you order multiple pins and find yourself getting hit with multiple shipping charges on the one order, go ahead and place the order and then email me with your order number — I can arrange for the extra shipping charges to be refunded.
And remember that you can save a 15% on all of the pins, and on everything else in the Uni Watch Shop and the Naming Wrongs Shop, by using the checkout code COMMUNITY.
While we're at it:
• In case you missed it earlier, Uni Watch cufflinks, which usually sell for $26.99, are now just $16.99. Perfect for all those formal events on your busy shelter-in-place social calendar!
• All colors of Uni Watch seam rippers are currently available.
• Don't forget about the awesome Uni Watch chain-stitched patches, hand-made for us by the great Amy Bengtson!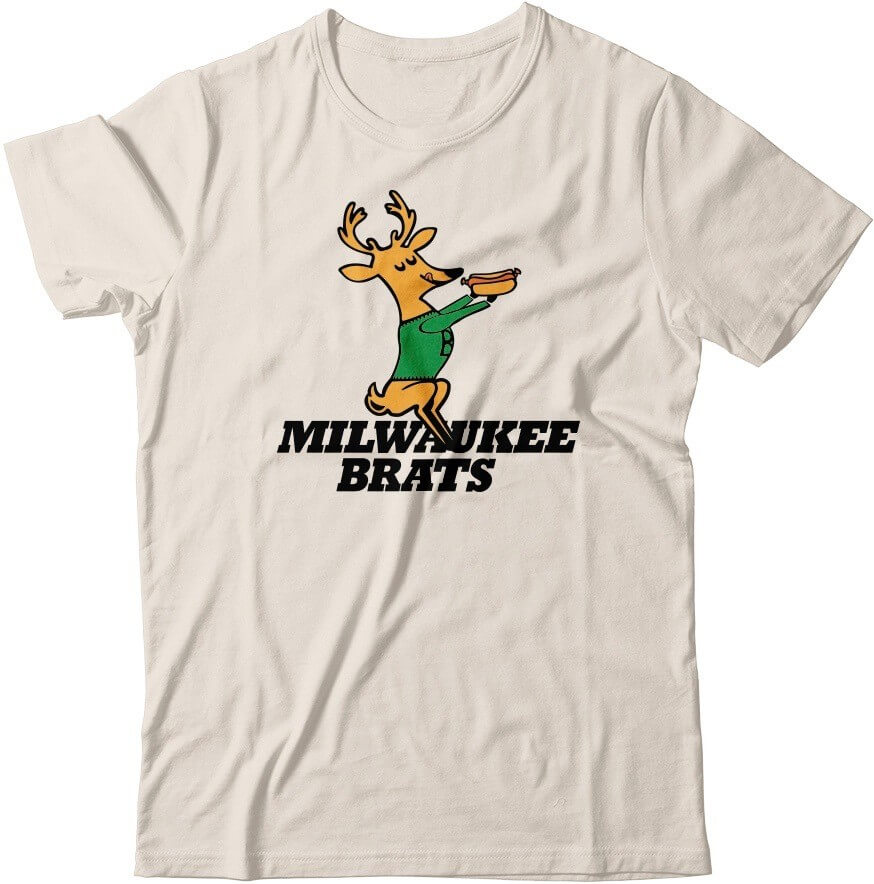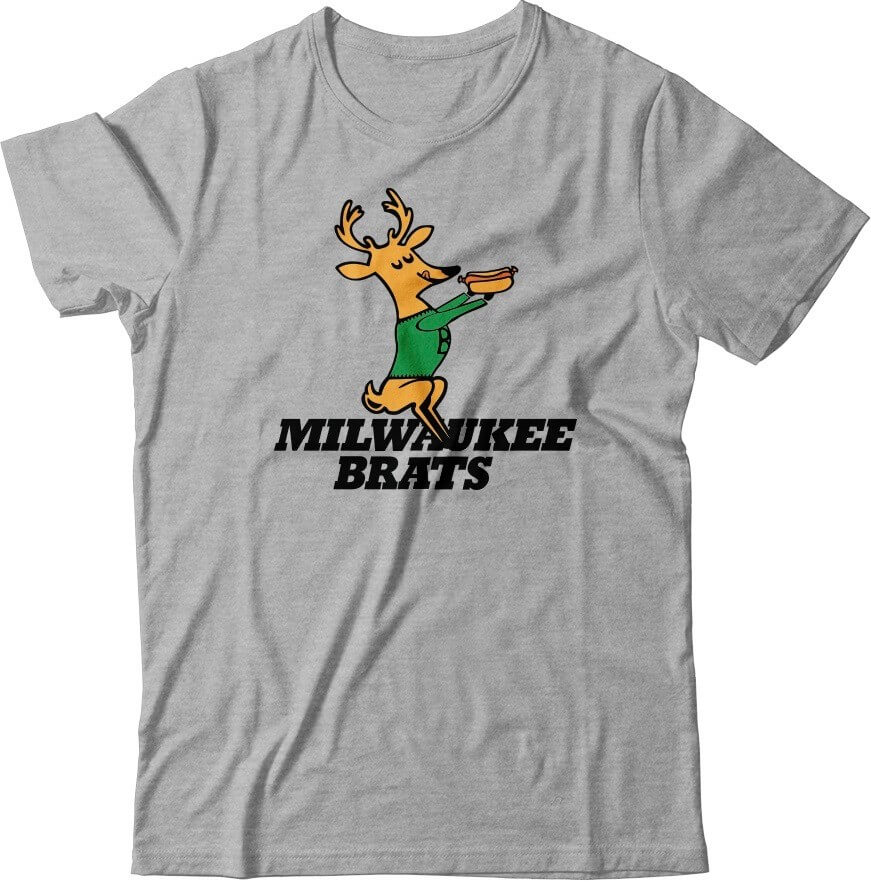 • Don't these shirt concepts look nice? Wouldn't it be fun, just theoretically, if they existed for real? If you agree, let me know.
• • • • •
• • • • •
Membership update: Patrick Gaughan gave us a doozy of a request on Purple Amnesty Day: He wanted a card based on the Cleveland Crunch's 1994-95 keeper jersey. I made sure he gave us a backup choice, because I wasn't sure card designer Scott M.X. Turner could handle the Crunch design — but as you can see, he did a fantastic job!
Patrick's card is one of several new and disturbingly purple designs that have been added to the membership card gallery, as we continue to work our way through the Purp Walk cascade.
Ordering a membership card is a good way to support Uni Watch (which, frankly, could use your support these days). And remember, as a gesture of comm-uni-ty solidarity, the price of a membership has been reduced from $25 to $20 until further notice.
As always, you can sign up for your own custom-designed card here, you can see all the cards we've designed so far here (now more than 2,800 of them!), and you can see how we produce the cards here.
• • • • •
• • • • •
It keeps going, and going…: Last night I finally got around to tallying up last year's tax receipts, which means it's time for my annual post about my pocket calculator.
So: When I left my last office job in February 1996 and started working from home, I took a few items with me from my office, including a cheapo pocket calculator that probably cost $1.99 at most. I'd already owned it for at least a year when I took it home with me.
That was more than 24 years ago. I've never changed the battery (nor could I even if I wanted to — it's a solid one-piece case that can't be opened). But the calculator still works.
Granted, I don't use it much anymore except for the one time per year when I tally up my tax receipts and of course I could just as easily use the calculator on my phone, or on my laptop. Still, it seems pretty amazing that it hasn't died, and I find something very satisfying about the ritual of using it each year (and even the ritual of telling you about it).
This year, as in so many previous years, I'm thinking, "Okay, so now it's finally gonna die and I won't get to use it anymore." But it'll probably prove me wrong again. Which means I'll probably be saying all of this again next year.
• • • • •
[adrotate group="2″]
• • • • •
The Ticker
By Paul

'Skins Watch: After the 'Skins participated in #BlackoutTuesday two days ago, many observers pointed out that the team could start advancing the cause of equality by changing its name (WaPo link) (from many readers). … The Atlanta Braves, Cleveland Indians, and Chicago Blackhawks got some of that same pushback, as did the CFL's Edmonton Eskimos (from Dan Gitlitz and Wade Heidt). … Teton High School in Idaho will no longer call its teams the Redskins. Students will vote on a new name from a list of 16 finalists (from Timmy Donahue). … International Indoor Junior Lacrosse will now refer to the Iroquois Nation as the Haudenosaunee, which is what the nation calls itself (from Michael Sullivan).

Working Class Wannabes™: After former Auburn football coach Pat Dye died on Monday, current Auburn coach Gus Malzahn described Dye like so: "He embodied what Auburn is about: hard work, toughness and a blue collar mentality." … An article about Purdue football freshman LB Jacob Wahlberg says he's been working out and "grinding like a true, blue-collar boilermaker." … Minnesota Vikings RB Alexander Mattison says "That blue-collar mentality [at Boise State, his alma mater] made me who I am today." Boise State, of course, is the school that literally put the words "Blue Collar" on their blue collars. … An article previewing the Notre Dame football team's 2020 season describes LB Drew White as "the blue-collar player in the middle." … An article about former WVU Jake Kelchner describes him as having "a blue-collar mentality both on and off the field." … An article about the football team at Russell Christian Academy in Mississippi says the players "are taking a blue-collar approach to summer conditioning, the same approach they took last summer." It's not clear which socioeconomic class they modeled their workouts on prior to that.

Baseball News: Talk about niche content: Here's a video compilation of MLB players and umpires being injured by broken bats (from Mike Chamernik). … Did you know Spider-Man and the Green Goblin once fought at Olympic Stadium in Montreal, with guest appearances by the Expos? "Apparently, it was part of a special series presented by the Canadian Association of Chiefs of Police," says Max Weintraub. "It had comic book versions of Expos players Moises Alou, Marquis Grissom, Delino Deshields, Larry Walker (acting kinda pervey), and apparently, Youppi (although I can't find any images of him). And it was available, of course, in both English and in French." … The Corpus Christi Hooks — an Astros affiliate — are selling team-branded masks (from Ignacio Salazar). … Did you know basketball legend Larry Bird also played baseball at Indiana State? And look at his uniform! (Big thanks to Alan Kreit.) … Someone in the Cleveland dugout during Game Two of the 1995 ALCS was wearing a Royals cap. You can see it at the 0:07 mark of that video. Anyone know more? (Good spot by Alexander Kinkopf.) … No matter how many times I see it, I can never get used to the sight of the Metrodome's old "Hefty bag" outfield wall. How did they stick with that for so long?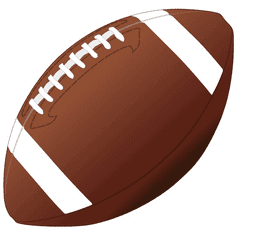 Football News: Cardinals WR DeAndre Hopkins says he wears No. 10 because his brother did 10 years for a minor drug offense (from @ClemsonUniforms). … Check out this great football-themed Alcoa ad, from a 1964 Rams/Niners program (from Frank Mercogliano).

Hockey News: The Canadiens used very uni-centric ticket designs for the 1991-92 season. … Check out the gorgeous skate striping on Kings D Terry Harper in this 1975 shot. Never seen anything quite like that. Great beard on Leafs RW Bill Flett, too (from Mike Raymer).

Basketball News: If the NBA resumes its season at the ESPN/Disney complex in Florida, as now seems likely, teams may be able to use their home court designs (from Shane Bua). … All the players on the 1952 boys' team at Selmer High School in Tennessee wore repeating double-digit numbers — and very sharp uniforms! Love the coach's striped bow tie, too (from Lee Wilds). … Man, SMU had a really weird chest script in 1971 (from Pro Football Journal). … Cross-listed from the baseball section: Check out Larry Bird's amazing baseball uniform from his days at Indiana State (big thanks to Alan Kreit).

Soccer News: Here's the annual "summer peach" kit for Japanese side Fukushima United (from Jeremy Brahm). … German Bundesliga players who recently protested George Floyd's death, and other players who do so going forward, will not be penalized by the German soccer federation (from our own Anthony Emerson). … Portuguese side FC Porto paid tribute to medical personnel on their return to league competition yesterday by handwriting their NOBs, like doctors and nurses do on their PPE, and changing their usual advertiser from Superbock to Superdoc (from Germán Cabrejo). … The new Japanese women's pro league, called the .WE League (for "women's empowerment"), released its logo (from Jeremy Brahm).

Grab Bag: With Australia's National Rugby League playing but not allowing fans to attend, fans can pay $20 to submit a photo of themselves that will be turned into a cardboard cutout that's placed in the stands. But some fans have pranked the process by submitting photos of unsavory figures (NYT link), including a notorious British doctor who killed more than 200 of his patients. … New logo for Adobe Photoshop. … New logo for the League of Legends Pro League, the top level of professional League of Legends in China. … Strong piece on the psychology of militarized police uniforms and how they fit into police uniform history. … A rifle-toting veteran has been arrested after reportedly dressing up in a California National Guard-like uniform, taking a ride share to an anti-racism protest in L.A, and attempting to fall into formation with guardsmen who were monitoring the protest (from Timmy Donahue). … A sheriff's deputy in Orange County, Calif., has been placed on administrative leave after he was seen wearing an unauthorized patch, which featured the logos of right-wing extremist groups, on his uniform. … Comic book writers and artists are urging Disney, which owns Marvel Comics, to take legal action against police departments that are using the vigilante character Punisher's skull logo.
• • • • •
[adrotate group="2″]
• • • • •
Click to enlarge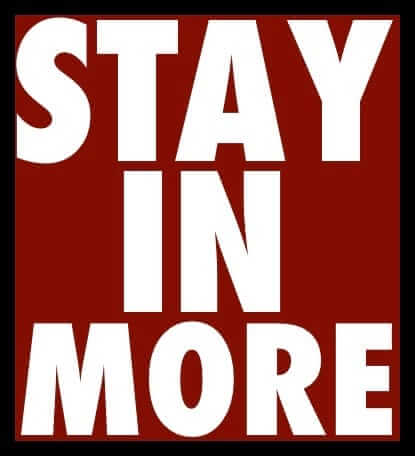 What Paul did last night: There are several stray cats on our block. They tend to be skittish — a stray's life is hard — but one of them, which the Tugboat Captain has named JackFace, sometimes likes to curl up on a corner of our porch that's largely enclosed and therefore safe.
I hadn't noticed JackFace doing this during any of our Pandemic Porch Cocktails™ sessions until yesterday, when I glanced down the length of the porch and a little black lump:
Li'l cutie. He was still there when we went back inside 45 minutes later.
The branch is still there.
As always, you can see the full set of Pandemic Porch Cocktails™ photos here.
• • • • •
Raffle results: The winner of the Vintage Brand raffle is longtime reader/contributor Tris Wykes (who, as you may recall, shared that great NFL helmet cross-stitch pillow with us just last week). Congrats to him, and thanks to Vintage Brand for continuing to sponsor these raffles each month. — Paul