Click to enlarge
[Editor's Note: Today we have a guest entry from longtime Ticker contributor Tris Wykes — that's him above — who's going to fill us in on a completely amazing uni-related craft project. Enjoy. — PL]
By Tris Wykes
Sometimes when you have kids, you're lucky that their interests dovetail with your own. And sometimes, you wind up like my poor, late mother, Viva "Pat" Wykes, who had an only child obsessed with sports — me.
Mom didn't know anything about sports. But when I was about five years old, she saw that I'd spend long stretches staring at the Sears catalog pages that offered NFL goods. I was especially fascinated by a page that showed replica helmets for sale. I eventually received a Packers helmet and a John Brockington No. 42 jersey for Christmas.
Mom loved to cross-stitch and was very good at it. She went through a phase of making small pillows, which usually had flowers or the like on them. But in the late 1970s she somehow found two patterns for NFL helmets — one for the NFC and one for the AFC. I recently found the NFC pillow [click to enlarge]:
I'm not sure what happened to the AFC pillow. Maybe I still have it somewhere, or maybe it suffered water damage and had to be tossed.
In retrospect, my favorite part is that Mom would have had no idea what the helmets were really supposed to look like. Maybe that's why some of the logo proportions are off..? When I recently posted a photo of the pillow on Twitter, someone remarked that the Lions logo looks like a T-Rex.
Sadly, Mom and I didn't get along so well once I hit my teenage years. But it's cool to have this memento of when I was her little boy and she took the time to make me something right up my alley.
———
Paul here. Oh man — I love this so much! Even the inconsistencies are charming (like the way the white Bucs helmet has an outline for the earhole but the white Cardinals helmet doesn't). I think my favorite detail is the way the white Giants facemask stands out against the white background, because it's rendered with a different stitch:
Meanwhile: If you made an NFC pillow today — more than 40 years after Tris's mom made the one for him — how many of the designs would you have to change? Here's my breakdown:
• Completely unchanged (4): Cowboys, 49ers, Saints, Washington
• Unchanged except for facemask color (3): Bears, Packers, Vikings
• Unchanged except for minor tweak to logo (1): Cardinals
• Similar but with several overall tweaks (2): Eagles, Lions
• Significantly changed (4): Bucs, Falcons, Giants, Rams
All very interesting. Big thanks to Tris for sharing this family heirloom with us, and also for his many, many Ticker contributions over the years. You make Uni Watch a better place, Tris!
• • • • •
• • • • •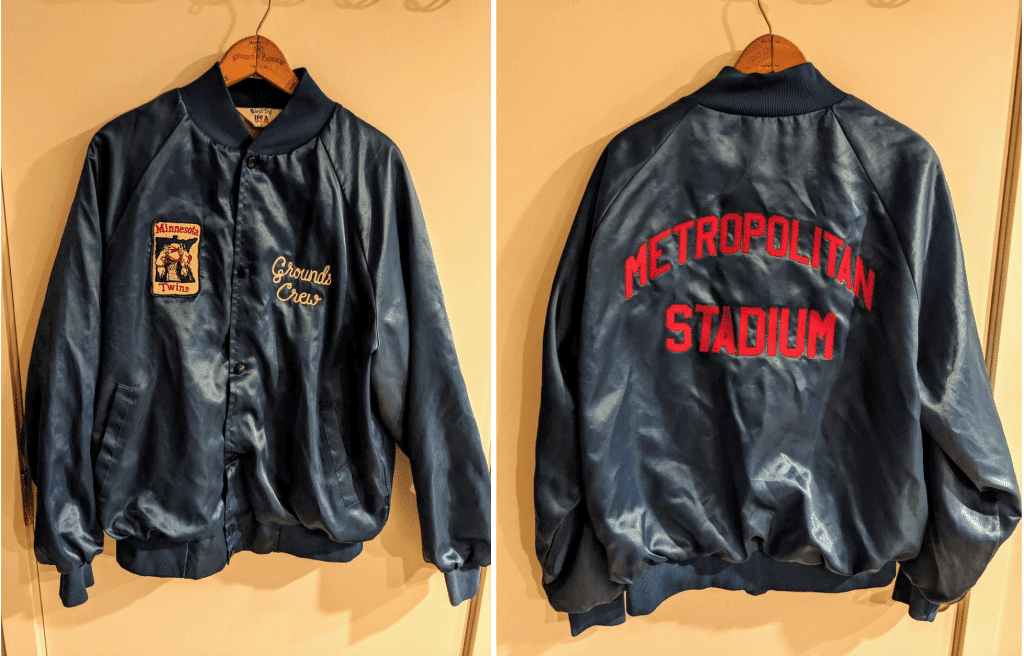 Click to enlarge
And speaking of DIY projects…: Longtime reader/supporter and all-around swell guy Jimmy Lonetti recently DIY'd himself a Minnesota Twins grounds crew windbreaker, complete with a chain-stitched chest insignia and vertically arched lettering on the back. To see how he did it, start here and then scroll through the entire thread — you won't be sorry. Nice job, Jimmy!
• • • • •
• • • • •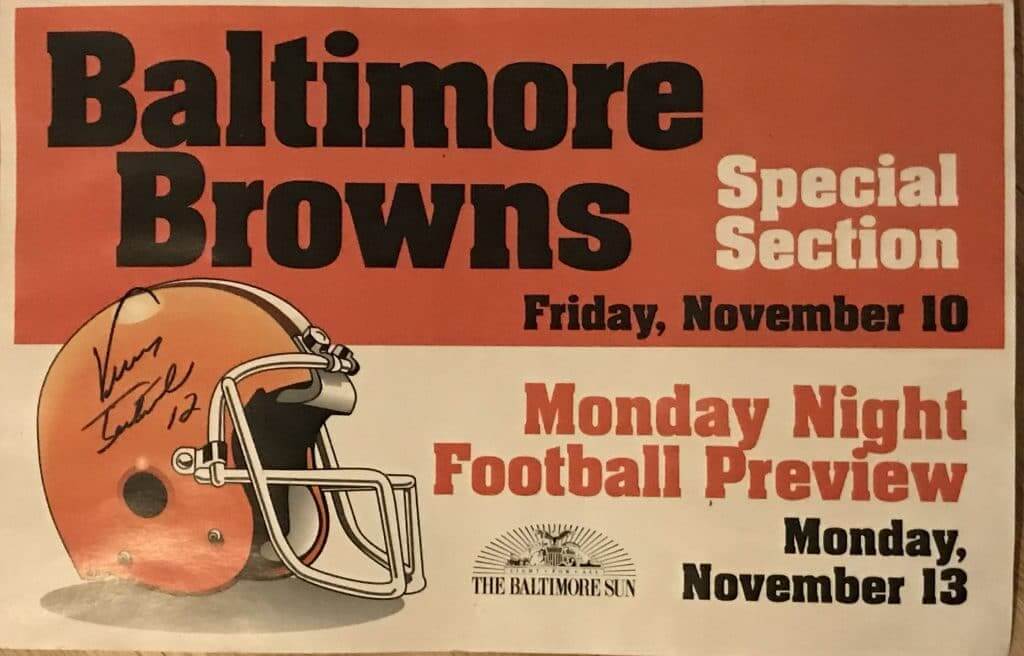 Click to enlarge
What might have been: Everyone knows that the original Cleveland Browns moved to Baltimore and became the Ravens, and then Cleveland was given a new team that got to claim the Browns' team name, colors, records/stats, and so on.
But did you remember that the initial plan was for the original Browns to keep their identity and simply be known as the Baltimore Browns? I had forgotten about that until a few days ago, when reader Jason Silfies sent me the rare item shown above. I'll let him explain:
I was living in Baltimore in 1995, when the Browns announced that they would be leaving Cleveland for Baltimore.

At the time of the announcement, the team was still called the Browns until the city of Cleveland later sued for the rights to keep the name, logo, colors, etc.

In November 1995, when they were still slated to be called the Browns, The Baltimore Sun newspaper was promoting an upcoming special feature section on the new team. I was able to obtain this promotional insert from a newspaper vending machine.

A month of two later, a few players were signing autographs at a local mall to promote the team. I was able to have Vinny Testaverde sign the insert in the helmet area.
Fascinating stuff. Big thanks to Jason for sharing.
• • • • •
• • • • •
ITEM! Uni Watch wallpapers now available: "Collector's Corner" columnist Brinke Guthrie is always tossing suggestions at me. His latest: "How about some Uni Watch wallpapers? I can get them made for you!"
Sure, why not? So I sent Brinke some vector files, and he came back to me with a bunch of wallpaper designs — including some BFBS and purple versions! Brinke didn't actually create them himself — "Credit for these goes to my friend and former co-worker Tom Maynor," he says.
You can see all of the designs here. If there's one you want to download, click on the thumbnail; then, on the resulting Flickr image page, click on the download arrow and choose "Original" from the popup menu. Enjoy!
(Big thanks to Brinke Guthrie and Tom Maynor for making this happen.)
• • • • •
• • • • •
Membership update: Another day, another new round of purple designs added to the membership card gallery (including Aaron Spaulding's, which is patterned after this 2015-16 Orlando Solar Bears jersey).
Ordering a membership card is a good way to support Uni Watch (which, frankly, could use your support these days). And remember, as a gesture of comm-uni-ty solidarity, the price of a membership has been reduced from $25 to $20 until further notice.
As always, you can sign up for your own custom-designed card here, you can see all the cards we've designed so far here (now more than 2,700 of them!), and you can see how we produce the cards here.
• • • • •
• • • • •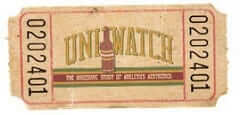 ITEM! Yet another membership raffle: A reader who prefers to remain anonymous recently donated two memberships for me to raffle off, so that's what we're going to do today.
This will be a one-day raffle. To enter, send an email to the raffle address by 8pm Eastern tonight. One entry per person. I'll announce the winners tomorrow.
Speaking of raffles, the four winners of yesterday's membership raffle are Mycroft Newkirk, Matt Dillon, Chad Staffan, and Chad Hayes (two Chads!). Congrats to them, and big thanks to Anthony Verna for sponsoring that one.
• • • • •
• • • • •
The Ticker
By Lloyd Alaban

Baseball News: Here's the story of the woman who has sewn the Women's College World Series patch on every participating team's uniform for the past 23 years — and hew she's dealing with the Series's cancellation this year (from Jeff Curley). … A brewery in New Jersey has released an Astros-inspired beer called Trash Can Banger in a tequila sunrise-themed can (from Elliot Teichman). … The Tacoma Rainiers, Triple-A affiliate of the Mariners, revealed the amazing caps they would have worn for their "La Familia" night. … ESPN re-aired the 2016 World Series last night and used the Cubs' 1946-47 logo for a graphic (from Steve Sher). … Here's a great Astros/White Sox crossover from reader Michael Galante: "My town in NJ is basically two towns linked together: Scotch Plains and Fanwood. SPF is a common way people refer to both towns or either town. My son's 11-year-old travel baseball team, the SPF Raiders, hasn't played yet this spring but they just got their uniforms. The jerseys are a take on the Astros' tequila sunrise uniforms and their hats are a take on the 80's-era White Sox logo."

Hockey News: The Golden Knights will reveal the name and logo of their new Henderson, Nev., AHL affiliate tomorrow (from our own Anthony Emerson). … Ducks G Ryan Miller recently posted a picture of his last Anaheim trapper glove, which he's selling for charity. He shared details that his Pisiform bone was amputated, which is why he has the league-approved extra pad (from Mike Engle).

Basketball News: North Carolina men's announced the uni number assignments for their freshmen (from James Gilbert).
.

Soccer News: The following items are from Josh Hinton unless otherwise specified. … Arsenal's new home kit was spotted in a retail store. … So was Juventus's home kit. … New home kit and crest for Iceland. … Scunthorpe United has signed a kit deal with Macron. … Borussia Dortmund wore a special one-off sponsor yesterday against Bayern Munich. … Bayer Leverkusen had several photographs of fans in the seats of their stadium for their match against Wolfsburg yesterday. … Betway will replace Marathon Bet as Sevilla's shirt ad, because Marathon Bet are pulling their sponsorship deal ahead of schedule. …For both away games since the Bundesliga has come back, Borussia Moenchengladbach's goalkeeper has worn the team's home kit instead of the normal keeper kit (from Shane Bua). … Orlando Pride will reveal their new kit next week (from our own Jamie Rathjen). … Also from Jamie: Here's the logo for the NWSL's return-to-play tournament, which is scheduled to take place in Utah in about a month. … There's a new Manchester United leak. "It appears they've updated the home kit after an earlier leak was met with sharp criticism from the fan base," says our own Anthony Emerson.

Grab Bag: The Twitter account for NRG Park, where the Astrodome and the Houston Texans' stadium are both located, tweeted an illustration of Texans QB Deshaun Watson, Houston Rockets G James Harden, and Houston Astros 2B Jose Altuve. Both Harden and Watson are mirror images with backwards lettering, and Altuve is wearing a 2017 Independence Day uniform — weird (from Ignacio Salazar). … Riot Games, developer of the popular online multiplayer game League of Legends, revealed a new in-game advertising system (from Griffin Smith). … The Boise Police Department revealed new uniform pins over Memorial Day weekend. The pins honor veterans and help officers connect with other vets in the community (from Timmy Donahue). … The Pittsburgh Tribune-Review has been picking the best Pittsburgh athlete to wear each uni number. Here are their picks for Nos. 99, 98, and 97 (from Joe Werner).
• • • • •
[adrotate group="2″]
• • • • •
Click to enlarge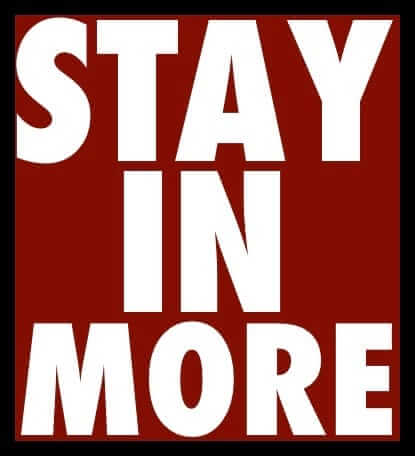 What Paul did last night: You can't tell from the photos, but the silver car that was parked in front of our house for the past few days was partially blocking our landlords' driveway. It wasn't impossible for them to get in and out, but it was tricky. So they put left a note on the car's windshield for a few days, asking the owner to please move the car, and also posted a note on our neighborhood listserv. No dice. So yesterday they made a few calls and had the car ticketed and then towed.
A short time later, a new car arrived — the black one you see in today's photo. Naturally, it is partially blocking the driveway. My landlords are about to lose their minds. This is what qualifies as drama during the pandemic.
The branch is still there.
As always, you can see the full set of Pandemic Porch Cocktails™ photos here.