Good morning! Greetings from Uni Watch HQ, where I'm happy to report that all three inhabitants continue to be healthy, safe, and mostly sane. I hope the same is true at your home.
Over the past few weeks, we've grown accustomed to seeing more and more of our fellow citizens wearing masks over their faces. Now that the Centers for Disease Control has recommended that all Americans wear cloth masks while out in public (a move that several mayors had already made), we'll likely see more and more cloth masks out there.
But it's worth noting that one corner of the uni-verse has been featuring cloth masks for decades. That would be teams whose logos feature a mascot character wearing a mask — let's call them maskots. While other teams have been modifying their logos to promote social distancing in recent weeks, no modifications have been necessary for teams with maskots, who now find themselves in the unusual position of having been ahead of the public health curve.
In general, teams with maskots fall into one of four categories, as follows (for all images, you can click to enlarge):
1. Teams called the Bandits
———
2. Teams called the Outlaws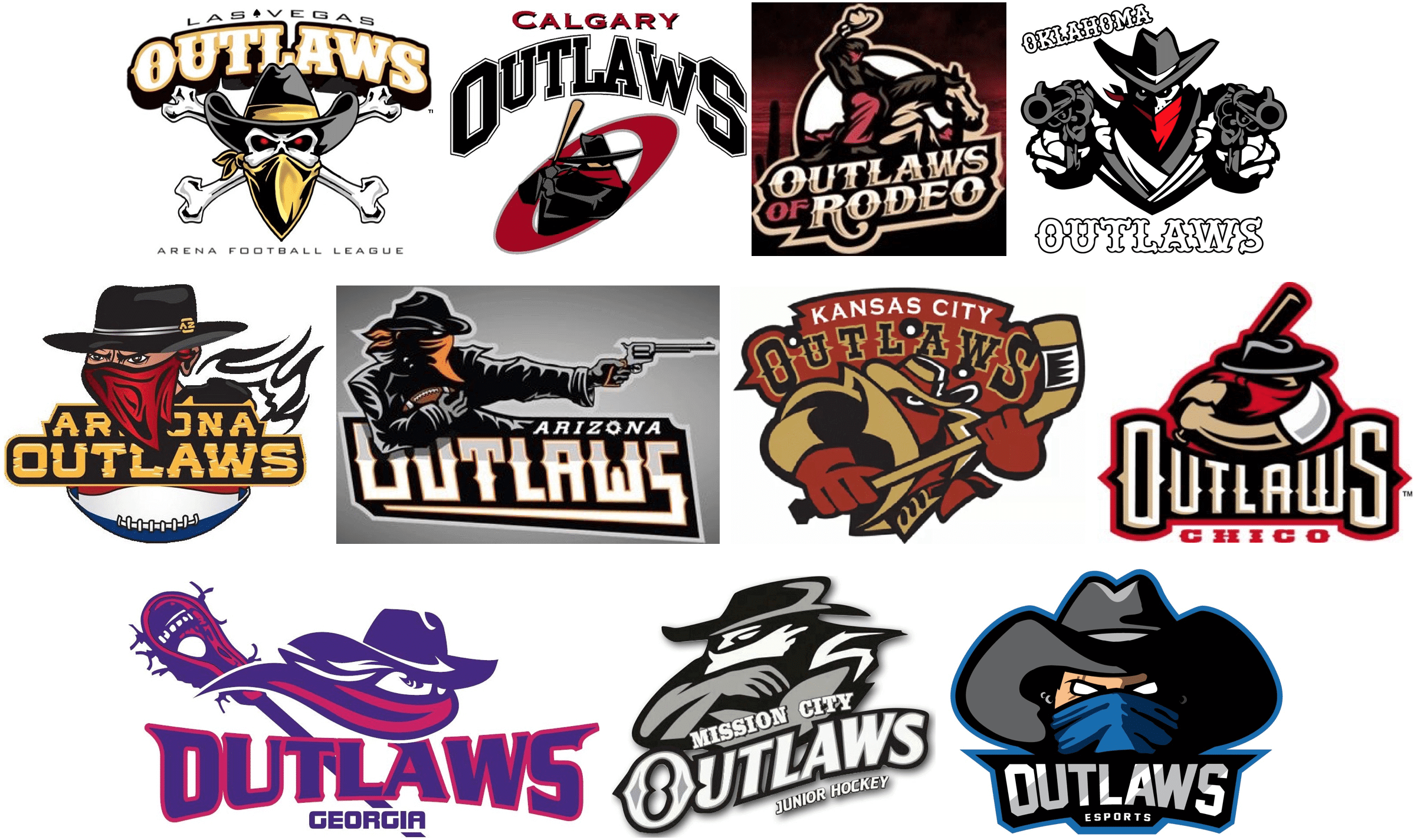 ———
3. Teams called the Renegades
———
4. Teams with miscellaneous other names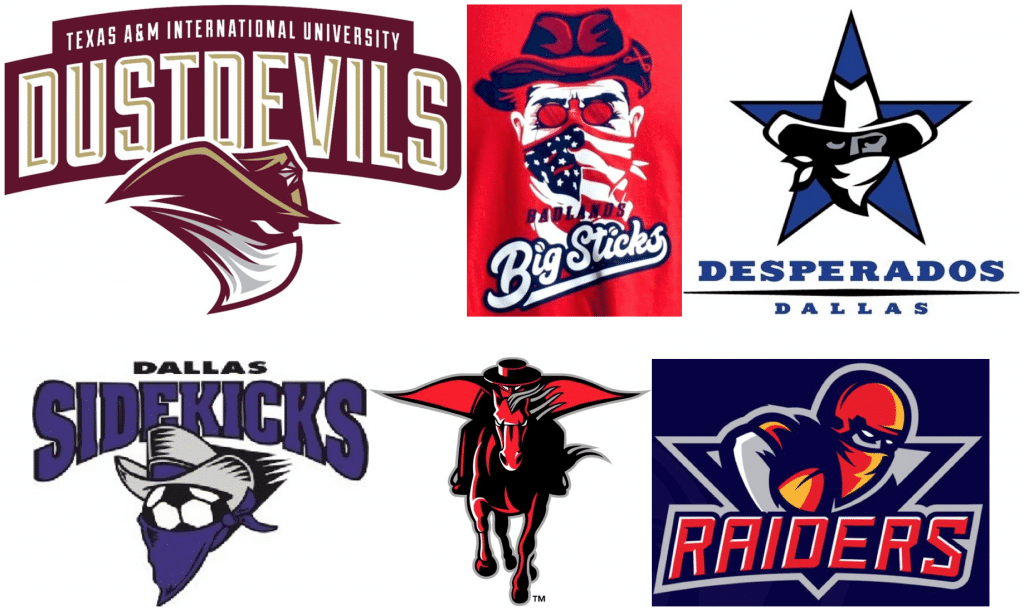 ———
Obviously, those logo collections are not complete or exhaustive — they just show a representative sampling of examples for each category.
It's interesting to see how some of the same graphics show up again and again. Maskots have clearly become stock images.
It's even more interesting to consider how certain team names are acceptable for disreputable characters. Consider all the potential synonyms for "Bandits," for example: Thieves, Robbers, Burglars, Larcenists, and so on. None of those would ever be used as a team name, obviously, but for some reason Bandits is okay, apparently because it promotes the romantic myth of the endearingly irrepressible rebel (a topic I've written about before). Ditto for Outlaws, which could just as easily be Criminals, Convicts, Culprits, or Felons.
When you stop and think about it, it's strange that we choose to glorify these types of characters by naming teams after them. And now, in an ironic twist, these criminal characters are leading the way, even if only inadvertently, in terms of responsible public health messaging.
It's too bad there are no Big Four pro teams or major colleges with a maskot — it would be interesting to see how such a team or school might use its logo character to further promote the use of cloth masks. (Texas Tech does have a maskot — it's the Red Raider on horseback at the bottom of the last grouping of logos — but it's not their primary mark. I didn't even know that logo existed until I started working on this piece.)
Finally: I know there are people out there who, for various reasons, don't believe in wearing cloth masks, or don't think they're effective, or think they're just a placebo, blah-blah-blah. If you're one of those people, I respectfully ask that you please avoid posting those sentiments in the comments. Thanks.
• • • • •
• • • • •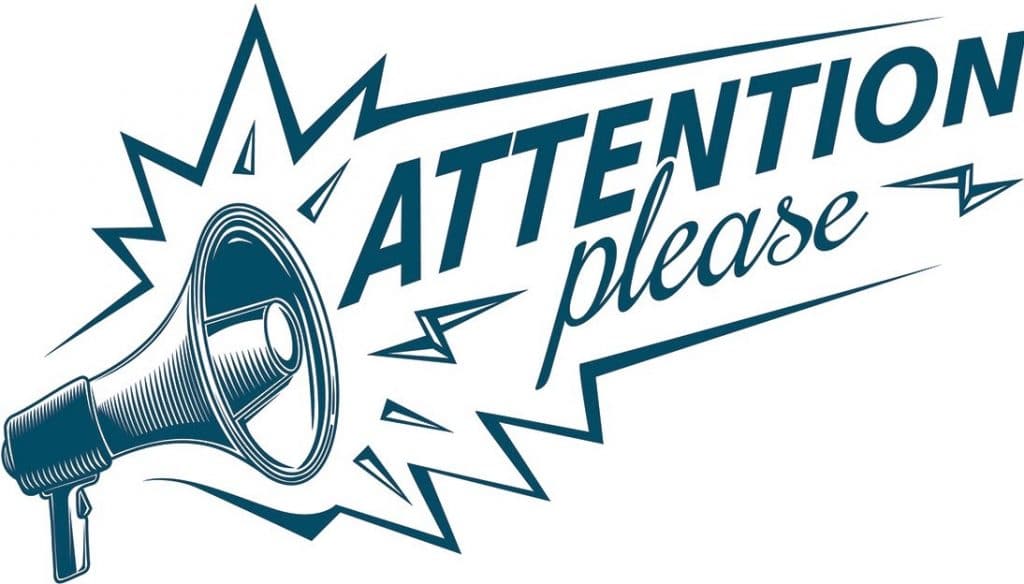 IMPORTANT: Signal Flare: If your name is Douglas Benson (not the famous one) and you sent me money last night for a seam ripper, please get in touch — there's an issue with your order that I need to discuss with you. Thanks!
• • • • •
• • • • •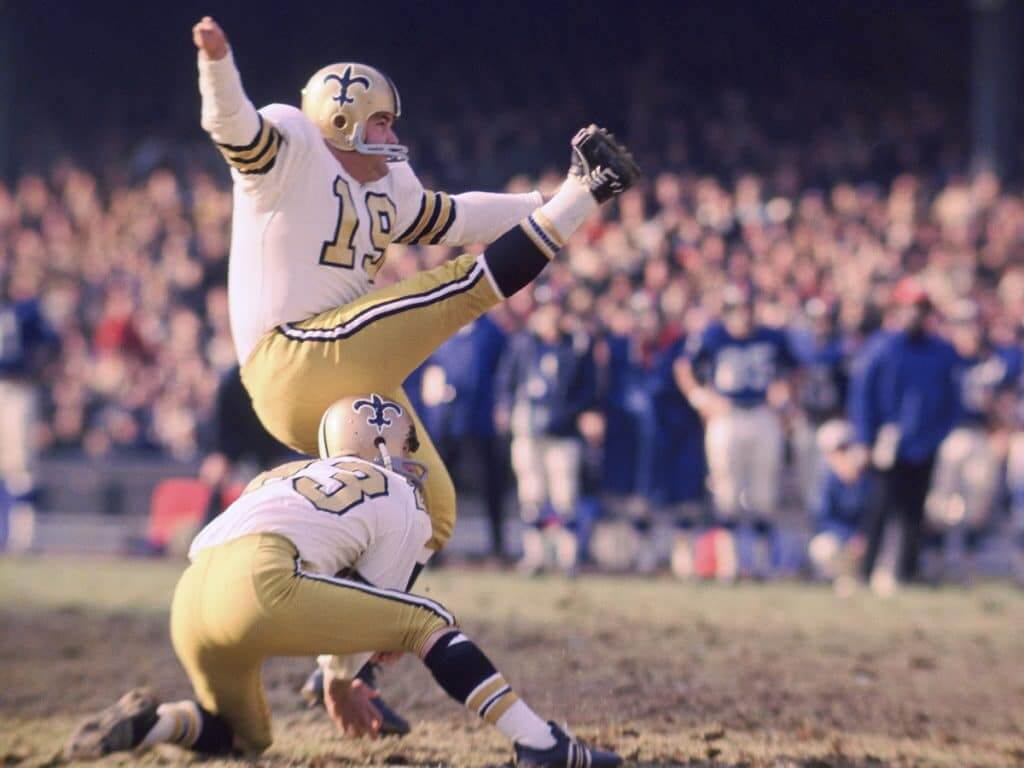 Click to enlarge
One of a kind: Former NFL placekicker Tom Dempsey, who wore a series of custom-made shoes on the stump of a right foot that he was born with, and whose 63-yard field goal in 1970 set a record that lasted for over four decades, died on Saturday from Covid-19. He was 73.
Dempsey kicked the 63-yarder while playing for the Saints, but his 11-year career also included stints with the Eagles, Rams, Oilers (I couldn't find a photo of him in that uniform), and Bills. Here's a closer look at some of the shoes he wore (click to enlarge):

Dempsey's metal-plated shoes would not be legal today. In 1977, the league passed a new rule — informally known as the Tom Dempsey Rule — requiring that "a shoe on an artificial limb must have a kicking surface that conforms to that of a normal kicking shoe." Of course, Dempsey's limb was not artificial — it was just different. In any case, he was grandfathered, so he was exempt from rule in the final years of his career.
When Dempsey kicked the 63-yarder in 1970, it completely obliterated the previous record of 56 yards, which had been set by Bert Rechichar of the Colts in 1953. Dempsey had the NFL record to himself until 1998, when it was matched by Broncos kicker Jason Elam. It was subsequently matched by Sebastian Janikowski (Raiders, 2011) and David Akers (49ers, 2012) before finally being broken by another Broncos kicker, Matt Prater, in 2013. (It's worth noting that Elam, Janikowski, and Prater all made their kicks in the thin mile-high air of Denver, while Dempsey made his in New Orleans and Akers made his in Green Bay.) R.I.P.
• • • • •
• • • • •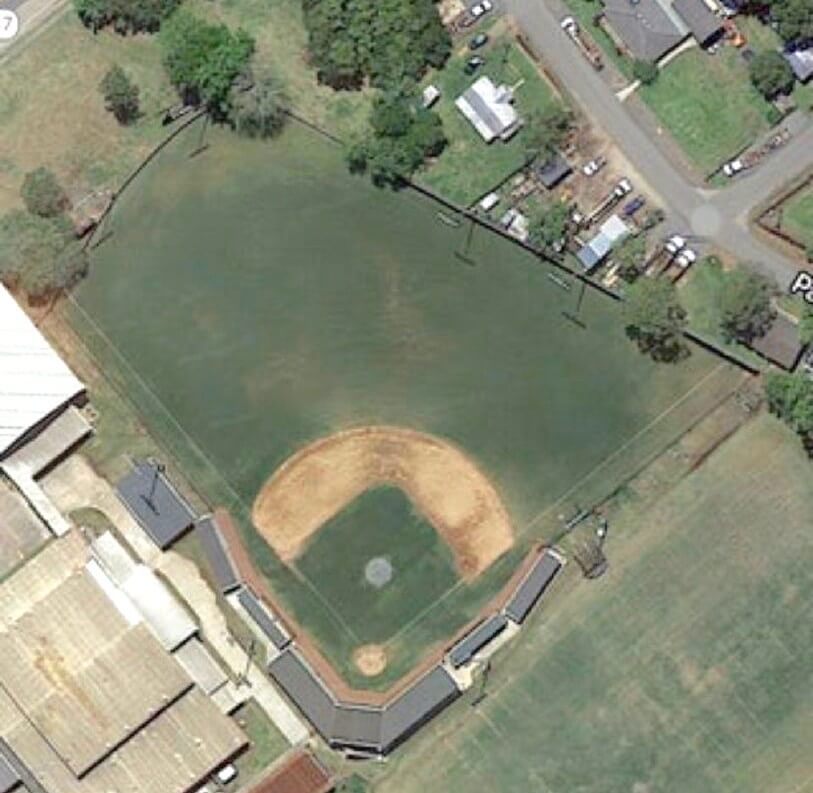 Click to enlarge
And you thought the Green Monster was weird: One of baseball's many charms is the fact that while the infield dimensions are standardized, the outfield configuration can be, well, almost anything, as exemplified by the bizarro field shown above.
That image is from a Twitter thread that began circulating yesterday (inspired by a bunch of Reddit posts), featuring lots of baseball fields — mostly from high schools — with unusual outfield parameters. Check out this one: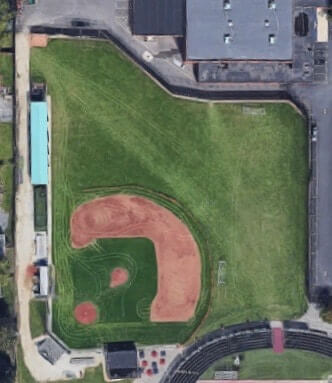 It's fascinating stuff. You can see the entire thread here.
• • • • •
• • • • •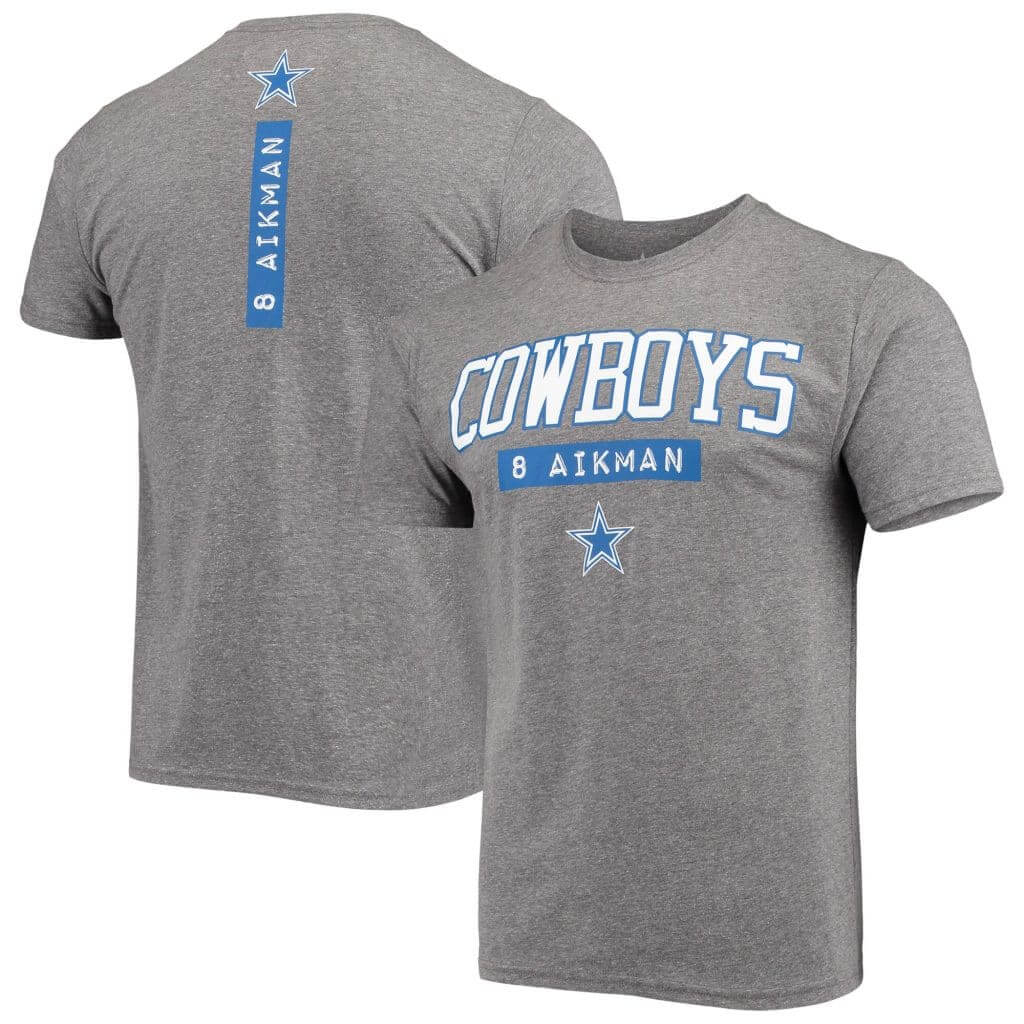 Click to enlarge
Merch that doesn't suck: For more than a half-century now, the Dallas Cowboys' equipment managers have been putting little Dymo label nameplates on the back of the team's helmets. There have been some stylistic changes of the years — sometimes the lettering has run downward and sometimes upward; uni numbers were initially not included but were then added — but the basic format of an old-school blue Dymo label has remained constant. It's one of my favorite details in the entire uni-verse (and I say that as a lifelong Cowboys hater!). We've even featured it on Uni Watch membership cards.
Now someone has finally gotten the bright idea to feature the Dymo motif on a series of Cowboys T-shirts. Brilliant! In an era when so much merch is just templated copy/paste slop that tries to shoehorn every team into the same design format, here's something that's completely team-specific — and based on a fairly obscure uni detail to boot! Nicely done.
(Big thanks to Twitter-er Patrick O. for lettering me know about this one.)
• • • • •
• • • • •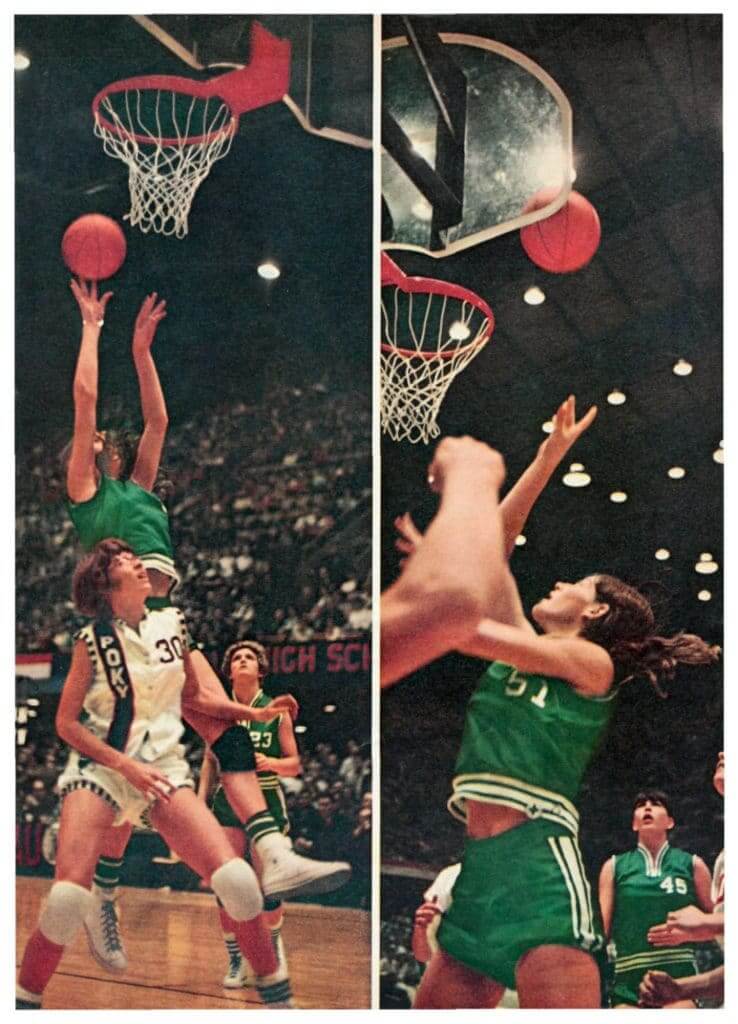 Click to enlarge
Iowa hoops follow-up: Remember last Thursday's post about the late-1960s Iowa girls' basketball uniform scene, which I explored as the result of a New York Times article? The author of that article, Jeré Longman, saw my blog post, liked it, and pointed me toward some color photos, like ones shown above of Union-Whitten High School. I had no idea that their main school color was green! Also, if you look closely, it appears that their shorts may have had elasticized cuffs — interesting!
Here's another color shot, this time of Everly High School's skirts: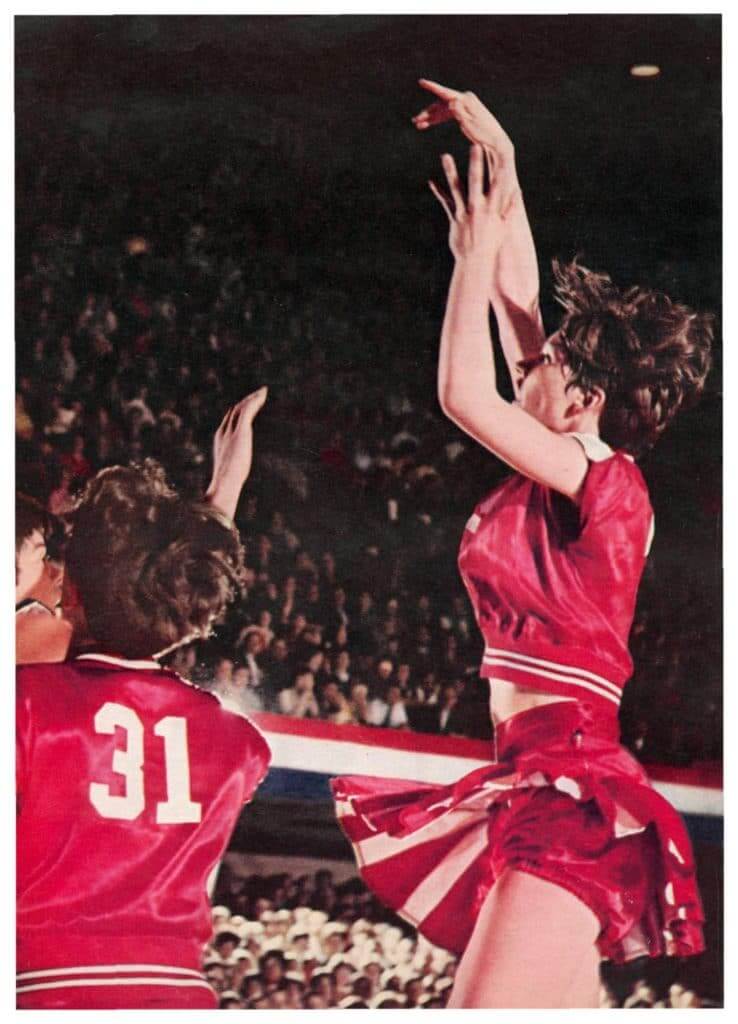 One thing I find interesting about all of these uniforms is the use of untucked jerseys with ribbed trim at the bottom. From an aesthetic standpoint, I love that look — but as you can see in these color pics, the jerseys tended to ride up quite a bit, exposing the players' midriffs. That seems surprising for a midwestern state in the 1960s, no? Why not go with a traditional tucked-in jersey to expose less of the girls' skin?
Even more surprising, reader Jay Wright sent me some 1940s and '50s photos showing Iowa girls' uniforms that intentionally bared the players' midriffs: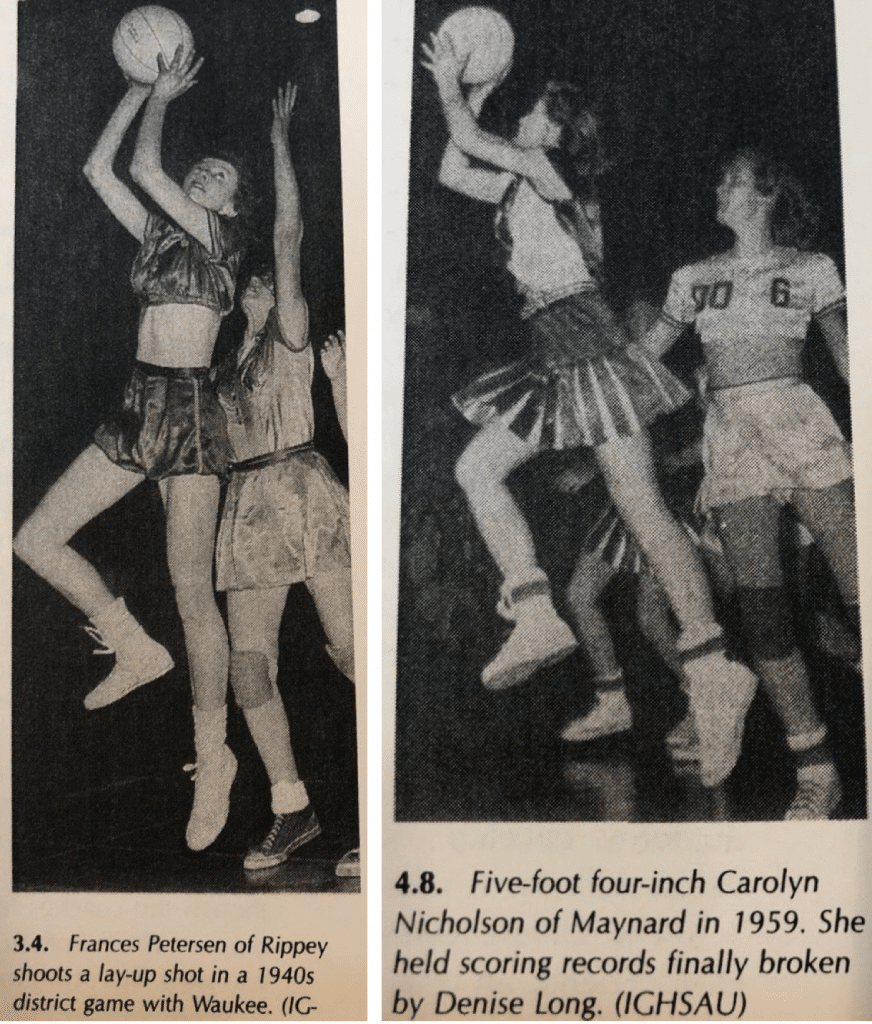 I've never seen anything like that before. Mid-century Iowa girls' hoops scene was clearly a uni-watcher's paradise!
• • • • •
• • • • •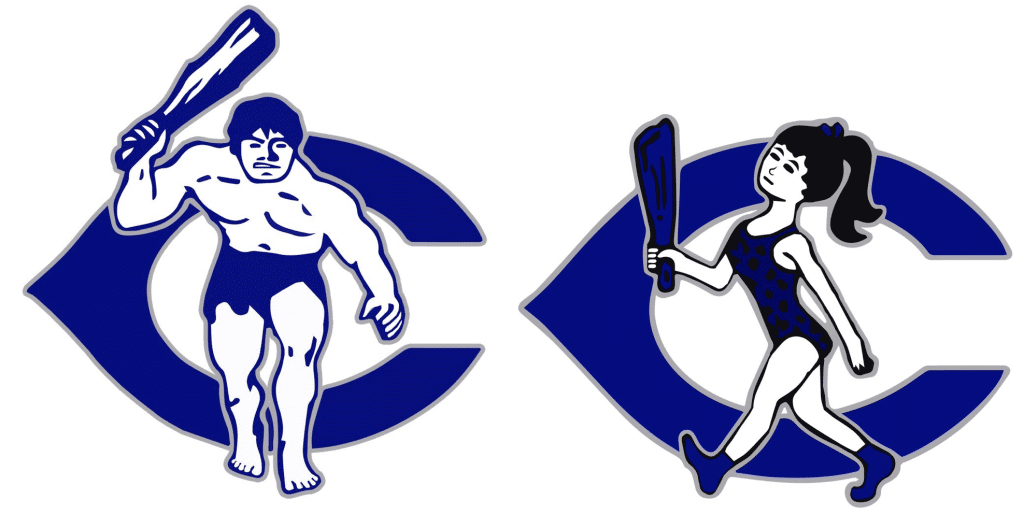 Too good for the Ticker: There's a fair number of high schools scattered around the country whose sports teams are called the Cavemen, but I bet none of them can top the logos used by Carlsbad High in New Mexico. The girls' teams are called the Cavegirls. Not sure why the female mascot is wearing socks, but that's a minor quibble. Very cool!
• • • • •
• • • • •
More mask musings: Industrial designer/engineer Michael Princip is probably a familiar name to many of you. Back in 2011 he came up with a football helmet prototype that eventually became the basis for Schutt's F7 helmet, which has caught on in pro and college football. (He also had a key role in an April Fool's Day prank that we played a long time back, but that's another story for another day.)
Anyway: Michael's been making masks for his family and a few lucky friends. He knows I love anything green plaid, so he very generously cut up one of his own shirts and turned it into this mask, which he then sent to me. It even has an interior pocket for a filter, and sent along some filters as well — so nice of him! I wore it for my daily bike rides on Saturday and Sunday (which were my only times leaving the house this weekend).
Thanks, Michael — you're the best.
• • • • •
• • • • •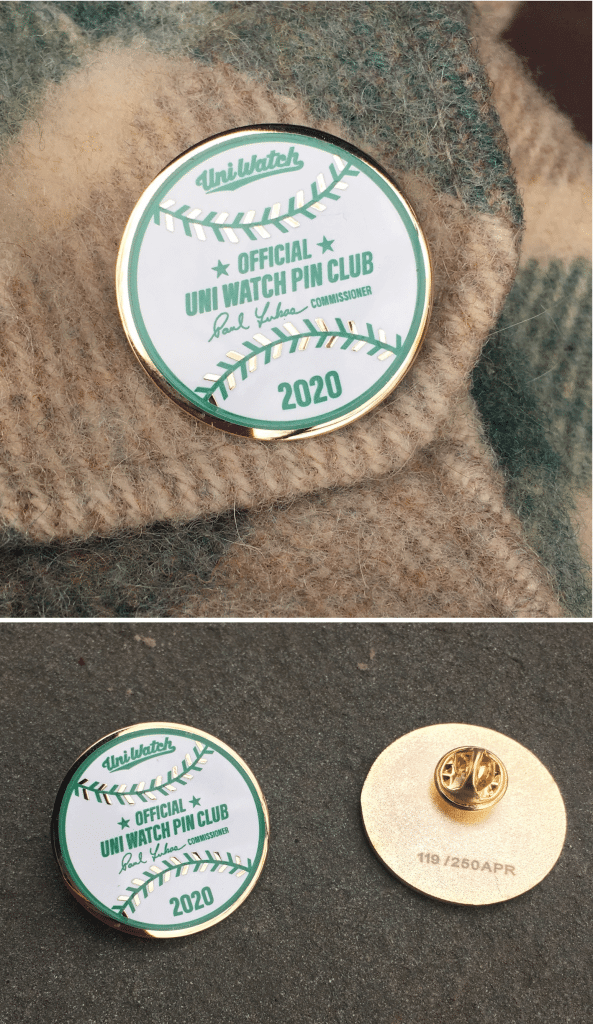 Pin Club reminder: In case you missed it last week, the Uni Watch Pin Club's April design is now available. As you can see, it's based on an official Rawlings/MLB baseball, complete with my signature as the "Commissioner."
This is a numbered edition of 250 pins. Todd Radom and I each took five pins for ourselves, leaving 240 to sell. As of this morning, we had already sold more than 200 of them, so there are fewer than 40 remaining. This looks like it will be the first Pin Club entry to sell out, so if you want one, I suggest that you move fast.
If you need to get caught up, here are the January, February, and March designs, all of which will remain available until they sell out (no reprints!). You can get a 15% on all of these pins, and on everything in the Uni Watch Shop and the Naming Wrongs Shop, by using the checkout code COMMUNITY.
And while we're at it, several other discounts are in effect until further notice:
• The Uni Watch Classic Cap, usually priced at $39.99, is now $35.99.
• Uni Watch seam rippers, usually $6, are now $4.
• And custom-designed Uni Watch membership cards, usually $25, are now $20.
If you'd rather support Uni Watch via a donation, here's now to do that.
My thanks, as always, for your consideration and support.
• • • • •
• • • • •
ITEM! Vintage Brand raffle: Our longtime advertiser Vintage Brand is back with this month's raffle. The lucky winner will be able to choose any item from the Vintage Brand site (including this Bucks T-shirt with history's greatest NBA logo).
To enter, send an email to the raffle address by 8pm this Wednesday, April 8. One entry per person. I'll announce the winner on Thursday.
And speaking of T-shirts, Vintage Brand is currently running a sale — today and tomorrow, all tees are 20 bucks!
Meanwhile, speaking of raffles, our latest raffle winner is Brian Waltz, who's won himself a Uni Watch membership card. Congrats to him, and thanks to the anonymous reader who sponsored this one.
• • • • •
• • • • •
Membership update: A bunch of new designs were added to the membership card gallery over the weekend. That includes Daniel Pecoraro's card, which is patterned after the New York Titans lacrosse team's skyline jersey design. Great job by card design Scott M.X. Turner to capture the skyline pattern.
Ordering a membership card is a good way to support Uni Watch (which, frankly, could use your support these days). And remember, as a gesture of comm-uni-ty solidarity, the price of a membership has been reduced from $25 to $20 until further notice.
As always, you can sign up for your own custom-designed card here, you can see all the cards we've designed so far here (now more than 2,500 of them!), and you can see how we produce the cards here.
• • • • •
• • • • •
The Ticker
By Jamie Rathjen

Baseball News: A Chicago architect acquired all the blueprints of the first Comiskey Park and is making a digital model of it (from Kary Klismet). … Reader Timmy Donahue tells us that Hofstra's baseball stadium still features both their old and new nicknames — they changed from the Flying Dutchmen/Dutchwomen to the Pride in 2000. … The KBO League — that's the top pro league in Korea is modifying its logo to include a surgical mask (from Jeremy Brahm).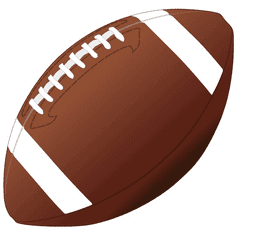 Football News: Despite fan outcry and pleas from Eric Dickerson, the Rams are sticking with their new logos and colors. … NBC Sports Washington interviewed the 17-year-old designer of a Photoshopped jersey-swap graphic of Ohio State DL Chase Young wearing a Washington NFL uniform that made the rounds yesterday (from @SE_0ne). … You probably knew that Deion Sanders played both offense and defense for the Cowboys in the 1990s. But did you know he used two different facemasks, depending on which side of the ball he was on?

Hockey News: A Reddit user made a combined Vancouver Canucks/Grizzlies jersey for Canucks D Quinn Hughes (from Wade Heidt). … Former NHL C Dan Quinn has been sharing items from his collection, including one of his Flames jerseys from the 1986 Stanley Cup Final(s), which looks like it has an off-center NOB (from Pádraig Watson). … Reader Brandon Weir sent in two uni-notable Gordie Howe pictures: The first one features him wearing shoulder pads with No. 22 crossed out and replaced with No. 9 while with the WHA's New England Whalers, and the second one features a variation of the Red Wings logo with the team name included — along with a puppy! … Christopher Hickey tells us that a Philadelphia high school team once had a uniform design very similar to the Canucks' flying V, but in a different color scheme.

Soccer News: German team Werder Bremen released modified versions of their shirts with the ad changed to tell people to stay at home. … Swedish team Djurgårdens IF released a new second shirt on Saturday, the day the Allsvenskan was supposed to start. … A March 1997 English second-tier game featured Birmingham City wearing the second kit of their opponents, Crystal Palace, because both of theirs were unsuitable against Palace's red and blue. … This article about Scottish women's team Glasgow City mentions how they added "You can't be what you can't see" to the back of their shirts in 2017 to protest the lack of media coverage of women's sports. … UEFA temporarily lifted the Saturday afternoon TV blackout in England and Scotland for the rest of this season, implying that when soccer resumes there, it might be behind closed doors.

Grab Bag: Reader David Murphy, who contributed to Friday's entry about readers first Getting It™, also wrote his own blog post in which he commented on each of the other readers' stories. … NASCAR's been holding weekly races on iRacing while its series are postponed, and the logo for its iRacing competition is supposed to look like a sim-racing setup with three monitors and a steering wheel below (from Geoff Magliocchetti). … A Pennsylvania field hockey club, Mystx, recently donated kits to a club in Uganda. … Scottish soccer team Aberdeen's Atlanta-based chairman, Dave Cormack, told BBC Radio Scotland on Saturday that he's spoken with "a number of owners of major sports franchises" in the U.S. who he says are privately expecting their sports to be played behind closed doors until the end of the year — in other words, with no live crowds — when sports eventually resume. … Here's an article on the history of flight attendant uniforms (from Kary Klismet).
• • • • •
[adrotate group="2″]
• • • • •
Click to enlarge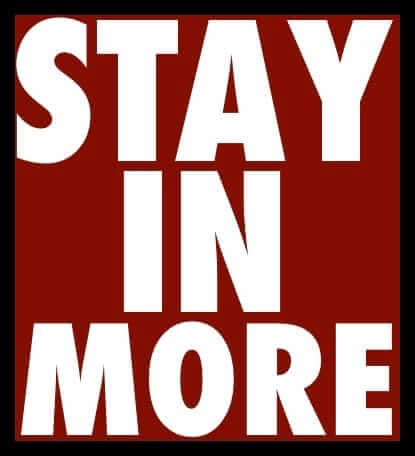 What Paul did last night: I've been growing a beard (or maybe just been too lazy to shave — hard to be sure), so we spent a lot of yesterday's porch time talking about beards, shaving, body hair and the like. This is a topic we're pretty well acquainted with, because one of us has a certain predilection in that area (sorry, no details), but we still learned some new things from yesterday's discussion. Thing I learned: Back in fourth or fifth grade, the Tugboat Captain had a somewhat swarthy classmate who shaved her arms. Never heard of that one before. Thing she learned: In the early 2000s, I dated a chick who was having electrolysis sessions on her crotch. Yes, this is all rather tedious, but it was better than talking about, well, you know.
Things were a bit more interesting on Friday evening, when we were joined by our friend Carrie, who we miss more than I can possibly express (and who would've been seriously grossed out by the body hair discussion, so it's good that we saved it for yesterday):
Hope your weekend was good, or at least healthy and safe. Stay well. — Paul