By Phil Hecken
Follow @PhilHecken

I'm "back" again today with David Pinto and Jimmer Vilk (if you missed what the hullabaloo below is about, click here. In case you don't want to click that, let's suffice it to say that reader Dave Pinto took a list of all of Jimmer's favorite MLB looks (for every team in every league) and customized modern uniforms to fit that look. So, if say, Jim's favorite look for the Cleveland Indians was worn in 1916, well, Dave made it into a modern look. This roughly corresponds to the uniform Jim views the team in, in his head, every day. Or something like that.
Anyway, today we'll take a look at the National League, and if the splash photo is any indication, we're in for some interesting uni concepts today. Here we go.
• • • • • •
1972 Braves
Home, Road
What Jim said: Right off the bat I'm waffling with Atlanta. It's hard to decide between the stripey goodness of 1927 or the great pullovers from 1972. I'm leaning towards '72 (two words: Hank Aaron), although those '27 caps are simply fantastic.
• • •
1978 Brewers
Home, Road
What Jim said: Let's get two things straight, Milwaukee: you're not a National League team and you moved here in the 70s. Own it with the 1978 ball-in-glove and powder blue and go back to the AL!
• • •
1923 Cardinals
Home, Road
What Jim said: No pullovers for St. Louis. And while I love the current classics I am, as you'll see, a sucker for sleeve numbers. I could honestly see the Cardinals in these 1923 beauties (the second and fourth ones) every day. I suppose I could deal with one more alt today…the yellow bat unis would be it, even though I like that third uni…
• • •
1978 Cubs
Home, Road
What Jim said: I tried to go easy on the road pins and the pullovers. When it comes to Chicago, however, there's no going easy. You go 1978.
• • •
2001 Diamondbacks
Home, Road
What Jim said: If you know me, you know I don't care how a team played in their unis. How they looked is what matters, so Arizona's 2001 title is just icing on the cake. Enough with the "D-Backs," just go back to this!
• • •
1969 Dodgers
Home, Road
What Jim said: Los Angeles have worn a variety of sleeve patches over the years and I always liked it when they did. I chose 1969, with a tweak: instead of the MLB centennial patch, just make it the regular MLB one.
• • •
1916 Giants
Home, Road
Home Alt, Road Alt
What Jim said: I'm waffling again with San Francisco. I could totally see the Giants in a modified version of these 1916 beauties (first and fourth ones). Yes, Phil, I love those so much I'd keep the pillbox caps! If today's manufacturers couldn't pull that off with today's fabrics I'd be just as happy with 1983.
• • •
1993 Marlins
Home, Road, Alt
What Jim said: With Miami there's no waffling. Some teams just get it right the first time! I'd prefer they stayed Florida, but if they insist on Miami you can tweak away at the cap and road jersey.
• • •
1978* Mets
Home, Road
What Jim said: I tried to find middle ground with New York. Between the original button-ups and the racing stripe pullovers there was this very nice henley jersey from 1978. Also, as you'll see, I'm a sucker for a good sleeve patch.
* Not sure why Dave depicted the '87 script on the road jersey here — PH.
• • •
1954 Nationals (Senators)
Home, Road
What Jim said: If Washington could take the curly W from the team now known as the Rangers, they could just as easily have taken the 1954 block W from the team now known as the Twins. And they should.
• • •
1974 Padres
Home, Road
What Jim said: My pick for San Diego surprised me a bit. I was ready to go with 1985 until I saw 1974. I like when teams go with a pullover and a button-up, especially when the button-up Respects The Placket. Bring Back The Brown (and these), Padres!
• • •
1923 Phillies
Home, Road
What Jim said: Yes, this is twice in one division, but don't worry; I'm only going to waffle four times in this whole piece. Philadelphia has two standouts for me: 1923 (stop cringing, Phil, you enemy of road pins) or 1979. If I go with '79 I guess I've dealt with one alt today.
• • •
1971 Pirates
Home, Road
What Jim said: You might think it's the pullovers that got me picking 1971 for Pittsburgh. Wrong, it's the cap. The pullovers are just a nice added benefit. Now if they wore that cap in the 50s or 60s I'd be waffling for sure.
• • •
1968 Reds
Home, Road
What Jim said: For contrast, I went with 1968 for Cincinnati. It looks like the Big Red Machine era but with buttons. No sleeve patch or stripes here. I wanted the oldest team to have a simpler classic look.
• • •
1993 Rockies
Home, Road, Alt
What Jim said: Both teams who started in 1993 got it right the first time. Remember when you used to Respect The Placket on your road unis, Colorado? Get rid of the COL()RADO jerseys and go back to these.
• • • • • •
Once again, Thanks Dave (and Jim). Quite an undertaking! It's very interesting to see how some of those way back looks would appear "today" with a modern take and tailoring — especially enjoyed your take on the plaid-clad Giants!
Readers? Thoughts?

Kreindler's Korner
I had the distinct pleasure of featuring the wonderful artwork of artist Graig Kriendler on two occasions over the summer and fall of 2017, and more recently, in August of 2018.
For those who don't wish to click the links, Graig paints baseball heroes (and regular guys) from the past, and is an immense talent.
Occasionally, I will be featuring his work on Uni Watch.
Here's today's offering (click to enlarge):
• • •
Title: "From Third to First"
Subject: Hank Greenberg, 1933
Medium: Oil on linen
Size: 16″ x 20″

At 19-years-old, Hank Greenberg had performed well in Class-C ball with the Raleigh Capitals, hitting .314 and 19 homers. He would be called up to the second-division Detroit Tigers for the last three weeks of the season and was able to get into only a single game. Even in those first few workouts, he began to experience some of the antisemitism that he was later showered with the in later part of the decades. One of his teammates, pitcher Phil Page, was said to have been a culprit. This was in 1930.

Fast forward to 1933, where the youngster was still very much at the beginning of his brilliant career. He had spent the prior two seasons with the Evansville Hubs and the Beaumont Exporters, and had finally made the big leagues for good. Coincidentally, he's pictured here at Yankee Stadium, home of the team that offered him a contract in 1929, when he was only 18. Greenberg declined, knowing that they already had a star at that position in Lou Gehrig. But things certainly worked for him with the Tigers. In 1933, he hit .301 with 12 home runs and 87 RBIs, becoming the regular first-baseman for Detroit and soon settling into becoming one of their most iconic players, both on the field and off.
• • •
Thanks, Graig! You can (and should!) follow Graig on Twitter.
Guess The Game…
from the scoreboard
Today's scoreboard comes from Tennessee Jed.
The premise of the game (GTGFTS) is simple: I'll post a scoreboard and you guys simply identify the game depicted. In the past, I don't know if I've ever completely stumped you (some are easier than others).
Here's the Scoreboard. In the comments below, try to identify the game (date & location, as well as final score). If anything noteworthy occurred during the game, please add that in (and if you were AT the game, well bonus points for you!):
Please continue sending these in! You're welcome to send me any scoreboard photos (with answers please), and I'll keep running them.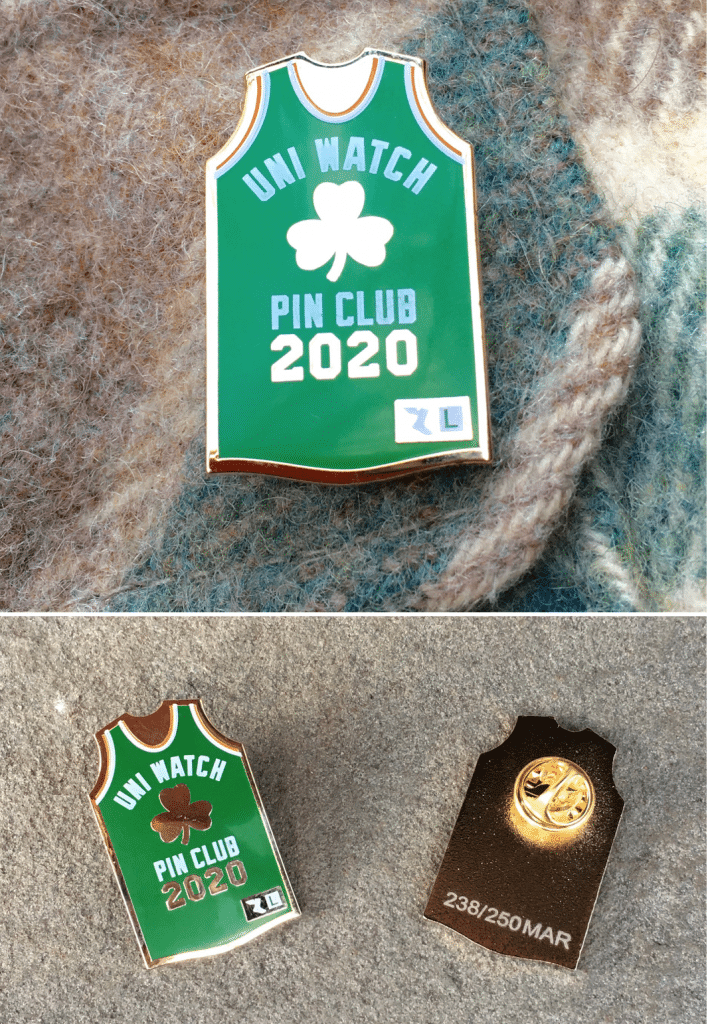 Pin Club reminder: Paul here. In case you missed it on Thursday, the March design for the Uni Watch Pin Club is now available. It features a basketball jersey (for March Madness) with a shamrock and orange/white trim (for St. Patrick's Day), along with a winged stirrup jock tag (for Uni Watch!). This one is a numbered edition of 250, and by the end of Friday we had already sold nearly half of them, so move fast!
If you need to get caught up, the January and February pins are still available until they sell out, and we also have our basic winged stirrup logo pin. And remember, card-carrying Uni Watch members get a 15% discount on these pins (and on everything else in the Uni Watch Shop).
My thanks, as always, for considering our products. Now back to Phil!
Uni Watch News Ticker
By Phil

Baseball News: Most of us know Henry Aaron wearing #44, but he originally wore #5. Here's a couple pages on how/why he did this. It's from "Aaron" by Henry Aaron w/Furman Bisher (thanks to Douglas Ford) for the images! … Wow, check out this gorgeous sweater on "Shoeless" Joe Jackson, shown with the MiLB Class-C Savannah #Georgia Indians in 1909. The 21-yr-old batted .358. His 13-yr MLB BA was .356 (from SABR Bio Project). … Not really MLB related (but it is super cute and deals with baseball cards), from Scotty Rogers: When Kihei (2008-2020) started work as a therapy dog doing literacy programs with young children, we made him a baseball card inspired by the 1987 Topps MLB set. Adults (vets, cops, you name it) were even more stoked to receive a card than the kids! … At Cardinals Spring Training game and I think this is the first time I have ever seen a jersey like this, or so says Eric Espada (via Paul). … The Phillies are handing out out this Tug McGraw bobble on August 9th. This year is the 40th anniversary of that pose after Tug's World Series-winning strikeout (via Michael MPH). … What happens when a college baseball team is told they can't use the dryers at the hotel where they're staying? They adapt, that's what they do (from Timmy Donahue). … The Nationals have installed a new autograph policy in response to coronavirus — WaPo Link (from Tommy Turner). … The University of Dayton wore all red this Saturday at home (from Marc Viquez). … New BP hats with new logo for the NW Arkansas Naturals, the Double-A affiliate of the Royals in Springdale, AR (from Timmy Donahue).

NFL/Pro Football News: 'skins center Ross Pierschbacher gets business experience through a Fanatics externship (WaPo link) — over the last three weeks, the 'skins' second-year center was gaining experience for an eventual life after football as a participant in the NFL Players Association's offseason externship program (from Tommy Turner). … "Oof. Old @ChicagoFire logo still being used by the @TwitterSports score bug," observes Ken III. … Not really any clue to their "new" uni or logo here, but the Rams keep on teasing stuff (from Jakob Fox).

College Football News: It's not college football season (and really, it won't be until August) — but there will be some Spring games coming soon — so check out these mid-1970s NOB jerseys from Notre Dame (good spot by James Gilbert).

Hockey News: Here's a fun story from Michael McLaughlin: "Treasures or trash? Here's what Lightning players do with old promotional gear." … Several from Wade Heidt today: 1) It was 2000s night on Friday at Rogers Arena. The Canucks wore throwback jerseys in warmups. It was an adidas Adizero version of their old white jerseys trimmed in navy blue, deep red, silver and sky blue. Former Canucks Brad May, Brendan Morrison, and Alex Auld dressed for the pre-game festivities in their vintage whites and were there for the ceremonial puck drop; 2) Back many years ago, it was more common to see an NHL goalie wear number 1. Here is an article about how fewer goalies are wearing number 1 in the NHL; 3) The WHL's Saskatoon Blades wore WHL Suits Up to promote organ donation uniforms on Friday; 4) WHL's Moose Jaw Warriors wore special uniforms for Snowbirds Night on Friday honoring the Canadian Forces Snowbirds air demonstration squadron based in Moose Jaw. The Warriors wore full red socks with this jersey; 5) Also, a new mask for Moose Jaw Warriors G Brock Gould. … Check out Robin Lehner's new Golden Knights mask. … Roberto Luongo's jersey is was retired by Panthers. Here's a bit more on that. … The Canadiens are adding a No. 16 sticker to their helmets in honor of Henri Richard. Here's a bit more on that (from Jakob Fox). … The Islanders will be among the first teams in North American pro sports leagues to close locker room access to the media in wake of coronavirus concerns (from Tommy Turner). … Reax to the coronovirus? "LA Kings goalie Cal Petersen wore gloves at the podium after (yester)day's game," observes Jakob Fox.

NBA/Professional Basketball News: "Intersting how the Romanization and Cyrillic script for Lokomotiv Novosibirsk look with each other," writes Jeremy Brahm. … "Marvin Williams' shorts are two different shades (it's not the angle of the photo)" says Jason Triplett.

College Hoops News: "I'm 61. Why wear a suit?" Duquesne coach Keith Dambrot says. He and two other "Big3 of College Basketball coaches" have ditched ties as well (from Michael McLaughlin). … "Kinda cool that for Senior Day, Northwestern is doing alternate uniforms based on 1990's NBA teams. Last year was the Grizzlies (L). This year is the Jazz (R)," (from Jim Weber). … Here's one Jimmer Vilk will love: check out the yuge D U K E lettering on their 1970s jerseys (from James Gilbert and Josh Claywell). … The Big East is aggressively blue (9 of 10 teams) even St. John's has it has secondary color. Only school w/o blue in its color palette is Providence. Add 1 more when UCONN joins (from Timmy Donahue). … Oregon gonna Oregon: color vs. color matchup vs. Arizona yesterday (from Jakob Fox).

Soccer News: Nashville SC and the Portland Timbers FC are teaming up for tornado relief by wearing special "Never Give Up On You" patches on this weekend's jerseys, to be auctioned for the @CFMT Tornado Relief Fund (from Jeremy Brahm). … Ken III writes, "Cheers to @BurnleyOfficial for their mascot shirts (sans garish gambling advertisements). Youngsters are probably disappointed, though. Ha." … A young football fan designed his first football kit. Graphic designer @Saintetixx saw it and brought it to life (from Jeremy Brahm). … Also from Jeremy, Find all 18 J1 J-League mascots, just like a Where's Waldo picture but with the Yokohama Marinos as the base. … Clemson Women's Soccer has started giving out a "Hard hat of the week" to the player of the week. Submitter Chip Howell adds, "Kind of fits that whole blue-collar ethos, I suppose." … The 2020/21 Manchester City home kit has leaked (from Josh Hinton). … New kits for Pittsburgh Riverhounds SC (from Mike Slavonic). … "The biggest problem with the new MLS numeral font, even in a clear contrast like navy on white, that they're invisible or illegible from the stands," says David Kendrick. "That's Cincinnati in white against Atlanta. Atlanta's metallic gold on white is even harder to make out." … Yesterday was the LA Galaxy's home opener and it appears they have a Kobe patch on their jersey; also Chicharito is wearing an infinity (eight) hoodie with 8 and 24 on the sleeves (from Jakob Fox).

Grab Bag: The World Rugby Sevens Series is in Vancouver this weekend. Team Canada will be wearing cleats featuring the artwork of children staying at Ronald McDonald House BC and Yukon (from Wade Heidt). … 2 weeks ago Kentucky Governor Andy Beshar signed a bill requiring school police to carry guns. All Kentucky schools are now required to have at least 1 armed police officer effective immediately (from Timmy Donahue). Also from Timmy, CFL QB Brandon Bridge who spent time w/ Saskatchewan, Toronto, Montreal & BC is giving up his football uni for a police one joining the Peel Regional Police in Ontario. Also, Highland CA has adopted a new Fire Dept logo which features a mountaintop, a branch of oranges w/ blossoms, & a small Cal Fire logo at the bottom. Firefighters' axes, ladder & hook flank the logo. … Still more from Timmy: The Village of East Dundee (IL) has adopted a new logo that officials hope will unify the branding throughout the village. … All the AFL clubs and even the referees guernseys as well in the 2020 intro advertisement (from Jeremy Brahm). … Fashion and function collide at Tim Horton's Brier with Dynasty Curling Apparel. … There are clash kits, and then there are kit clashes.