By Phil Hecken
Follow @PhilHecken

Bear with me here, kids, as this one will take a minute to set up…
OK, back in the summer of 2018, I ran a post entitled, What Every MLB Team Is Wearing In Jim Vilk's Head, Everyday. The premise of that post (which devolved into somewhat of a "Jim vs. Phil" MLB uni critique) was to have Jimmer pick the favorite uniform worn by every MLB team in its history (or at least until 2018). That's the guts of that. I may have disagreed with him and picked my own favorites — and most of them still hold true — but the essence was to get Jim's views of his favorite teams.
Fast forward many months. Reader David Pinto decided to run with Jim's choices (with a few exceptions) to create modern day looks for Jim's favorite MLB year(s). This was, at the time, unbeknownst to Jim.
Fast forward to last Sunday on UW. In the concepts section, I ran a few of Dave's "updates" to his original concept piece. I had NO idea at the time Dave had done this, and only became aware of it when Jimmer forwarded me the updates. Intrigued, I said to myself, "this is worth at least a lede." So…I tracked down Dave for a quick Q&A (which follows) and kind of ties this all together. In most cases, Dave has done a faithful modern version of Jim's picks, but there are a few places where liberties were taken. For the most part, though, what you will see below is exactly what every MLB team was wearing, every day, in Jim Vilk's head.
I'm going to run the American League adaptations today, and the NL either tomorrow or the following weekend. But first, let's meet Dave and see how this whole thing came about. OK? OK!
• • •
Uni Watch: OK, standard question first — are you a Uni Watch follower (and if so, for how long?) and what first brought you to the blog?
David Pinto: I've been reading Uni-Watch for at least ten years or so. I can't recall what first brought me to the blog. I'm a big baseball guy and an avid fan of the White Sox, a team that has maybe the most eclectic uniform history in all of MLB, so that might have had something to do with it.
UW: How old are you and where are you from?
DP: I'm 31 years old and from Elmwood Park, a suburb just outside of Chicago.
UW: The artwork we're about to see was actually inspired from a piece I ran a few years back, called "What every MLB team is wearing in Jim Vilk's head everyday." Did he contact you about designing these or how did it come about?
DP: One day I had some free time and felt inspired to adapt Jim's thoughts into designs. I liked that Jim had some pretty "out there" ideas for a few teams–such as putting the Giants in their 1916 "waffle" uniforms, or throwing the Cardinals, who have one of the most timeless looks in baseball, back to 1923.
UW: So you did this on your own then. That's cool. How long did it take?
DP: I'd be remiss if I were to claim I did this project entirely on my own. My buddies Tom, Vic, Matt and Archie provided some of the graphics, such as the team specific number styles. All in all it took me a few weeks to maybe a month to complete.
UW: Did you come up with the template for these on your own?
DP: The template came from a thread on the Chris Creamer Concepts forum called "Paint Users Paradise."
UW: So tell me a bit more about your interactions with Tom, Victor, Matt and Archie. Have you worked with them on other projects?
DP: Yes I have! A few years back we collaborated on a project called MLB City Edition which we shared on the Chris Creamer Sports Logos concept forum. Right now we're in the midst of a similar group project called MLB Statement Edition, which you can view here. Tom and Vic have also been actively working on designing uniforms for a real life Little League team based in Fort Worth.
UW: Did you ever talk to Jim about doing this or did you wait until you'd "concepted" his entire league?
DP: Nope, I had not spoken to Jim before I shared my designs for his entire imagined league.
UW: Did he ask you to make changes? Like, I know some of these have gone from pullover (yecch) to proper button-fronts — were these Jim's changes or yours?
DP: The only specific request Jim made was to give the Red Sox solid red stockings as opposed to their classic striped stirrups. I did take some artistic license with a few of these designs, however. Namely: St. Louis' design is based on their 1923 look, but I made the bat on the jersey yellow. The Cubs' home set uses their 1948-56 chest logo (to throw a bone to you, Phil!) I added red to the Indians' set to avoid similarities to the Yankees. The Marlins get a new teal alternate, based on their batting practice jersey from that era. Hunter green replaces navy blue in the Tampa Bay fauxback set as a nod to their underrated early 2000s uniforms. Colorado adopts the better, brighter shade of purple introduced a few seasons ago, and black replaces navy in the White Sox set to avoid another navy & red team. Jim seemed on board with these changes. [Editor's note: Those NL changes won't be seen today…sorry. — PH]
UW: How long have you been doing graphic design? Was this an "easy" challenge or did it take some doing?
DP: I've been doing graphic design casually over the last two years or so. Once I developed a proficiency in Paint, it started to come easily.
UW: Where can we see more of your work? Do you have a website or blog? Do you have a twitter (or Facebook/Insta/etc.) presence?
DP: I don't have a blog, but you can always view my other concepts over at the Chris Creamer Concepts forum where I post under the name coco1997.
UW: Someday I'd love for you to take a shot at *my* ideal MLB…if I ever come up with one. It'll probably differ, at least somewhat, from what I said in 2018.
DP: I'm always game!
UW: Great and thanks, Dave! OK, let's see how you made Jimmer Vilk's "vision" a reality.
• • • • • •
OK then — here's a look at the AL Jim envisioned. I'll post Jim's comments below. You can click on any image to enlarge.
• • •
1970 Angels
Home, Road, Home Alt
What Jim said: I'm still calling them the California Angels. 1970 was the only year they had the combination of the blue/red halo caps, "ANGELS" on the jersey and the California sleeve patch, so that's my choice.
• • •
1964 A's
Home, Road, Alt
What Jim said: Sleeve numbers strike again, this time for Oakland. Even though it was from the Kansas City days this 1964 set (first and third ones) with a tweaked cap would be great for the A's.
• • •
1972 Astros
Home, Road
What Jim said: I'm almost getting used to Houston in the American League. I'd feel even better about it if they could go back to these 1972 zipperiffic orange-capped unis! I suppose you could replace the Astrodome patch with an MLB one.
• • •
1989 Blue Jays
Home, Road, Alt
What Jim said: You thought I was going with 1977 for Toronto. The more I looked at the 1989 button-ups, the more I realized I had to go with them instead. Sometimes I like symmetry and this time I like an off-centered bird. Again, the fact that they won a few years later in these is coincidence.
• • •
1916 Indians
Home, Road
Home Alt, Road Alt
What Jim said: Surprise, Phil! I hope you didn't have money on which uni I'd pick for Cleveland. I was ready to pick the caveman set until I saw 1916. I'll take a sleeve number over a sleeve Wahoo any day. A great look for the Wahoo-less future that awaits the Tribe and a great complement to the team in the southern part of the state.
• • •
1981 Mariners
Home, Road
What Jim said: I like teal, but I like Seattle's trident M even better. I'd love to see the Mariners win a title in the 1981 uni so people will stop calling the trident cursed already.
• • •
1970s Orioles
Home, Road, Alt
What Jim said: I actually tame it down a bit here in the Junior Circuit, for the most part. We start off, though, with a 70s classic (and a pullover alt) for Baltimore. The only thing from that era I wasn't fond of was the ribbon stirrups but with or without them the rest of the uni is superb.
• • •
1984 Rangers
Home, Road, Alt
What Jim said: There are those who think Texas should stop straddling the fence and be either a red team or a blue team. I'm not one of those people. Keep straddling and do it in this fantastic 1984 combination. So I guess I've dealt with another alt, then.
• • •
"1979" Rays
Home, Road
What Jim said: Man, both Florida teams got it right the first…oh yeah, that was revisionist history. Still, Tampa Bay's "1979" look is unequalled. And as long as they're playing in the Trop it's such a suitable look for the Rays.
• • •
2018 Red Sox
Home, Road
What Jim said: One could make a case for Boston's current look, given that they actually wear red socks. You know what…between that and the sleeve patch on the road jerseys, I am making a case. You've never looked better than now, at least when it comes to the whites and grays.
• • •
1969 Royals
Home, Road
What Jim said: One more team got it right the first time, and that's Kansas City. As with the Dodgers, tweak the MLB sleeve patch and you're good to go.
• • •
1972 Tigers
Home, Road
What Jim said: For Detroit I picked another button-up/pullover combo with 1972. the home uni is up there with the Yankees. Never change it.
• • •
1987 Twins
Home, Road
What Jim said: Given my love of road pins you'd think I'd pick 1987 for Minnesota. Nope, it's 1976 all the way. That home cap is up there with the '71 Bucs on the awesomeness scale and the twins-shaking-hands-across-the-Mississippi sleeve patch is wonderful.
• • •
1942 White Sox
Home, Road
What Jim said: My final waffle. Chicago's 1942 uni Respects The Placket thanks to the zipper. No placket to worry about with the 1976 pullovers. Both, of course, respect the name of the team. Decisions, decisions…
• • •
1936 Yankees
Home, Road
What Jim said: For New York I'm going back to 1936. Same as with the Reds, the Yankees don't need sleeve stripes or sleeve patches. This was the beginning of their classic look and it never needs to change.
• • • • • •
Thanks Dave (and Jim). Quite an undertaking! It's very interesting to see how some of those way back looks would appear "today" with a modern take and tailoring! I'd love to see some of those on the field, too! We'll be back with the National League either tomorrow or next weekend.
Love to know what you guys think (either about Dave's adaptations or Jimmer's original choices)!
Blue Collar Ducks?
There was, ahem, a bit of discussion on the whole "blue collar" description of sports yesterday in the comments, so the this tweet from the Akron RubberDucks (also posted yesterday) got me to thinking…
They don't say it, or even allude to it, per se, but does anyone get the vibe the team might be going for a bit of a "blue collar" ethic here?
No matter how long it takes, Akron's a city building towards a better tomorrow.

On June 5th. For one game only.

We're ConeTown USA. pic.twitter.com/pjeEPxp0rF

— Akron RubberDucks (@AkronRubberDuck) March 6, 2020
Sure, it's an ad for a one-day identity the team will be taking on (a fairly common occurrence for Minor League teams) and it's probably fairly innocuous as these things go. But note the imagery in the video: Firemen, a beer being poured in a bar, construction workers, etc. — all of which are not-so-subtly working to evoke a blue collar feel. That the team will be featuring an anthropomorphic traffic cone also seems to evoke blue collar values. We're BUILDING things (and so is Akron).
I don't really have a problem with any of this and I'm generally a fan of MiLB teams creating as many new caps and jerseys as possible — but in light of Paul's recent focus on blue collar fetishism, this seems to fall into that category. Or maybe not. Maybe I'm just hyper-aware of the phenomenon now that Paul's brought it to light.
What do you guys think? Just a fun little promo or a back-door BCF? Or maybe a bit of both…
Guess The Game…
from the scoreboard
Today's scoreboard comes from Mr. Charlie.
The premise of the game (GTGFTS) is simple: I'll post a scoreboard and you guys simply identify the game depicted. In the past, I don't know if I've ever completely stumped you (some are easier than others).
Here's the Scoreboard. In the comments below, try to identify the game (date & location, as well as final score). If anything noteworthy occurred during the game, please add that in (and if you were AT the game, well bonus points for you!):
Please continue sending these in! You're welcome to send me any scoreboard photos (with answers please), and I'll keep running them.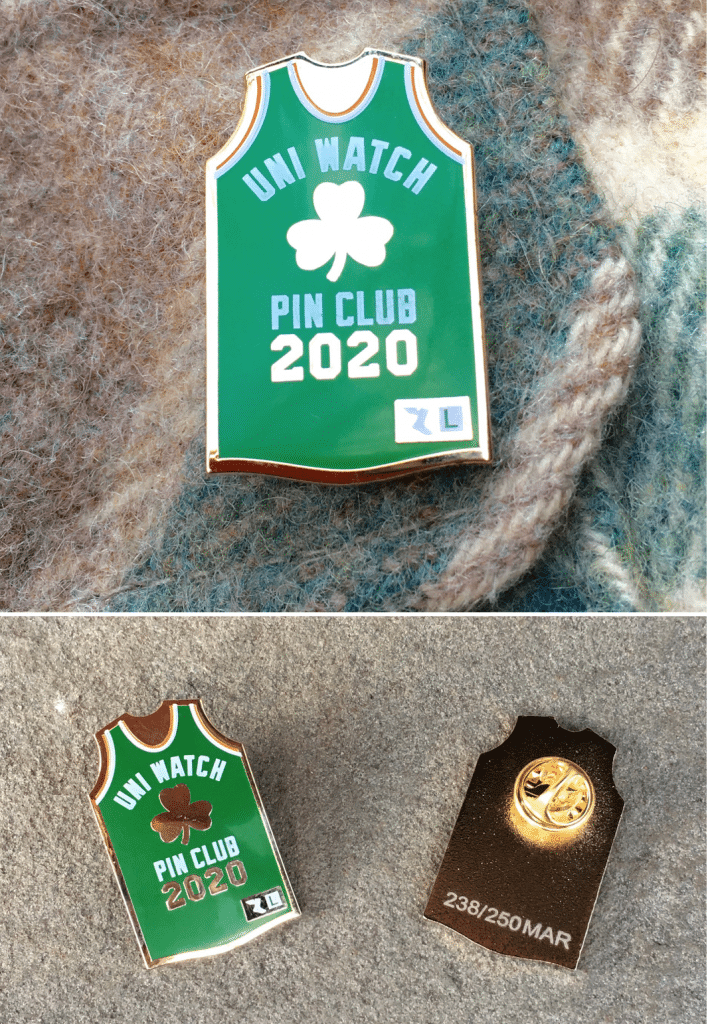 Pin Club reminder: Paul here. In case you missed it on Thursday, the March design for the Uni Watch Pin Club is now available. It features a basketball jersey (for March Madness) with a shamrock and orange/white trim (for St. Patrick's Day), along with a winged stirrup jock tag (for Uni Watch!). This one is a numbered edition of 250, and by the end of Friday we had already sold nearly half of them, so move fast!
If you need to get caught up, the January and February pins are still available until they sell out, and we also have our basic winged stirrup logo pin. And remember, card-carrying Uni Watch members get a 15% discount on these pins (and on everything else in the Uni Watch Shop).
My thanks, as always, for considering our products. Now back to Phil!
Your Friendly Reminder…
Most of you (likely) have devices (phones, clocks, DVR's, etc.) that will automatically "Spring Forward" for Daylight Saving Time — remember there is no "S" at the end of "saving" — as a local television ad for a mattress company once said, "Leave off the last 'S' for saving!", a good reminder that we're now in the good time of the year.
Despite the fact that it takes my old bones a good two weeks to make up that hour of "lost" sleep, there is nothing better than DST. Living in the eastern end of my time zone, I greatly appreciate the "extra" hour of daylight we're afforded for the next six-ish months. Yes, I get that those of you who live in the western end of your time zones probably have no use for it (and yes, if you're an early riser, you probably will wake up in darkness), but there's nothing better than being able to do something outdoors after work (or after supper as we hit summer). We can't really do that in the eastern end of the time zone.
So, in case you own some devices (analog/battery operated clock, watch, car radio, etc.) that don't automatically "spring" ahead for you — and you haven't already done it — now's the time to adjust your time-keeping devices to Daylight Saving Time.
It's the most wonderful time of the year.
• • •
More Thoughts About DST…
I run the above "public service message" every spring (or at least for the past several), and it always seems to generate a few comments — many of you in the western ends of the time zone hate the switch to Daylight Saving Time, while folks like me, who live in the eastern section, love it. But one thing most of us seem to agree on is that we'd like to scrap the time change altogether — but not everyone is in agreement on whether we should permanently go to daylight or standard time.
I looked into this recently and have found at least 40 U.S. states have taken up legislation to adopt either daylight saving or standard time year-round. Full-time observance of the spring switch actually didn't come about until the adoption of the Uniform Time Act of 1966, which made the biannual time switch the law in the United States, but there are exceptions. (Hawaii doesn't observe daylight saving time at all, nor do U.S. territories of Puerto Rico, Guam, American Samoa and the U.S. Virgin Islands. Also not switching is Arizona, except in the Navajo Nation.)
I once lost a bet to my then brother-in-law when my (then) wife & I and he and his girlfriend visited Las Vegas during the summer. I bet him that if we visited the Hoover Dam, once we crossed into Arizona, we'd be turning our watches back an hour, as I knew they were in a different time zone. What I didn't know at the time (this was like 25 years ago), was that Arizona did NOT observe DST. Lo and behold, when we visited the little gift shop on the eastern side of the dam, the clock showed the same time as Vegas. The bet was only for a dollar, but I felt like an idiot, because I knew we'd just crossed to another time zone.
Arizona is in the Mountain Time Zone, but from March to the end of daylight saving time — that's Nov. 1 this year — the Grand Canyon state has the same time as the Pacific Time Zone.
DST isn't new (it wasn't created in 1966 — it's just that is when it became standard across the states). Daylight saving time has been around since World War I. But it became the law of the land more than 50 years ago with the Uniform Time Act of 1966, though the exact dates — now the second Sunday in March and the first Sunday in November — have changed some over the years. Arizona cited its hot climate in getting an exception, and Hawaii cited its tropical latitude, which means there isn't much variation in daylight in the summer and winter months.
I always think back to a "Simpsons" episode where Homer gains a couple hundred pounds and, since he's working from home, "shows up" at work early. "Lousy Farmers" he says, alluding to the urban legend/myth that DST was created because of the farming community. Nay, it was actually a wartime thing. I remember when I was young, Nixon tried to make DST year round, and during WWII, Roosevelt also instituted year-round DST. So why do we still change the clocks twice a year? Most people hate this, and apparently it's also bad for our mental health (and probably physical as well). Difficulty adjusting to the loss of an hour's sleep with the switch to daylight saving time isn't just psychological. Researchers have linked the beginning of daylight saving time to increases in the short-term risk of a heart attack, fatal car crashes and even harsher sentences for criminal defendants when judges are sleepy.
In my part of the world, some want to go to daylight saving time year-round, while others prefer year-round standard time. Massachusetts is considering going year-round to Atlantic Standard Time, the same time in places such as Nova Scotia and Puerto Rico, but the change would not take effect unless New Hampshire, Maine and Rhode Island agreed to do the same. I would hope New York would also join that grouping.
The energy savings touted with the Uniform Time Act of 1966 have also been called into question in an increasing number of studies that suggest there's not much benefit to switching the clocks twice yearly.
So, while we all (or most of us in the US and many other countries when they switch) enjoy that extra hour of daylight, it takes many days and up to two weeks to "adjust," is it all worth it? I say no. I enjoy the extra hour of light — but I know many of you hate to get up in darkness (or worse, if you have kids, need to get them to the bus stop in darkness or partial darkness). But how would you feel about getting rid of DST altogether? And if so, would you want Standard time or Daylight Saving time to be the standard?
I know this is all "off-uni," but I find the whole thing pretty fascinating, and worthy of debate.
Your thoughts?
The Ticker
By Anthony Emerson

Baseball News: Benjamin Hochman found the 1980 NL "Green Book" which included descriptions of each team's uniforms. … I'm sure I'm not the only one who'd buy a toy version of an old-school bullpen cart (from Rodney Flores). … The Tulsa Drillers, Double-A affiliates of the Dodgers, have soft-launched some of their Muscogee Creek Nation Night identity (from @kyle47). … The Charleston RiverDogs, Single-A affiliates of the Yankees, have decided not to go forward with their "OJ Trial Night" promotion. Probably a wise decision (from @walbergLines). … Hawai'i baseball has new home whites (from Charles George).

Pro Football News: The XFL is openly considering adding jersey ads. The league already has ad decals from a crappy brand of hard seltzer on helmets and a giant Progressive logo on every field. The AAF also had jersey ads (from Eric Bangerman and Timmy Donahue).

Hockey News: The QMJHL's Acadie-Bathurst Titan wore special uniforms Thursday night to kickoff their "Hockey Weekend" promotion (from Wade Heidt). … We got a color-vs-color matchup in Minnesota's Class A Semifinal.

NBA News: LeBron James's All-Star jersey has sold for a modern record $630,000 (from Mike Chamernik). … Nuggets SG Troy Daniels will wear No. 30 (from Etienne Catalan). … Turns out, you can make a rainbow out of just some of Shaq's jerseys (from Robbie, who didn't give his last name, and @VerbDC). … Former NBA player Kenny Anderson wore a T-shirt mashing up the 1980s-era Nets logo with a map of Brooklyn (from @GoatJerseys).

Soccer News: Miles Crowther brought our attention to this company that upcycles old soccer jerseys into bucket hats, many of which are so ugly they wrap back around to being awesome. Almost all are sold-out, however. … Barcelona's 2020-21 third shirt has leaked and it's, uh, bright. Their much more traditional home kit was also leaked (from Josh Hinton). … Also from Josh: Atlético Madrid's 2020-21 home kits have leaked, and they're gorgeous. … One more from Josh: new sleeve ad for Sporting KC. … Fans of Scottish third tier side East Fife voted to have next season's home kit in a tartan pattern, rather than the usual stripes (thanks, Jamie). … Also from Jamie: French side Olympique Lyonnais has purchased NWSL side Reign FC, and have rebranded the club as "OL Reign". I do have a problem with the new ownership dropping the female warrior on the old crest and replacing it with a male lion, and I'm not the only one. … More USL Championship kit reveals: Hartford Athletic's home, Memphis 901's home and Louisville City's full set (from Anthony Gonsalves, M. Brinston Berry, Sean Haubert and Josh Hinton). … FC Buffalo of the NPSL have launched their away kit (from Ed Żelaski).

Grab Bag: The logo NASCAR's Championship Weekend has been revealed (from Michael Metzger and @HOF_for_Charlie).