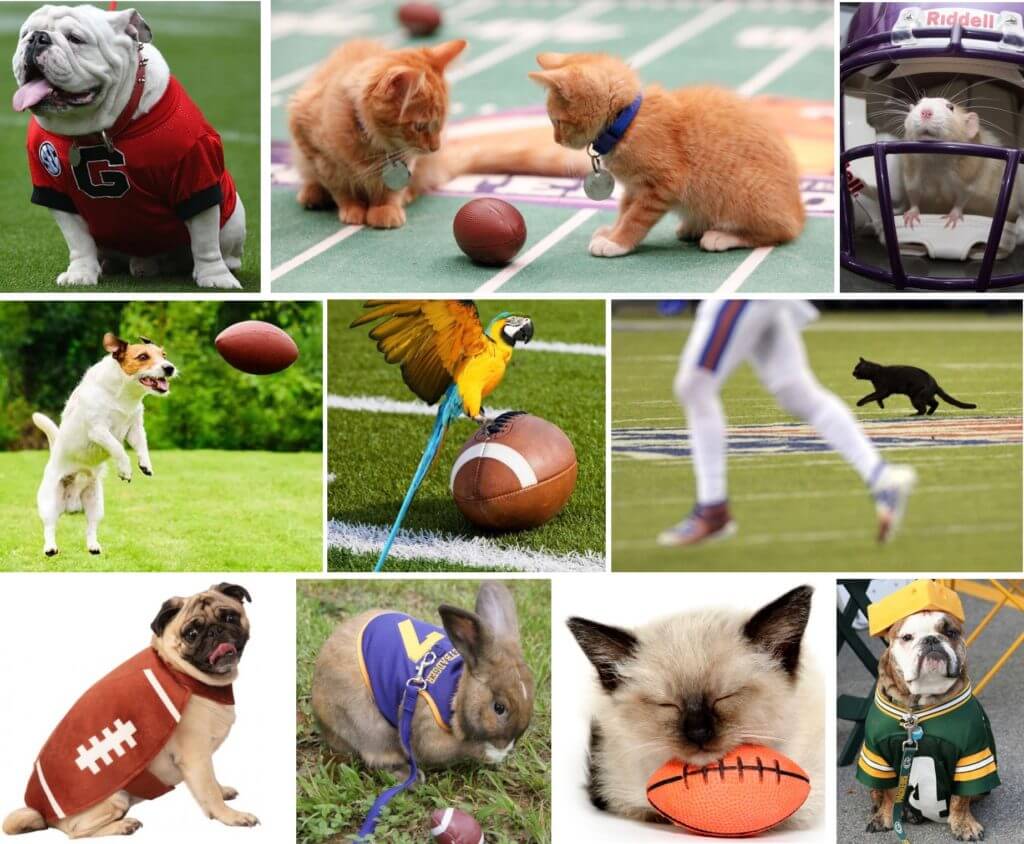 For all images, click to enlarge
If you want to pretend that your pet is a football player — and really, who doesn't? — you have plenty of options. Unfortunately, as you can see above, most of those options aren't particularly convincing.
Recently, however, I have stumbled upon something remarkable — something that can credibly turn any pet into a bona fide NFL star. It's the ideal fusion of feline and football, greyhound and gridiron, pig and pigskin, tail and tailback.
Check this out (I'm going to make you scroll down a bit to see it, just to create a mental drumroll):
.
.
.
.
.
.
.
.
.
.
.
.
.
.
.
That's from a company called Agora Idea. If you send them a photo of your pet, they'll Photoshop Fido's face onto the body of an NFL player. The results are bizarre and wonderful in equal measure. Here are some more examples:
I love how they're sort of freakish, surreal, and adorable, all at the same time. It's like Roger Goodell, William Wegman, and a DNA geneticist had a brainstorming session. Personally, I find the images compelling — I can't look away and I can't get enough of them. (If you feel similarly, there are more examples here.)
A few details about all of this:
• The base-level item that's being offered here is a jpg of your pet/player hybrid, which you can get for $16. If you want to take this from the digital realm to the real world, you can get the jpg printed on a coffee mug ($26), T-shirt ($26-$29, depending on the size), poster ($21-$28), canvas ($46-$96), or wall tapestry ($51-$66).
• For a higher price, you can have multiple pets/players appearing in the same image:
• You can choose any NFL team.
• You must submit a good photo of your pet. If you like, you may also submit a player photo for the hybrid image to be based on.
• Although dogs and cats are the most commonly submitted pets, you're free to send a photo of your rabbit, turtle, pig, lizard, or whatever.
• At present, Agora Idea is only doing NFL-based images, but they're willing to take special requests for MLB, soccer, or pretty much anything else.
I was curious (okay, obsessed), so with my favorite team about to play in the Super Bowl, I decided to see spend $16 and see how Uni Watch girl mascot President Caitlin would look as a 49er. About 24 hours after I sent in my order, I received this:
Not bad! It doesn't fully capture her off-the-charts cuteness, but what possibly could? And in case you're wondering, the name on the portrait is "Caitlin" instead of "President Caitlin" because I placed the order before her recent inauguration.
After looking at a bunch of these, I've concluded that they work better with dogs than with cats, because cats' heads/faces are basically round while dogs — or at least most dogs — have long heads with more dimensionality going on, which enhances the surreal effect of the portrait. Still, I'm pleased with how President Caitlin's turned out and will probably have a printout of it in my pocket — along with my trusty Ken Willard card — this Sunday. (In retrospect, I should have made a scan of the card and had them put President Caitlin's face on Willard's body! Maybe next time.)
Agora Idea's website was clearly designed by someone whose first language is not English. I initially assumed that the operation was based in China, but I had some email back-and-forths (also with a lot of broken English) with the guy who runs it, Daniel Vin, who told me they're based in the USA. In any case, don't let the site's bad grammar or clunky design throw you — my overall experience was very solid, and Daniel was always very responsive to my questions.
One final thought: I learned about all of this from, of all places, a Facebook ad. Like pretty much everyone else, I find those ads annoying, and they're often laughably off-base in their attempts to curate the content to my likes and dislikes, but they really nailed it this time: pets and uniforms!
• • • • •
• • • • •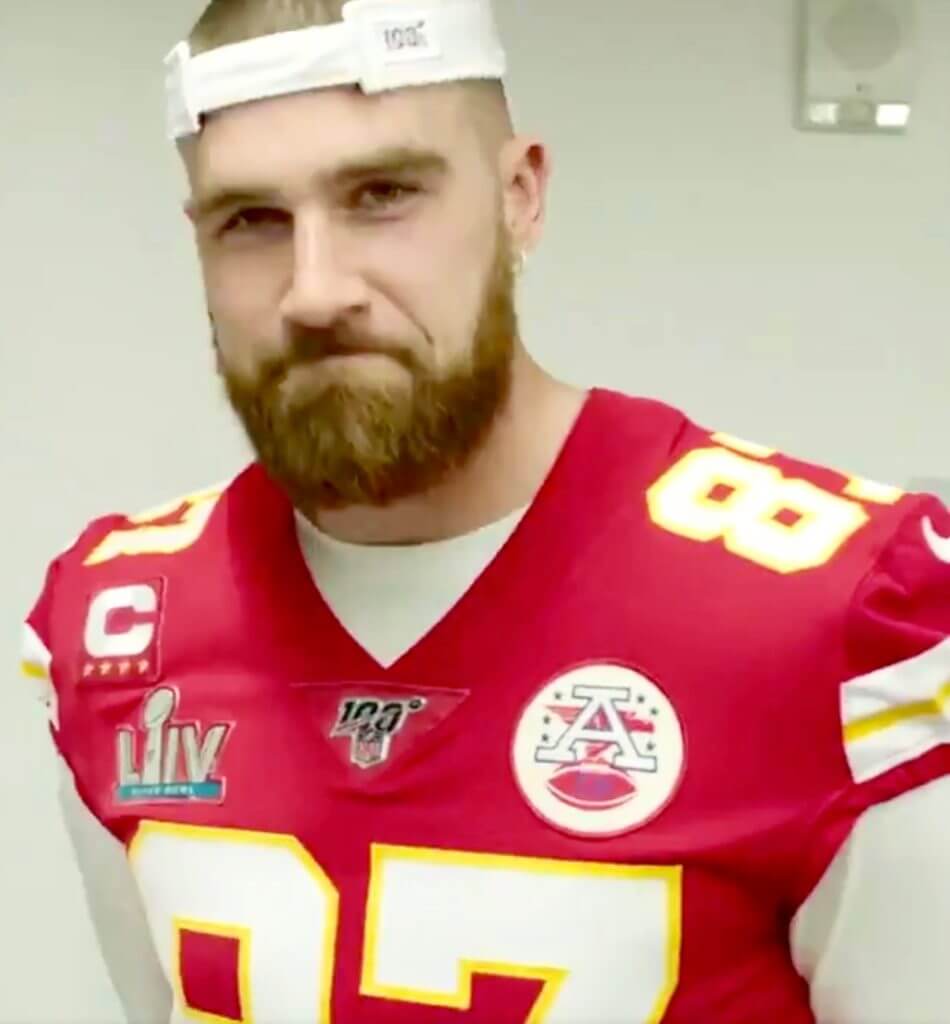 Click to enlarge
Super Bowl update: Last night we finally got our first look at how the Chiefs plan to handle their captaincy patches this Sunday. Since they wear the Lamar Hunt perma-memorial patch on the upper-left chest, where the Super Bowl patch would normally go, they're wearing the Supe patch on the other side and have decided to shoehorn the "C" in between the Supe patch and the TV number. Looks like they may also have lowered the Supe patch a bit in order to make room.
This isn't the first time a team has had to move the Supe patch over the other side (two prior examples I can think of are the Steelers in SB XLIII and the Pats in SB XLVI), but it's the first time a team has done that while also wearing captaincy patches.
That's too much of a patch jumble for my tastes. It's not the end of the world — only a few players will even wear the "C," after all — but it seems like they could have come up with a better-looking solution (including just skipping the captaincy designations altogether, especially since the Chiefs don't even bother to wear them during the regular season). Fortunately, nobody on the Chiefs' roster has ever won the Walter Payton Man of the Year Award, or else he'd have yet another patch to deal with.
• • • • •
• • • • •
Kobe tributes, continued: Uni-related salutes to Kobe Bryant continued yesterday. I'm sure there were more than just these, but here are the ones I'm aware of:
• In the NBA, the Pistons all wore No. 8 or No. 24 with "Bryant" NOBs for pregame activities:
The Pistons were all wearing #8 and #24 jerseys with Bryant on the back during pregame @UniWatch pic.twitter.com/YufRrYr5a9

— Chris Howell (@ChrisHHowell) January 28, 2020
• Mavs guard Luka Dončić wrote the names of all of the helicopter crash victims on his sneakers (which were, of course, Kobes):
Kobe Bryant
Gianna Bryant
John Altobelli
Keri Altobelli
Alyssa Altobelli
Christina Mauser
Sarah Chester
Payton Chester
Ara Zobayan

Luka Doncic has all their names on his Kobe's tonight.

:@dallasmavs pic.twitter.com/Ntwdd53EIy

— Dime (@DimeUPROXX) January 28, 2020
• Bryant's daughter Gianna had hopes of playing basketball at UConn. They honored her last night with a jersey:
Mambacita is forever a Husky pic.twitter.com/3wdAbdK0Ye

— UConn Women's Hoops (@UConnWBB) January 27, 2020
• In the NHL, the Dallas Stars lit their player-intro star purple and yellow:
Saluting a sports legend. #TBLvsDAL | #GoStars pic.twitter.com/9HVG54ctQn

— Dallas Stars (@DallasStars) January 28, 2020
• Also in the NHL, Sharks left wing Evander Kane had a memorial on his stick, and the team made a puck-art memorial:
Evander Kane's stick tonight. 💛💜💛💜 pic.twitter.com/PJXIDwT0Kj

— NHL on NBC (@NHLonNBCSports) January 28, 2020
Puck art.

💛💜💛💜💛💜💛💜💛💜💛💜 pic.twitter.com/lFukArtnNS

— NHL on NBC (@NHLonNBCSports) January 28, 2020
• At the AHL All-Star Game, goalie Cal Peterson wrote a memorial inscription on his stick:
@UniWatch @PhilHecken at the #AHLAllStarClassic Cal Peterson wrote "RIP Kobe" on the knob of his stick. Respect amongst SoCal teams pic.twitter.com/mrv5bYPpYN

— Jakob Fox (@JakobLFox) January 28, 2020
• In soccer, Real Madrid center back Sergio Ramos wore a Bryant jersey to a team practice (which, tangentially, may also have set the record for most Adidas logos in one spot):
Sergio Ramos of Real Madrid wore Kobe Bryant's number 10 USA jersey to training today. @UniWatch @PhilHecken #RIPMamba #RIPGianna #RIPKobe #RIP24 #RMCF #HalaMadrid pic.twitter.com/eY1sCd5oIN

— Football Kit Watch (@Kit_Watch) January 27, 2020
• AC Milan announced that they will wear a black armband for Bryant tonight, despite Serie A's refusal to grant permission for them to do so. Milan was Bryant's favorite soccer team.
AC Milan will wear a black armband during tomorrow night's Coppa Italia game vs. Torino in honor of Kobe Bryant. They are doing this despite Lega Calcio's refusal to approve of the armband. Great gesture by them ⚫️ pic.twitter.com/PtZSiT2PEV

— The State Of Play (@StateOfPlayPod) January 27, 2020
• At the Australian Open, pro tennis player Nick Kyrgios wore Bryant jerseys before and after his match with Rafael Nadal (additional info here):
@UniWatch @PhilHecken Nick Kyrgios paid tribute to Kobe at the #AustralianOpen, wearing a current Nike #8 jersey (a combo Kobe would've never worn)…he also wore a black (appears to be) #24 jersey at his press conference pic.twitter.com/1NUUcwF9Ry

— Jakob Fox (@JakobLFox) January 27, 2020
• Another tennis player, Novak Djokovic, wore Bryant's initials and uniform numbers on his jacket (additional info here):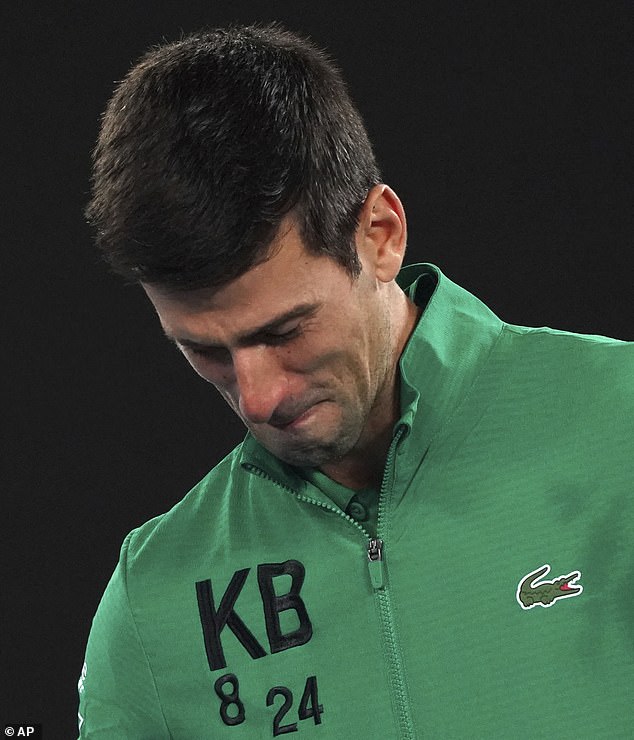 • Lots of places were lit up in purple and yellow:
@UniWatch Here in Chicago, @UnitedCenter is wearing @Lakers colors for @kobebryant Thanks Joe for the pics pic.twitter.com/vyTm1MKa5j

— Tim Shriver (@ShriverBone) January 27, 2020
@UniWatch @PhilHecken #empirestatebuilding lit up in purple and gold for #KobeBryantRIP #lakers pic.twitter.com/e7IeTteDEA

— Al N. Kreit (@tierknala) January 27, 2020
The Sears Tower is lit up purple and gold in honor of Kobe pic.twitter.com/zbgjH8x73P

— Matt Lindner (@mattlindner) January 28, 2020
#Philadelphia is glowing purple for Kobe Bryant. #KobeRIP pic.twitter.com/q6373bA9hk

— Action News on 6abc (@6abc) January 27, 2020
Honor. Respect. Appreciation. pic.twitter.com/8wurfyJnKH

— Rocket Mortgage FieldHouse (@RMFieldHouse) January 28, 2020
Nassau Coliseum lit up in purple and gold for Kobe pic.twitter.com/Rq8HWrsN71

— Isles Territory (@IslesTerritory) January 28, 2020
• In downtown Buffalo, a memorial billboard featured the word "Legend" patterned after the Lakers' wordmark:
A billboard located just off the 190 in Downtown Buffalo pays tribute to former NBA star Kobe Bryant. pic.twitter.com/xpV5UMRV2t

— 7 Eyewitness News (@WKBW) January 28, 2020
• Lots of video gamers are also tributing Bryant. As a non-gamer, I don't want to accidentally describe any of this incorrectly, so instead I'll just suggest that you read this piece if you're interested.
If you're aware of other uni-related tributes to Bryant, feel free to post them in today's comments.
(My thanks to all who contributed.)
• • • • •
• • • • •
For all photos, click to enlarge
ITEM! Uni Watch hockey jerseys now available: Super-excited to announce that Uni Watch hockey jerseys have now launched. These are being produced by Adelph Wear (that's the same company, run by longtime reader Nathan Haas, that did our cycling jerseys and basketball jerseys and shorts) and I am sooooo happy with the way that they've turned out.
Details:
• In addition to the green design shown above, we're also offering white and gold:
• When I first teased these jerseys a few weeks back, some of you asked if they would fit over hockey pads so you could wear them in your beer leagues. In response to that, we're offering two different tailoring cuts: Game Cut (roomier, will fit over pads) and Fan Cut (trimmer, presumably what most people will buy). The ordering page has size charts showing measurements for both cuts.
• You can customize your jersey with your choice of number and NOB.
• You can also choose whether the upper chest will have the winged stirrup, a captain's "C," or just be blank.
• All graphics are sublimated. Elbows are reinforced. Lace-up collar. "For People Who Get It™" printed on inner collar.
• As with all Uni Watch products, there is no visible maker's mark.
• They look pretty damn sharp in real life:
(I'm 5'8″, 150, and I'm wearing a fan-cut medium in that shot.)
The price is $69.99, with discounts if you buy more than one color. We're taking orders for two weeks, and then the jerseys should be ready to ship on March 10. If you have any other questions, feel free to post them in the comments and I'll do my best to answer. Again, you can order here. Thanks for listening.
• • • • •
• • • • •
Click to enlarge
Collector's Corner
By Brinke Guthrie
Super Bowl week! Along with the band Chicago, the only place where you'll still see Roman numerals. Let's kick things off this week with a lunchbox from Super Bowl II. Even back then, the blue collar thing was out there in the marketing world. This was the Packers and the Raiders, on Jan. 14, 1968, at the Orange Bowl, and these were apparently passed out to members of the "working press," as it says on the sticker. The sponsor was Zum Zum, which was a NYC restaurant chain from the 1960s-1980s that served German cuisine.
Now for the rest of this week's picks:
• More working press! This is a press box pass for that same Super Bowl. But this one also gets you "dressing room admission." Did they mean locker room?
• Here we have a big yellow plastic box labeled "Super Bowl III NFL Films 1969 Jets vs. Colts," and inside is exactly what you'd expect: a big reel of film. Now you just need to find a projector!
• I really wanted to find a Hank Stram KC logo blazer. Still the standard for title game coaching attire after all these years! Couldn't find one that was an exact match; but this one is kinda-sorta close: a "Kansas City Chiefs Hank Stram Super Bowl Sideline Vintage Blazer Nordstrom Jacket." I guess you could just roll up a magazine to complete the look.
• Here's another one in that vein — a blazer that says "Brooklyn Super Bowl Group 1968" on the patch.
• Colt 45 malt liquor decided to capitalize on the Super Bowl game with this print ad. They couldn't get away with that these days unless they shelled out to be an Official NFL Partner™.
• Niners fans could don this "Roaring Back to Pontiac" T-shirt for the 1982 Super Bowl. No team logos, no team name. Survey says … unlicensed.
• Jim Grabowski had the perfect name for a hard-nosed runner in Supes I and II: "And Grabowski takes the hand-off from Starr and pounds over left tackle for a hard-fought three-yard gain!" Here's his autograph on a vaguely Packers-ish unofficial jersey.
• Staying with the Pack, Pabst celebrated the team's Supe II win with this Bart Starr patch, and Supes I and II with this rather fearsome-looking Vince Lombardi patch — which comes with a bonus "e" tacked onto his last name. My wife took a look at it and said, "Looks like Freddy Krueger."
• Here's a sticker made from the cover art for the game program of Super Bowl VIII. 
• And we close out with this solid wooden football commemorating the Dolphins' Super wins of 1973 and 1974.
• • • • •
• • • • •
Click to enlarge
Who, me?: Meet Louise, the incredibly adorable eight-month-old puppy of Uni Watch reader Gus O'Keefe. She's surrounded by pieces of the Teespring mailer that contained Gus's Uni Watch Pin Club pin — a mailer that Louise apparently found so irresistible that she shredded it to bits. "Great little dog," says Gus. "Just likes opening the mail."
I'm happy to report that pin (indicated by the arrow) escaped unscathed. As you probably know by now, it's part of a numbered edition of 350 pins, which in turn is part of a monthly series of pins I'm doing in collaboration with designer Todd Radom. The January pin is available here, and additional info on the Pin Club is here. Just don't tell Louise (who'd certainly make a good NFL player, no?).
• • • • •
• • • • •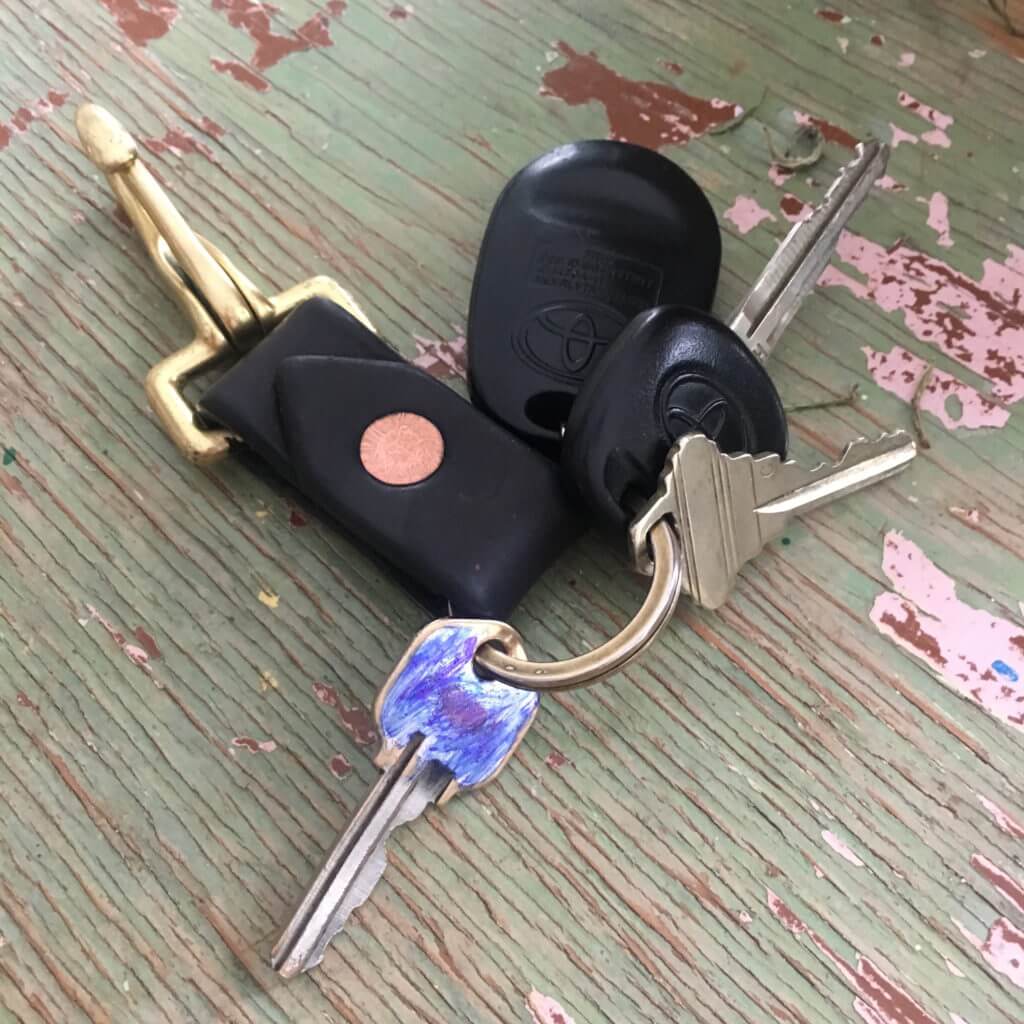 KRC update: The latest installment of Key Ring Chronicles is a very powerful story about a key to a garage. Don't miss this one — check it out here.
• • • • •
• • • • •
The Ticker
By Alex Hider

Baseball News: Super-interesting look at the number of home runs hit by uniform number in 2019. The OP's theory was that No. 25 is usually reserved for power hitters, but No. 10 proved to hit the most homers. No. 57 gave up the most homers in 2019 (from Michael Duffy). … New Reds OF Nicholas Castellanos will wear No. 2. IF Alex Blandino, who previously wore the number, will switch to No. 0 — and, should he appear in a game for the Reds this year, will be first player in franchise history to wear that number (thanks to all who shared). … Here's an deep dive on the Double-A Harrisburg Senators and their incredible new George Washington "popping bottles" caps (WaPo link) in honor of the Nationals' World Series title (from Darren Evans). … Pitt will sport an all-white uniform this season (from @DaveGH2P). … New gold-trimmed giveaway jersey for the Yomiuri Giants (from Jeremy Brahm). … The NHL's Dallas Stars wore Texas Rangers-themed jerseys during pregame activities last night (from @nvcjr1).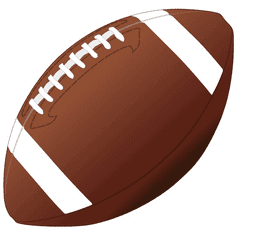 Pro Football News: The XFL announced 52-man rosters yesterday, and according to Alex Barth, seven of the eight teams have a WR with a single-digit number. … Speaking of the XFL, the Dallas Renegades will play at a reconfigured Globe Life Park — the former home of the Texas Rangers (from Casey Wieder). … Reader Kary Klismet sends along two in-depth pieces about individual photos from past Super Bowls: one about the photo of Chiefs QB Len Dawson smoking a cigarette at halftime of Super Bowl I, the other about a guy who was wearing an Australian cricket jersey on the sidelines during Super Bowl XXX. … One more from Kary: The Chiefs are replacing the seats at Arrowhead Stadium and selling the old ones to the public. … Speaking of the Chiefs, Olathe, Kansas — a KC suburb — has unofficially renamed one of the town's streets Chiefs Ave. (from Timmy Donahue). … This blog attempts to rank the top 100 uniforms in NFL history (also from Timmy Donahue). … This listicle ranks the top 10 ticket stubs in Super Bowl history (from Russ Havens). … @wahidjon has mocked a potential new Bears logo. He says in his design, he would have the "stripes wrapping around the helmet." … Blaise D'Sylva's NFL mini-helmet division of the day was the AFC North. … Former Giants DL Michael Strahan says the team will be retiring his No. 92 (thanks, Brinke).

College Football News: Available now on eBay: A collection of game-worn Michigan jerseys — including those worn by Tom Brady and Desmond Howard (from Gilbert Lee). … While most players participating in the College Football All-Star Challenge wore jerseys without patches for media day, Iowa QB Nate Stanley was wearing his jersey with the College Football 150 patch and the Holiday Bowl patch (from Kevin McGuire).

Hockey News: The Manchester Storm of the UK's Elite Ice Hockey League wore pride jerseys Sunday (from our own Jamie Rathjen). … Sacred Heart University is planning to build a new hockey arena (from Kary Klismet). … The Blackhawks are giving away a hat for first responders night modeled after the Chicago city flag, except the stars are replaced with symbols representing police, firefighters, and EMS (from Griffin T. Smith). … Wow, check out the hockey player pattern on this kid's shirt! The photo was taken in New York in 1949 (from Alex Warner). … Cross-listed from the baseball section: The Stars wore pregame jerseys honoring MLB's Texas Rangers last night (from @nvcjr1).

NBA News: The 1997 NBA All-Star game was played in Cleveland. Players wore their regular team uniforms during that ASG, but there was a set of specialty prototype All-Star jerseys made for the game (from @GameplanChicago).

College Hoops News: Really nice-looking color-on-color game between UNC (Carolina blue) and NC State (red) last night (from Sam Mills and James Gilbert). … More color-on-color, this time between Florida A&M (green) and Norfolk State (black). Note the green-on-green scorebug (from @artofscorebug and Timmy Donahue). … New Mexico will wear red at home Wednesday for a "red-out" game against unbeaten San Diego State (from Frank Mercogliano). … George Washington is taking advantage of the current waistband-rolling trend by putting a school slogan on the waistband.. Any other schools doing something like this? (From Matt Eliot.) … West Virginia is taking steps to sell the naming rights to its basketball arena (from Mike Casazza).

Soccer News: Over the weekend, PSV Eindhoven of the Dutch Eredivisie dropped its jersey advertiser in favor of a paragraph that described "the story behind the shirt" (thanks to all who shared). … For all the latest soccer news, head over to Josh Hinton's Football Kit Watch Twitter account. … In the 1990s, with South Africa attempting to work itself out of apartheid, a political party called the "Soccer Party" sprang up that used a black-and-white soccer ball as a symbol of racial harmony (from @OlegKvasha). … Kind of hard to tell in this photo, but here's how MLS 25th-season logo will look on the Galaxy's jersey. Here's a digital rendering of the logo (from  @YAMANSDOOD).

Grab Bag: Here's a look back at the all the championship rings that were handed out in 2019 (from Kary Klismet). … Also from Kary: A number of pro sports teams are planning stadium renovations based on impending climate change. … Retired Navy SEAL Floyd McLendon, who is running for Congress in Texas, wore his Navy dress white uniform to kick off his campaign. … Crusaders, a rugby union club based in Christchurch, New Zealand, have new uniforms. Notably, the club has stopped using a logo that depicted a sword-wielding knight on a horse in the wake of a series of shootings at mosques last year (from Ted Kerwin). … Artist Robert Hurst put together a mural entitled "Legacy 34," honoring Houston sports greats who have worn the number — Nolan Ryan, Earl Campbell, and Hakeem Olajuwon (from Ignacio Salazar). … Fort Knox Federal Credit Union has a new name and logo (from Josh Claywell). … We've got an Oxford comma controversy in the UK! Author Sir Philip Pullman is calling for a boycott of the country's new 50 pence coin due to the lack of an Oxford comma on the inscription (from Jack Wade).
• • • • •
Tomorrow: The annual Uni Watch Super Bowl Preview — and it's a really good one. See you back here then! — Paul