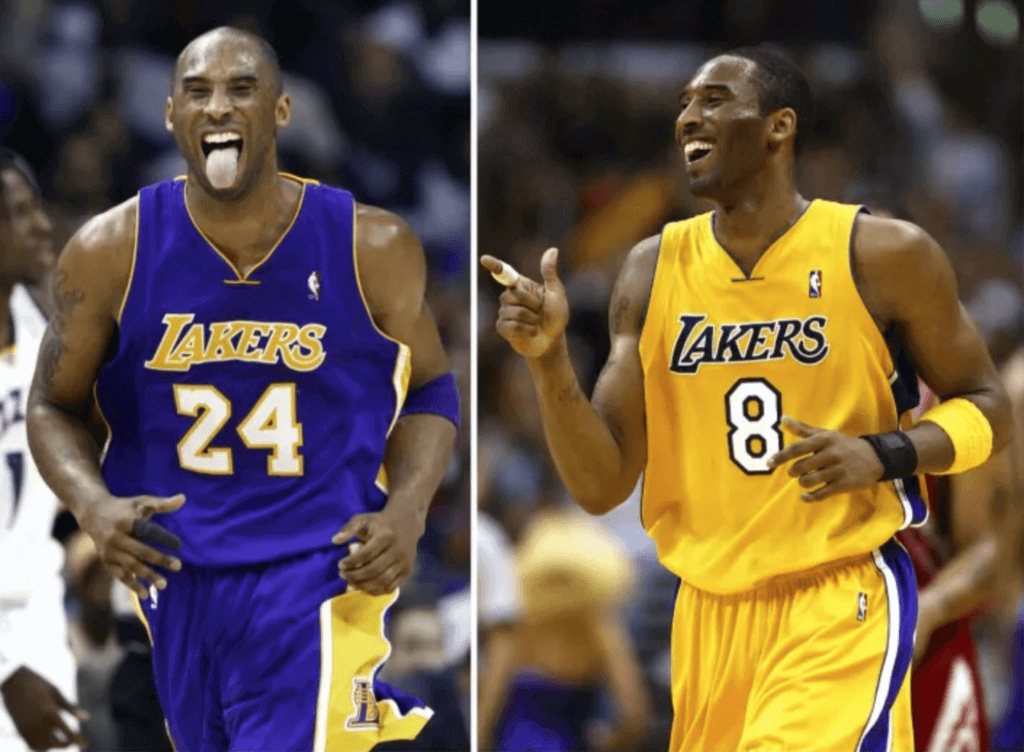 Kobe Bryant died yesterday. I'll leave it to others to address what he meant on a cultural or historical level, or even on a basketball level. Here at Uni Watch, we're more concerned with how he fit into the uni-verse and how the uni-verse responded yesterday to his passing, so that's what we'll address today.
First and foremost, Bryant is the only player from any Big Four pro league to have two numbers retired in his honor by the same team. He wore No. 8 from the 1996-97 through 2005-06 seasons, and then wore No. 24 from 2006-07 through the end of his career in 2015-16 (he said the number change symbolized a "clean slate" after teammate Shaquille O'Neal was traded from the Lakers). Following a lot of speculation and discussion regarding which number the Lakers would retire for him, the Lakers settled the issue by retiring both of them — a good and unprecedented solution. Since it's extremely uncommon for a top-tier player to change uni numbers while remaining with the same team, Bryant is likely to maintain this distinction regarding his retired numbers for the foreseeable future.
I also remember Bryant as the first notable player — or maybe just the first player, period..? — to wear tights on the court, which he began doing in 2005. It was so notable that I wrote an ESPN column about it at the time. Nowadays, of course, tights are common in the NBA — maybe even more the rule than the exception — but when Kobe began doing it, he stuck out as the only tights-clad player on the court (click to enlarge):
I'm not 100% positive that Kobe was the first NBA player to wear tights (anyone..?), but I am certain that he was the first star player to do so and that the trend caught on because of him. So in addition to all of his other career accomplishments, we can credit him (or blame him, if you don't like the like the look) with bringing long underwear to pro hoops.
Bryant was also among the first pro athletes (again, maybe the first..?) to have a uniform created in his honor. That was in 2017, when the Lakers unveiled the first of their "Lakers Lore" alternate uniforms, each of which honors a key player from the team's history. The debut edition was the Kobe-themed "Black Mamba" uni, which Bryant himself reportedly had a hand in designing: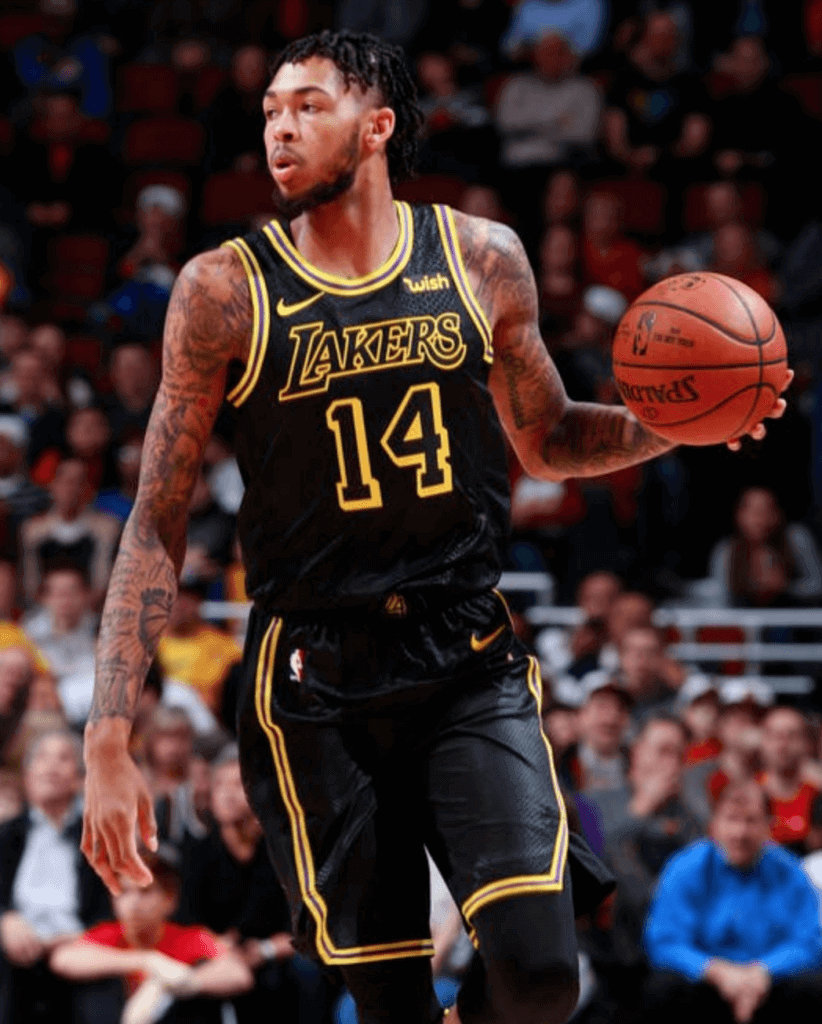 Finally, no discussion of Bryant's uniform legacy would be complete without this: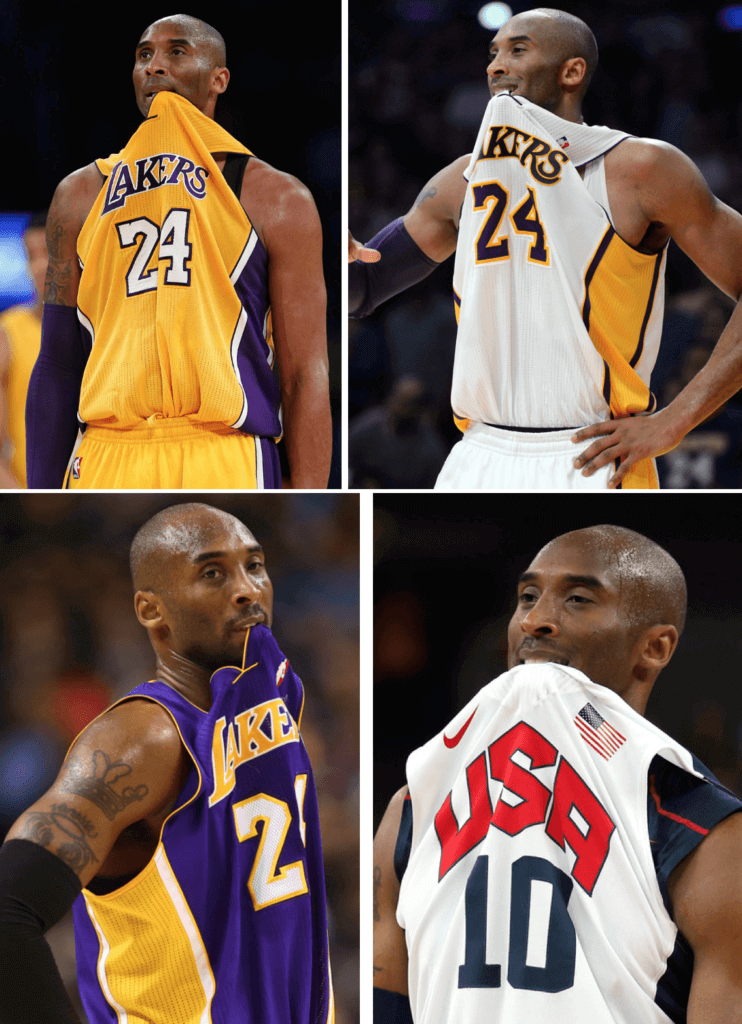 One of my favorite uniform eccentricities.
There were lots of uni-related responses yesterday to Bryant's death. Here are the ones I'm aware of, although I imagine there were more:
• Hawks point guard Trae Young, who normally wears No. 11, wore No. 8 last night as a tribute to Bryant:
This is so special. Kudos to TY. 👏 #RIPMamba pic.twitter.com/rdobfZEDL4

— Matt Reynolds (@MattReynolds___) January 27, 2020
• By bizarre coincidence, Bryant's two uniform numbers — 8 and 24 — match up with the number of seconds for a backcourt violation and a shot clock violation, respectively. So for many of last night's games, the first team to take possession after the opening tip intentionally took an eight-second backcourt violation, and then the other team reciprocated with an intentional 24-second violation, all of which is pretty awesome:
NBA teams across the league are taking 24-second and 8-second violations tonight.

Devin Booker was in tears. pic.twitter.com/NzZBn1G1R8

— Yahoo Sports (@YahooSports) January 27, 2020
• As you'd expect, lots of NBA players inscribed tributes to Bryant on their sneakers. For example, here's what Pelicans point guard Lonzo Ball had on his (for all of the photos that follow, you can click to enlarge):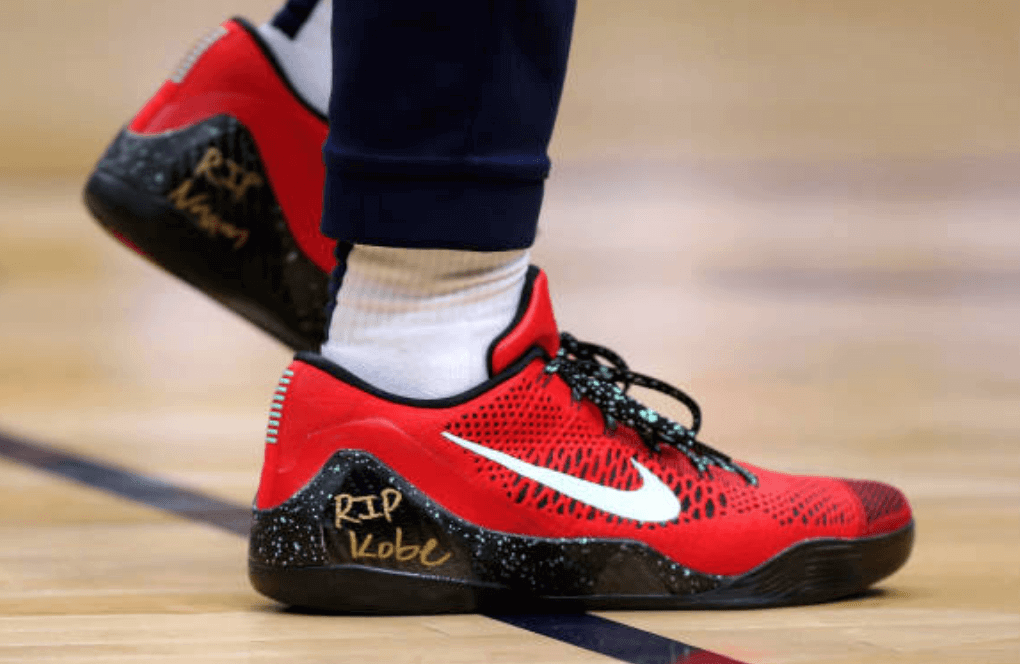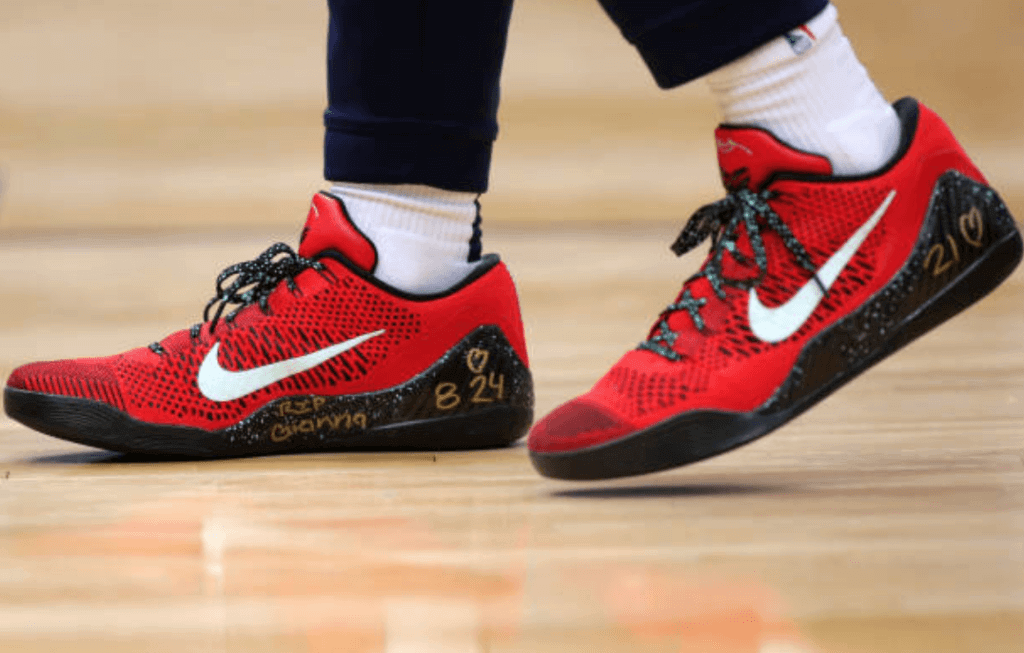 I'm sure there were dozens of other players doing this, although I only saw photos of a few of them. Here are the ones that crossed my radar last night, beginning with Pelicans guard Frank Jackson: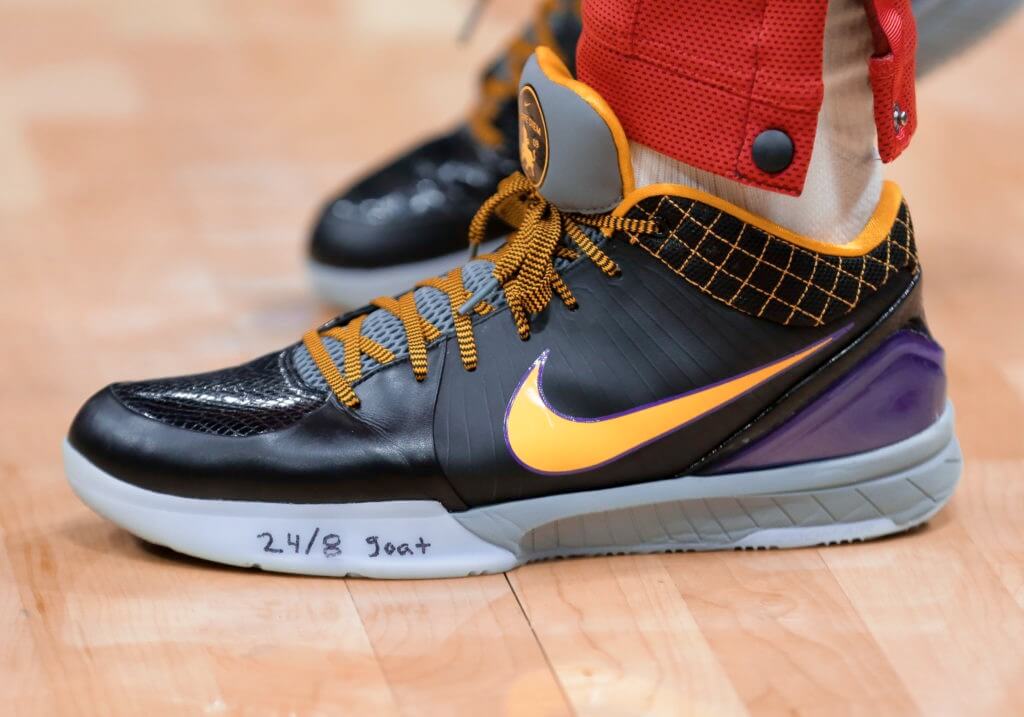 Pelicans center Jaxson Hayes: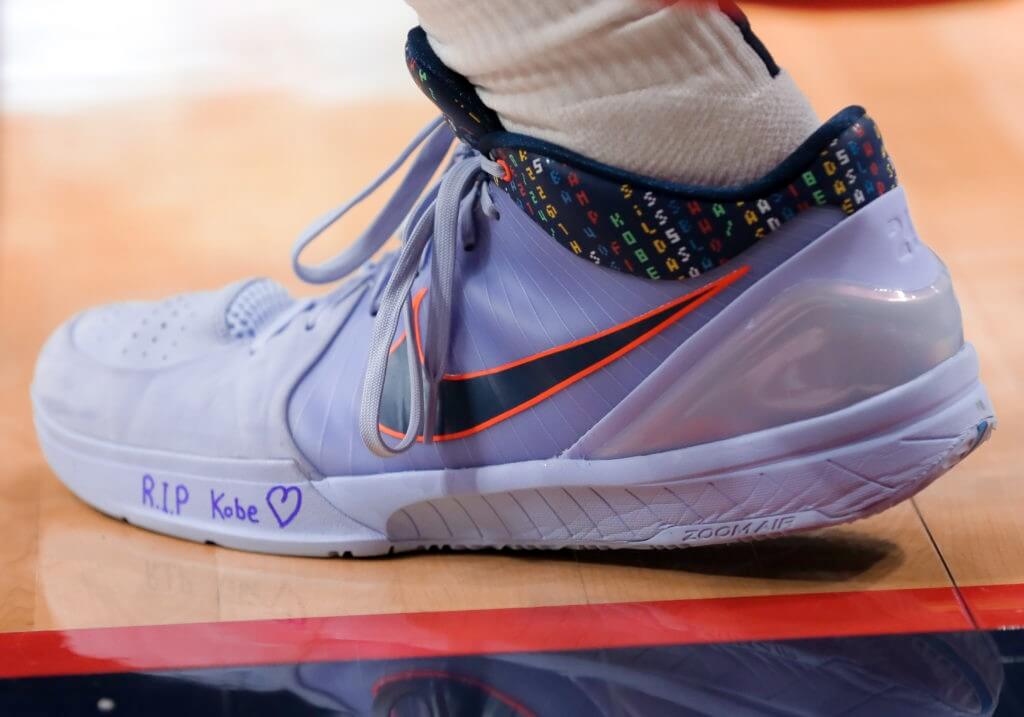 Pelicans guard Josh Hart: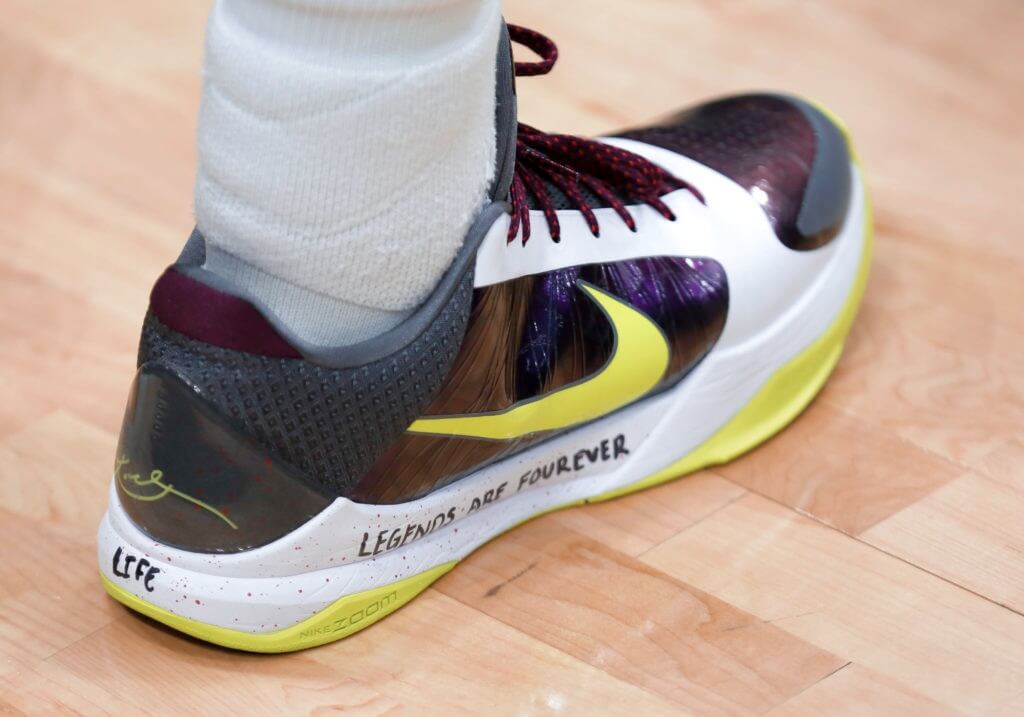 Clippers forward Montrezl Harrell: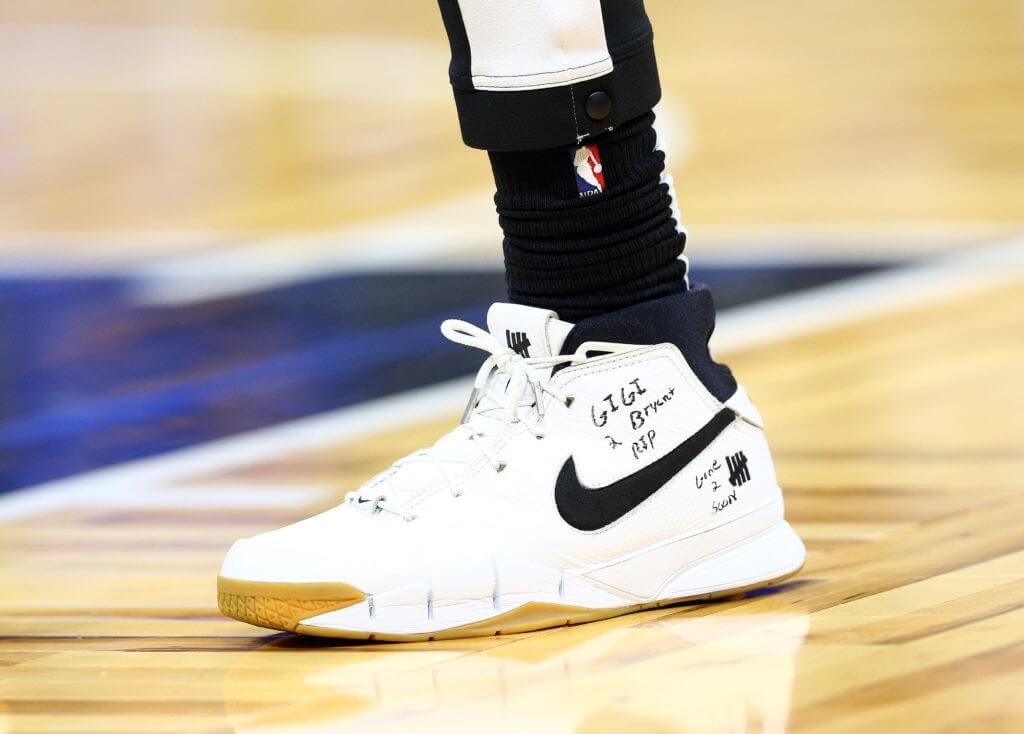 Clippers forward Montrezl Harrell: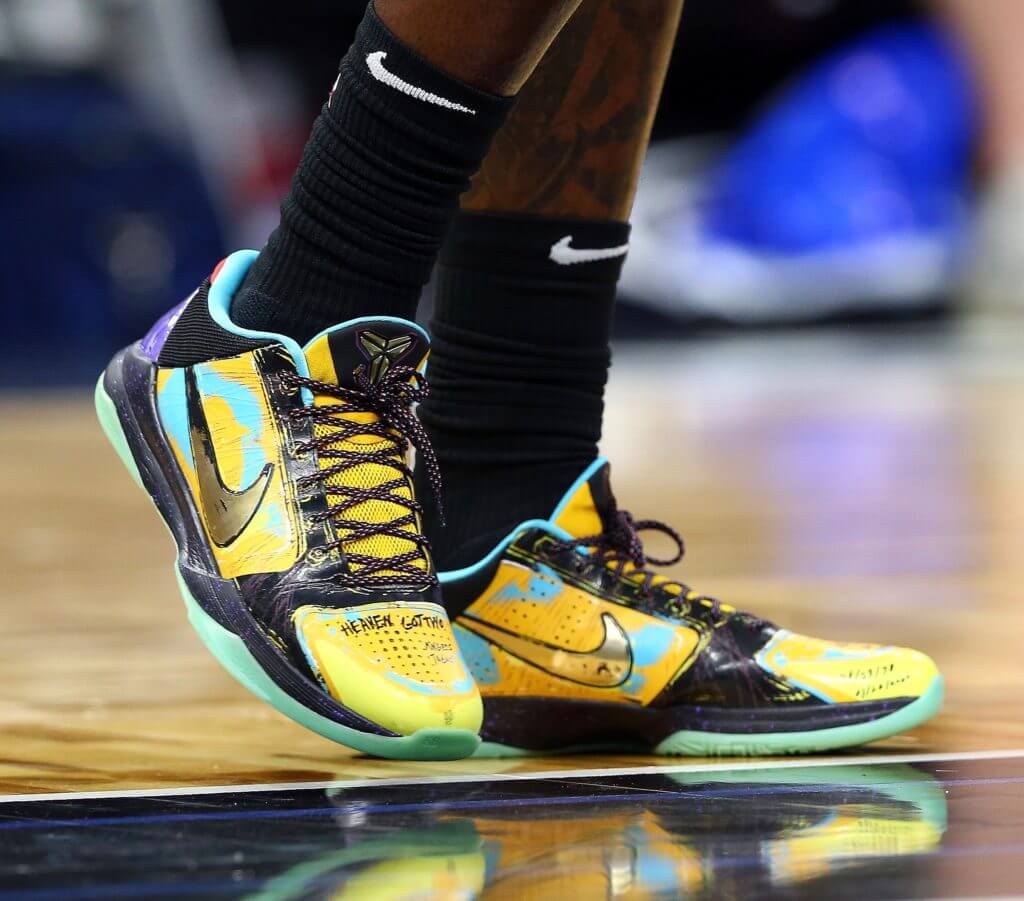 Several unidentified players here:
Sneaker tributes to Kobe Bryant across the NBA tonight 💜 pic.twitter.com/T2661mU4Lh

— Complex Sneakers (@ComplexSneakers) January 27, 2020
The sneaker tributes went beyond the NBA. In college hoops, Oregon women's point guard Sabrina Ionescu — a friend of the Bryant family — joined the mourning:
These are the sneakers Sabrina Ionescu of @OregonWBB is wearing to honor Kobe and his daughter. 💔 pic.twitter.com/mKEW2llPyu

— Steve Tannen (@SportsTalk953) January 26, 2020
• The Mavericks announced that they will retire No. 24.
• Here in New York, Madison Square Garden was lit up in Lakers colors and Bryant was featured on the exterior video board:
New York City's Madison Square Garden has been lit up in Lakers colors as a tribute to Kobe Bryant. The 41-year-old NBA star was killed along with several others in a helicopter crash Sunday in California. https://t.co/ZGlOaPVgAK pic.twitter.com/r3nJ90Sc0D

— CNN (@CNN) January 26, 2020
• The escalators at TD Garden were likewise lit up in Lakers colors:
To add to the purple light tributes…Escalator leading up into the Garden here in Boston was lit with Laker purple this morning for Kobe… pic.twitter.com/DDUgNf6YnX

— JK (@jon_k98) January 27, 2020
• Lakers colors were also lighting up the sky at LAX airport, and at Los Angeles City Hall:
Tonight, LAX's pylons will be lit in purple and gold in memory of Kobe Bryant, his daughter and all those who were with them in today's unthinkable accident. Kobe was in many ways a symbol of Los Angeles and we join his family, fans and city in mourning all who were lost today. pic.twitter.com/HGX5AaSDBG

— LAX Airport (@flyLAXairport) January 27, 2020
Lights for a legend.

Los Angeles City Hall lit in purple and gold starting at 8:24 p.m. this evening in honor of Kobe Bryant's storied championship career and in memory of Bryant, his daughter, Gianna, and all who perished in today's tragedy. pic.twitter.com/1una7Aj98Z

— Mayor Eric Garcetti (@MayorOfLA) January 27, 2020
• Sports Illustrated basketball writer Chris Mannix floated a uni-numerical suggestion for the upcoming NBA All-Star Game:
An idea the NBA should consider: Team LeBron should wear No. 8. Team Giannis, No. 24. All of them.

— Chris Mannix (@SIChrisMannix) January 26, 2020
• At X Games Aspen, biker Jackson Strong wore a Bryant jersey:
@UniWatch @PhilHecken There have been great tributes to Kobe everywhere, including the #XGamesAspen tonight by Jackson Strong pic.twitter.com/FQ4N9CQ74I

— Jakob Fox (@JakobLFox) January 27, 2020
I'm sure there were lots of other uni-related tributes out there that I missed. Feel free to post them in today's comments. (But let's please try to stick to uni-related tributes. The tribute at the Grammys for example, was nice but had nothing to do with Bryant's uni numbers or Lakers team colors or anything else uni-related. No need to post anything like that. Thanks.)
A few people mentioned to me that NBA teams were wearing black memorial bands last night. As I had to remind them, those black bands were added earlier this month for former commish David Stern and had nothing to do with Bryant, although it does raise the question of whether an additional band will be added for him. At the very least, it seems obvious that the Lakers will add some sort of uniform memorial. R.I.P.
(My thanks to Timmy Donahue and Kary Klismet for the LAX and City Hall items, respectively.)
• • • • •
• • • • •
Embed from Getty Images
Obligatory Pro Bowl mention: The Pro Bowl was yesterday. I saw a little bit of it in a bar and couldn't believe how lame it was. Like, they don't even bother to tackle now? They just hug the ball carrier and he stops running? When did that start?
Anyway: Crazy quilt of helmets, something-something, reflective sleeve patches, something, stickers for the players' high schools on the back of the helmets, something-something.
All 8 #Vikings participating in the #ProBowl today will be wearing helmet stickers highlighting their high schools. pic.twitter.com/yuaCb302Ox

— Minnesota Vikings (@Vikings) January 26, 2020
I'd say that about covers it.
• • • • •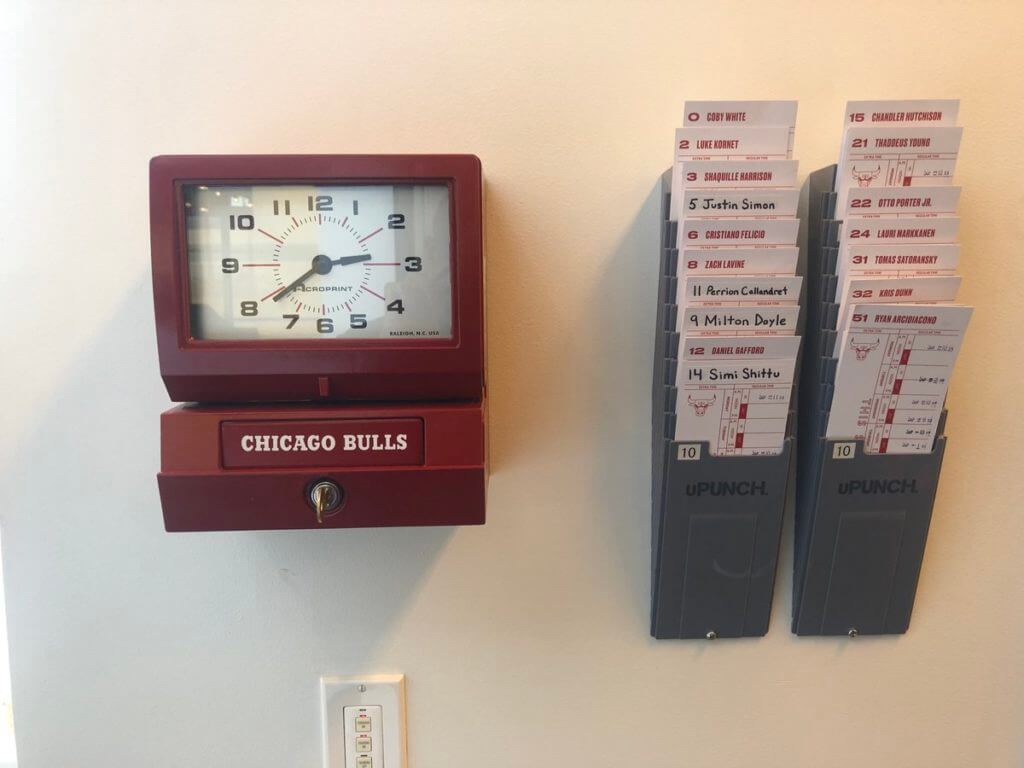 • • • • •
Working Class Wannabes™, continued: Here's something from three months ago that I missed: Chicago Bulls coach Jim Boylen installed a freaking time clock at the team's practice facility so his players can clock in and clock out. I'm sure that would've been a big hit with Jordan and Pippen.
In case you missed it on Friday, I have a new article in The New Republic that addresses this phenomenon of the sports world's fetishizing of the working class, and how it amounts to stolen valor. I'm pretty happy with this one, and the response to it has been very positive. I hope you'll check it out here.
Meanwhile, here's something I've been wondering: Are there any examples of women's sports teams engaging in blue-collar bullshit? The phenomenon seems like a proxy for macho posturing, so maybe it wouldn't have the same appeal to women, but I wonder. Anyone..?
(My thanks to @stodgeoff for letting me know about the time clock.)
• • • • •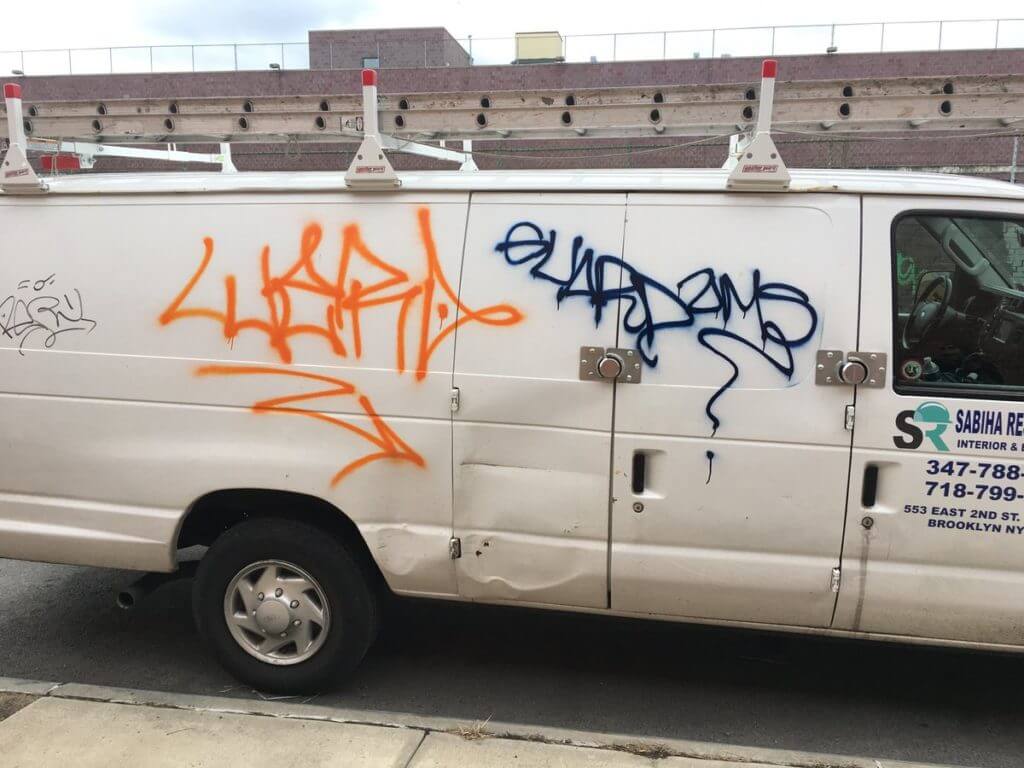 • • • • •
Click to enlarge
Withdrawal symptom: You know how you can tell that you're really missing baseball? When you're walking across Brooklyn on a Sunday afternoon in January, pass a van tagged with orange and blue graffiti, and think to yourself, "Hmmm — Mets colors."
As for where I was walking, I'll have more to say about that soon. You're really going to like it — trust me.
• • • • •
• • • • •
Click to enlarge
Hail to the chief: The Tugboat Captain and I were talking about how the upcoming presidential campaign and election are going to be a total shitshow. It all seemed so grim. Just then, Uni Watch girl mascot Caitlin trotted in. "Why can't she be president?" said the Captain.
Why not indeed. So we've decided that she now is president — President Caitlin. Her main platform involves affection, cuteness, purring, naps (aka "Executive Time"), and kibble in every bowl (or at least hers). She does have the unfortunate habit of issuing official proclamations out loud at 6am, but you get to do that when you're the President.
Later on, I saw the Captain snuggling with President Caitlin. "Cabinet meeting," she explained.
Caitlin's always run everything around here anyway. Now we've just made it official. Four meow years!
• • • • •
• • • • •
In case you missed it:
I don't usually repeat this type of item, but the situation with with the Uni Watch hat appearing on TNT the other night is so funny and so bizarre that I have to share it again. But this time I'll do it via a Facebook embed — easy to scroll past if you already know the story (or just don't care):
• • • • •
• • • • •
The Ticker
By Jamie Rathjen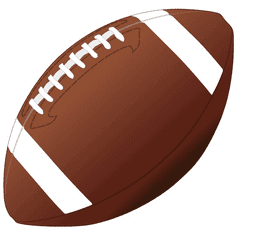 Football News: Collector's Corner compiler Brinke Guthrie sent us an eBay listing for this Chiefs brochure for travel to Super Bowl I, which would have gone in his column for this week but for the listing expiring today. Notable: Although the term "Super Bowl" did not become official until SB III, it was being used in this brochure (with a hyphen, oddly — "Super-Bowl"), which confirms earlier reporting that the term had gained a foothold even before the first Supe was played. … Also from Brinke: The pilot of the 49ers' team plane flew a team flag out the window before the Niners headed to Miami yesterday for the big game.

Hockey News: At the NHL All-Star Game, the two finalist divisions, Atlantic and Pacific, switched jerseys for the final even though they wouldn't have clashed. The Atlantic wore grey in the semifinal and white in the final, while the Pacific did the opposite (from Eric Griffin). … A three-on-three women's event on Friday between U.S. and Canada representative teams featured the same All-Star jerseys, but with the NHL logo, and patches and helmet decals with the event's logo. … For all All-Star events this weekend, NBC also superimposed their own ads over the ads already there, which you can see in this video. … Some NHL goalies this season have been wearing chest protectors from Kenesky, a company whose pads were once ubiquitous (from Jerry Wolper). … The following junior hockey items are all from Wade Heidt: the WHL's Prince Albert Raiders were another team that didn't wear the league's Hockey Night in Canada blazer lookalikes, instead wearing yellow jerseys with a crest of the show's vintage logo. … The WHL's Portland Winterhawks had rainbow-taped sticks on Friday for Pride Night and also have a new rose-themed secondary logo. Additionally, Portland and the Seattle Thunderbirds did their annual color-vs.-color game. … The OHL's Barrie Colts retired No. 18 for current Jets C Bryan Little, and wore warm-up jerseys listing his accomplishments. … The OHL's London Knights wore throwbacks from their ill-fated purple-and-teal era. Down a level in junior hockey, the British Columbia Hockey League's Victoria Grizzlies wore camouflage.

Basketball News: Georgia and South Carolina's women's teams played a black-vs.-garnet matchup yesterday (from Chris Wellbaum). … Oregon's women's team wore '90s throwbacks yesterday (from Kary Klismet). … Oregon's men's team wore yellow at home against UCLA (from Josh Hinton). … Also from Kary: Louisville's men's team wore 1975 throwbacks on Saturday. … Iowa's women's team retired No. 10 for PF Megan Gustafson, and Boston College's men's team retired No. 2 for PG Troy Bell (both from Timmy Donahue). … Texas Tech's men's team wore black at home against Kentucky Saturday. … Both North Dakota State and Denver's men's and women's teams went yellow-vs.-red this weekend (from Ryan Workman). … Northern Iowa's men's team began the annual February pinkifying of college basketball a week early: The coaches, bench players, and cheerleaders, among others, wore pink shirts.

Soccer News: French team Nantes wore their Argentina-style shirts with white shorts and socks — though the blue stripes were very faint — revealed last week in memory of former striker Emiliano Sala. Opponents Bordeaux wore an Argentinian flag under the crest. You can see more of Nantes's tributes to Sala here. … Italian team Inter Milan wore Chinese NOBs for Lunar New Year (from @donie_drago). … French team Olympique Lyonnais's nets have a blue and red stripe, which isn't worn by Lyon now but was associated with much of their dominance in the 2000s (from @MikeDinCT). … In England, a short video (which is a bit graphic) for International Holocaust Remembrance Day, which is today, was shown before matches in the FA Cup fourth round. Some youth teams also wore warm-up shirts and/or patches. … With the Women's FA Cup fourth round also this weekend, Lewes' men's and women's teams wore warm-up shirts protesting the amount of prize money for fourth-round wins: £180,000 for the men, but £2,000 for the women. Lewes' men's team would have earned £6,750 in prize money for their two-round journey ending in the second qualifying round in September; the women's team would have to make the semifinals to exceed that. … New kits for Argentina's Newell's Old Boys and Ecuador's LDU. … Shocker: The UK's sports minister says soccer in the country is too dependent on gambling ads.

Grab Bag: Both the U.S. and Netherlands women's field hockey teams and the game's officials wore black armbands or wristbands in memory of Larry Amar, a USWNT assistant coach until recently and a longtime USMNT player, which included captaincy at the 1996 Olympics. … New Zealand dual-code rugby player Sonny Bill Williams recently signed with the rugby league Super League's Toronto Wolfpack and will cover the league's betting ad because he is Muslim and is opposed to alcohol, banking, or gambling ads. He's now not worn ads in both kinds of rugby, having previously done so with a small banking ad on the collar when he played in union for Super Rugby's Auckland team, the Blues. … Ohio State's wrestling team gives its top members black shirts to wear during practice as a mark of achievement (from Kary Klismet). … Here are the bibs worn by Polish ski jumper Kamil Stoch in all 35 of his FIS World Cup wins (from Jeremy Brahm). … The organizing body of the professional snooker tour renamed itself the World Snooker Tour and got a new logo (from Graham Clayton). … The New York Times wrote about the decline of Under Armour in the sportswear industry (from Tom Turner).