The Blue Jays have a uniform unveiling scheduled for Saturday, but they made a different sort of uni-related news yesterday, as they introduced the newest member of their pitching staff: right-hander Shun Yamaguchi, who'll be making his MLB debut this season after a 14-year career in Japan. He'll wear No. 1, which is interesting on two levels: First, it adds another name to the ranks of MLB single-digitized pitchers. And second, last month the Jays signed free agent southpaw Hyun-jin Ryu, who wears No. 99, so Toronto's pitching staff will run the uni-numerical spectrum from 1 to 99.
Has any other team ever had pitchers wearing Nos. 1 and 99? In an attempt to answer that question, I went to Baseball-Reference.com, where I learned that only 18 MLB players, other than Ryu, have worn No. 99. Of those, only eight were pitchers. From there it was fairly simple to cross-reference the applicable rosters and determine that the Jays are indeed the first team to have Nos. 1 and 99 on the same pitching staff. (I feel like there's also a comprehensive list of single-digitized pitchers out there, which would have made this task much simpler, but I couldn't find it. Anyone..?)
The Jays are no strangers to single-digit pitchers, having previously employed Marcus Stroman (No. 6) and Josh Towers (No. 7). They're also the only MLB club ever to have Nos. 0 and 00 on the team at the same time, a feat they pulled off in 1985 with Al Oliver and Cliff Johnson.
Too bad Toronto's 2020 schedule doesn't include any games against the Mets, because the Mets' roster now includes Stroman, who wore No. 7 last year for New York but is changing to No. 0 this season. A matchup of Stroman vs. Yamaguchi — 0 vs. 1 — would presumably be the lowest-numbered pairing of starting pitchers in MLB history.
It's also worth noting that the Yankees currently have a No. 0 (reliever Adom Ottavino) and a No. 99 (outfielder Aaron Judge). But somehow there's something more satisfying about having the numerical bookends both on the pitching staff. But that's just me — your mileage may vary and all that.
Update: Just as I was getting ready to publish this entry this morning, I discovered that another writer — a Jays blogger for SB Nation who simply calls himself "Minor Leaguer" — had investigated this same question on Tuesday. He also determined that no previous team has had pitchers wearing Nos. 1 and 99, but he went a step further and listed the 10 previous instances of teams with a No. 1 and a No. 99, irrespective of position. That's some great work right there — recommended!
(My thanks to Toronto's own Chris Creamer for letting me know about Yamaguchi's number.)
• • • • •
[adrotate group="2″]
• • • • •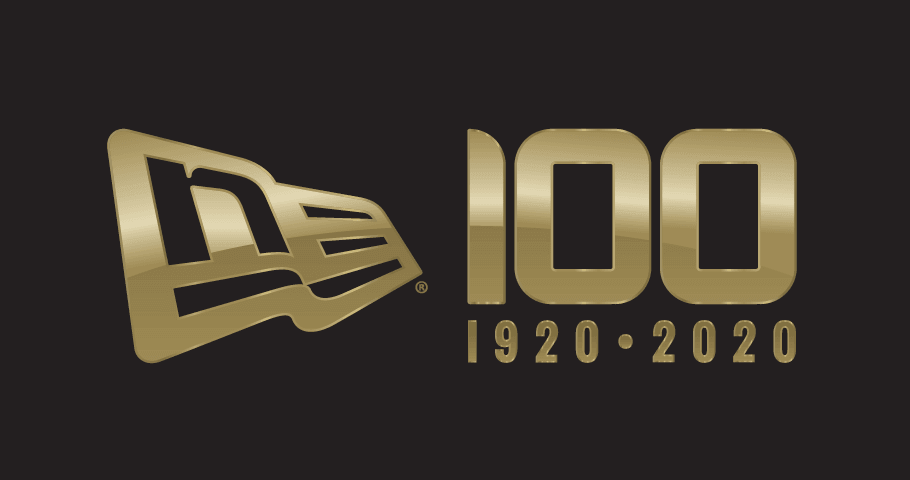 Hats off to New Era: Hat manufacturer New Era is celebrating its 100th anniversary this year, and they're marking the occasion by launching a new collection of headwear from throughout the company's history, including newsboy caps, old-fashioned golf caps, and some familiar baseball caps. It's an interesting history lesson — you can check out the catalog here.
There's more info here, and the company has also released a New Era timeline and fact sheet.
Meanwhile, here's a good article about how a 1980 ad in The Sporting News helped turn New Era into a retail powerhouse.
• • • • •
[adrotate group="2″]
• • • • •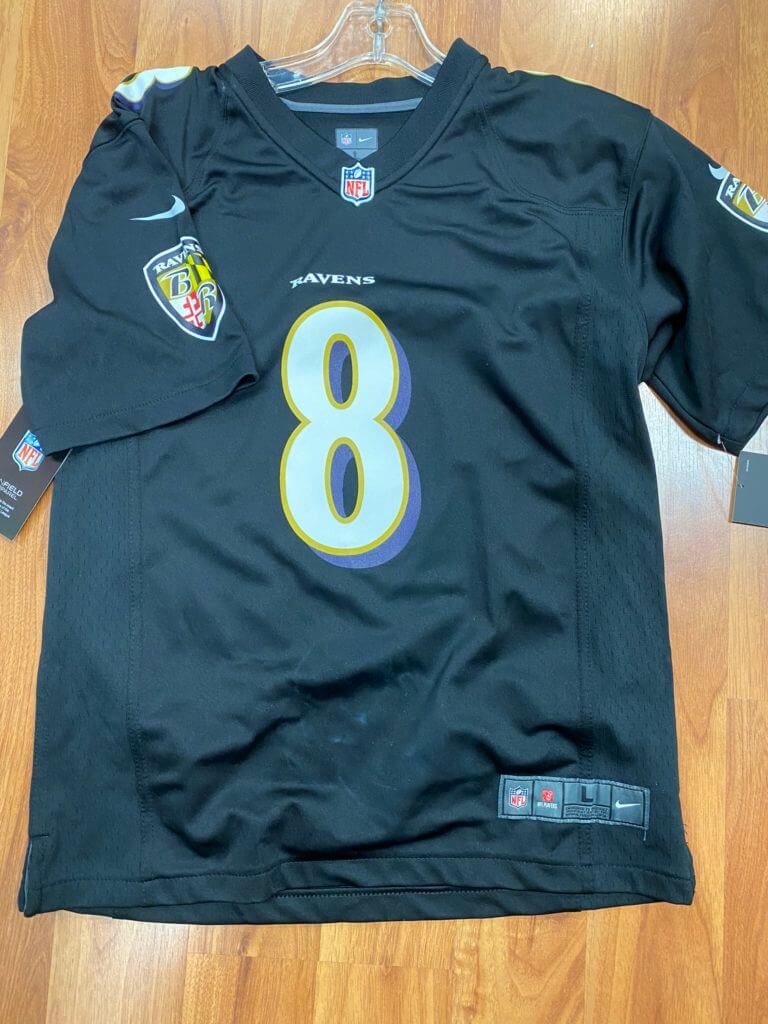 Click to enlarge
Notice anything different about this Ravens jersey?: I don't usually write about retail jerseys, but this is an interesting case. Reader John Sanders runs a sports shop in Boise, and he says Nike ran out of black Ravens jersey blanks, so they used Raiders blanks for a batch of Lamar Jackson jerseys. That's why the maker's mark is silver, and why there's no purple trim on the sleeve cuffs.
"I've never seen something like this before," says Sanders. "We have not had any complaints, because it's not something you'd probably notice unless you're super tuned-in. I think part of that is how popular Lamar Jackson items have been for us, selling a lot more bandwagon-type fans than actual Ravens fans."
• • • • •
• • • • •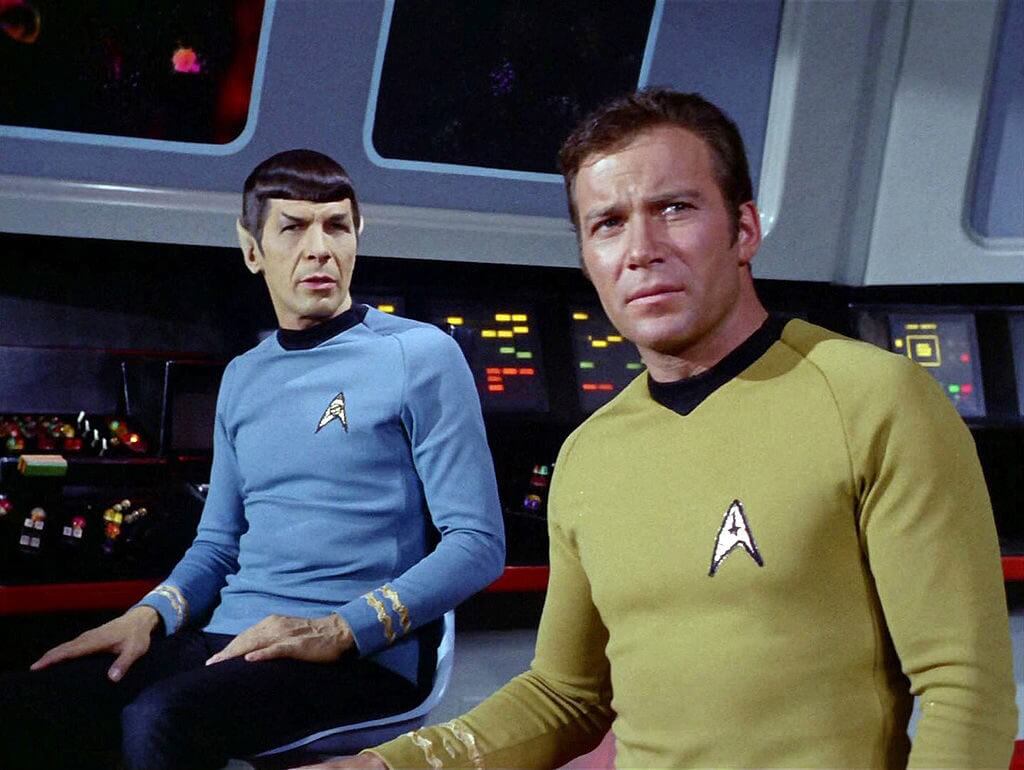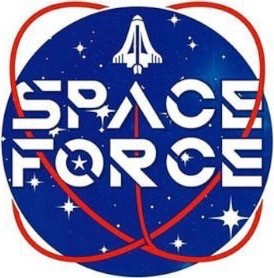 "I'm a doctor, not a logo designer": It's not often that we get to see an entire new branch of the military take shape before our eyes, but that's the case with the U.S. Space Force, whose creation was recently authorized by Congress. Now that the wheels are turning, the Pentagon has been talking to President Trump about logo and uniform options. (My preferred design for the latter is shown above.)
Meanwhile: If the Army has soldiers, the Navy has sailors, and so on, what should Space Force members be called? Personally, I'd vote for space cadets, but that's not among the options listed in this Military Times article/poll. Key quote, from the Air Force general who's overseeing the creation of the new branch: "We haven't really done this since 1947."
(My thanks to Timmy Donahue for that last link.)
• • • • •
• • • • •
Click to enlarge (it's worth it!)
Too good for the Ticker: I own my share of green jerseys and green flannel shirts, but until now I'd never seen a jersey that looked like a green flannel shirt! That's what the Vermont hockey team will be wearing tomorrow for Vermont Night. Very tasty!
(My thanks to Gidal Kaiser and @shief_joe for this one.)
• • • • •
• • • • •
Also too good for the Ticker: This is pretty awesome! A 1970s promo spot showed middle-aged Milwaukee TV sports reporter Earl Gillespie wearing the uniforms of various Wisconsin teams, including the Packers, Bucks, Badgers, Marquette (untucked!), Brewers, Admirals, and more. They even show him curling!
Gillespie (who died in 2003) appears to have been left-handed. He carries the football in his left hand, dribbles the basketball with his left hand, bowls left-handed, and so on. But they show him as a right-handed hockey goalie, presumably because a left-handed blocker and mitt weren't available.
More puzzlingly, the video also shows Gillespie wearing a right-handed baseball glove on the wrong hand! You'd think a lefty baseball glove would've been easy enough to find, no?
They also show him batting right-handed. Obviously, there are no equipment issues there, so maybe Gillespie was the rare guy who threw left but batted right — just like Rickey Henderson, Cleon Jones, and me!
(Big thanks to Mike Chamernik for sharing this video with me.)
• • • • •
• • • • •
The Ticker
By Paul

Baseball News: New primary logo for the Winston-Salem Dash, the White Sox's high-A affiliate. It's hard not to see those "WS" initials without thinking "World Series" (from James Wagner and Will Lawson). … This seems like something we would've had before, but I don't recall seeing it previously: Gate C34 at Boston's Logan Airport is marked with Red Sox-style numerals in honor of David Ortiz. There's also an Ortiz jersey and plaque on display (from John Gagosian). … Astros OF Kyle Tucker, who has previously worn No. 3, has been wearing No. 30 during fan caravan activities. Sure enough, the roster now lists him as No. 30, so that's officially his new number. … The Phillie Phanatic appeared on last night's episode of The Goldbergs, which is set in the 1980s, but his cap was stuck with era-inappropriate logo creep (good spot by Chris Flinn). … Whoa, check out these bats and balls painted with beautiful Australian aboriginal-style patterns (big thanks to @Chrisp2087). … Check out this bizarro play: The Pirates executed what would have been a perfect hit-and-run, but the runner's helmet fell off between first and second base, and the ground ball, which would have gone into right field, hit the helmet and deflected to the second baseman, who — well, just watch it for yourself (from Jerry Wolper).

NFL News: Reader @dddaveee notes that if the Falcons' upcoming new uniform set includes a new primary logo, that could have implications for their stadium's seating design. … Pro Football Hall of Fame prexy David Baker wore blazers with conference-appropriate colors when informing former coaches Bill Cowher and Jimmy Johnson of their forthcoming inductions.

College Football News: The USA and Panama went blue vs. BFBS in the International Bowl. … Here's a time-lapse video showing the making of LSU's championship logo (from Ernie Ballard).

Hockey News: Here's a long and informative article about the equipment-maintenance preferences of various Islanders players. Recommended (from ,Jim Griffin). … The major junior Quebec Remparts will honor the 40th anniversary of the Nordiques joining the NHL by wearing Nordiques/Remparts mashup uniforms on Jan. 24 (from Eric Andrews).

Pro Basketball News: F Tariq Owens will wear No. 41 for the Suns and PF Kyle Alexander will wear No. 17 for the Heat. … New ball design, among other changes, for BIG3. … The Jazz offered to send personalized jerseys to newly crowned Jeopardy! all-time champ Ken Jennings, who's from Utah (from @VerbDC). … New indigenous-themed uniform for Australia's Perth Wildcats (from Will Pike).

College Hoops News: Former Villanova PGs Ryan Arcidiacono and Kyle Lowry will have their numbers retired next month. … New Des Moines skyline uniforms for Drake's men's and women's teams (from many readers). … More blue collar bullshit, as Alabama's student section wore hardhats to support the team's "blue collar basketball" slogan. I wonder if these college students, most if not all of whom will never work a job requiring a hardhat, realize that a blue collar worker is, by most definitions, someone who doesn't have a college degree. As I've said before, this is the class version of stolen valor (from Timmy Donahue). … Also from Timmy: Auburn G Allen Flanigan had to remove his undershirt during last night's game against Alabama, apparently because it didn't conform to NCAA specs.

Soccer News: Real Salt Lake is bringing back the blue shorts (from Taylor Acton). … New away shirt for Drogheda United (from Ed Zelaski). … I don't usually get worked up over logo-reveal videos, but the one for Ecuador's new badge is really something (from Gabriel Hurl). … Gross: Apparent new sleeve ad for Atlanta United (from Austin Perry). … The rest of these are all from Josh Hinton: USL Championship club Birmingham Legion FC released their "Sweet Home Alabama" third kit (from Josh Hinton). … New sleeve sponsor advertiser for Dutch side Ajax. … … Dutch side PSV Eindhoven has inked a new kit deal with Puma. … New logo for the Wasatch Winter Cup, a preseason tournament hosted by USL Championship side Real Monarchs. … In 1997, due to a kit clash, Chelsea had to wear opponent Coventry's away shirt (from Michael Haug). … "The apparent last time Liverpool wore red shirts and white shorts was in January 1974 in an FA Cup third round replay," says our own Jamie Rathjen. "That piece is also worth checking out to see their opponents', Doncaster Rovers, purple second shirts with front numbers."

Grab Bag: New logos for GoDaddy, Gucci, Paramount Television, the Arkansas town of North Little Rock and the Virginia town of Radford. … Arlington, Va., is the latest town whose police department is testing new uniform designs (from Ted Bloss). … The Toronto Wolfpack — the first North American team to play in Super League Rugby premiership — have a new black kit (from @TheBigJamesG). … Colorado College is in the process of updating its logo and is also seeking public input on a new name for its costumed mascot, which up until now has been named Prowler (from Kary Klismet). … Also from Kary: New uniforms for the United Airlines ground crew and new flight crew uniforms for Aer Lingus. … Yesterday was National Hat Day, so the U.S. Army released a video showing the progression of Army headwear (from Timmy Donahue).
• • • • •
Our latest raffle winner is Cris Routh, who's won himself a Uni Watch membership. Congrats to him, and thanks again to reader Rick Cuzzetto for sponsoring this one. — Paul