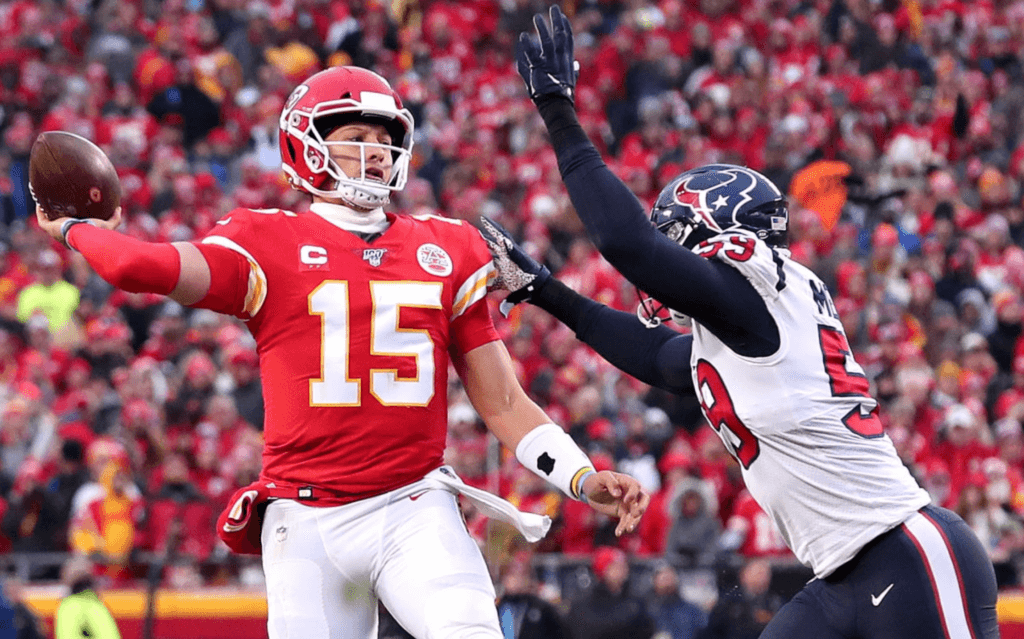 Click to enlarge
Good morning! Greetings again from Florida, where the Tugboat Captain and I are spending a few days visiting her parents.
An annual postseason ritual came into play yesterday in Kansas City, where the Chiefs wore captaincy patches — something they don't do during the regular season but add for the playoffs — for their game against the Texans. (The Packers used to have this same protocol, but this season they wore captaincy patches for regular season games.)
Interestingly, the Chiefs even added the captaincy patches to their pregame warmup gear. I don't recall seeing any team do this before, although I admittedly don't keep close tabs on pregame attire (click to enlarge):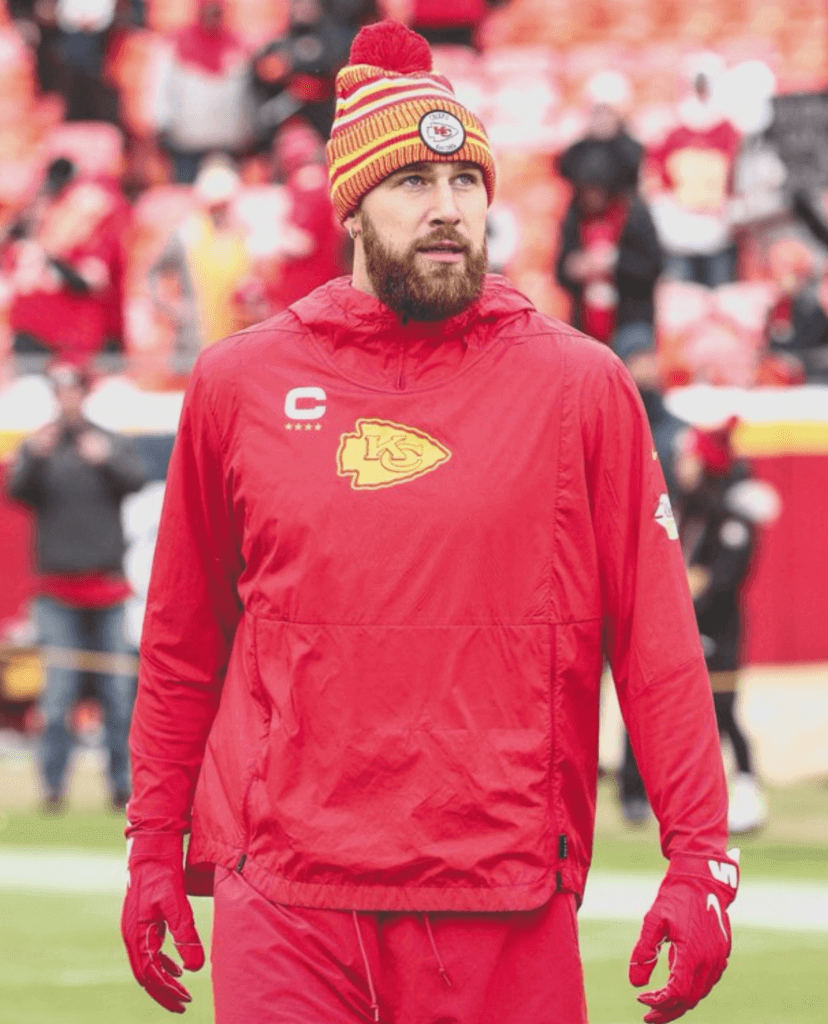 The Chiefs also went old-school by changing their midfield logo from their primary team logo to a helmet with a grey two-bar facemask — a particularly odd move considering the team has worn white masks since 1974: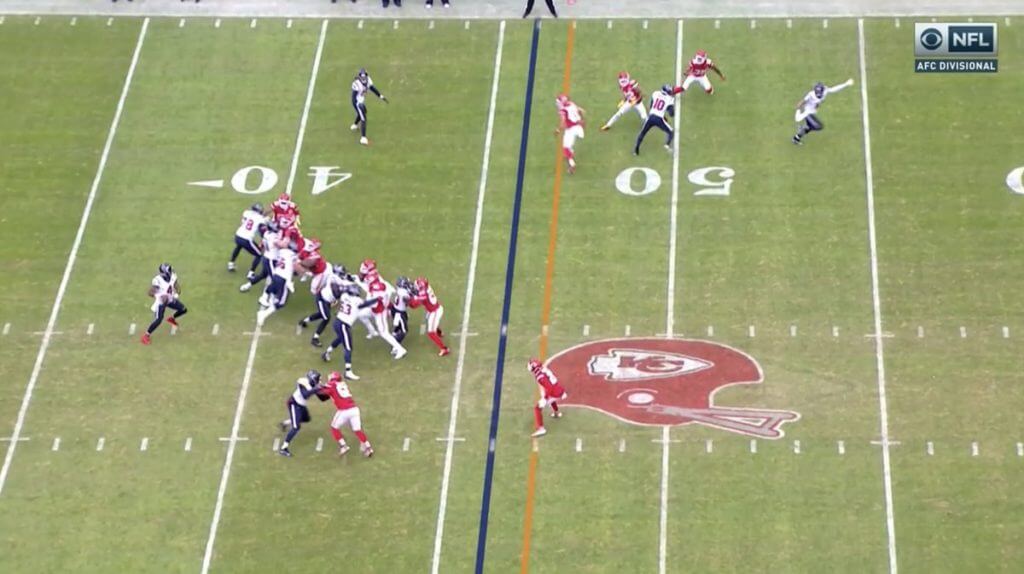 The Chiefs ended up scoring so many touchdowns that the stadium crew ran out of fireworks — and apologized for it on the scoreboard:
The #Chiefs literally ran out of fireworks because they scored too much!! pic.twitter.com/boBomUjVq5

— Alex Gold (@AlexGold) January 12, 2020
As for yesterday's NFC game — Seahawks vs. Packers — there was one uni-notable moment, when Packers linebacker Za'Darius Smith recorded a sack and then exposed the bottom of his undershirt, which featured a protest about his omission from the NFC Pro Bowl roster: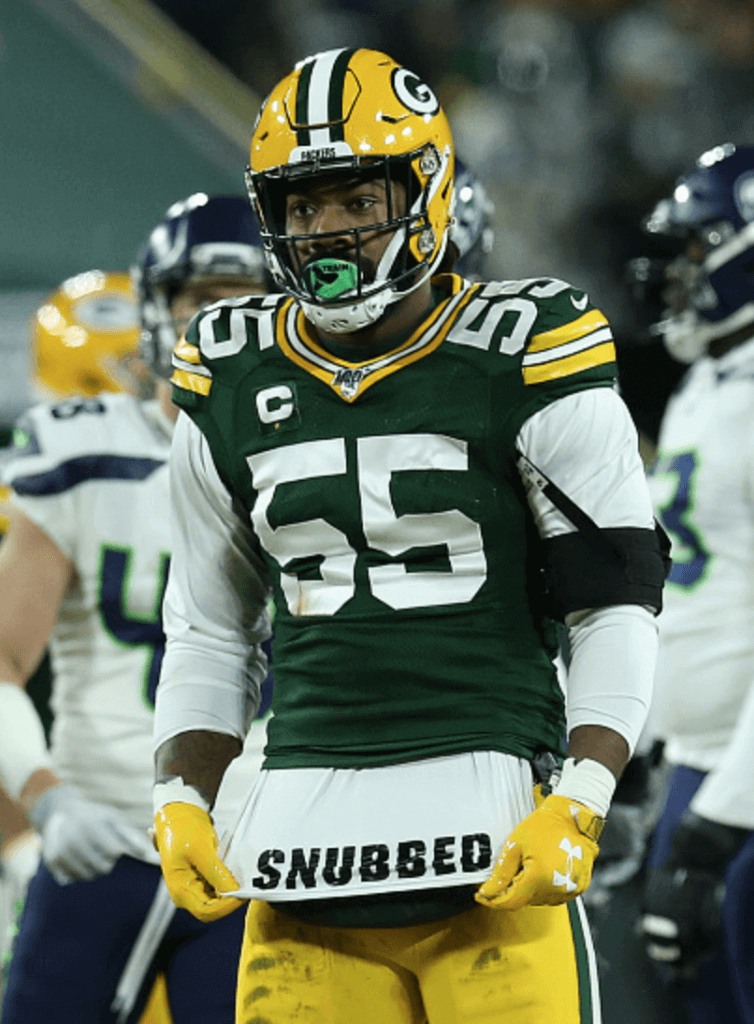 Looking ahead, next Sunday's NFC championship game should be a beauty — Niners in red vs. Packers in white on grass. The AFC game won't be quite as attractive, since the Titans' uniforms are several notches below the Chiefs', but it won't be a disaster. And unless the Titans win next Sunday, we should have a very good-looking Super Bowl.
(My thanks to Adam Good and Mike Chamernik for their contributions to this section.)
• • • • •
• • • • •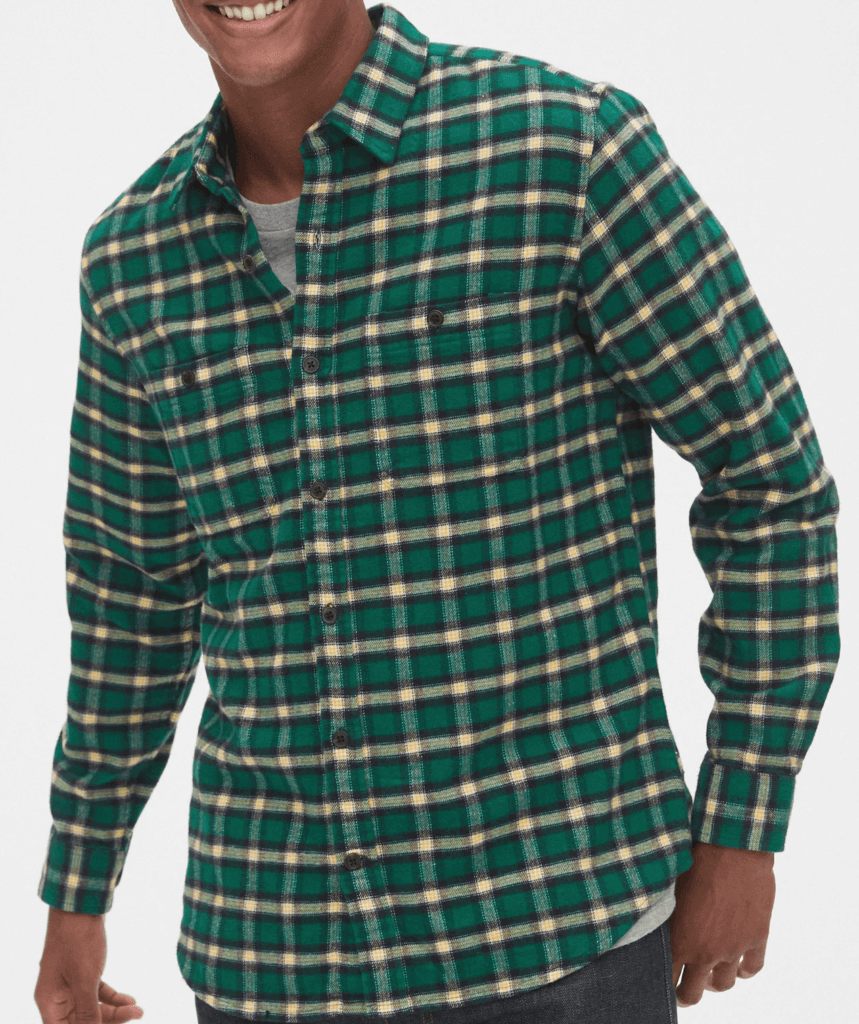 A little story: Aside from underwear and socks, my clothing purchases are almost exclusively vintage items, not new. But I was recently at a party where my friend Garth was wearing a really nice green check flannel shirt. After I complimented him on it, his wife said she got it for him at the Gap. I was surprised, and also intrigued, so the next day I looked up the shirt on the Gap's website, found that it was on sale for $31, and ordered it.
It arrived with one button missing. Hey, it happens. No problem, I thought — shirts always come with a couple of extra buttons sewn into the inner front shirttail. But this one didn't. (Maybe that stopped being the norm at some point during the many years since I last purchased a new shirt..?)
No problem, I thought — they probably keep extra buttons on hand for this type of situation, so I'll call their customer service number and have them send me a new button.
But when I called, they said they didn't have extra buttons, so instead they sent me an entire new shirt, along with a mailing label to return the first one.
This is, frankly, easier for me, because now I don't have to sew a new button onto the first shirt. But it still seems ridiculous, sort of like the toast scene in Five Easy Pieces. I mean, geez, why not just keep including the extra buttons on the shirttail? Has that really gone out of vogue?
• • • • •
• • • • •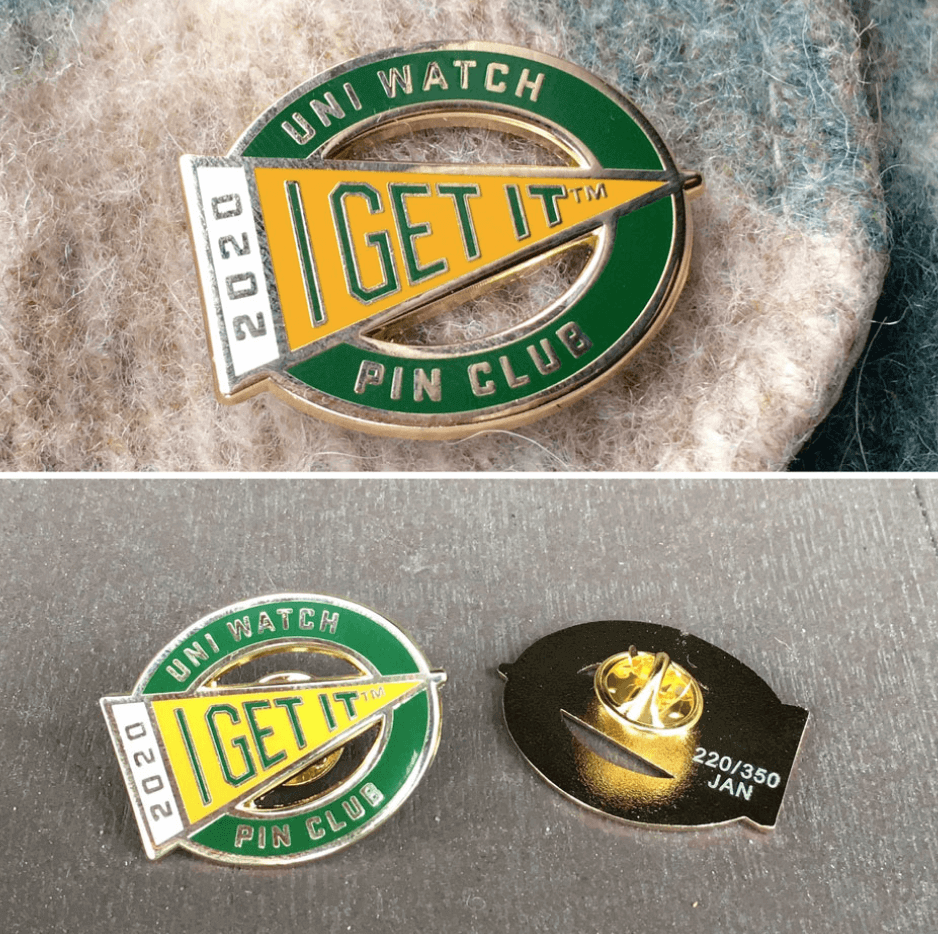 Assorted reminders: In case you missed it on Wednesday, I've partnered with the great Todd Radom to create the Uni Watch Pin Club, which will feature a new limited-edition enamel pin design for each month of 2020. The January pin (shown above) — a numbered edition of 350, well over 100 of which have been sold so far — is now available, and you can get the full scoop on all the Pin Club particulars here.
In addition:
• On Friday I announced the launch of some new Naming Wrongs shirts for the Summit in Houston. It's available in red, white, and grey: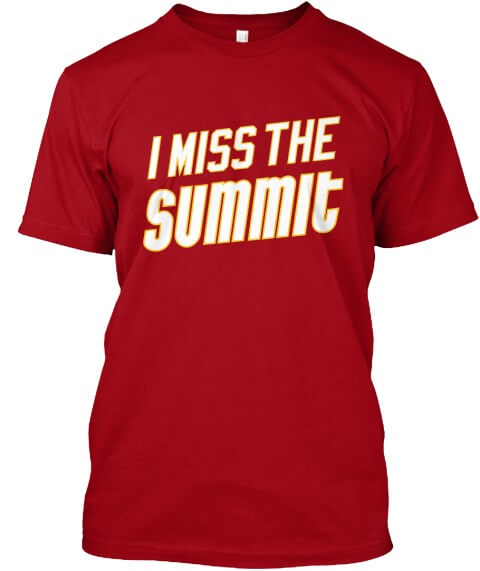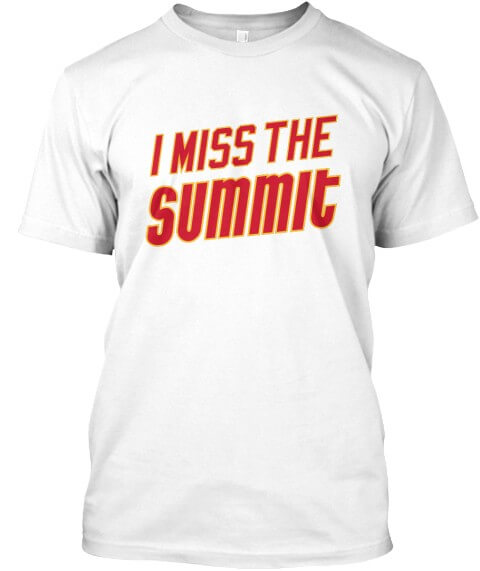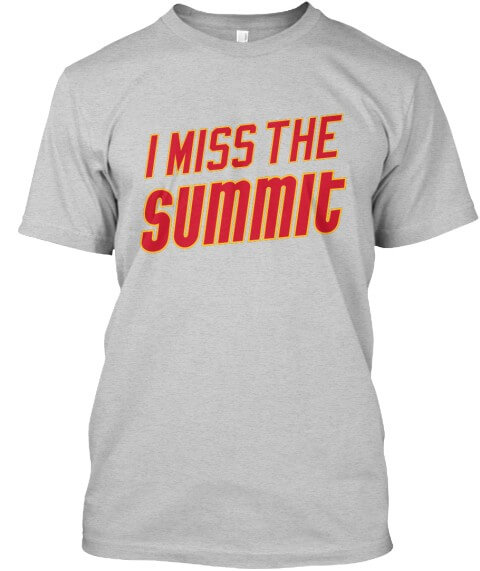 • And on Saturday I announced the launch of an additional pair of Naming Wrongs shirts, this time for the Madhouse on McDowell in Phoenix. This one's available in purple and grey: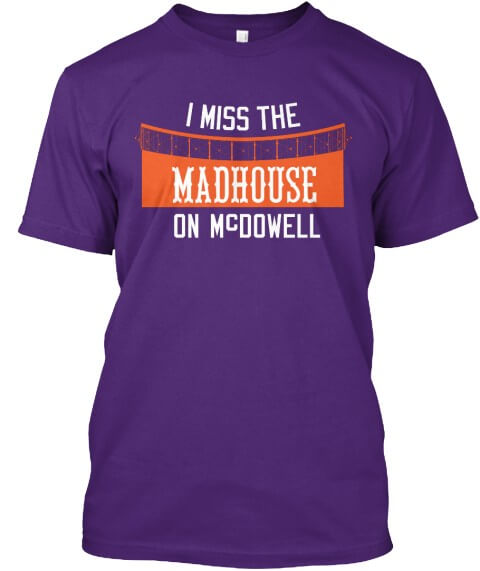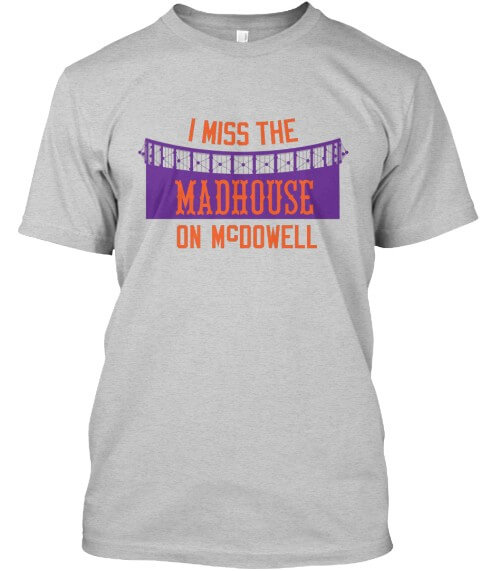 Okay, end of sales pitch!
• • • • •
• • • • •
Membership update: Some new designs have been added to the membership card gallery, including Todd Arnesen's 1997 Newcastle United treatment. (Card designer Scott M.X. Turner did a bang-up job on that one, no?)
Ordering a membership card is a good way to support Uni Watch (which, frankly, could use your support these days). And remember, a Uni Watch membership card entitles you to a 15% discount on any of the merchandise in our Teespring shop and our Naming Wrongs shop. (If you're an existing member and would like to have the discount code, email me and I'll hook you up.) As always, you can sign up for your own custom-designed card here, you can see all the cards we've designed so far here (now more than 2,400 of them!), and you can see how we produce the cards here.
• • • • •
• • • • •
The Ticker
By Jamie Rathjen

'Skins Watch: On Friday we had an item about an Idaho state legislator who planned to introduce a bill that would prohibit school districts from changing their mascots or team names, which was in response to an Idaho school that decided last summer to stop calling its teams the Redskins. That legislator now says he has changed his mind (from Brad Iverson-Long). … The NHL's Winnipeg Jets and their AHL affiliate, the Manitoba Moose, have unveiled indiginous-themed logos created by a graphic designer from the Pimicikamak Cree Nation. The Jets will wear jerseys featuring the new logo for their pregame skate on Jan. 17, and the Moose will wear theirs for their game on Jan. 18 (from Andrew Forbes).

Baseball News: Reader Andy Shain tells us that the Single-A Columbia Fireflies retired three numbers of pioneering black baseball players over the summer: No. 14 for Larry Doby, who was from the area; No. 20 for Frank Robinson, who played for a different Columbia minor league team; and No. 42 for Jackie Robinson. … We've previously mentioned the 1988 Dodgers writing "JH" on their sleeves during the playoffs in support of suspended P Jay Howell. Michael Miller sent us a New York Times article from then about the tribute. … Remember the Uni Watch design contest to create a "futuristic" jersey for the summer collegiate team the Portland Pickles? Brad Meadows bought one of those jerseys from the team but has now decided to sell it on eBay — a genuine piece of Uni Watch history, if you're so inclined.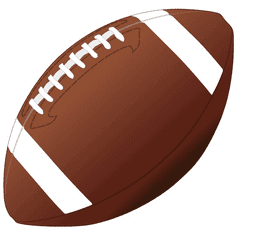 Football News: In the run-up to tonight's national championship game, helmet historian Blaise D'Sylva is counting down his top 17 "coolest" college helmets, and yesterday had No. 5 through No. 2. … Daniel Smith notes that tonight's title game is the first one — and this seems to include both the playoff and the BCS and its predecessors — not to feature a team that wears red (or a shade thereof) or blue. … Here are some good screen shots of the WFL's experiment with position-specific pants (from Jerry Wolper).

Hockey News: NHL ref Kelly Sutherland, who was working yesterday's Canucks/Wild game, appeared to put in his teeth before announcing a penalty. … A Flames fan has a collection of 40 jerseys from Calgary teams, as well as some Canada jerseys (from @omicbumz). … The AHL's Bridgeport Sound Tigers wore camouflage warm-ups Saturday (from Zach Pearce). … The ECHL's Toledo Walleye wore Spiderman-themed jerseys (from Mark Monroe). … Minnesota-Duluth's women's team revealed city-themed jerseys for next weekend, which include curling stones as a shoulder patch (from Paul Friedmann). … We mentioned Rush drummer Neil Peart's drum kit covered in NHL team logos, but in this video he's also wearing a sweater with the logo of his restaurant (from Gabe Cornwall). … Wade Heidt has a bunch of junior hockey items for us: the OHL's Ottawa 67s wore Schrute Farms Beets jerseys, a reference to a shirt worn by Dwight Schrute in an episode of The Office. … The OHL's Sudbury Wolves dressed up as doctors and auctioned the jerseys off, with the proceeds going to a local health science center. … The OHL's Peterborough Petes honored former NHL player and executive Colin Campbell with a banner and throwbacks from when he played for the Petes. The throwbacks have TPT on the front because the team had an advertiser, Toronto-Peterborough Transport, in its name at the time. … The OHL's Erie Otters wore cancer-awareness jerseys. … Two WHL goalies, the Prince Albert Raiders' Max Paddock and the Moose Jaw Warriors' Boston Bilous, moved teams but still had pads from their previous teams. … Down a level in junior hockey, the British Columbia Hockey League's Trail Smoke Eaters and Penticton Vees both wore throwbacks for a "world championship weekend." Until 1963, the winner of the Allan Cup, Canada's senior amateur championship, represented Canada at the world championship instead of a true national team. The Smoke Eaters and Vees' throwbacks were patterened after senior teams of the same name that won the world championship in 1961 and 1955, respectively. … The BCHL's Salmon Arm Silverbacks also wore jerseys accented in orange and teal, the city's colors.

Basketball News: Duke revealed, and wore, dark blue alternates at home on Saturday. The men's team appears to be slated to have six uniforms this season, but it's worth noting that so far none of the alternates have been extended to the women's team (from multiple readers). … On the other hand, N.C. State's women's team wore black yesterday, which Gabe Cornwall says makes four uniforms for them this season. … Miami (Fla.) G Chris Lykes wore two different colored shoes yesterday, not for the first time this season (from Miami mop guy Rich Friedman). … New Mexico State wore throwbacks Saturday (from @NMStateFlush). … The D League's Texas Legends wore Special Olympics-themed jerseys on Saturday (from Chris Mycoskie). … Recent color-vs.-color college games included Purdue/Michigan State yesterday, Texas Tech/West Virginia on Saturday (both from Josh Hinton), USC/UCLA on Saturday (from Matt Shevin), and Iowa and Maryland's women's teams on Thursday. … Spanish team CB Estudiantes wore rainbow uniforms to, as they put it, "promote diversity" (from multiple readers).

Soccer News: The English Championship's Welsh teams, Cardiff City and Swansea City, wore black armbands in memory of former Cardiff players Alan Harrington and Chris Barker. Cardiff also wore the armbands last week in the FA Cup together with their opponents, League Two's Carlisle United (from Josh Hinton). … The next three are also from Josh: Mexican team Querétaro got two new shirts, switching to Charly from Puma. … Mexican team Pachuca apparently prefaces single-digit numbers with a zero, and in a previous version of their font, the zero was shaped like the club crest. … Italian team Cagliari wore their 100th-anniversary shirts. … Also in Italy, Lazio revealed and wore 120th-anniversary shirts — basically, they have a real collar and black accents (from Ed Żelaski). … You can see more on Josh's Twitter feed. … A Serie A game between Hellas Verona and Genoa was delayed because the 18-yard box didn't have straight lines. … New second shirt for Colombia's Atlético Nacional. … In Australia's W-League, both Melbourne City and Canberra United wore black armbands for the victims of the country's bushfires. … The NWSL's Washington Spirit released a graphic which to me implies that they're going to switch to wearing mono-white as first choice. While the Spirit have always worn red with varying amounts of blue, they've recently worn mono-white at home when playing at D.C.'s Audi Field.

Grab Bag: The NLL's Georgia Swarm wore purple cancer-awareness jerseys on Saturday (from Wade Heidt). … The Australian Football League is to hold a charity match Feb. 28 between a Victoria representative team and an all-star team in support of relief efforts for the country's bushfires, which means AFL players are to wear Victoria's distinctive blue jumper with a large white V for the first time since 2008. … AFL teams Adelaide and Port Adelaide are also to play a charity Twenty20 cricket match Feb. 2, which already has its own logo. … Here's a survey seeking input from the public on a new Utah state flag design (from Jonathan Martin). … Here's the story behind one man's enormous golf ball collection (from Justo Gutierrez).
• • • • •
• • • • •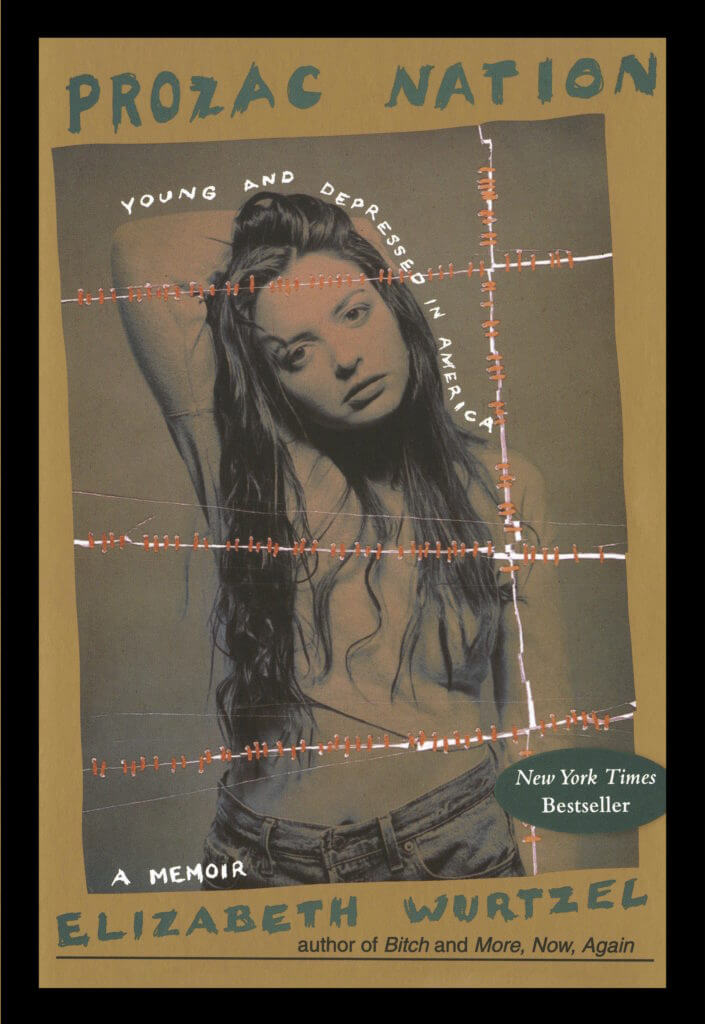 A complicated life: As you've probably heard by now, the writer and self-obsessive Elizabeth Wurtzel, best known for her 1994 memoir Prozac Nation, died last week at the age of 52. She had major issues with depression and addiction throughout much of her life, so I'd always figured she would die by suicide, but instead it was cancer.
I never read any of Wurtzel's books (I remember skimming through a chapter of Prozac Nation at Tower Books shortly after it came out and then putting it back on the shelf after deciding it was drivel), but I did read a fair amount of her articles over the years — she wrote a lot — and was often impressed by them. I've read more of those articles in the days since her death, and have also read several appreciations and remembrances of her and have listened to this 2013 podcast interview with her, all of which has gotten me thinking a lot about her and her work.
Like many people — especially male writers of my generation — I initially dismissed Wurtzel and later came to respect her. Looking back, that initial reaction was largely fueled by envy (why was everyone making such a fuss over her while I had to hustle so hard?), resentment (when I act like an asshole, people call me out; when she acts like an asshole, she gets a book contract!), sexism (the only reason she gets this much attention is that she's good-looking!), and other forms of pettiness. In other words, I had a lot of insecurities and self-loathing. So did she — but she seemed better at making those deficiencies work for her. And that just made me feel more insecure.
Over the years, though, as I read more and more of Wurtzel's articles, I became a fan. I was impressed by the fact that she didn't just become a professional celebrity or marry some rich guy, which seemed like the predictable trajectory. Instead, she kept writing, went to law school at Yale ("on a lark," she said), wrote some more, and generally seemed to remain true to herself, for better and worse. She also seemed to be pretty self-aware about her personal flaws and was able to laugh about them. Good for her.
I never met Wurtzel (although a few of my friends knew her). She was famously self-absorbed, logorrheic, and dramatic — all things I have a hard time dealing with — so I'm sure I wouldn't have had the patience for her theatrics. I tend to process information in a very linear way, and I tend to surround myself with people who do likewise, but Wurtzel clearly processed the world in non-linear ways, more stream-of-consciousness ways. People like that make me itchy, probably because they seem to have tapped into some inner part of themselves that I can't tap into or just don't have (more insecurity), so I usually steer clear of them. That's often my loss, and it certainly would have been my loss in Wurtzel's case, because the things that made her so hard to deal with were clearly the same things that made her so interesting.
Wurtzel wrote primarily about herself and was probably the premier confessional artist of the last generation. I'm a bit of a confessionalist, too — nowhere near as much as she was, but I do tend to share a fair amount of my life in my work. As I do that, I'm always thinking about the line between public and private, between an interesting anecdote and an overshare, between being relatable and just enjoying the attention (hell, I'm doing it right now with this essay, this paragraph, this sentence). Those can be hard lines to draw. Wurtzel didn't blur those lines so much as she simply ignored them. As a result, she was routinely described as being self-absorbed, self-aggrandizing, masturbatory. She didn't care. As she once wrote, "I believe everyone is entitled to my opinion."
Why do some of us have that need to express ourselves so personally, whether through essays, blogging, songwriting, art, or whatever? In Wurtzel's case, a lot of it clearly had to do with depression. As she once wrote, "I was born with a mind that is compromised by preternatural unhappiness, and I might have died very young or done very little. Instead, I made a career out of my emotions." That appeared to be the best anti-depressant for someone who was clearly in a lot of pain, of various sorts. I'll miss her work, but I'm glad her pain is finally gone. R.I.P.