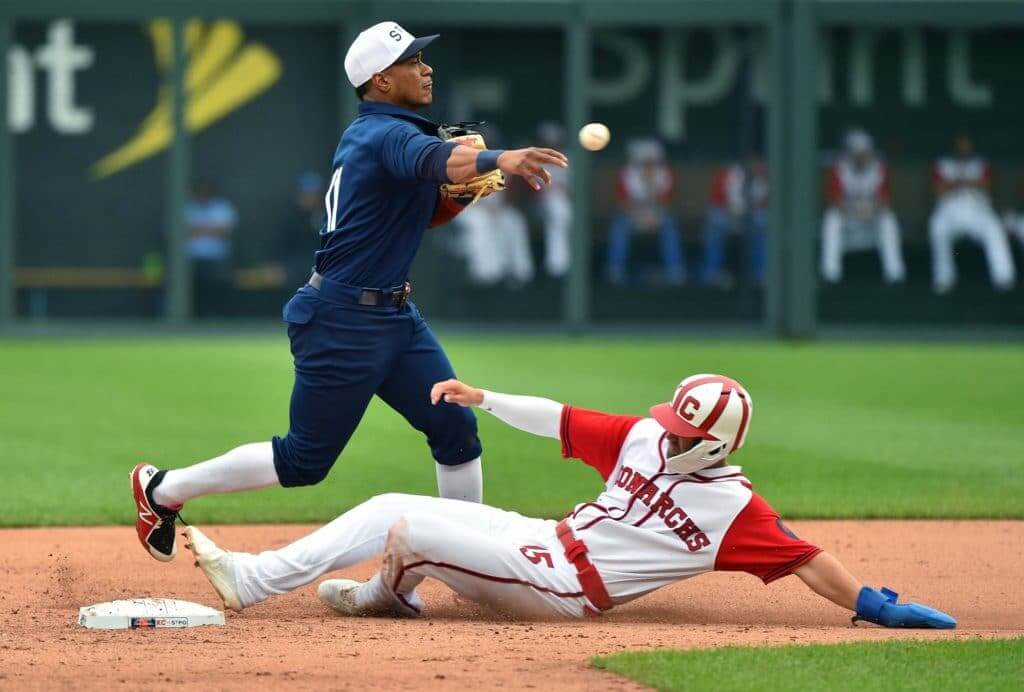 For all photos, click to enlarge
The Royals held their annual Negro Leagues throwback promotion yesterday, dressing up as the Kansas City Monarchs while the visiting Twins dressed up as the St. Paul Gophers. As you can see above, the Royals went the extra mile by wearing throwback helmets (complete with what I believe was MLB's first-ever white C-Flap), and those lids looked pretty awesome. Here's another view of them: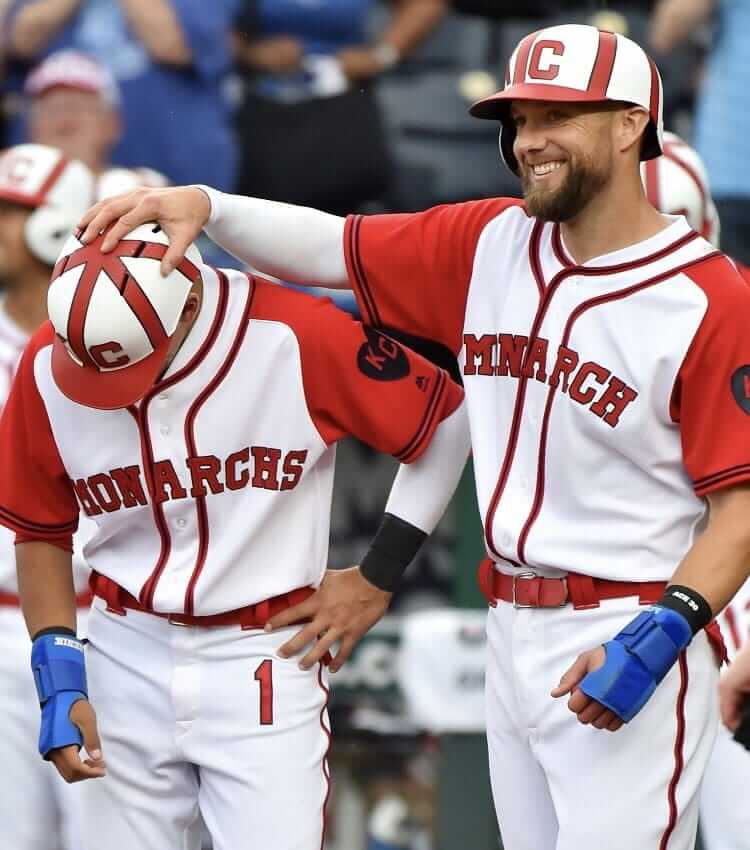 In that last shot, you can see that Royals outfielder Alex Gordon lost the "S" on his chest lettering (it was there earlier).
Here's a short video clip showing how the whole package looked in action:
The uniform. The swing. The celebration.
Everything about this is campaign gold. #AlwaysRoyal // #VoteDozier pic.twitter.com/Z3fNBBRUGB

— Kansas City Royals (@Royals) June 23, 2019
As for the Twins, their mono-navy Gophers uniforms featured pullover jerseys with point collars! Dig: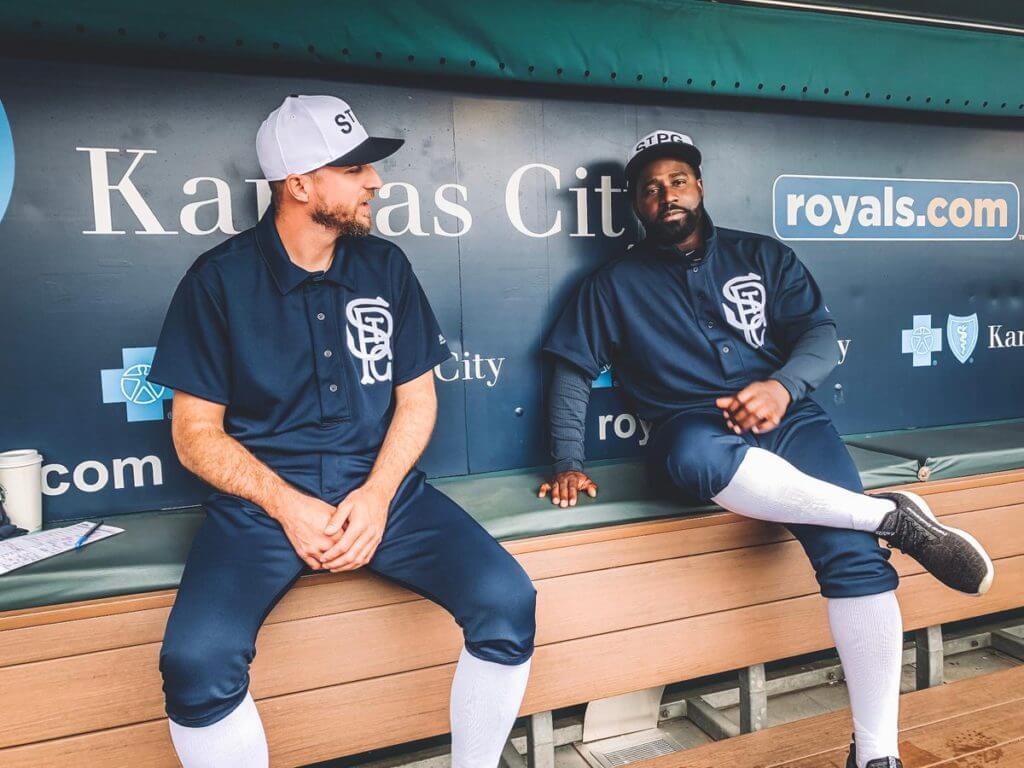 Unfortunately, the Twins wore their standard batting helmets, not a throwback design to match the caps: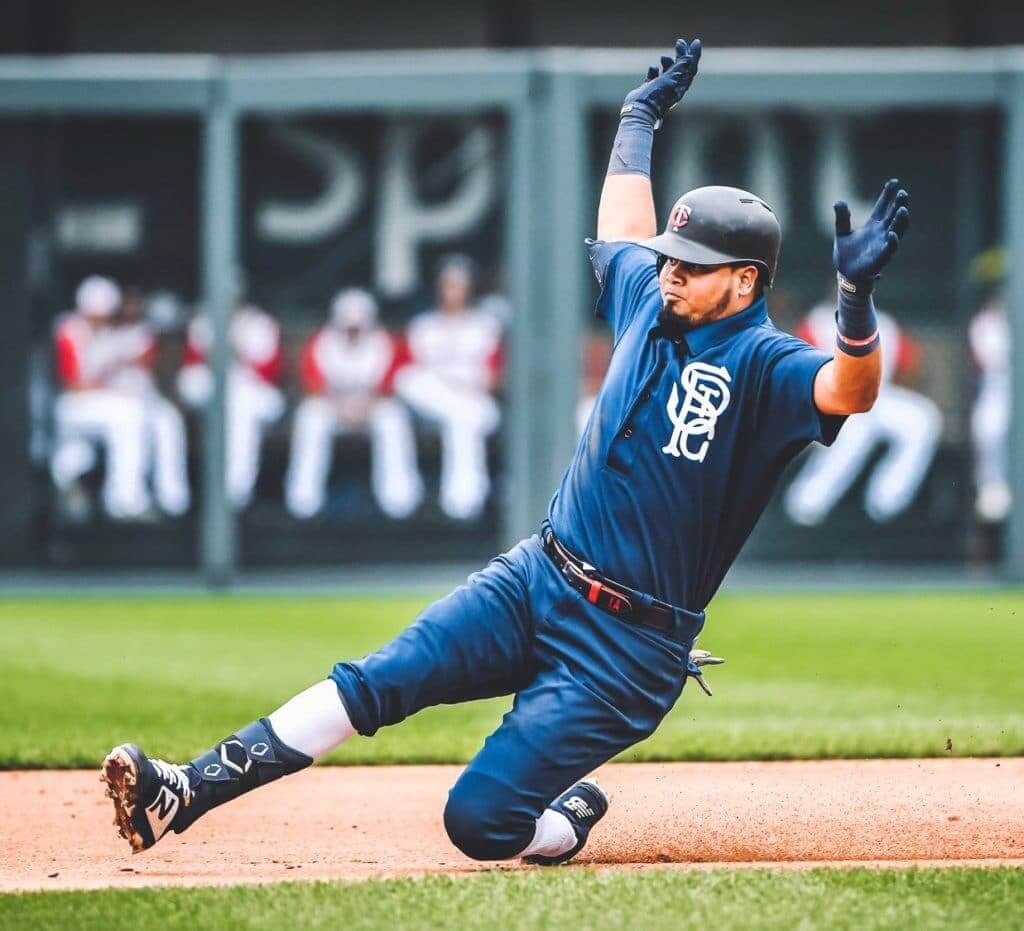 Interestingly, all of the Twins went high-cuffed, but almost all of the Royals went pajama-style. Here's a shot of the Twins: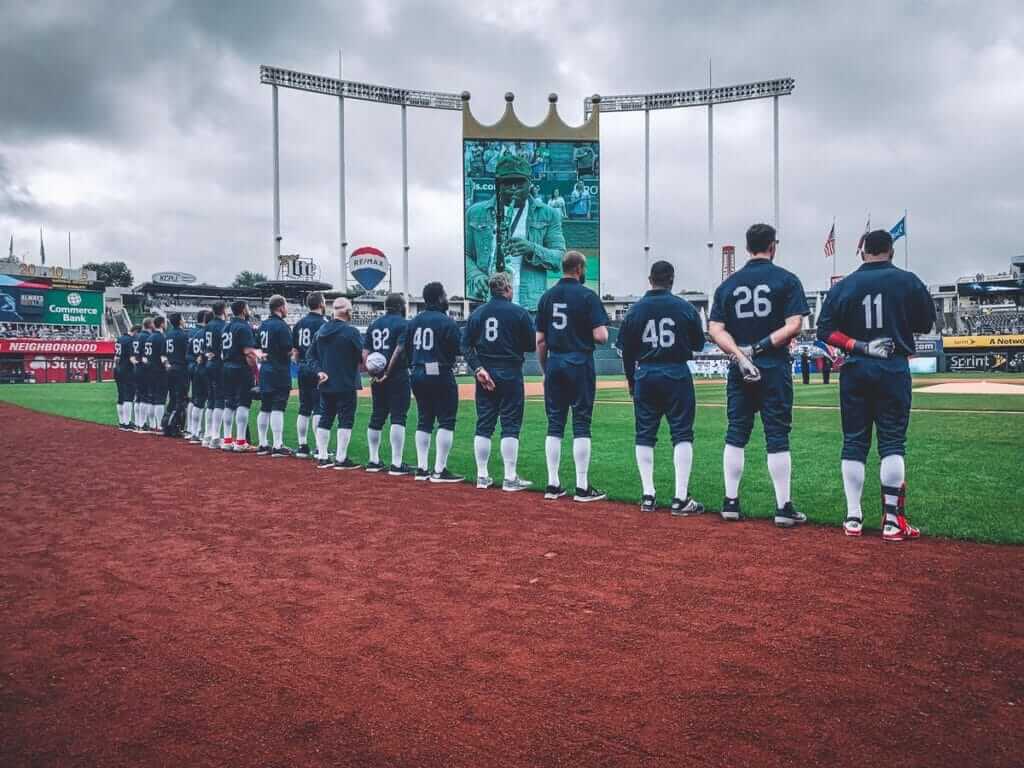 Royals outfielder Billy Hamilton went high-cuffed, but I think he was the only one. Check out the pitiful parade of pajamists in this short video clip:
Celebrating a dub in STYLE.#HEYHEYHEYHEY pic.twitter.com/KwGCyPiOg2

— Kansas City Royals (@Royals) June 23, 2019
Too bad about KC's lower-leg stylings, but aside from that it was a good-looking game. Kudos to the Royals for making it happen.
(My thanks Scott Campbell and Caleb Sousley for their contributions to this section.)
• • • • •
• • • • •
Click to enlarge
ITEM! Hot diggity update: The A's recently held their annual Dog Day at the Park, and one fan had the brilliant idea of bringing her weiner dog and dressing up as Uni Watch pal Hal the Hot Dog Guy! How great is that?
Hal adds the following:
You'll notice I recently added green stirrups with yellow sannies. The black shoes are a part of the vending uniform, but I might see if I can sneak in some white ones after the All-Star break.

I had three caper sales tonight. The revolution is happening — slowly!
Hal is clearly the best thing to happen to hot dogs — and to Uni Watch — in many years.
• • • • •
• • • • •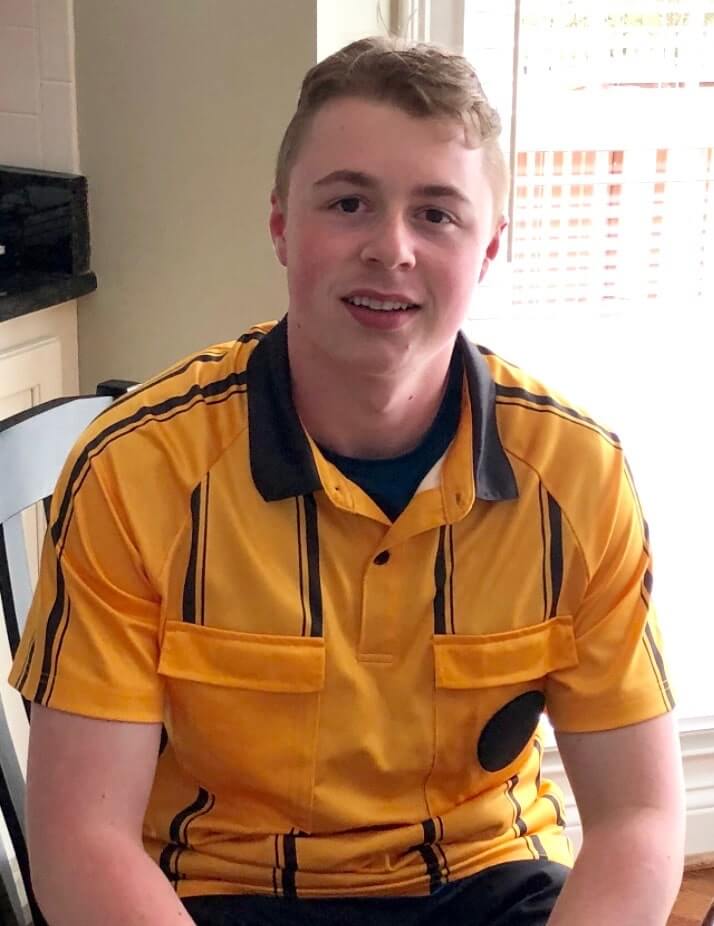 Click to enlarge
ITEM! New feature, "Meet the Contributors," debuts: If you read the site every day, or something close to that, you've probably noticed that there are certain people who contribute Ticker items on a regular basis. If you're the sort of person who spots patterns, you may also have noticed that some of these regular Ticker contributors have niche specialties. Ignacio Salazar, for example, tends to submit items relating to Houston. Ed Zelaski specializes in soccer items. Wade Heidt specializes in news from Canada. And so on. These names become part of the culture of Uni Watch.
As I mentioned in my 20th-anniversary post, one of the best things about Uni Watch is the sense of community that's sprouted up around it, so I've decided to start an occasional featured called "Meet the Contributors," which will showcase some of these prolific sources of Ticker content.
We're going to start today with Josh Hinton (that's him above, in the uniform he wears when officiating youth soccer games), who sends in a lot of soccer items. I sometimes jokingly refer to his Ticker blitzes as "the daily download," but I don't mean to make fun of him — I appreciate his contributions (although it can sometimes be overwhelming when he sends eight or nine consecutive emails in one shot!). I asked him if he could tell us a bit about himself and also how he first discovered Uni Watch, he readily obliged:
I am a teenage high school student who lives in Lexington, Ky., and I have loved soccer and uniforms my whole life. I've played soccer my whole life, too, and I've developed a passion for the game.

I first found out about Uni Watch in the Super Bowl 50 ESPN preview, and I have been attached to it ever since. I've always admired and respected how this site does what no politician, religion, or other prominent facet of our life can do — bring people of all backgrounds together over one uniting factor.
Please join me in thanking Josh for his many contributions to the site, and also for giving us some insights into who he is. I'll do more "Meet the Contributors" segments in the weeks and months to come.
Update: Just as I published today's entry, I realized that Josh is the guy behind a new Twitter feed called Kit Clash Account, where he's taking his voluminous approach to soccer kit updates to social media. A good follow if you're into soccer uniforms!
• • • • •
• • • • •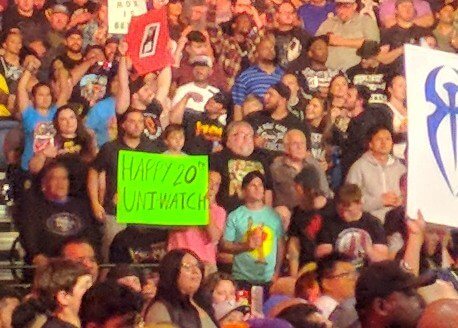 ITEM! Uni Watch shout-out in highly unlikely place: Uni Watch's unexpected but highly enjoyable 2019 broadcast tour (which has previously included Hal the Hot Dog Guy wearing a Uni Watch cap on TV, a fan at Fenway Park wearing a Uni Watch Purp Walk shirt on TV, and Uni Watch getting mentioned on the air by Mets TV and radio broadcasters) continued last night, as people watching the WWE Stomping Grounds show in Tacoma, Was., spotted someone in the crowd holding up neon-green sign that said, "HAPPY 20th UNI-WATCH."
Reader Dan Fuller was attending the event and took the photo shown above of the guy holding the sign. Reader Dan Colacicco says he saw the sign on TV but wasn't able to get a screen shot.
The irksome hyphen notwithstanding, it's kind of awesome to see a Uni Watch shout-out at a pro wrestling event, of all places. Aside from a few random Ticker mentions, we almost never cover wrestling, and I've never been interested in it myself.
To the person with the sign: Thank you! If you're reading this, please get in touch and tell me the whole story, okay? Okay!
• • • • •
• • • • •
Membership update: We've done a handful of membership cards over the years based on horse racing jockeys' silks. But Ben Garner requested something we'd never done before: He asked for his card to be based on the saddle cloth that Justify wore for last year's Kentucky Derby.
I'd never really thought about saddle cloths before, so this was a fun learning experience. We had to omit the Woodford Reserve ad (our policy has always been that we won't include uniform ads or maker's marks), but the card turned out nicely — another one of our rare vertical designs. Big thanks to Ben for the creative request!
Ben's card is part of a new batch that has been added to the membership card gallery. It seems like just yesterday that we were celebrating the 2,000th card, and now we're already up to 2,255 — more than a quarter of the way to the next thousand!
Ordering a membership card is a good way to support Uni Watch (which, quite frankly, could use your support these days). And remember, a Uni Watch membership card entitles you to a 15% discount on any of the merchandise in our Teespring shop and our Naming Wrongs shop. (If you're an existing member and would like to have the discount code, email me.) As always, you can sign up for your own custom-designed card here, you can see all the cards we've designed so far here, and you can see how we produce the cards here.
• • • • •
• • • • •
ITEM! Cool stuff for sale: I have a few choice items that I'm looking to sell. I could put them up on eBay, but I'd rather give Uni Watch readers first crack at them. I'll put the proceeds toward the shipping costs for this year's year-end raffle.
First, I have a pair of Brooks Ghost 12 running shoes, size 9 regular (i.e., not wide), in grey/black. Worn for about five minutes at Uni Watch HQ. Here are some pics (for all of these, you can click to enlarge):
You can see more professional-looking photos here.
As you can see in that last link, these shoes retail for $130, but I'm looking to sell them for $85, plus shipping. If you're interested, shoot me a note. Sorry, the shoes are now spoken for.
In addition, I have a New York Rangers skateboard and an NBA/Warriors "The City" throwback skateboard deck (i.e., a board with no wheels), both made by Aluminati. Pics here (click to enlarge):
The Rangers skateboard retails for $130, and the Warriors deck goes for $60. I would strongly prefer to sell them together as a set, because I only have one box that can fit them. I'm thinking $120 plus shipping sounds about right. If you want just one of them but not both, we can talk about that, but I probably won't offer quite so much of a discount. Interested in one or both of these? Shoot me a note.
That's it. Thanks for reading.
• • • • •
• • • • •
The Ticker
By Jamie Rathjen

Baseball News: Reader @AZJoshM sent us pictures of Cardinals LF Lou Brock wearing the team's 1975 side-of-helmet decal. Paul mentioned the decals a very long time ago, but without a close-up picture; a Cardinals blog did publish pictures earlier this year. … Here is a really detailed Twitter thread on Yankees C Gary Sánchez's wristbands (from @KristofChalk). … Yankees manager Aaron Boone wears No. 17, but he switched to his old No. 19 for yesterday's old-timer's game. … Postgame jersey swaps are rare in baseball, but Cardinals C Yadier Molina and Angels 1B/DH Albert Pujols engaged in one after last night's Cards/Halos game (from Mike Chamernik).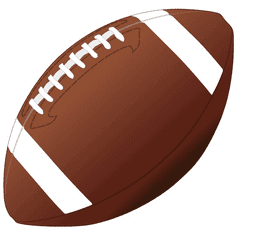 Football News: UConn revealed new uniforms yesterday. The uniforms have an American Athletic Conference patch. Although the school will reportedly join the Big East, which would mean uncertain conference membership for the football team, they are still expected to play in the American in 2019 (from Ari Solomon). … North Carolina is apparently changing to blue end zones (from James Gilbert). … We've Ticked the Giants' logo-less helmets in the 1975 preseason before. However, we did not mention that they also wore the previous season's uniforms (from Matthew Booksh).

Basketball News: Four jerseys from NC State's 1974 national championship team, which were owned by a former Wolfpack tennis player after being rescued from an equipment sale in 1985, are now to be reunited with SG David Thompson's No. 44 jersey, which was kept by the school because his number was retired, in a display in the school's Athletic Hall of Fame (from Miles Cliatt). … The floor from the MECCA in Milwaukee, or a reproduction of it, is currently installed in Menominee Nation Arena in Oshkosh, Wis., the home of the D League's Wisconsin Herd, which is hosting a new women's team called the Wisconsin Glo this summer (from G.J. Marmet).

Soccer News: The Women's World Cup has a new ball for the knockout stages (from Jim Vilk). … Let's go to Germany with Josh Hinton: New kits for 2. Bundesliga team SV Sandhausen (left to right: GK, second, first, third), 3. Liga teams FC Ingolstadt 04 (third kit) and Preußen Münster (from left to right: second, first, third), and Regionalliga Südwest team Kickers Offenbach (first on left). … Josh also has the third shirt for Belgian team Club Brugge, which shows the team's now-annual wearing of a charitable slogan instead of an ad during preseason, and 90th-anniversary sleeve badges for Italy's Serie A. … There's also a new second kit for Northern Irish team Glentoran and second (on left), third, and goalie kits for Scottish League One team Airdrieonians. … The NWSL's Washington Spirit retired No. 15 for midfielder Joanna Lohman, which is now the only retired number in the league. Lohman, who is a lesbian, received a framed shirt with rainbow numbers. … The NWSL also revealed its 2019 championship game logo last week. Since 2017 the league has used the same generic logo each year with something location-specific added, much like the Super Bowl. … Brazil's men's and women's teams have worn four different combos in their last five combined games since June 14. … New away kit for Celtic (from Ed Zelaski).

Grab Bag: Reader John Muir tells us that a fan regularly shows up at cricket matches at Lord's in London with a guitar made from a cricket bat. Here he is at yesterday's South Africa/Pakistan World Cup match. … These stadium-conversion videos show Twickenham Stoop, the home of English rugby union team Harlequins, having a field hockey pitch laid down and marked for a doubleheader of the British men's and women's national teams this weekend.
• • • • •

What Paul did last night over the weekend: One of my best friends moved from Brooklyn to Providence on Saturday. She doesn't drive, so I volunteered to drive her U-Haul truck. Once we got to her new apartment and everything was unloaded, we dropped off the truck and then went off to get some libations and snacks to enjoy in her new backyard.
Around the corner was a liquor store with this excellent sign (for all of these, you can click to enlarge):
Even better, next door to the liquor store was a uniform store! In this case, that meant work uniforms, not sports uniforms, but still:
The shop's script logo was repeated on signage all over the parking lot, which I quite enjoyed:
A few blocks away we encountered another great sign — or at least it used to be great. Imagine how beautiful this must have been before the graffiti guys came along:
I especially like the quote marks on the bottom line.
When we got back to my friend's place, I noticed something odd about the price sticker on a bag of peanuts I'd bought. Look how the "FOR" is backwards but the ".69" is not:
Weird right? (And before you give what my pre-calc teacher, Mr. Braz, called "the right wrong answer," no, the .69 isn't reversed, because (a) then the decimal would be in the wrong place, and (b) nothing sells for 96 cents.)
We did other fun stuff during the weekend, but that's enough content for today. Hope your weekend was fun, too! See you back here tomorrow. — Paul