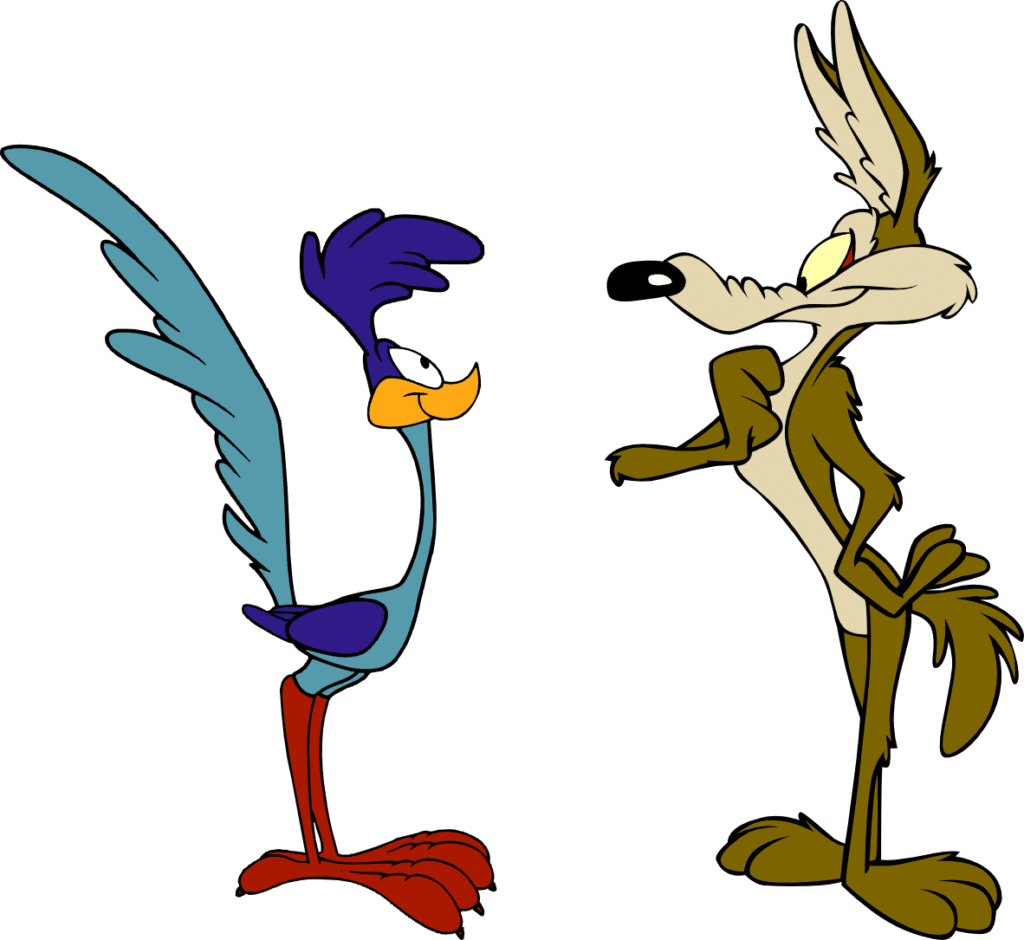 One of the podcasts I regularly listen to, which is nominally about politics, has a segment at the end where the three podcast participants all recommend something (usually non-political) that they've encountered over the past week. For last week's segment, one of the participants, the TV journalist John Dickerson, recommended the rules that Warner Bros. animator/genius Chuck Jones had established for Road Runner cartoons.
As it turns out, Jones's Road Runner rules have been circulating on the internet for quite a few years now, but Dickerson apparently just came across them. I'd never seen or heard these rules myself until Dickerson read them out loud on the podcast (or if I had seen them, I'd forgotten). Here they are:
1. The Road Runner cannot harm the Coyote except by going "beep-beep!"
2. No outside force can harm the Coyote — only his own ineptitude or the failure of Acme products.
3.  The Coyote could stop anytime — if he were not a fanatic. ("A fanatic is one who redoubles his effort when he has forgotten his aim." — George Santayana)
4. No dialogue ever, except "beep-beep."
5.  The Road Runner must stay on the road — otherwise, logically, he would not be a road runner.
6.  All action must be confined to the natural environment of the two characters — the southwest American desert.
7. All tools, weapons, or mechanical conveniences must be obtained from the Acme Corporation.
8. Whenever possible, make gravity the Coyote's greatest enemy.
9. The Coyote is always more humiliated than harmed by his failures.
10. The audience's sympathy must remain with the Coyote.
After Dickerson read the rules, there was a bit of discussion about whether Road Runner cartoons were boring or good or whatever, and then Dickerson — with no apparent irony or sarcasm, and a whole lot of evident sincerity — said this:
"I just like — I like — these rules feel very comforting to me. And I think they should be taken outside the cartoon context and somehow applied to our daily lives."
And then the segment ends without further discussion and they move on to something else.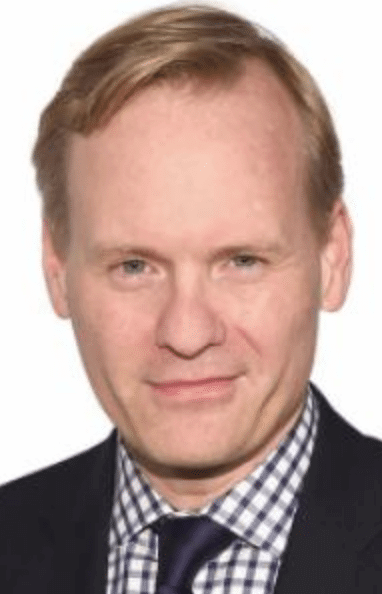 In case you're not familiar with John Dickerson, he just became the newest correspondent on 60 Minutes. Before that he was a co-host of CBS This Morning, the interim host of The CBS Evening News, and the host of Face the Nation. He also has his own podcast about the history of the presidency, and a few years ago he wrote a book about his mother, who was a pioneering TV journalist. He has a really great, unflappable-seeming voice and almost always maintains an even emotional keel, at least when he's on-camera or on-mic, rarely if ever letting any emotion, positive or negative, seep into his tone. He grew up in a 36-room Georgian-style mansion that had previously been home to a young Jackie Kennedy and Gore Vidal.
So to hear Dickerson — this very serious, very buttoned-down broadcast professional — stammering a bit while trying to express that he finds the rules of Road Runner cartoons "very comforting" was really something.
And here's the thing: I know exactly what he meant. There's something reassuring about a set of rules that creates order out of chaos, and something satisfying about how the enumeration of those rules makes the whole enterprise feel official.
I should pause here to say that I draw a distinction between laws, which prohibit certain behaviors and establish punishments for those who violate said prohibitions, and rules, which simply spell out the way things ought to be. In other words, there's a big difference between "Thou shalt not kill" and "Whenever possible, make gravity the Coyote's greatest enemy." The first is a law; the second is a rule. And while a law may ultimately be more important, I think a rule can often be more satisfying, because it spells out a point of view, a voice, a coherent system. I think that's what Dickerson finds comforting.
And that, I would argue, is a big part of why we (or at least I) like uniforms. Uniforms are programmatic classification systems with all sorts of rules and protocols — some enumerated, some unwritten but largely respected: Wear white at home, grey on the road (or color at home and white on the road, or whatever your particular sport's protocol happens to be); wear your team name at home, city name on the road; wear the memorial armband on the left sleeve, not the right; don't give single-digit numbers to pitchers; and so on.
Moreover, uniforms are governed by style guides. As I think most of you know by now, I love uniform style guides. I study them, pore over them. Remember when I acquired that early-'80s MLB style guide a few years ago? A total geek-fest. And that's what Chuck Jones's Road Runner rules essentially are: a style guide for the cartoon. Those rules appeal to me — and apparently to John Dickerson — in precisely the same way that a uniform style guide does.
I wouldn't have guessed that Dickerson had this particular internal button waiting to be pushed. But now that I know he does, I would love to meet him and discuss this with him. I don't know if he's into uniforms, but I bet he has some uni-watching potential that, if it hasn't already blossomed, is waiting to be cultivated. (If anyone out there works for CBS News and wants to introduce us, please do!)
Let's conclude with three slightly tangential but nonetheless enjoyable follow-ups. First, there are lots of teams out there called the Roadrunners. I particularly like this logo: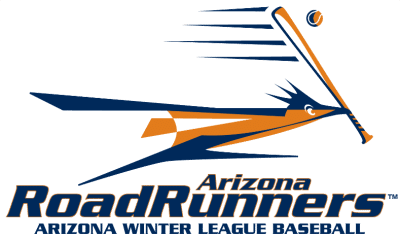 Second, if you're a fan of Road Runner cartoons, or cartoons in general, I strongly recommend this spectacular podcast episode about the making of classic cartoon sound effects (including the sound of the Road Runner sticking out his tongue).
And third, of course:
• • • • •
• • • • •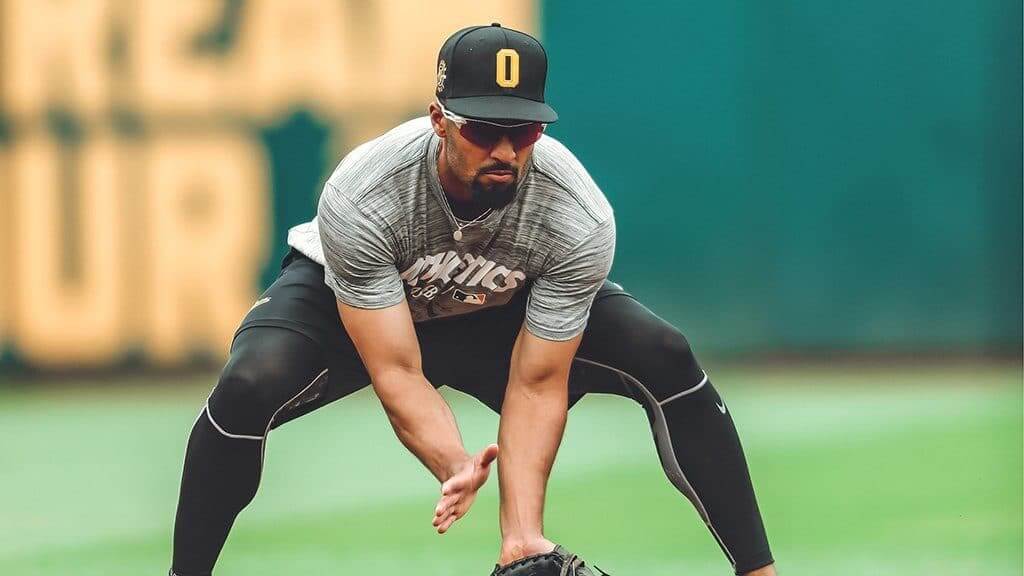 Click to enlarge
Well whaddaya know: At the end of yesterday's entry, I wrote, "Happy Juneteenth! I look forward to seeing all the great Juneteenth uniforms out there, right?" I was being facetious, of course, because I didn't think any team would actually do anything uni-related for Juneteenth.
But I was wrong — maybe. The A's wore 1946 Oakland Larks caps for pregame activities yesterday (the Larks were a Negro League team) and they're giving away Larks caps tonight as part of their African American Heritage promotion. I'm not sure if this is specifically tied to Juneteenth or if it's just a coincidence that there doing this on June 19-20 (I note that last season's African American Heritage Night was held in August), but I'll contact the team today to find out.
(My thanks to Jakob Fox for bringing this one to my attention.)
• • • • •
• • • • •
Membership update: Yet another batch of designs has been added to the membership card gallery, including Rick Wessley's card, which is based on the back of our Uni Watch TATC shirt — a really fun design request that we were happy to fulfill.
Ordering a membership card is a good way to support Uni Watch (which, quite frankly, could use your support these days). And remember, a Uni Watch membership card entitles you to a 15% discount on any of the merchandise in our Teespring shop and our Naming Wrongs shop. (If you're an existing member and would like to have the discount code, email me.) As always, you can sign up for your own custom-designed card here, you can see all the cards we've designed so far here, and you can see how we produce the cards here.
• • • • •
• • • • •
Click to enlarge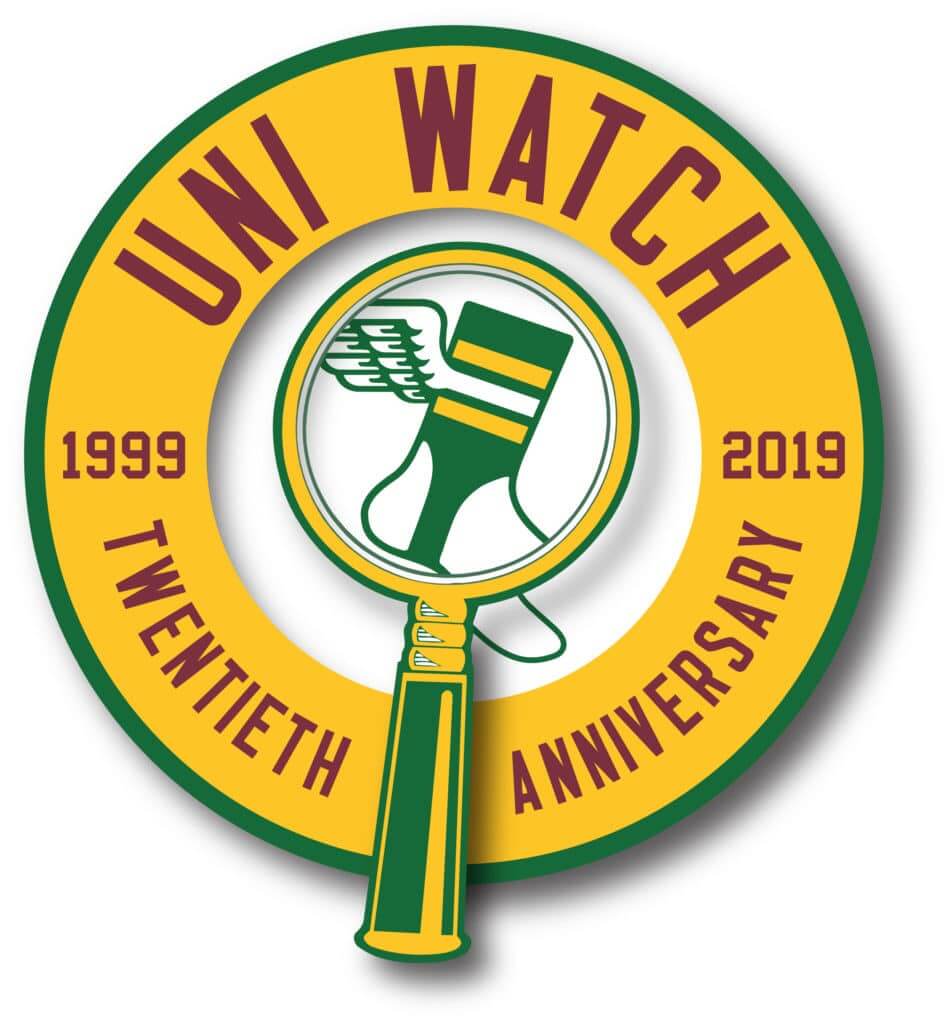 Uni-versary update: What you see above is one of two stirrups that membership card designer Scott M.X. Turner's partner, Rachell, is knitting for the upcoming uni-vesary party in New Orleans, which will take place next Saturday, June 29, 3-7pm Central, at 45 Tchoup.
"The plan is to have one finished for viewing and Rachell knitting the second one at the bar," says Scott. "She's writing up the pattern so that anyone who wants to can knit their own pair. We'll provide the brand and the gauge of yarn she used. One interesting thing is that she used a jogless method of jumping between colors, making a smooth-looking transition between the green body and the yellow and white stripes."
I for one can't wait to see how this turns out! I hope all our NOLA readers will attend the gathering and see for themselves.
Speaking of the uni-versary parties: Here are the updated map and spreadsheet of all the gatherings (no Uniopolis yet, but I know the readers in that region are discussing it!). Remember if you want to organize a gathering in your city for June 29, contact party coordinator JohnMark Fisher. Thanks.
• • • • •
• • • • •
The Ticker
By Lloyd Alaban (except 'Skins Watch, by Paul)

'Skins Watch: The Mets were still using Chief Wahoo on their stadium's out-of-town scoreboard a few days ago. … A Nova Scotia high school will stop calling its teams the Redmen (from Mike Styczen). … Not sports-related: The International Premium Cigar and Pipe Retailers Association, which uses a Native American mascot as the centerpiece of its logo, will be getting a new name and logo later this month (from @bryanwdc).

Baseball News: With the Cubs and White Sox facing each other in interleague play, The Chicago Tribune incorporated both teams' logos into its headlines (from Griffin Smith). … Speaking of Chicago: Here's a photo of a White Sox fan and a Cubs fan using jerseys to show their friendship (from Steve Sher). … Phillies IF Brad Miller wore stirrups last night against the Nationals (from William F. Yurasco). … The Reds used a graphic showing an outdated Astros logo yesterday (from Paul Lachmann). … Also from that game: The base umpires wore black, while the plate ump wore blue (from @ItsARedsThing). … Here are the different caps the Rockies are giving out for their college nights this season. … The Louisville Bats, Triple-A affiliate of the Reds, will become the Murcielagos (the Spanish word for "bats") from June 28-30 (from Kurt Tangelwild). … Here are the South team's uniforms for the Southern League All-Star Game (from @kipvatican). … Vanderbilt P Kumar Rocker's CWS sleeve patch came undone yesterday. Surprising that the pateches are apparently heat-pressed, now sewn on (from Andrew Woolley). … A big Roberto Clemente mural is going up on the facade of the Clemente Museum in Pittsburgh (from Dan Kennedy). … The Rangers released renderings of their new stadium showing a fan wearing a Jurickson Profar shirt. Profar now plays for the A's (from Mason Voth). … This sportswriter thinks the size of those "oven mitt" baserunning gloves should be regulated (from @arynkeen). … Red vs. red for the Medicine Hat Mavericks and the Okotoks Dawgs of the Western Major Baseball League.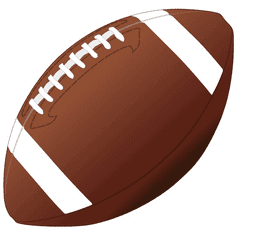 Football News: Colorado State is bringing back their Colorado Pride uniform this season (from Zeke Perez Jr.). … The Steelers' equipment manager is retiring after 39 years (from Rick Porter).

Hockey News: Last week we reported that the Canucks were getting new sweaters. Here's the entire home uniform, according to a graphic on the Canucks website (from Wade Heidt). … New advertised name for the Panthers' home arena (from @VistFoundation). … Maple Leafs C Auston Matthews will be the cover athlete for the upcoming NHL 20 video game.

Basketball News: The Cavaliers have released their 50th-season logo (from multiple readers). … Draft prospect G Nickeil Alexander-Walker wore a Virginia Tech-themed suit as a shout out to his alma mater (from Andrew Cosentino). … The Rockets will unveil their new uniforms today. According to Rockets fan site ClutchFans, the team will keep its black alternates and add three new uniforms, with a new City design to follow in November (from Steven Leung). … In anticipation of today's unveiling, here's a look at the Rockets' visual history (from @josherwalla). … The good news is that the Hawks are getting new uniforms; the bad news is that it won't be until the 2020-21 season (from our own Phil Hecken). … Also from Phil: Raptors PG Jeremy Lin wore a throwback Raptors jersey with Chinese lettering to the team's championship parade, and now everyone wants one. … New uniforms for Bryant University men's. … Anticipated NBA draft top pick Zion Williamson's high school jersey has become a hot seller (WaPo link) (from Tom Turner).

Soccer News: MLS has released the shirts their all-stars will wear for the league's upcoming all-star game in Orlando. … New home shirt for Newcastle (from our own Jamie Rathjen). … The new Boca Juniors away shirt has leaked (from Josh Hinton). … New home and away shirts for German club Stuttgart (from Ed Zelaski). … Also from Ed: New away shirt for Nürnberg. … The national team kits in this year's Copa America have maker's marks, but no advertising. But the officials' shirts have large maker's marks and advertising (from Michael Romero).

Grab Bag: Tennis star Roger Federer's new outfitter, Uniqlo, will not carry over his personal logo from his previous company, Nike (from our own Brinke Guthrie). … NASCAR Cup drivers Ricky Stenhouse Jr. and David Ragan are featuring "fauxback" paint schemes that honor announcer and former Cup champion Darrell Waltrip, who will be retiring after the race broadcast on Sunday (from Christopher Hickey). … Here are the kits the US national mini-golf team will be wearing at the World Adventure Golf Masters this weekend (from Pat Sheridan). … Japanese men's volleyball club Toyoda Gosei Trefuerza will change their name to Wolfdogs Nagoya. Here is their new logo set (from Jeremy Brahm). … Adidas has lost their European Union bid to extend the reach of their trademark over the three white stripes (from Tom Turner). … Speaking of: Adidas is a company that prides itself in including athletes of color in its advertisements, but its own minority employees say the company doesn't practice what it preaches (NYT link) (also from Tom Turner). … Yet another one from Tom: Will cool clothes (NYT link) make golf more appealing to young people? … Speaking of golf: The hot thing on the course these days is apparently camouflage clothing (from Phil). … A Kickstarter campaign is selling a book series that reviews all the visual identities of every Summer Olympics, from Athens 1896 to the upcoming Tokyo 2020 games (from James Gilbert). … Looks like the designer of this Overwatch shirt Gets It™ (from Abe Gobel). .. Santa Monica (CA) municipal bus operator the "Big Blue Bus" is considering an update to its shade of blue. This test strip with six PMS samples has recently been accompanying advertising on bus sides (from Jeff Kruger). … New Parks Dept. signs for New York City (from Marcus Victor).