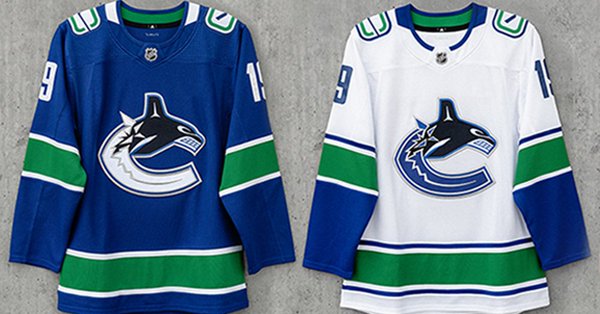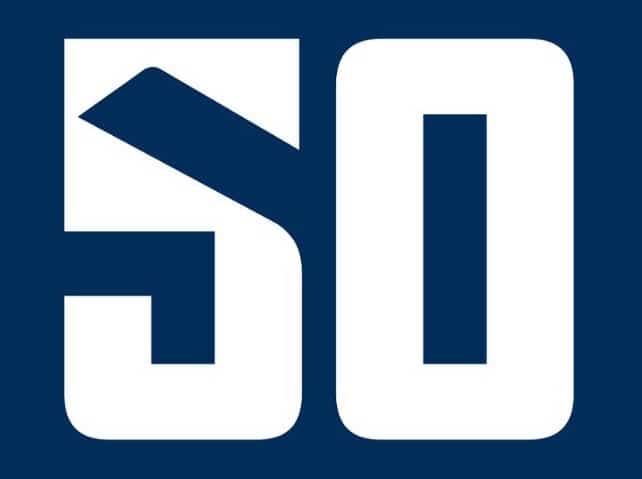 The 2019-20 NHL campaign will be the Canucks' 50th season. They unveiled a commemorative logo (shown at right) earlier this year, and yesterday they unveiled their new uniforms.
Actually, check that — they only unveiled new jerseys. This is a trend that's gotten out of hand, as an increasing number of teams don't pretend that their uniform programs are anything other than a front for their merchandizing programs. They even referred to the new designs as their "50th season jersey collection" (emphasis mine), which is the word typically used by apparel companies for their new clothing lines. Sigh.
Anyway: Here's a uni-by-uni jersey-by-jersey look at the new designs, with the usual caveat that we need to see it on the ice and the added caveat that it's hard to assess a jersey, on or off the ice, without the context of the full uniform. For most of the photos, you can click to enlarge.
Home (old on left, new on right)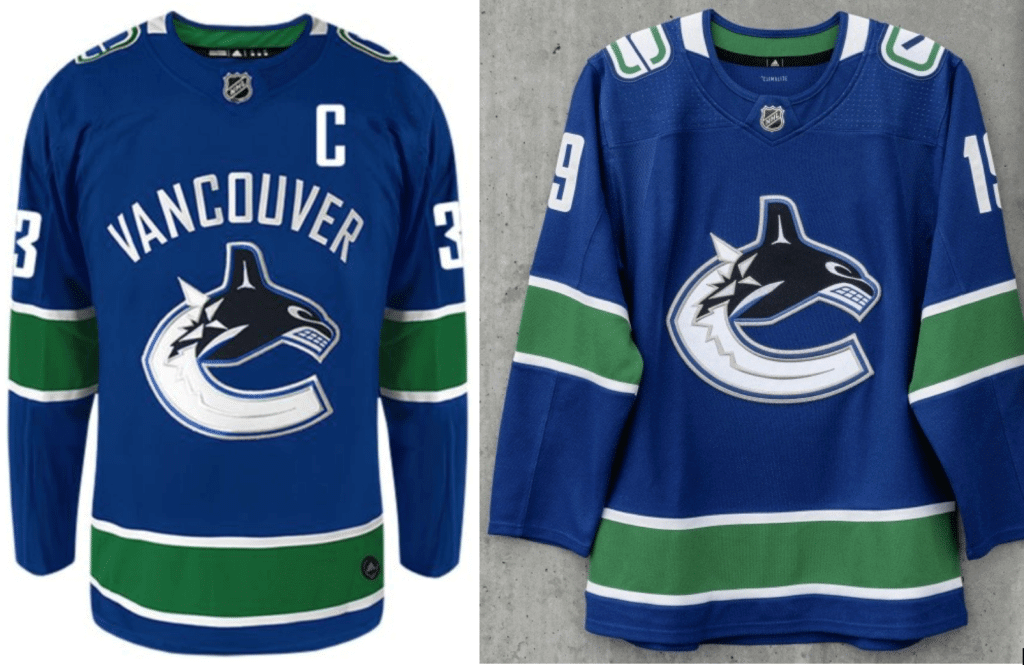 On the plus side, thank god they finally got rid of the embarrassing chest lettering. On the minus side, I've never liked the orca, changing the shoulder patches from blue to white makes them stand out too much (looks so clunky), and I still hate the collar.
Road (old on left, new on right)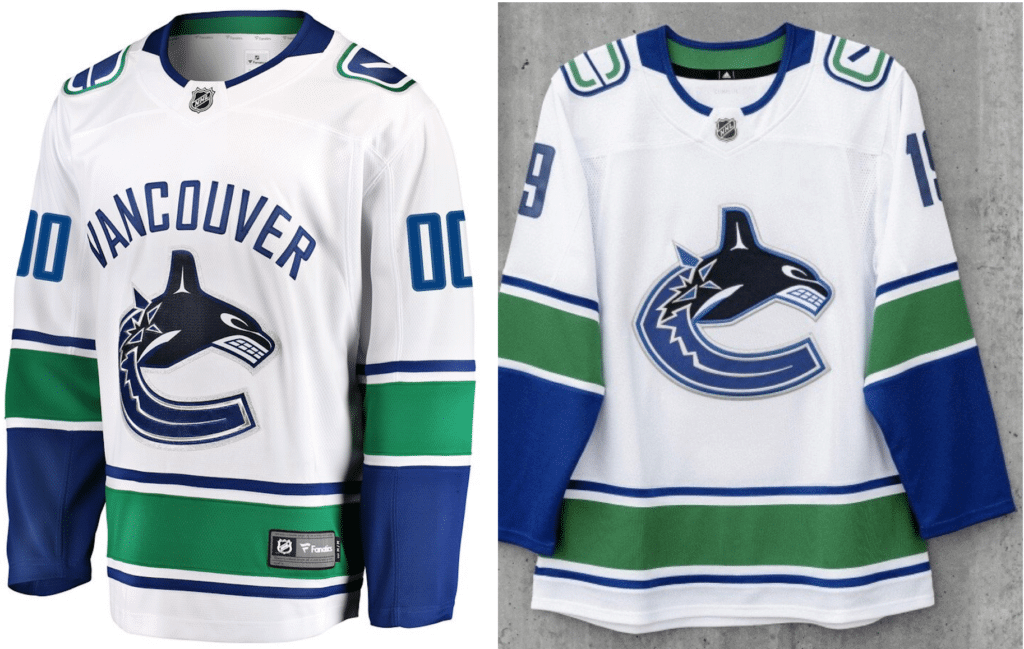 Same comments as above, although in this case I think the recolored shoulder patches are too faint. The contrasting patches worked better on the old white jersey than on the new blue one.
Stick-and-rink throwback (old on left, new on right)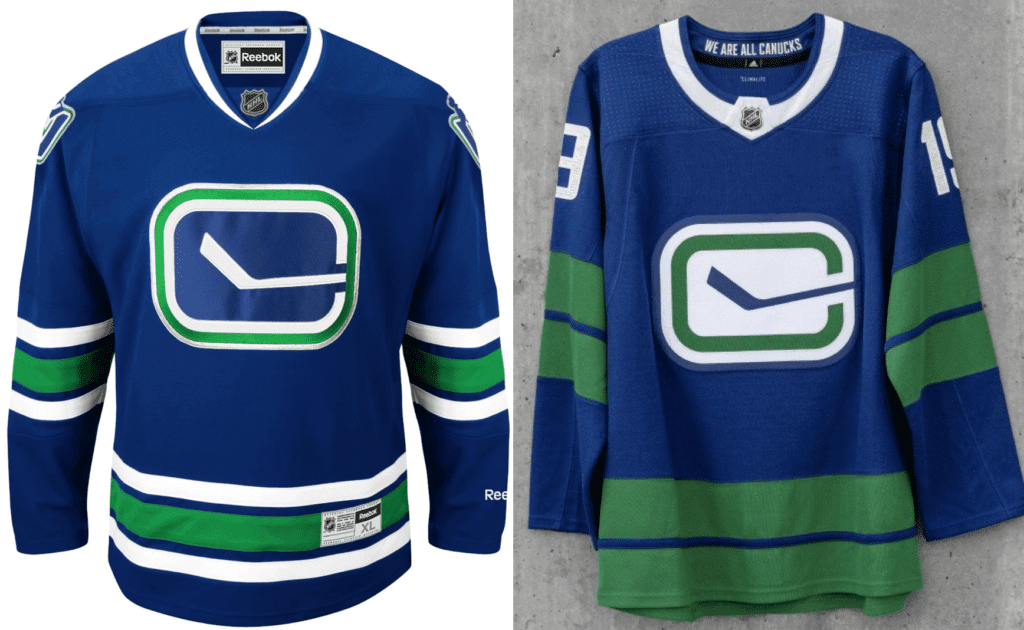 The Canucks haven't had a throwback in the Adidas era, so the "old" photo shown above is the Reebok design they had as part of their uni set from 2008 through 2017. As you can see, they've changed the crest's background to white, which matches the original 1970s design, and I like how the green trim new version looks more like a "C."
But they've really amped up the green striping and removed most of the white trim. As you know, green is my favorite color, but this feels like too much. Interestingly, this article includes the following quote from the team's art director, Max Young: ""We used to have a rule, for many years, that green and blue never touched. There was always white separating them. We've kind of gone away from that now." Too bad.
Flying skate throwback (old on left, new on right)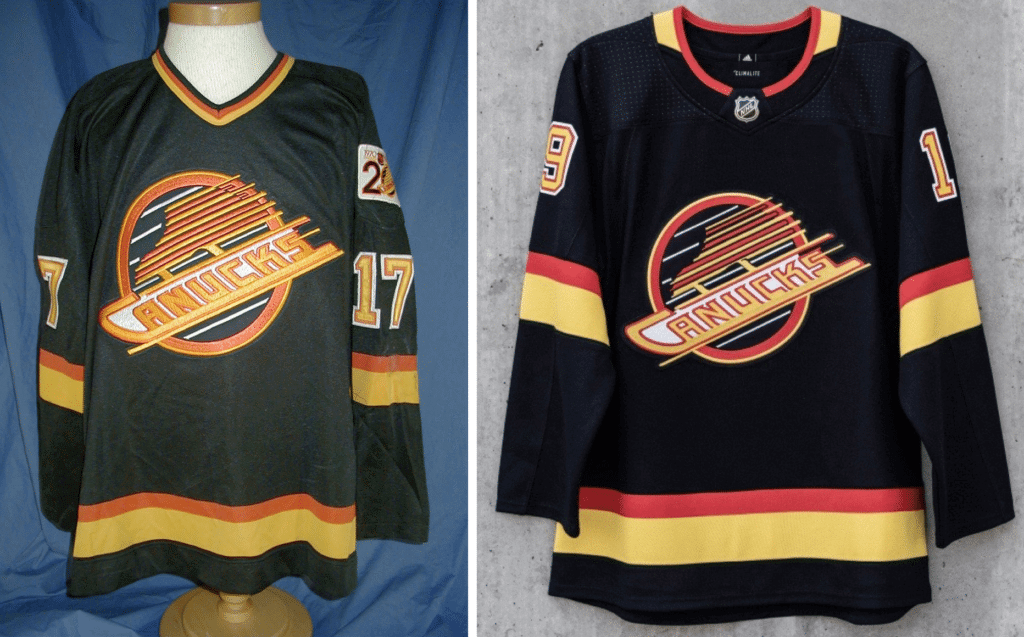 The Canucks have never worn this design before as a throwback (well, once as a one-off, but not as an true alternate that was part of their regular uni set for a given season), so the "old" photo shown above is a game-used 1990 jersey. We've known for nearly a year that they'd be reviving this one, and for the most part it appears that they've been faithful to the original. Not bad, although I would've preferred to see the flying V.
Hometown newspapers (or, really, any newspapers) tend to have pretty boilerplate coverage of uniform unveilings, but The Vancouver Courier has a pretty good assessment of this one. Sharp, well-written — recommended.
(My thanks to Phil for that last link.)
• • • • •
• • • • •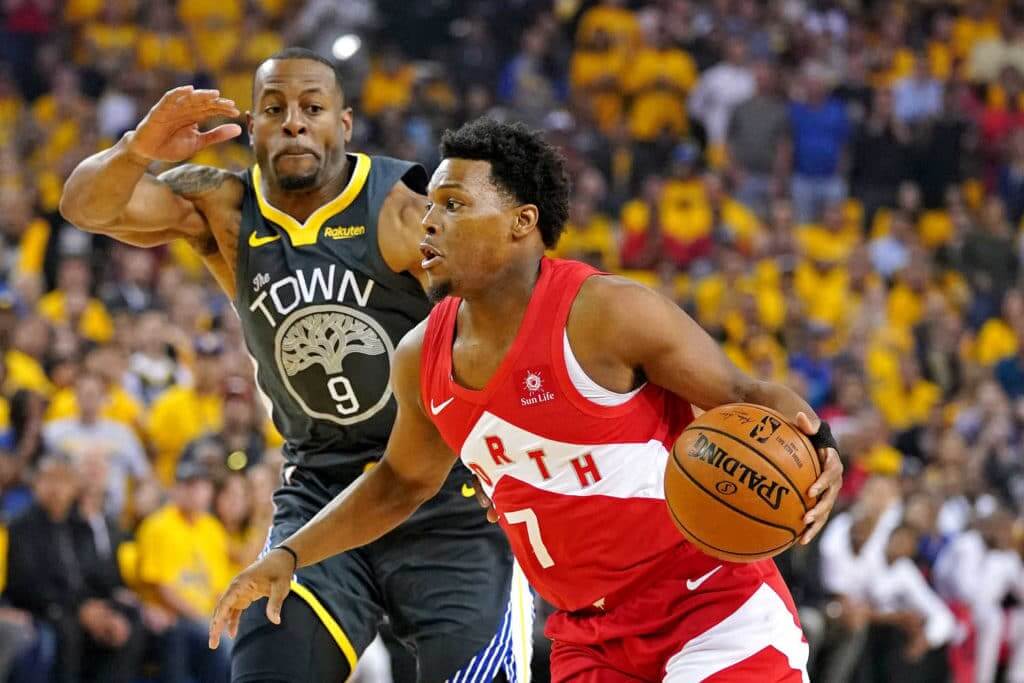 Meanwhile, over on the hardcourt: The Warriors played the final game in Oakland last night. Granted, this has never been the most uni-traditional team, from the numbers in the cable car to being the first modern NBA team to wear sleeves, but I still find it a bit surprising that they wore their BFBS alts for their Oracle finale.
I was surprised by how many people asked me if this was the first time in Finals history that neither team wore their team name or city name. No, silly — the first time that happened was six whole days earlier, in Game Four.
Once the game ended, several people also asked me if the Raptors were the first team to win the title while wearing a jersey without their team name or city. How soon they forget!
Congrats to the Raptors and their fans (including SportsLogos.net's Chris Creamer, who lives outside of Toronto), who'll have a small uni change to enjoy next season.
• • • • •
• • • • •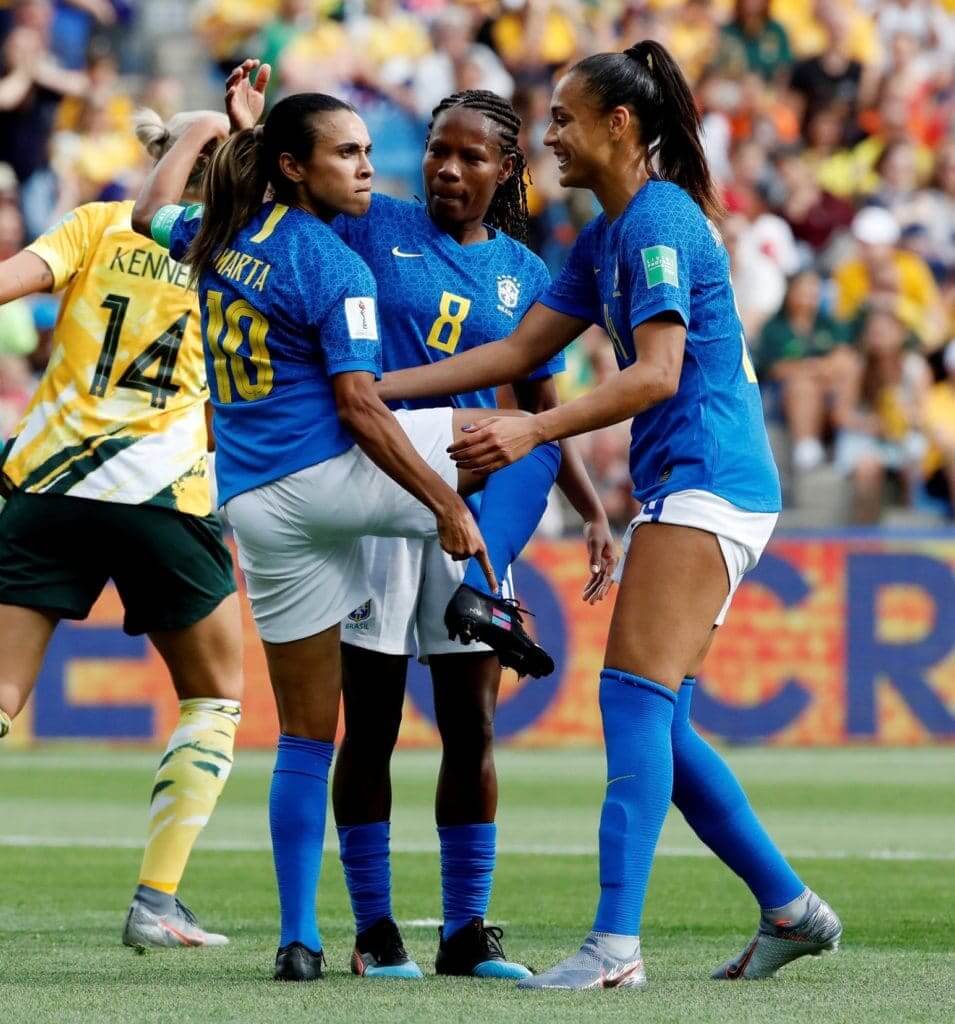 Click to enlarge
How aboot that: Interesting moment in yesterday's Women's World Cup match between Brazil and Australia, as Brazilian forward Marta scored a goal and then celebrated by lifting up her foot and pointing at a symbol on her boot — the symbol for gender equality in sports.
According to soccer writer Tim Stillman, "Marta has turned down all boot sponsorship deals to wear this symbol" and "Her most recent boot sponsorship deal expired last summer and she has gone without a sponsor for the last year or so to make this gesture at the tournament." Good for her.
(My thanks to @ohhhsourry for pointing me toward this one.)
• • • • •
• • • • •
Click to enlarge
Stirrups aren't the only things with wings: Love this late-1940s shot of the LSU track team, which at the time used a winged L! Dig the uni-numbered shorts, too.
(Big thanks to @valleyshook for finding this photo and to Chas Kelly for bringing it to my attention.)
• • • • •
• • • • •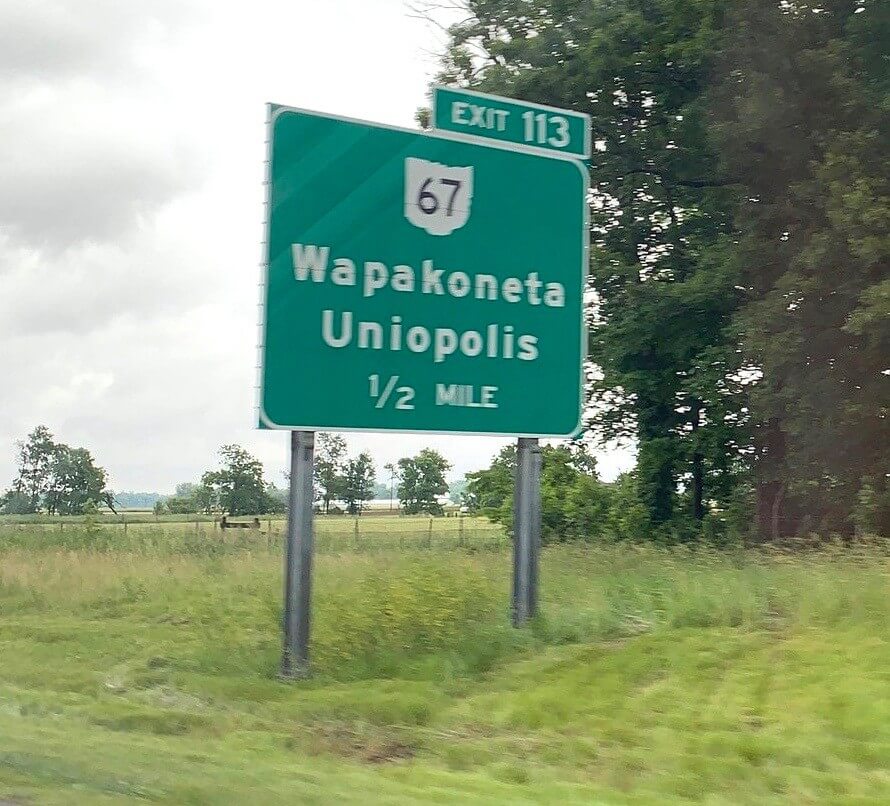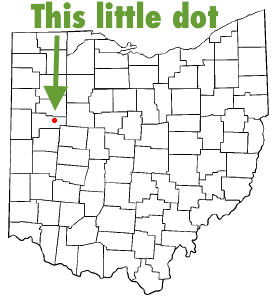 Ich bin ein Uniopoliser: Twitter-er @JasonRL78 reminded me yesterday about something I'd once known but had long forgotten: There's a town in western Ohio called Uniopolis! I actually wrote a couple of grafs about it way back in 2006, when the blog was just a few months old, but at some point that knowledge became lost in the dark caverns of my mind.
As you can see, Uni Watch has changed a bit since those days, but one thing I wrote back then still holds true today: There needs to be a Uni Watch party in Uniopolis. Unfortunately, it's a very small town (and getting smaller — the current population is 222, down from 256 when I wrote about it 13 years ago), and it apparently doesn't have any drinking establishments. But surely there must be some Uni Watch readers in western Ohio who could organize a gathering in a nearby town, no? We could add it to our list of 20th-universary parties taking place on June 29!
This really needs to happen. Because let's face it: If you're reading these words, we're all from Uniopolis.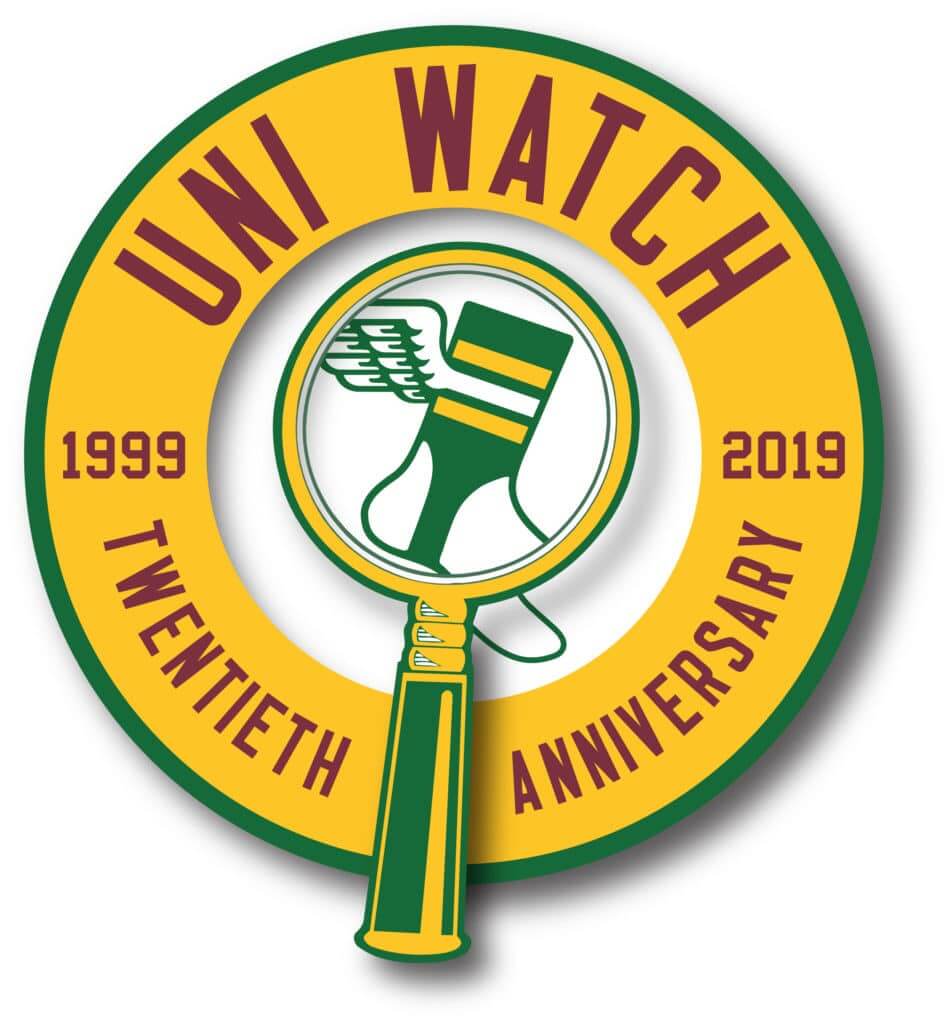 Meanwhile, speaking of the uni-versary parties on June 29 (and June 27 for those of you in Paris), here's the updated map and spreadsheet showing all of the parties that have been scheduled so far. Still nothing west of Des Moines, oddly — come on, you Mountain and Pacific Time Zoners, step up!
I should note that the Atlanta party, which will take place at Smith's Olde Bar, is shaping up as a particularly good shindig. Reader Jason Von Stein, who's organizing that one, plans to have a uniform contest (wear your best jersey — or a full uni!) and a trivia contest. Live music, too. Here's that gathering's Facebook page.
Remember, if you want to organize or attend a gathering in your city, contact party coordinator JohnMark Fisher.
• • • • •
• • • • •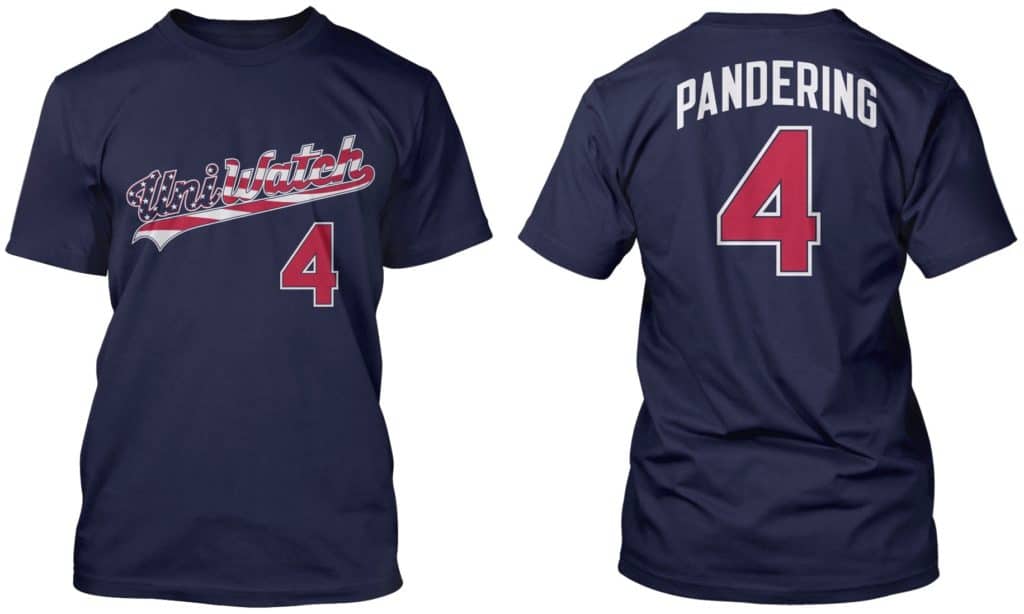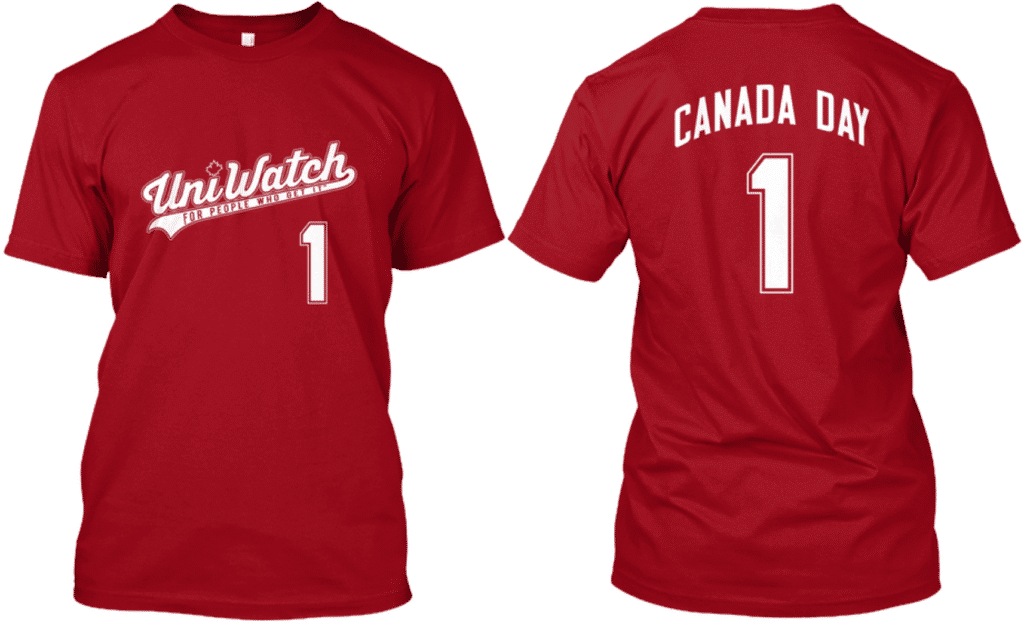 Click to enlarge
IMPORTANT national holiday reminder: With Canada Day and Independence Day both now just around the corner, our Canada Day shirt, stars/stripes shirt, and stars/stripes tank top are just the things to enhance your holiday enjoyment (or at least enhance the number of quizzical looks from your friends and family members).
Word to the wise: Based on Teespring's usual production and shipping times, you need to order now if you want to get them in time for the holidays with regular non-rush shipping. Okay, end of sales pitch.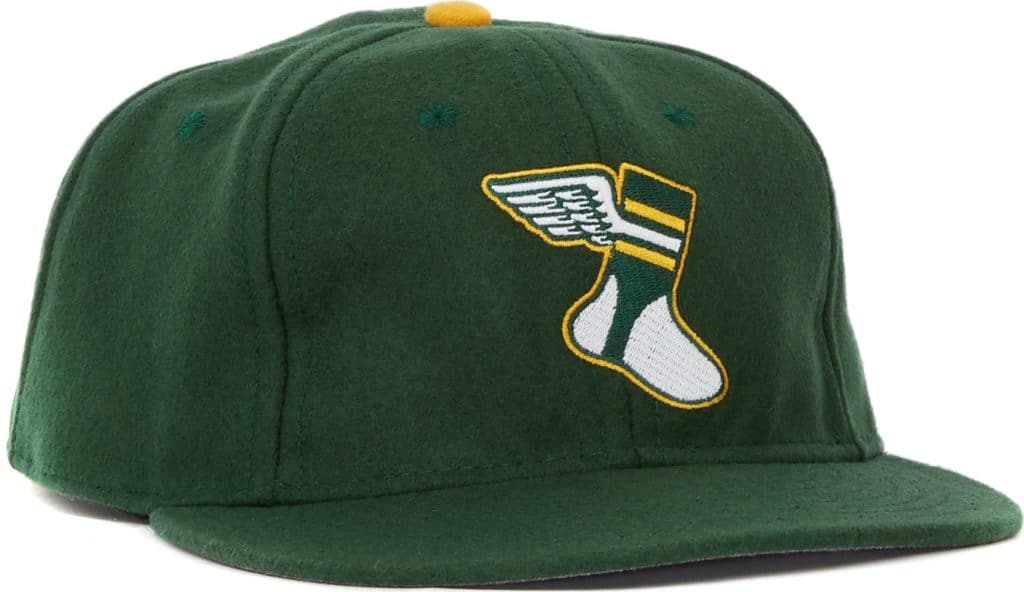 But wait, one more sales pitch: We had briefly been sold out of the adjustable version of the Uni Watch Classic Cap. I'm happy to report that adjustables are now back in stock, and we're also fully stocked on all fitted sizes from 7 to 8. ordering details here.
Okay, now end of sales pitch.
• • • • •
• • • • •
The Ticker
By Anthony Matthew Emerson

Baseball News: Red Sox P David Price did not have the MLB150 patch on his right sleeve during last night's start (from Jonathan Shaw). … Speaking of the Sox but not uni-related, here is an absolutely amazing article about Fenway's organist (from @walbergLines). … Also not uni-related, ESPN has a cool story about MLB's various changes to baseballs (from Mike Chamernik). … Players for the Delmarva Shorebirds, Single-A affiliate of the Orioles, wore pants from at least three different manufacturers last night (from Billy King). … The Wisconsin Timber Rattlers, who are becoming the Wisconsin Udder Tuggers on June 20, need help naming their cow mascot. … The American Association's St. Paul Saints are wearing jerseys with "Ope" on them, a reference to the Minnesota accent (from Nick Hannula). … The CanAm League and Frontier League are playing an All-Star Game against each other tomorrow and are giving away a commemorative coin to mark the occasion (from John Cerone). … Vanderbilt players went HSOB — that's home state on back — for their College World Series warm-ups (from Phil Bergman). … Royal Key toured Stanford's equipment facility (from Griffin T. Smith). … These Little Leaguers have the 2019 Marlins logo on their shirts and and the 2012-2018 logo on their caps (from Billy King). … The A's still have their gold alternates as part of their uni set, but they haven't worn them even once this season because the pitchers haven't chosen to wear them (thanks, Phil).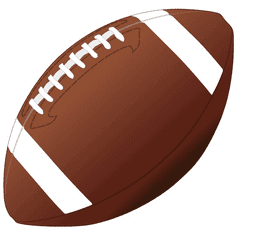 Football News: Reader Jacob Ventura notes that when the Patriots unveiled their first Flying Elvis uniforms in 1993, LB Andre Tippett was wearing a sock design that the team never ended up wearing on the field. … Good Morning America was broadcast live from Philly yesterday and had former Eagle John Runyan on. Runyan gave customized Eagles jerseys to the hosts, including former Giant Michael Strahan. Strahan returned the favor by giving Runyan a customized Giants jersey. …
Here's some rare photos of Clemson with purple paw helmet stickers, worn from 1985 to 1988 (from @ClemsonUniforms). …

Hockey News: Remember yesterday's sublede about various rec league hockey teams calling themselves the Hat Trick Swayzes? Brad Pramberg found a 2011 article about that phenomenon. … Brad Gillies notes that the Stanley Cup Champions caps have the Fanatics logo on the side, rather than the New Era logo. Considering Fanatics is literally just a retailer, not a manufacturer, it's like if Kohl's had their logo on the hat. Maybe the team's logo should be the only logo on the hat! … These 1996 Rochester Americans unis absolutely deserved the Calder Cup and maybe even the Stanley Cup, too (from Derek Weber). … The Orlando Fire Department's hockey team has some gorgeous Ottawa Senators-inspired sweaters (from Kyle Speicher).

NBA News:  The New York Times says that "Oracle" is the perfect name for the NBA's oldest arena (from Mike Chamernik). … Bruins fans (rightly) freaked out when Zdeno Chara played in the Stanley Cup Final just days after breaking his jaw. But it wasn't the first time it had happened in Boston sports: Celtics F Gerald Henderson played the day after he broke his jaw in the middle of the 1980 regular season and wore a neck brace on the floor! (From Antonio Losada.)

Soccer News: Yesterday's Ticker mentioned that the French top league Ligue 1 would be renamed as Ligue 1 Uber Eats. Now it turns out that every match ball will be delivered to the pitch by an Uber Eats driver (from many readers). … Charleston Battery wore home kits and Atlanta United wore road kits in Atlanta for the US Open Cup. The match had originally been scheduled to take place in Charleston (from Gregory Koch). … DC United will wear Pride kits on June 26 (thanks, Jamie). … New away kits for Brighton & Hove Albion of the Premier League (from Adam Vitcavage). … The Dynamo's stadium has a new corporate name that's close to the old corporate name (from Ignacio Salazar). … This article (in Portuguese) reveals that from 2020 onward, the Brazilian women's national team's crest will only carry stars for World Cups the women's team has won. The crest currently features five stars, for the five World Cups the men's team has won. Brazil has — as of this writing — not won a Women's World Cup (from Raul). … New away shirt for Middlesbrough FC (from Ed Zelaski). … Also from Ed: New home shirt for Hull City. … The design of Botswana's new kits sort of makes it look like the players are wearing faux neckties (from Lucan Denfield). … New kits for PSV.

Grab Bag: University of Missouri-Kansas City has a new mascot, the Roos (from several readers). … The 2020 Kentucky Derby logo has been released (from Ben Garner). … The USGA has added a trophy to caddie bibs to signify players who are former champions (from Chris Howell). … President Trump's proposed new Air Force One livery looks similar to his own private jet (from @verbDC). … Is this a new Carrier Dome logo? (from @GenerationInk). … If you know where to look, you can find all sorts of demonic, anti-Christian messages in a Monster Energy can — or at least one person thinks so (from James Gilbert).
• • • • •
The glove-repair auction winner is Michael Gray, who's gotten himself a complete glove re-lacing/reconditioning and a glove-leather wallet for a bid of $150, with the proceeds going to Uni Watch. Congrats to him, and my repeated thanks to Jimmy Lonetti of D&J Glove Repair for donating his services.