An odd little drama played out in the uni-verse yesterday. It was nominally about the NFL, the Vikings, and the 1920s franchise the Duluth Eskimos (whose old jersey design is shown above). But in the bigger picture, it was really about misinformation, speculation, and bad journalism.
It began when an intellectual property attorney named Josh Gerben noticed that the NFL filed a trademark application last week for the team name "Duluth Eskimos." Gerben, who enjoys sharing trademark analysis, especially on sports-related topics, on his Twitter feed, tweeted yesterday morning that the trademark filing "suggests that a[n] NFL team could play a game as the Duluth Eskimos this coming year." In an accompanying video, he went further, saying it's "very likely" that an NFL team — presumably the Vikings — would play a game as the Eskimos this season, and that it would be "very odd" for that not to happen, based on the language in the trademark application. At the end of the video, he hedged a bit and said this was all "obviously speculation at this point."
I urge you to watch the video for yourself — it's only two minutes long:
The NFL has filed a trademark application for DULUTH ESKIMOS.

The trademark application suggests that a NFL team could play a game as the DULUTH ESKIMOS thids coming year.

Here is my analysis of the filing 👇#nfl pic.twitter.com/67jHP6nlME

— Josh Gerben (@JoshGerben) April 30, 2019
A few hours later, writer Jordan Heck of the Sporting News used Gerben's tweet as the basis for an article. The headline, which has since been changed, said that the Vikings would "likely" wear Eskimos throwbacks this season. The text (which I wish I had screen-capped, because the key passages have now been scrubbed) made it sound like the throwbacks were pretty much a done deal.
As you'd expect, that generated a lot of response. A Uni Watch reader posted the Sporting News link in the comments section of yesterday's post; several other readers emailed the Sporting News link to me; lots of people on social media began getting all excited, assuming that this was the first sign of a full-blown NFL throwback program for the league's centennial, just like the one they did for the 75th anniversary in 1994; a thread popped up on Reddit; the #HTTR crowd began stirring the pot regarding "Eskimo" vs. "Redskin"; and so on.
But I was skeptical. For starters, we just wrapped up the NFL Draft, which is where uni-related announcements, hints, and teases usually occur, and there was exactly zero buzz about centennial throwbacks. Moreover, how could the Vikings wear Eskimos throwbacks, or any other non-purple throwbacks, with the one-shell rule still in place?
So I did what the Sporting News guy didn't bother to do: I emailed an NFL spokesman, explained that the trademark filing was leading to a lot of speculation, and asked if he could confirm, deny, or otherwise comment on it. I also included a link to the Sporting News story. His response came within a few minutes:
There are no plans to make a name change or wear those jerseys. As part of the league's 100th season, the team will look to celebrate and salute early football in the state of Minnesota. There are some plans for promotional and content opportunities. The league had the trademark in the mid-'90s following the 75th season and was asked by the club to file again.
So that was the end of that. In order to shut down the speculation, I tweeted at the Sporting News guy and let him know that the throwbacks weren't happening. He thanked me, changed his headline, made some adjustments to his text, and tacked a "Eh, never mind" update onto the end of his now-pointless story.
A few thoughts about all this:
1. Trademark applications are becoming a fertile source of uni- and logo-related information. A number of media outlets, including SportsLogos.net, have based stories on these filings. I confess that I know nothing about this type of research, but I'd like to learn more about it. If anyone wants to school me, I'm all ears.
2. It's one thing to find some interesting info in a trademark application; it's another to read the tea leaves and speculate about what that information means. So I decided to get in touch with Josh Gerben, the trademark attorney whose tweet had gotten this whole thing started.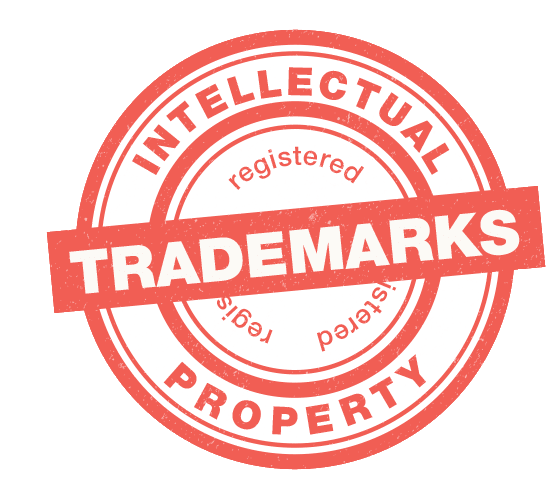 We had a short talk yesterday afternoon and a longer talk in the evening. Smart guy, interesting guy. The short version is that even though the Vikings aren't going to wear Eskimos throwbacks, he stands by his analysis of the NFL's trademark application and thinks most other trademark attorneys would draw the same conclusions he did. In other words, he says he connected the right dots, based on the available evidence from the NFL's paperwork.
Gerben also pointed out that he's not a journalist and can't just call up the NFL to ask them about their trademarks, all of which is true. And although he didn't bring this up, I understand what "very likely" means from a probability standpoint: If the weather forecast says there's a 70 percent chance of rain, that still means it won't rain 30 times out of 100. So I don't think it's a ruinous error for his prediction/speculation to have been wrong in this case. But as I explained to him, I do wish he'd choose his words more carefully, because when an expert says something is "very likely," it sends people off to the races, and that makes things difficult for those of us who work in the world of facts and information. He said he'd take our conversation to heart.
Later in the evening, I sent Gerben a follow-up note with an additional point that I'd neglected to mention on the phone: While he may be an expert on trademarks, he is not an expert on uniforms. If he were, he would have known about the one-shell rule, and that in turn would have made him much more skeptical about the chances of the Vikings wearing Eskimos throwbacks. I'm not sure it would have changed his ultimate conclusion (he insists that the way the trademark application was worded made it seem like the NFL would be putting a team called the Eskimos on the field, and I'll have to take his word for that because he knows more about trademark applications than I do), but at the very least it would have altered his calculus. This lack of expertise in the specific fields and industries from which the trademark applications originate makes it even harder for him (or anyone) to read those tea leaves, and that makes it even more important for him (or anyone) to choose his words with care when publicly assessing those applications.
3. The original Sporting News piece by Jordan Heck was a highly irresponsible piece of journalism. Heck didn't contact Gerben or the NFL — he just ran with Gerben's tweet and used it as the basis for some unfounded assertions. After I followed up with the NFL like he should have done, he scrubbed his erroneous text without indicating that he'd done so. From start to finish, that's some really shoddy work. None of it reflects well on whoever his editor is, either.
But when I talked to Gerben, the trademark attorney, he told me that a Canadian wire service had also published a story about all of this (in part, it appears, because the team name "Eskimos" has been controversial in the CFL). The Canadian reporter, Bob Weber, contacted Gerben and the NFL, so his story was accurate. See, it's not so hard.
———
Overall: What a mess. It's really a case study of how false narratives can spread in no time flat on the internet. Much like that unverified Jets leak from a few weeks back, it's the kind of situation that's hard to contain and tends to bring out the stupid in just enough people to create a critical mass of misinformation. I'm glad I was able to nip this one in the bud.
• • • • •
• • • • •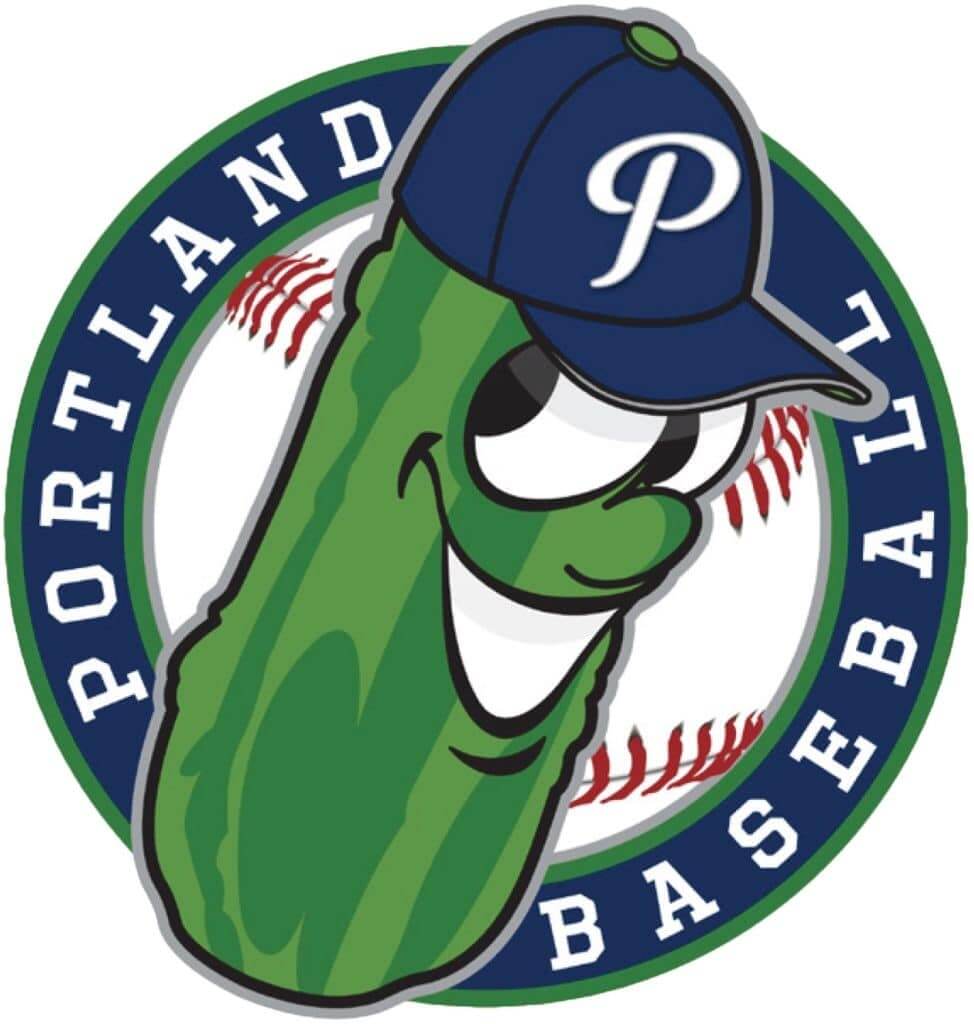 Design contest reminder: In case you missed it last week, Uni Watch is teaming up with the Portland Pickles — that's a college wood bat summer team — for a contest to design the Pickles' "Future Baseball Night" jersey, which will be worn on July 4. There's a $150 cash prize for the winning designer, along with a free futuristic jersey.
Entry deadline is this Friday, May 3. Full details on the contest rules and entry requirements, along with the full scoop on what "Future Baseball Night" will entail, can be found here.
• • • • •
• • • • •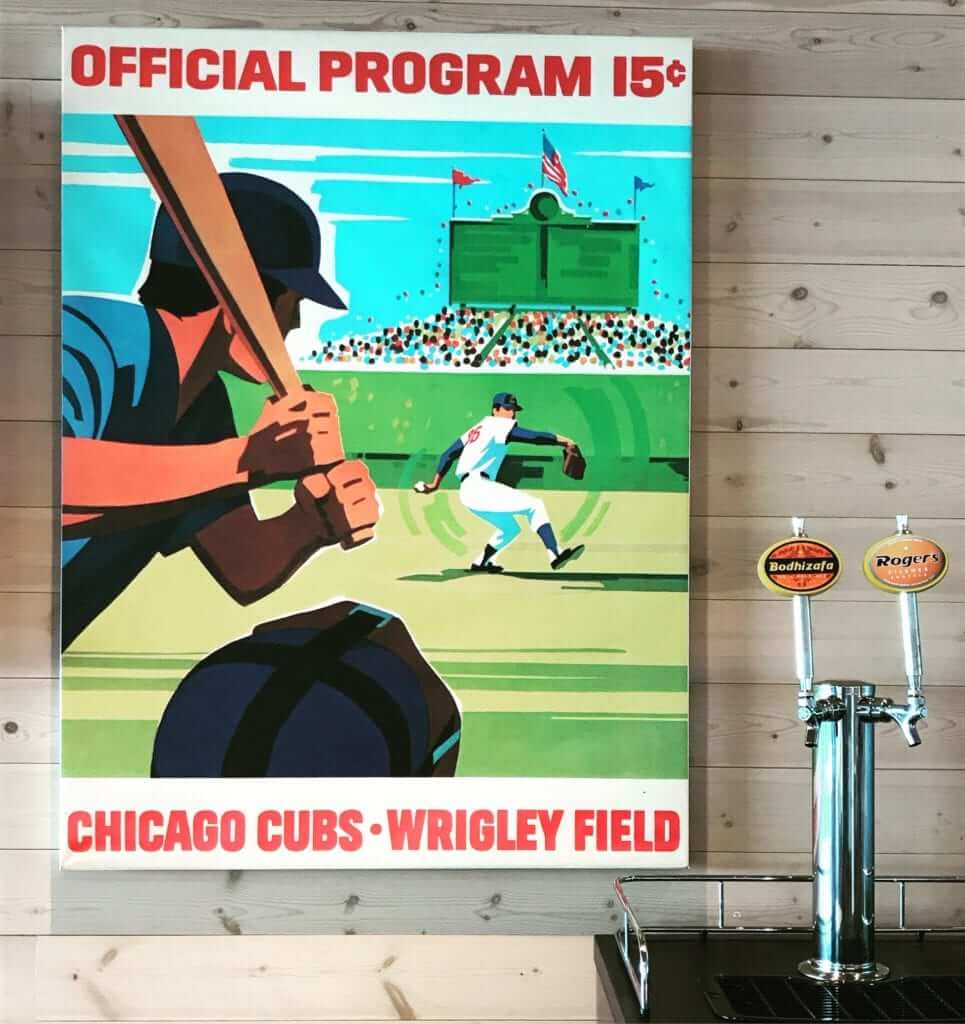 Click to enlarge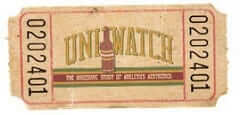 Raffle reminder: In case you missed it on Monday our friends at longtime Uni Watch advertiser Vintage Brand are once again letting me run a raffle for a lucky Uni Watch reader. The winner will be able to choose any item from the Vintage Brand website (including the canvas print of a Cubs program cover shown above).
To enter, send an email to the raffle address by tomorrow, May 2, 7pm ET. One entry per person. I'll announce the winner on Friday.
• • • • •
• • • • •
The Ticker
By Paul, covering today for Lloyd

Baseball News: In the wake of film director John Singleton's death earlier this week, a photo accompanying one of his obituaries showed him wearing a Pirates cap. … Jerry Wolper was watching footage from a 1977 Phils/Padres game in San Diego and noticed that the two base coaches' boxes had the teams' names, sort of like a football stadium having the two teams' names in the end zones. … Former pitcher Fernando Valenzuela's No. 34 will be permanently retired by all teams in the Mexican League on July 6. … Here's a Texas player wearing a clear facemask in the 1987 College World Series. Rockies 3B Charlie Hayes wore something very similar in 1994. … Can't unsee it: The Cubs' logo has a slight but annoying asymmetry (blame Sean Patton). … Braves SS Dansby Swanson's batting helmet logo was off-center last night (from Blake Bozeman). … Phil noticed that Reds OF Yasiel Puig has been doing the old trick of strrreeetching his pant cuffs down over the heels of his cleats and impaling them on his back spikes. That move was banned a long time ago, but, like so many things, they've given up on policing it. … Milwaukee Bucks C Brook Lopez, who's from Fresno, wore a Fresno Tacos jersey when arriving for last night's NBA playoff game in Milwaukee (from Anthony Johnson). … No photos, but an intriguing storyline: On April 29, 1913, the Reds wore White Sox uniforms for a game against the Cubs in Chicago, because their own unis had been left behind during travel (from Frank Bitzer). … Interesting article about a baseball historian's quest to see if Stan Musial once wore No. 36, instead of his familiar No. 6 (from Tod Meisner). … Speaking of Musial, here's a shot of him — maybe from spring training? — wearing what appears to be No. 18 or 19! (From @HighSockSundays.) … Here's a good close-up look at the Braves' 3D helmet graphics, including the MLB logo and numbers on the back.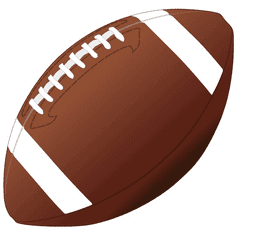 Football News: Twitter-er @waynetm41 notes that LB Thomas Davis, who wore the Walter Payton patch while playing for the Panthers, is now a Charger, which means he's poised to become the first NFLer to wear the Payton patch for two different teams. … Here are the uni numbers for the Colts' draft class. … If you're into uni-ranking polls, here's one that ranks the SEC's home uniforms from worst to first.

Hockey News: The WHL's Everett Silvertips are holding a design contest to create G Dustin Wolf's new mask (from Dave Sizer). … Here's another article about the matching outfits worn by the Blue Jackets' wives and girlfriends (thanks, Phil).

NBA News: Even by the usual grifting standards of publicly financed sports venues, the latest developments involving the Pacers' arena are an absolute scandal. … Reprinted from yesterday's comments: When Kareem played for the Bucks, he sometimes tied his necklace to his jersey strap so it wouldn't flap around while he ran (from Matthew Radican). … The excellent collection of Bucks gameday posters, which we've linked to before, has been updated to show April's games (from Jeff Ash). … Oooh, check out these old shots of former NBA star George Gervin playing with Roma and Manresa toward the end of his career (from @Throwback_Sport). … Cross-listed from the baseball section: Bucks C Brook Lopez, who's from Fresno, wore a Fresno Tacos (MiLB) jersey when arriving for last night's playoff game in Milwaukee (from Anthony Johnson). … A Portland company is upcycling unused NBA jerseys into backpacks, hip-packs, pillows, and more (thanks, Phil). … Uni Watch readers presumably already know what the Trail Blazers' logo represents — but just in case, here's an explainer.

Soccer News: Sampdoria and Parma have released mash-up shirts ahead of their match next week. … Celtic's new shirt, which has already leaked, will officially launch today (from Ed Zelaski). … Real Madrid's new home kit has leaked. … SF City FC is adding a memorial patch for former SF Dons soccer coach Steve Negoesco (from Joachim S.). … Turkish team Alanyaspor retired No. 90 for Czech striker Josef Šural, who was killed in a minibus accident last weekend (from our own Jamie Rathjen). … New pregame jerseys for Louisville City FC (from Josh Hinton). … Forward Madison FC is apparently planning to unveil pink uniforms on Friday (from JM Fisher).

Grab Bag: New Jersey Gov. Philip Murphy has removed the Mississippi state flag from Liberty State Park, which features the flags of all the other states, because the Mississippi flag includes the Confederate battle flag. Several cities and counties in Mississippi, along with all eight of the state's public universities, have also stopped flying the flag. … The U.S. Navy has new color-coded uniforms for prisoners in the brig. … A Greenwood, S.C., police officer is being disciplined for falling asleep while in uniform. … Amazon has introduced a new version of its logo in American Sign Language. … A Kickstarter campaign is trying to raise funds to reprint the style guide from the 1972 Munich Olympics. … A Philly cop is accused of traveling to Brooklyn, assaulting his girlfriend's brother, and stealing the brother's dog — all while in uniform. … Sports Illustrated's annual swimsuit issue will feature, for the first time, a model wearing a burkini and a hijab. That's a nice nod to diversity and inclusion, although it would be even better if SI didn't have a swimsuit issue at all. … New logo and name for Marvin Windows and Doors. … Here's something I think we all saw coming: ESPN will soon discontinue the print version of its magazine. I can add that to the growing list of now-defunct publications I've written for. … A new bill awaiting Florida Gov. Ron DeSantis's signature would allow teen-aged military members to wear their military uniforms at their high school graduations. … There was controversy earlier this week when several U.S. Airmen were spotted riding handicapped scooters and twerking while in uniform. … Speaking of the Air Force, here's an exclusive look at their uniform office (thanks, Phil). … The sportswear company Champion is getting into the e-sports scene. Additional info here. … New university logo for Cal Poly. … Aussie football news: Richmond star Daniel Rioli helped design a new guernsey that the team will wear on May 25 (from James MacNeil). … The software company Red Hat will unveil a new logo today.
• • • • •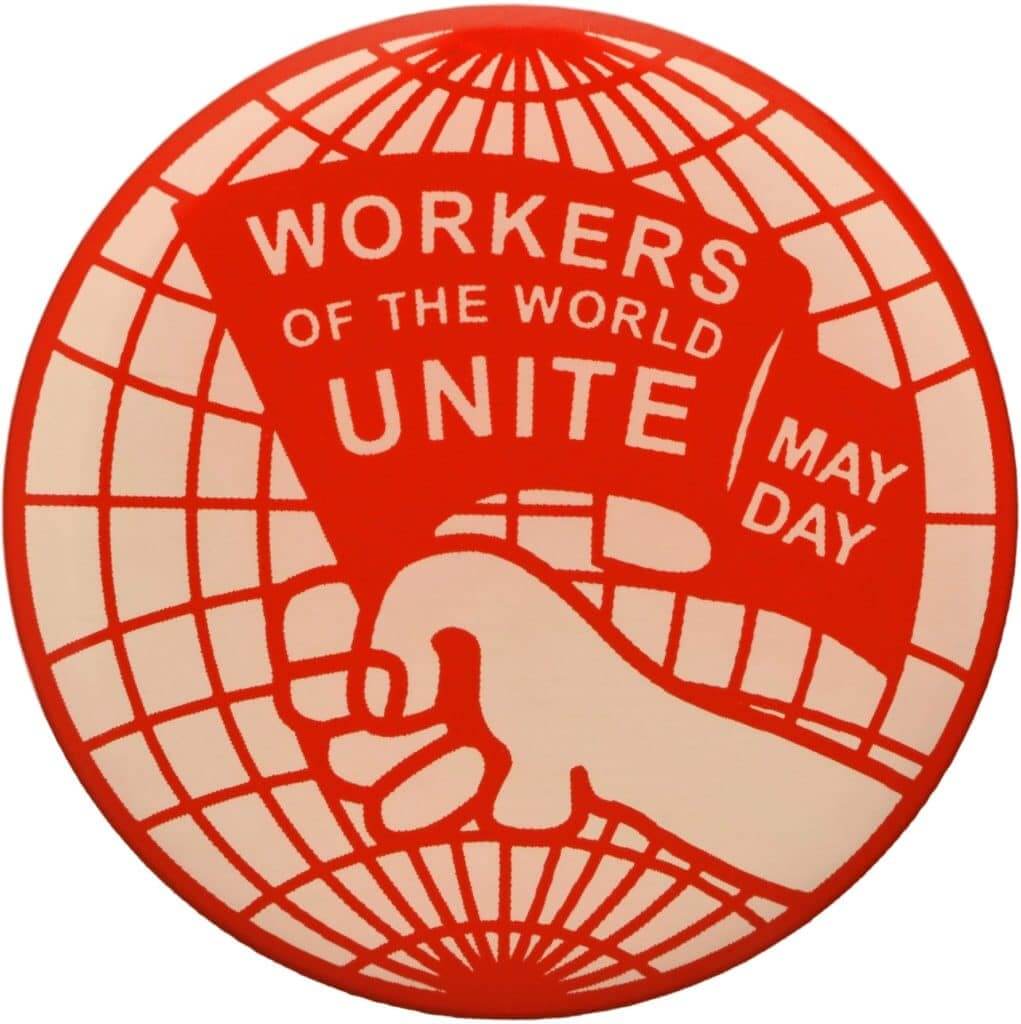 Happy May Day to one and all. And to you Hawaiians out there, happy Lei Day!