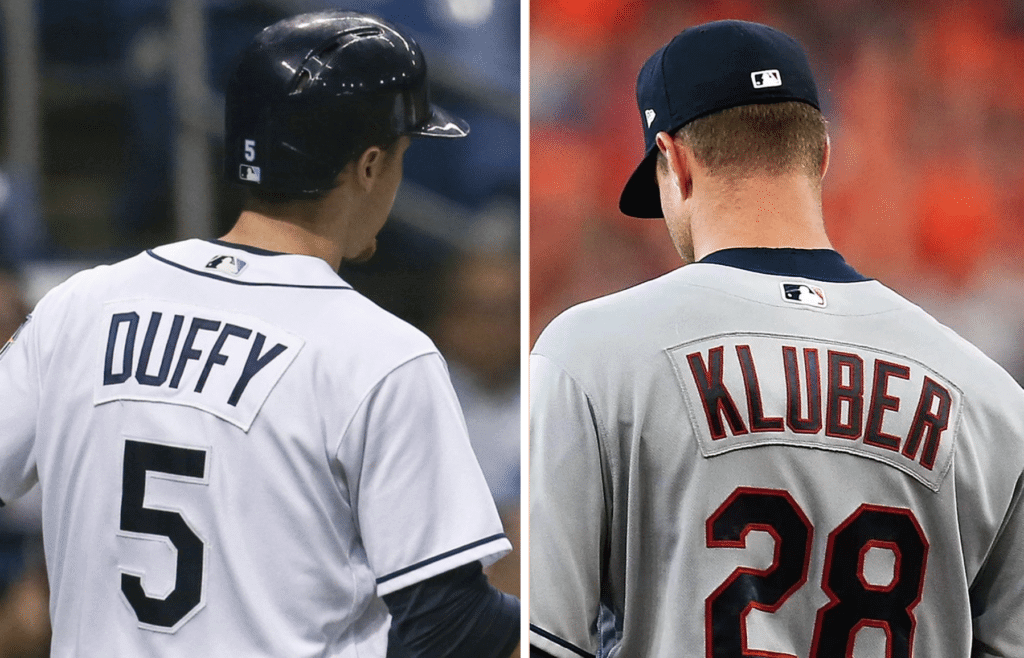 Back in October, I wrote a Ticker item that said, "Chief Wahoo isn't the only thing the Indians are leaving behind next season. A little birdie tells me they're going to stop using nameplates and switch to direct-sewn NOB lettering. Ditto for the Rays."
I had forgotten about that until yesterday, when a series of tips brought the subject back onto my radar. I checked with the two teams' respective spokesmen, who confirmed to me that both clubs are indeed going direct-sewn in 2019. Done and done.
Here's why that's big news: Cleveland and Tampa were MLB's last two nameplated holdouts, so their switch to direct-sewn lettering means there will be no nameplates on MLB diamonds this season — all NOBs will be direct-sewn (well, except maybe for throwbacks or something like that). Or to put it another way, this part of the uniform will now be uniform.
According to Bill Henderson's jersey guide, the Indians have been using nameplates since 1986. But we got a sneak peek at their new look last September, when they played a series in Toronto and got new road jerseys that didn't have the Chief Wahoo sleeve patch. Those jerseys also had direct-sewn NOBs — sort of a dry run for their new 2019 look: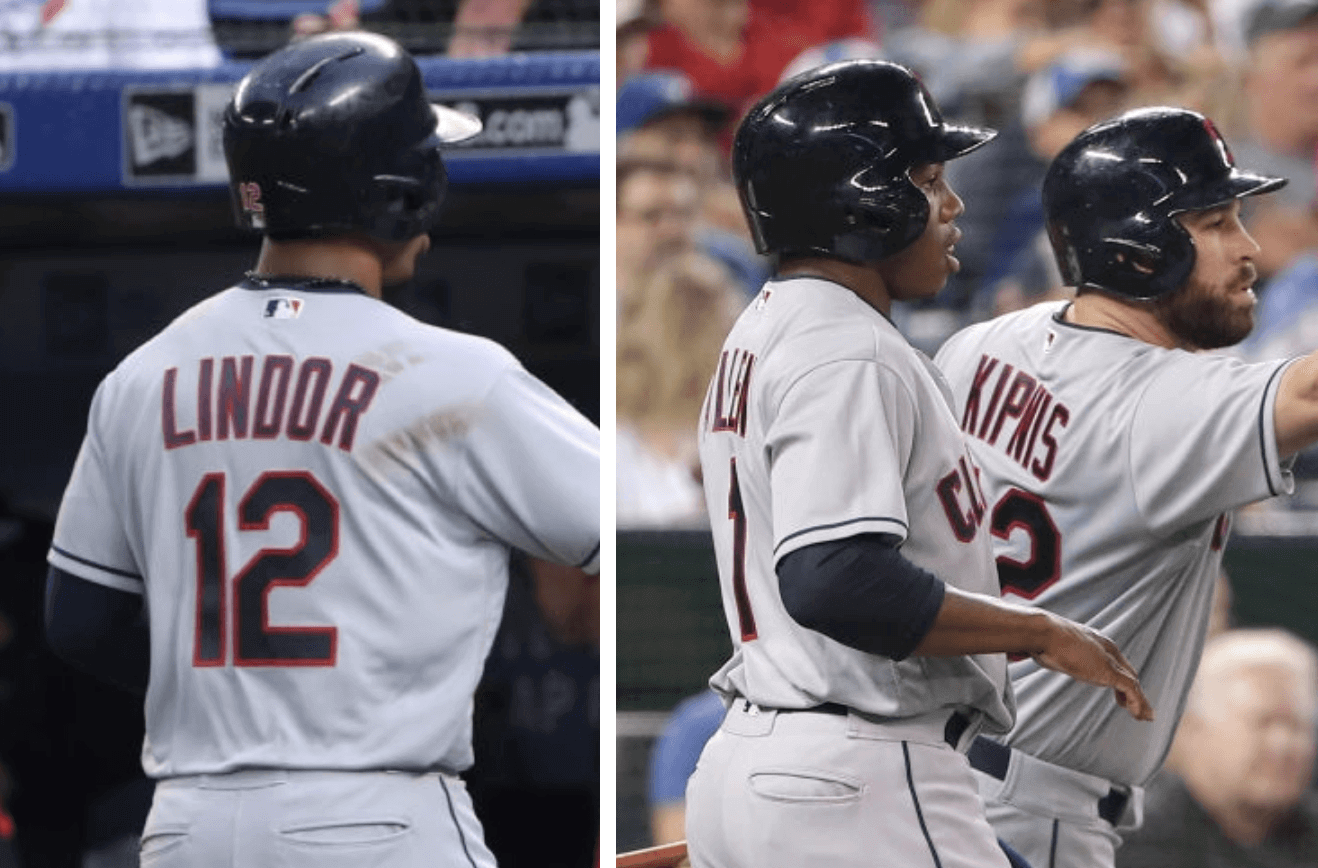 As for the Rays, Henderson's guide indicates that they've used nameplates since their 1998 inception — except oddly, for the retro fauxbacks that they've been wearing in recent years, which have always had direct-sewn lettering. So 2019 will be their first fully 'plate-free season in franchise history.
Speaking of the Rays, they once sent a player out onto the field with what is arguably the weirdest nameplate in MLB history. That was on June 28, 2006, when pitcher Jae Seo had an upside-down 'plate that curved up instead of down:
Such amusing aberrations notwithstanding, I'm not a nameplate fan (well, except maybe for cat measuring). They look okay in football, mainly because the NOBs are straight and the jerseys are stretched across the shoulder pads. But for all other sports, I much prefer the direct-sewn approach. Nameplates look clunky and they can pucker; applying the lettering directly to the jersey looks a lot cleaner. So I applaud the Indians and Rays for finally making the switch. (As an aside, the second or third Uni Watch column I ever wrote, back in 1999 for The Village Voice, was about how the Braves were better than the Mets in every respect but one: The Mets had direct-sewn NOBs while the Braves used nameplates at the time. My editor, the great Miles Seligman, came up with the perfect headline: "Those Atlanta Sew-and-Sews.")
Meanwhile, here's a burning question: This will be MLB's first 'plate-free year since — when? I put that query to Bill Henderson, who did some digging and then declared that the last time no MLB teams wore nameplates was 1972! And only 10 of the 24 MLB teams even had NOBs back then — the rest were NNOB.
Bill then added the following:
The nameplate was adopted as a way to quickly reissue a jersey to another player, or to add a current player's name to a new replacement jersey should his old one be damaged during the season —just pull it off the old one and put it on the new one. But nameplates have now outlived that purpose, because jerseys are almost never reissued today. The ease/speed of sewing a separate nameplate and then tacking it to a jersey that is being made elsewhere has ended with the massive improvements in automation and product movement.

I am told that some of the teams that didn't use nameplates, especially the Dodgers and possibly the Royals, made the decision because they thought that plates looked cheap and made the players seem transient.

It's funny you asked about this today, because we've been having a nameplate stitching discussion on my Facebook page. Some teams use a two-needle, four-thread style, while others use a one-needle, three-thread style. You can see the discussion, including photos showing the differences between the two stitching styles, here.
Now that, my friends, is a seriously geeky level of detail (which I mean as a compliment, of course). Bill is running a jersey-restoration business these days, and it's his attention to things like nameplate stitching styles that makes his work so good.
But there will be no nameplate stitching styles of any kind in the big leagues this season, and I for one couldn't be happier.
(My thanks to Twitter-ers @ajenkinsCLE, @DarrellDawson, and @ThaFamilyJules for their tips regarding this subject, and to Bill Henderson for sharing his knowledge and expertise.)
• • • • •
• • • • •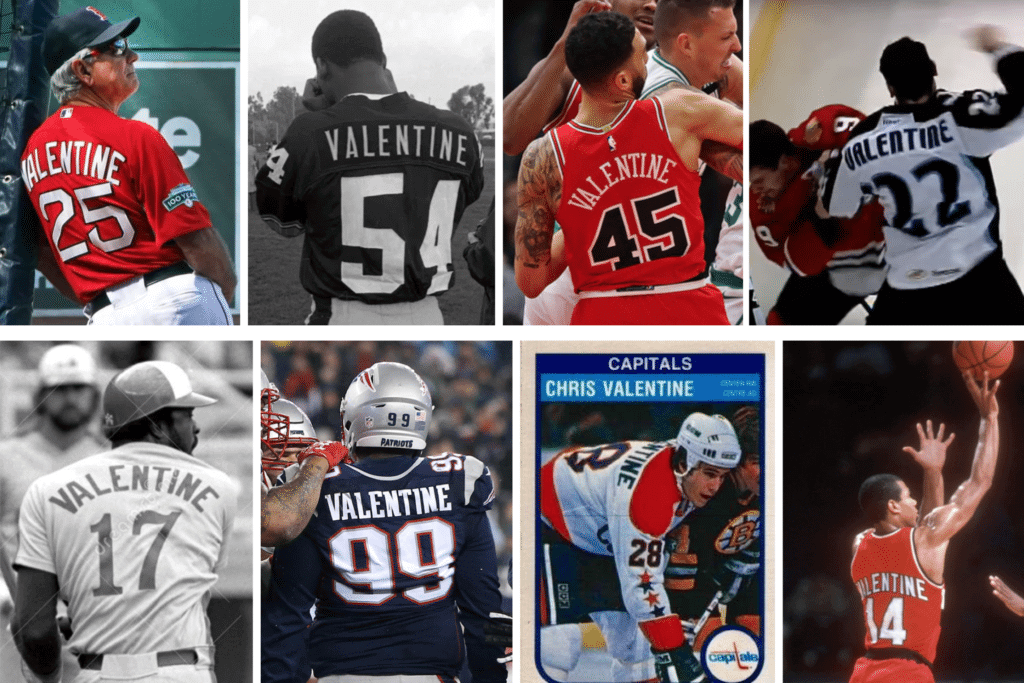 Click to enlarge
Happy Valentines' Day: Out of all of these guys, isn't it crazy that only one of them — Darnell Valentine of the Trail Blazers (at bottom-right) — wore No. 14?
• • • • •
• • • • •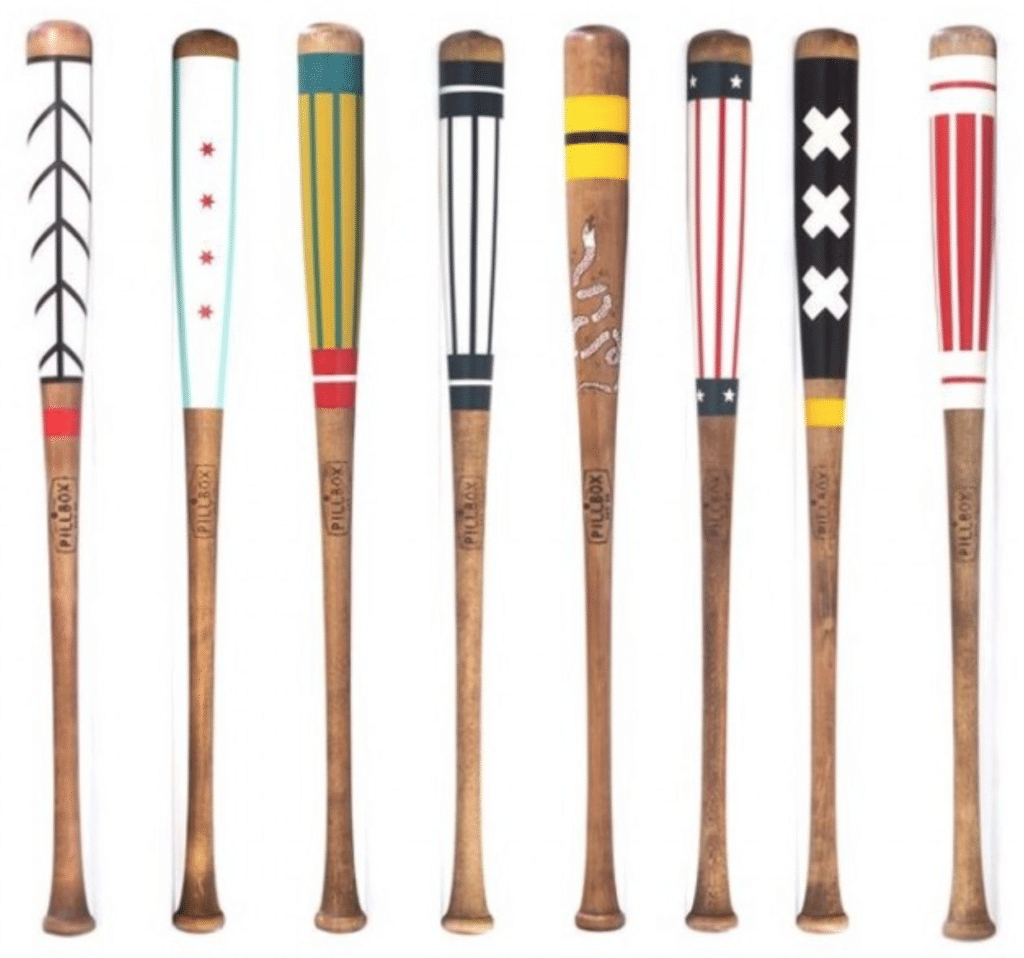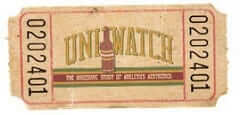 LAST CALL for this week's raffle: In case you missed it earlier this week, the Pillbox Bat Co., which has been advertising with us for quite a while now, is now offering a free item from their website for a lucky Uni Watch reader. In addition to beautifully painted bats like the ones shown above, they also have a variety of pennants, apparel, leather goods, and more, so the winner will have a lot of options to choose from.
To enter, send an email to the raffle address by 7pm Eastern today. One entry per person. I'll announce the winner tomorrow. Good luck!
• • • • •
• • • • •
The Ticker
By Lloyd Alaban

Baseball News: Chief Wahoo isn't just disappearing from the Indians' uniforms. He's also been scrubbed from labels of Bertman's Original Ballpark Mustard (from multiple readers). … Speaking of the Indians: Their 2019 promotional schedule features three bobbleheads and red alternate jersey giveaways (from our own Phil Hecken). … Also from Phil: … You can find a few good photos of the Marlins' batting practice unis in this article. … Red Sox LF and 2018 World Series MVP Steve Pearce is wearing a Pat Patriot shirt in this video (from Sara, who didn't give her last name). … Here's something reader Thomas Juettner can't unsee, and after reading this, you won't be able to either: The White Sox's spring training uniforms feature a throwback batter logo on their cap with a silver dot on the logo's hands. But the jersey has a red dot for its hands. … The Brewers revealed some shots of their new spring training digs, with some distinctively non-current number and letter fonts (from Ed Abauer). … The Aberdeen IronBirds, Single-A affiliate of the Orioles, are letting their fans choose which cap they're going to wear for their August 3 game (from @ColonelWill). … New logo for the DuPage Pistol Shrimp of the Prospect League (from Marky, who didn't give his last name). … Pittsburgh sports fans were unimpressed with Three Rivers Stadium's name when it was released back in 1970 (from Adam Prince). … New retro uniforms for Hawaii (from Max G.). … ESPN's score feed went a bit haywire yesterday, as it placed the Orioles' logo in multiple places and listed expansion teams that don't exist (from Keith Miller). … Nationals P Sean Doolittle wants to have a say (WaPo link in who the Nats' next bullpen cart driver will be (from Tom Turner).

NFL/CFL News: Browns season ticket holders will receive a pair of striped socks and gloves (from Cleo Macin). … Cross-listed from the baseball section: Red Sox LF and 2018 World Series MVP Steve Pearce is wearing a Pat Patriot shirt in this video (from Sara, who didn't give her last name). … Here's another photo of a Raiders player going FNOB in 1960 (from @QuirkyResearch). … Here's a photo of what appears to be one of the New Era jerseys CFL teams will wear this season. No Adidas logo on the back, and the body of the jersey is much more perforated (from @CFLUniMonitor). … Patriots head coach Bill Belichick has renamed his boat to reflect the franchise's latest Super Bowl victory (from our own Brinke Guthrie). … CFL QB Mike Reilly wore a team orange hat as he signed with the BC Lions. Fancy hats are nothing new to Reilly: He once wore a top hat when he received the 2017 Most Outstanding Player Award (from Wade Heidt). … Cross-listed from the baseball section: Pittsburgh sports fans were unimpressed with Three Rivers Stadium's name when it was released in 1970 (from Adam Prince).

Hockey News: From 1937-44, minor league club Pittsburgh Hornets wore these red sweaters when they played at Duquesne Gardens. Now, the Penguins will wear them tonight for their Night of Assists charity event. The sweaters will are being auctioned off, with proceeds going to Penguins Foundation. … Wild G Devan Dubnyk is wearing green Jenpro calf wraps over his original white calf wraps on his Bauer goalie pads (from @TheGoalNet45). … Here's a photo of the Predators' mascot making Valentine's Day deliveries in an old Reebok jersey instead of the current NHL Adidas jerseys (from Tyler Reeder). … The Adirondack Thunder of the ECHL will wear law enforcement-themed uniforms on Feb. 23 (from Mike Lucis). … According to Sportsnet, Former Ducks GM Brian Burke says his job interview with the club was part of the reason the Ducks dropped the word "Mighty" from its name (from @Ham_Steelhawks).

NBA News: C Enes Kanter will wear No. 00 with the Trailblazers, which makes the Blazers the latest NBA to have a zero and double-zero on the roster simultaneously (PG Damian Lillard currently wears No. 0 with the club). Those teams include the Nuggets from 2015-18 when they had PF Darrell Arthur (No. 00) and PG Emmanuel Mudiay (No. 0) and the Pacers from 2016-17 when they had PG Aaron Brooks (No. 00) and SG CJ Miles (No. 0) (from multiple readers). … Speaking of the Blazers and zeroes: Nick, who didn't give his last name, found a glitch in the NBA2K19 that renders Lillard's jersey with a red number instead of the usual white. … Puma and the NBA have inked a multi-year deal, allowing Puma to create officially licensed NBA merchandise (from Griffin Smith). … This basketball court has the old (and dare we say better) Clippers logo at half-court. Ironically, it's right next to the Clippers training facility (from Jonte Robertson).

College Hoops News: New unis for Clemson men's (from Scott M. Trembly). … This writer explains the reasons why Syracuse men's seems to buck the trend of white at home, color on the road (from Rick DiRubbo and our own Phil Hecken). … This writer has ranked what he thinks are the best uniforms in the Big Ten (from Adam Childs and our own Phil Hecken). … South Florida faced off against in-state rival UCF last night, and the South Florida bench decided to alter the UCF logo on one of the sideline chairs by placing tape over it (from @brutebrutebrute).

Soccer News: Here is Toronto FC's new home shirt (from Gabriel Hurl). … Speaking of Toronto FC: The Las Vegas Lights FC of the USL defeated Toronto earlier this month 5-1 in a preseason friendly. The Lights thought they would have some fun with it by commemorating their victory with a banner (from Josh Hinton). … Tottenham Hotspur of the Premier League usually wears blue shorts to match the gradient on their away colors, but yesterday they wore white shorts against Borussia Dortmund, creating a weird belt effect (from @alwayscromulent). … New shirts for the Earthquakes (from Chris Avila). … Buriram United of Thailand has released their AFC Champions League uniforms (from Ed Zelaski). … Scunthorpe United FC is asking fans to help pick the team's new home kit (from @the_arakihcat).

Grab Bag: A sporting goods store in Colorado, whose owner stopped carrying Nike merchandise after Nike aligned itself with Colin Kaepernick, is going out of business after 20 years because of declining sales. … Here's a visual history of Herbie, the mascot of the University of Nebraska athletics (from Brett Baker). … Interesting article (NYT link) on how SportsReference is changing the way we consume sports stats. … An Australian Indigenous All-Stars team will play a Maori All-Stars team this weekend in a rugby league match. Here are the uniforms (from Graham Clayton).
• • • • •
• • • • •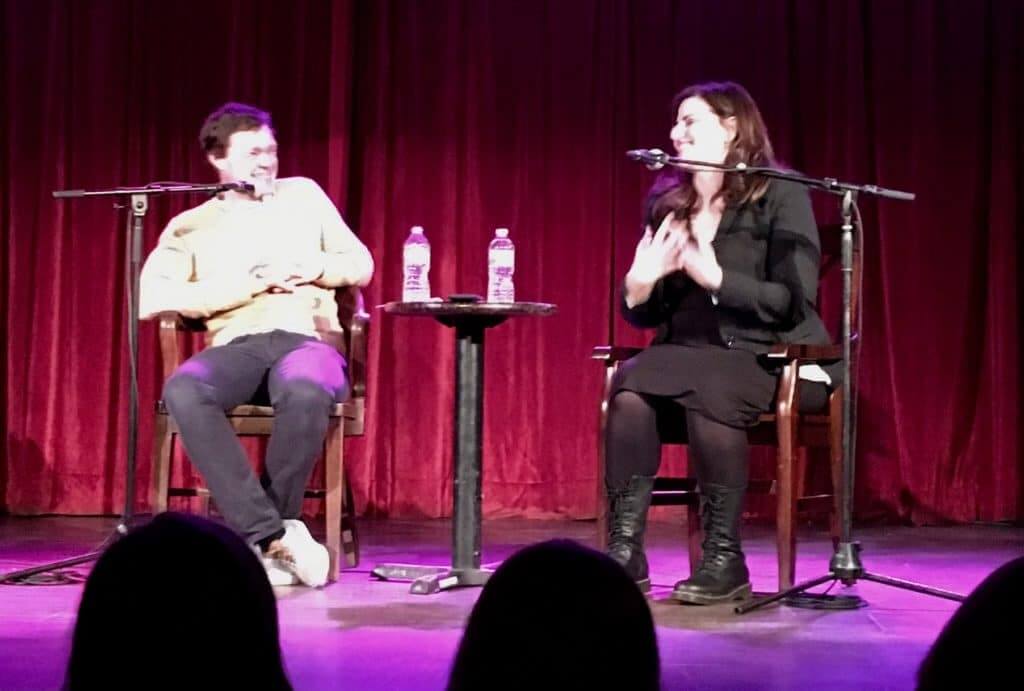 Awful photo, so don't click to enlarge

What Paul did last night: During our latest installment of Question Time, someone asked me about my favorite podcasts, and one of the ones I mentioned was the Longform Podcast, a weekly series of really good hour-long interviews with interesting journalists. Last night they did a live event here in Brooklyn, and one of the podcast hosts, Evan Ratliff, interviewed the great Taffy Brodesser-Akner, who is generally regarded as the best celebrity-profile writer working today. (And yes, she has an odd name. Whatever.)
You may not care about celebrity culture or celebrity profiles; frankly, I don't care about them myself, and I think the celebrity-industrial complex is actually a big problem in our culture. But Brodesser-Akner's writing is so good, and so unusual, she makes you care. Start with her Tonya Harding piece from a year ago — you'll see.
Onstage, Brodesser-Akner was chatty, funny, thoughtful, self-effacing, self-aware, hilarious. She was as interesting when talking about how she got her start at a soap opera magazine as she was when talking about how she spent four days on Billy Bob Thornton's tour bus. If she ever ends up as a guest on a late-night show (which isn't out of the question, since she writes about lots of famous people and also has a novel coming out this summer), she'll do great — she's a natural.
The most interesting part came at the end, when she and Ratliff had an exchange that went something like this (I'm quoting from memory, but I think this is pretty close to what they said):
Evan Ratliff: Do you ever think there are only so many ways to do a profile, only so many approaches or angles, and once you use one of them you can't do it again, and then you'll run out of ways to do it and you'll be done?

Taffy Brodesser-Akner: No, I love writing about people and telling their stories, so I don't think I'll run out of ways to do that. But I do think about two other things. First, I spend, like, a few weeks or a month really focusing on this person I'm writing about, and it's intense. You get inside their head, and they're inside your head, and it's this really intense thing — and then you finish the article and you move on. And of course you should move on, you have to move on. But that's hard. It's draining to be so focused on one person and then just let it go, and then to keep doing that over and over.

The other thing is that when I'm interviewing someone, they have my complete attention. I'm totally devoted to them, and so in some ways they're getting the best part of me. And I often think that's the part of me that my husband and my kids should be getting. And instead, I'm often distracted when I'm around them, and it should really be the other way around.

So those two things make me think about how long I want to keep doing this.
Interesting, right? I assume that the interview will be available on the Longform Podcast soon — I'll let you know if and when that happens.