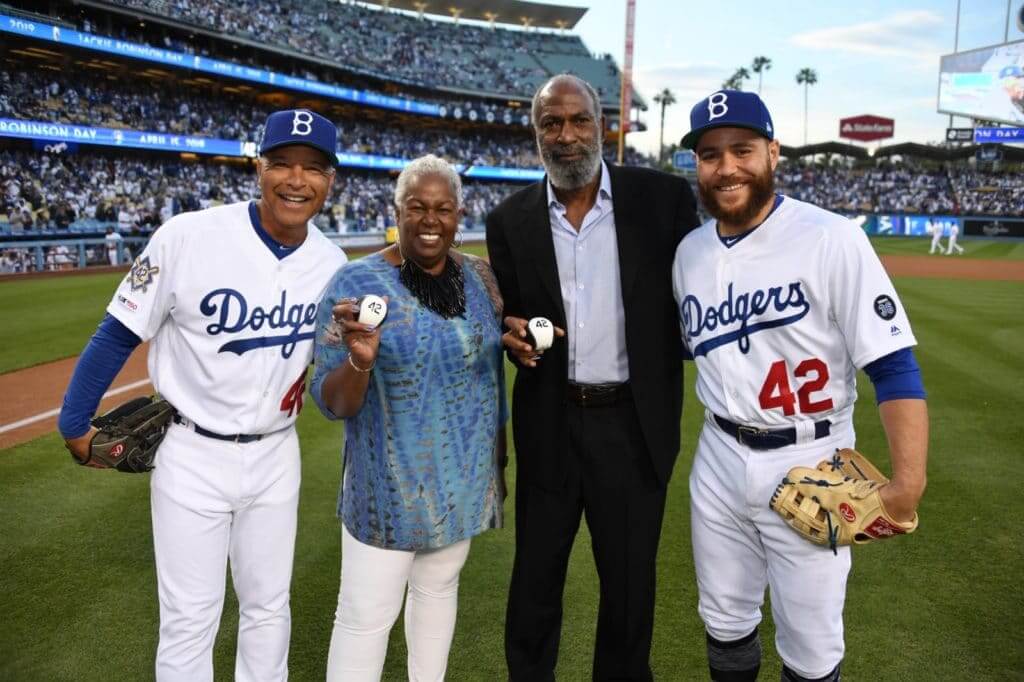 Click to enlarge
Yesterday was Jackie Day, so everyone wore No. 42. It's one of my favorite uni-driven promotions and unquestionably Bud Selig's greatest (only?) positive legacy. I understand why some people think only one player per team should get to wear No. 42, I understand why some fans and broadcasters are annoyed when they can't keep track of the players, and I understand why reader Mark in Shiga will inevitably complain that most of the teams didn't vertically center their numbers properly after removing the NOBs, but I like Jackie Day just the way it is. I love the sea of 42s, I love all the NNOBs, I love to see more players going high-cuffed for the occasion, and I love seeing all of the team rosters on MLB.com showing nothing but 42s. Would I want them to do this more than once a year? No. But for one day each season, it's a treat.
The new wrinkle this year is that the Dodgers wore Brooklyn throwbacks — a nice idea, but the execution was a bit of a hodgepodge. The caps were supposedly based on 1947 — the year of Jackie's MLB debut — but the cap logo, as you can see in the photo above (that's Jackie's children, Sharon and David, posing with Dodgers skipper Dave Roberts and catcher Russell Martin), was comically large compared to the real thing. Here's another shot: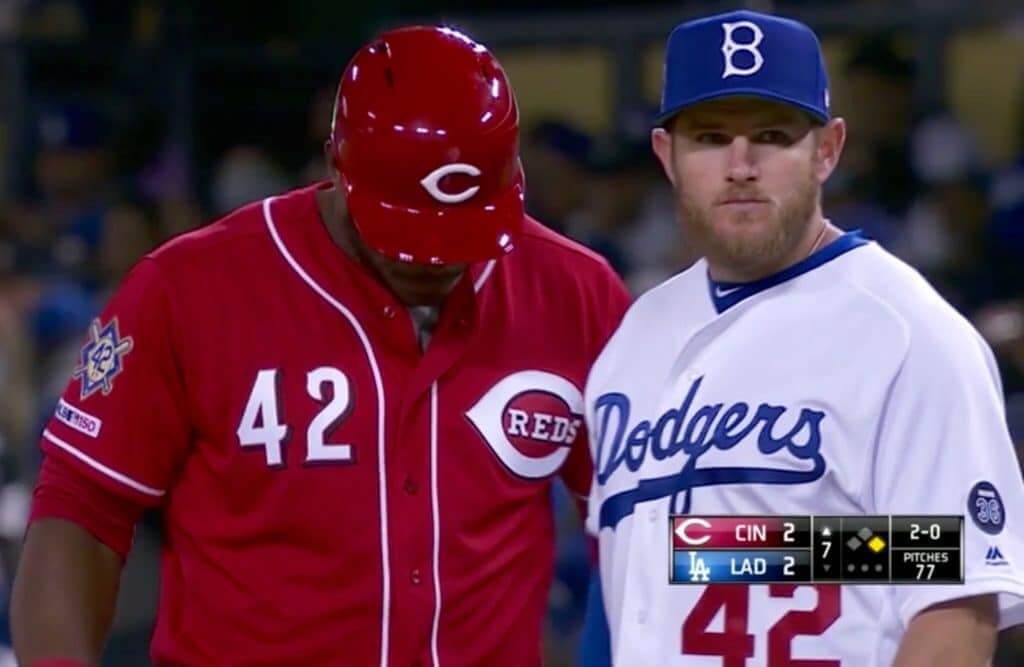 As for the jerseys, the Dodgers didn't add red numbers to their jerseys until 1952, so it didn't make sense to include that for yesterday's game either. And why couldn't they have used throwback batting helmet logos instead of using their usual "LA" logo?
They did make certain throwback adjustments, though. The back numbers, for example, were thicker than usual. Here's a side-by-side-comparison (I managed to get almost identical shots of Clayton Kershaw, exactly one year apart; click to enlarge):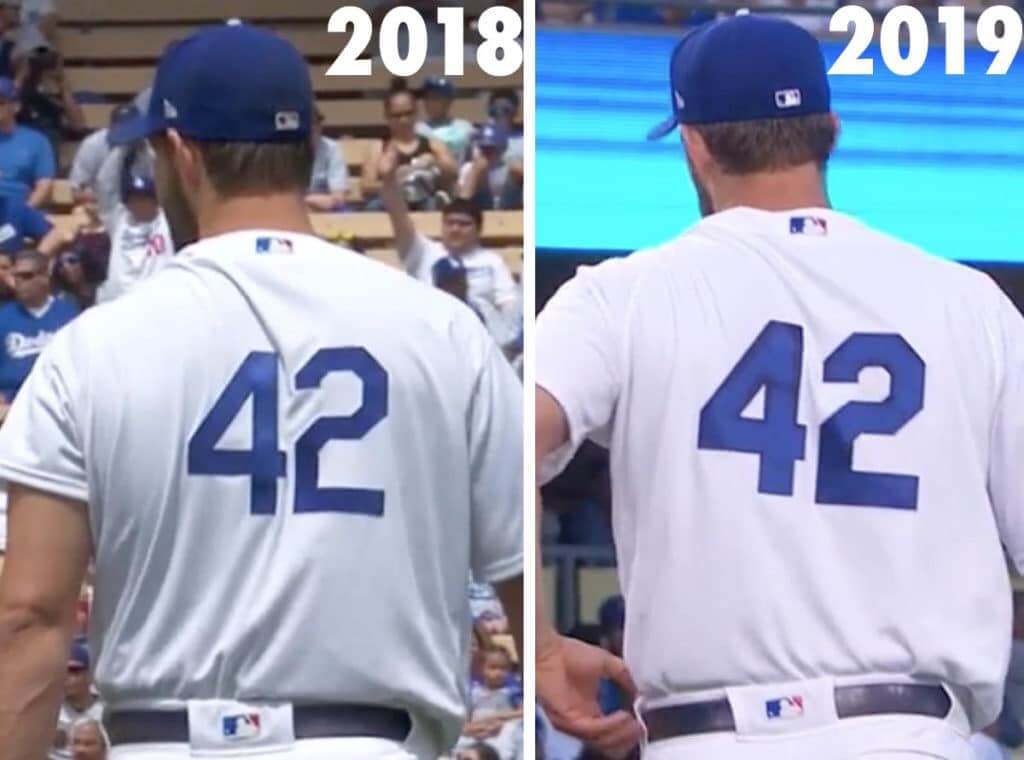 They also used raglan sleeves instead of set-in sleeves — a subtle but discernible tailoring modification (click to enlarge):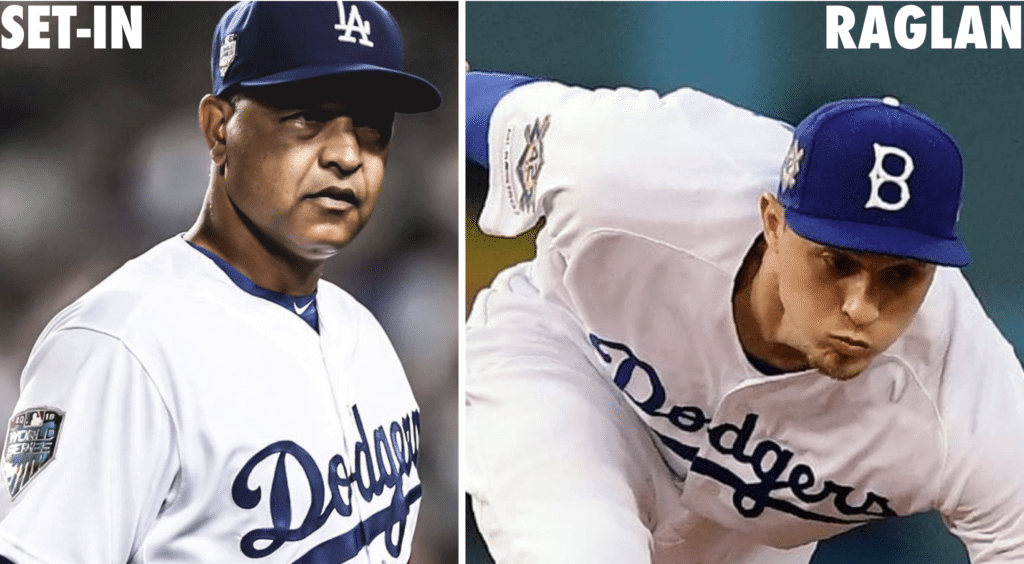 They also used a retro version of their chest insignia, although the differences are extremely subtle and hard to discern (click to enlarge):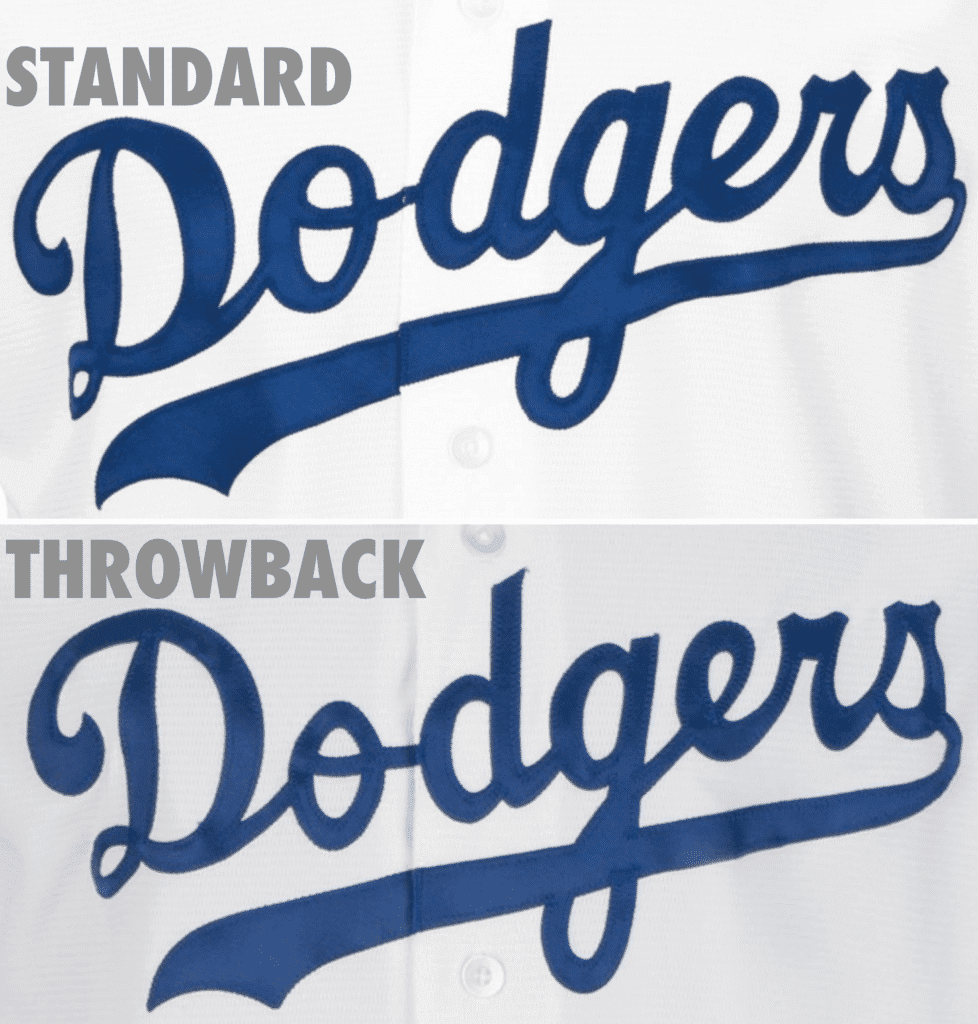 In other Jackie Day developments:
• Yesterday was Patriots Day in Massachusetts, so the Red Sox wore their "Boston Strong" uniforms — the first time that that uni has gotten the 42 treatment: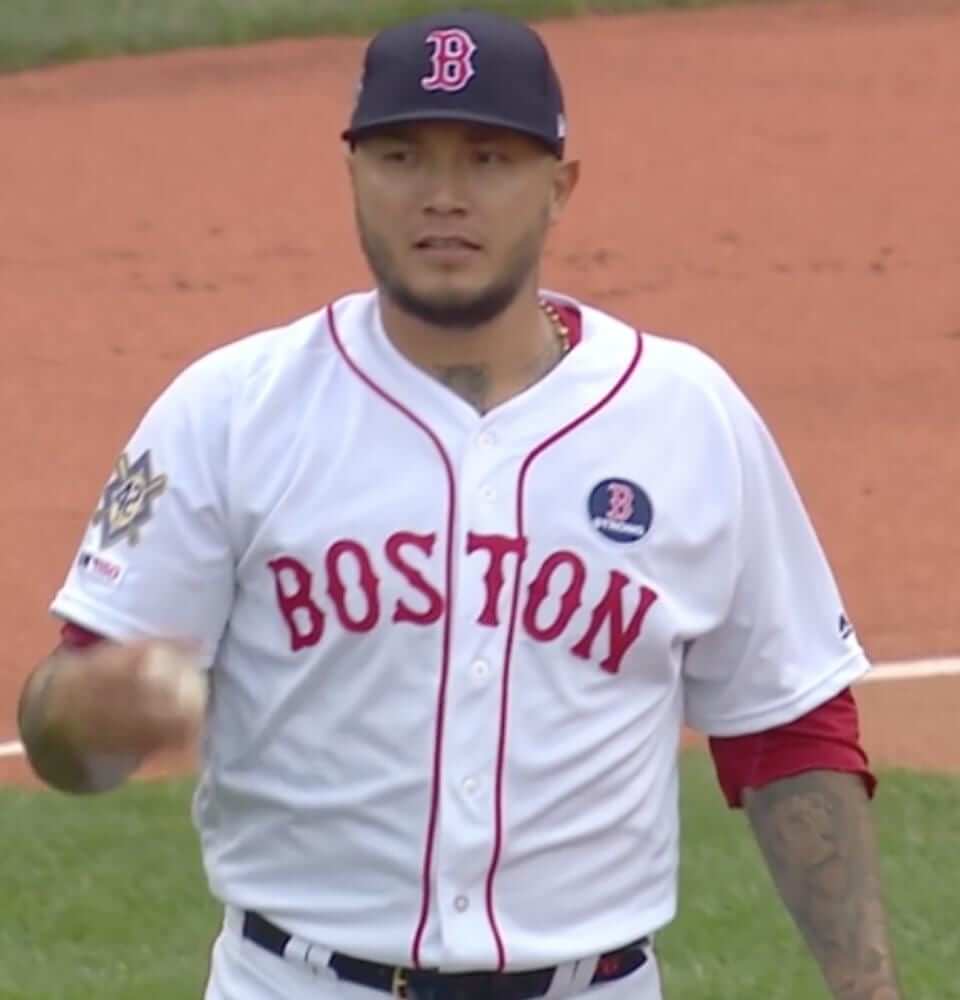 • The Angels — one of a handful of teams that wore solid-colored alternate jerseys yesterday — had particularly large uni numbers, or maybe it's just that their number font has such thick strokes: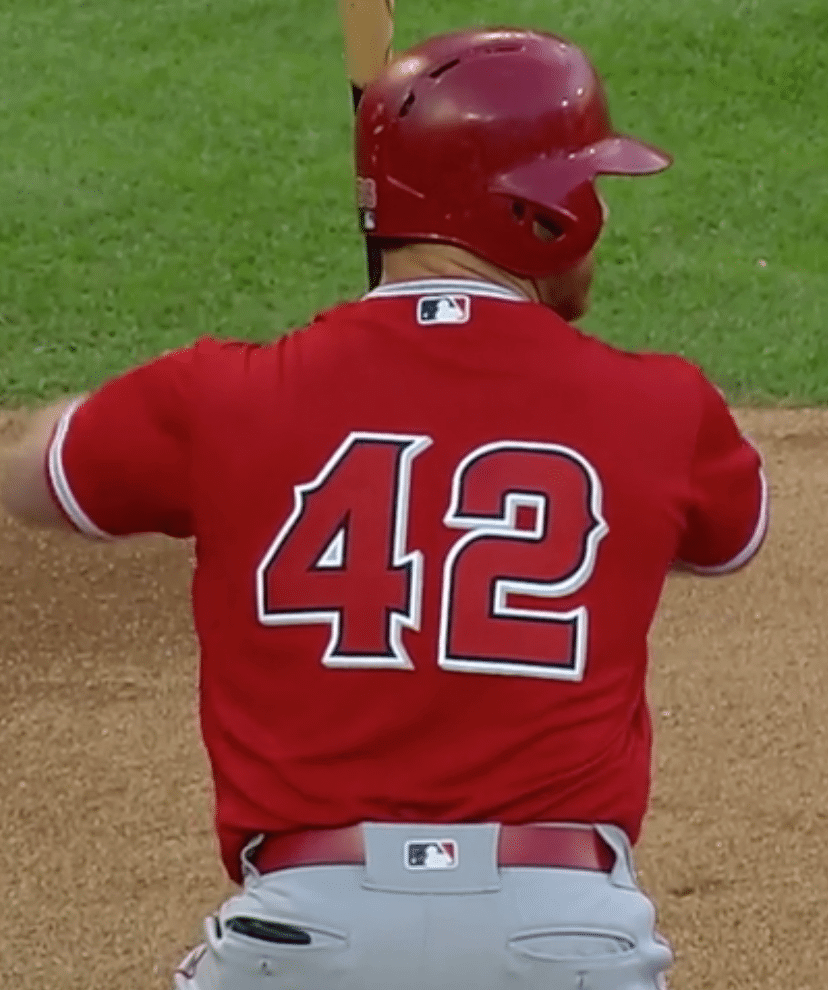 • As you know, the Reds are the only team not wearing the MLB 150 patch this season, because they're wearing their own 150th-anniversary patch instead. But last night they did wear the MLB 150 patch, in conjunction with the Jackie patch:
• Speaking of the Reds, shortstop Jose Iglesias wore the wrong cap. He had the team anniversary mark instead of the Jackie Day logo (click to enlarge):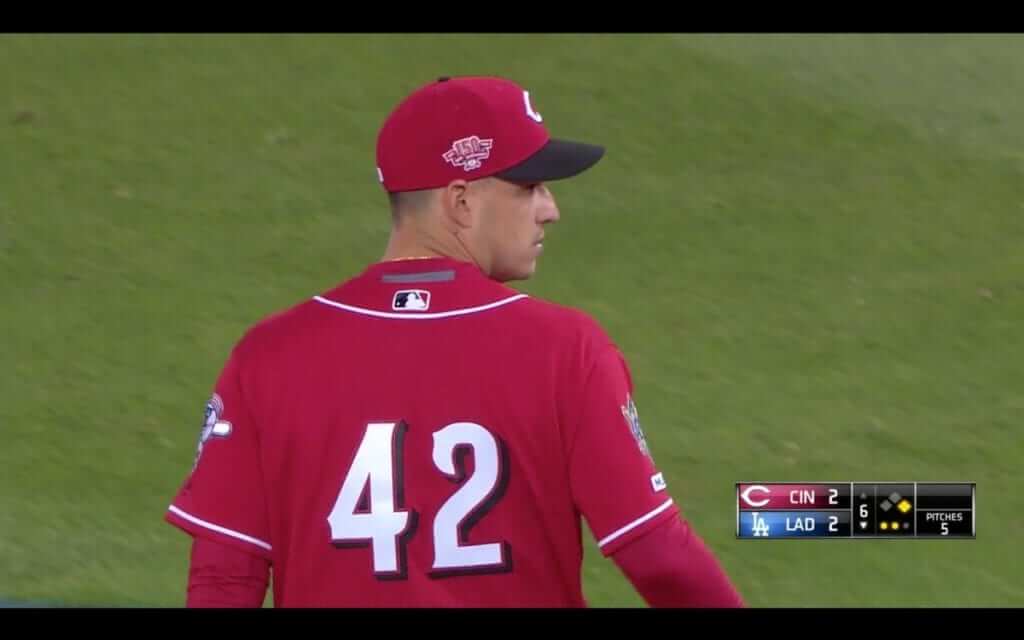 • Phillies outfielder Bryce Harper wore lots of UCLA-themed gear. Jackie did attend UCLA, of course, although I suspect this particular tribute owed more to the fact that Harper has an endorsement deal with Under Armour, which is UCLA's outfitter.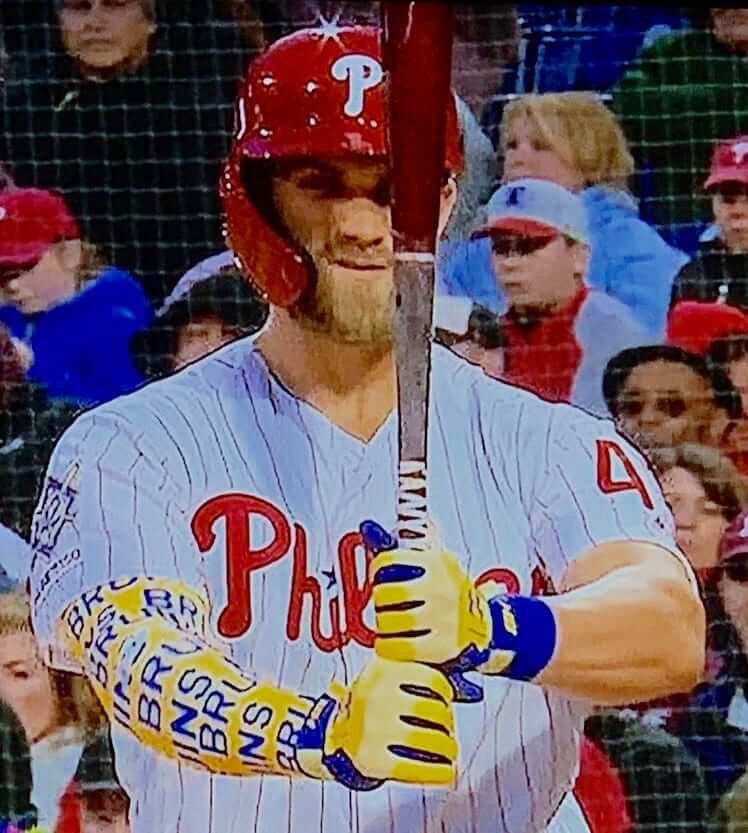 Bryce Harper wearing UCLA-themed shoes tonight for Jackie Day. pic.twitter.com/Ml0brfWD64

— Paul Lukas (@UniWatch) April 15, 2019
• Many players opted to wear Jackie-themed T-shirts during pregame activities: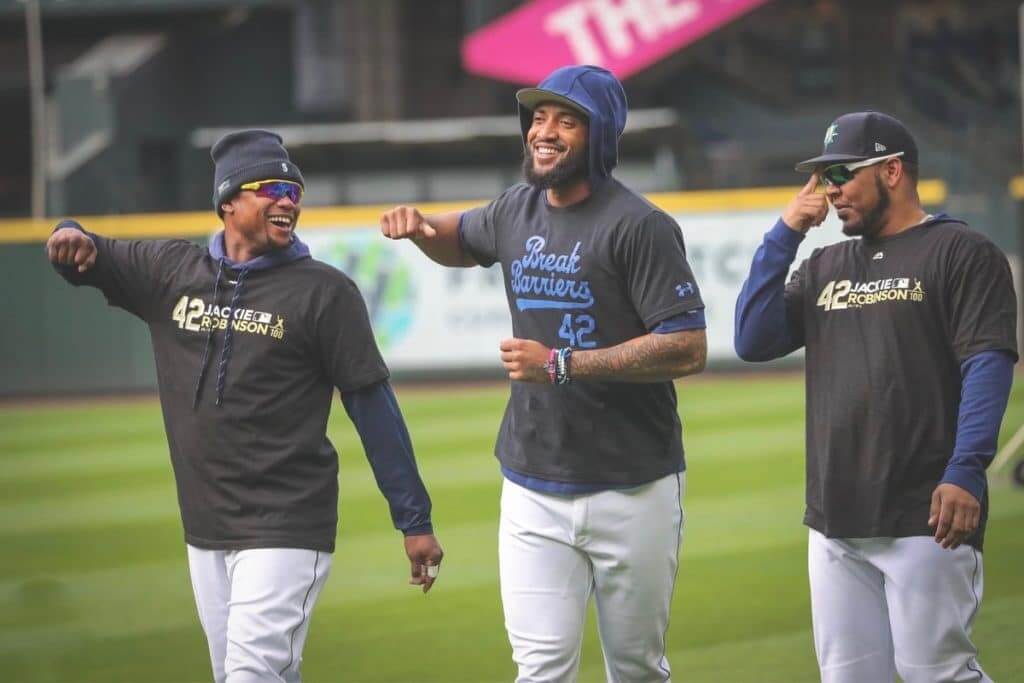 • Mets second baseman Robinson Canó, who was named after Jackie and wears No. 24 because it's an inverted 42, wore Jackie-themed spikes, as did many other players:
You inspired me to play the game that I love. You broke every barrier to pave the way for generations to come. Thank you Jackie. My name, my number. Honoring you today and every day. #Jackie42 #JackieRobinsonDay pic.twitter.com/uXv80xt1ZD

— Robinson Cano (@RobinsonCano) April 15, 2019
@UniWatch in the @Rangers game @LinoDeShields is wearing one clear that has Jackie Robinson's face and his time with the Dodgers shown, his other chest is Kansas City Monarch's themed, Robinson's team from his time in the Negro League #Jackie42 pic.twitter.com/Pa9t9wzBzg

— Jonathan Shaw (@jonny_shaw_10) April 16, 2019
• Did you know that former MLB outfielder Dave Henderson wore No. 42 as a shout-out to Jackie? I didn't. His sons threw out the first pitch in Seattle last night, wearing replicas of their dad's old Mariners jersey:
Nice moment prior to tonight's #Mariners game when Dave Henderson's sons threw out the ceremonial first pitch wearing their dad's trident jersey. Hendu wore #42 to honor Jackie Robinson. #Jackie42 pic.twitter.com/uW2tEtL6LH

— Phantom Dreamer (@ChrisRichardsPD) April 16, 2019
• As usual, the umpires also participated in the uni-driven celebration: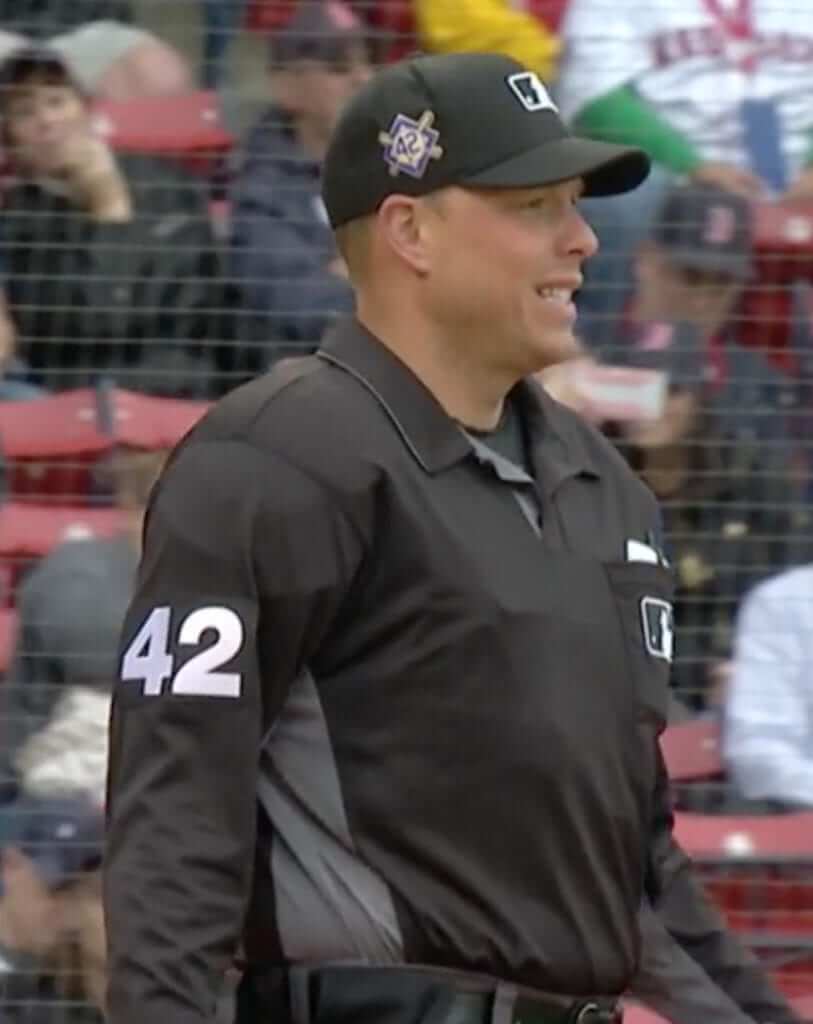 • The 42isms did not include dugout gear, however — or at least not for the Red Sox: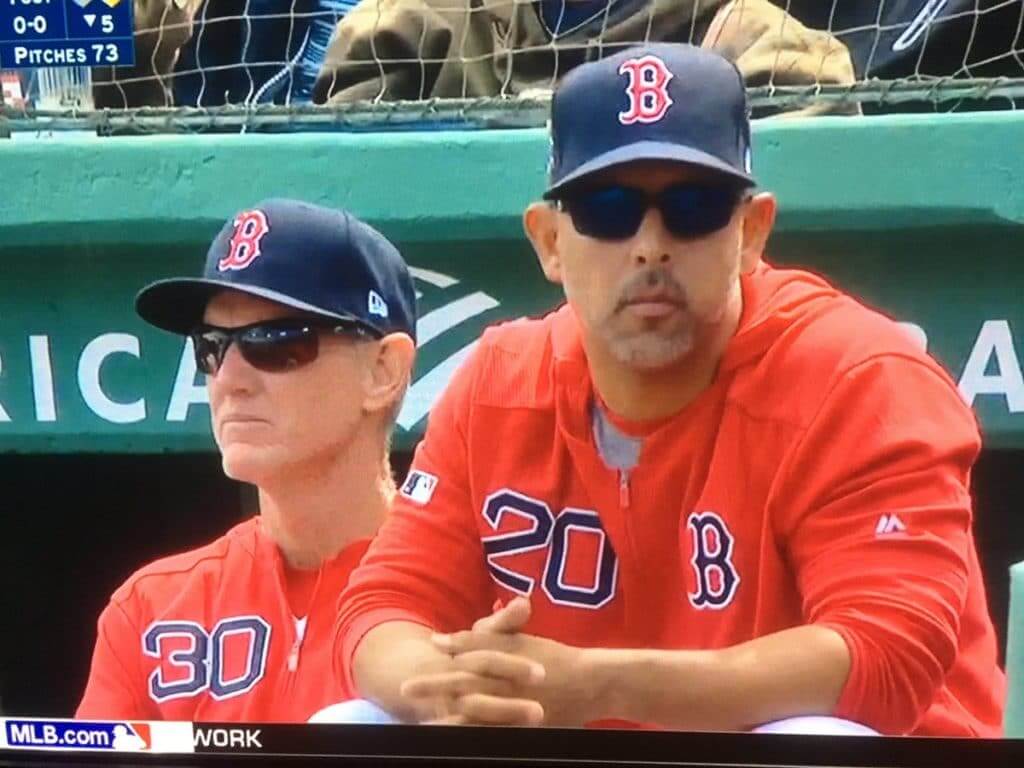 So that was yesterday. The 10 MLB teams that had yesterday off will wear No. 42 today. This will result in certain teams doing the 42 thing for a second consecutive day. The Orioles, for example, were 42-clad yesterday against the Red Sox, and they'll maintain the 42 treatment for tonight's game against the Rays, who did not play yesterday. Similarly, the Red Sox, who wore 42 at home yesterday, will wear 42 on the road for their game tonight against the Yankees, because the Yanks were off today. (Personally, I wish they'd restrict the 42 treatment to one day. If a team has the day off, they can wear 42 the next year.)
As a fascinating footnote to Jackie Day, here's a really interesting article about how the Dodgers misguidedly assigned No. 42 to a rookie pitcher in 1969. Highly recommended reading.
Finally, there's this, which is a good note to go out on:
Vin and Mrs. Robinson. #Jackie42 pic.twitter.com/QswmskJ5DQ

— Los Angeles Dodgers (@Dodgers) April 16, 2019
(My thanks to all contributors, including Mike Barnes, Mike Chamernik, Jakob Fox, @ejl1984, and of course Phil. My thanks also to Chris Creamer for research assistance.)
• • • • •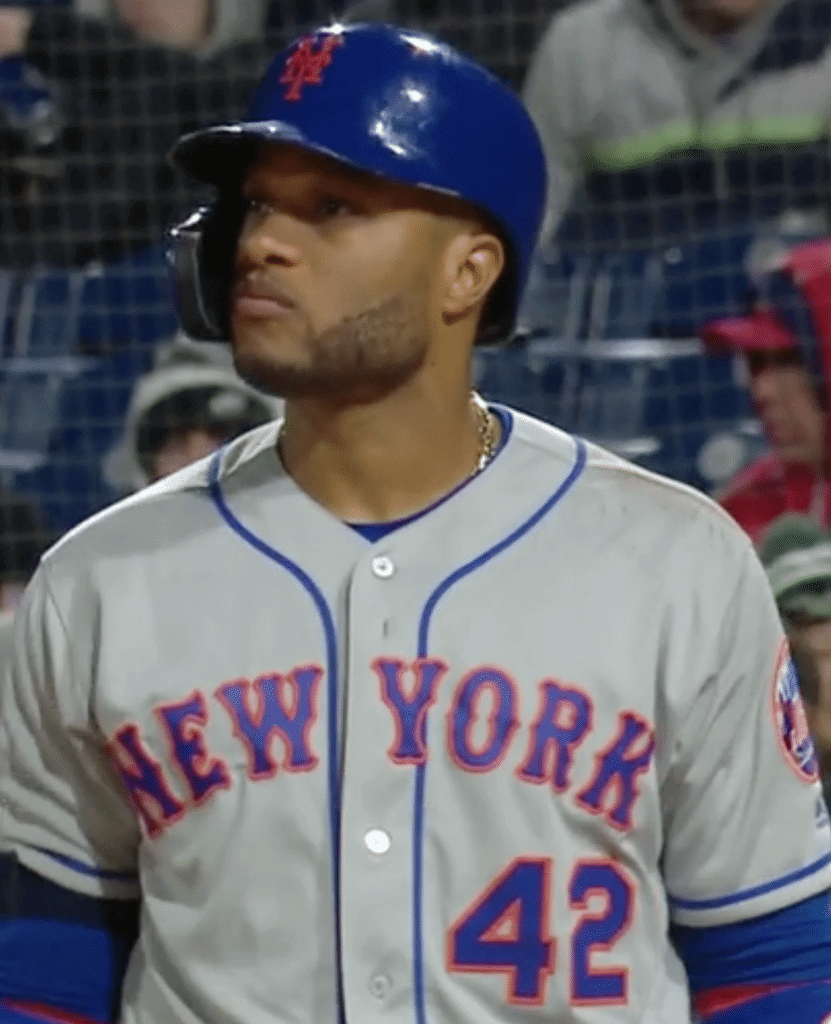 • • • • •
Click to enlarge
Who's got the button: As longtime readers may recall, back when Pedro Martinez pitched for the Mets in the late 2000s, we noticed that he often had his top jersey button buttoned but his second button unbuttoned, which sometimes created a Napoleonic gap in his jersey that a reader — I no longer recall who — dubbed the "Pedro Porthole." Last night I noticed Mets second baseman Robinson Canó doing the same thing (see above).
I figured his button had come loose and that it was just a random thing. But just in case, I did some quick photo research — had Canó previously sported the Pedro Porthole during his brief tenure with the Mets? Yup: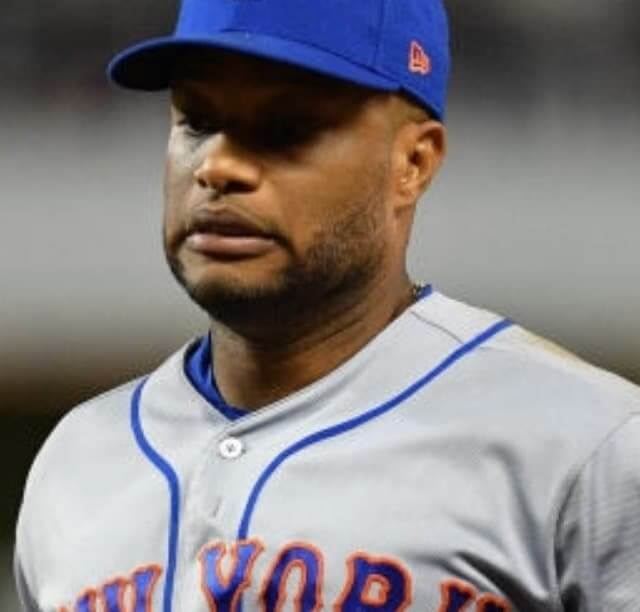 Hmmm. Had he also done this with the Mariners? Yup: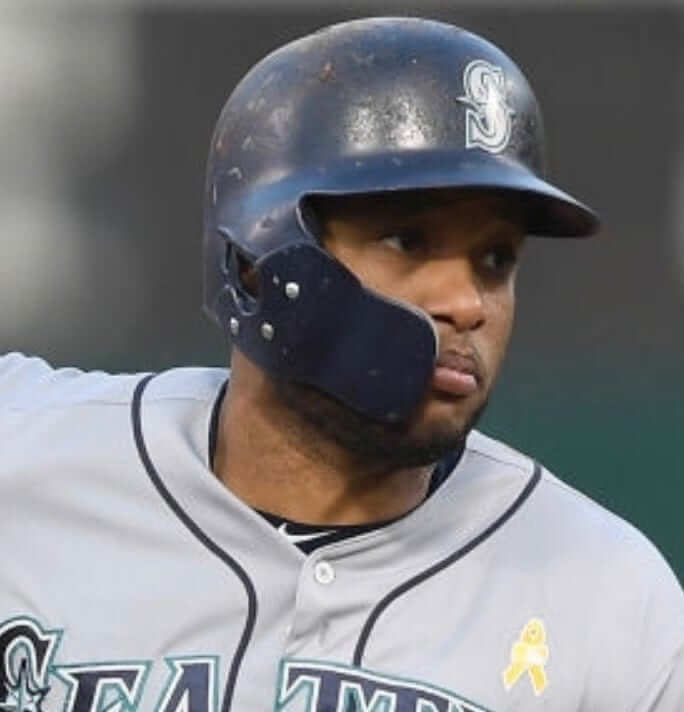 Hmmmmmmmmm. Had he also done this with the Yankees? Yup!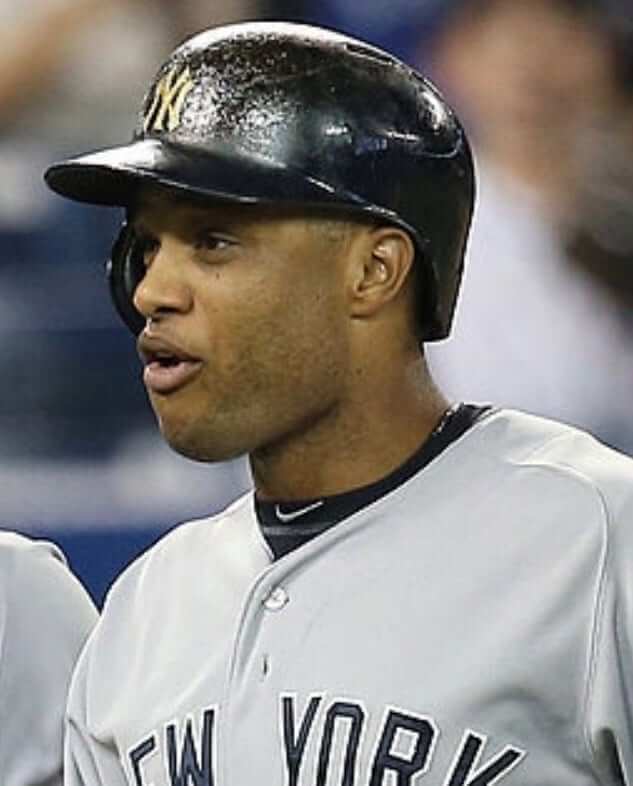 (In case you're wondering: I chose photos of road jerseys because it's harder to discern the buttons and buttonholes on a white jersey. But he does it with home jerseys too.)
To be clear: Canó doesn't always leave the second button open. But based on my admittedly uncomprehensive photo research, I'd say he does it a good 85 to 90 percent of the time. That's a much higher rate of Pedro Porthole-age than Pedro himself had. Perhaps we should rename this phenomenon the Canó Cavity or something along those lines. The Canópening? Something else?
• • • • •
• • • • •
Click to enlarge
EPL uni-tracking project: I received a note last night from reader Tom Gronek, as follows:
For a while now, I've been trying to find something that would show me what Premier League teams have worn from week to week. So about a month ago I decided to start my own website where I created a "road map" of what each team has worn. Since I don't have a fancy graphics software, I did the jerseys up as a cross-stitch with a full-season recap as well as individual weekly recaps.

I tried to keep true to the real things but some may not have ended up 100% accurate. In most cases, I included special patches, alternate advertising, etc., such as the poppies that every team wore during Week 12.
You can explore Tom's website here.
• • • • •
• • • • •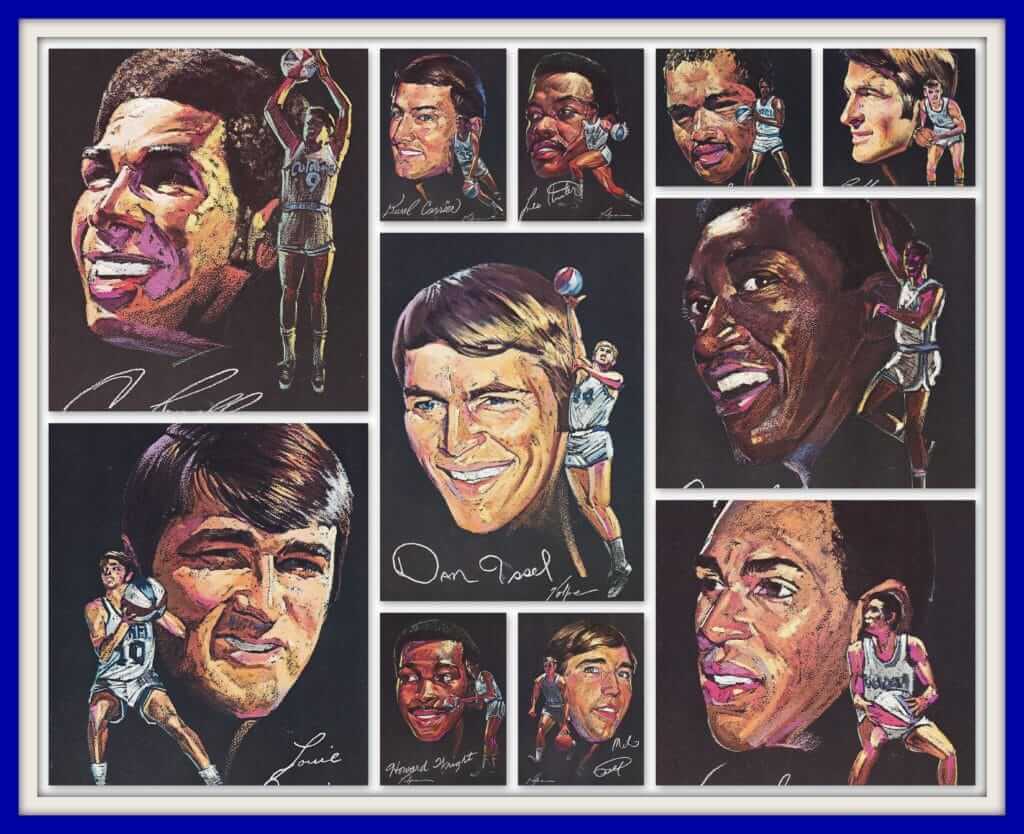 Click to enlarge
Collector's Corner
By Brinke Guthrie
Had these, you bet I did! Here's a set of 1971 Kentucky Colonels Pro Star Portraits from one of the masters, Nick Volpe. We bought our gas at Marathon in the Louisville suburb of St. Matthews to get these. They also offered a poster and a set of thermal cups, one of which I still have!
Now for the rest of this week's picks:
• Last week we featured a 1970 game program for the Boston Red Sox. More good stuff this week with this 1979 Minnesota Twins scorecard. Nice and clean with current team logos on the cover. And just 75 cents! The seller notes this was for the 1979 home opener vs. the Angels (a 6-0 loss against Nolan Ryan, as it turns out).
• This San Francisco Giants bumper sticker (not 1970s as the ad states; they used this logo 1983-1993, according to Chris Creamer) also includes KNBR 68 — still the radio home of the Giants today — "for the good times."
• These 1970s New York Knicks wristbands are still sealed in their package.
• A funky font can be found on this 1970s Expos pennant.
• This eBay seller is offering a pair of Swatch-like Bulova sports watches featuring the Chicago Bulls and Blackhawks.
• Turn It Up San Diego: Charger Power is the theme of this 1990s T-shirt.
• Get a set of four Milwaukee Brewers "Barrelman" glasses in this auction.
• Here's another baseball glass, this time for the 1970s Baltimore Orioles. Every time I see something 1970s-ish for the O's, I think of the 1970 World Series and how Brooks single-handedly killed the Reds. Some things you just don't forget.
• Look at this 1970 movie ad. Joe Willie had just pulled off his Super Bowl win, and the bright lights of Hollywood beckoned. The movie was called Norwood. The ad proclaims "It's Good Time Glen and Super Joe, Doin' What They Do Best!" With a cast that included Pat Hingle, Dom DeLuise, and Meredith MacRae, how did I miss this one? Wait, I would've been 10, that's how.
Luv Ya Blue! This Houston Oilers gumball helmet is still MIC (mint on card) and has an offer for Orange Products' great goalpost kit — just a buck!
Seen an item on eBay that would be good for Collector's Corner? Send any submissions here.
• • • • •
• • • • •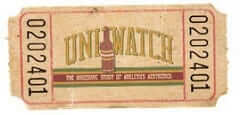 ITEM! Another one-day raffle: Reader Blair Hough, who won one of our recent membership raffles, has generously paid it forward by purchasing another membership, which we're going to raffle off today.
To enter, send an email to the raffle address by 7pm Eastern today. One entry per person. I'll announce the winner tomorrow. Please join me in thanking Blair for donating this prize.
• • • • •
• • • • •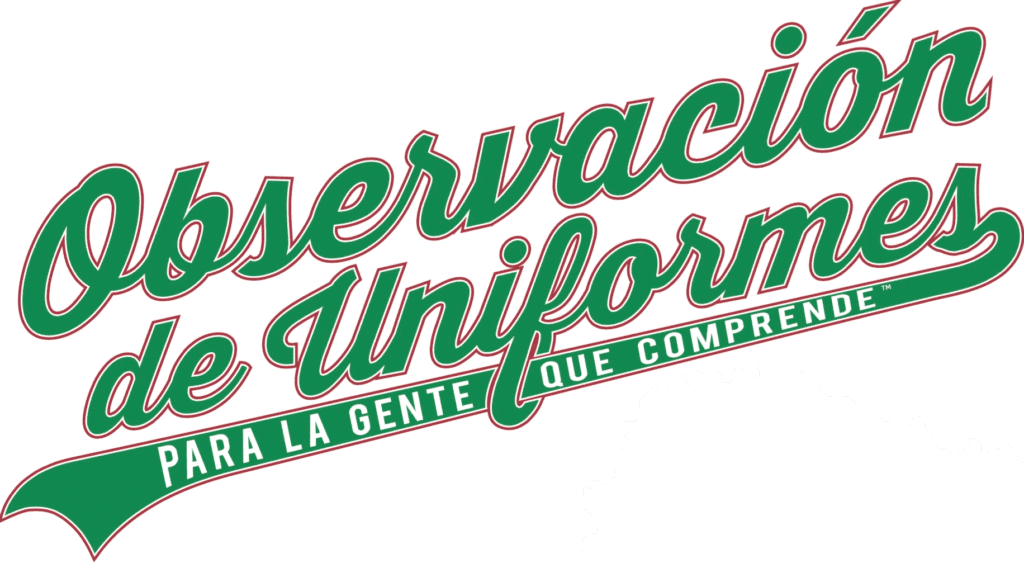 Click to enlarge
'Tis the season: Don't look now, but Cinco de Mayo is just a few weeks away, which means it's the perfect time for our Uni Watch Spanish-language T-shirt, available in a wide range of colors (click to enlarge):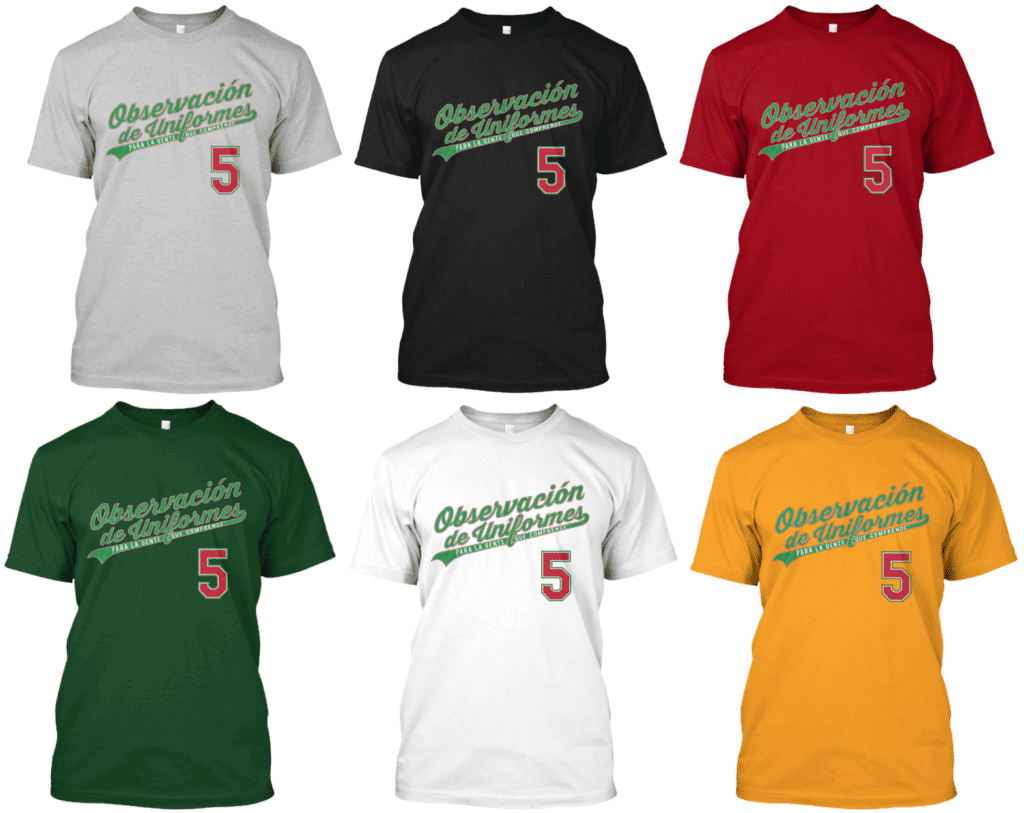 You can order them here. My thanks, as always, for considering our products.
• • • • •
• • • • •
Click to enlarge
ITEM! Cap update: Eighty-some Uni Watch Classic Caps arrived yesterday at the home of reader Mark LaFountain, who, as I explained last week, will now become our official Uni Watch Cap Fulfillment Manager. Mark has placed the caps in some storage bins that I provided for him, and now we're just waiting for some cardboard box mailers. Looks like they'll arrive by Thursday, so we should be open for cap business on Friday. Stay tuned, and thanks for your patience.
• • • • •
• • • • •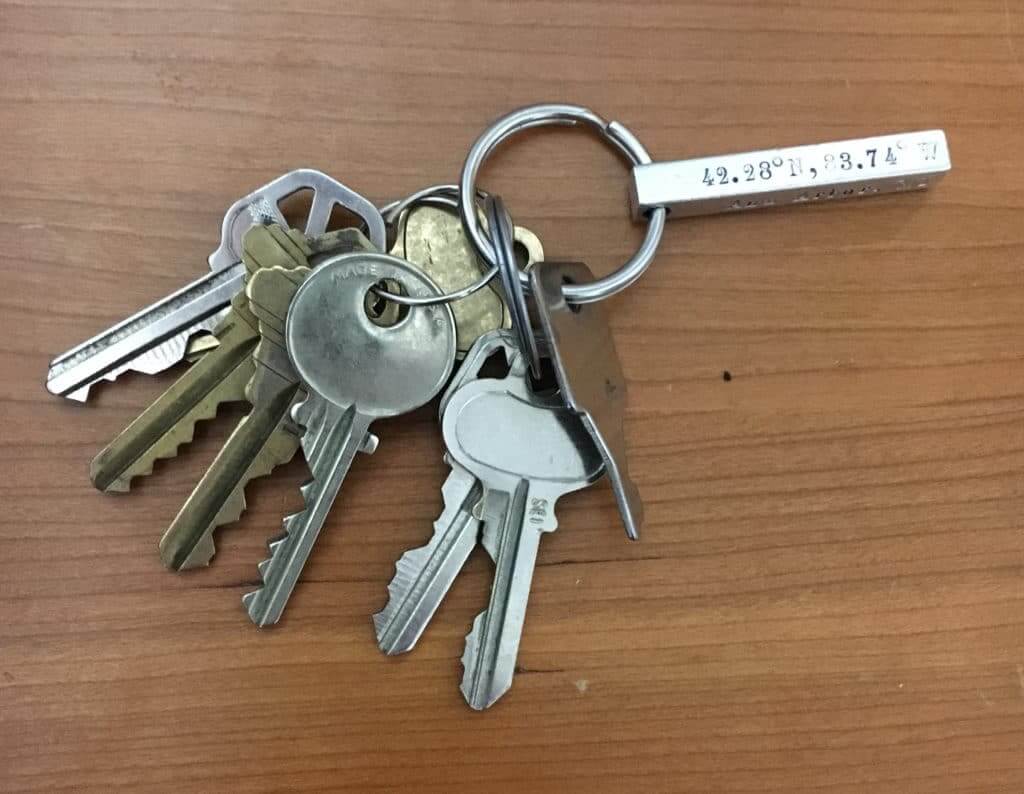 Click to enlarge
KRC update: The latest installment of Key Ring Chronicles is about a little metal thingie with geographic coordinates stamped into it. Check it out here.
• • • • •
• • • • •
The Ticker
By Paul

'Skins Watch: McGill University, which is located in Montreal, will no longer call its teams the Redmen. A committee will be convened to help choose a new school athletics name (from Noah Sidel). … "Redmen" was also recently dropped by a Utah high school.

Baseball News: The Green Bay Booyah, a new collegiate summer wood-bat team, unveiled their mascot and inaugural uniforms (from Brian Kerhin). … Here's a 1977 photo of funk musician George Clinton wearing a catcher's mask (great find by Max Weintraub). … Featherweight boxer Christopher "Pitufo" Diaz has a set of Pirates/Clemente-themed boxing gloves. Here they are in action (from Ryan Connelly). … New uniforms for the New Jersey Jackals of the Can-Am League. Lots of cap options, too, plus they'll have a Game of Thrones uni on May 30. … Speaking of, another Can-Am team, the Sussex Miners, have Star Wars unis on June 8 and New Jersey Cardinals throwbacks on June 22. … Mets 1B Dom Smith protested an ump's call last night by throwing down his helmet and snapping the C-Flap right off of it.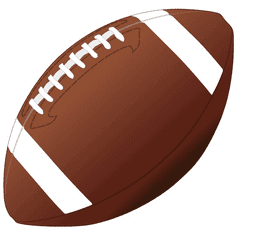 Football News: Two Chargers players — DL Joey Bosa and RB Melvin Gordon — have new uni numbers. … Some new uni number assignments for the Broncos and Ravens, too. … Indiana, which had been NNOB, is bringing back NOBs (thanks, Phil).

Hockey News: Kellogg's has been running a Frosted Flakes commercial during the NHL playoffs. Reader Ted Arnold notes that the snippet of game footage at the very beginning of the ad shows the Canucks vs. the Golden Knights. "The Canucks aren't even in the playoffs (nor were they last year), so no way this is even remotely accurate," he says. "How hard would it have been to have at least gotten a clip from an actual playoff game, even if it was from last year? A bit lazy on the part of the Kellogg's marketing team and their ad agency." … The statue of Sir Walter Raleigh at the Raligh Convention Center has been dressed in a Hurricanes uniform (from James Gilbert). … Beginning this fall, all ECHL sticks, helmets, visors, gloves, and pants will be supplied by Warrior (from Thomas Hill). … New uniforms for the QMJHL's Charlottetown Islanders (from Wade Heidt).

Basketball News: Whoa, check out this really interesting basketball net from a court in Brazil. Never seen anything like that! (From @BvrlyTweetmaker.) … The soccer team San Antonio FC saluted the Spurs with a "fiesta"-themed kit. … Cincinnati presented new coach John Brennan with a No. 1 jersey (from Adam Clements).

Soccer News: Some kit leaks for Liverpool and Inter Milan (from Josh Hinton). … Cross-listed from the basketball section: San Antonio FC saluted the NBA's San Antonio Spurs with a "fiesta"-themed kit.

Grab Bag: The U.S. Army has finally decided that a reflective belt is not necessary in the daytime (from Greg Franklin). … NASCAR driver Jimmie Johnson ran in the Boston Marathon yesterday. "He got bib number 4848, which I'm sure is not a coincidence," notes our own Jamie Rathjen. … Check out these weird Star Wars-themed Coca-Cola bottles. … Here's why the Redcoats wore red in the Revolutionary War. … Cross-listed from the baseball section: Featherweight boxer Christopher "Pitufo" Diaz has a set of Pittsburgh Pirates/Clemente-themed boxing gloves. Here they are in action (from Ryan Connelly). … The good news is that Pepsi has decided not to put advertising in space after all. The bad news is that they were ever considering it in the first place.