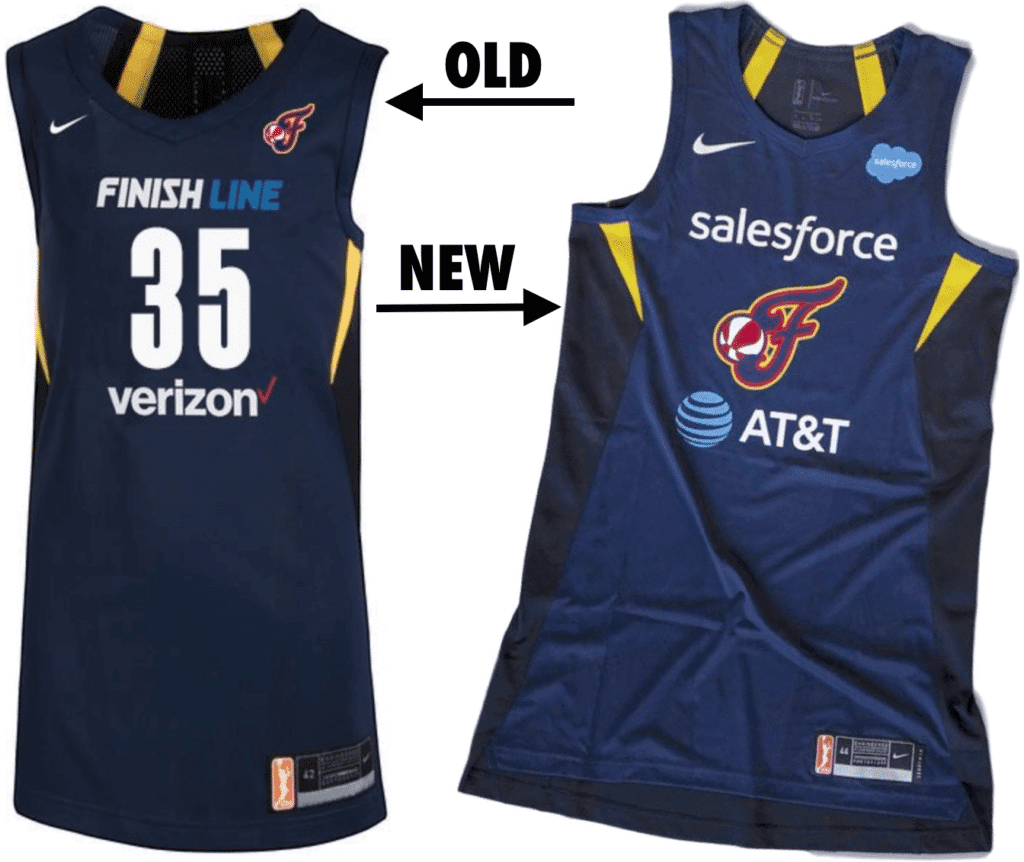 Click to enlarge
For years now it's been impossible to take the WNBA seriously from a uniform standpoint because most of the teams didn't even have their team names, team logos, or city names on their jerseys, which were dominated by advertising.
The league took step toward addressing that yesterday by releasing new jerseys for all 12 WNBA teams. As you can see in the Indiana Fever comparison that's shown above, the new designs still have a lot of advertising, but at least they now have team logos front and center. Interestingly, they made room for the team logos by removing the front uni numbers, and not just for the Fever — the whole league will now be number-free when viewed from the front.
Here are each team's primary and secondary uniform (click to enlarge):
A few thoughts:
• The repetition of the AT&T ad on every single jersey is pretty brutal. Just change the name of the league to WNBAT&T and get it over with. (Not such a far-fetched idea considering what happened to the D League, right?)
• The lack of front uni numbers is not unprecedented. The NBA tried that for the 2013 Christmas uniforms and again a few months later for the 2014 All-Star Game (there were small TV numbers on the sleeves). For those of you out there who have basketball refereeing experience, would the lack of front numbers create any officiating issues?
• It's nice that some teams with fewer jersey ads actually have their team name and team logo:
Props to the Aces, Dream, and Liberty, who have made their team name, and not a sponsor, at the forefront of the jersey. (Vegas does have a smaller MGM Resorts patch) #WNBA @UniWatch pic.twitter.com/RDVk3hcRpW

— Geoff Magliocchetti (@GeoffMags5490) April 10, 2019
• But some other teams, like the Phoenix Mercury, have so many ads that the newly added team logo just gets lost in the morass (click to enlarge):
• At least four teams — the Seattle Storm, New York Liberty, Connecticut Sun, and Indiana Fever — have new uniform advertisers.
• In addition to the primary and secondary designs, each team will also have a black/purple "breast health awareness" uniform.
• As is becoming the depressing industry norm, there's no sign of the new shorts — just the jerseys.
• As you may have heard earlier this week, the WNBA has a new logo, but they'll be using the old logo on these 2019 jerseys (it will appear on the back, same as in the NBA). They've been trying to spin this staggered rollout as part of a calculated plan to build branding momentum or some such, but this Chicago Sun-Times article says, "the new garb won't have the updated league emblem due to lack of production time" (emphasis mine). In other words, it sounds like they didn't have their shit together.
The new uniforms will make their debut when the WNBA preseason begins on May 9, with the regular season set to tip off on May 24.
• • • • •
• • • • •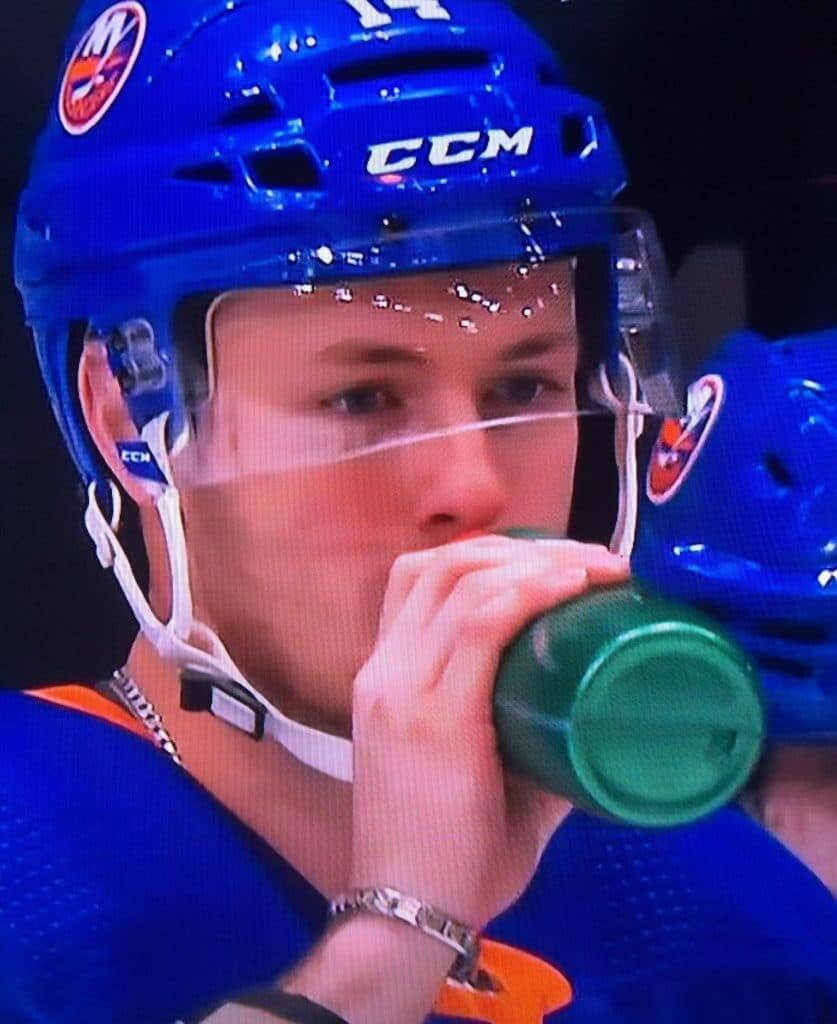 Click to enlarge
Bling on the ice: Good spot by reader Michael Alper, who noticed that Islanders left wing Tom Kuhnhackl was wearing a metal bracelet during last night's playoff game against the Penguins (and also a metal necklace, but that's less remarkable). I've never seen that before. Seems like a bad idea on several levels. Is it as uncommon as I think it is?
• • • • •
• • • • •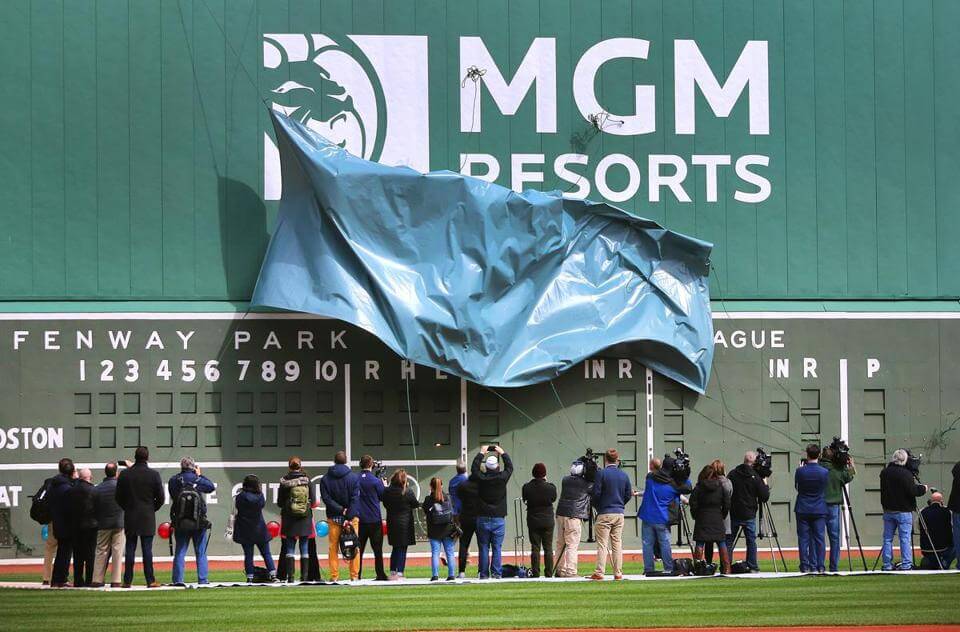 Photo by John Tlumacki, Boston Globe; click to enlarge
Oh, for fuck's sake: It's bad enough that the Red Sox have plastered a new gross casino ad on the Green Monster (replacing the old gross casino ad that was there for the last five seasons). But I learned yesterday that they actually had an unveiling for the ad last week.
Now, I can see why you might want to invite the Boston media to come by and take a photo of your new gross casino ad. But an unveiling? With a tarp and everything, to create a sense of drama? For a fucking ad?
And yes, I'm aware that the Monster was seriously ad-plastered 70 years ago. But it's also had periods when it was completely ad-free, including on what was arguably its most famous moment, and it looked much better that way. Think about it: If it had remained ad-plastered like it was 70 years ago, it never would have acquired the name "Green Monster" to begin with.
I'm also fairly certain that there were no unveiling events for the ads 70 years ago. Wow, talk about progress.
• • • • •
• • • • •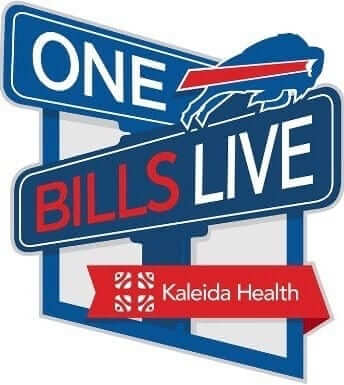 ITEM! Radio update: I was on the radio yesterday, appearing on the Buffalo show One Bills Live. We talked about NFL uniforms — the Bills, the Jets, the best, the worst, and more.
You can listen to my segment by going to the 47:50 mark here.
And as long as we're talking about Uni Watch audio: In case you missed it over the weekend, Phil did a nice job as a podcast guest the other day. You can check that out here.
• • • • •
• • • • •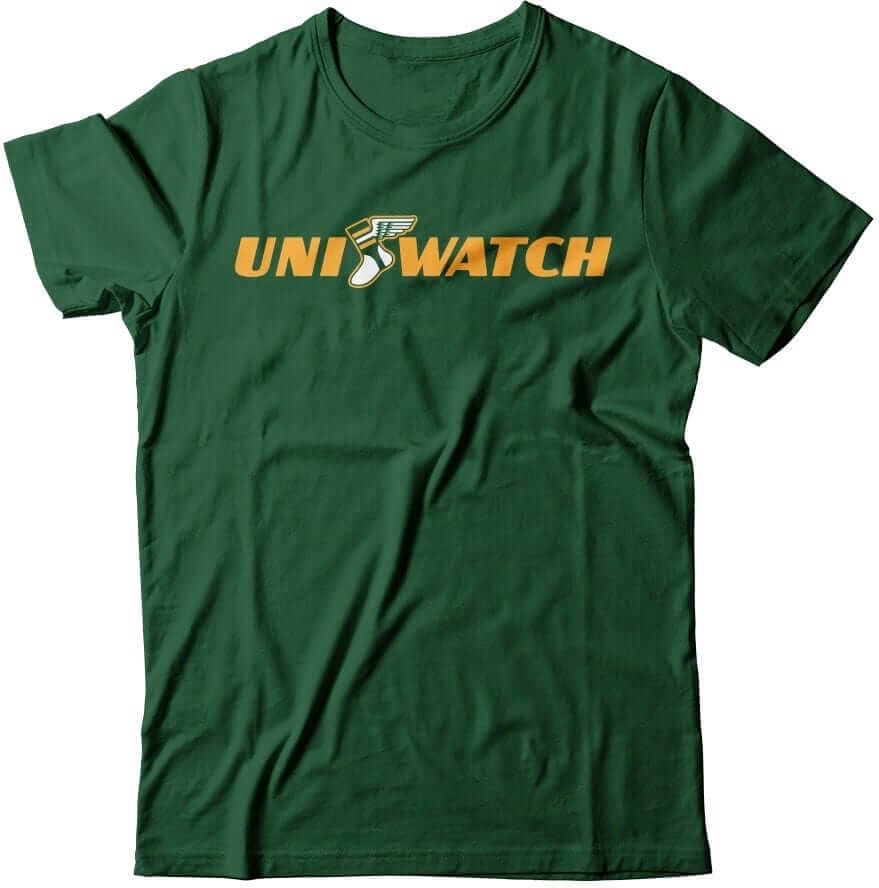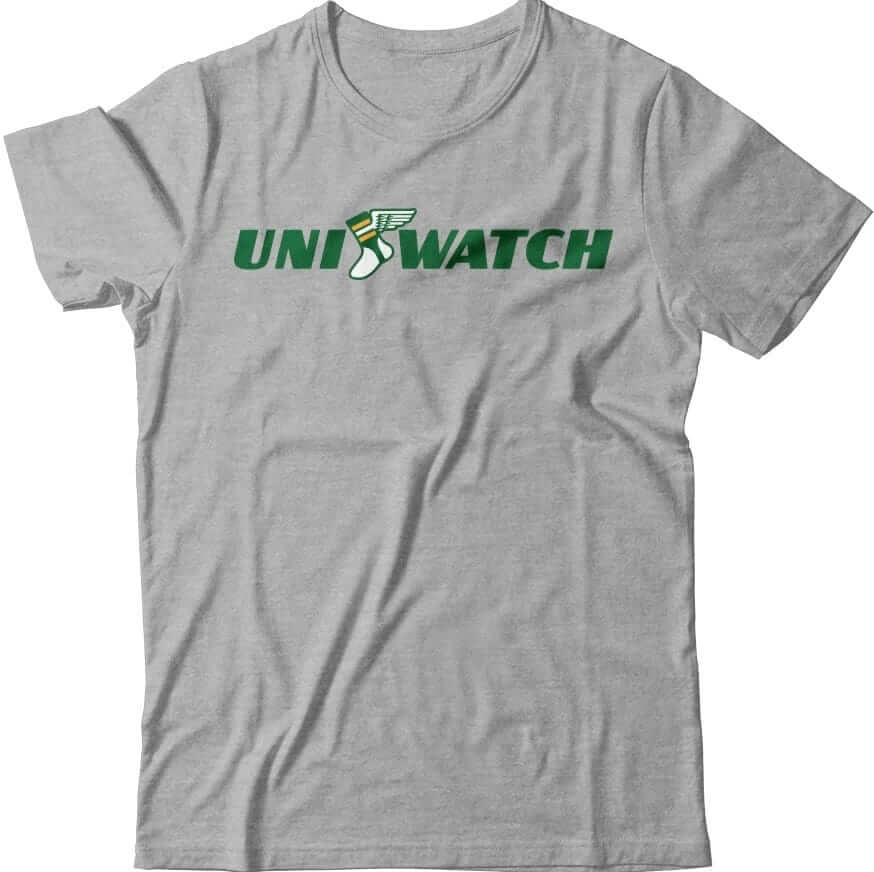 Click to enlarge
T-shirt reminders: In case you missed it on Monday, we have a new pair of T-shirts, rendered in the classic Goodyear type font called Wingfoot Sans, and featuring our own winged stirrup instead of Goodyear's winged foot.
These have turned out to be pretty popular. Here's where you can order the green one and the grey one. My thanks, as always, for considering our products.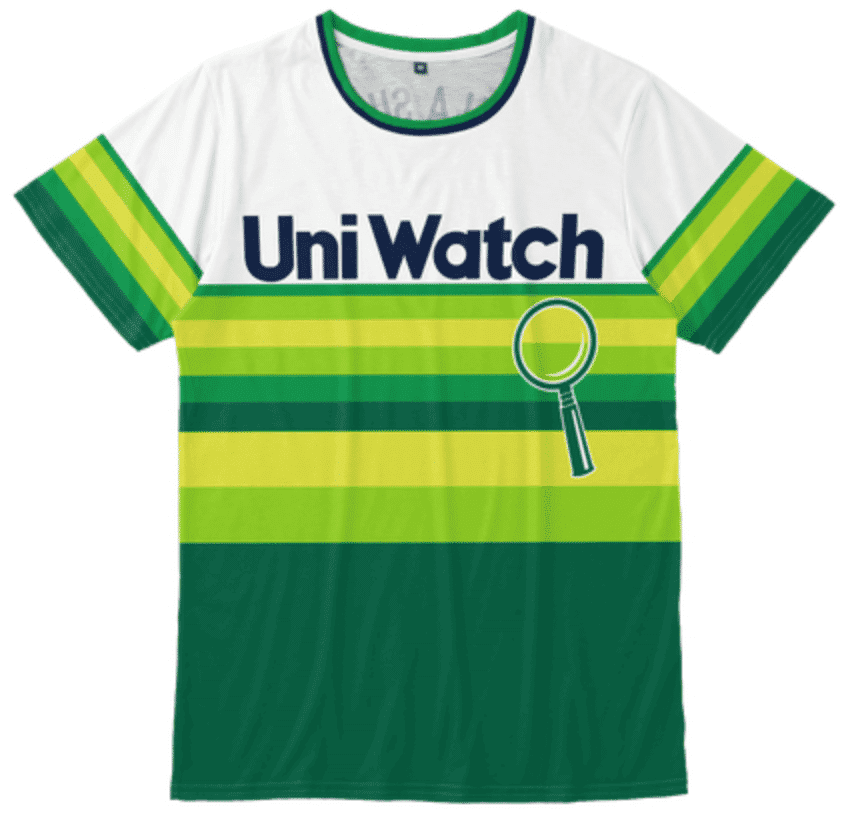 Meanwhile: I'm excited to report that we will soon have a hoodie version of our new sublimated Tequila Sunrise Deluxe shirt. The hoodie will have some design details that I think you'll really like. I'm just waiting for Teespring to send me a sample so I can get a sense of what the fabric is like (I've never dealt with a sublimated sweatshirt before, so I want to see and feel it for myself before making it available for sale).
In the meantime, the Tequila Sunrise Deluxe shirt, with its eye-popping colors and full-wraparound stripes, is still available here.
• • • • •
• • • • •
The Ticker
By Paul

'Skins Watch: The MLB Network's Quick Pitch show sometimes shows players in outdated uniforms. Just this morning they showed Cleveland Indians INF Francisco Lindor in a Chief Wahoo cap (screen shot by Chris Cameron).

Baseball News: The Double-A Tulsa Drillers, who won the Texas League championship last year, wore gold-trimmed uniforms yesterday. Here's the rear view (from Jakob Fox). … Knicks star Patrick Ewing in a Mets uniform? Sure, why not (from @bryanwdc). … The "world's largest jersey" is an inflatable Jackie Robinson model (thanks, Phil). … Reds 3B/C Kyle Farmer's bat knob decal features a photo of his dog (from Devin Meyer). … The Triple-A Salt Lake Bees will wear Utah Jazz-themed uniforms on June 28. … Mets C Wilson Ramos has a buffalo on his armband. "It refers to his nickname given to him by Ian Desmond," says Ryan Bower. … MLB ump Stu Scheurwater, who's from Canada, wears a small Canadian flag sticker on his chest protector (from @minor_leaguer). … The Triple-A Las Vegas Aviators have a bat dog — a dog, named Finn, whose job is to retrieve a hitter's bat and bring it back to the dugout. Two nights ago the plate ump grabbed a bat and tossed it to the on-deck area before Finn could grab it, prompting a chorus of boos (from my buddy Nate Clesowich). … The Chiba Lotte Marines have a new jersey for "All for Chiba Day."

NFL News: A Georgia man bid on a storage unit that former NFLer Terrell Owens had stopped making payments on, and ended up with a bunch of Owens's memorabilia (rare non-UNC-related item from James Gilbert). … Newly acquired WR Adam Humphries will wear No. 10 with the Titans (from Eric Wright).

College Football News: This is weird: Miami of Ohio's spring practice jerseys have the NBA's Miami Heat's wordmark on the chest (good spot by Tyler Johnson). … The football team is the latest Missouri squad to adopt the "Make It Right" NCAA-protest slogan. They'll be wearing it as a helmet decal for their spring game. … With West Virginia set to unveil new uniforms this Saturday, a local media outlet whipped up some new uni concepts for the Mountaineers.

Hockey News: With the NHL postseason now upon us, here's a ranking of the playoff matchups by aesthetic appeal, along with a look at every possible Stanley Cup Finals uni matchup (thanks, Phil). … A home-renovation contractor in North Carolina has a logo based on the Rangers' logo (from Matthew Anderson). … The excruciatingly named Medicine Hat Travelodge Cubs — a Junior B team — have terminated their contract with Travelodge and will revert to being just the Medicine Hat Cubs. … NHL teams don't wear white at home. So why would the Jets have a whiteout? (From Ben Kravitz and Ewan Williams). … New leg pads for Lightning G Andrei Vasilevskiy.

NBA News: In a move that seems more evocative of antifreeze than team spirit, the Milwaukee River will be dyed green to support the Bucks in the playoffs. The weirdest thing about this is the city of Chicago dyes the Chicago River green for St. Paddy's Day, and you'd think that imitating Chicago is about the last thing Milwaukee would want to do (from Mike Chamernik and our own Alex Hider). … Cross-listed from the college football section: The Miami of Ohio football team's spring practice jerseys have the Heat's wordmark on the chest (good spot by Tyler Johnson). … Cross-listed from the baseball section: Here's an early-1990s shot of Knicks star Patrick Ewing in a New York Mets uniform (from @bryanwdc). … Ohio State saluted Nets G D'Angelo Russell, who's an OSU alum, with a video showing every jersey design he's worn since high school (from Ben Teaford). … Tarik Phillip will wear No. 22 for the Wizards. … NBA stars Stephen Curry, James Harden, and Kevin Durant are reportedly unable to join LeBron James in the new Space Jam 2 movie because of competing sneaker deals. Douchebags (thanks, Brinke). … Cross-listed from the baseball section: MiLB's Salt Lake Bees will wear Jazz-themed uniforms on June 28. … Hornets C Frank Kaminsky wore The Office-themed sneakers last night. Additional views here (from Mike Chamernik).

Soccer News: What if the U.S. National Team had one basic look instead of changing every few years? … Brazil has released its away kit for the Copa America (from @vicious155). … New England Revolution D Andrew Farrell is getting used to playing with goggles after suffering an eye injury (rare non-volleyball, non-Japan-related item from Jeremy Brahm).

Grab Bag: Adidas will be outfitting the new Premier Lacrosse League. … A photographer who sued Nike for copyright infringement, claiming that the Jumpman logo was based on one of his photos of Michael Jordan, has lost his case. … Speaking of Nike, they've made a concession to tennis player Naomi Osaka, who'll be allowed to wear sponsorship advertising patches on her Nike attire (thanks, Brinke). … The clothing company Patagonia is suing Budweiser's parent company over a new Patagonia beer. … Golfer Rory McIlroy wore a shirt with an unusual chest logo and lapel pin during his final practice round for the Masters. … Old Glory DC, a new rugby union team that will begin play in 2020, released its inaugural uni set. … MX Sports, a big motocross operator, says riders will not be permitted to wear ads for CBD products during televised events. … The lacrosse team from Ramsey High School in New Jersey will wear purple jerseys this weekend — the color for pancreatic cancer awareness — in memory of the school's athletic director, who died of cancer last August. … New police uniforms for Chesterfield, Va.. … A new exhibit by artist Andres Serrano features hundreds of Donald Trump-related items, including a row of mannequins dressed in Trump Taj Mahal security uniforms.