Someone was recently nice enough to send me a few interesting items in the mail. One of them was a vintage booklet called Flags of America. I figured it would feature some fairly obvious, predictable stuff — a 13-star flag, a 48-star flag, "Don't Tread on Me," etc. But it turned out to be much more interesting than that, so I want to go off-uni and take a look at it today.
Some quick background: Flags of America was published in 1968 by the Pittsburgh-based Flag Plaza Foundation (now known as the National Flag Foundation) in conjunction with the Allegheny Trails Council of the Boy Scouts "for the patriotic education of American Youth." It sold for 35 cents. Most of the flags shown in the booklets are American, but some are the flags flown by explorers and colonists of the North American continent, such as this Viking banner and this Spanish flag carried by Christopher Columbus (for all of these page scans, you can click to enlarge):
Nice, right? The illustrations are not credited (a really shitty way to treat a visual artist), but most of the carry the signature "Hewitt" or "D. Hewitt" or "DH." Unfortunately, I've been unable to figure out who that was.
Many of these flags shown in the booklet were either new to me or were designs that I was only dimly aware of. The accompanying text on each page does a good job of telling each flag's story. Educational!
The most interesting thing, at least to me, is that some of the early flags from the Revolutionary War became the basis for state flags. For example, the Rhode Island flag has its roots in this early design:
Similarly, the crescent moon on the South Carolina flag has its roots in this design:
And then there are designs that, for whatever reasons, just look cool to me. Here are some of my other favorites — check these out:
Wouldn't most of those look great as sleeve patches?
Want to see more? You can see scans of the entire booklet here.
Finally: I'm embarrassed to say I can't remember who sent this booklet to me. Whoever it was, please speak up so I can properly thank you!
• • • • •
• • • • •
Click to slightly enlarge
And look, there's Don Cherry applying for a job at NBC Sports just now: Last fall NBC Sports launched an app called MyTeams. Lately they've been promoting it by having broadcasters (like former A's pitcher Dallas Braden, shown above, who currently works as a field-level analyst during A's games for NBC Sports California) wear truly repulsive MyTeams-themed jackets. Seriously, who could possibly have thought that was a good idea?
Women have also had to wear the jackets (click to slightly enlarge):
"I am not against bold statement pieces," says Chris Harris, who brought these jackets to my attention and provided both of the screen shots in this section. "I love the old Monday Night Football jackets. Heck, I'm an A's fan! But these are just the worst." Indeed. If NBC really needs to advertise their app, surely there's a better way than this to do it.
• • • • •
• • • • •
Throwing back to the NFL's first throwbacks: Reader Joshua Escobar found this old episode of NFL Prime Time Sept. 18, 1994. That was Week Three of the '94 season, when teams broke out their 75th-anniversary throwbacks for the first time, so the highlight footage is full of juicy retro-style goodness.
Unfortunately, the video resolution isn't great, but there's still a lot to like here — enjoy.
• • • • •
• • • • •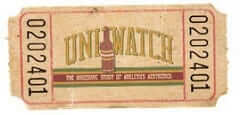 ITEM! Yet another one-day membership raffle: It's pretty inspiring to see how people are purchasing memberships for me to raffle off (and sometimes the raffle winners are paying it forward by doing the same). The latest reader to do this is Tim Walsh, who bought a card for himself — Pats Color Rash — and generously bought another one for me to raffle off.
To enter this raffle, send an email to the raffle address by 10pm Eastern tonight. I'll announce the winner tomorrow.
Meanwhile, if you'd like to order a card for yourself or purchase one for me to raffle off, that's a good way to support Uni Watch (which, quite frankly, could use your support these days). And remember, a Uni Watch membership card entitles you to a 15% discount on any of the merchandise in our Teespring shop and our Naming Wrongs shop. (If you're an existing member and would like to have the discount code, email me.) As always, you can sign up for your own custom-designed card here, you can see all the cards we've designed so far here, and you can see how we produce the cards here.
• • • • •
• • • • •
The Ticker
By Lloyd Alaban

Baseball News: A bunch of new MLB sock designs were officially unveiled yesterday (although some had already been worn on the field). Here are photos and a breakdown of the new designs. … Take a look at the Reds' season ticket for yesterday's game against the Brewers. The ticket features the 1882 American Association champion Reds posing in uniforms specifically designed for each defensive position. Unpopular with the players, the uniforms were rarely worn (from Jansen Dell). … The Twins wore all-navy caps last night against the Royals. Usually Minnesota wears navy caps with a red bill on the road, and Paul says the red-billed design is still listed as the official road cap in the MLB Style Guide (from multiple readers). … Also from that game: Twins RF Nelson Cruz wore a red belt, while the rest of his teammates wore navy belts (from Michael B. Sticha). … Here's a possible look at the 2019 World Series logo, along with an secondary 2019 All-Star Game logo via an email from MLB (from Kevin C. Burns). … Yankees C Austin Romine wore an English-to-Japanese cheat sheet on his wristband, presumably to communicate better with P Masahiro Tanaka, who was on the mound last night (from @NYYDJ2). … Speaking of the Yanks: WWE WrestleMania is coming to MetLife Stadium in the New York area on Sunday, so the WWE did some promo shots at Yankee Stadium featuring wrestlers Braun Strowman (No. 99), Natalyla (No. 85), and Titus O'Neil (No. 11) wearing custom Yankees jerseys. Their jerseys had NOBs on them, which of course is not the case with regular Yankees jerseys. Strowman wore his father's softball number, Natalya had an NOB that read "Anvil," referencing her late father's nickname, Jim "The Anvil" Neidhart, and No. 85, referencing the year her father debuted in the WWE, and O'Neil wore the number he had when he played defensive end for the University of Florida (from @Hashalance). … Orioles P Andrew Cashner wore a cap with the MLB 150 patch last night. The patch was only supposed to be worn for Opening Day (from multiple readers). … Yesterday the Nats rolled out their Skittles tarp for the first time this season (from Alex Barfield). … MLB's Instagram is still using the Phillies' old logo (from Rob V). … It looks like the Phillies have thinned out their sleeve piping. Here's a photo of 1B Rhys Hoskins from 2017 and RF Bryce Harper from 2019 for comparison (from Steve Salayda). … The Blue Jays traded CF Kevin Pillar to the Giants right before game time yesterday, so the Jays collapsed his banner outside the Rogers Centre (from Martyn Bailey). … Marlins Park used a July 3, 2007 picture of Mets P Jason Vargas on their scoreboard pregame graphic. Vargas is wearing the black-accented away uniform the Mets discontinued in 2011 (from Tim Britton). … Giants P Reyes Moronta's locker room nameplate is spelled incorrectly in this photo. His locker is located in the center of the photo (from Chris Schoenthal). … Jerry Reuss took some exclusive photos of the new uniforms of the Las Vegas Aviators, the Triple-A affiliate of the Athletics. Here's a closeup of the team's inaugural patch, and of the club's scoreboard. … The Eugene Emeralds, Single-A affiliate of the Cubs, received their Northwest League Champions rings yesterday (from Josh Claywell). … This sportswriter gives his opinion on the nine wackiest minor league baseball team names (from Tim Dunn). … New 3D batting helmet logos for the Gwinnett Stripers, Triple-A affiliate of the Braves. … New number and letter font for the Portland Sea Dogs, Double-A affiliate of the Red Sox, to match the Sea Dogs' alternate and away uniforms (from Heath Carignan). … Notre Dame's library has a very detailed collection of baseball history, including some entries on uniforms (from Nick Werner). … Here's some beautiful color footage of the 1951 Dodgers during spring training (from Jay Abbott). … Here's some beautiful black-and-white footage of the Cubs wearing their vest jerseys during spring training in 1940 (from Phillip Santos). … Kansas debuted some gorgeous throwbacks last night. … Virginia Tech went GFGS last night against VMI (from Andrew Cosentino). … Kentucky and Louisville went color vs. color last night (from McKay Jones). … Here's a Cardinals T-shirt whose chest lettering appears to be inspired by the NHL's New York Rangers (from Jeremy Boyer). … The Richmond Flying Squirrels' name was a tough sell at first (from Tom Turner).

NFL News: Yesterday Paul mentioned the Bears' April Fools Joke: jerseys with three-digit numbers. Now the team is selling a three-digit jersey with an "April Fools" NOB, which was used in the photo shoot for the prank (from Griffin T. Smith). … The Browns tweeted some updated jersey numbers for 2019 (from Erin Ford). … In more Browns news, Browns reporters talk new uniforms starting at the 16:28 mark of this most recent podcast episode, including how silly the big reveal events are (from KC Kless).

College Football News: Delaware Valley University received their Middle Atlantic Conference champions rings this week, and it looks like they've poached Alabama's logo (from Evans Brian). … According to Gators Uniform Tracker, orange end zones for Florida are "highly likely" to return for the 2019 season.

Hockey News:  Kings D Drew Doughty has some interesting placement for his team's 3D helmet wordmark decal. Look at how both sides have two letters in the front and three in back on his new Warrior Covert PX2 Helmet compared to his old Bauer 4500 Helmet. No other Kings player has a decal cut in this way (from Jakob Fox). … In a related development, Doughty's teammate Jeff Carter keeps having problems with his decal sticking on his helmet (from @ItWas3to0). … Cross-listed from the baseball section: Here's a St. Louis Cardinals shirt from Major League Baseball with very Rangers-inspired lettering (from Jeremy Boyer). … The State Route 520 bridge in Seattle, Wash., is lit up in red and green this week in honor of the 1919 Stanley Cup champion Seattle Metropolitans (from @lawrep2).

NBA News:  Here's the Lakers' record by uniform through March (from @PG_UniTracker). … Warriors PG Steph Curry arrived to his home arena for last night's game in a Andris Biedrins throwback jersey (from multiple readers). … A Texas barbecue restaurant released a "Houston 34" barbecue sauce with a package design based on a Hakeem Olajuwon throwback uni (from Ignacio Salazar).

Soccer News: Here's Brazilian club Coritiba's new third shirt (from Ed Zelaski). … Manchester United F Romelu Lukaku obscured the Beats logo on his headphones in this team photo, and so did teammate MF Paul Pogba. Pogba's headphones look like they're from last year's World Cup. Beats By Dre intentionally placed big Xs over their logos as part of a marketing campaign during last year's World Cup since Beats were banned by FIFA due to advertising rules (from multiple readers). … New away jerseys for the Tallahassee Soccer Club (from Justin Gibbons).

Grab Bag:  Cross-listed from the baseball section: WWE WrestleMania is coming to MetLife Stadium in the New York area on Sunday, so the WWE did some promo shots at Yankee Stadium featuring wrestlers Braun Strowman (No. 99), Natalyla (No. 85), and Titus O'Neil (No. 11) wearing custom Yankees jerseys. Their jerseys had NOBs on them, which of course is not the case with regular Yankees jerseys. Strowman wore his father's softball number, Natalya had an NOB that read "Anvil," referencing her late father's nickname, Jim "The Anvil" Neidhart, and No. 85, referencing her father's 1985 debut with WWE, and O'Neil wore the number he had when he played defensive end for the University of Florida (from @Hashalance). … ESPN's Daily Calendar app still has Philadelphia Phillies RF Bryce Harper of Major League Baseball and F Los Angeles Lakers LeBron James of the National Basketball Association in their former teams' uniforms — the Washington Nationals and the Cleveland Cavaliers, respectively (from Christopher Jowdy). … A Denver sheriff's deputy is accused of using Wingdings font to forge Army orders in order to not show up at work (from Bo Baize). … The BNZ Crusaders, the New Zealand rugby union squad whose team name came under scrutiny after the recent anti-Muslim attacks in that country, are keeping their name for now but have hired a consulting firm to seek feedback and explore the possibility of a name change (from Hadyn Green and Josh Gardner).
• • • • •
• • • • •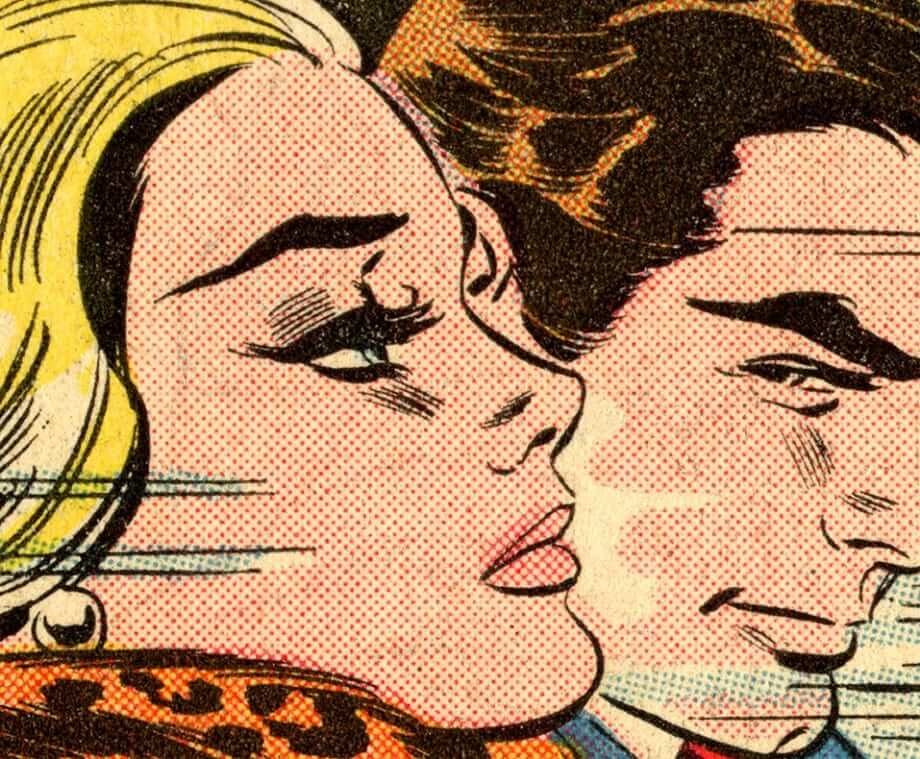 Click to enlarge

What Paul did last night: As I've mentioned several times before, I often attend a Tuesday-night lecture series about comics and graphics at the Parsons School of Design. Last night's edition was a presentation by a British guy named Guy Lawley about Ben Day dots, which are the little screened dots used to create most of the colors in comics (like in the image shown above). Like a lot of kids who grew up reading comics, at some point I got out a magnifying glass so I could get a closer look at those dots, and I've been fascinated by the dot process ever since. The same was presumably true of the great pop artist Roy Lichenstein, who pretty much based his whole career on Ben Day dots.
Anyway: It was a really good hour-long presentation, full of geeky details about four-color printing and comics history (you can see some photos here). My friends Nate and Heather joined me there, and afterward we went out for drinks and tapas at our favorite nearby Spanish bar — a swell time.
Afterward, we were walking to the subway and passed by Cafe Loup, a French restaurant that was shuttered for back taxes about four weeks ago. I was struck by the juxtaposition of the seizure sign in the window and the sight of tables still set and ready for service in the background, like the place had been frozen in amber (click to enlarge):
So that was my night. Hope yours was fun too.
• • • • •
Big get-well wishes to our own Yianni Varonis, who produces the Tickers that appear on Fridays and had a health scare this week. Feel better, buddy!