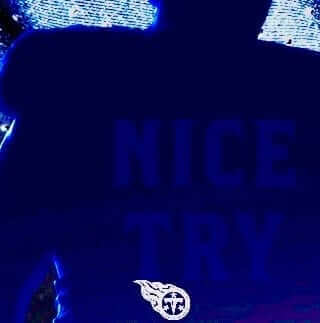 As you may recall, a few weeks ago it was discovered that someone from the Titans had put a hidden "Nice Try" message in one of the teaser images for the team's then-upcoming uniform unveiling. The hidden message was intended for uni-obsessed fans who sometimes use Photoshop to play with the levels of teaser images, hoping to find hidden uniform details — a clever little inside joke.
I wrote about the hidden message the day after it was discovered, saying that I thought it was awesome. Later that day I received an email from a Titans employee named Bryan Rumfola, who thanked me for the positive coverage and said he was the guy who'd embedded the hidden message.
I asked Bryan if I could interview him. He said sure, but it would have to wait until after the team's unveiling. Now that that's out of the way, he and I had a fun chat the other day. Here's how it went:
Uni Watch: First, tell me a bit about yourself. How old are you, how long have you worked for the Titans, and what is your job with the team?
Bryan Rumfola [shown at left]: I'm 38. I was previously with the Memphis Grizzlies for five years. I started with the Titans in October of last year. I'm the graphic design manager for the team, so I'm in charge of creative for the organization.
UW: Are you particularly into uniforms? Would you describe yourself as a "uniform guy"?
BR: Yeah, that's definitely one of the best things about working in sports — getting to be involved with the uniforms and logos, kind of geek out on the designs and all that.
UW: Okay, let's talk about the "Nice Try" message. First, was that teaser image of a player cloaked in shadows already going to appear on the website anyway, before anyone got the idea of adding the "Nice Try" message to it?
BR: Yes. That's actually [Titans offensive lineman] Taylor Lewan. He was the first person we photographed in the new uniform.
UW: So that isn't just a generic football player — it's an actual Titans player, wearing the actual new uniform.
BR: Yes. We intentionally shot him with that kind of rim lighting, to be sort of mysterious about it. That was the plan — to use that for some of our tease creative. And then I was talking to someone in our marketing department, and he mentioned that the Lions had done a similar thing last year, and then people took the graphic and blew out the levels and were able to see the details. Our owner, Amy [Adams Strunk], had been adamant that no images would get out through us, so I decided, "I'm not gonna be the guy who leaks this," and I didn't want us to end up like the Lions, so I went in and painted out all the details to keep that from happening.
And then kind of as a last-minute thing, before I sent it to our web guys for them to post, I thought, "Hmmm, I wonder if there's any way to hide a message in there" — just messin' with people if they do try to get in there with the file. So I did that, and they posted it, and then I kinda forgot about it until people found it!
UW: Before your colleague mentioned the Lions situation to you, did you already know that fans sometimes try to play with the image settings in order to learn more things about a teaser photo? Because the Lions aren't the only team it's happened to.
BR: Yeah. Honestly, I've done it myself. I probably shouldn't tell you that! But I was so new to the team and was just trying to get my feet under me. I was busy just getting the photo shoot taken care of, so I hadn't even thought about how uniform fans sometimes do that. And then when our marketing guy mentioned it, it was like, "Oh yeah, that does happen, people do that. I've done that." So then I was like, "Nope — not gonna let that happen to me."
UW: So you painted out the details…
BR: Yeah, I used a real soft-edged brush.
UW: And then you decided to add the hidden message..?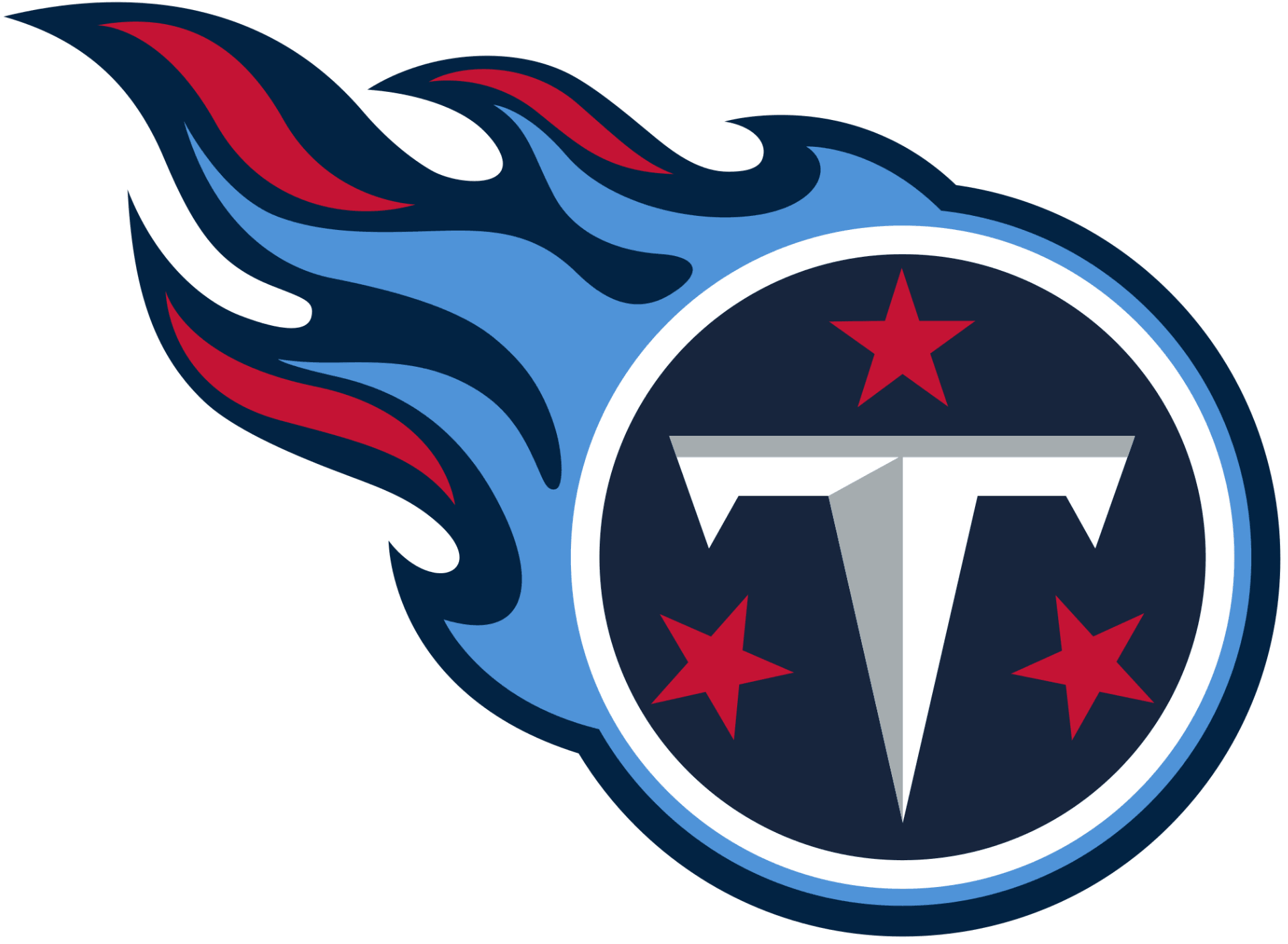 BR: Yeah. Then I took the color I'd been using [when painting out the background] and made it just a couple of shades lighter. Just barely lighter. Then I typed it in and started playing with the levels on my machine to make sure it would work. I did it on a laptop, too, in case there was some weird screen-difference thing. And it was like, "Yup, this works! I'll send it out, see what happens." I didn't know if anyone would find it, and I didn't really tell anybody that I did it.
UW: So you didn't tell your boss, or get it approved by anyone?
BR: I probably should have. But I didn't.
UW: Did you consider any other messages before you settled on "Nice Try"?
BR: Oh, yeah. I was trying to figure out a way to say, "Do you look for your Christmas presents, too?," or something like that. We had originally planned to do multiple images, but we had scheduling problems getting all the players in. My original plan was to do more teases like that, and I was going to change up the message in each one, but the timing didn't work out. So if I was only going to do one, "Nice Try" seemed like a safe one.
UW: Did you think there was a good chance that people would actually find the message, or did you think it would probably remain, like, your little secret?
BR: I thought there was a chance, but for some reason I didn't think it would be found. So it was like, "Yeah, I'll put it in there, and I'll know it's there, and maybe I'll tell a few friends of mine down the line." But I definitely didn't think it would blow up like it did.
UW: What was the timeline on this, from when you did the photo shoot, to when the teaser image was posted on the team's website, to when the hidden message was found?
BR: The photo shoot was in February, the image was posted on March 8th. And then the message was discovered on March 20th.
UW: By that time, had you forgotten about it?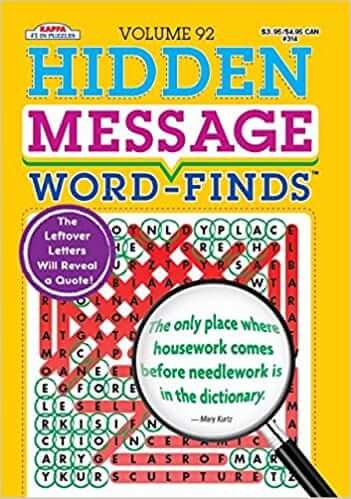 BR: I had! And here's the thing: We have some digital billboards here in town that used the same image. And after I sent them out, I had this moment of panic: "Oh no, what if the billboards' LED light does something slightly different to the image and the message is visible on all the billboards!" But that didn't happen. Once I saw one of the billboards and realized I was safe, I kinda moved on to the next thing and forgot about it.
UW: How did you learn that the message had been discovered?
BR: A friend of mine texted me and said, "Did you do this?" It was a link to the Titans Uni Tracker tweet where they found the message, and at first I was like, "Oh, no — what did I do wrong?" I thought maybe I'd somehow been responsible for a leak. Then I clicked on the link, and it was, "Oh, they found it!"
UW: You said before that you hadn't told anyone about this. But once it was out, were your colleagues and boss okay with it?
BR: Thankfully, everyone thought it was a fun way to play with the fans, to add a little bit of mystery and intrigue to the whole thing. For the first few days, I got several emails a day from different people in the organization: "Did you really do this? Was this you? Was this a real thing?" So that was kinda fun. And also a big nerve-wracking at first, because I thought I was going to get in trouble, but thankfully everyone understood the intention, and it all went over really well.
UW: So you're pleased with how it all played out?
BR: I'm shocked, actually, that it went so well. I wasn't even sure anyone would see it. So now, to see places like your website writing about it, that's crazy — I can't believe how it turned out. And then I ran into some guys from the league during our unveil, and it came up during conversation, and they said, "That was you? We loved that!" So that's all great, except now I don't know how I'm going to follow it up.
UW: It seems pretty likely that some other team will copycat this idea. Would that piss you off, or would you be happy to see that your idea has caught on elsewhere?
BR: Honestly, it was such a little, throwaway idea — there's no way I'd be upset about it. It would be a huge compliment if I saw anyone else doing it. It's very flattering that everyone has enjoyed it so much — I'm very grateful for that.
• • • • •
[adrotate group="2″]
• • • • •
DC intrigue: There were two headwear oddities in last night's Mets/Nationals game in DC. First, the Nats were wearing their alternate cap, which has a red crown with navy eyelets (click to enlarge):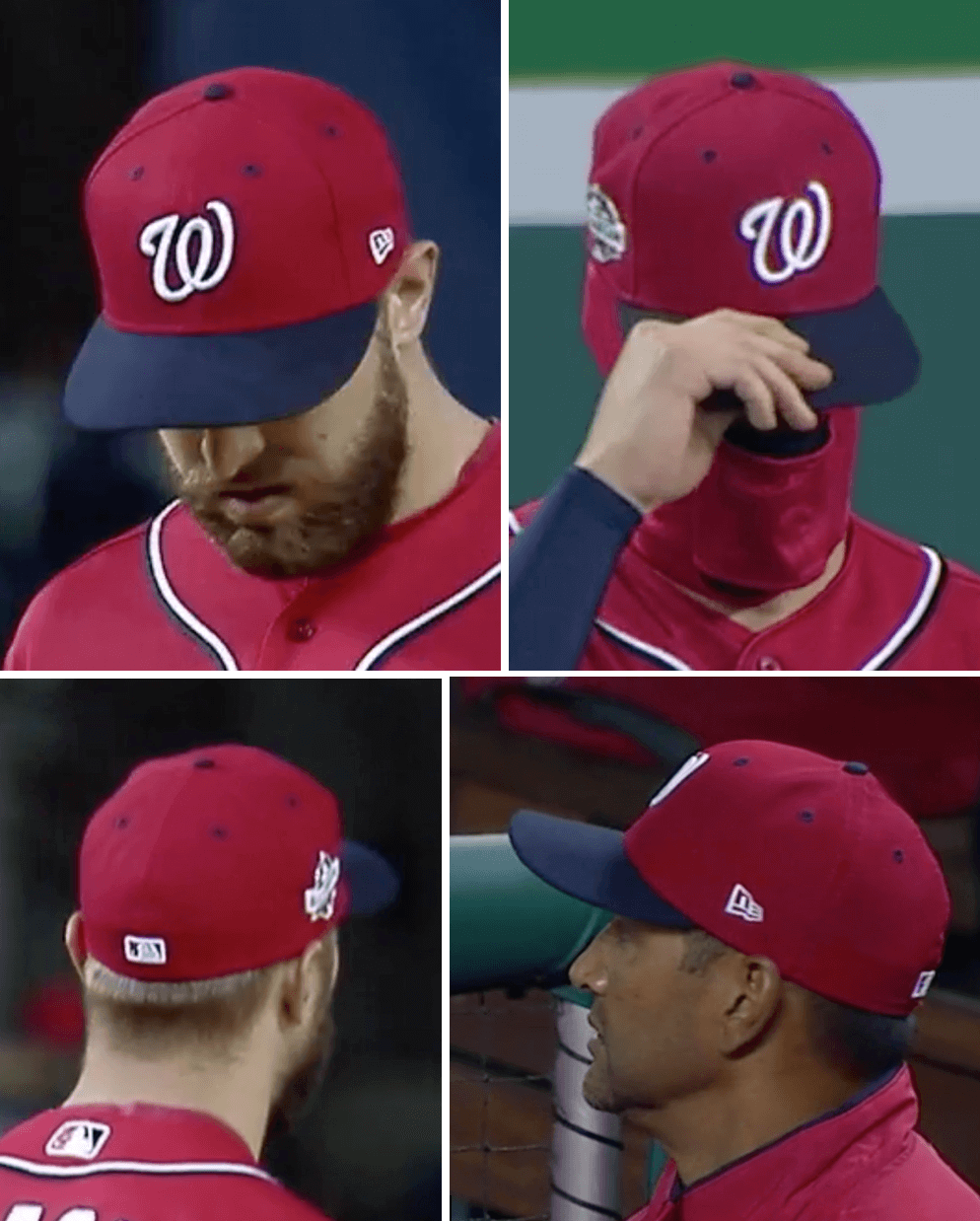 But eagle-eyed reader Cliff Corcoran, in one of the all-time great uni-watching spots, noticed that Nats starter Tanner Roark's cap had red eyelets: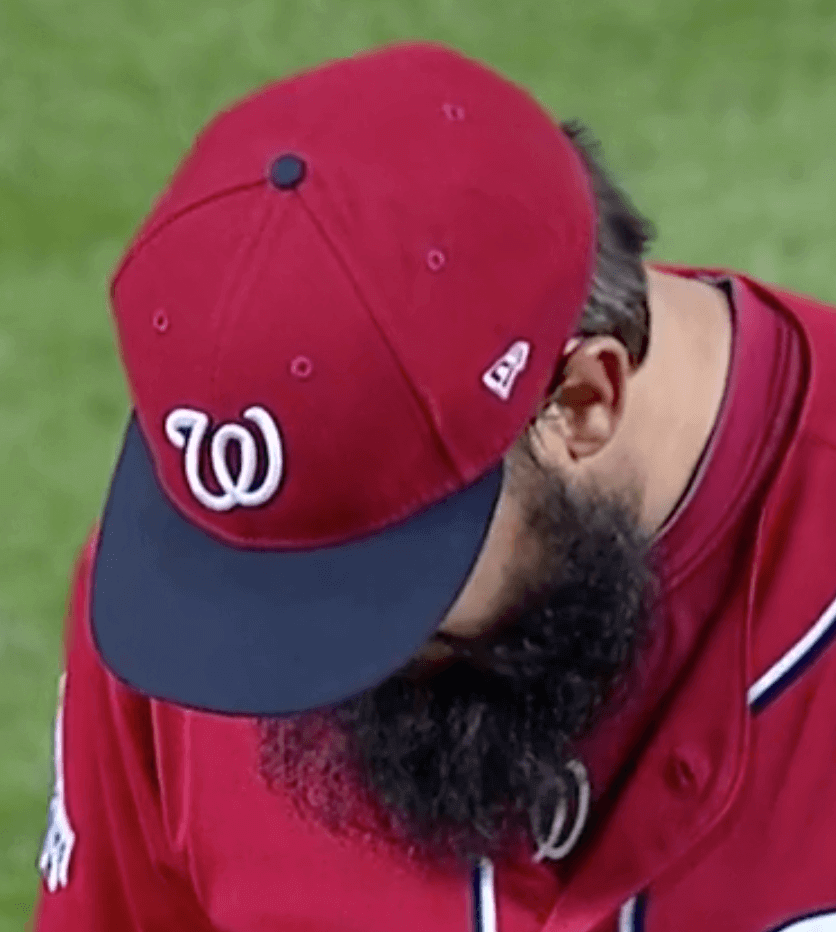 In case you're wondering: Roark had started only one other game this season, and in that game the Nats wore a cap that doesn't have contrasting eyelets to begin with.
Meanwhile: At least two Nats players — outfielder Bryce Harper and infielder Trea Turner — were wearing an odd balaclava that appeared to have a vertical cylinder of fabric sewn into the front: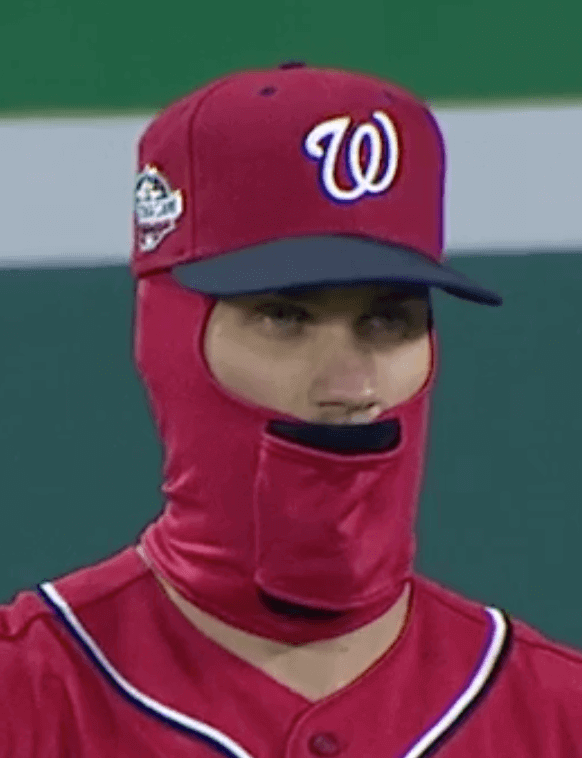 It almost looks like you could slide a flagpole in there or something. Not sure what that's for. Maybe it's a handle so the player can easily remove or adjust the balaclava? Looks really weird, at least to me.
• • • • •
[adrotate group="2″]
• • • • •
NBA Uni Tracking

By Collin Wright (who's back from his honeymoon!)
Over the past several weeks, the season-long percentages for each of the three types of uniform matchups have continued to move toward balancing out. Here's our latest chart:
Over the past week, games with the home team in dark and road team in white were few and far between. Only 18% of all games featured such a pairing, the second-lowest percentage for any single week this season.
Since my last update, several games have seen pairings or uniform combinations happen for the first time this season:
• The Thunder wore their grey uniform with white tights for the first time on March 16.
• We had our first grey-vs.-orange game when the Spurs hosted the Jazz on March 23.
• Cavs players wore both red and blue tights on March 21.
• The Kings wore their purple uniform with white tights and white socks for the first time on March 25.
• On that same date, the Thunder wore their navy uniform with white tights and navy socks for the first time.
• The Clippers and Suns provided the season's first blue-vs.-purple game on March 28.
• And the Raptors wore their white uniform with red tights and black socks for the first time on April 5.
The regular season will wrap up this week, so I'll have one more report, including final totals and for each of our three matchup types, a full 82-game image for displaying the uniforms worn by every team in each game, and the pie graphs that I've been working on throughout the year.
• • • • •
[adrotate group="2″]
• • • • •
Classy bunch: The Indians' home opener was on Friday, and as usual it drew a contingent of Native American protesters who called upon the team to change its name and eliminate Chief Wahoo (the latter of which will happen next season, of course, at least from team's uniforms). A Cleveland.com videographer captured a bunch of fans' responses to the protesters, and let's just say they didn't exactly cover themselves in glory.
I can't decide if my favorite part is the guy who calls the protesters "Marxist assholes" and "Trotskyite motherfuckers" (kneejerk red-baiting as an all-purpose default — an oldie but a goodie) or the guy who tells the protesters to "get a fucking job" — as he's walking into a ballpark on a weekday afternoon.
But hey, at least it wasn't as bad as Opening Day four years ago.
(My thanks to Phil for bringing this video to my attention.)
• • • • •
[adrotate group="2″]
• • • • •
Click to enlarge
Family affair: Today is my mom's 94th (!) birthday, so my brother Roy, the Tugboat Captain, and I took her out for lunch yesterday at her favorite restaurant. A very nice day.
I feel like I say this every year, but she shows no real sign of physical or mental decline. Will she make it to 100? Seems very possible, maybe even probable. Pretty amazing.
• • • • •
[adrotate group="2″]
• • • • •
The Ticker
By Jamie Rathjen

Baseball News: Reds CF Billy Hamilton was missing the 3-D logo on his helmet Saturday (from multiple readers). … New black jerseys for the University of Houston, which, for good measure, have black numbers and say "Coogs" (also from multiple readers). … Japanese Pacific League team Saitama Seibu Lions revealed the jerseys they'll wear during the team's festival in the summer. … A 1967 season preview claimed such changes as interleague play, divisions, expansion, and nighttime All-Star and World Series games were imminent (from Ray Hund). The book also proposed four five-team divisions based on how the leagues existed then. … Douglas Ford sent us a vintage 1973 Vanderbilt program cover. … White Sox OF Nicky Delmonico played catch with a fan in the stands who was wearing a Nicky Delmonico jersey (from Paul Friedmann). … The perfect confluence of circumstances: Gerrit Cole plays for the Astros and wears No. 45, which has led to this excellent T-shirt design (from Nick Lineback). … The U. of Arizona wears merit decals on their batting helmets (from John Furstenthal).

NFL News: Peter King's latest column includes the following: "[W]hat's up with 'uniform launch parties' or 'uniform unveilings?' I see the Jaguars are having one April 19, on the heels of Tennessee drawing 20,000 for theirs last week. I don't get unveiling uniforms being a news event. How did we get to this point? You know, it's okay to not have everything be a big event. It's okay for teams to say, 'We've got nothing going on this week. Go cover something else.' And it's okay for media to say, We'll run a photo of your next uniform on our site. That's enough.' And be done with it" (from David Cline).

Hockey News: The NHL is having teams wear a new playoff helmet decal this year (from Jerry Wolper). … Predators winger Filip Forsberg scored a hat trick on Saturday, when the team had a visor giveaway, so you can guess what happened next (thanks, Alex). … Several readers noticed that Sabres winger Alex Nylander, who was briefly called up from the AHL's Rochester Americans this week, wore a jersey that still had the NHL centennial patch. … The Oilers replaced their logo on the Rogers Place scoreboard with the Humboldt Broncos' logo. … Other tributes: The Swift Current Broncos (WHL) wore a helmet decal. Besides sharing a name, the WHL Broncos suffered a similar bus accident in 1987 in which four players were killed, and for which the team wears a permanent clover-shaped memorial patch. The WHL Broncos' social media avatar is currently said patch, while the Jets and Flames changed their logo avatars to Humboldt colors.

Basketball News: From the "how can we possibly make people talk about plain black and white uniforms?" department: Both the practice and game uniforms at the Jordan Brand Classic high school all-star game had sideways numbers (from multiple readers).


Soccer News: Among the teams to wear black armbands for former England captain Ray Wilkins, who passed away last week, were eight Premier League teams, Scottish team Rangers, and the English Championship's Queens Park Rangers and Millwall. Wilkins was a well-traveled midfielder, playing in England, Scotland, France, and Italy. … More Premier League: Stoke City replaced their sleeve advertisement with a charity patch this week. … Southampton center-back Jack Stephens nearly had part of his shirt torn off, leaving it flapping in his wake (from Josh Hinton). … Also from Josh: Atlanta United became the latest MLS team to change at home. … Also-also from Josh: Here's a roundup of all the stadiums to host the World Cup this summer. … Italian team Udinese wore 11 different shirts based on those from past seasons yesterday, though they were all solid black on the back (from multiple readers). Here's some of them, which were auctioned off for the benefit of 11 fans with a dream or project they want to fulfill. … The balls used in the U.S./Mexico women's friendlies this week are apparently individually numbered. … On Saturday, Bayern Munich clinched a sixth consecutive Bundesliga and celebrated with a replica of the league's trophy, die Meisterschale. Bayern are to receive the actual trophy at their last home game of the season. … Dutch team Ajax are to rename their stadium after club legend Johan Cruyff, with a logo forthcoming April 25.

Grab Bag: Masters champion Patrick Reed, along with all of the other Nike-outfitted golfers yesterday, was told by Nike not to wear red (from several readers). … We've received several questions as to what these pins are on players at the Masters. They're to distinguish players from non-players (picture from Matt Lally). … Also at the Masters, reader Jeff Cook counted as of Saturday no less than 12 swooshes on Rory McIlroy, though they're not all visible at once. … The cycling race Paris-Roubaix is known, even if it's sunny as it was yesterday, for its gloriously muddy conditions. Parts of the race are run on cobbled segments which may look more like dirt roads. … Most of the teams at the Commonwealth Games field hockey tournaments appear to be wearing white or yellow when the designated home team, if possible; in fact, all of host Australia's matchups so far, bar one, on both the men's and women's sides have have been yellow vs. white. … Cool design thing: Washington Metro escalators now have colored railings indicating which lines stop at the platform to which the escalator takes you (from @OlegKvasha).