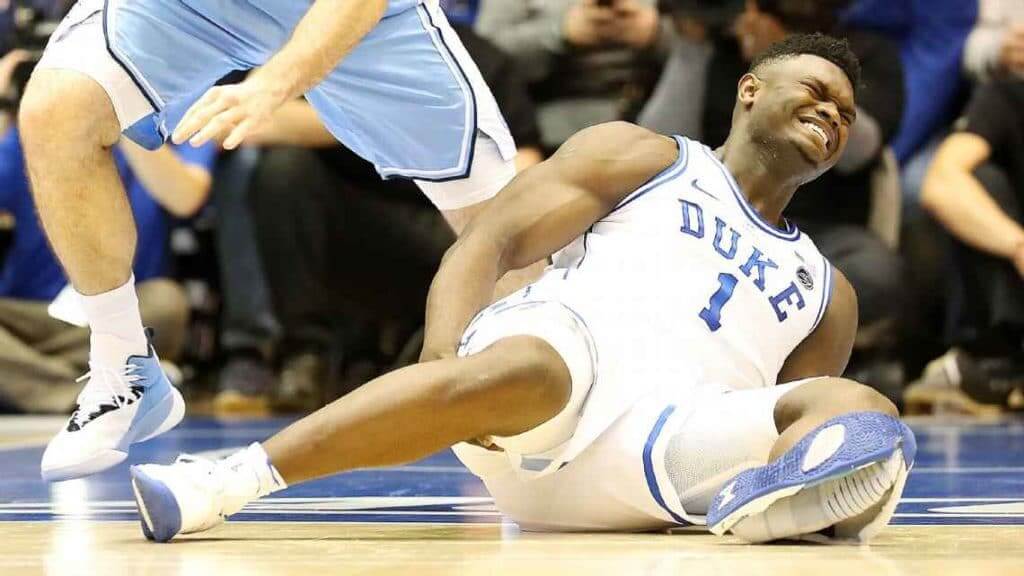 Click to enlarge
Surreal moment in the opening minute of last night's UNC/Duke game, as Duke forward Zion Williamson — widely assumed to be the first pick in the 2019 NBA draft — planted his left foot and then took a tumble as his sneaker came apart. He left the game with a mild knee sprain and did not return.
Lots of news reports said the sneaker "exploded," but that seems like irresponsible hyperbole. As you can see in the photo above, the sole separated from the upper along one side. Here's video of the play:
And here it is from a different angle:
Listen, fam, you guys try supporting 285 pounds. Zion Williamson is my most challenging client! pic.twitter.com/AJIoBEUzHQ

— Zion's Sneaker (@ZionSneaker) February 21, 2019
The defective sneaker was made by Nike. So, perhaps predictably, lots of people turned the incident into an episode of corporate theater:
Nike rep is cringing after that hi-top blowout that nearly injured Zion.

— David O'Brien (@DOBrienATL) February 21, 2019
Duke's Nike contract after Zion blows out his shoe #UNCvsDuke pic.twitter.com/Jre3NKUyPo

— Sean Ash (@SeanWTHR) February 21, 2019
Under Armour, Adidas and Puma after Zion blew out his Nikes #DukeUNC pic.twitter.com/jFdtabh5U7

— Brandon (@iLikeDanzDaily) February 21, 2019
How Much Will Nike Stock Plummet After Injuring Zion Williamson? https://t.co/R5PAZ66DGV

— Dave Portnoy (@stoolpresidente) February 21, 2019
Prototype for the Nike Zion 1 pic.twitter.com/0TQSx41p7y

— Kyle Bunch (@bunch) February 21, 2019
Okay, so that last one is pretty funny. Still, I was surprised (but perhaps shouldn't have been) by the degree to which so many people seemed more concerned with what the incident meant for Nike than what it might mean for Williamson or Duke. Sigh.
Obviously, I've had my own issues with Nike over the years. But honestly, considering how big today's basketball players are and the amount of torque they bring to bear on their footwear, I'm surprised this kind of thing doesn't happen more often.
It does happen occasionally, however. Last night's incident immediately reminded me of an NBA game from 2014 (five years ago almost to the day, in fact), when Spurs guard Manu Ginóbili blew out his left sneaker. But in his case, all that was hurt was his pride:
That sneaker was also a Nike. But I'm pretty sure that's just coincidence.
• • • • •
• • • • •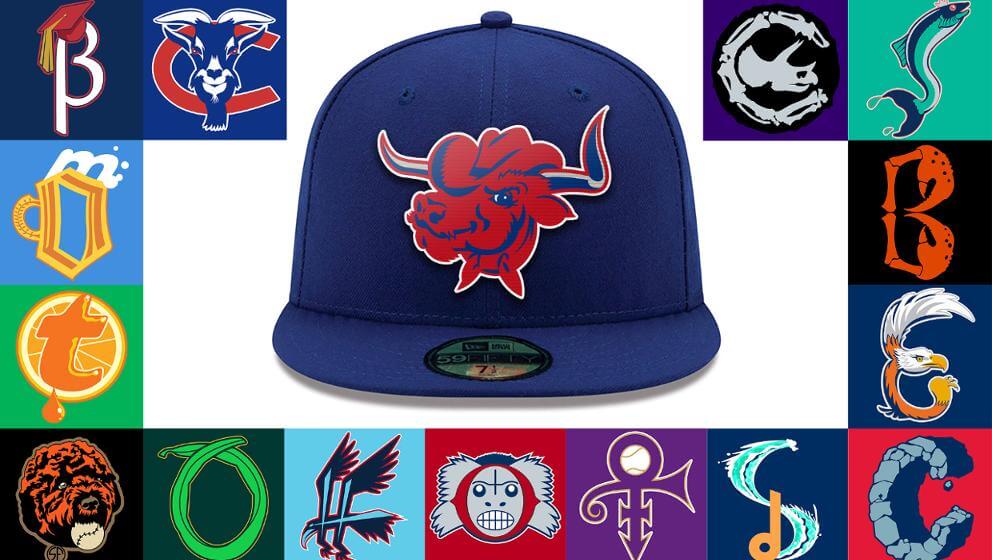 Reimagining MLB: It's not uncommon to see bloggers or designers coming up with new concepts for a team or league. But it's fairly unusual to see a league doing this for its own teams. Yet that's what MLB.com has done with a new project to rename all 30 MLB teams and give them new cap logos.
It's all for fun — or could it be something more? After all, minor league teams now routinely give themselves one-game makeovers, so could that approach be coming to MLB, where the higher-ups seem determined to make the game more appealing to a younger demographic? Also worth noting: The ground rules specify that the new team name "should be something related to the team's area or its history," which sounds a lot like the approach that the NBA and Nike have taken for the NBA's "City" uniforms. Nike, of course, will be taking over the MLB uniform contract next season. Hmmmm.
• • • • •
• • • • •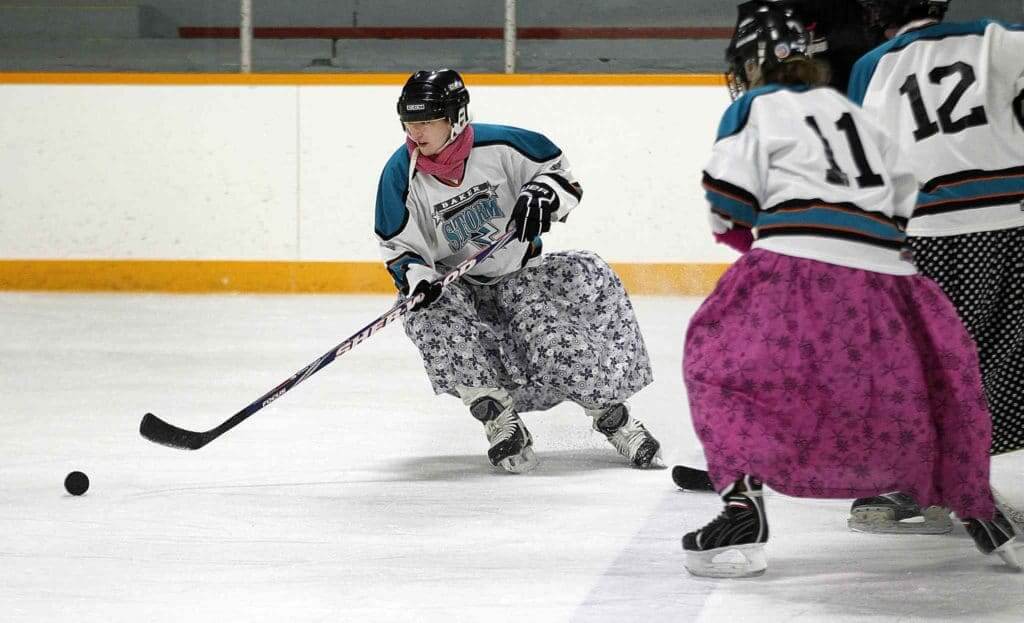 Photo by Phil Hossack / Winnipeg Free Press; click to enlarge
Don't tell Don Cherry: Yup, that's just what it looks like — hockey players in skirts. They're Hutterite women in Manitoba, and they traditionally play hockey on Louis Riel Day, which was on Monday. The photo shown above is actually from last year's game (here's the article it came from, which is excellent — recommended); here's an article on this year's installment of the game.
I wanted to know how the skirts looked in action, so I went looking for some video. Here's a clip from 2014 — too bad about the vertical orientation but still plenty interesting:
(My thanks to Adam Franz for letting me know about this one.)
• • • • •
• • • • •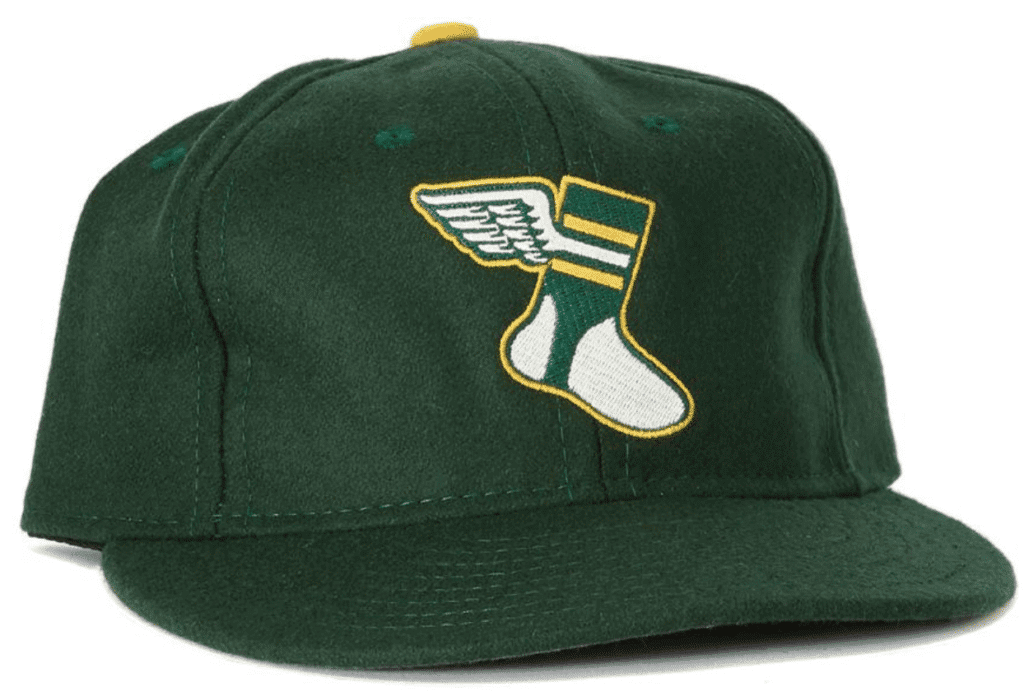 Cap update: We had been sold out of several popular sizes of the Uni Watch Classic Cap, but I'm happy to report that all sizes have now been restocked. So if you were waiting for a particular size (or the adjustable version, which I believe was also temporarily out of stock), now you're good to go.
Meanwhile, thanks to everyone who helped me liquidate our excess inventory on our alternate flex-fit cap. That item is now sold out and will not be offered again.
• • • • •
• • • • •
Membership update: When someone asks us for a membership card based on a vest jersey, we usually don't depict the undershirt. But Tim LaDuca specifically asked us to include the undershirt on his new card, which is based on the old Oakland A's vests. MLB vests were much more narrowly tailored across the shoulders in those days (today's "vests" are really just sleeveless jerseys, not true vests), so including the undershirt on the card made sense. Looks great!
Tim's card is one of four new designs that have been added to the membership card gallery. As of this morning, we're fully caught up on orders.
Ordering a membership card is a good way to support Uni Watch (which, quite frankly, could use your support these days). And remember, a Uni Watch membership card entitles you to a 15% discount on any of the merchandise in our Teespring shop and our Naming Wrongs shop. (If you're an existing member and would like to have the discount code, email me.) As always, you can sign up for your own custom-designed card here, you can see all the cards we've designed so far here, and you can see how we produce the cards here.
• • • • •
• • • • •
Click to enlarge
Wafflebored jersey reminder: We're currently auctioning off the very excellent Uni Watch hockey jersey shown above, which was made by the one and only Wafflebored. Full details here.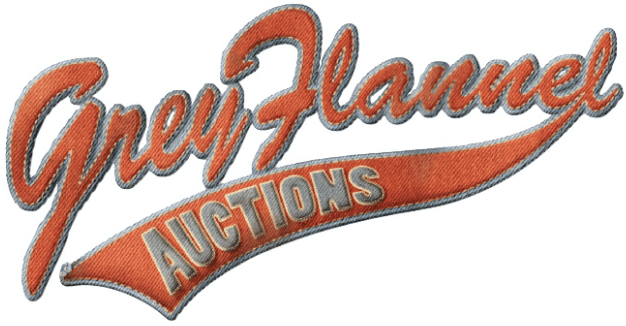 While we're at it, we also announced this week that Uni Watch is once again partnering with Grey Flannel Auctions to provide free appraisals of your sports-related collectibles.
If you have game-used jerseys, autographs, or other potentially valuable memorabilia, you can submit photos and descriptions to GFA and get a free appraisal, with no further obligation, within 72 hours. It's like an online version of Antiques Roadshow. If you want to consign your item to GFA, that can be arranged, but you're under no obligation to do so.
For full details on all of this, look here.
• • • • •
• • • • •
The Ticker
By Yianni Varonis

Baseball News: The Reds became the second team to announce a Frank Robinson memorial patch. The Reds will also honor Robinson twice in July on days they wear throwbacks from the era he played with the team (from our own Alex Hider and multiple readers). … Former MLB and Negro League P Don Newcombe passed away this week. It's worth a reminder that he likely served as a model for the Senators' 1961 logo, though he never played for the team (from Kevin Zdancewicz). … Reader Andrew Lockett writes that the Nationals' mascots recently visited his daughter's elementary school and gave her and her classmates eye patches modeled after P Max Sherzer, who has a blue eye and a brown eye. … From Phil: The Tigers released a list of promotional items that the team will give away this season, including a bobblehead of former manager Sparky Anderson sitting on an "Iron Throne." … Here's a fascinating look at the history, culture, and politics that surrounded the building of Dodger Stadium during the 1950s (from Andrew Cosentino). … New White Sox OF Jon Jay now wears No. 45 in honor of Michael Jordan. … Manny Machado hasn't yet signed his contract with the Padres, but the team's store was nonetheless selling Machado jerseys yesterday, although they were then removed (from Phil and Brinke).

NFL News: From Phil: Nike is now selling a Colin Kaepernick jersey only days after he reached a settlement with the NFL on his collusion case. … The Jaguars will unveil an anniversary logo next month to celebrate the team's 25th season in the league.

Hockey News: The Spokane Chiefs of the Western Hockey League will wear sweaters featuring player nicknames that will be auctioned off for charity with proceeds going to the fight against cancer (from Wade Heidt). … The Gatineau Olympiques — that's a major junior team — retired Claude Giroux's No. 28 last night (from @FSBabyHuey). … New "Miracle on Ice"-themed uniforms for the Charlotte Checkers (from Matt French). … Here's another 1970s shot of hockey players wearing bulbous helmets that look more like football helmets without facemasks, although that's not what they are (from Ryan Dever).

NBA News: This piece, which has quotes from Paul, argues that the Mavericks are due for a logo and uniform change. … Newly signed G Jordan Sibert will wear No. 8 with the Hawks; G Jodie Meeks will wear No. 20 with the Raptors; and F Emanuel Terry will wear No. 12 with the Heat (from Etienne Catalan).

College Hoops News: Former president Barack Obama was at the UNC/Duke game and wore a jacket with "44" on the sleeve (from Gregory Zitelli). … Ohio State wore its Clark Kellogg-era throwbacks last night in a color-vs.-color game, with the Buckeyes in scarlet and Northwestern going GFGS (from multiple readers). … Ohio State also had Black History Month warmups (from Ben Teaford). … Memphis also wore throwbacks, becoming "Memphis State" last night (from Kendall Cruse). … Georgia Tech's athletic department recently adopted a uniform shade of gold for its teams. The school's basketball court, however, will need to undergo another update because the new shade of gold has a greenish tint from the stands and on television (from Michael Rich). … Augsburg G Booker Coplin, a likely DIII All-American, also cleans his team's laundry (from Tom Whitfield).

Soccer News: MLS's newest franchise, Nashville SC, officially unveiled the colors and crest it will wear beginning in 2020 (from multiple readers) … From Phil: The Colorado Rapids have a new, all-white kit, and one writer thinks that's all the uniform should be thought of as. … The Los Angeles Galaxy unveiled a new away kit, which prompted one site to rank every change shirt the team has ever worn (from GISHammer). … The National Women's Soccer League ended its TV agreement with Lifetime. However, every team in the league will continue to wear a Lifetime sleeve ad this season, as they have the last two years (from our own Jamie Rathjen). … It appears that English club Leeds United has tweaked its badge for its 100th birthday. … This is pretty unique: The new home and away kits of Argentinian club CA Colon were released, featuring the maker's mark of a company that is a knockoff of another manufacturer. More information here (from Ed Zelaski). … Soccer kits tend to have one-season lifespans nowadays. Here's a look at kits that have bucked the trend by lasting three years (from Denis Hurley).

Grab Bag: We mentioned last week that golf's Players Championship has a new trophy. It turns out that the tournament is also tweaking the colors of its logo (from @MadeByTim). … Pro golfer Steve Stricker was recently announced as captain of the 2020 U.S. Ryder Cup team. To honor the Wisconsin native, Stricker was presented with jerseys from the state's major professional and college sports teams (from Michael Brighton). … A Wisconsin high school is facing major scrutiny from the ACLU after cheerleading coaches gave "awards" to students for having "enormous boobs" and a "big booty" (NYT Link) (from Langhorne Mayor and Amare Smith). … Cedar Rapids, Iowa is designing a new municipal flag after the current design, which was created by a high school student in the 1960s, was deemed one of the worst in the country (from Aaron Telecky). … Speaking of which, Scottsdale, Ariz. will also unveil a new municipal flag, and here are the two finalists. … Burberry has apologized after receiving criticism for designing a hoodie with a noose around the neck. … A convention center in Detroit is being renamed after the policies of its former namesake, 1950s-era mayor Albert Cobo, has been criticized for being racist (from Ryan Keberly and Alex Dewitt). … In Chicago, the proliferation of craft beer has also inspired a wave of artistic beer-label designs. … Puma is selling a shoe that appears to be inspired by the popular California fast-food restaurant, In-N-Out Burger (from our own Brinke Guthrie). … McDonald's has more than 36,000 locations around the world. Did you know that one — and only one — features turquoise instead of golden arches? … Kennesaw State University has unveiled a new logo.