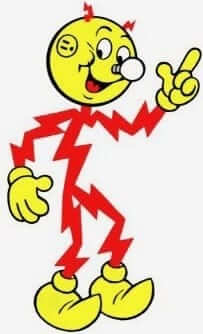 Everyone loves Reddy Kilowatt, the cartoon mascot that debuted in 1926 and spent the next several generations encouraging Americans to use as much electricity as possible. Okay, so maybe that wasn't the best idea, given what we now know carbon footprints and all, but still — how could anyone resist Reddy's cheery optimism and goofball anatomy? A lighting bolt body, a lightbulb for a nose, and sockets for ears — brilliant! (Note that the image at right shows Reddy's ear as a three-prong outlet; earlier versions had him with a two-prong. Reddy adapted with the times!)
Until now, though, I didn't realize that Reddy had such a deep connection to sports and uniforms. I discovered that by accident when I was poking around on eBay the other day and stumbled upon this excellent patch showing Reddy playing baseball (click to enlarge):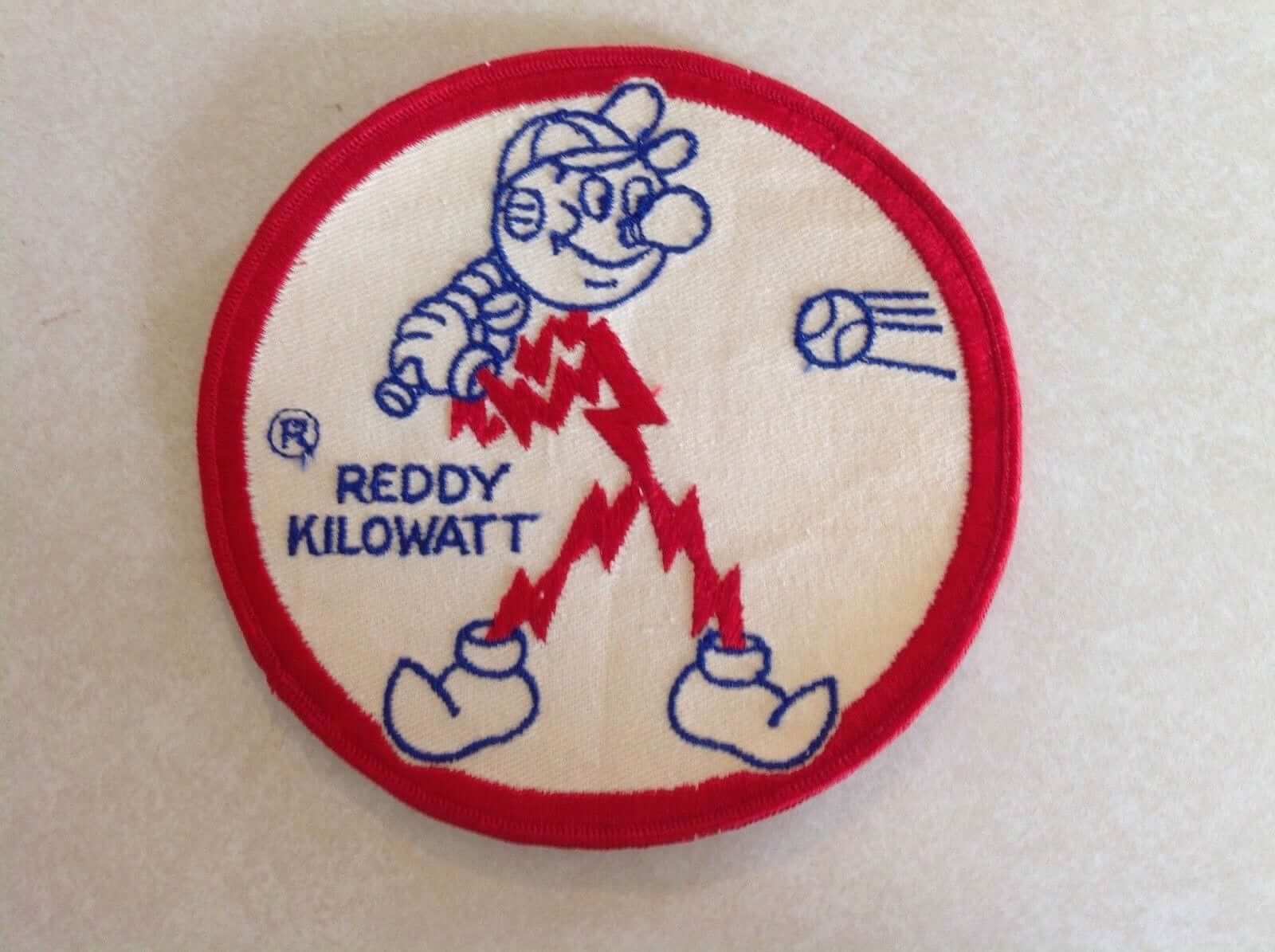 It's not really clear what Reddy has to do with baseball. I guess he'd encourage teams to have a light-up scoreboard instead of the old hand-operated versions like the ones at Fenway and Wrigley. Maybe he'd also be in favor of electric-powered bullpen buggies..?
Anyway: I posted a link to the eBay listing on Twitter. That resulted in a bunch of fun responses, plus I did a bit of additional research of my own, all of which resulted in a nice little portfolio showing that Reddy was sports-ready!
Let's begin by sticking with baseball. This ad appeared in a Phillies scorecard in 1953 (click to enlarge):

Reddy also appeared on the jerseys of this late-1930s Northwest Electric baseball team. It's not clear whether the players worked for the NWE or if the company sponsored the team (click to enlarge):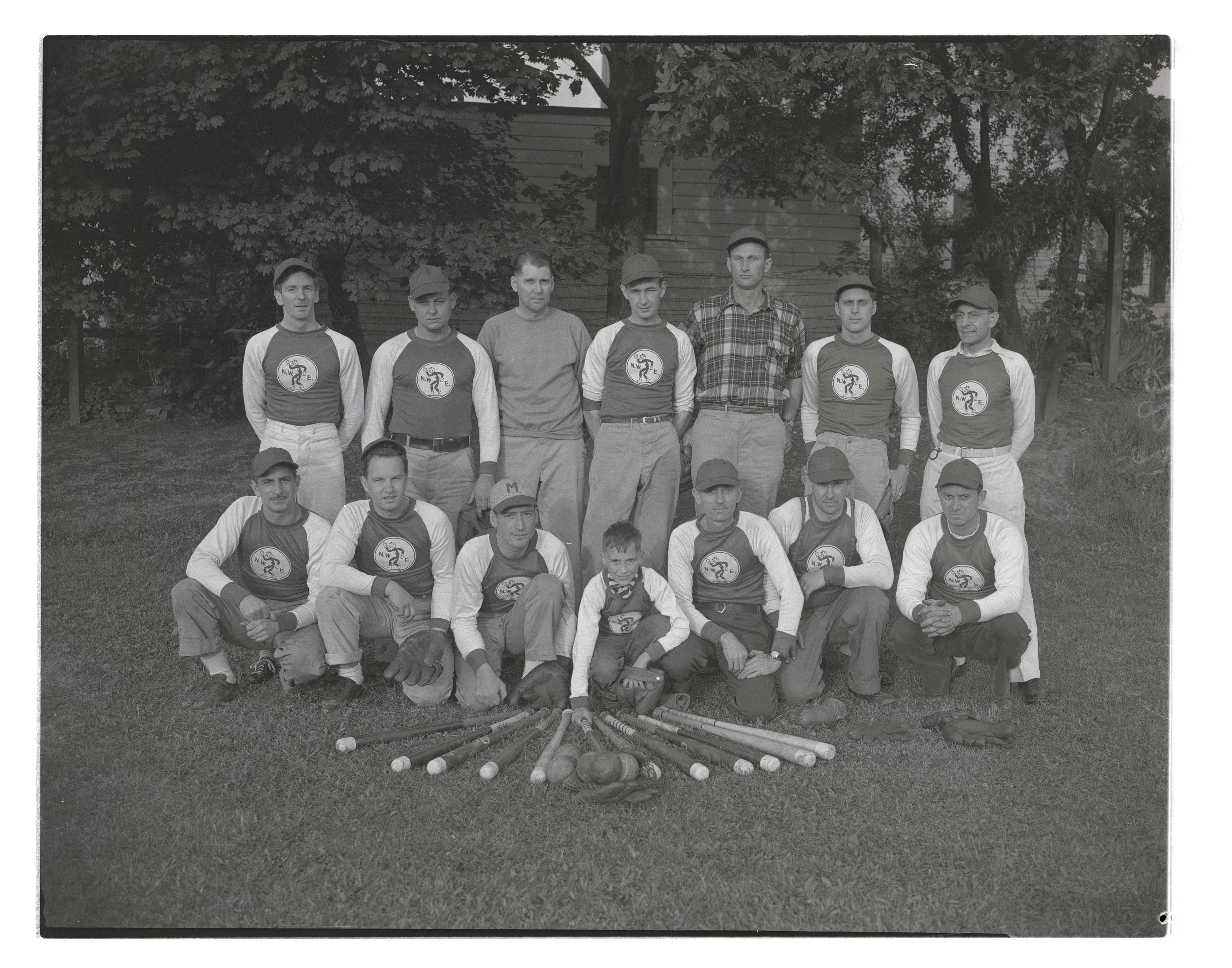 There's also this baseball uniform, with Reddy featured on the back: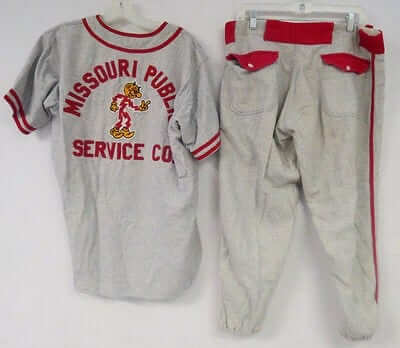 And then there's this 1940s uniform, with Reddy appearing on the cap: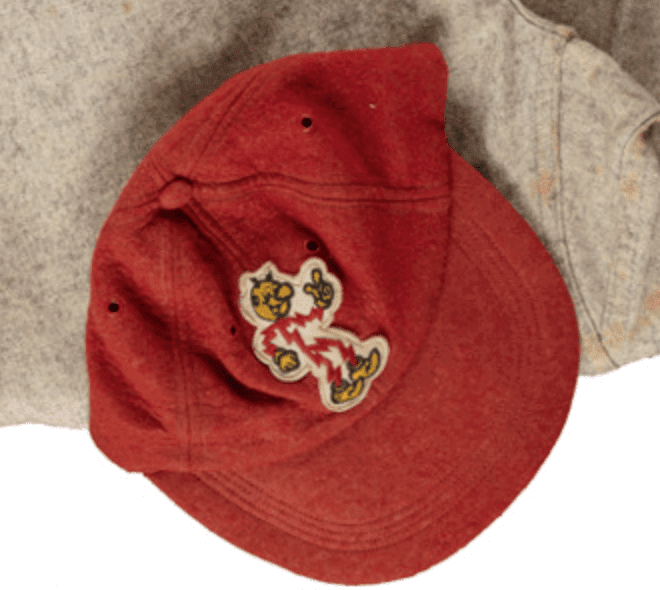 I also found several images of Reddy bowling. Since Reddy, like most cartoon characters, has only four fingers, he's depicted with only one non-thumb finger inserted into the ball (click second photo to enlarge):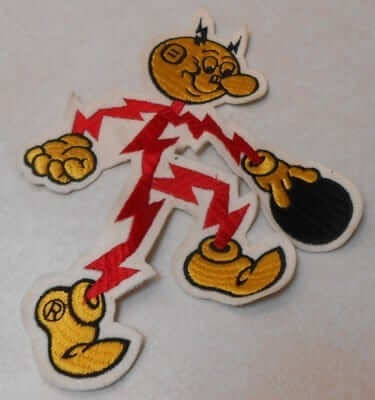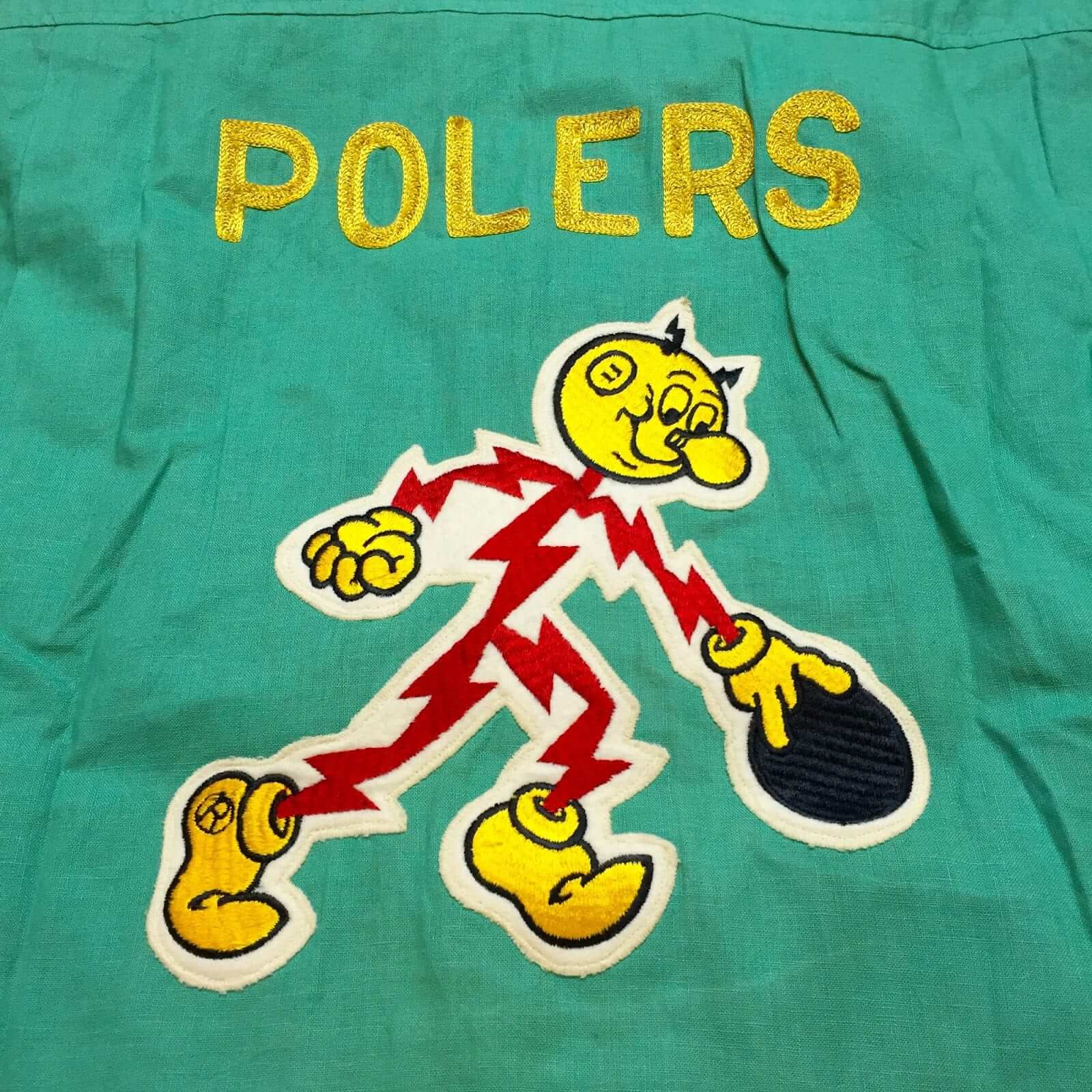 I wish I could get a bigger or higher-res version of this next shot — 1950 photo showing a women's bowling team with Reddy on the back of their shirts. The caption on Pinterest describes it as "the Reddy Kilowatt Beginners Bowling League for Female Employees":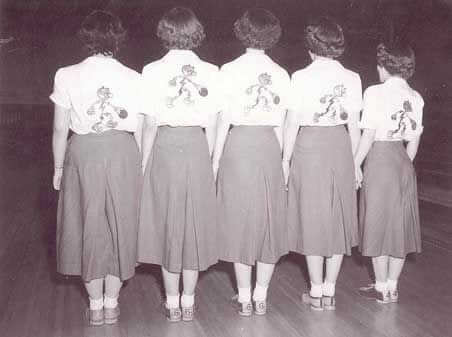 And get this: The sports teams at Granite Falls High School in Minnesota used to be called the Kilowatts! And of course they used Reddy as their mascot (additional photos and info here):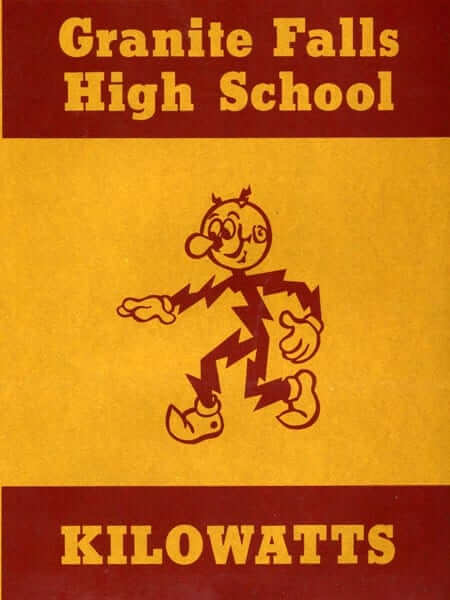 The team name was changed due to school consolidation. But the town's amateur baseball team is still called the Kilowatts, although they don't seem to use Reddy on their uniforms or in their graphics.
There's also this Reddy Kilowatt cornhole set! Click to enlarge: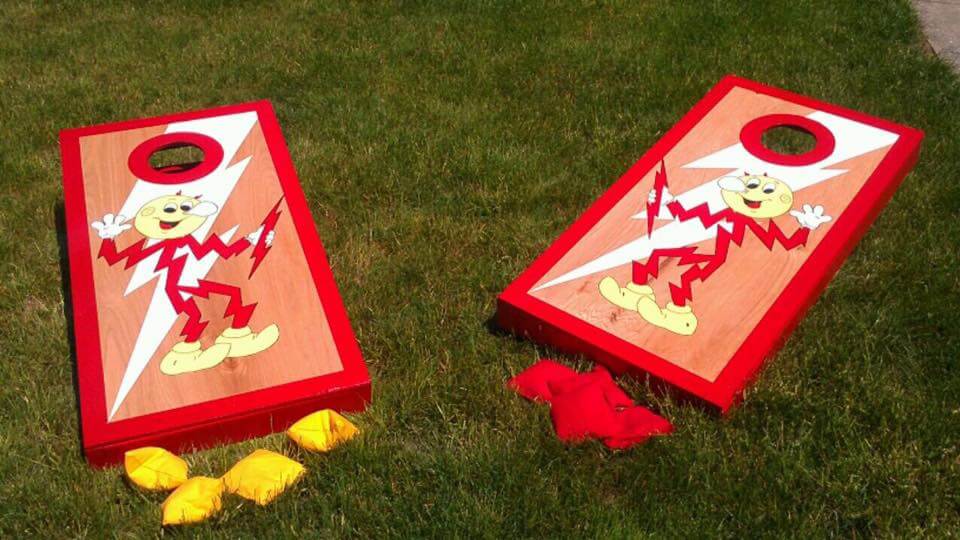 Finally, here's a classic mid-century Reddy commercial. No sports component here, but still priceless:
(My thanks to David Kerr, Brad Koenig, @ChewChewTrain, and @Cdud1970 for their contributions to this section.)
• • • • •
[adrotate group="2″]
• • • • •
Marlins update: According to Sirius sports radio guy Craig Mish, the new Marlins logo that's been circulating this week (including here on Uni Watch yesterday) is just one option among several. Mish tweeted three designs that he says are currently under consideration in addition to the first one we saw.
So that makes a total of four possible logos. Here there are (click to enlarge; the one we had already seen yesterday is at top-left):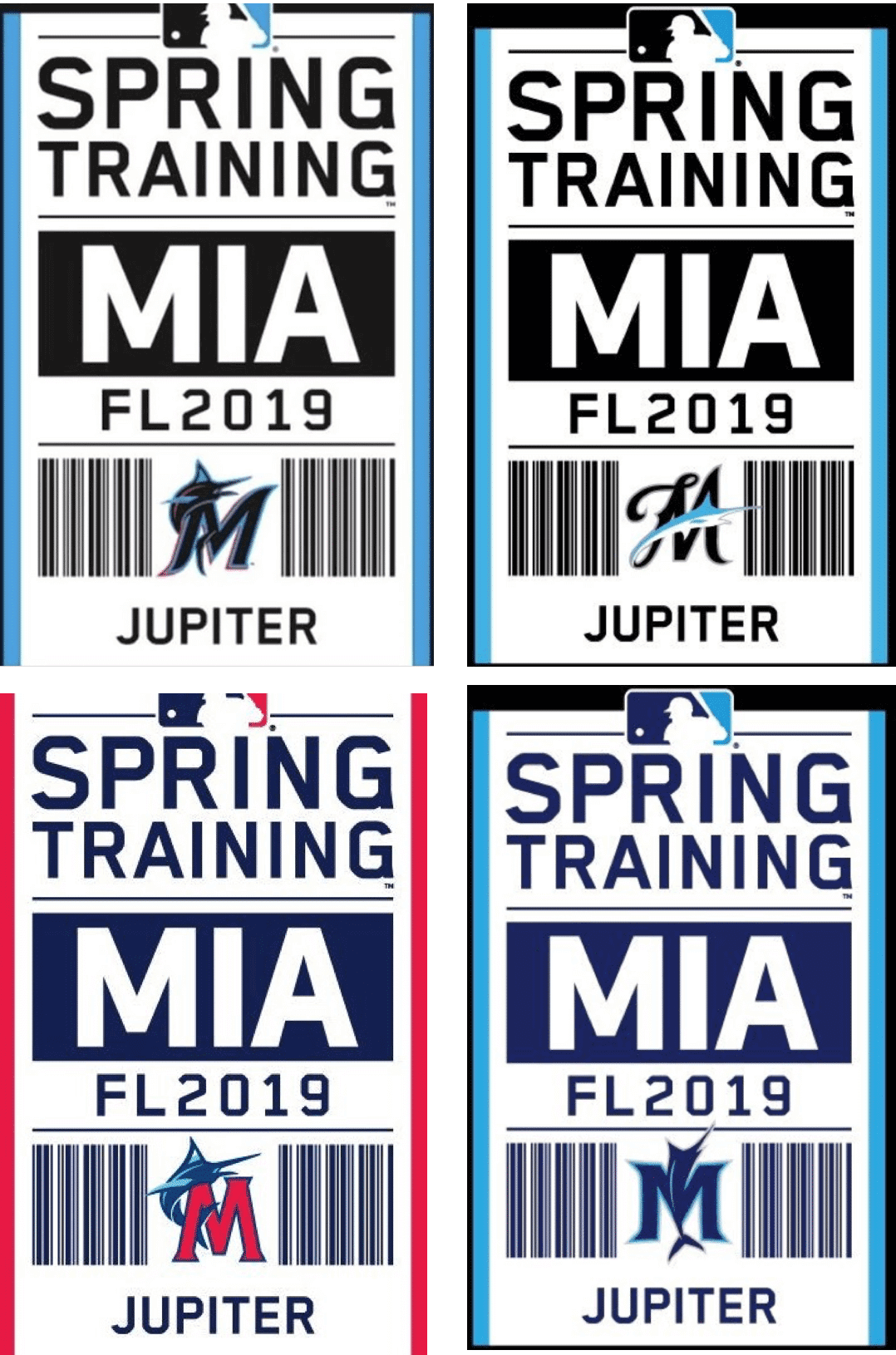 Can't say I'm nuts about any of these, but I prefer all three of the ones Mish posted over the first one we'd seen. Hmmmmm.
A source tells me that the unveiling will be in mid-November, so we'll have this resolved soon enough.
• • • • •
[adrotate group="2″]
• • • • •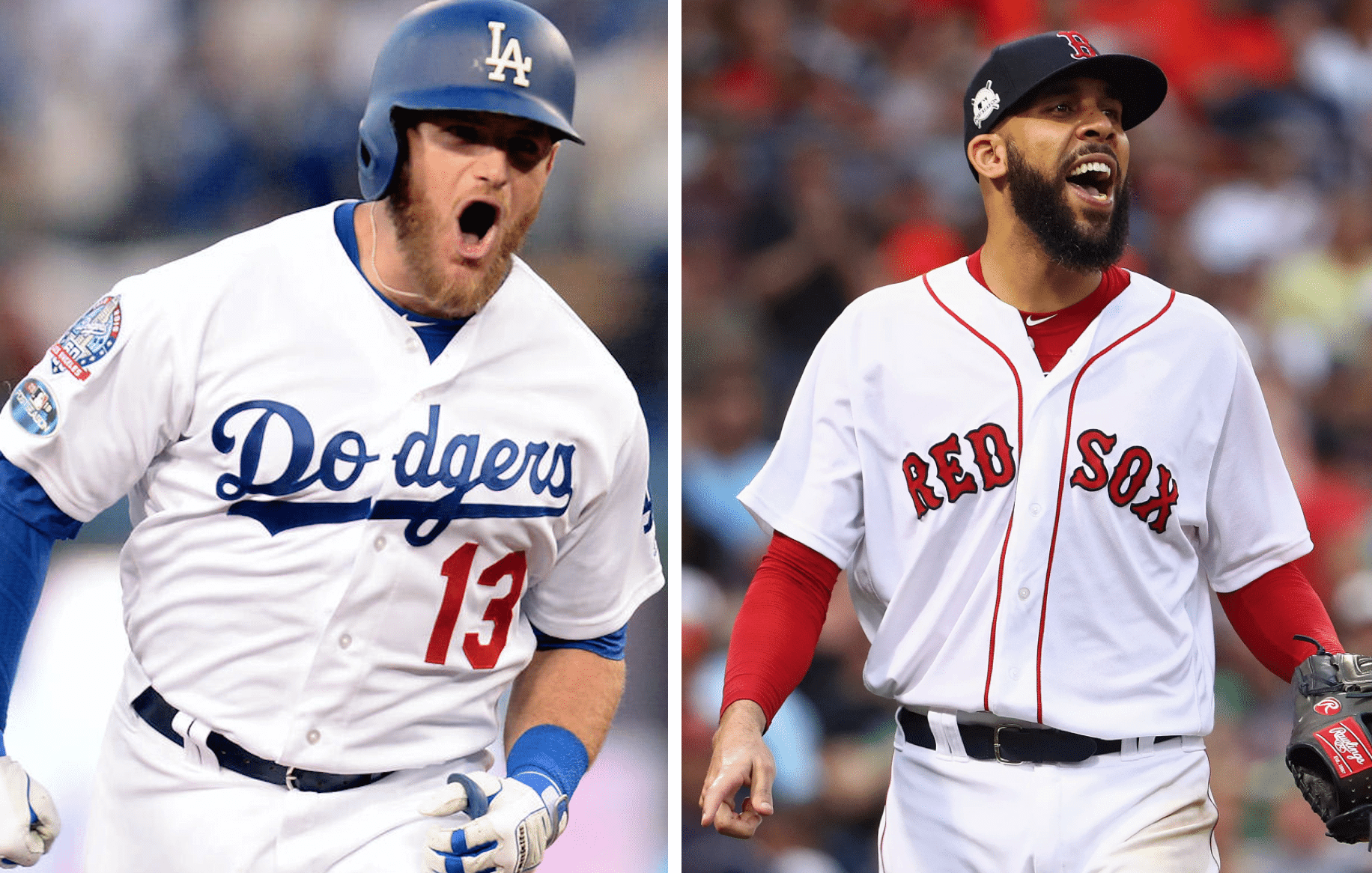 A classic-looking Fall Classic? With the Red Sox and Dodgers both one win away from the World Series, we could end up with the most traditional-looking Fall Classic in recent memory.
For starters, both teams have very old-school looks. Neither one even has an alternate cap! In addition, the one Friday game is scheduled to be in the National League city, so that presumably takes Boston's red alternate jersey off the table. If the Sox stay away from their navy road alternate, the entire Series could be white vs. grey. (I view that as a plus, although I realize some of you probably feel differently.)
Add it all up and we're on the precipice of what could be a very vintage-flavored Series — well, mostly.
• • • • •
[adrotate group="2″]
• • • • •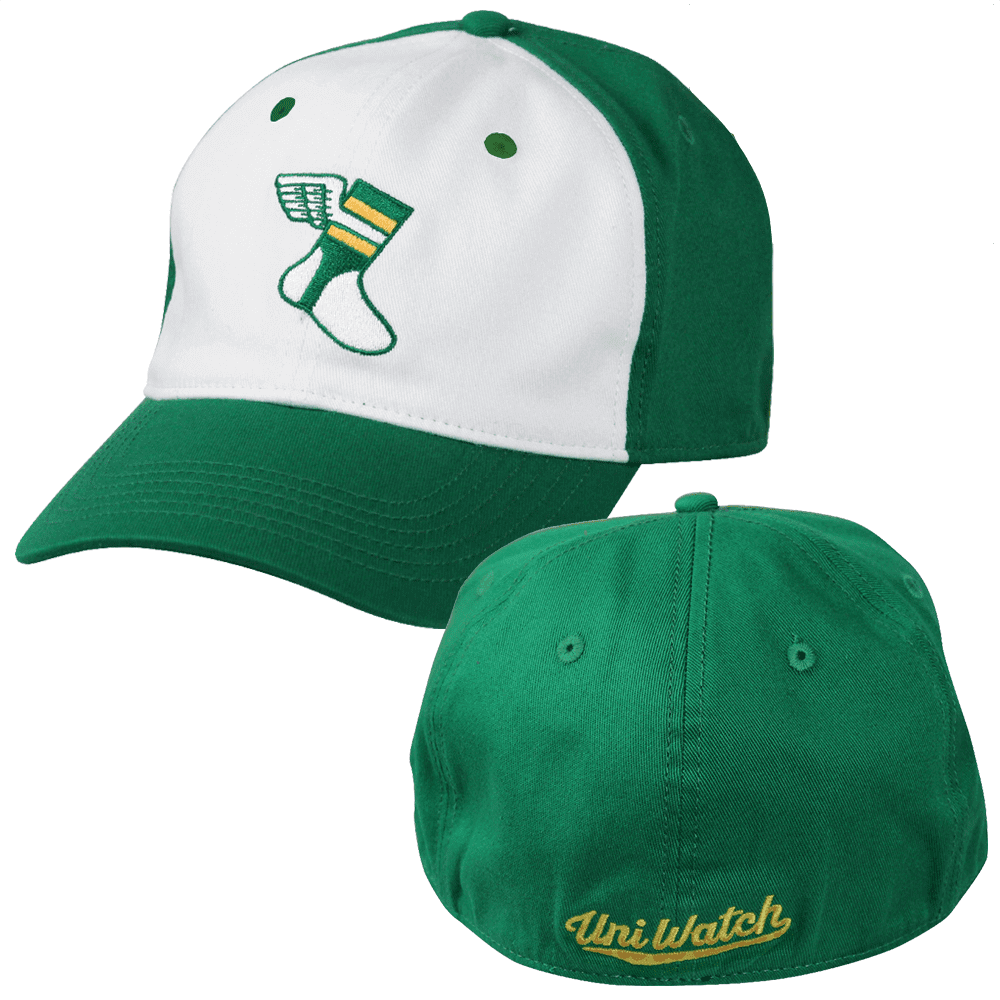 Price break reminder: In case you somehow missed the jillion other times I've mentioned it, we recently reduced the price of our flex-fit Uni Watch alternate cap from $29.99 to $24.99. I'm happy to report that this has resulted in a nice sales bump, but I'd like to see that bump get even bumpier. If you'd like to help in that regard, you can order your cap here.
While we're at it: Our wool classic cap, available exclusively from Ebbets Field Flannels, is fully stocked in all fitted sizes (and the adjustable version, which is currently sold out, should be back in stock in another 10 days or so). Just the thing to ward off that autumn chill! It's available here.
My thanks, as always, for your consideration of our products.
• • • • •
[adrotate group="2″]
• • • • •
The Ticker
By Paul

'Skins Watch: A Maine high school is holding a contest to replace its Native American mascot while keeping its "Warriors" team name (from Kary Klismet). … An indigenous student athlete at McGill University is protesting the school's "Redmen" team name. "The school insists that while native imagery has been used on occasion, the team was named purely for the color and nothing else," says Noah Sidel.

Baseball News: Chief Wahoo isn't the only thing the Indians are leaving behind next season. A little birdie tells me they're going to stop using nameplates and switch to direct-sewn NOB lettering. Ditto for the Rays. I view this as a plus. … Here's a humor piece on the origin stories of MLB team names (from James Gilbert).

NFL News: Disappointing news out of KC, where the Chiefs are apparently planning to go mono-red this Sunday night (from Taco Salazar). … The Falcons will wear their black throwbacks on Monday night against the Giants. … The 49ers will wear their white throwbacks at home against the Rams on Sunday, and holy shit are they gonna get slaughtered. Interestingly, the Rams will wear the Rash, so this game will be mono-white vs. mono-yellow.

College Football News: Navy's uniform for the annual game against Army will be "Bill the Goat"-themed. Additional goat info here. Phil will have a detailed rundown in his annual Army/Navy preview. … Did alternate uniforms help boost Iowa and Iowa State to upset victories? This writer thinks so (from Kary Klismet). … Yesterday was apparently the 77th birthday of the penalty flag, which was first used in a college game in 1941 (from Adam Myers). … Did you know what Bucky Badger looks like from behind? Now you do, thanks to this 1980s sweatshirt that Matthew Blinco recently thrifted.

Hockey News: Pinktober uniforms for the Charlottetown Islanders, a junior team in the Quebec Major Junior Hockey League. … The Ducks will retire Paul Kariya's No. 9 on Sunday. Kariya played for the Ducks from 1994 through 2003.

NBA News: The Trail Blazers are adding a memorial patch for owner Paul Allen, who died a few days ago. The patch will make its on-court debut tonight. … Never noticed this before: The Bulls' "72" banner, which commemorates their record-setting 72-win 1995-96 season has weird numerals. They're sort of crimped at the top (from Adam Foxman). … Thunder rookie Hamidou Diallo has signed an endorsement deal with Under Armour (from Josh Hinton). … New uni apparently in the works for the Texas Legends, who are the Mavs' D-League affiliate (from Zak Buncik). … The Hornets debuted their new white throwbacks last night. … There was a delay in last night's Clippers/Nuggets game when Clippers C Boban Marjanovic, who's 7'3″, bent the rim on a dunk without jumping (from Mike Chamernik). … The Kings' ad patch has a different background color this year.

College Hoops News: Reprinted from yesterday's comments: New white and green uniforms for USF. … Apparently there was some sort of rumor or narrative that Kentucky players don't like the checkerboard pattern on their uniforms, but that isn't the case (from Josh Hinton). … New uniforms for Central Arkansas, Fairleigh Dickinson (home, road), Morehead State, Canisius, Cal State Bakersfield, Incarnate Word (home, road), New Mexico, Saint Francis, Sacramento State (home, road), LSU, North Texas, Kentucky, LIU-Brooklyn, UNC-Greensboro, and Stephen F. Austin, whee!

Grab Bag: Michigan State has told a Michigan high school to stop poaching the university's Spartans logo. Good. … New logo for Animal Planet. … It had to happen eventually: Superman is going BFBS (from Kary Klismet). … Also from Kary: New logo for the rugby league team Melbourne Storm. … And yet another from Kary: The town of Plymouth, Mass., has chosen the four finalists for its new municipal logo. … Header photo in this Popular Mechanics article shows a home workshop with a Brannock Device on the pegboard! Nice (from Joe Werner). … American Airlines is suing the U.S. Copyright Office because the office refused to copyright the company's logo on the grounds that it's too plain. … Apparel company Freedom United Clothing is suing pop star Rihanna and Puma over their "FU" logo. … Authorities in Malaysia seized some food from a company that was using an invalid Halal logo. … The town of Paterson, N.J., is considering a new logo and slogan. For nearly 20 years now I've been going to Paterson to bowl at the very wonderful Paul's Bar & Bowling, so I say they should just use some classic bowling-themed clip art for the logo. Problem solved! (From David Rakowski.)