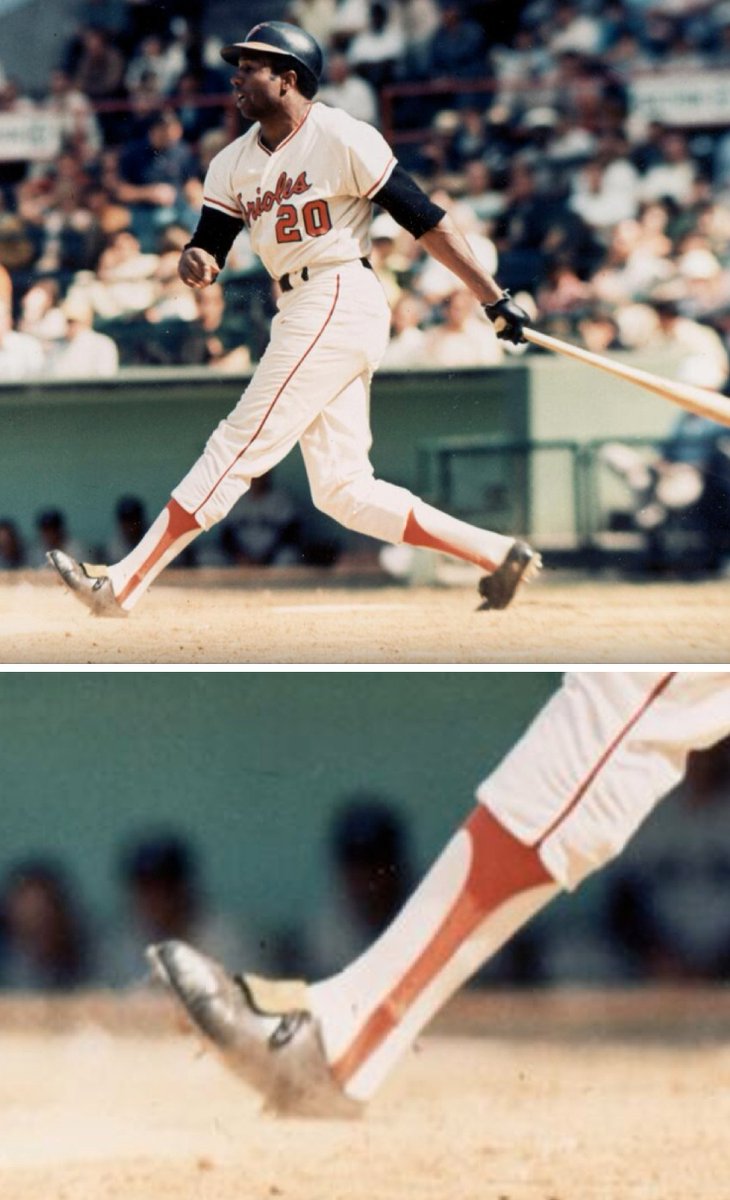 Click to enlarge
When I was 12 years old, in 1976, I read Jim Bouton's seminal best-seller, Ball Four. I was already obsessed with stirrups by that point, so I was particularly intrigued by a passage in the book about Frank Robinson's stirrups. I've quoted that passage many, many times during the 17 years that I've been writing about uniforms (most recently three Friday Flashbacks ago) — it's an "old reliable" that I never tire of. If you've somehow missed it, here it is one more time:
It has become the fashion — I don't know how it started, possibly with Frank Robinson — to have long, long stirrups with a lot of white showing. The higher your stirrups, the cooler you are. Your legs look long and cool instead of dumpy and hot. The way to make your stirrups longest, or what are called high-cuts, is to slice the stirrup and sew in some extra material.
Bouton wrote those words in April of 1969. I've always assumed he was the first one to publicly discuss Robinson's stirrups, mainly because most of Ball Four consisted of topics that nobody had ever publicly discussed before (players being hung over on the field, players having lots of extra-marital sex during road trips, coaches being assholes, etc.).
But it turns out Robinson's stirrups had been a hot topic of discussion two years earlier. Not only that, but his stirrups had led the American League to impose a rule regarding stirrups — a rule that I had been completely unaware of until now. It all adds up to a major lost chapter in MLB uniform history that's now been recovered.
The person who deserves credit for this discovery is Uni Watch reader Will Shoken. He saw the Ball Four quote in that recent Friday Flashback column and was intrigued, so he contacted his brother, Fred Shoken, who has access to The Baltimore Sun's archives. Fred did some digging and came up with several articles regarding Robinson's stirrups, which were apparently a bit of an ongoing soap opera in the the spring of 1967.
Let's go through those articles one at a time, beginning with this one from March 10, 1967. Take a few minutes to read it: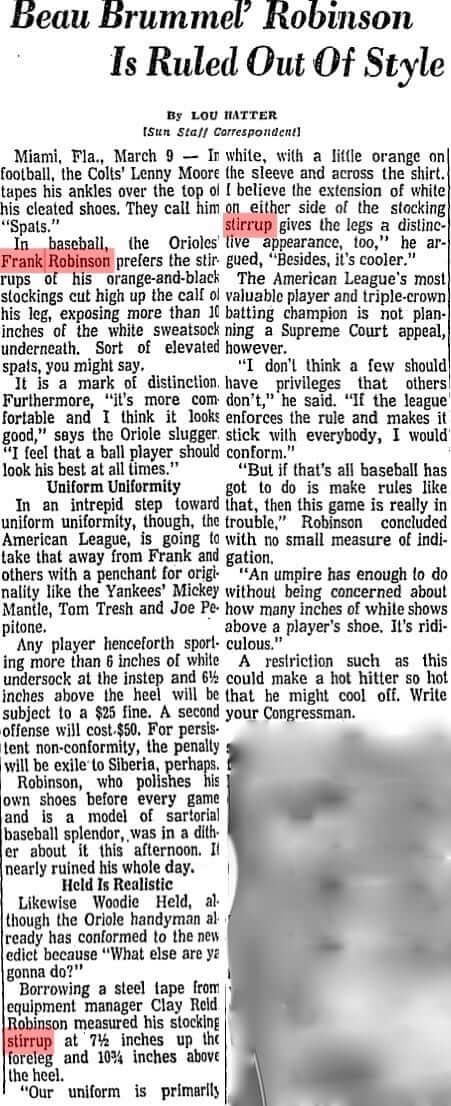 Faaaascinating to see that the American League was trying to legislate a maximum stirrup height during spring training of 1967. As I've explained many times, that would never fly today because the players' union would oppose it. Back in '67, however, the reserve clause was still in effect and the union was a much smaller force than it would later become. (Marvin Miller, who essentially rewrote the book on sports labor relations, had just taken over the MLBPA in 1966.)
Also: In April, during our most recent installment of Question Time, someone asked why I always say that the lower stirrup opening should be in the front, with the larger opening in the back, and my answer was basically, "That's how I've always seen it." But here we see that the American League was actually codifying that format into baseball law — no more than 6″ in the front, 6.5″ in the back.
Now let's move on to the next installment in this saga. This article was published on April 11, 1967 — Opening Day (for this one, you can click to enlarge):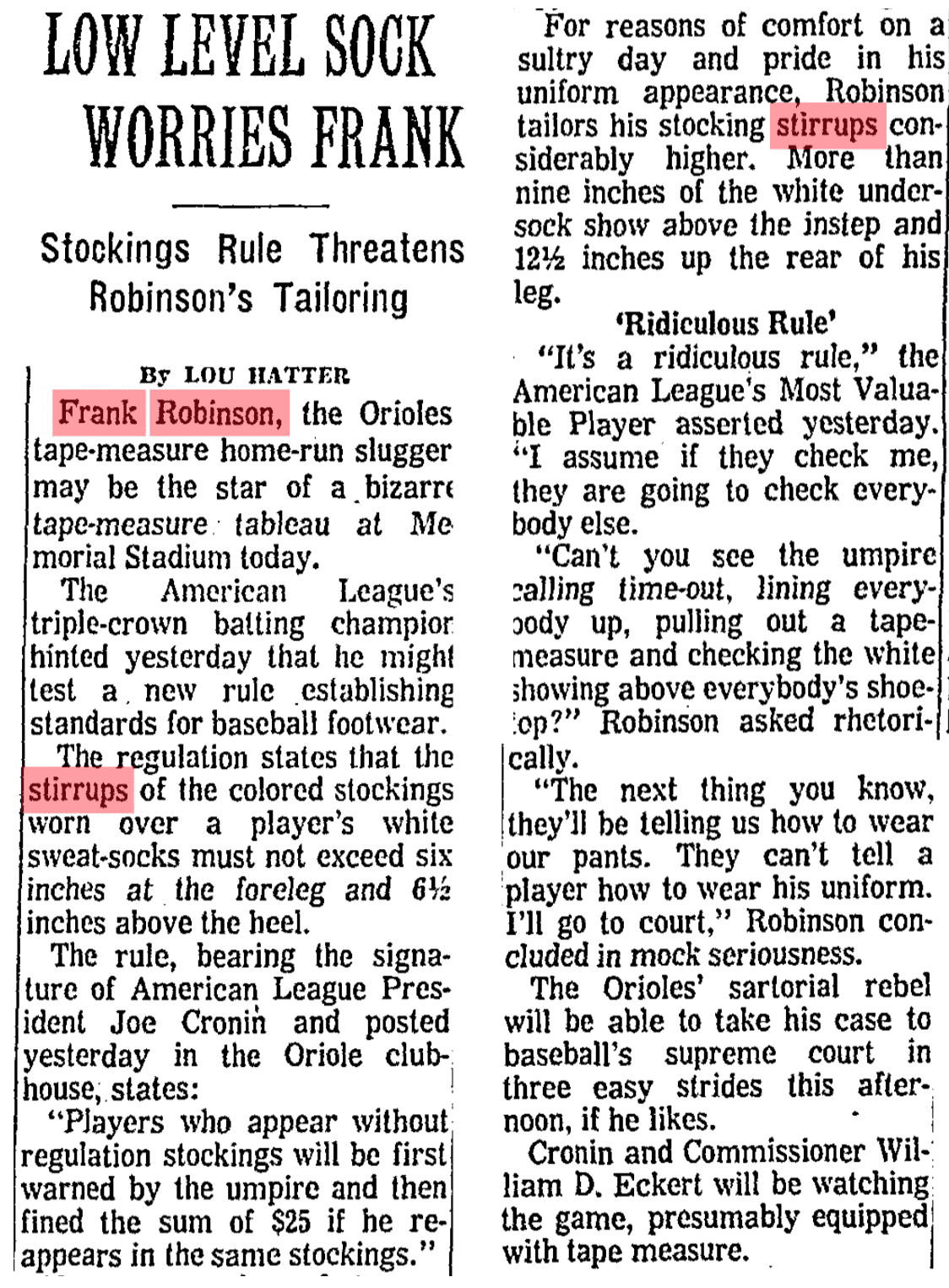 So this article was basically just a reminder, restating much of what had been in the previous piece. Unfortunately, there's no mention of how Robinson wore his stirrups during spring training games, or whether the rule was even in effect for those games.
The next piece of the puzzle appeared the following day — April 12, 1967. It consisted of a note toward the end of the Opening Day game recap:

Interesting! The system outlined here is similar to the way the NFL handles things today.
The fourth and final item was published a few weeks later, on April 29, 1967. Much like the last one, it was buried toward the end of a game recap:

Zing! So according to that excerpt, Robinson followed the rule — and A.L. prexy Joe Cronin couldn't resist rubbing it in a little bit.
All of which raises a question: Is there visual evidence of Robinson dialing back the stirrup height from 1966 to 1967?
1966 photos of Robinson are fairly easy to find. He was the A.L.'s MVP that year, so online photo archives have been more likely to keep those images in stock, plus the Orioles made it to the World Series that year. The surprising thing is that Robinson's stirrups don't appear to have been all that high during the 1966 season. In fact, they look like they might have been in conformity with '67 rule.
Here's a chronological look at Robinson during the 1966 season, beginning with spring training: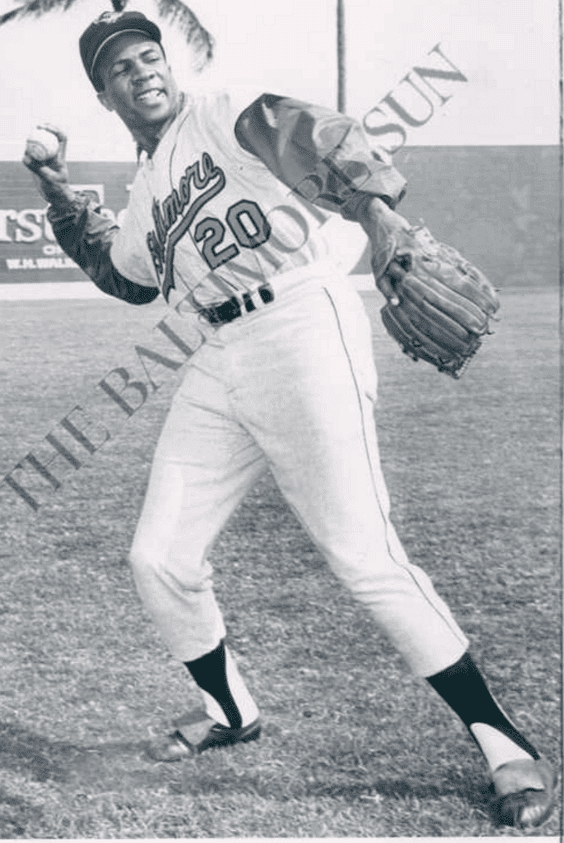 April 15: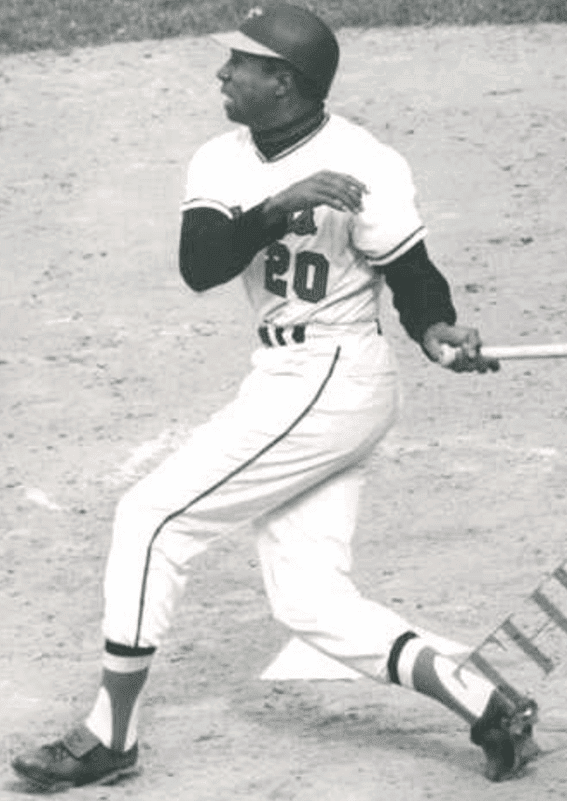 April 26: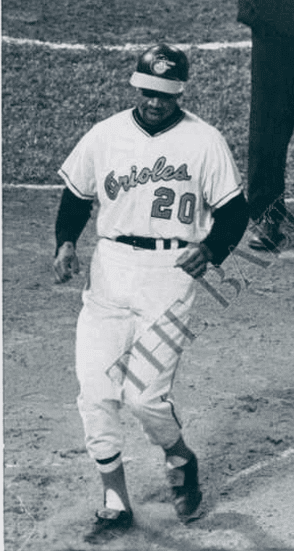 May 1: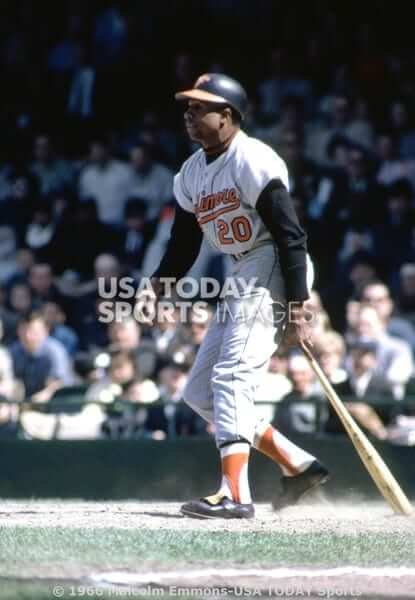 May 8: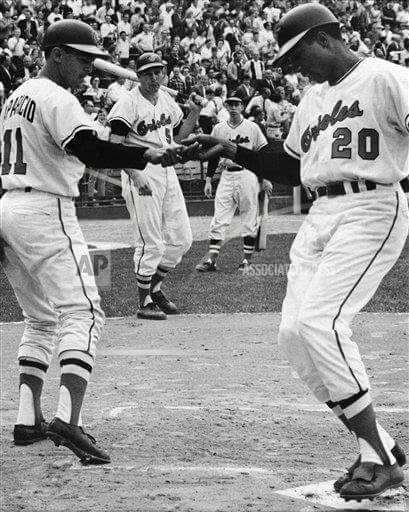 May 22 (click to enlarge):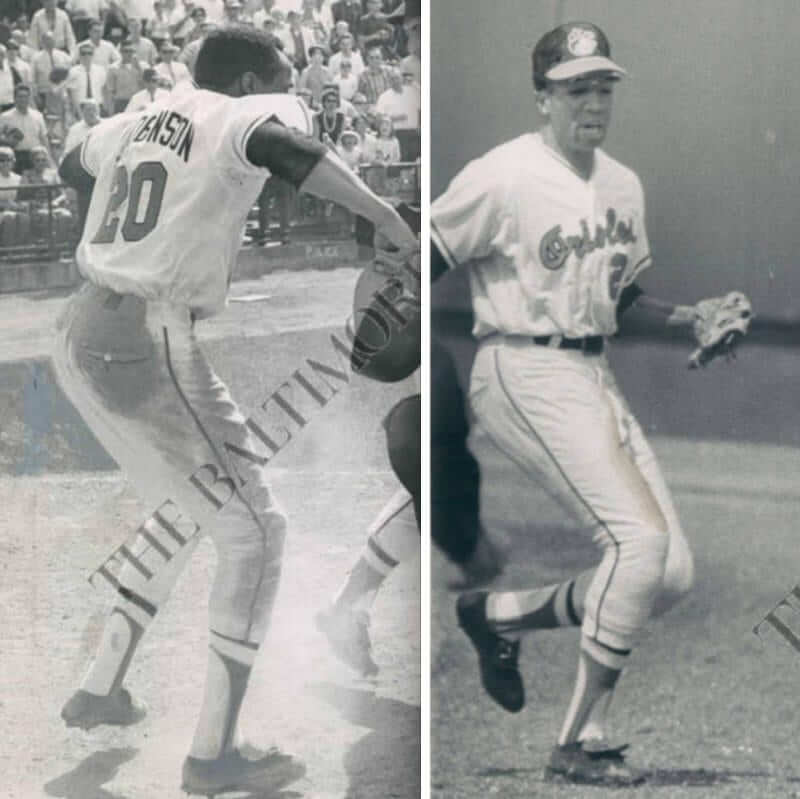 June 14:
July 1: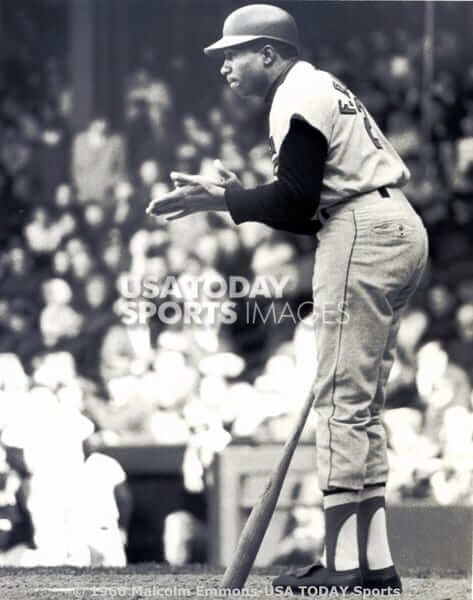 Aug. 30: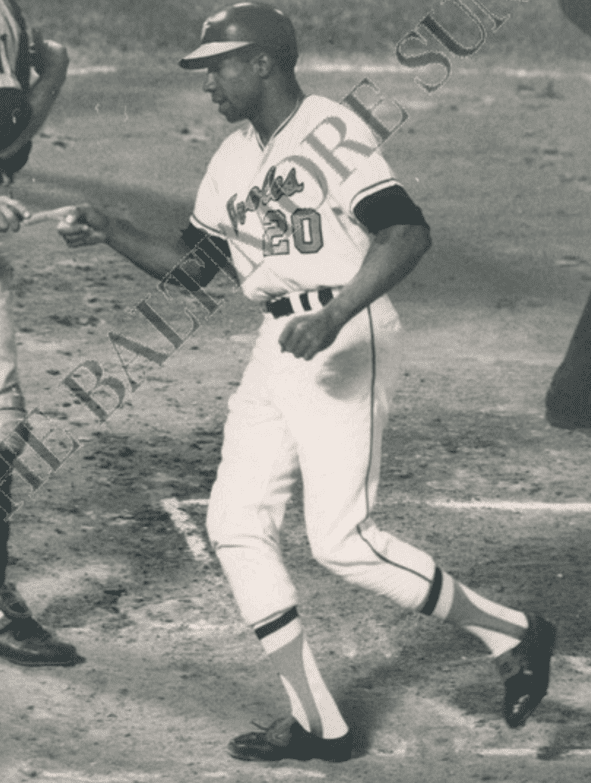 But the time of the 1966 World Series, when the Orioles faced the Dodgers, Robinson's stirrups had crept higher. The following shots are all from that Series: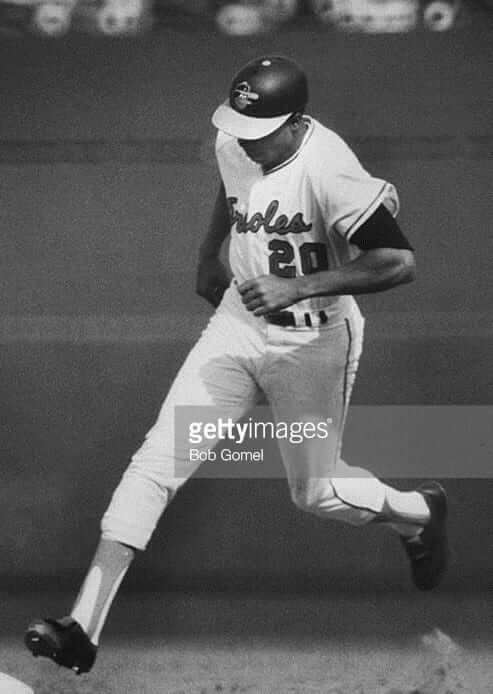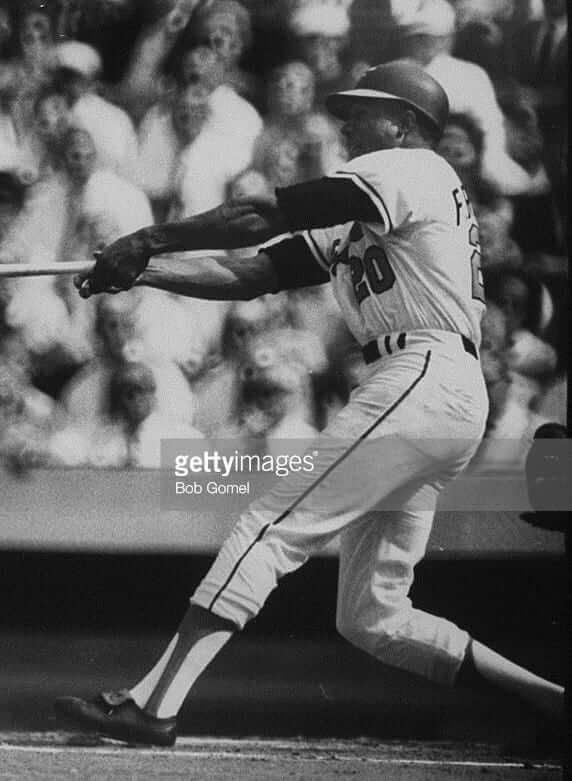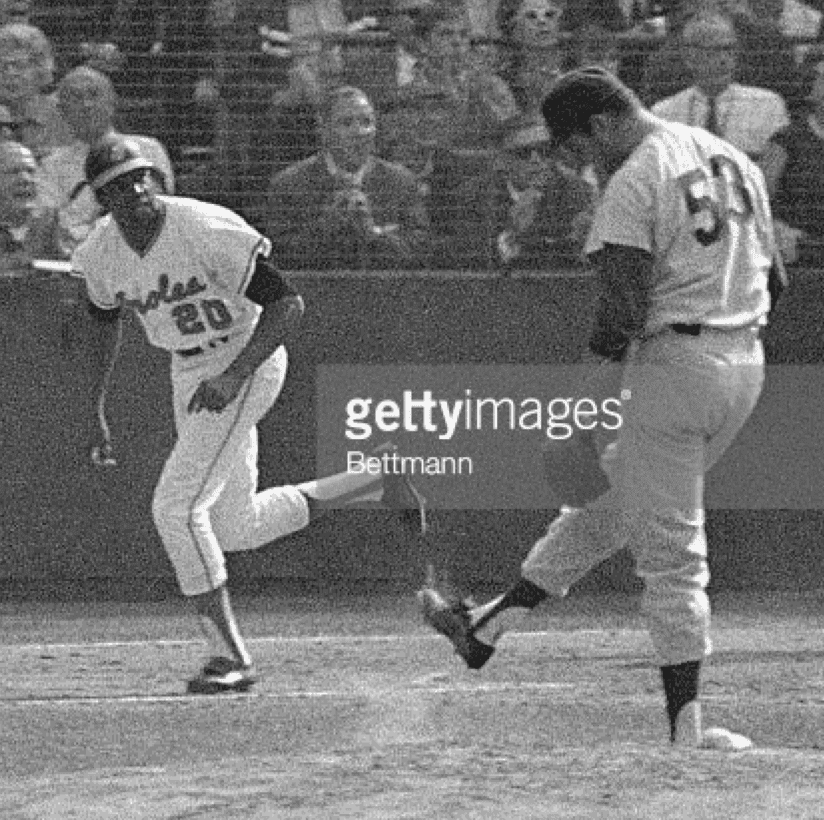 Perhaps those are the stirrups that got Cronin's attention. Of course, other players were using higher-cut stirrups around that same time, not just Robinson, so it's not clear that this was necessarily a "Robinson rule."
Photos of Robinson from 1967 aren't quite so plentiful, but we still have a decent number to look at, beginning with these two spring training shots: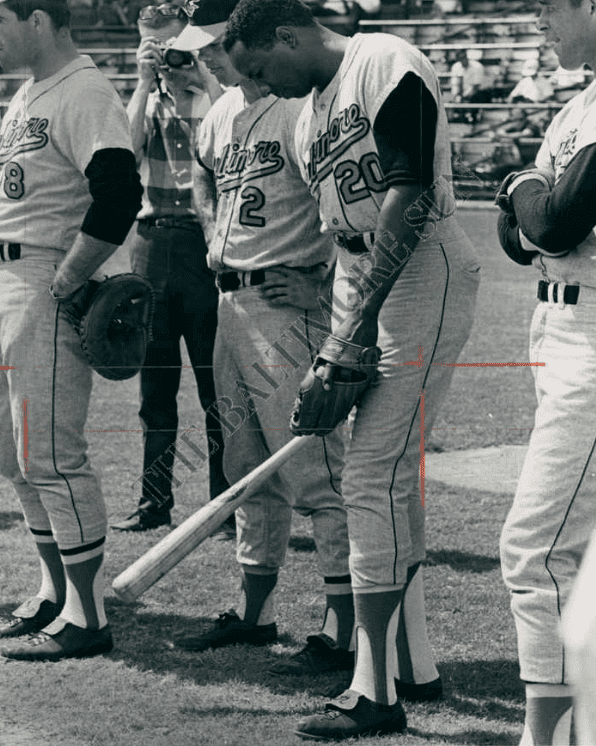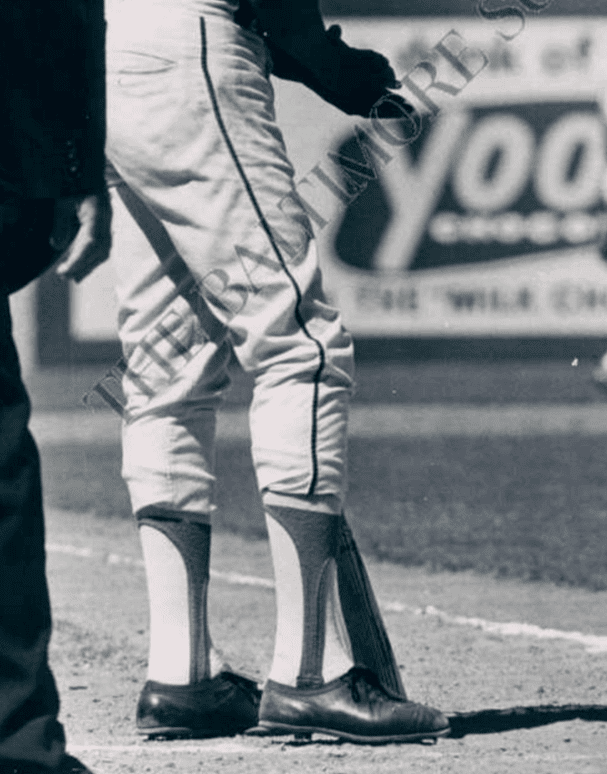 In that second photo, you can see the telltale seam indicating that Robinson modified his stirrups by having extra fabric added to them.
Next, here's a shot from Opening Day. It's less than ideal, because we can't see Robinson's shoes, but we can still get an idea of what his stirrups looked like: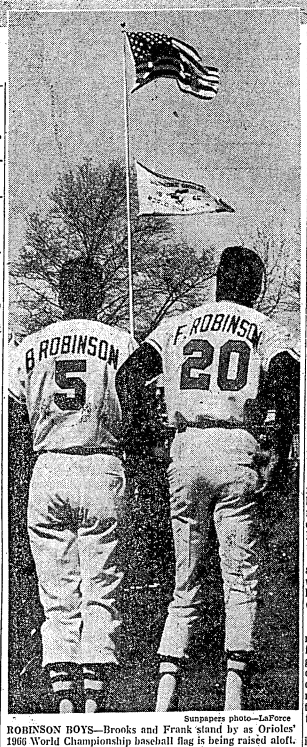 The comparison between the two Robinsons is telling. Frank's stirrups are clearly higher than Brooks's. It's hard to imagine that this would have been in conformity with the new rule.
Now, remember how Cronin gave Robinson his MVP award in late April and commended him for lowering his stirrups? Here's a photo that accompanied that article, with Robinson in the center: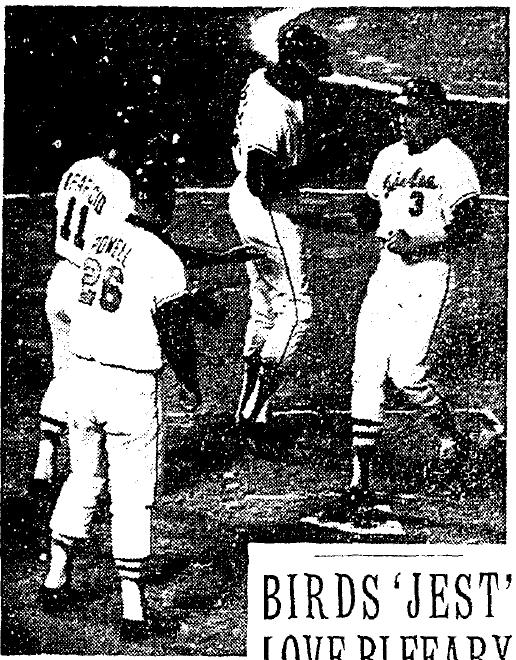 Obviously, it's not a very clear image. But Robinson's stirrups do look a bit lower than in the Opening Day photo.
But did he keep them low? Yes, at least for a bit. Here's Robinson on May 22 (click to enlarge):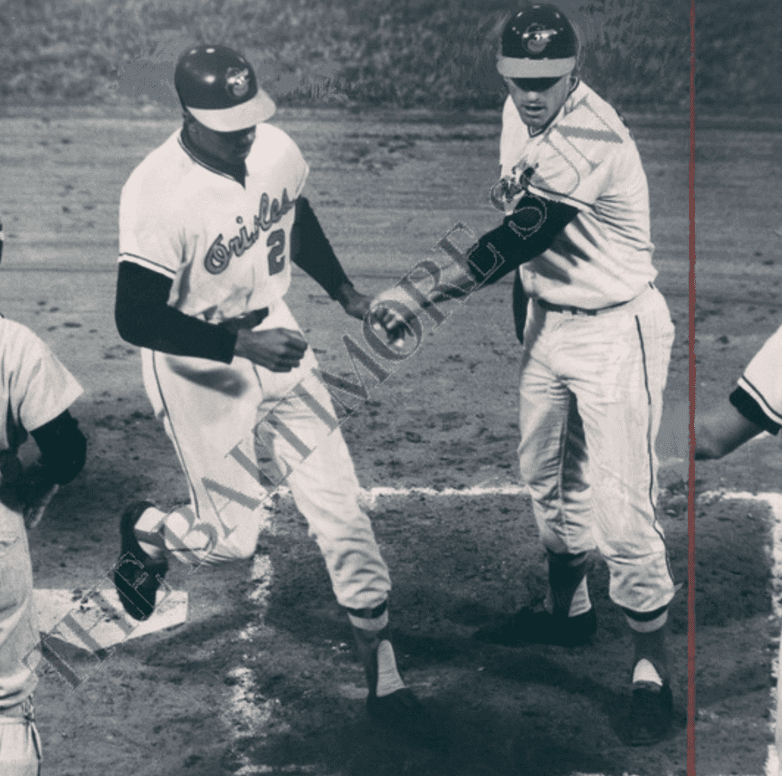 It looks like they might have been creeping a bit higher on June 27 (click to enlarge):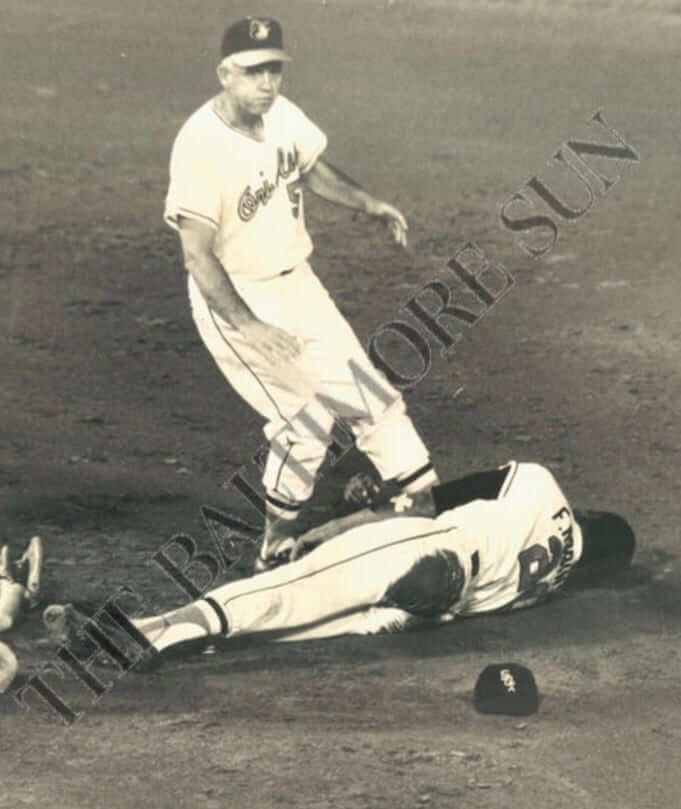 I'll let you decide for yourselves if Robinson was obeying the new rule as the 1967 season unfolded. One thing is certain, though: By 1968 and '69, he was wearing his stirrups higher than ever. So the rule had apparently been abandoned by that point, or the league had given up on enforcing it, or Robinson simply didn't care about paying the fines (like so many of today's NFL players).
How did we not know about any of this until now? Much like Todd Radom's discovery of an old Sporting News article that explains how the Dodgers got their red front-jersey numbers, this is a tale that's been part of the historical record all along, hiding in plain sight, but for some reason it never became integrated into the uni-verse's written or oral history. A good reminder that there are probably lots of additional chapters floating around out there, waiting to be rediscovered.
(I cannot adequately express my thanks to Will and Fred Shoken, who deserve all the credit for this story.)
• • • • •
A real page-turner: When I need to choose raffle winner, I go to random.org and use their random integer generator. But before computers and the internet made it easy to generate random numbers, there was this (for all of these, you can click to enlarge):
That's right — a book called A Million Random Digits, published by the Rand Corporation. I saw on Friday night at the City Reliquary's annual Collector's Night event. It was part of a display by a guy who collects discarded library books. And it lives up to its title:
Apparently someone was particularly fond of one of the number sequences:
After I posted all of this on Facebook, my friend David Brown, who knows about such things, posted the following comment:
This was an important book! And now also valuable. Before there were reliable, cheap random number generators, getting real random digits (for whatever computational reason) was a non-trivial problem. So: a book. Rand still offers a digital version for free, if people want some digits.
Faaaascinating. The world is so interesting!
• • • • •
A few things I did, saw, and thought over the weekend: I'll just let these Facebook embeds speak for themselves.
• • • • •
And now a word from Phil: In case you missed it over the weekend, Phil is once again doing something very special for Father's Day. I'll let him explain:
The idea for our "Dads in Uniform" feature on Father's Day began in 2013, and really took off in in 2014. last year's edition was the best yet.

If you'd like to participate, please submit a photo (or photos) of your father (or even grandfather) in uniform, along with a short description of him in that uniform. It doesn't have to be sports-related — it could be a trade or military uniform. I'll collect the stories over the coming week and run them this Sunday, which is Father's Day.

Please send your photo(s) to me at Phil.Hecken@gmail.com, along with a brief description of your dad in his uniform, by this Thursday, June 16th. Thanks!
• • • • •
Birthday Boy: Mets by the Numbers impresario Jon Springer (above) had a big 50th-birthday blowout yesterday in Brooklyn, and it was a mighty fine time. Naturally, there was a Mets logo cake — I got a piece of the skyline and the Tugboat Captain got a piece of the stitching:
For those of you in the NYC area, the new edition of Jon's book, Mets by the Numbers, is about to be released, and he's doing a live event in Brooklyn tomorrow evening. Full details here.
• • • • •
The Ticker
By Alex Hider

Baseball News: It was Old-Timers' Day at Yankee Stadium yesterday. The old-timers wore this patch on their jerseys and caps (from Matt Shevin). … The bases at Target Field had a logo for David Ortiz's final season this weekend (from Stephen Hayes). … We've mentioned this before, but just in case you missed it: Steve Dodell points out that the Dodgers' Julio Urias has switched his number to 7, making him the newest single-digit pitcher. … Nick Markakis' belt pulled a Pablo Sandoval yesterday (from Kyle Phillips). … Last Friday Paul Ticker-linked to a story about how the world's ugliest color is being used to discourage people from smoking. Hmmm, where have we seen that color before? … The Richmond Braves wore some wild pillbox caps in 1984 (from Ghosts of Baseball Past). … Miami went sleeveless yesterday in NCAA Tournament action (from Adam Apatoff). … The 'Canes also reached the College World Series for the 25th time, and have a logo to prove it (from Sean Patton). … Texas A&M catcher Michael Barash had his mask destroyed for the second time in a week. … Hanley Ramirez of the Red Sox carried his batting helmet while running the bases instead of letting it fall off (from Chris Flinn).

NFL News: The NFL says no more numberless practice jerseys for the Patriots (from Phil). … The folks at Pro Football Journal want the Rams to bring back gold pants. … The Broncos received their Super Bowl rings (from Mike Chamernik).

College Football News: Here are some interesting throwback concepts for the Auburn Tigers (also from Matt Shevin). … This blog thinks that the Memphis Tigers, New Mexico State Aggies, and Southern Mississippi Golden Eagles need uniform updates.

Hockey News: The Sharks paid tribute to Gordie Howe with a T-shirt giveaway at last night's Stanley Cup Finals game (from Cody). … The Sharks and Pens also wore memorial decals for Howe on their helmets (from Dana Heinze). … The AHL's Lake Erie Monsters are hand-painting a sign counting down the number of wins remaining to a championship (from L.J. Sparvero). … Patrick Thomas sends along pictures of the Salt Lake City Golden Eagles. Check out the vertical stripes on the socks!

Soccer News: Germany's keeper wore a surprisingly plain kit on Sunday (from Tim Cross). … Louisville City FC wore memorial armbands for Muhammad Ali yesterday. … Will NOH (number on head) be the next trend in the uni-verse? (from Eric.) … Lots of soccer leaks from Patrick Thomas: Third jerseys for Real Madrid and AC Milan, as well as roads for Barcelona, Liverpool and West Ham. … Anyone know the story behind Ukraine's tartan sublimation? (From Peter Welpton.) … Denis Hurley went through all of the Euro 2016 squads and examined the players' numbers in terms of their positions. "There are some pretty bad examples compared to the 'traditional' way of doing it in soccer," he says, "comparable to an NFL QB wearing 74 (if the rules didn't prevent it)."

Grab Bag: According to Andrew Consentino, Virginia Tech basketball program is giving away an orange basketball jersey to fans who renew season tickets. But there's a catch — it's not the same uniform the team will be wearing on the court. … Here's your chance to vote for the NASCAR paint schemes of the week. … A man in Alabama escaped from prison on Saturday while wearing a Burger King uniform. … Jonathan Safron sends along some pictures of some nifty classic Pepsi crates from the Printer's Row Lit Fest in Chicago.