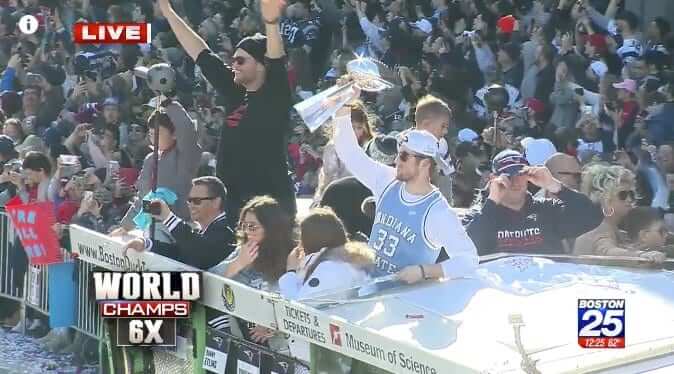 Screen shot by @TheOldTry; click to enlarge
Pretty cool cross-sport moment during the Patriots' Super Bowl victory parade yesterday, as backup quarterback Danny Etling wore a Larry Bird throwback jersey from Indiana State. Etling grew up in Terre Haute, Ind., where ISU is located, so that's presumably the story behind the jersey (although Etling wasn't born until 15 years after Bird's final college game, and two years after Bird retired from the NBA).
I'm not much of a parade scholar, so I have no idea how (un)common this sort of thing might be. Does anyone know of other examples of players wearing a cross-sport jersey during a championship parade?
And that wasn't the only interesting jersey move by a Pats player during the parade. Defensive back Duron Harmon wore a Tom Brady throwback jersey from Brady's high school, Junipero Serra High. It even had Brady's NOB (although I wonder if the school actually had NOBs when Brady played there):
Duron Harmon in Tom Brady's high school jersey. pic.twitter.com/IEf3WQGaQC

— Jeff Howe (@jeffphowe) February 5, 2019
As long as we're talking about the Pats' victory lap, a bunch of New England players showed up for last night's Bruins/Islanders game in Boston and were given Bruins jerseys for the occasion. Oddly, some of the jerseys had white numbers with red outlining and white NOB lettering, all rendered in the Pats' number and letter fonts, along with a Super Bowl chest patch, while others had the Bruins' standard typography and no patch (click to enlarge):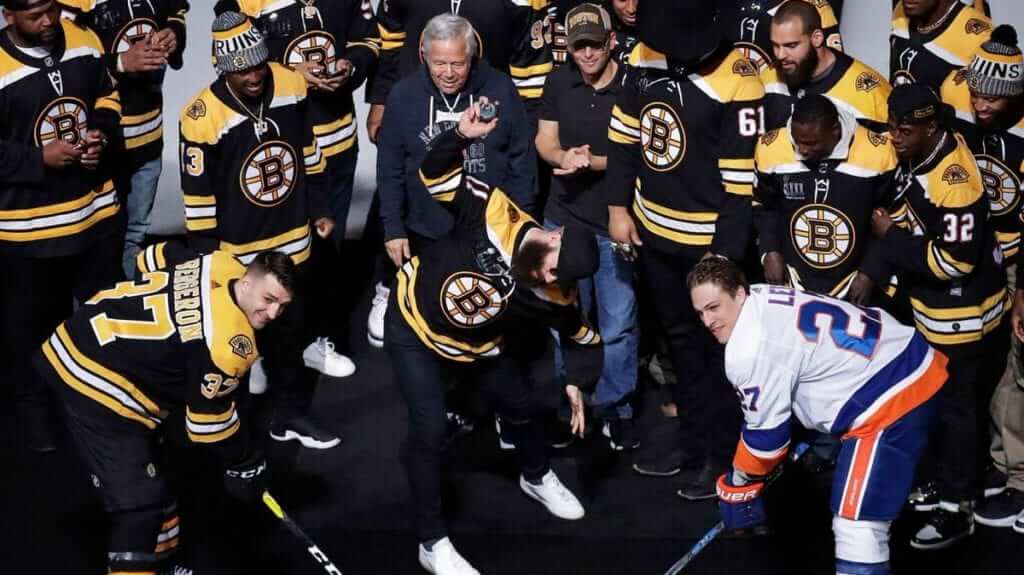 That's Super Bowl MVP Julian Edelman about to spike the puck in the first photo.
Speaking of which: How common are ceremonial puck drops — or spikes, as the case might be — these days? I feel like it used to be an occasional thing that was usually reserved for special occasions, but it seems much more common nowadays.
(My thanks to @TheOldTry, Moe Khan, Bryan Prouse, and our own Lloyd Alaban for their contributions to this entry.)
• • • • •
• • • • •
Membership update: We got an absolutely genius membership request the other day from reader Jason Scherer. Remember the 2007 game when several Virginia Tech players' jerseys went missing, so they had to wear repurposed Georgia Tech jerseys with handwritten NOBs? Jason wanted his card to be based on those jerseys.
In that game, the players all wrote their own NOBs on their jerseys, so we had Jason write the NOB that he wanted, scan it, and send it to us. Then membership card designer Scott Turner incorporated it into the card. It's one of the best requests we've ever had, and is one of several new cards that have been added to the membership card gallery. I expect the printed/laminated versions of these latest cards to mail out by next Monday.
Ordering a membership card is a good way to support Uni Watch (which, quite frankly, could use your support these days). And remember, a Uni Watch membership card entitles you to a 15% discount on any of the merchandise in our Teespring shop. (If you're an existing member and would like to have the discount code, email me.) As always, you can sign up for your own custom-designed card here, you can see all the cards we've designed so far here, and you can see how we produce the cards here.
• • • • •
• • • • •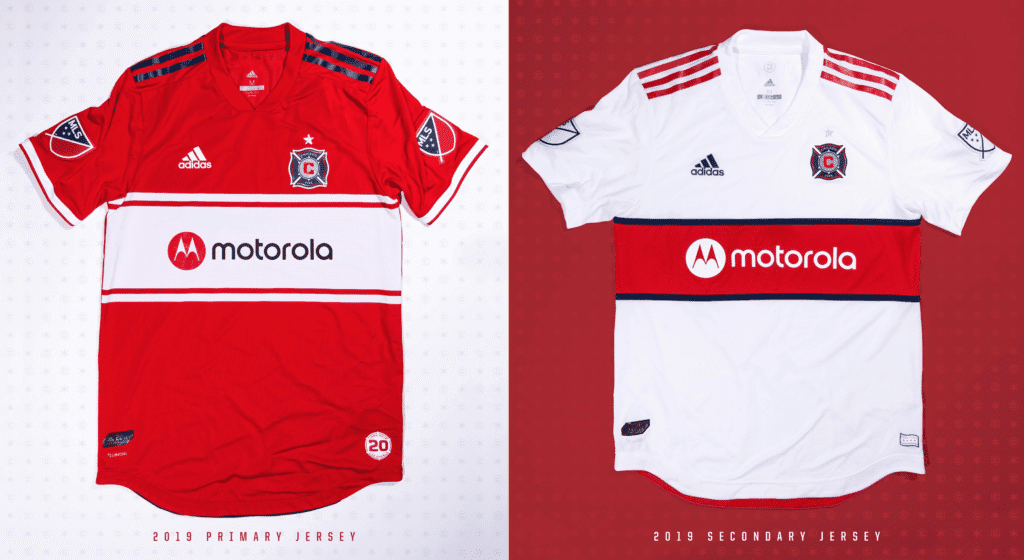 Click to enlarge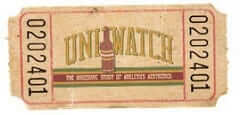 ITEM! Raffle reminder: In case you missed it on Monday, the Chicago Fire are generously offering one of their new jerseys for a Uni Watch raffle. The lucky winner will be able to choose either the primary red design or the secondary white design, both shown above. You'll also get your choice of size, from S to XXL.
To enter, send an email to the raffle address by this Thursday, Feb. 9, 7pm Eastern. One entry per person. I'll announce the winner on Friday. Good luck!
• • • • •
• • • • •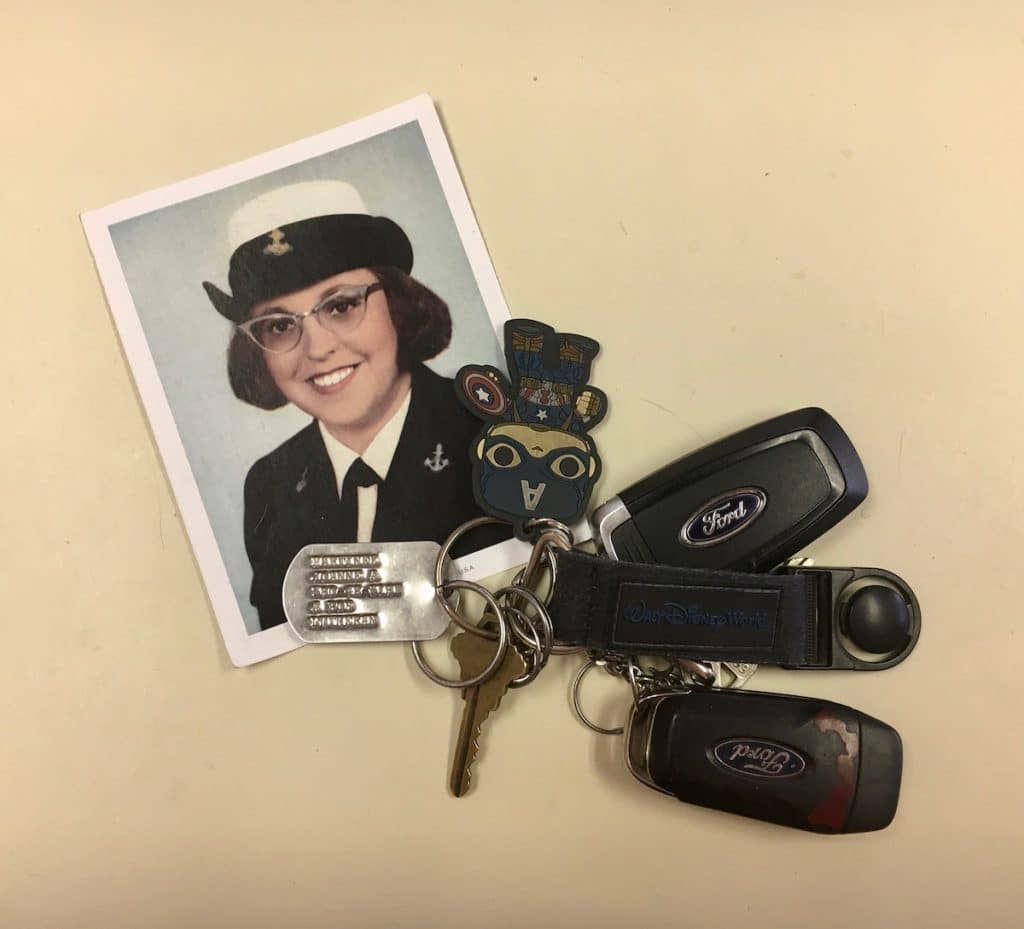 Click to enlarge
KRC update: For the first time ever, a Key Ring Chronicles entry features a photo that shows something more than just the author's keys. In this case, it's the author's keys accompanied by a photo of his mother, from her days in the Navy. That's her dog tag on the key ring. Read about it here.
• • • • •
• • • • •
The Ticker
By Lloyd Alaban

Baseball News: Just how much stuff are clubs bringing to spring training? Here's what the Reds and Brewers are packing. … The Durham Bulls, Triple-A affiliate of the Rays, will become the Lollygaggers for one night in June (from multiple readers). … The NHL's Minnesota Wild will honor former Twins C Joe Mauer at next Tuesday's home game versus the Flyers. Custom Twins/Mauer-themed jerseys will be worn during warmups. They will then be signed by Mauer and auctioned off, with proceeds benefiting Crescent Cove and the Minnesota Wild Foundation. … Several readers have pointed out that in this photo, one Tigers player is wearing a home cap with a white "D" on it, while the rest of the club is wearing away caps with the orange "D"s on them. … Here's a great photo of former Cubs 3B Ron Santo in full chef's uniform rolling out some pizza dough (from @BSmile). … With the 20th anniversary of the Mets' 2000 National League pennant approaching next year, Mets Police blogger Shannon Shark is asking whether the team should resurrect the BFBS uniform as an anniversary throwback, much the same way they revived the 1986 racing stripe uni as a Sunday throwback in 2016. … Monument City Brewing and Oliver Brewing — both based in Baltimore — are releasing an Orioles-themed beer can collaboration called, "I Wish I Was at The Yard," with "The Yard," referring of course to Camden Yards, the Orioles' home stadium. … Here's some great color footage of the 1938 Chicago White Sox during pregame warmups. … The Lakewood BlueClaws, Single-A affiliate of the Phillies, will wear Grateful Dead-themed uniforms for Grateful Dead Night in June (from our own Phil Hecken). … Texas A&M is honoring the late President George H.W. Bush by adding a commemorative "41" patch to their jerseys. The logo will be used throughout the Aggies' home stadium. … Alan Kreit observed that the 1988 Dodgers had inconsistent warmup jackets. Some had straight letters, some had arched letters, and one had a number. … Diego Yanez-Laguna constructed this model of the stadium formerly known as AT&T Park, home of the Giants. Impressive! … The Korea Baseball Organization League is introducing a new baseball. It's one millimeter wider and one gram heavier than the current ball. The change was implemented in hopes of making the league more pitcher-friendly. … New uniforms for Louisville (from Cap Carey). … New unis for Florida softball.

NFL News: Reader Christian Finley found this Patriots championship banner that erroneously lists the Texans as their divisional opponent. The Pats actually played the Chargers in the divisional round. … Speaking of the Texans: Texans DE JJ Watt caught wind of an elementary-school-aged fan DIYing one of his No. 99 jerseys, so Watt is offering him a real one. … A very popular YouTuber posted a video of his trip to Super Bowl LIII. He was stopped by a fan in a beautiful, baby blue Oilers jacket (from @pquirk727). … Fanheads sells wearable helmets made of a laminated paper. Save for the blank nose bumpers on all the helmets, they're surprisingly accurate reproductions of the real thing (from Jon Solomonson). … Chris Peddle found two oddities in this This Week in Pro Football video of a Chiefs/Broncos game from 1975: "At the 18:40 mark of the video you notice Broncos WR Rick Upchurch playing with a plain blue helmet. Narrator Pat Summerall says his regular helmet was cracked earlier in the game. At the 20:19 mark, Broncos WR Haven Moses gets his two-bar facemask obliterated on a hit by Chiefs DB Jim Kearney. You can see pieces of it flying through the air." … Attendees at the Jim Thorpe Awards Banquet in Oklahoma City were given a chocolate bar in the shape of Jim Thorpe (from Paul Deaver).

College and High School Football News: Joshua Meetz found the possible new helmets for South Carolina. … This article lists every West Virginia color combination ever worn, and their record when wearing each of them (from several readers).

Hockey News: The Devils celebrated Lunar New Year by having their mascot wear a Mandarin NOB on his jersey last night. … The Canadiens wore white at home last night against the Ducks, who wore black (from Mike Engle). … The Capitals will wear GI Joke warmup sweaters for Salute to the Military Night on Thursday (from our own Phil Hecken). … Cross-listed from the baseball section: The Wild will honor former Minnesota Twins C Joe Mauer at next Tuesday's home game versus the Flyers. Twins/Mauer-themed No. 7 jerseys will be worn during warmups. They will then be signed by Mauer and auctioned off, with proceeds benefiting Crescent Cove and the Minnesota Wild Foundation. … According to @FSBabyHuey, the Flyers' Stadium Series jersey and cap are completely different shades of orange. … The Swift Current Broncos of the WHL will wear these uniforms for Hockey Day in Canada on Saturday (from Wade Heidt). … A really long NOB was spotted on this Kennesaw State men's hockey player (from Joshua Meetze). … Wisconsin men's and women's teams will wear these throwbacks as they retire the number of C Mark Johnson, who is the current women's head coach (from Tom Milewski).

Pro Basketball News: AT&T is the NBA's new telecommunications advertiser. They've also inked an advertising deal for the All-Star Slam Dunk Contest. … The Knicks are still using the old NBA logo on their pregame media notes (from Brenden Welper). … "Enemies" will be the name of the fourth expansion team added to rapper Ice Cube's BIG3 basketball league.

College Hoops News: UNC wore 1969 throwbacks last night, honoring the last team to win three straight ACC regular season and tournament championships, and three straight Final Four appearances. The jerseys did not have the conference logo on them (from Paul Gardner and @Fifth_Factor). … New unis for Illinois men's (from multiple readers). … New Black History Month-themed unis for Rutgers men's, Georgia Tech men's, Georgia Tech women's, and Kansas men's (from our own Phil Hecken and Monica Beyer). … BFBS unis for Chattanooga this Saturday against UNCG. … Kentucky men's will lace up tonight against South Carolina in Nike BB Adapt self-lacing shoes. Here's more on the shoes themselves (from Chris Griner). … Miami (FL) used to have versions of their "U" logo for their different sports programs. The basketball version is shown here at center court (from Preston Feiler).

Soccer News: FC Barcelona will have Chinese NOBs for El Clasico (from our own Phil Hecken). … New home shirts for the Earthquakes (from Josh Hinton). … New crest for Hull City of the English Football League Championship (from multiple readers). … Nashville FC, one of the latest MLS expansion teams, will make an announcement on February 20 (from @Cheekimonk). … Dan Smith, lead singer of the band Bastille, received a personalized jersey from Manchester United. The numbers on the shirt refer to the title of one of Bastille's singles, "Quarter Past Midnight" (from Griffin Smith). … Atlanta United President Darren Eales teased a player signing with a cryptic tweet that required uni numbers to solve. Minutes later, United tweeted they had signed DF Florentin Pogba,whose shirt number is the correct answer to the riddle (from Michael Rich).

Grab Bag: New unis for Georgia Tech men's lacrosse (from @sonnylax). … Here's a great article about candlepin bowling (from several readers). … Here are the helmets for this season's NASCAR Cup (from our own Phil Hecken). … Here's an article on how Twitter hijacked Slack's new logo. … This scientist-designer makes awesome posters for university lectures (from James Gilbert). … A street sign on 35th Avenue in Queens, where Scrabble was invented, has a great Scrabble-themed treatment. … Pretty awesome new track and field jerseys for Los Alamos High School in New Mexico (from @Milford XC). … Democratic congresswomen wore white to honor early suffragettes at last night's State of the Union address. More info and historical background here (WaPo link).