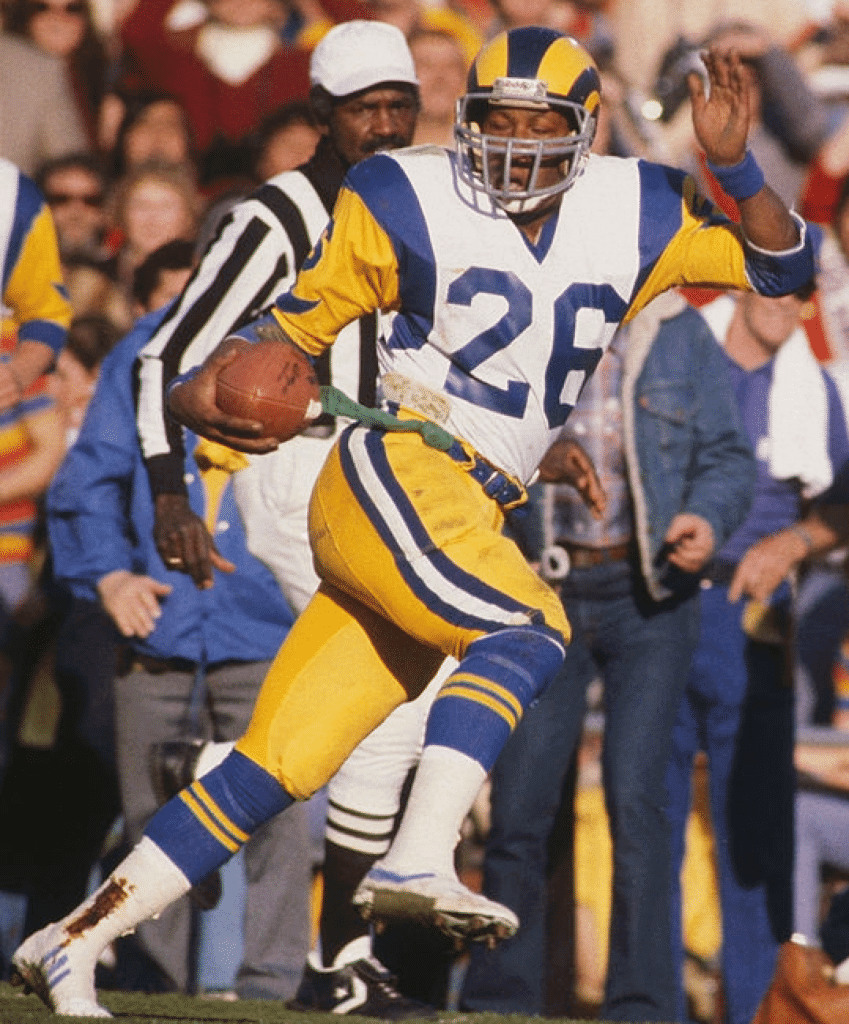 Click to enlarge
My Uni Watch Super Bowl Preview was published yesterday on ESPN. Shortly after it was posted, I learned about an interesting Rams-related tidbit that would surely have been included in the ESPN piece if I had known about it. But since it's too late for that, we can talk about it here on the blog today.
Here's the deal: Way back in the fall of 2005 — about half a year before this website came into existence — I wrote an ESPN column that included a tip from reader Doug Brei, who was following up on an earlier column I'd written about football players who use spatting tape on their shoes. Here's what Doug had to say:
In Super Bowl XIV (I think), Rams running back Wendell Tyler (perhaps) had two different shoe company logos spray-painted onto his two [spat-]taped shoes! I'm not sure of all the details, but I'm almost positive it was an L.A. Ram, I'm pretty sure it was in the Super Bowl, and I'm positive that the guy had a different logo on each foot (one Roos and one Pony?).
At the time, I mentioned that I'd been unable to confirm Doug's recollection but said it merited "further investigation."
More than 13 years later, Doug is still a loyal Uni Watch reader and contributor, and the internet is filled with much more robust photo-hunting resources than were available in 2005. So Doug got in touch yesterday to say he'd finally confirmed his own story. As you can see in the photo at the top of today's entry, Rams running back Wendell Tyler did indeed have mismatched shoe logos in Super Bowl XIV — Pony on the right shoe and Adidas on the left. And those were definitely applied to his spatting tape. Bizarre!
Other uni-notable aspects of that photo:
• Tyler is wearing hip pads, a now-forgotten accessory category that was once very common in the league, especially among running backs.
• What is that green thingie tied to the end of Tyler's belt — a towel? Something else?
• I was always intrigued by those Rams socks with two stripes — an uncommon striping pattern.
• Ah, remember when the officials wore stirrups? Also, note that the official has a white cap — in those days, the referee wore black and the rest of the officiating crew wore white. Now it's the reverse.
Here are a few more shots of Tyler and his mismatched shoe markings: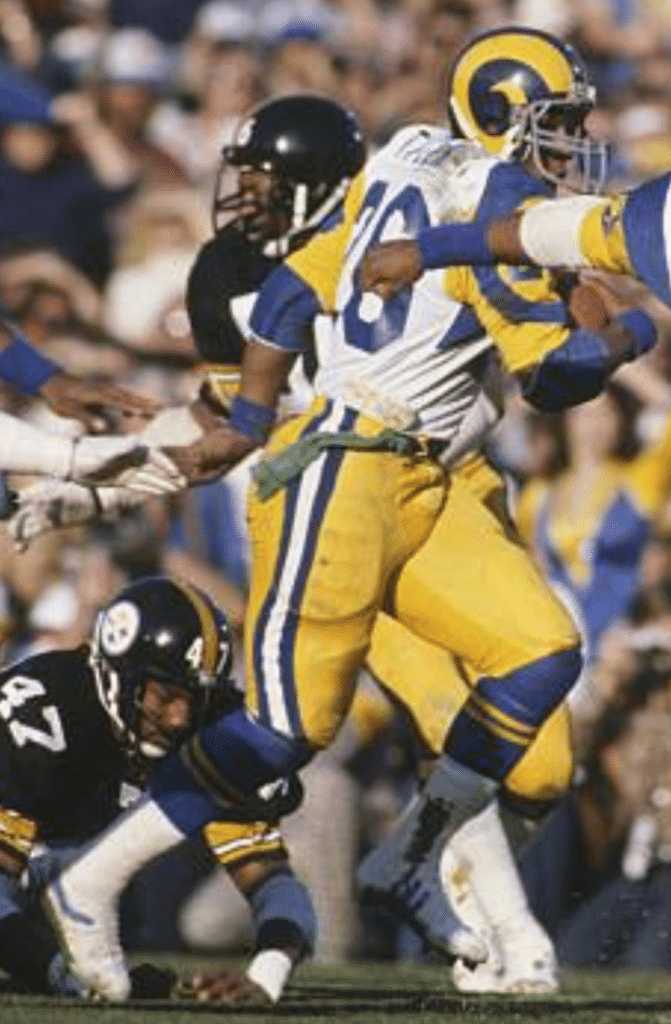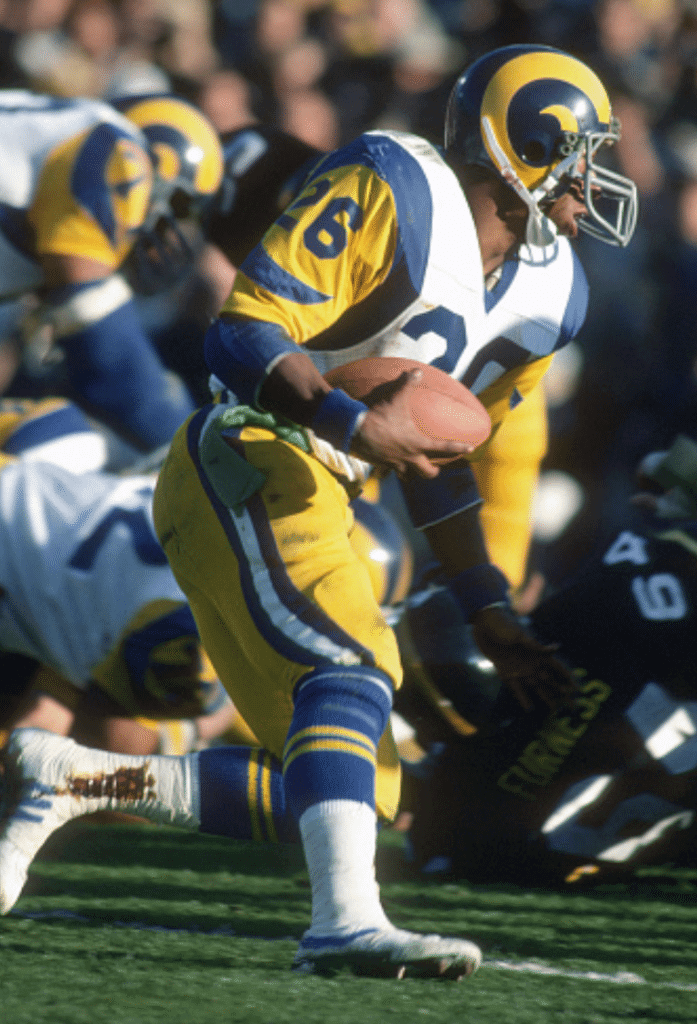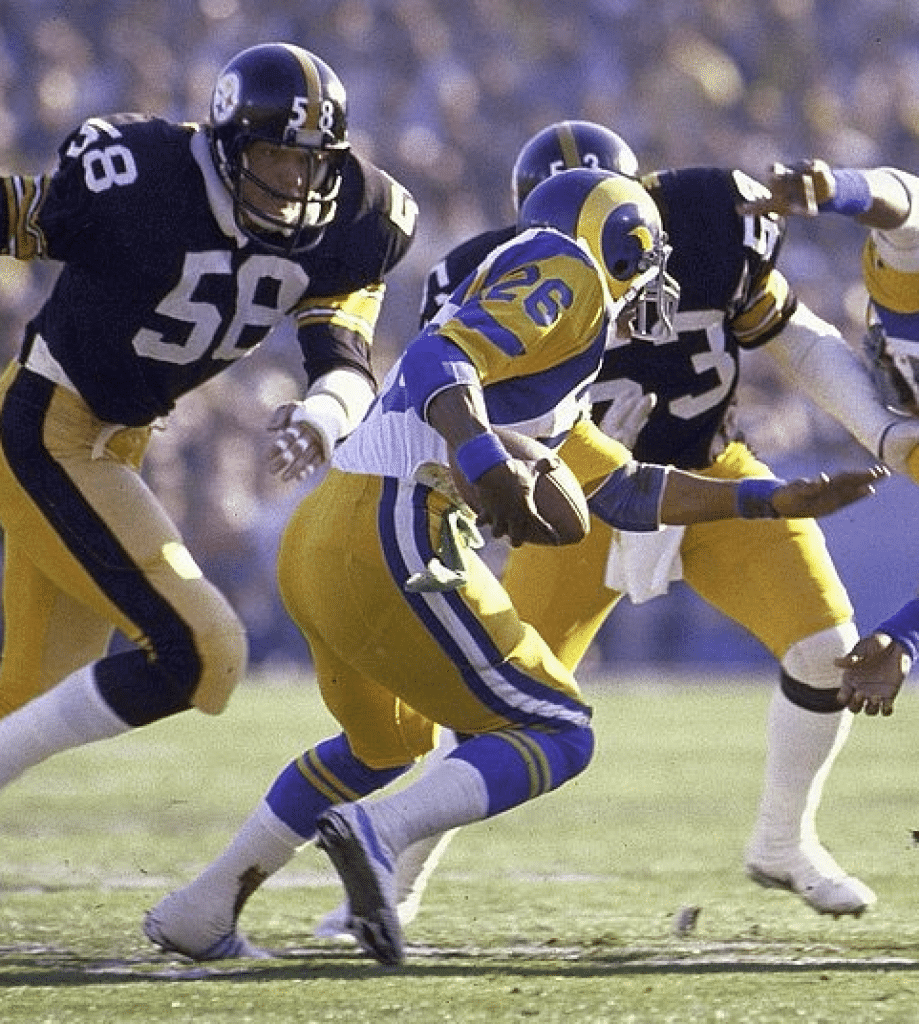 I'm trying to track down Tyler via some of the teams he played for so I can ask him about his Super Bowl footwear — stay tuned. (If anyone has contact info for him, you know what to do.) Meanwhile, let's hear it for Doug for providing this timely blast from the Uni Watch past!
• • • • •
• • • • •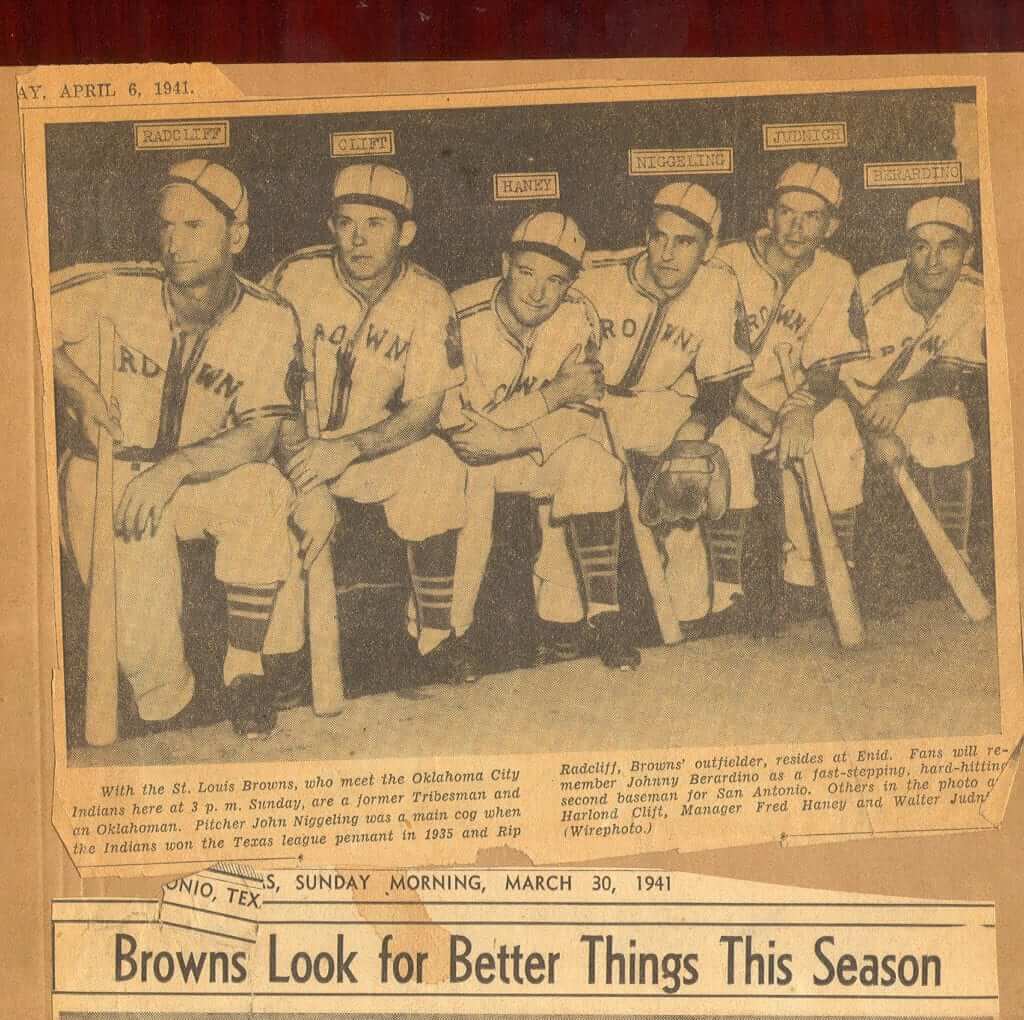 Click to enlarge
St. Louis Browns, continued: Yesterday's entry about the St. Louis Browns prompted a great response from reader Ray Radcliff, as follow:
My grandfather Rip Radcliff [at far left in the photo shown above] had his best statistical year with the Browns in 1940, when he hit .342 — third best in the American League. (Joe DiMaggio won the batting title that year at .352). He's actually shown in one of the videos you featured, at the 20-second mark of this one, wearing a brown windbreakers. It was the first time I've seen footage of him, and it certainly was a thrill to see the few seconds he was on there.

As shown in the videos, the Browns trained in San Antonio. I have an old clipping that mentions how the owner of the Browns bought the entire team cowboy hats and boots for spring training, since they were in cowboy country. My grandfather was from Oklahoma, so he looked pretty normal, but some of the boys didn't fare so well and looked a little odd [click to enlarge]:
I have an article that says they liked the look so much that on their first road trip to New York to play the Yankees, they booked a banquet area at Toots Shor's restaurant and paraded through the dining hall. Evidently, Casey Stengel was there too and was overheard saying, "Look at the Browns — they can do everything but play baseball."

My grandfather finished with a lifetime average of .311. He played in the 1936 All-Star game and went 1-for-2. He didn't make the majors until he was 28 and had 200 hits at the age of 34 (you can see his career stats here). The cash-poor Brownies traded him in 1941 to Detroit for $25,000.

One last story: My grandfather hit some insane number — like, over .600 — against Bob Feller. After my grandfather retired he was sitting in his living room with my dad and his brother-in-law watching a live interview of Feller. They asked him who were some of the toughest hitters he faced, and he said, "Well, it was always left-handers who liked to slap the ball around — guys like Rip Radcliff. The announcer said, "Really? Well, let's give Rip a call…" My dad said they were sitting watching that and the phone rang and it was Bob Feller live on the show! How crazy is that?
What a great story! Odd that the notoriously cash-strapped Browns decided to purchase cowboy outfits for everyone, no?
Meanwhile, longtime reader/contributor and Missouri native Ben Traxel also got in touch to remind me that he had guest-written a Uni Watch post back in 2009 about a beautiful St. Louis Browns sweater that he DIY'd for himself:
You can see more photos of the sweater here, along with a shot of Ben wearing it at our "Uni Watch Deep Freeze" in Minnesota back in January of 2010.
• • • • •
• • • • •
Click to enlarge
A very Cincinnati day in Brooklyn: During my recent trip to Cincinnati, there were two longtime Cincy-based readers who were particularly passionate and gracious ambassadors for their city — Frank Bitzer and David Sonny, both of whom gave me a lot of travel assistance both prior to and during my trip.
Now it turns out that they're still helping me after the trip! On Wednesday I received two packages. The first was from Frank, who deduced from my lukewarm reaction to Skyline Chili that I'd probably prefer Gold Star Chili (not as sweet or cinnamon-y, according to Frank), so he sent me two cans of Gold Star, along with a packet and a recipe so I could make my own Cincinnati chili.
A few hours later I received a package from David. He'd been intrigued by my attempts to make a homemade version of the wonderful goetta we had at Eckerlin's Meats, so he sent me several pounds of goetta direct from Eckerlin's! (The package contained about five times as much as is shown on that plate.) We had some for breakfast yesterday and it browned up beautifully. We still have a lot of our homemade goetta in the freezer, so we plan to thaw out some of it and do a taste-test to see how our homemade stuff compares to Eckerlin's.
I can't thank these two readers enough for their generosity. Thanks so much for thinking of me, guys — our Super Bowl is going to taste a lot like Cincinnati!
• • • • •
• • • • •
Too good for the Ticker: Reader Mike New has a box of old MLB mini-helmets. His wife thought they deserved a nice display so she made him a wooden standings board. Check this out — with and without the helmets (click to enlarge):
How great is that? I almost like it better without the helmets, just because those little wooden orbs look so satisfying. Thanks for sharing, Mike.
(And yes, Mike has lots of teams in the wrong divisions, but whatever. They're his helmets and he can do what he wants with them!)
• • • • •
Raffle results: The winner of the Vintage Brand raffle is Matt Brevet. Congrats to him, and thanks to all who entered. We'll have another raffle with a fun prize launching on Monday.
• • • • •
• • • • •
The latest helmet development: A year and a half ago I wrote about Riddell's Precision-Fit platform, which uses digital scans of a player's head to create a custom-fit helmet. Today Riddell is introducing a new platform that the company says will take custom-fit helmets to another level.
As you may recall, each Precision-Fit helmet has unique inner padding made from molds that are based on the scans of the player's head. But the new program, called Precision Diamond, uses a completely different padding/liner system. The head scans are used to create 3D-printed pads with a flexible latticework design. Here's a look at the pads (click to enlarge):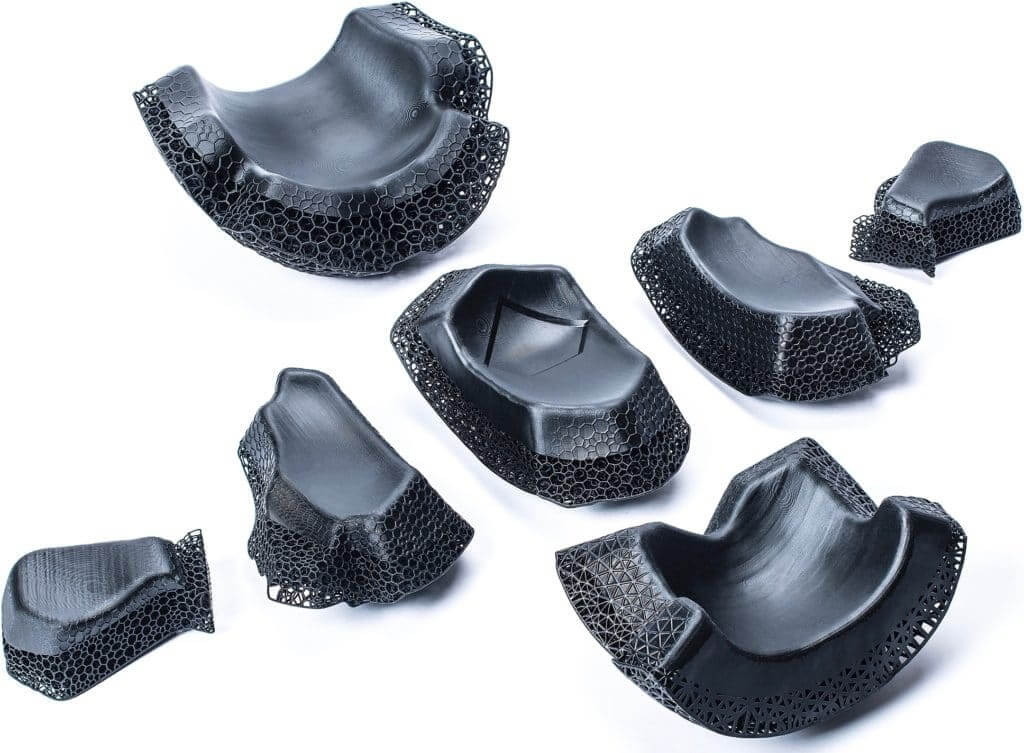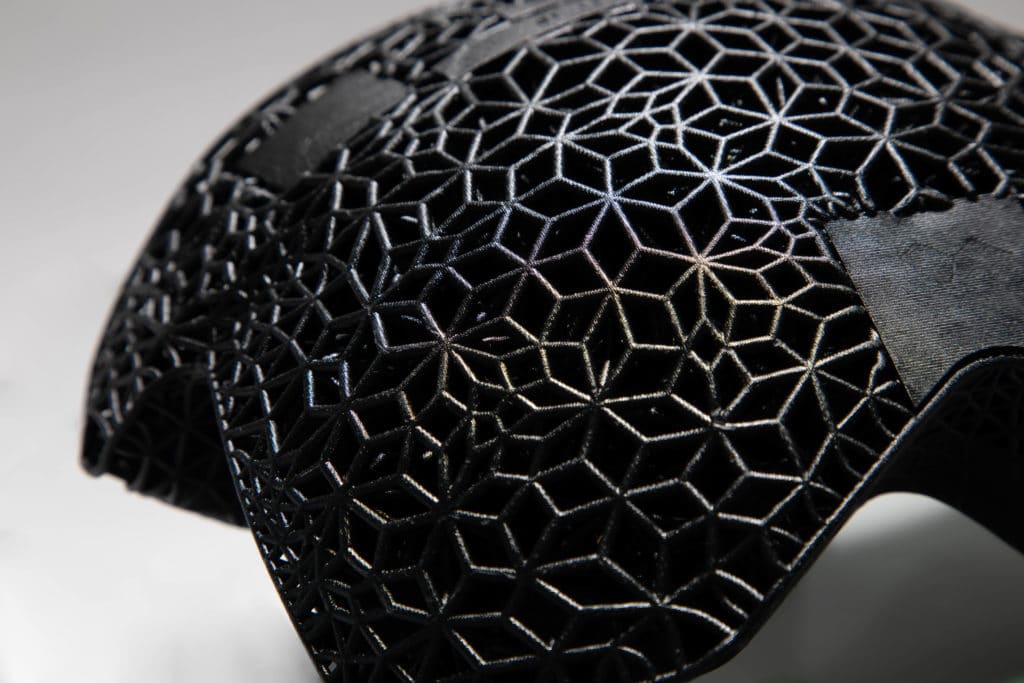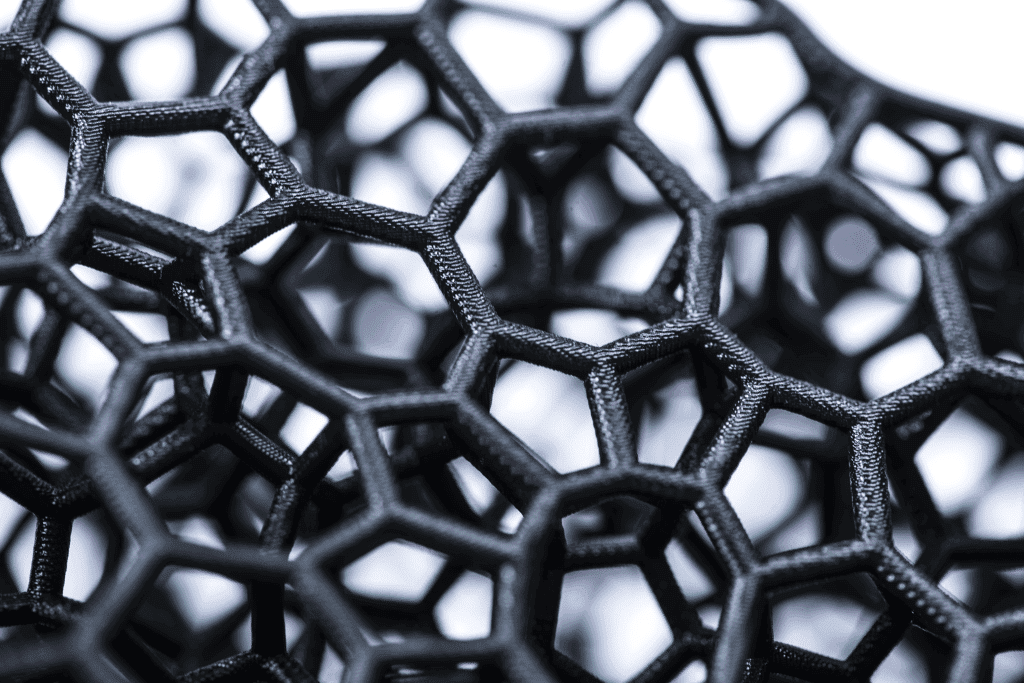 And here's a look at a clear-shell helmet outfitted with the latticework padding, illuminated from below (click to enlarge):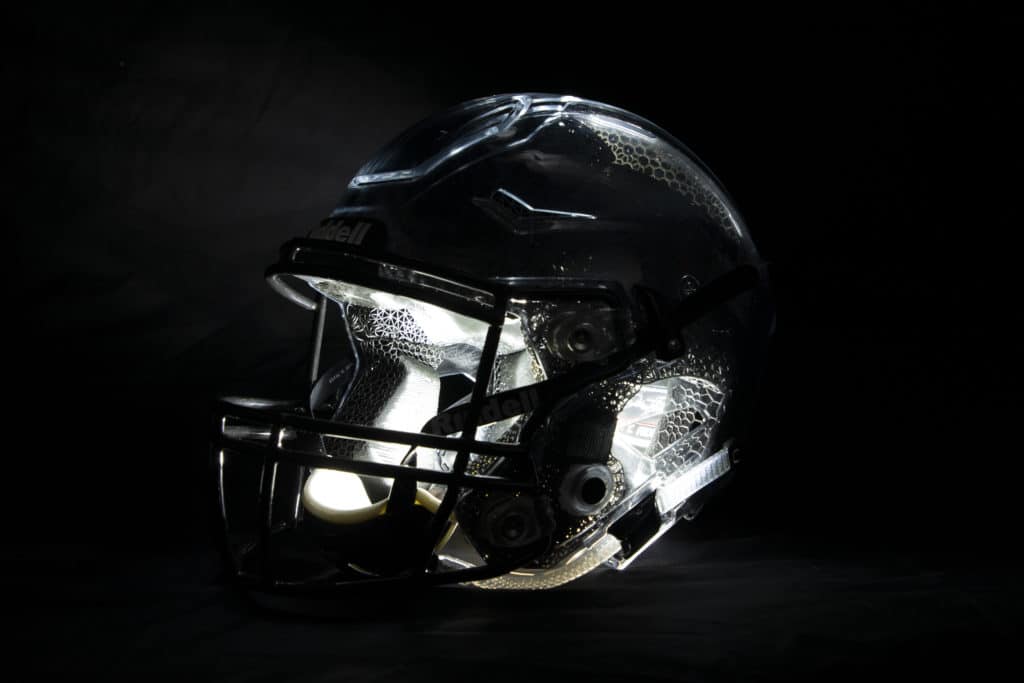 According to Riddell, the 3D-printed padding, which for now will only be available for the company's SpeedFlex model, has several advantages. First, it conforms better to the player's head. Second, it eliminates the mold-making step of the process, which makes it easier to produce at scale. Third, it's lighter than conventional padding. (They sent me a sample of it. It feels like, well, padding.)
On the down side, it's very expensive. Riddell hasn't yet set a price point but says it will definitely be more than the regular Precision-Fit, which at $1,750 is already the most expensive helmet on the market.
Riddell hopes to have the Precision Diamond available in time for college football spring practices and NFL OTAs. The helmet has been submitted for testing by the major safety-rating organizations. And if recent history is any guide, Schutt and Vicis will probably be announcing their own 3D-printed inner padding sooner than later.
• • • • •
• • • • •
Membership update: What's better than a green jersey? A jersey with multiple shades of green, such as Celtic's 2017-18 away kit, which is the basis for Karan Ghuman's new membership card, shown at right. That's one of a bunch of new designs that have been added to the membership card gallery.
We processed 39 membership orders in January — one of our best months ever. Thank you! I have four slots open on the current sheet, so the next four people to sign up will get their cards fairly quickly.

Also: We recently passed a membership milestone. I'll have more to say about that shortly.
Ordering a membership card is a good way to support Uni Watch (which, quite frankly, could use your support these days). And remember, a Uni Watch membership card entitles you to a 15% discount on any of the merchandise in our Teespring shop. (If you're an existing member and would like to have the discount code, email me.) As always, you can sign up for your own custom-designed card here, you can see all the cards we've designed so far here, and you can see how we produce the cards here.
• • • • •
• • • • •
Click to enlarge
The best part of Super Bowl Sunday: As I was getting ready for bed last night, I suddenly realized that I had completely forgotten about the Puppy Bowl. I attended the taping back in October, as I do most years (it was particularly good this year, with the usual puppies and kittens supplemented by a baby kangaroo, some baby porcupines, an amazing capybara, and more), but things have been so busy lately that I never got around to going through all of the photos and videos I shot.
So here are 243 photos and 29 videos, all of which I uploaded late last night. I haven't sorted, culled, or edited any of them, so there'll definitely be some clunkers, but I think the overall signal:noise ratio isn't bad. Enjoy, and don't forget to watch the Puppy Bowl on Sunday!
• • • • •
• • • • •
The Ticker
By Yianni Varonis

Baseball News: Yesterday would have been Jackie Robinson's 100th birthday. His alma mater, Pasadena City College, is commemorating the centennial birthday with this logo on its baseball and softball uniforms to be worn throughout the year. … The Athletics have unveiled their spring training cap (from multiple readers). … The Red Sox have some uni number changes (from Anthony Matthew Emerson and @PeskysPole). … The Rays also announced some new uni number assignments and confirmed that the team will wear Devil Rays throwbacks again this season. … Here's one observer's opinion of the best ballplayer to wear each uni number in MLB history. … In advance of a new 30 for 30 documentary about former two-sport athlete Deion Sanders, The Undefeated wrote a retrospective on the swag of Sanders's hair, jewelry, and gear. … Arizona softball has new uniforms. Before the design process began, HC Mike Candrea told Nike that he wanted a "traditional look," not attire that "does not look like a baseball/softball uniform" (from Rocky De La Rosa). … The baseball associations in China and Taiwan reached an accord on the hosting of future tournaments that will likely lead to the latter wearing this uniform (from multiple readers). … The Tokyo Yakult Swallows are celebrating their 50th anniversary and will wear these throwbacks to commemorate the occasion (from @MistaMaxG).

NFL News: In an interview with former Patriots GM Patrick Sullivan, the son of the franchise's founder said that he has one regret: "I wish the Patriots had kept the Pat Patriot logo" (paywalled) (from our own Brinke Guthrie). … One revelation in a piece about the Patriots' obsessive attention to detail came from former team LB Willie McGinest, who said, that even "If the uniform guy don't have the uniforms straight and ready to go, somebody's on his ass" (WaPo link). … During media availability yesterday, Patriots DBs and twin brothers Devin McCourty and Jason McCourty wore each other's jerseys (from our own Anthony Emerson). … The Honolulu Zoo is trying to predict the Super Bowl outcome by carving a Patriots helmet into one watermelon, a Rams helmet into another watermelon, and having an elephant choose one of them (from Joseph Anderson). … Cross-listed from the baseball section: In advance of a new 30 for 30 documentary about former two-sport athlete Deion Sanders, The Undefeated wrote a retrospective on the swag of Sanders's hair, jewelry, and gear. … Key quote from this article about Super Bowl branding: "When the Super Bowl was in Houston two years ago, they had to cover the tires on any food truck that weren't made by NFL sponsor Bridgestone" (from Jason Hillyer).

College Football News: Kansas State maintained a consistent look under former HC Bill Snyder, who retired after this season. But according to this article, newly hired HC Chris Klieman plans to introduce alternate uniforms to the team's set of options. … South Carolina HC Will Muschamp said he doesn't pick his team's uniform combination each week but his favorite look is a garnet helmet, black jersey, and white pants. Interestingly, the Gamecocks didn't wear that combo in 2018.

Hockey News: Reader Mike Golley was in Milton, Ontario, for his son's hockey game and had to stop by a strip mall when he came across a sports vision center with a logo that is strikingly similar to the Golden Knights' logo. … New pads and mask for Rangers G Alex Georgiev (from Alan Kreit).

NBA News: Reader Matt Estreich posted a pretty awesome photograph of his toddler sons wearing a Knicks Kristaps Porzingis jersey and a Pelicans Anthony Davis jersey, asking: "So, how does that '@NBA Jersey Assurance' program work, exactly?" … Here is what the court will look like for this year's NBA all-star game in Charlotte (from Mike Chamernik and Daniel Tarrant). … Newly signed Wizards G John Jenkins will wear No. 20 with his new team (from Etienne Catalan).

College Hoops News: Nike has been promoting a self-fitting basketball shoe that is smart phone-compatible. And it appears that the UConn women will be wearing it (from Griffin Smith). … Hawaii has new retro-inspired uniforms (from Charles George). … Ohio's men's and women's teams are also wearing throwbacks, circa 1968. Note that the women's jerseys are untucked (from Ed Zelaski and our own Alex Hider). … Here's a pretty good article that documents the trend of basketball players at all levels wearing shorter shorts (from Chris Weber). … More throwbacks last night, this time for Louisville's women's team (from Josh Claywell).

Soccer News: The New York Red Bulls revealed their 2019 home shirt, and it's GFGS (from Josh Hinton). … If you weren't aware, ST Emiliano Sala (of French club Nantes) has gone missing after his plane disappeared over the English Channel last week. In honor of their teammate, Nantes players wore "Sala" NOB, green armbands, and warm-up t-shirts with his face on them (from our own Jamie Rathjen). … Also from Jamie: English sixth-tier team Altrincham revealed pride flag-based shirts to be worn Feb. 16. They believe they're the first team in the world to wear such a shirt. … Soccer outfitter Macron has a new logo, and that means that the right side of its team's shirts will also change (from Ed Zelaski).

Grab Bag: Here's how artificial intelligence is helping to revolutionize golf club design. … South African rugby teams will wear superhero-themed uniforms when playing each other during pre-season and conference derby matches (from Ted Kerwin). … Here's an inside look at the design process behind the women's gymnastics team leotards at Penn. … Here's an interesting piece on how Amazon and Instagram have affected book jacket design. … Would you like to see how Levi's makes distressed jeans in 90 seconds? (From Jason Hillyer.) … Mother paints picture. Son posts picture of mom holding painting. Reddit user paints picture of picture of mom holding painting. And now the loop won't stop (WaPo link) (from Ryan Harrington and John Gagosian). … Back in 1994, the state of Mississippi began requiring that convicts wear striped prison uniforms, with the stated goal of humiliating the prisoners. Now the state may eliminate the stripes because they're too stigmatizing. … Good article on what nine architects have to say about the evolution of design.
• • • • •
[adrotate group="2″]
• • • • •

What Paul did last night: Yesterday was the final Thursday of the month, which means it was time for the mighty Susquehanna Industrial Tool & Die Co.'s monthly residency at Otto's Shrunken Head (which, since this is Super Bowl week, featured football-themed table tents). On my way home, I came across a scene at the Union Square subway station that looked pretty good. As I began videotaping it, it got even better … and better … and better. Check this out, and believe me when I say it's worth your four minutes:
Is that completely life-affirming or what? Man, after nearly 32 years of living here, I still fucking love New York.
Have a great weekend, enjoy the Stupor Bowl, don't miss Phil's weekend posts (he has some really good SB-related stuff for you), and I'll see you next week. — Paul