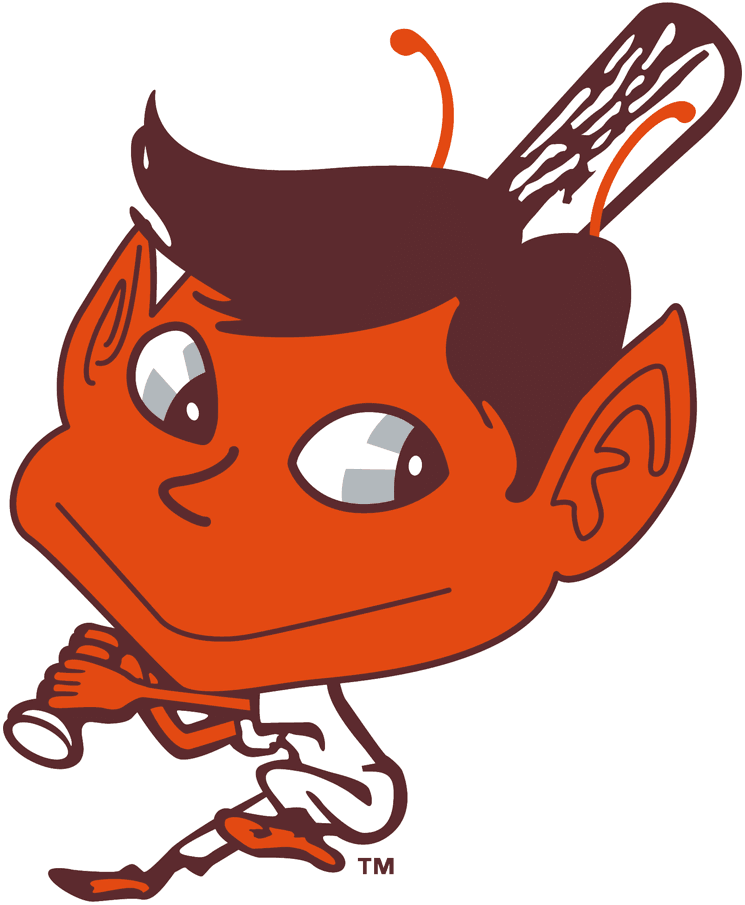 The St. Louis Browns existed for half a century. During much of that time, they were a punchline. Now they're even less than that — barely a footnote in MLB history. They appeared in only one World Series, in 1944, and that has always been considered to be an "asterisk pennant" because most of the sport's best talent had been depleted by military service in World War II. (Additional footnote: That Series, which the Browns lost in six games to their intra-city rivals, the Cardinals, was the last Series to be played exclusively in one stadium.) The Browns' franchise heirs, the Orioles, have worn Browns throwback uniforms only once, in 2003 — and they didn't even get the design right.
Here on Uni Watch, we've had only two requests for Browns-themed membership cards over the years — one from reader Mark Faron in 2012 and other from reader Stephen Strohl in 2007. As you can see in that last link, Strohl's card was based on Browns owner Bill Veeck's Eddie Gaedel stunt, which is probably the thing for which the Browns are best known at this point.
So I was intrigued when the great Flagstaff Films Twitter feed recently posted a some color Browns spring training footage from 1940. Check this out:
Rare Color-(Part 1 of 3) 1940 St Louis Browns-spring training-featuring Johnny Berardino and Elden Auker- Tech Field, San Antonio Texas (from the Flagstaff Films baseball home movie archive) pic.twitter.com/FybT73e73G

— Flagstaff Films (@Flagstafffilms) January 19, 2019
Rare Color-(Part 2 of 3) 1940 St Louis Browns-spring training- Tech Field, San Antonio Texas (from the Flagstaff Films baseball home movie archive) pic.twitter.com/irHRyYhAvQ

— Flagstaff Films (@Flagstafffilms) January 19, 2019
(Note that these are two of three video segments. We'll get to the third one in a minute.)
As I watched this footage, I found myself drawn to the patch on the players' left sleeve. I was vaguely aware that the Browns had worn a team logo patch during this period, but I didn't have a clear sense of what it looked like or what it symbolized. (I had always been more interested in their Brownie patch from 1952 and '53.) After a bit of research, here's what I learned about that patch:
1. The patch depicts a crusader on horseback. Here's a closer look at it: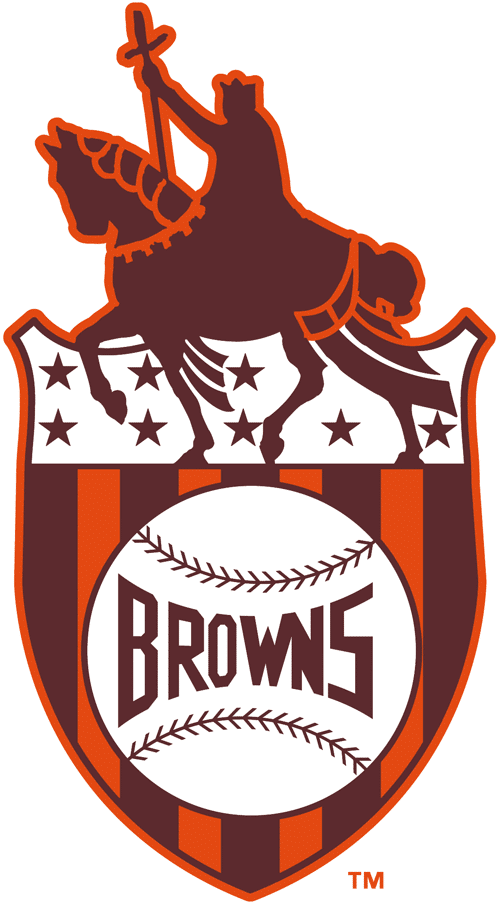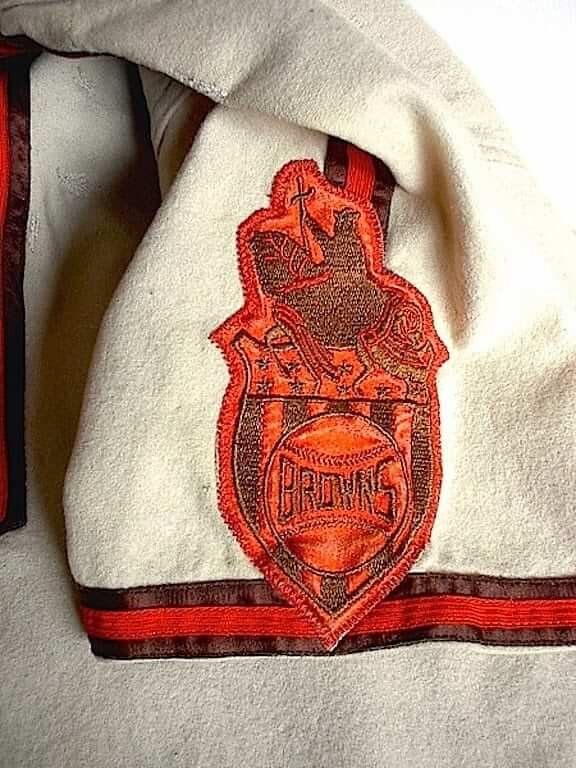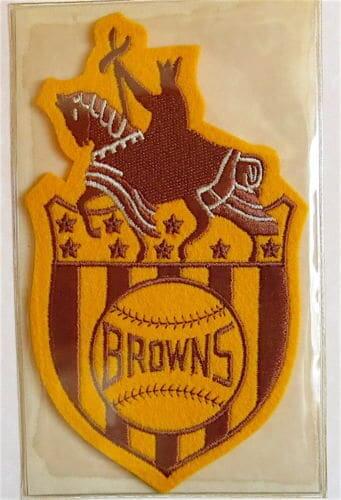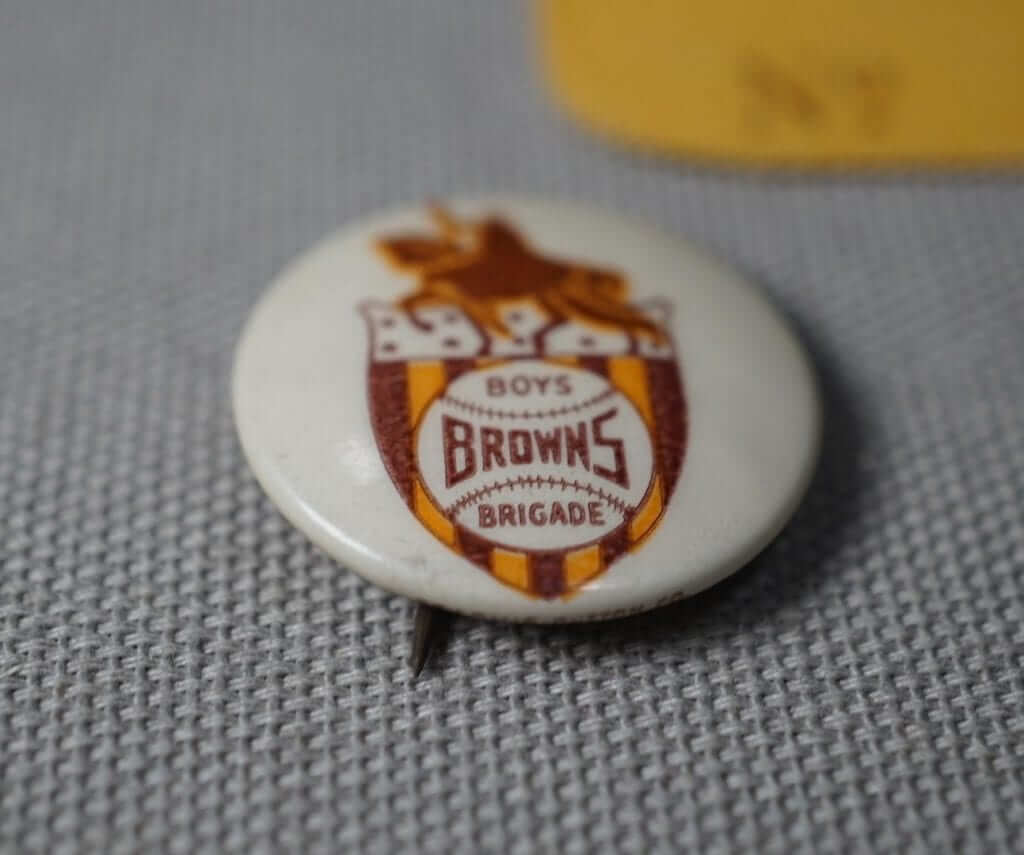 2. The crusader depicted on the patch is Saint Louis IX, who was the King of France from 1226 through 1270, and after whom the city of St. Louis is named. There's a statue of him in front of the Saint Louis Art Museum in Forest Park, which served as the basis for the Browns' patch (click to enlarge):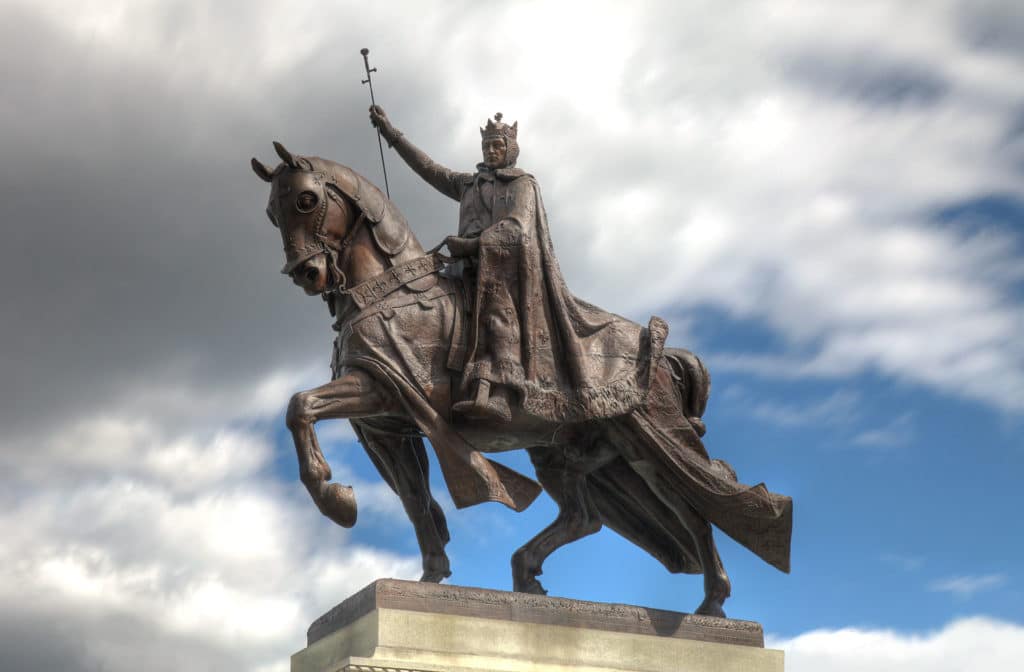 Multiple sources indicate that this statue, which was erected in 1906, was the city's primary visual signifier prior to the construction of the Gateway Arch.
3. The Browns wore the Louis IX patch for only four seasons — 1937 through 1940.
I confess that I didn't know any of this until a few days ago. And I learned all of it because of that Browns footage posted on Twitter. Educational!
Now, as for that third video segment, this one isn't from spring training. It's pregame footage from the Browns' 1940 home opener against the White Sox. I especially love the dugout jackets both teams are wearing, beginning around the eight-second mark:
Rare Color-(Part 3 of 3) 1940,St Louis Browns home opener against the Chic White Sox, Sportsman's Park, STL-pregame. Browns win 11-1 as Elden Auker throws a CG in front of 4775 fans. Game time was 1:54 (from the Flagstaff Films baseball home movie archive) pic.twitter.com/hGw0u3rZpl

— Flagstaff Films (@Flagstafffilms) January 19, 2019
Great stuff. How many days again until pitchers and catchers?
(Big thanks to @NCSox for bringing the Browns footage to my attention, and to @EdSandheinrich for info on the Louis IX statue.)
• • • • •
• • • • •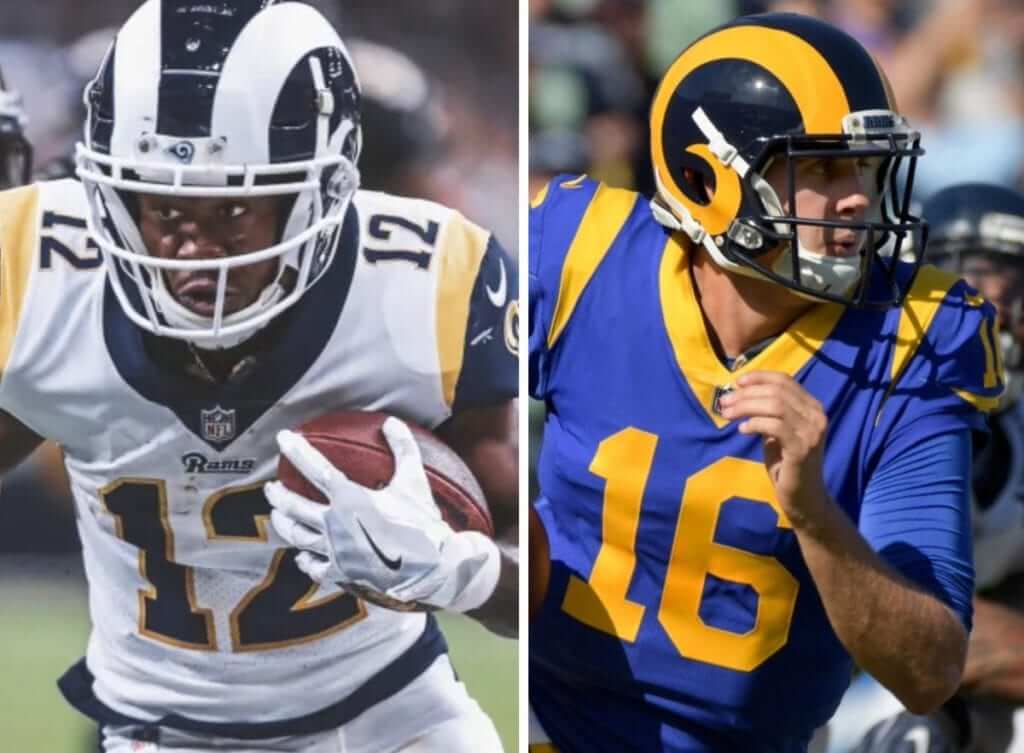 Click to enlarge
New ESPN column (for real this time): My annual Uni Watch Super Bowl Preview, which I initially thought was going to be published yesterday, is now available, with lots of uni-related tidbits about this Sunday's big game (including the fact that the Rams are poised to become the first team ever to wear different helmet designs in the conference championship round [above left] and the Super Bowl [above right]). Enjoy!
• • • • •
• • • • •

MLB 150 update: Remember that MLB 150th-anniversary sleeve patch that we got a peek at earlier this week? A source has provided me with some new info on that.
The sleeve patch will be worn on game jerseys all season long (not a surprise, obviously) and also appear on game caps on Opening Day, but not for the full season. My source says he thinks all of the patches will have the red-white-blue color scheme (unlike the MLB logos that appear on jerseys and caps, which are executed in team colors [that breakdown is out of date, but you get the idea]), but he's not 100% sure.
Regarding the jerseys, the patch will presumably be worn on the chest of the Rockies' black alternate vests, which is MLB's only remaining vest design. It's not yet clear if it will be worn on the Reds' 15 throwbacks.
I'll keep providing more info on this as it becomes available. Stay tuned.
• • • • •
• • • • •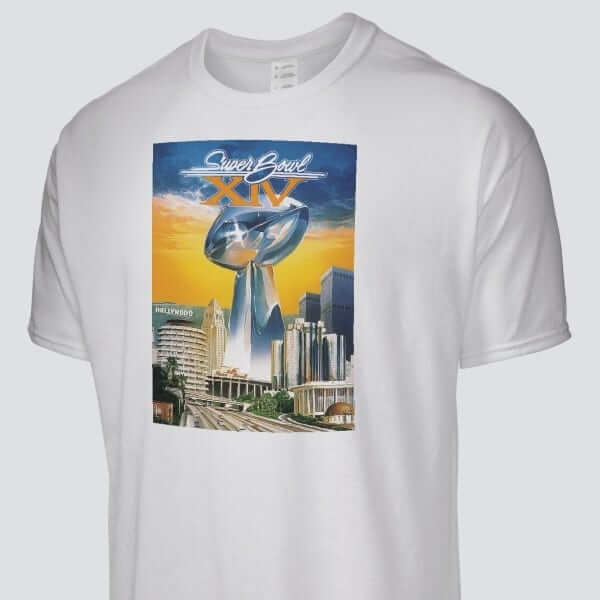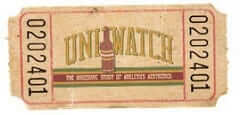 LAST CALL for the raffle: Today is the last day to enter our latest raffle, in which the good folks at Vintage Brand will allow one lucky Uni Watch reader to choose any item from the Vintage Brand site (like the Super Bowl XIV T-shirt shown above, for example, which is from their Super Bowl shop).
To enter, send an email to the raffle address by 7pm Eastern today. One entry per person. I'll announce the winner tomorrow. Good luck!
• • • • •
• • • • •
The Ticker
By Yianni Varonis

Baseball News: New uniforms for Marshall featuring truncated piping (from multiple readers). … Here's something new: a scratch-off poster of MLB ballparks. … The logo for the 2019 Southern League All-Star Game has been revealed.

NFL News: Did Saints HC Sean Payton wear a Roger Goodell clown shirt to his end-of-season press conference? (From Christopher Falvey.) … Here's why Patriots players chose their jersey numbers (paywalled). …. This article argues that the Super Bowl logo, like the NFL itself, has become corporate and soulless. … Ahead of the Super Bowl, the online video game Fortnite is again offering jersey "skins" of every NFL team. … Steelers WR Antonio Brown has been vocal about his desire to be traded and expressed as much by posting a Photoshopped image of himself in a 49ers uniform. … Back in 1971, the Broncos had some incredible striped end zones.

College Football News: TCU unveiled new uniforms for next season with a video, plenty of photos, and background information (from multiple readers).

Hockey News: Here's an analysis of the sweater numbers that the Maple Leafs have retired, at least one number that the team has not, and the most popular numbers retired across the NHL (from Michael Duffy).

NBA News: A Midwest artist has been designing game posters for every Bucks game this season, and most are really good (from multiple readers). … The Suns recently signed G Isaiah Canaan, who will wear No. 7 with the team (from Etienne Catalan). … Knicks C Enes Kantner, making his first appearance since being benched four games ago, checked into last night's game and kissed the Knicks logo on the Madison Square Garden court.

College Hoops News: Pitt will wear 1980s throwbacks featuring a blue-and-yellow color scheme (from multiple readers). … Buried within this article is the tidbit that Nevada HC Eric Musselman has his staff wear polo shirts during games instead of suits "not just because it's more comfortable but also because he thinks [team outfitter] Adidas might get more bang for its buck if it sees its logo every game" (from Alex Hale). … Ohio's mascot, Rufus, will have a throwback look this week (from Kyle Arnott). … Reader Brian Hanson brought attention to Nebraska basketball's reintroduction of its "Herbie" logo that misses the mark in a couple areas. … Marquette debuted alternate uniforms last night (from Sam Kissel). … Syracuse also unveiled alternates featuring the shorts the team wore during last year's NCAA tournament. Its game with Boston College was color-vs.-color as Syracuse wore orange and BC went GFGS (from Jakob Fox and David Haberman).

Soccer News: We wrote earlier this week that the Portland Timbers have new kits. The goalkeepers also have four new options this season (from Josh Hinton). … Also from Josh: The away jersey of Argentinian club, Rosario Central, may have leaked. … The United Soccer League's Seattle Sounders 2 will now be rebranded as Tacoma Defiance. This could be what the team's new jerseys will look like (from Alex Carson and Josh Hinton). … Here is one site's opinion of the best team nicknames in soccer. … The United Soccer League 2's Michigan Bucks are now the Flint City Bucks and have a new logo, which was voted on by local children.

Grab Bag: Fashion brand Zara has a new logo, and it's been met with tepid reviews. … American Airlines is replacing its employees' uniforms, but the design process is taking longer than expected. … Speaking of Airlines, Air India will adorn each of its airplanes with a logo commemorating the 150th birthday of Mahatma Gandhi.