For all photos, click to enlarge
I've already written about our recent Uni Watch party in Cincinnati and my visit to the Green Diamond Gallery. Today I want to tell you about the rest of my trip to the Queen City, which ran from Friday, Dec. 28, through Monday, Dec. 31.
I'm a big road trip guy (indeed, my only previous visit to Cincinnati was a brief stopover in the midst of a cross-country trip in 1997), which is why my travelogues are usually presented in a chronological format, so you can get a sense of how the trip progressed from one place to another. But for this trip, we stayed in one place for several days — rare for me — so instead of doing a chronological rundown, I'm just going to showcase a few places we went and things we experienced, without regard to the day-to-day progression.
Ready? Here we go.
The American Sign Museum
As you're probably aware by now, I love old signs, so I've been happy to see two significant sign museums established over the past decade or so. I got to visit one of them, the Neon Museum, during my 2017 trip to Las Vegas. But until this recent visit to Cincinnati, I'd never been to the American Sign Museum. That was one of the big reasons for our trip.
My anticipation was tempered by the knowledge that small, independent museums are often a bit ramshackle and unprofessional, so I tried to temper my expectations. Happily, that turned out to be unnecessary — the museum totally delivered the goods. It was entertaining, educational, and fascinating. We spent over two hours there and could easily have stayed twice that long.
Here are two walk-through videos I shot, which provide a sense of the collection's scope:
As you can see in that second video, they have a classic late-1950s McDonald's sign. As a bonus, they also have the blueprints showing how that sign was supposed to be installed:
Although the museum's collection focuses on neon, there are also plenty of non-neon items, as you can see in these next few shots:
The whole place was awesome — definitely a highlight of our trip (and of my entire year). I took a ton of additional photos, which you can see here. Enjoy!
Union Terminal
Cincinnati's beautiful Union Terminal train station, built in 1931, is an Art Deco masterpiece (and is also the basis for the Hall of Justice!). A few trains still pass through, but these days the facility's primary function is to serve as the home for a bunch of museums. We didn't have time to explore the museums, but we did spend some time exploring the main lobby and some of the adjacent rooms, all of which was spectacular:
You can see a bunch of additional photos here.
Kentucky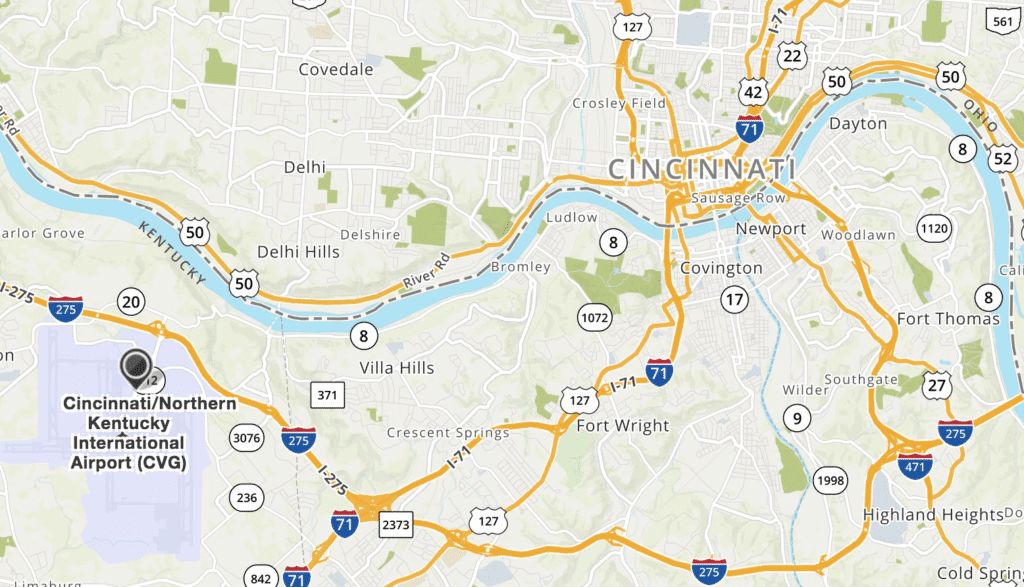 Just as the New York Giants and New York Jets actually play in New Jersey, Cincinnati's airport is actually in Kentucky, not Ohio. The Tugboat Captain had never been to Kentucky before, so we wanted to have a genuine Kentucky experience on the south side of the border.
It didn't take long. On the day we arrived, we got our rental car and stopped in the town of Newport, Ky., where we got lunch at a local diner. That's where we learned that you can still smoke cigarettes in Kentucky restaurants. Tobacco farming was a major component of the Kentucky economy for many years, so I guess it isn't surprising that they still allow smoking in eateries, but we hadn't anticipated it. And man, there were some people at the lunch counter smoking up a storm! I'd say that definitely qualifies as a real Bluegrass State experience.
(Update: Kentucky-based reader Michael Kinney informs me of the following: "Smoking in public places in Kentucky is a local decision, and almost no bigger cities still allow it. It's been banned in Lexington for 15 years.")
Roebling Bridge
The Brooklyn Bridge, which of course we're very proud of here in New York, was designed and built by John A. Roebling. But before he built the Brooklyn Bridge, Roebling built the John A. Roebling Suspension Bridge, which spans the Ohio River and connects Cincinnati to Covington, Ky. When it opened in 1866, it was the longest suspension bridge in the world, and it's generally credited with being Roebling's "practice version" of the Brooklyn Bridge.
We visited the bridge on the Covington side, walked across to Cincinnati, and then walked back. It was all weirdly déjà vu-ish, because the bridge really does look a lot like our Brooklyn Bridge (albeit much smaller).
Goetta
The Cincinnati area is home to goetta (pronounced GET-uh), a breakfast sausage made from beef, pork, steel-cut oats (sometimes called pinhead oats), and spices, pioneered many decades ago by the region's German immigrant population. I had eaten goetta before and loved it (I got a bunch of it via mail-order back in the mid-2000s, when I was doing a lot of food writing), but I'd never had it in its natural habitat, so to speak, so I was eager to eat as much of it as possible during this trip.
Goetta is often formed in a loaf (this is one of the several ways in which it's sort of like scrapple, although the oats make it much more toothsome, more texture-y), so restaurants usually serve it by the rectangular slice. The photo shown above is the slice I ordered at the smoky diner in Kentucky — it was excellent.
A few days later we had spectacular goetta, egg, and cheese sandwiches at Eckerlin meats, which is reputed by many to have the best goetta in town. It lived up to that rep — in fact, these sandwiches were the best thing we ate during the entire trip:
I liked this so much that I got a second sandwich without the egg and cheese, so I could savor the unfettered goetta:
The next day I had another slab of goetta at Pleasant Ridge Chili (more on that in a minute). This goetta looked just right — look at all the oaty texture! — but it had a much milder flavor profile than the others. Not enough spices:
I considered taking home a loaf of goetta, but it's perishable and we didn't have a cooler bag, so it would've been a little dicey to take on a plane. Instead, I've decided to make my own! There are lots of recipes on the web. Coming soon to Culinary Corner — stay tuned.
Meanwhile, I've had this Undertones song stuck in my head:
Chili
Cincinnati's most famous local food, of course, is not goetta — it's chili, which is typically served on hot dogs (or Coneys, as they're typically called) and over spaghetti (which is considered "three-way," "four-way," or "five-way," depending on whether you order cheese and/or onions and/or beans) — and also on its own in a bowl, although that seems to be frowned upon and is served reluctantly, almost grudgingly.
There are two major chili chains in town — Skyline and Gold Star — along with a bunch of stand-alone chili parlors. People argue over which is best, but we decided to try the Skyline near the University of Cincinnati.
The Tugboat Captain had the classic order: a cheese Coney and four-way spaghetti, both with onions (no beans):
I'm not into cheddar cheese (I know, I know), so my Coney and spaghetti were cheese-free:
The chili was … interesting. I certainly didn't dislike it, but I didn't quite love it either. Longtime Uni Watch reader Scott Gleeson Blue has described Cincy chili as "a whacky alchemy of cinnamon and mystery," and that sounds about right. The cinnamon notes were very, very strong — more so than I'd prefer.
A few days later we had breakfast at a place called Pleasant Ridge Chili and got an order of chili fries:
Again, very heavy on the cinnamon (although that was less objectionable at breakfast, especially since I was already having French toast).
Also of note, Pleasant Ridge Chili had lots of really great signage:
For this next sign, look at the little white dots in the lettering for "In Town!" and "Try It Today!" — such a nice touch (it's easier to see if you click to enlarge):
Klunkers
We sampled another local treat called klunkers (sometimes spelled clunkers), which are little doughball donuts — sort of like a munchkin, but bigger and knottier. Delicious! Sorry I didn't get a better photo. The bakery where we got them, Bonomini, had a beautiful old sign — note the faded grey block-shadow behind the red lettering:
Miscellany
• We had fun wandering through Findlay Market, a food marketplace packed with vendors selling meat, seafood, meat, baked goods, meat, produce, and did I mention meat? The sheer volume of butchers was astonishing (although maybe it shouldn't have been, since Cincinnati was once nicknamed "Porkopolis"). Of particular note was the huge variety of flavored bacons: bourbon bacon, espresso bacon, honey-Sriracha bacon, rosemary-garlic bacon. The weirdest one was candy cane bacon, which had visible bits of pink-and-white candy canes lurking amidst the pork belly:
Also: The butcher shops all sold sausages called metts, which were new to us. When I asked, I was told that that mett is short for mettwurst — the Cincinnati version of a bratwurst, more or less. I asked our own Alex Hider about this when I met him at the Uni Watch party, and he said it was standard to attend a local cookout and be asked, "You want a brat or a mett?"
• Another great sign that wasn't at the Sign Museum: The Captain spotted this excellent fence maker's tag during one of our strolls around the city. I love the "Cin.O." notation:
• We stopped at several local bars. Our favorite was the Junker's Tavern, which had a nicely weathered sign outside, a very oddly shaped doorway on the inside, and ridiculously inexpensive drinks:
———
And there you have it — a very nice trip. My repeated thanks to Frank Bitzer and David Sonny for being such great ambassadors; to Patrick O'Neill and Jason Hillyer for the pleasure of finally meeting them after all these years; and to everyone else who showed up at the Uni Watch party.
Thanks for listening. We'll get back to more standard uni-related content tomorrow.
• • • • •
• • • • •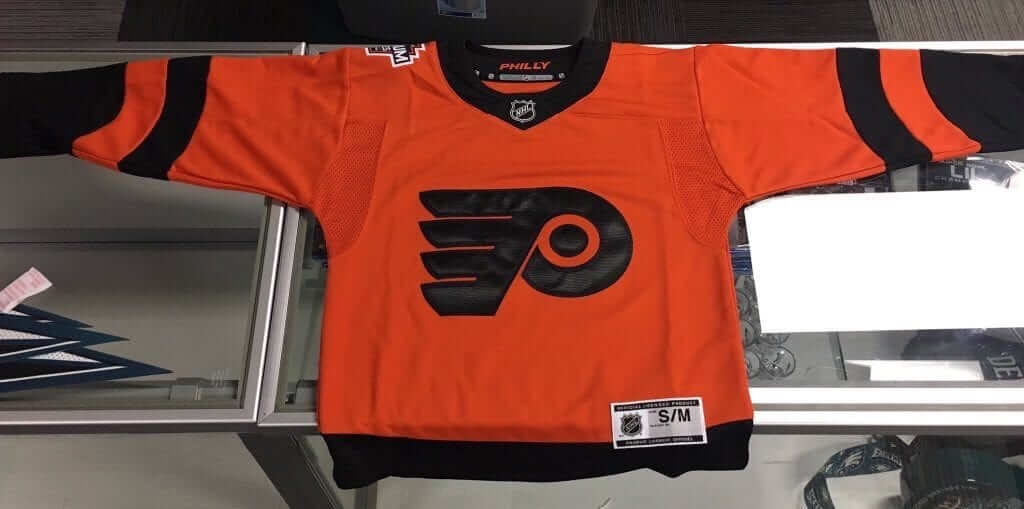 Click to enlarge
NHL Stadium Series leak: Looks like we have our first leak of the new year, as the Flyers' jersey for their upcoming Stadium Series game against the Penguins began circulating yesterday. The design is consistent with the logo that was unveiled last month.
No sign yet of the Pens' jersey.
• • • • •
• • • • •
The Ticker
By Lloyd Alaban

Baseball News: The Nationals still have All-Star Game banners hanging outside Nationals Park, almost six months after the game (from John Muir). … Mets players who've worn No. 44 have not fared well (from @rjviking11). … Rose Culper came across this massive collection of Phillies bobbleheads. … In the middle of this screenshot is the Red Sox's new "World Champions" logo (from @feetpodcast). … The Padres will be revealing a new 50th-anniversary logo on Saturday (from Jesse Agler).

NFL/Pro Football News: Statues in Kansas City are gearing up for this weekend's Colts/Chiefs divisional playoff game (from @DrSoup_MD). … Speaking of KC: The Chiefs are handing out Patrick Mahomes-style headbands to the first 50,000 fans who arrive at Arrowhead on Saturday (from Ryan Atkinson). … A neat side story heading into Saturday's game from Zak Keefer: Colts backup center Evan Boehm's dad, Royce, is the ballboy for the Chiefs' chain gang, and has been for a few years. This will be the first time Royce has worked one of Evan's games. … McCarran International Airport in Las Vegas has opened a Raiders team store, but they're not allowed to have "Las Vegas Raiders"-branded merch until the end of next season. … @MDMambo found these USFL-related items at a thrift store. … Peter Wunsch came across this old photo of former Washington QB Eddie LeBaron wearing a helmet with a very unusual facemask. … This old photo shows former 49ers DE Cedrick Hardman starting off a game with a two-digit jersey, but ending it with one digit when one of them fell off (from Pro Football Journal). … A Twitter user wanted to celebrate the hiring of Bruce Arians as head coach of the Buccaneers, so he made this Bucco Bruce Arians mashup logo (from Dan Pfeifer). … Ignacio Salazar found this NFL helmet checkers set for $3 at his local Goodwill.

College/High School Football News: Left over from Monday's national championship game: It looks like one of Clemson WR Hunter Renfrow's shoulder yoke pawprints was misaligned. The left pawprint had the correct orientation, while the right pawprint was facing a different direction (from multiple readers). … Here's a spreadsheet showcasing every uniform worn by every FBS team in 2018 (from Trayton Miller). … Here's a behind-the-scenes look at Alabama's massive football facility and equipment room (from Griffin Smith). … Here are the helmets for the Polynesian Bowl, a national high school bowl game for students of Polynesian descent.

Hockey News: The NHL All-Star uniforms are expected to be unveiled later today. Meanwhile, Adidas teased a photo of them, touting the sweaters as being made from plastic ocean debris (from multiple readers). … @stan_handsome noticed a prototype of the Bruins logo the team switched to in 1995 on a goalie mask worn during the 1991-92 season. … The Greenville Swamp Rabbits of the ECHL have revealed their Stick it to Cancer sweaters. Each player will have the opportunity to customize the back of his jersey by writing the name of a loved one affected by cancer (from @_emyshouldstop). … Here's a look at the caps made for the Penguins' Stadium Series match against the Flyers (from @SammyNos). … Penn State is adding a 3-D logo to their alternate helmets (from @TheBrokenTendy).

Pro Basketball News: Former Alabama basketball player and current Cavs PG Collin Sexton paid off his bet with former Clemson basketball player and Sexton's current teammate Jaron Blossomgame by wearing a Clemson jacket last night (from Mike Chamernik) … The Chicago Sky of the WNBA is holding a T-shirt design contest. … Here's the program cover for the 1972 ABA All-Star Game (from @GameplanChicago).

Soccer News: The Vancouver Whitecaps have released their new shirts that mark the 40th anniversary of the NASL Whitecaps winning the 1979 Soccer Bowl (from Josh Hinton). … Also from Josh: The Syria men's national team has revealed their new shirts for the upcoming AFC Asian Cup. … One more from Josh: Looks like the allegedly leaked 2019-20 Arsenal shirts are fake.

Grab Bag: This writer presents what he thinks are 23 Cleveland throwback jerseys everyone should own (from Jason Hillyer). … The University of Vermont men's lacrosse team has new matte helmets (from Maria Canales). … The Poland men's national volleyball team, who won the FIVB Volleyball Men's World Championship in September, are getting their own commemorative stamps (from Jeremy Brahm). … Reader Brandon H. was gifted a NASCAR polo for Christmas, which featured NASCAR's new logo on the shirt, but their old logo on the tag. … Great-looking bowling uniforms for this Vancouver team from 1931-32 (from @Wafflebored). … MasterCard is dropping its name from its logo. … Eurovision, the popular European song contest, has revealed its 2019 logo. … Here's the official logo for the Pope's March visit to Morocco. … A South African government official recently donated a school uniform to a child in need, and his actions are garnering a bit of a backlash.