Click to enlarge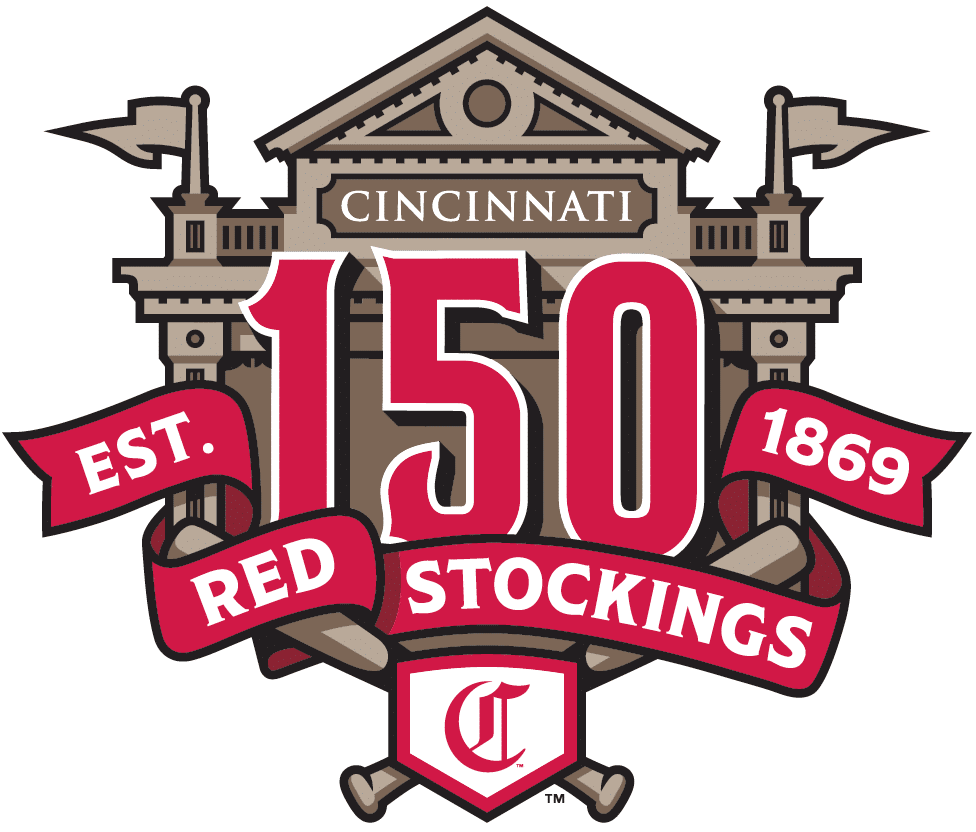 The Reds — baseball's oldest franchise — will be celebrating the 150th anniversary of the Cincinnati Red Stockings next year, and yesterday they announced a major initiative to celebrate that milestone. The logo shown at right will be worn as a sleeve patch, but the real story is a tremendously ambitious throwback program featuring a whopping 15 retro uniforms that will be worn one time apiece during the 2019 season. That blows away the previous single-season record of nine throwbacks that the Cubs wore to celebrate Wrigley Field's centennial in 2014. When you factor in all the other uniforms the Reds are likely to wear next season (home, road, alternates, assorted holidays, Players Weekend, etc.), there's a good chance that their total number of 2019 uni designs will be north of two dozen — presumably another record.
Here are the 15 throwbacks. In each case, I've accompanied the Reds' mock-up with a corresponding photo from yesterday's press conference so you can get a better idea of how these uniforms will look when rendered in contemporary fabrics. For all of the images, you can click to enlarge. Ready? Here we go:
1. 1902 home (to be worn on May 4 vs. the Giants)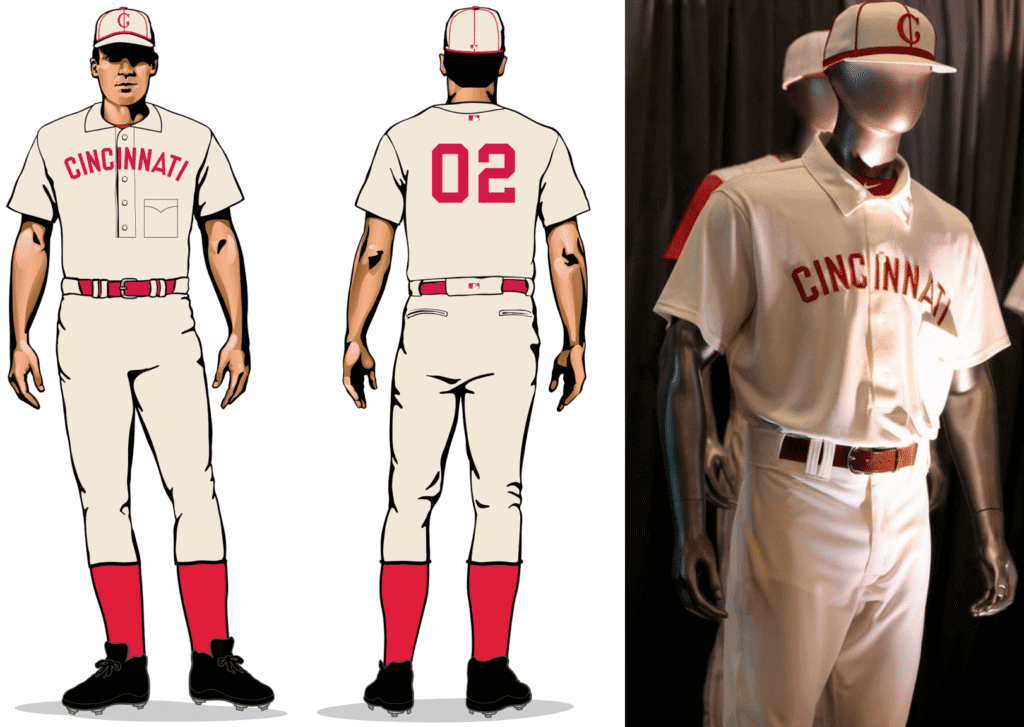 A point-collared pullover with a pocket — yowza! I like the cap, too. Sure, you could quibble with a few modern touches (there were no uni numbers in 1902, the assorted makers' marks and MLB logos are unfortunate, etc.), but this will still be really fun to see on the field.
2. 1911 road (May 5 vs. Giants)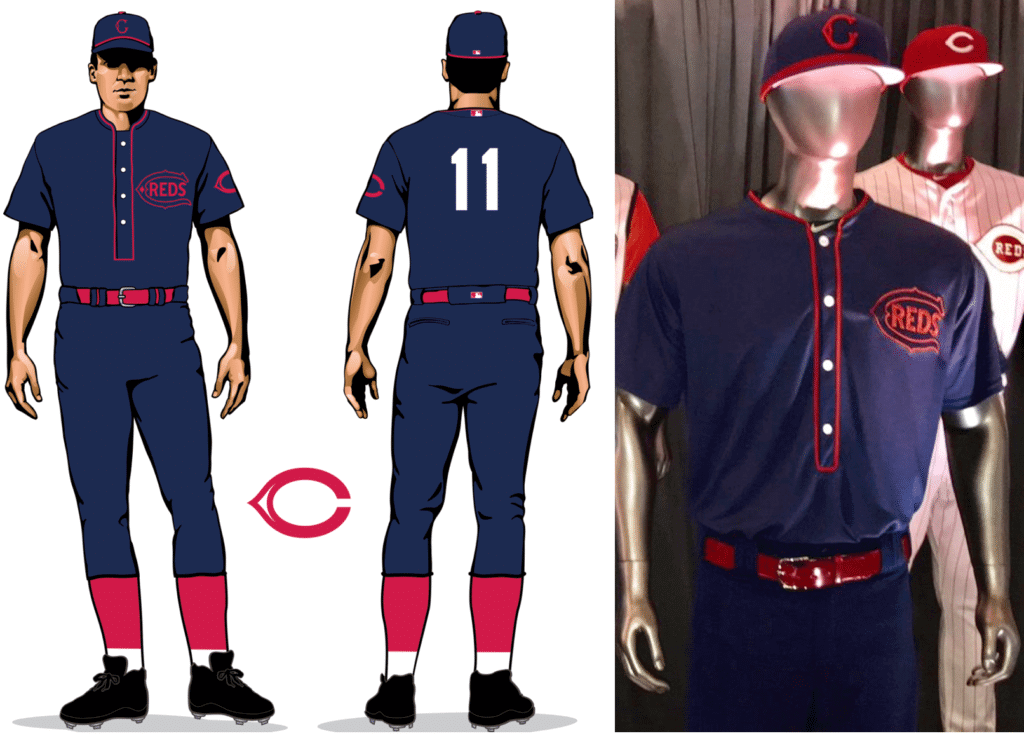 Another pullover, this time with a cadet collar. I bet the chest logo on the original version was chain-stitched, right? Let's hope everyone goes high-cuffed so they can show off those two-tone socks.
3. 1912 home (May 19 vs. Dodgers)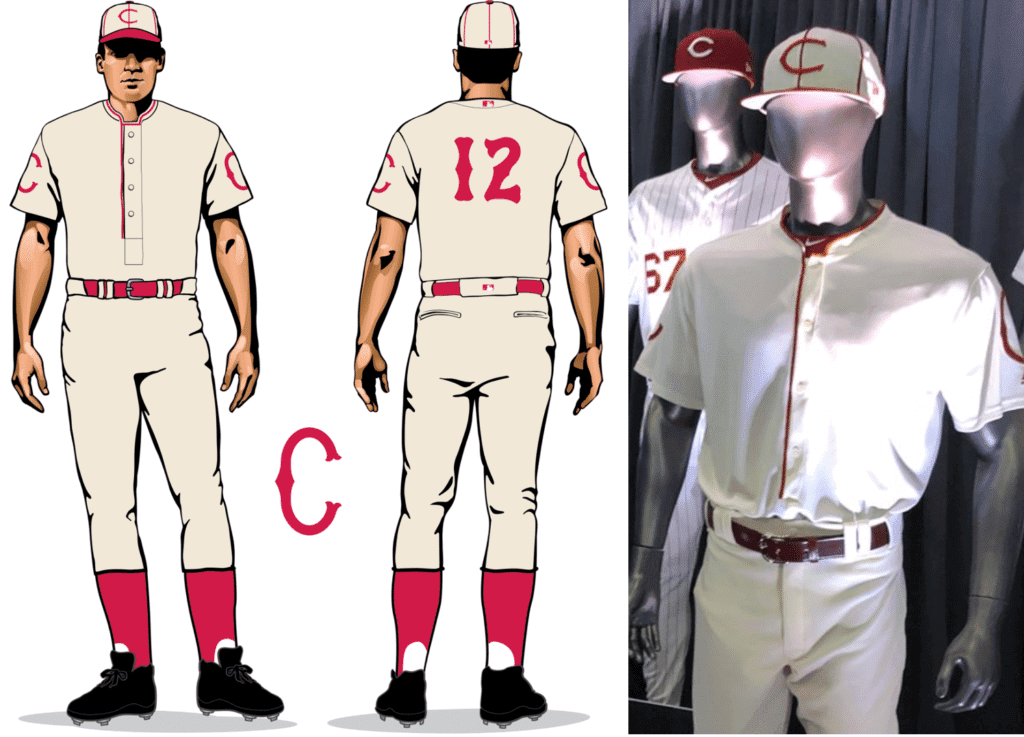 Another cadet-collared pullover — with no chest insignia! Interesting to see the two matching sleeve logos, too.
4. 1919 World Series home (June 2 vs. Nationals)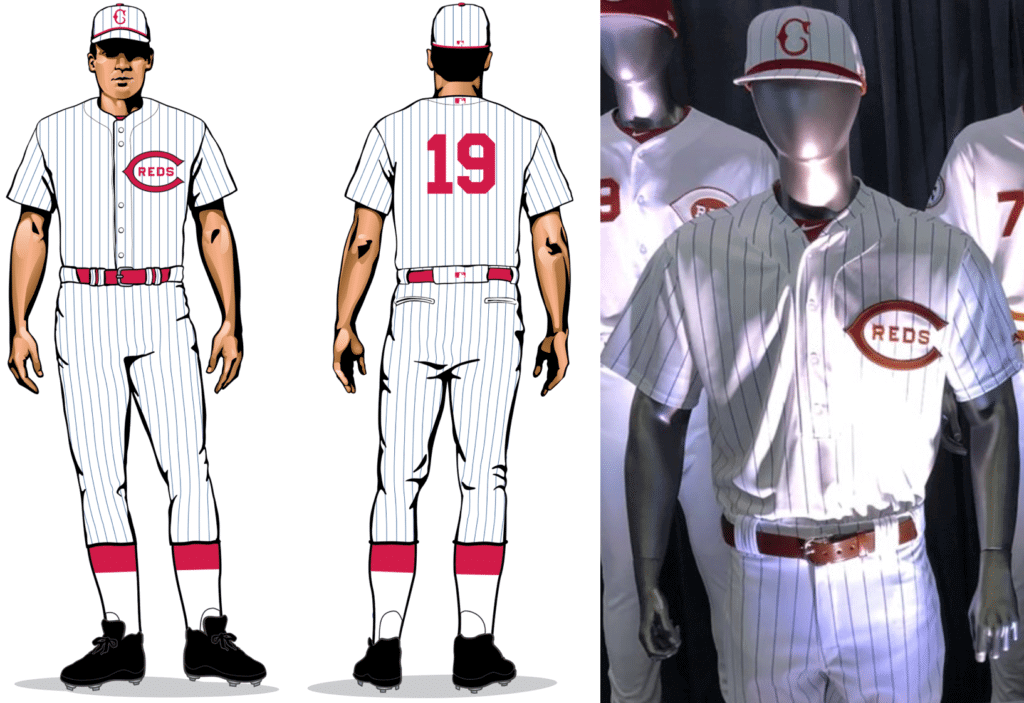 In 1919, the Reds created special uniforms for the World Series. Note that the mock-up in that Dressed to the Nines graphic shows a pullover with a sun collar, while the Reds' own mock-up, shown above, shows a full-length placket and no sun collar — but the mannequin does have the pullover and the sun collar. Did you follow all of that?
5. 1935 home (June 15 vs. Rangers)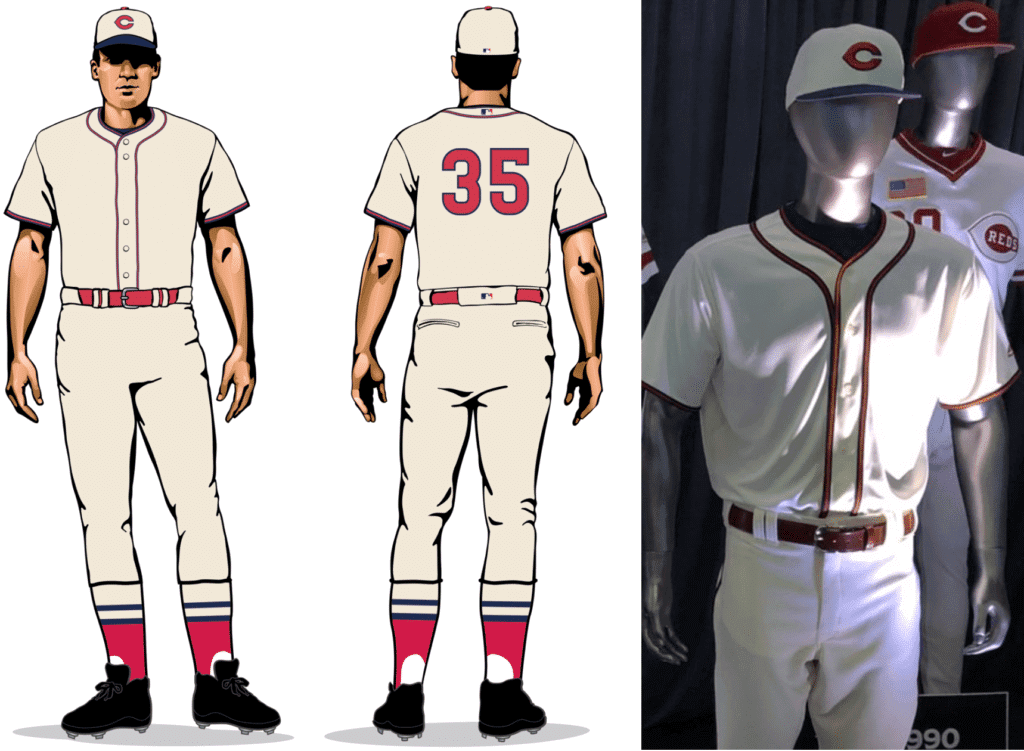 Love all the blue trim on this one. And another insignia-free jersey — with no sleeve patches this time!
6. 1936 alternate (June 30 vs. Cubs)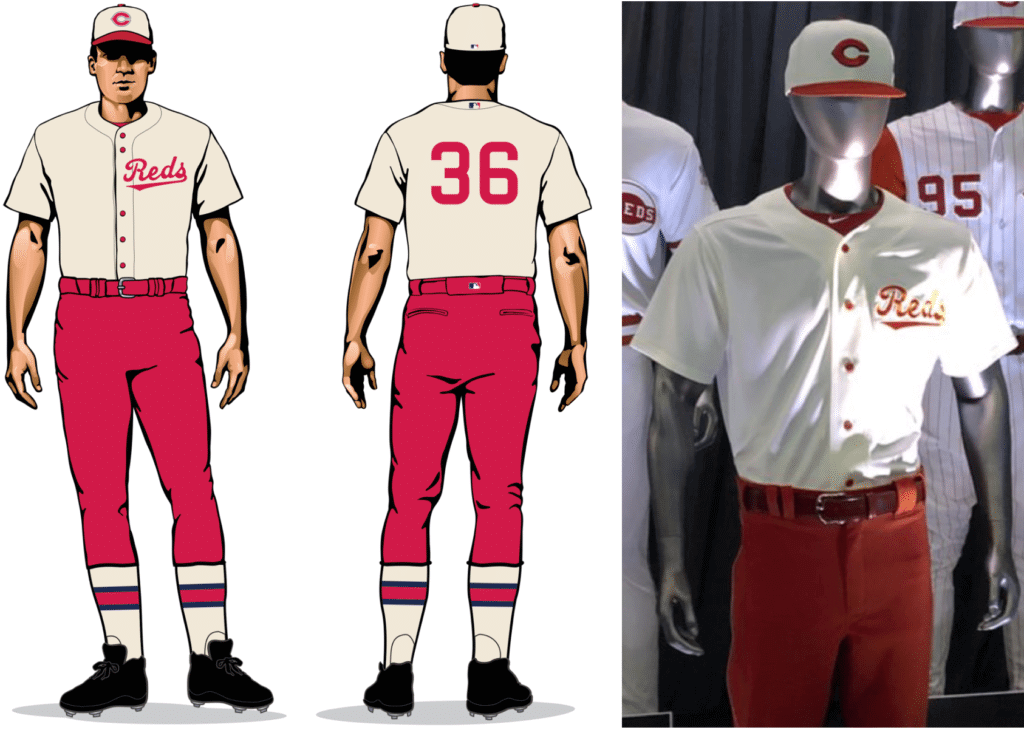 Quoting from the Reds' website: "One of the most unique uniforms ever worn by the Reds was the style that was known as the 'Palm Beach' by the uniform's manufacturer, Cincinnati-based Goldsmith & Sons. This uniform was an attempt to offer players a lighter-weight alternative to the heavily flannel jerseys that were the norm at the time. The open-weave fabric construct of the Palm Beach was designed to make the uniforms more breathable during the hot Cincinnati summers."
7. 1939 home (July 6 vs. Indians)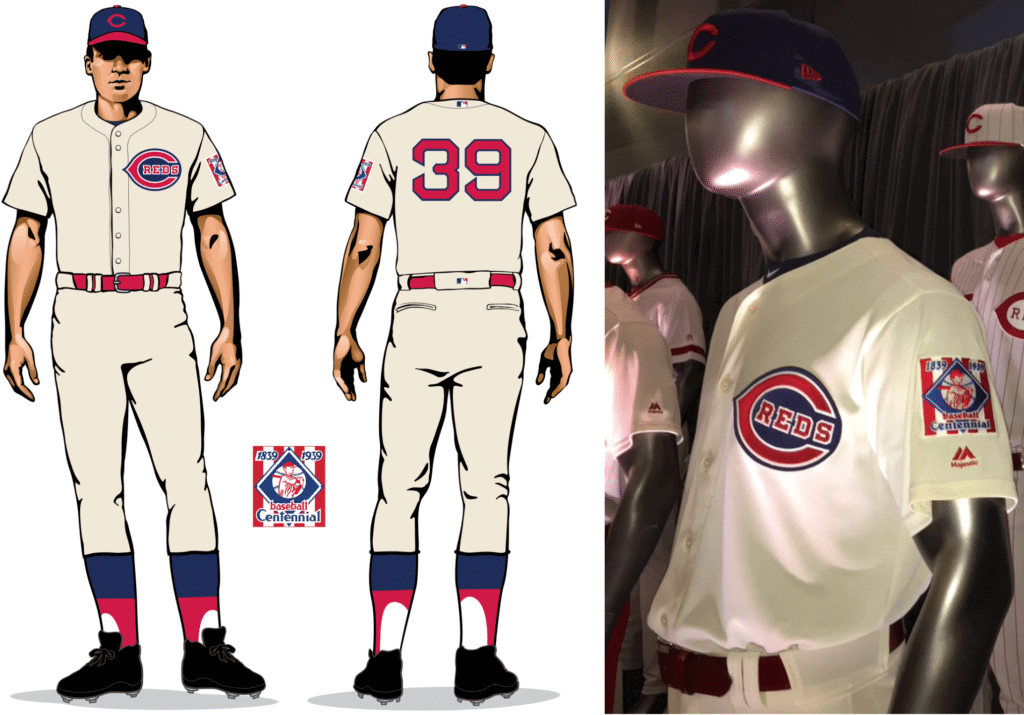 A real keeper. Love the Reds with navy trim. Note the McAuliffe number font!
8. 1956 road (July 7 vs. Indians)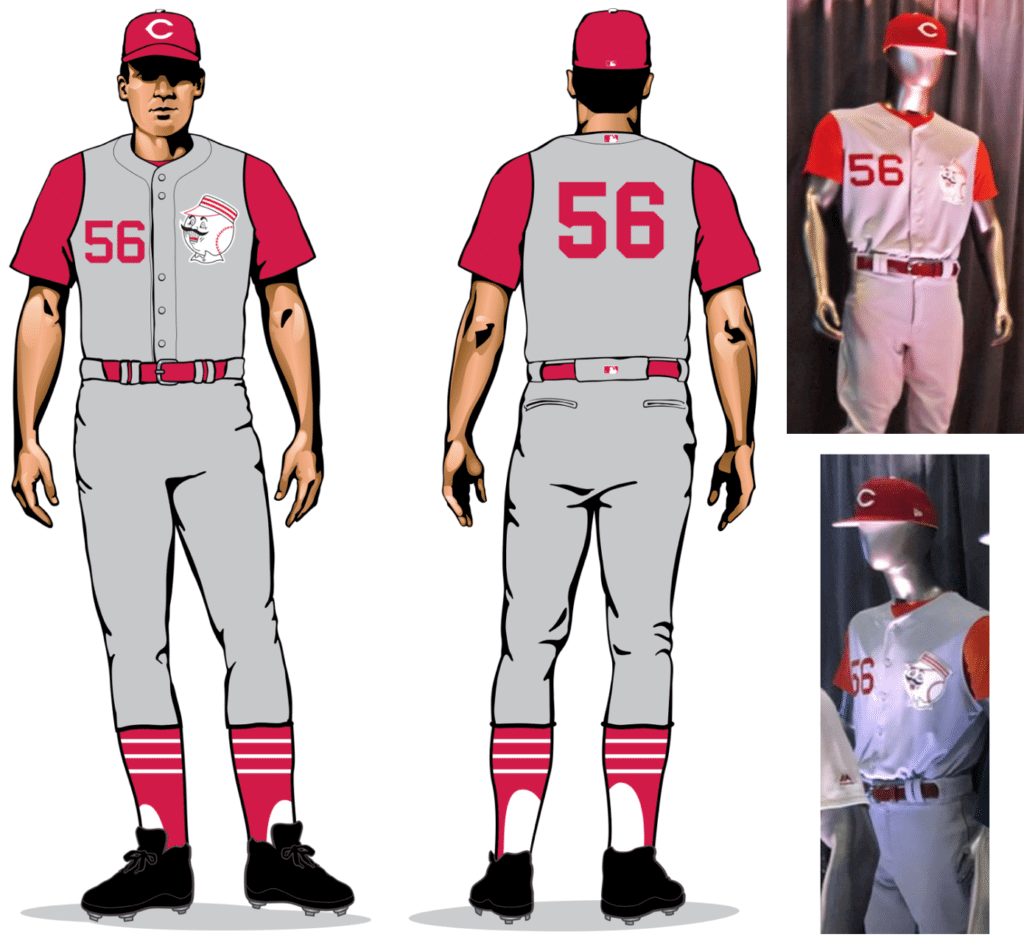 Always loved the Reds in a vest. And if Mr. Redlegs is on the chest, so much the better. Also: Striped stirrups! Disappointing that they're taking the lazy route of a sleeveless conventional jersey, very broad across the shoulders, instead of going with the narrower classic vest tailoring. (The Cubs got this right in 2014, and the A's have also gotten it right, so there's really no excuse.) The real question, though, is whether Joey Votto will rip off his undersleeves à la Big Klu.
9. 1961 home (July 21 vs. Cardinals)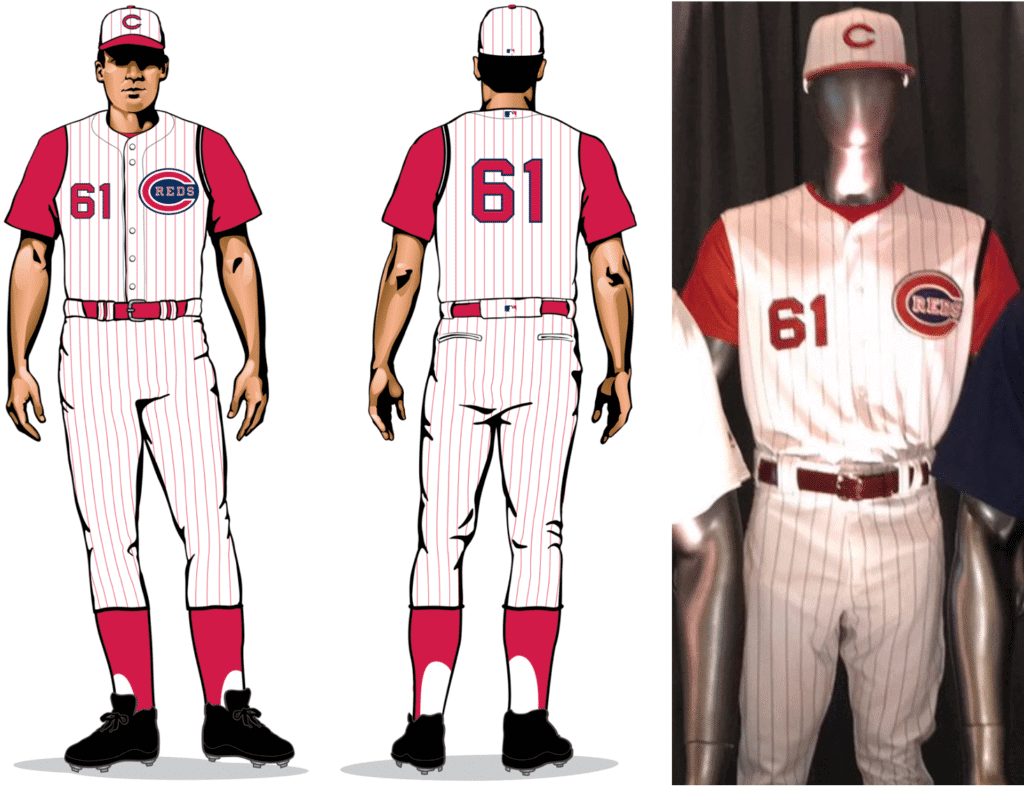 Again with the broad-shouldered vest. Still, this uniform has one of the all-time great little details: black memorial piping on the left armhole, which was in remembrance of team owner Powel Crosley Jr. They liked the black trim so much that they kept it the following season and added it to the other armhole as well. Also, note the non-wishbone-C — rounded, not pointy!
10. 1967 home (July 28 vs. Rockies)
At this point the Reds begin looking like the Big Red Machine. Also, NOBs appear for the first time.
11. 1969 home (Aug. 11 vs. Cubs)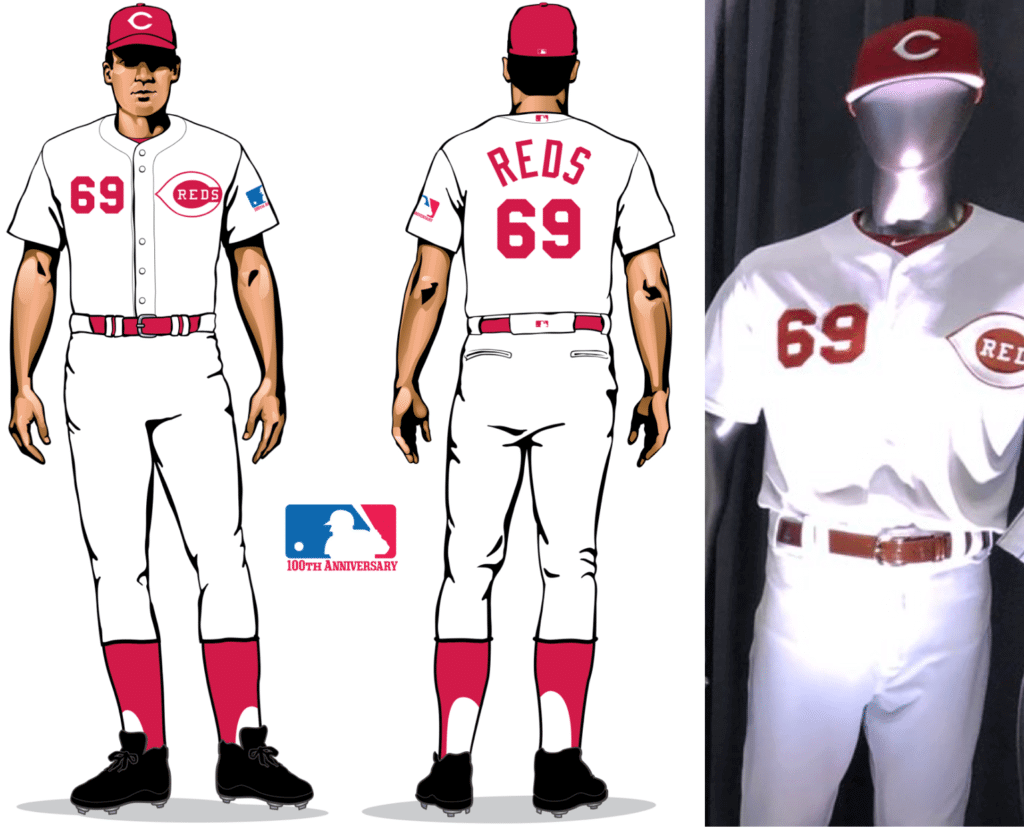 As you may recall, this is the design that our own Alex Hider — a Cincinnati native — singled out as being "Gone Too Soon" earlier this year. A beauty, for sure.
12. 1976 home (Aug. 17 vs. Cardinals)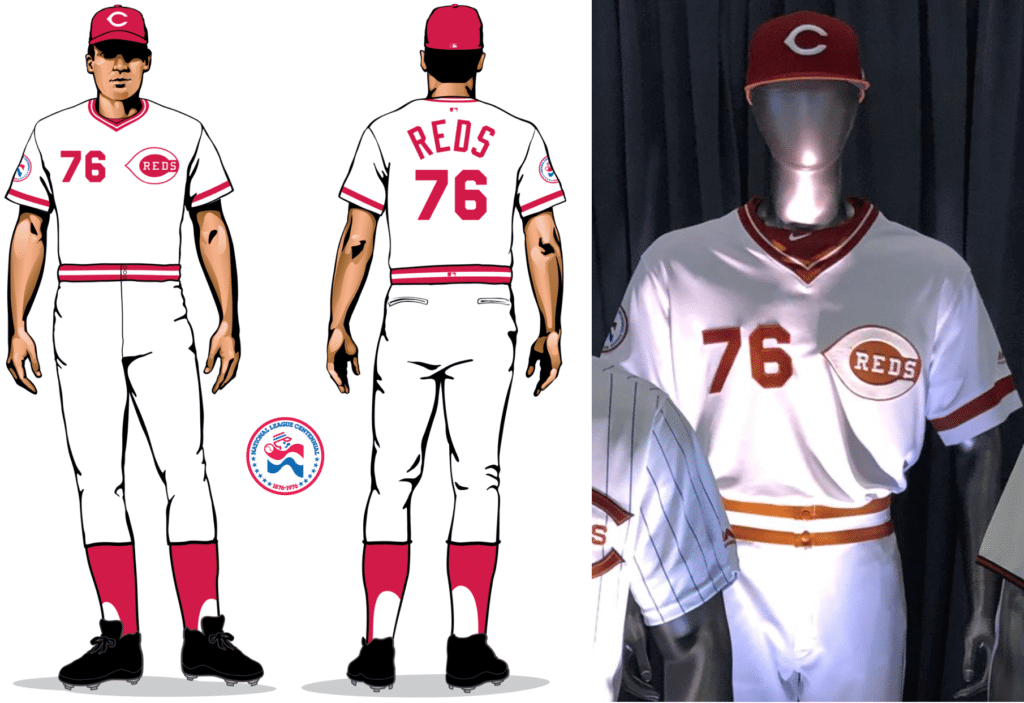 I grew up watching this uniform, so it definitely pushes some buttons. But I'm probably gonna find this throwback disappointing unless the players have the uniforms tailored very fitted like back in the day, which ain't gonna happen.
13. 1990 World Series home (Aug. 18 vs. Cardinals)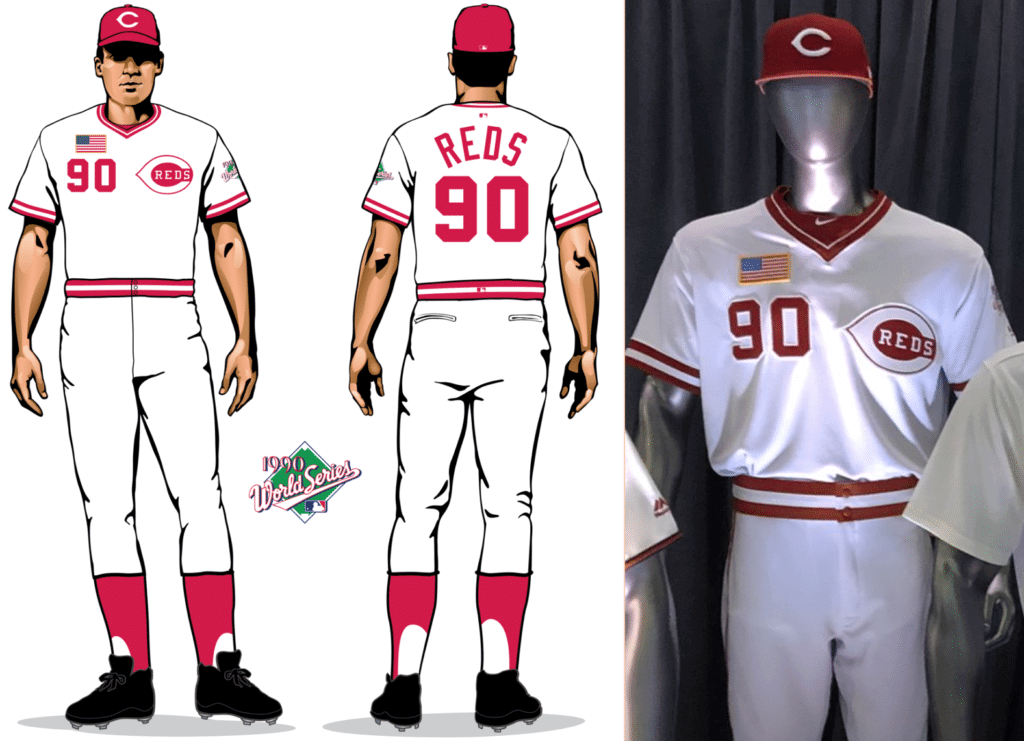 A waste of a throwback, because it's essentially the same as the 1976 design, except for the addition of the American flag patch, which the Reds added to their jersey for the 1990 World Series to show support for the first Gulf War. Interestingly, if you look at that photo I just linked to, you can see that the original flag patch had a white border, but the one shown at yesterday's press conference had a yellow border. It's all about the details, people!
14. 1995 home (Sept. 8 vs. Diamondbacks)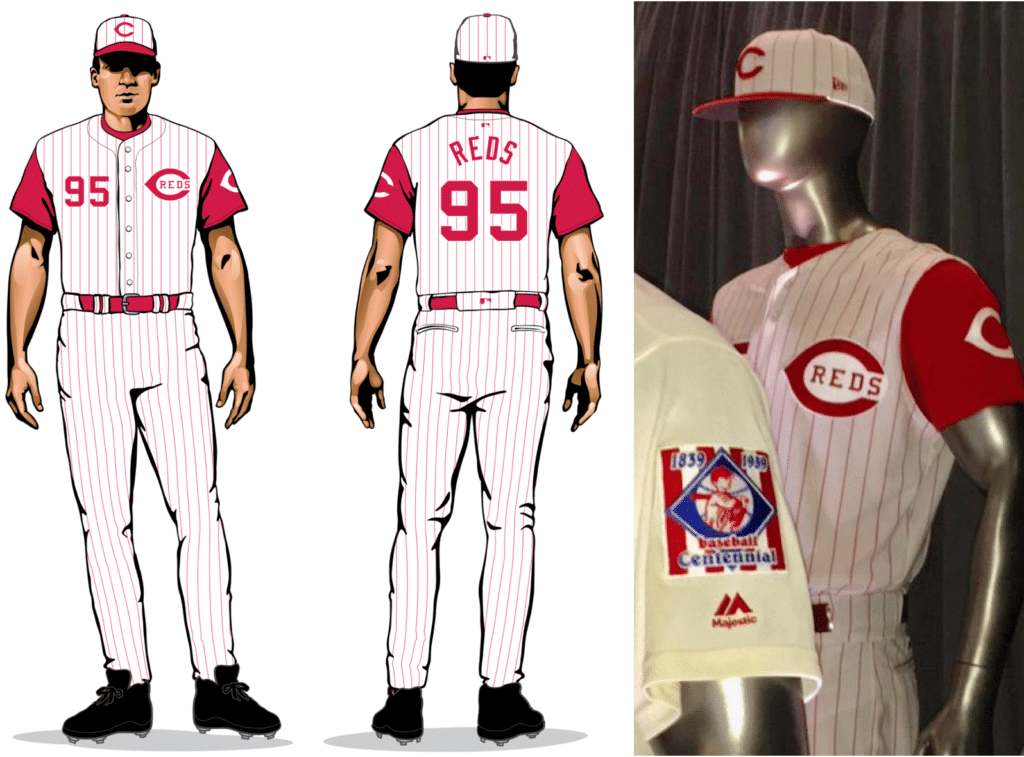 Have I mentioned that I like the Reds in a vest? I also like the team logo on the undershirt, although that's gonna cause problems on game day, because today's players often like to wear their own undershirts instead of the team-issued models. I place the over/under on the number of Reds who lack the sleeve logo during the throwback game at six.
15. 1999 home (Sept. 22 vs. Mets)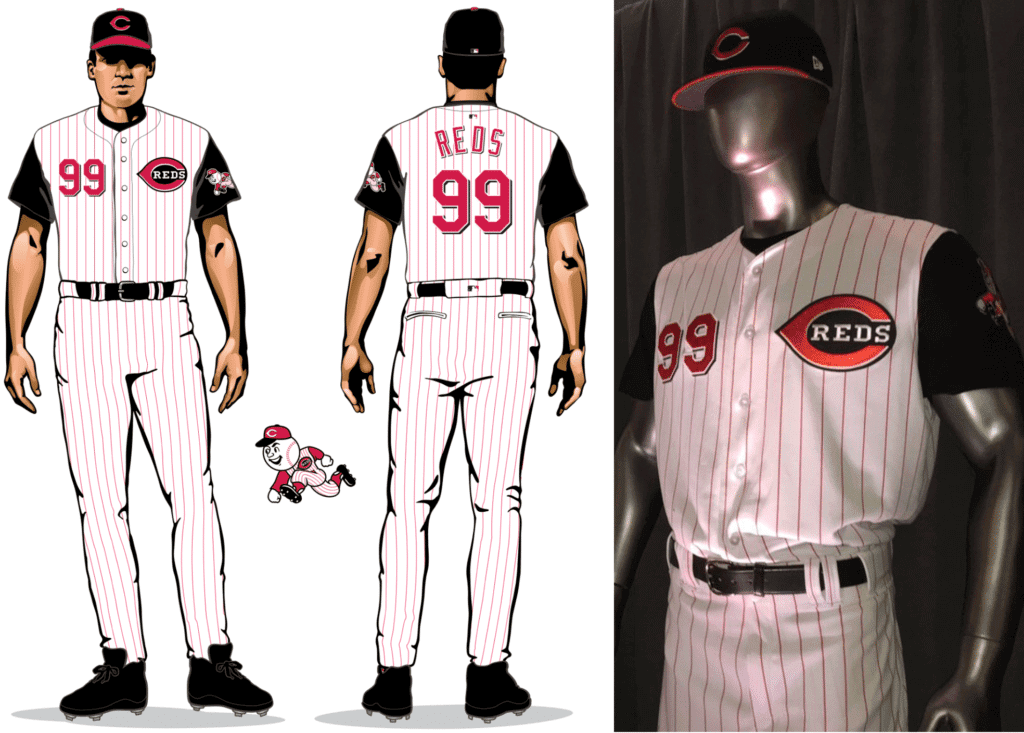 A real stinker from MLB's first wave of BFBS. Two decades later, they still haven't excised the black drop-shadows from their color scheme. Pfeh — pfeh, I say! Gonna have the same problem noted above for the undershirt, too, especially for a late-September game that'll probably have some players in short sleeves and others in long sleeves. For this one, I place the over/under on players with logo-free base layers at nine.
———
I asked Ticker assistant Alex Hider and lifelong Reds fan what he thought of all this, and he had an interesting critique: "I'm a little disappointed in the 1956 and 1968-1996 caps. I feel like they're using the batting helmet version of the wishbone-C, instead of the cap version. The C on the throwback caps is too thick, and the 'mouth' of the C is too open."
Alex adds: "I'm probably most excited to see the 1936 unis [the ones with the red pants] on the field. I don't particularly care for it as a uniform, but I'm interested to see what it looks like in a modern game." (For a possible hint, check out Cuba's World Baseball Classic uniforms.)
In addition to the throwbacks on the field, the Reds will also be setting up more than 20 "uniform benches" around the city, each of which will feature a statue of Mr. Redlegs wearing one of the throwback uniforms. The idea is that passers-by will be able to sit next to Mr. Redlegs and pose for a photo: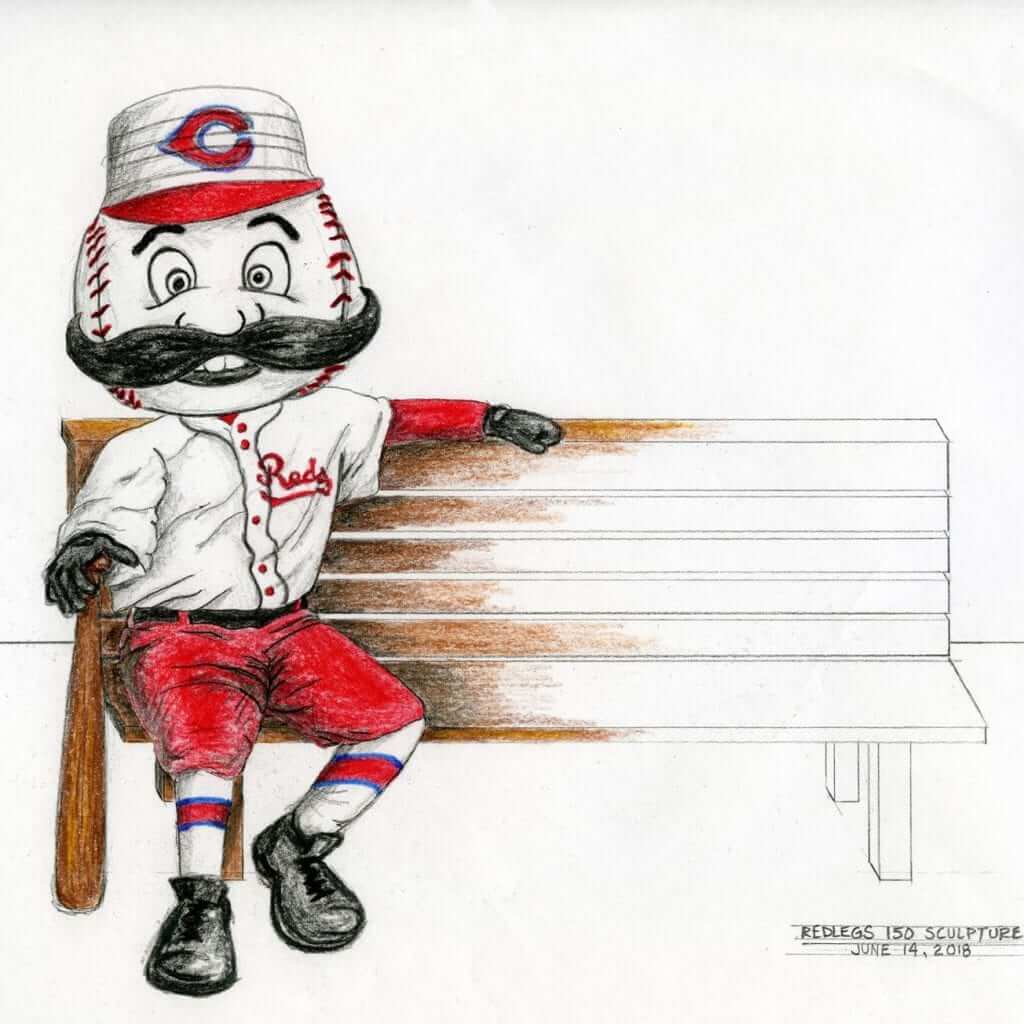 And there's more: The Reds have also put up a web page that charts the evolution of the team's logos and jersey insignia.
Finally: If you care about such things (confession: I don't), the Reds will also have an old-timey logo on their 2019 spring training uniforms:
Take a look at the Reds' 2019 spring training uniform that will be shown tonight as part of the unveiling of the club's 150th anniversary plans. #RedsThreads pic.twitter.com/8MDgeg0Xtf

— Cincinnati Reds (@Reds) November 5, 2018
I have to say, they kept all of this under wraps quite nicely. No advance warning, no pre-event hype — I had no idea any of this was in the hopper except for the anniversary patch. Frankly, I thought my work day was mostly over yesterday when I went for my daily bike ride at about 4:40pm. Then I came home about an hour later and discovered that all of this had dropped. Fortunately, I didn't have evening plans, and the Tugboat Captain was busy studying for grad school, so I was able to spend the four hours or so that it took to put this entry together. (And while I was scrambling to do that, half of the Twitter-verse was asking me, "Why are the Cowboys wearing blue tonight?" and "When's the last time they wore blue at home?" and so on. The things I go through for you people!)
Anyway: This project clearly took a ton of work on the Reds' part. Kudos to them for going all-out — should make for a fun 2019. And I hope we get to invoke many mentions of the excellent word "sesquicentennial" (which I somehow neglected to use until the very end of this entry, go figure!).
• • • • •
[adrotate group="2″]
• • • • •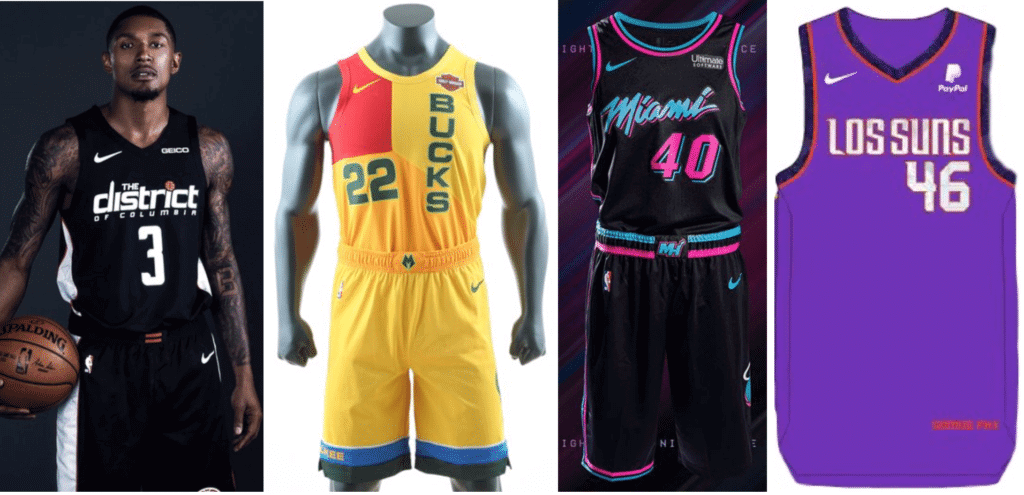 NBA alternates, continued: Last Friday I shared my thoughts on the first round of NBA City alternates. Several more designs have emerged since then, including two — from the Bucks and Heat — that were unveiled yesterday. Here's my take on this latest batch.
There are 16 teams still to go, all presumably due to unveil at some point this week (because LockerVision indicates that City alternates will start being worn in games on Friday), so I hope to continue doing these roundup pieces on ESPN as the new designs continue to be rolled out.
• • • • •
[adrotate group="2″]
• • • • •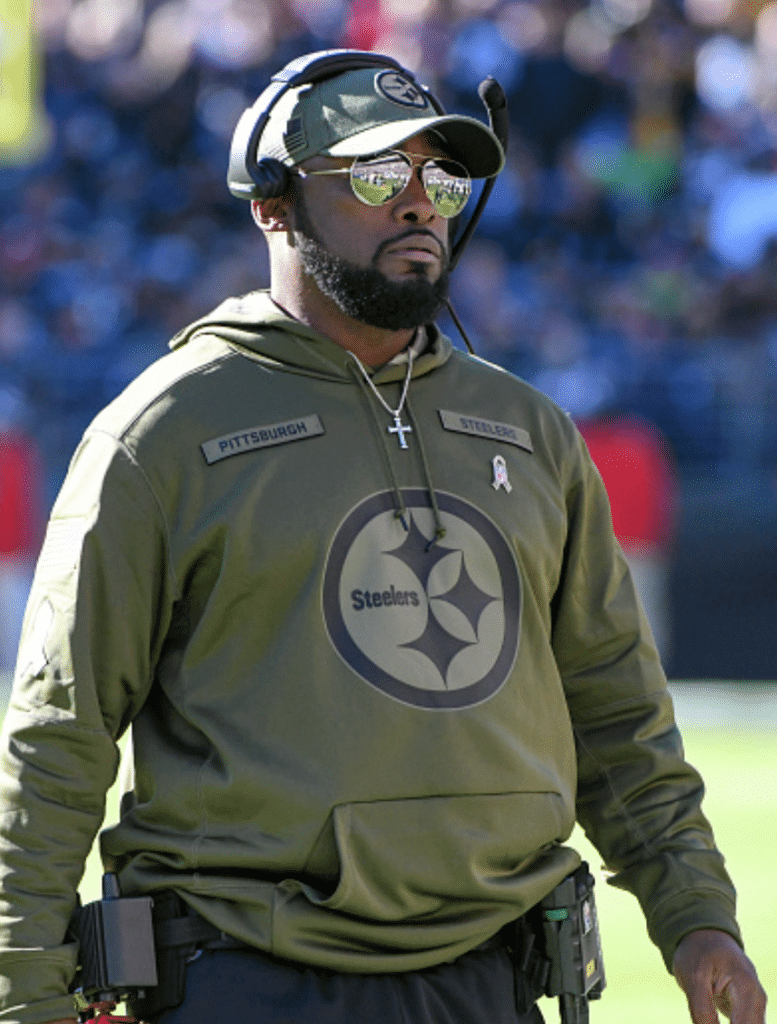 Click to enlarge
Boys with toys: In yesterday's Monday Morning Uni Watch report, I neglected to mention the absolutely shameful gear apparel costumes merchandise being worn by many of the coaches around the league.
Now, we all know that Sunday was the start of this season's G.I. Joevember. We also know that the football world likes to conflate football with military combat, that many football coaches harbor illusions of being part drill sergeant, part field general, and that the NFL is probably trying to re-establish its pro-military bona fides after the situation with the anthem protests.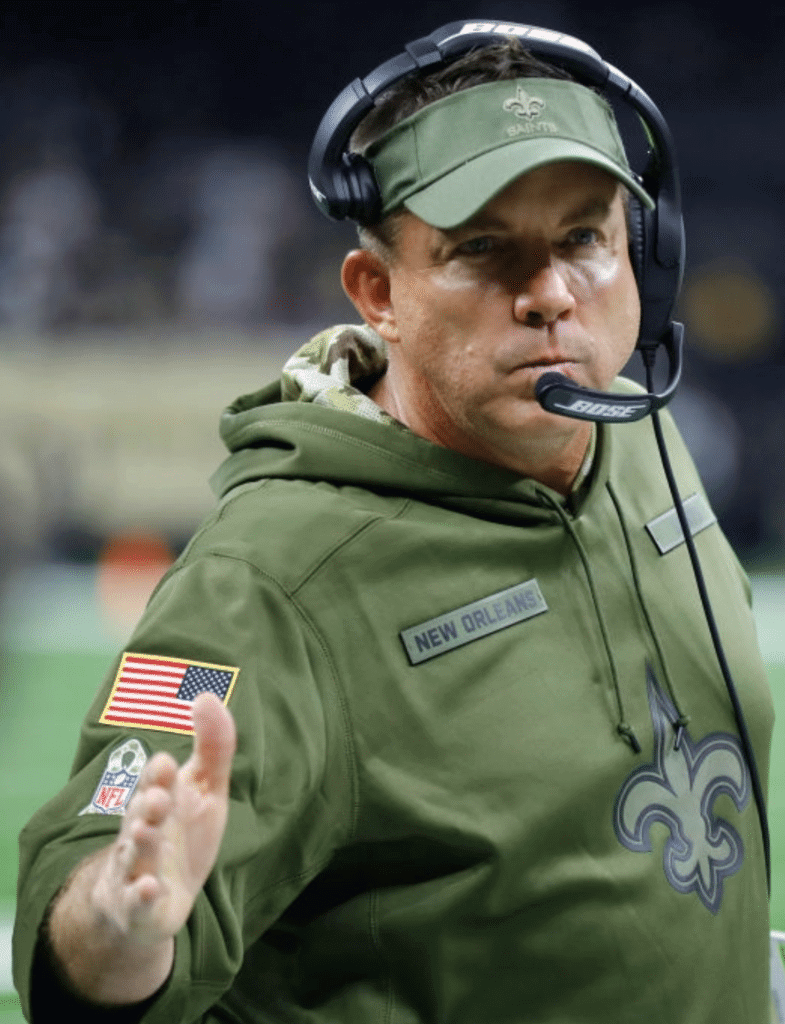 Still, even by the uni-verse's well-established standards for pandering, what the coaches were wearing on Sunday set a new standard for playing dress-up soldier. Why not give the coaches toy rifles and get it over with?
If you believe in the concept of stolen valor, then a bunch of grown men, most of whom never served a day in the military, wearing something clearly designed to mimic a military uniform probably qualifies, no? Personally, I'm not so big on the notion of stolen valor; I just think playing dress-up soldier is something you're supposed to grow out of around the same time you outgrow Saturday-morning cartoons.
It's nice to see that a few coaches didn't play along. Pats coach Bill Belichick, who comes from a military family and grew up at the Naval Academy at Annapolis, never wears any of the league's the scripted theme merch. He was asked about that in his postgame presser on Sunday and gave an eloquent response. Others who wore conventional team attire on Sunday instead of the cosplay nonsense included KC's Andy Reid, Cleveland's Gregg Williams, Buffalo's Sean McDermott, and Houston's Bill O'Brien.
• • • • •
[adrotate group="2″]
• • • • •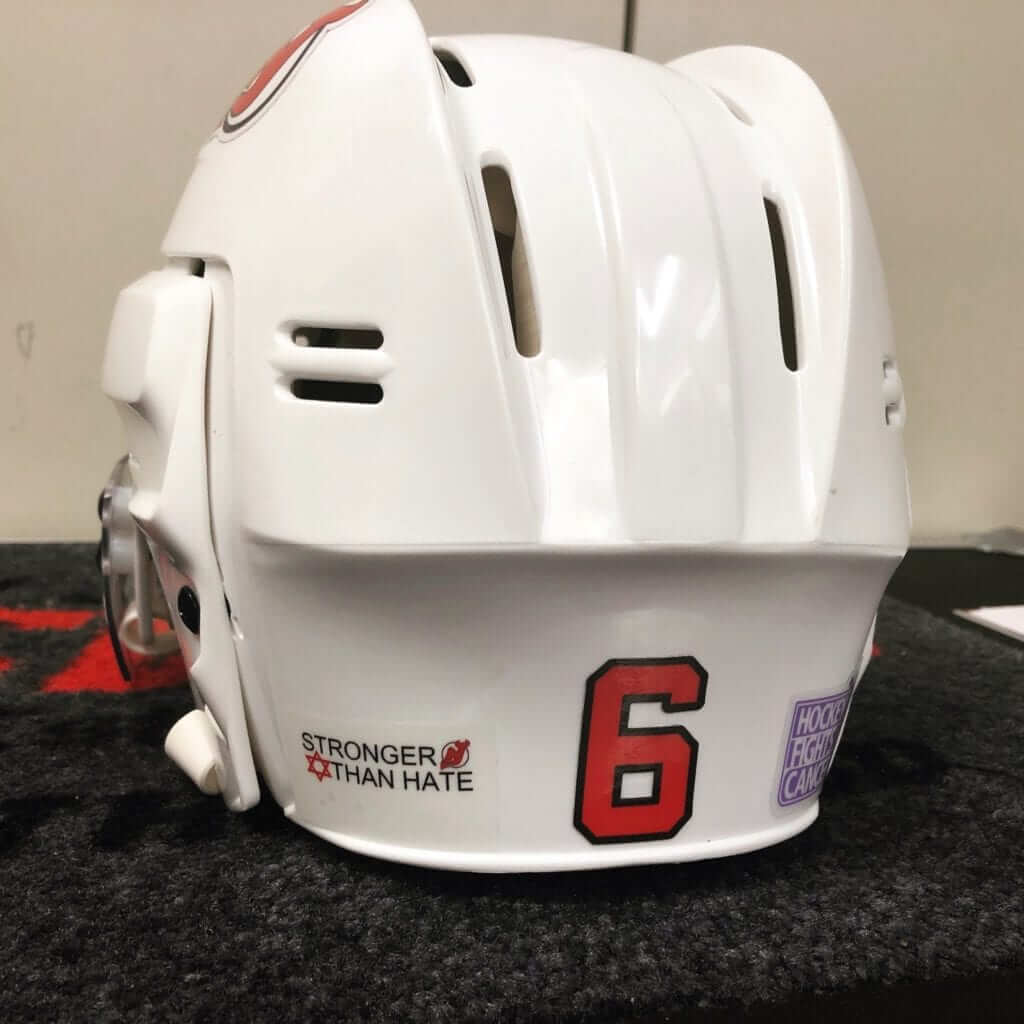 Click to enlarge
Star of David, continued: The Devils played the Penguins in Pittsburgh last night and became the latest sports team to wear the Star of David in response to the act of domestic terrorism at the Tree of Life Synagogue. There's something funny, or maybe just weird, about a religious symbol juxtaposed against the logo for a team called the Devils, no?
(My thanks to @OlegKvasha for letting me know about this one.)
• • • • •
[adrotate group="2″]
• • • • •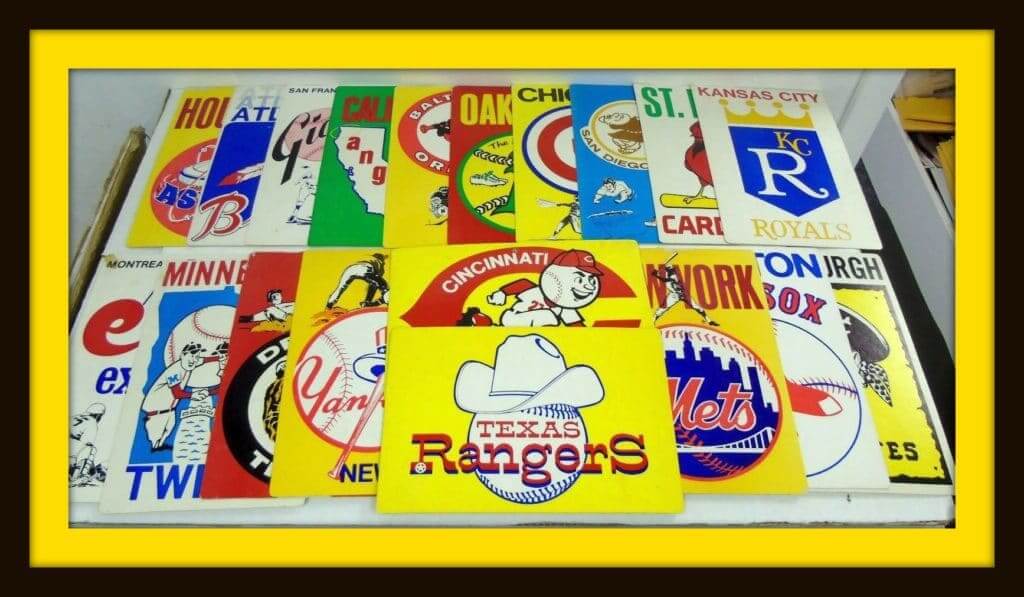 Click to enlarge
Collector's Corner
By Brinke Guthrie
In the early 1970s, MLB Fleer Big Signs dominated many a bedroom. BigSigns were affordable and you could thumbtack them onto your bulletin board (along with the classic NFL poster line, like this one for the 49ers). Didn't everyone have a bulletin board? Here's a big set of Big Signs, 19 in all.
Now for the rest of the week:
• Before Arizona, and before St. Louis, they were the Chicago (football) Cardinals, as commemorated on this vintage 1940s pennant.
• Here's another 1940s pennant, this time for the Cincinnati Reds. Notice no wishbone-C just yet!
• This is quite an elaborate 1960s Baltimore Colts stadium ashtray.
• Here's a 1970s Patriots V-neck sweater with the helmet facing left, made by "Logo Scuca" of Indianapolis. I know Logo Seven (aka Logo Athletic) used to be in Indy, but I haven't heard of Logo Scuca before.
• This 1970s-80s Seattle Seahawks helmet radio is in good shape. The auction ends today, so move fast if you want this one!
• The auction for this 1960s Toronto Maple Leafs bobblehead ends today as well!
• Here's a different Cliff Engle sweater look. Usually I come across versions with the team name in bold print; this one has the helmet of the featured team, the New York Football Giants.
• This auction is for a pair of 1970s NFL Tasco binoculars You get one decorated with all NFC helmets, and then one for the Jets.
• This 1970s coffee mug promotes the Pro Football Hall of Fame in Canton, Ohio.
• Here's a great polo shirt for Packers fans. It comes embroidered with the "NFL Alumni" shield and "Green Bay Packers." It also has two pockets, which is unusual, no?
Seen an item on eBay that would be good for Collector's Corner? Send any submissions here.
• • • • •
[adrotate group="2″]
• • • • •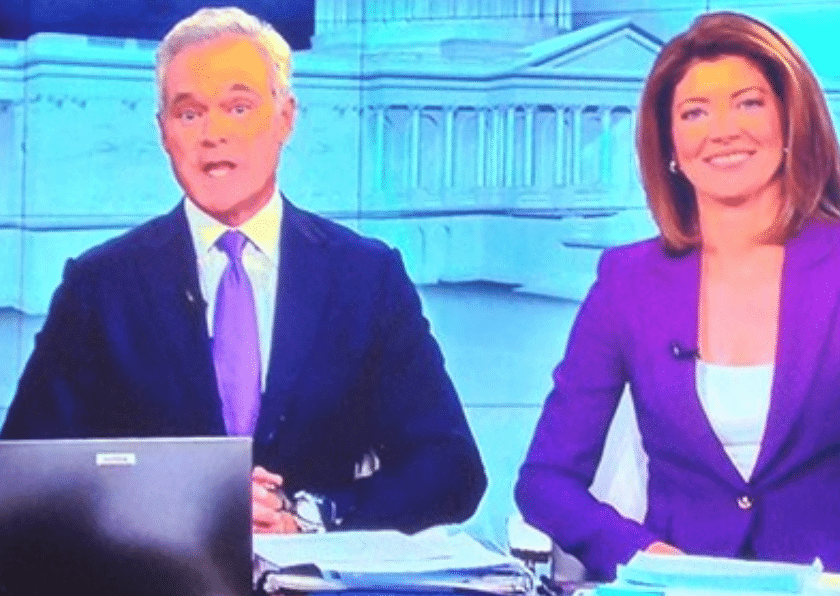 My usual Election Day request: Actually, I have two requests. First, if you haven't already done so, please vote. A healthy democracy requires robust participation!
Second, as longtime readers are aware, I'm fascinated by the phenomenon of TV talking heads wearing purple on Election Day (the idea being that it's halfway between Democratic blue and GOP red and therefore signals impartiality; further info here). It's quasi-uni-related, and it's something I like to document as fully as possible every two years. If you'd like to help, please take screen shots of anyone you spot wearing purple during televised election coverage today and tonight, and then tweet the screen shots with the hashtag #Purple2018. If possible, please mention the name of the TV station and, if applicable, the city where it broadcasts. If you don't use Twitter but still want to participate, you can email the screen shots to me. Thanks!
• • • • •
[adrotate group="2″]
• • • • •
The Ticker
By Alex Hider

Baseball News: The Marlins teased what could be their new colors — light blue, black, and orange — in a series of social media posts yesterday (from Mike Chamernik and Kenneth Traisman). … The Single-A Wisconsin Timber Rattlers teased new possible cap color combinations in a Facebook post yesterday (from Brian Kerhin). … The Colorado Springs Sky Sox may have teased new uniforms or logos on their Twitter account yesterday (from Garrett). … Several Red Sox players attended last night's Boston Bruins game and went on the ice in custom Bruins sweaters with red numbers. Disappointing the numbers weren't rendered in McAuliffe font, though (thanks to all who shared).

NFL News:  In the video game Fortnite, players can now dress characters in NFL jerseys (from Mike Chamernik and Andrew Cosentino). … Rare sight last night, as the Cowboys wore blue at home, paired with their white pants. … The Cowboys use their wordmark on their front bumper, but ESPN put the Riddell logo on the front bumper in a scoreboard graphic last night (from Jason Hillyer). … Monday Night Football also pictured Titans QB Marcus Mariota in an old jersey at some point last night (from Johnny Mann). … ESPN also used an old Titans helmet in a graphic promoting Monday Night Football on its website (thanks to all who shared). … Mike Enriquez noticed Sunday night that someone applied a sticker to the back of Pats WR Josh Gordon. Anyone know what that was about? … According to this Reddit post, some NFL teams won't allow fans to keep balls that enter the stands (from Jeff Perilman). … You can now get a prepaid debit card with NFL players' images — but without team or league logos — thanks to a new agreement with the NFLPA (from Ignacio Salazar). … @NCbonfires found this awesome serving tray, featuring circa-1971 NFL helmets, at a thrift store.

College Football News: Looks like Clemson will be wearing orange pants this weekend (from Mark Johnson and Casey Garms1). … NC State will be going mono-black on Thursday night (from Rex Henry).

Hockey News: The NHL has new rules this season regarding goalie chest protectors, and many goaltenders are having problems adjusting to the new equipment (from Brinke). … Nice touch by the Penguins, who added a purple ribbon to the chest logo of their purple cancer awareness jerseys (from Ryan Osborn). … Cross-listed from the baseball section: Several Boston Red Sox players attended last night's Bruins game and went on the ice in custom Bruins sweaters with red numbers (thanks to all who shared). … Some would say that EA Sports and Adidas desecrated the Original Six franchises with these new designs for the NHL 19 video game. Additional info here (from Tom Servo). … It was a Marvel matchup in the ECHL Saturday between the Cincinnati Cyclones, who wore Ant-Man jerseys, and the Brampton Beast, who wore Black Panther jerseys (from Bill Fenbers).

Soccer News: Stoke winger James McClean, who was born in Northern Ireland, refused to wear a poppy this weekend for Remembrance Day due to continued political tensions between Northern Ireland and the UK. He was jeered by opposing fans for his refusal to wear the patch (from Patrick M. O'Neill). … Manchester United's Nemanja Matic is also refusing to wear a poppy because of the UK's 1999 bombing of his native Serbia (from our own Anthony Emerson and Mark Coale). … Speaking of poppies, Mark Emge notes that even fantasy sports providers added poppies to EPL player jerseys for Remembrance Day. … More poppies: All three NBC studio hosts wore poppies during yesterday's Huddersfield/Fulham game (from Josh Hinton). …  Speaking of Fulham, they've worn seven uni combinations in their first 11 EPL matches (from Denis Hurley). … Bohemian FC of the League of Ireland updated their earlier Bob Marley-themed away jersey to remove Marley (from Colm Heaney). …With no pockets at his disposal, Bournemouth midfielder Junior Stanislas had to put a note from his coach in his sock during a match on Saturday (from Max Weintraub).