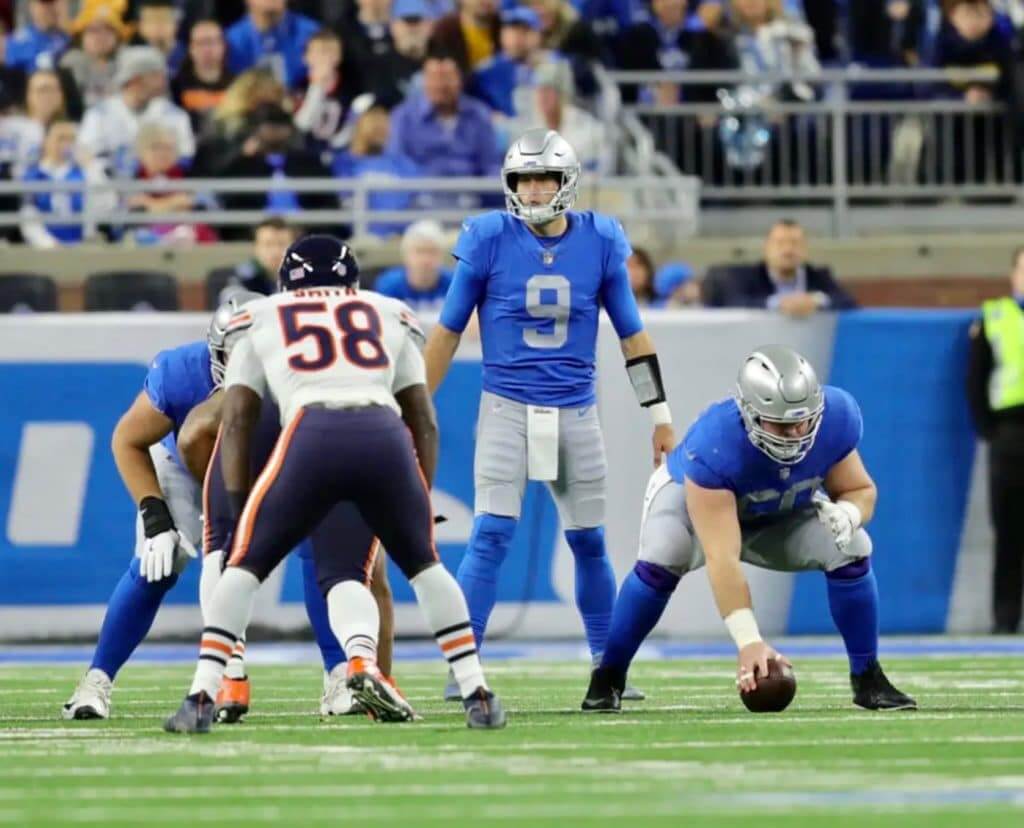 Click to enlarge
Happy post-Thanksgiving! The Lions broke out the throwbacks for yesterday's annual holiday game. It's a solid look (and certainly better than their primaries simply by virtue of not having lettering on the sleeves), but I still find it a bit disconcerting to see NFL jerseys without TV numbers. Anyway, good-looking game overall — I love those Bears road unis with the matching stripes on the sleeves and socks.
As a bonus, Lions coach Matt Patricia wore a throwback cap: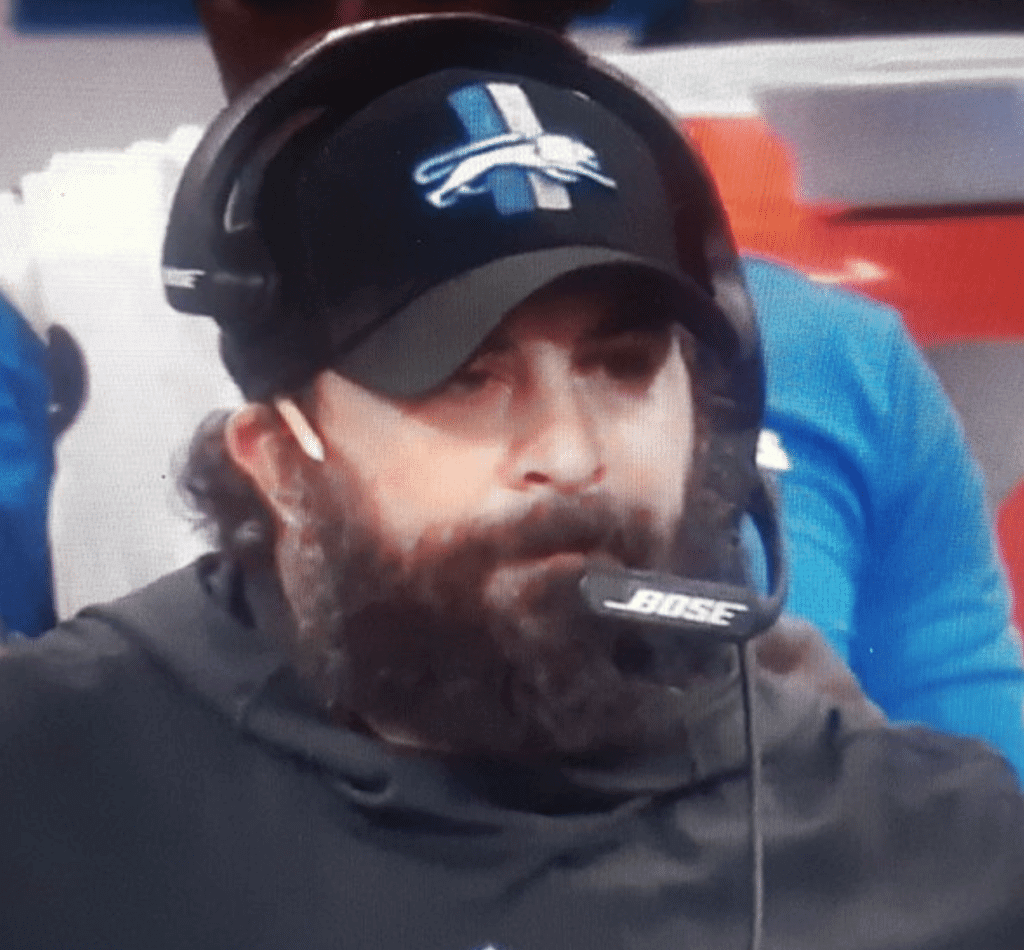 The late game, unfortunately, looked awful, as the Saints went mono-black against the Falcons. Woof and double-woof. The Superdome's turf always looks really weird on TV, too. Triple-woof.
(Speaking of the Saints: Drew Brees has been wearing three jersey patches this season. If the Saints make it to the Super Bowl — not an unrealistic prospect now that they're 10-1 — Brees would add a fourth patch, which I assume would be a record.)
In between those two games was the Dallas/Washington game. No special uniforms for this one — just the two teams' standard looks.
• • • • •
• • • • •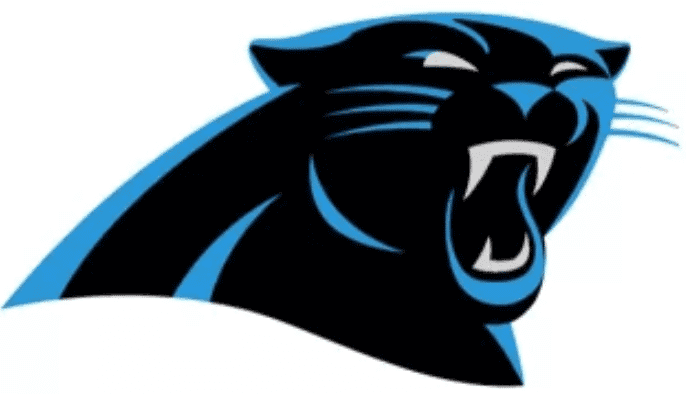 Everything old is new again: In this week's Monday Morning Uni Watch report, I noted that the Panthers had created another new uni combo by changing the sock color on their mono-black look. Then I wrote, "So we can chalk this up as yet another instance of the Panthers wearing a first-ever uni combo. I've lost track of how many times they've done that this season, but it's a lot."
Panthers-ologist reader Gabe Cornwall has obligingly crunched the numbers for us. By his count, Carolina has debuted four new uni combos this season, plus another one during the preseason. They've done all of this just by mixing and matching, without any new additions to their wardrobe.
Just to review, for the past two decades or so the Panthers have worn five uniform combos: a primary colored, a primary white, and an alternate colored, all of which have been unchanged for many years, along with two mono looks that were added more recently. You can see all five of those looks combos here (click to enlarge):

And here are the five new looks they've worn this season, including the one preseason combo (click to enlarge):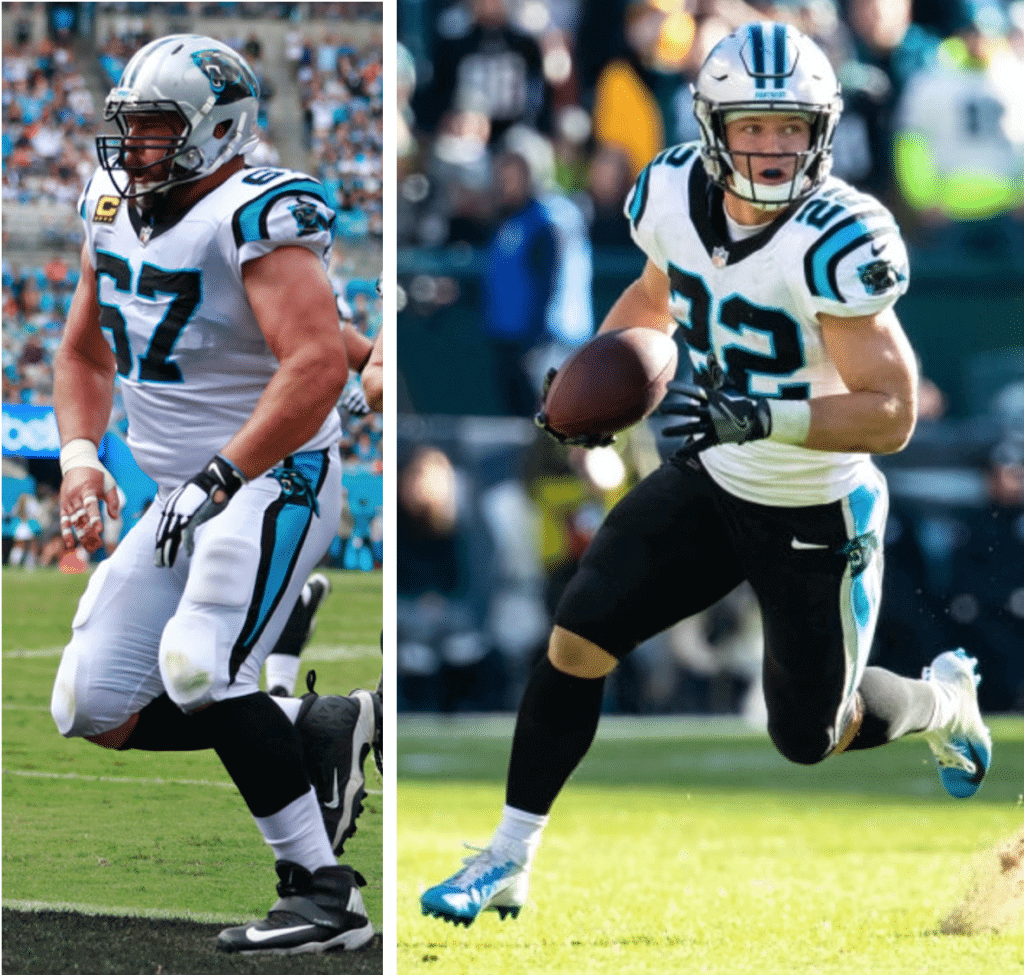 It's interesting to see that they've been able to come up with so many new combinations without adding any new elements to their wardrobe. As a nice bonus, I think most of the new looks are improvements.
• • • • •
• • • • •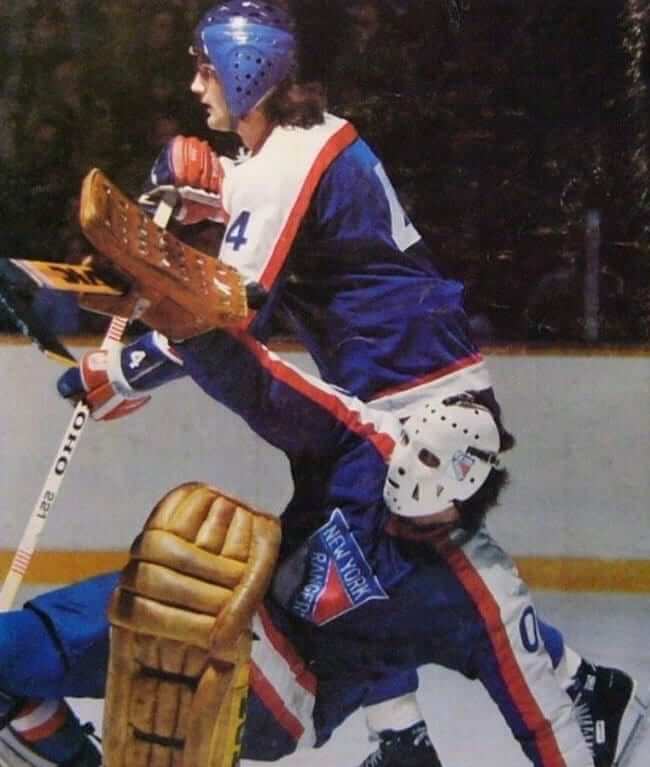 Click to enlarge
Not Lord Stanley's cup: Ace reader/contributor/DIYer Wafflebored found something pretty epic yesterday — a mid-1970s photo of Rangers defenseman Ron Greschner apparently wearing a protective cup attached to his helmet! A real dickferbrains move, eh? (As a bonus, Rangers goalie John Davidson was wearing double-zero.)
After Wafflebored posted the photo on Twitter, Mike Styczen quickly ascertained that Greschner wore the cup after suffering an ear injury — and Mike even found a photo of injury taking place: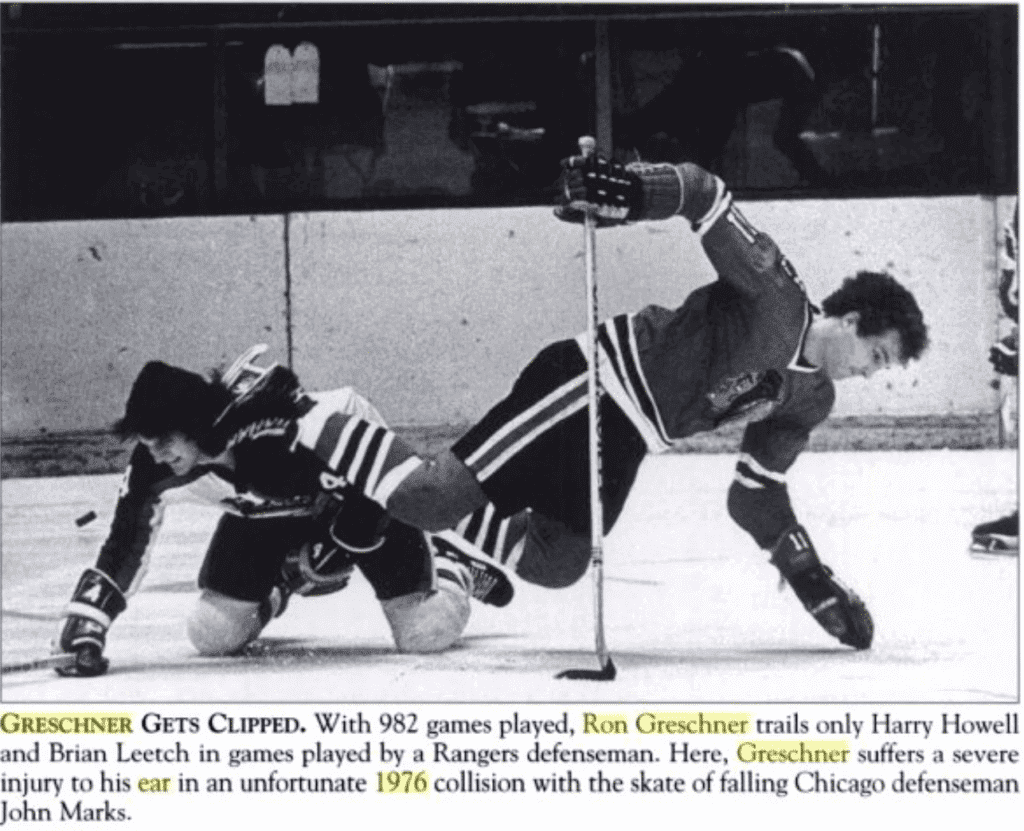 Yee-owch! Great find by Wafflebored, and great research sleuthing by Mike.
• • • • •
• • • • •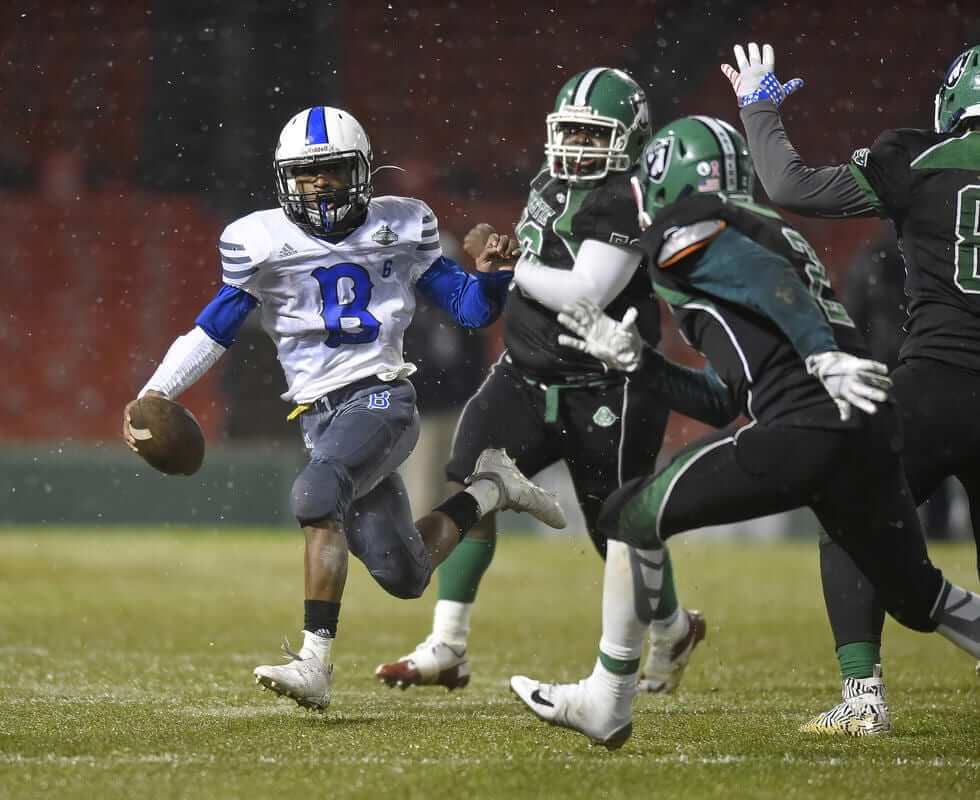 Photos by Christopher Evans/Boston Herald; click to enlarge
"B" marks the spot: Interesting-looking high school football game a few nights ago in Boston, as Jeremiah E. Burke and West Roxbury played their annual Thanksgiving rivalry game. Burke's jerseys featured a large, Red Sox-style "B" (the game was played at Fenway Park), with very small uni numbers appearing almost as an afterthought on the upper chest.
I'm surprised the officials allowed this. Here are a couple of more pics: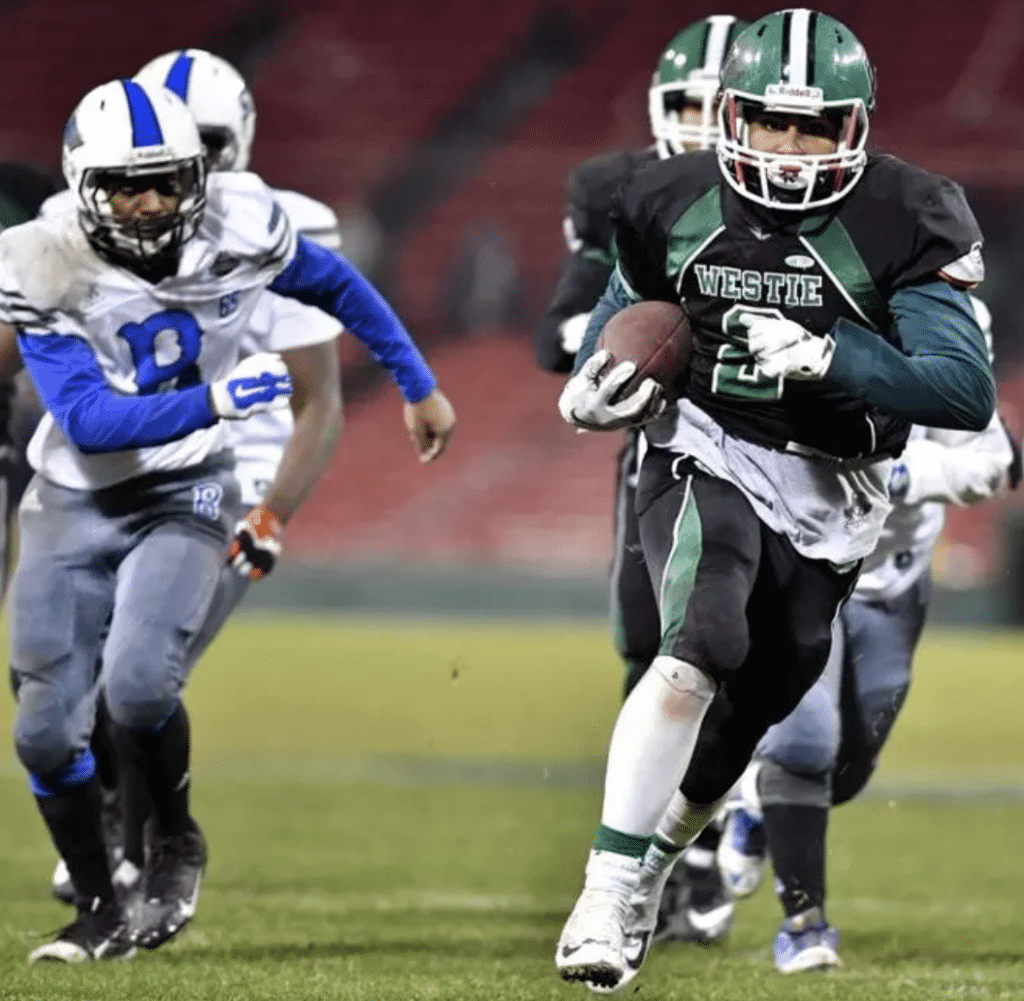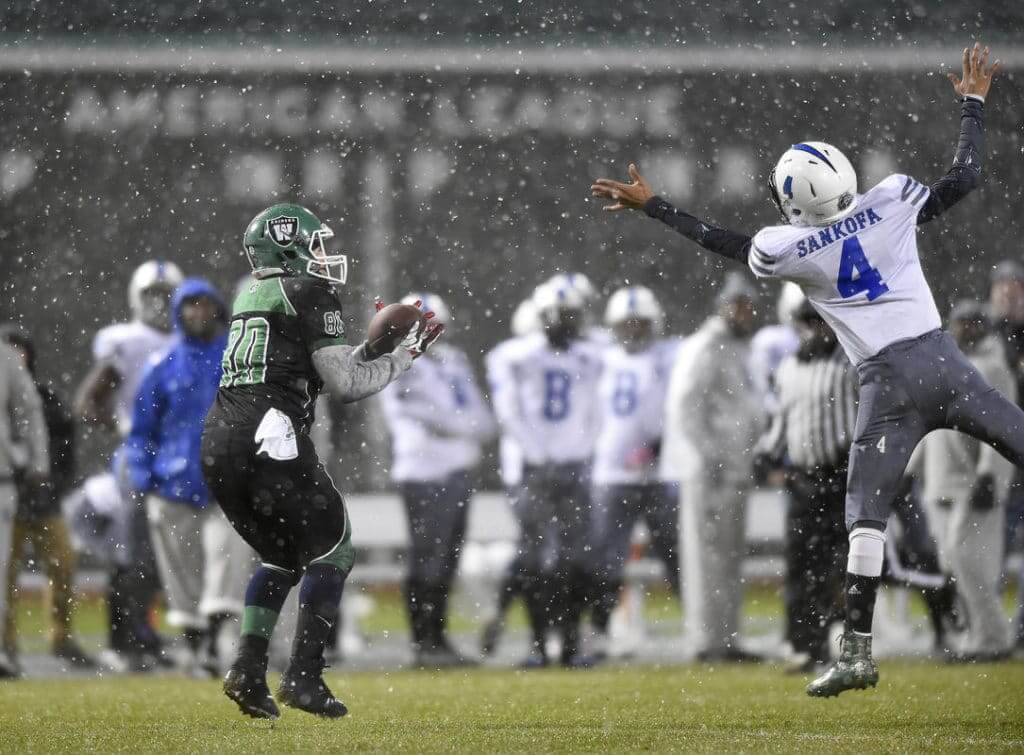 (My thanks to Peter Fahey for bringing this one to my attention.)
• • • • •
• • • • •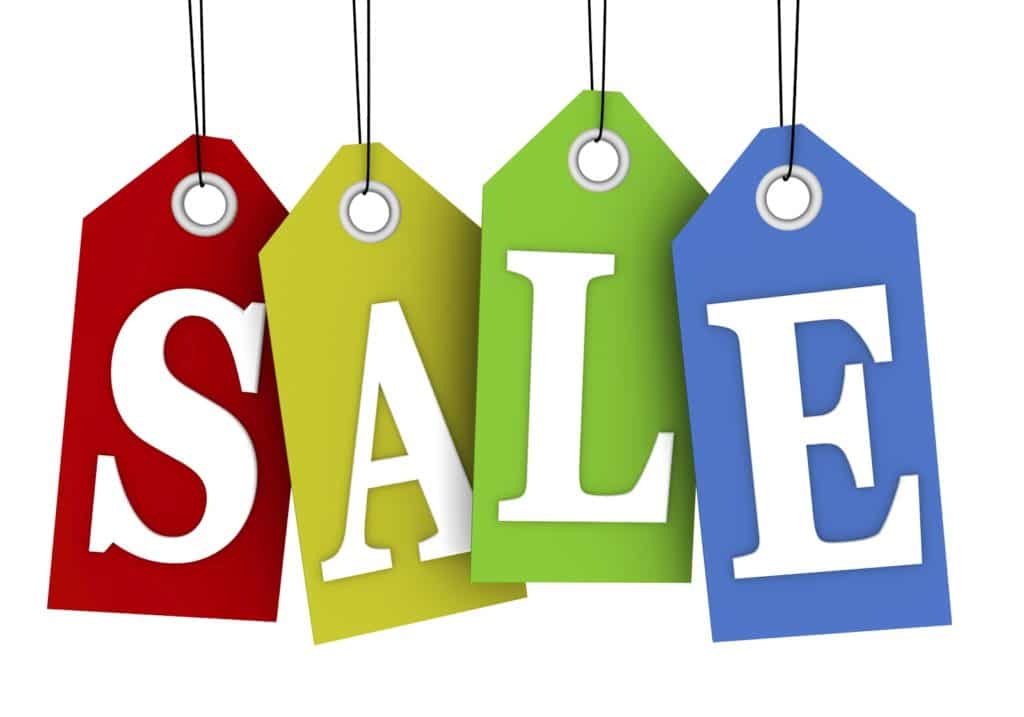 Sale reminders: There some bargains to be had over the next few days if you shop wisely:
• Our flex-fit Uni Watch alternate cap, originally priced at $29.99, is only $19.99 from now through the end of Monday. Order yours here.
• Ebbets Field Flannels is running a site-wide sale. From now through at least next Monday, you can get 25% off of anything on their site by using the checkout code CYBER18. That effectively reduces the price of our Uni Watch classic cap from $49 to $36.75.
• You can get 15% off of our StripeRite socks — and off of everything else on the American Trench website — by using the checkout code BFCM. This discount is available through next Monday. (Regarding the socks, we've now sold out of the green design, which means the three-packs are no longer available either. But the blue and black designs are still available.)
You can see all of our other Uni Watch products, including a few that you may have forgotten about, on this handy one-stop-shopping page. My thanks, as always, for your consideration of our products.
• • • • •
• • • • •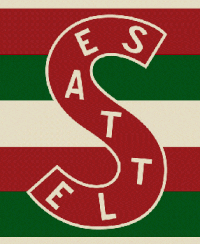 Contest reminder: In case you missed it last week, ESPN.com's hockey editor has asked me to have a design contest for the potential new NHL franchise in Seattle. Here's the skinny:
• Your entry must include a team name, a primary logo, full home and road uniforms (jerseys, pants, socks, helmets), and an inaugural-season logo that can be worn as a patch. If you like, you can also include secondary logos, an alternate uniform, and a center ice design, but those aren't required.
• You can draw upon Seattle's rich hockey history or start from scratch. Up to you!
• Your designs can be created in any digital or analog medium (Illustrator, Photoshop, crayon, whatever) and can be submitted in any standard digital format (JPG, PDF, TIFF, etc.). You can also create a video presentation, upload it to YouTube, and submit the YouTube link as your entry.
• The files you submit should be named after yourself (PaulLukas.jpg, for example). If you're submitting multiple files, please either number them (PaulLukas1.jpg, PaulLukas2.jpg, etc.) or use some other designation (PaulLukas-homeuni.jpg, PaulLukas-logo.jpg, etc.). Files that don't follow this format will not be considered.
• In keeping with longstanding Uni Watch chromatic policy, entries with even a hint of purple will not be considered.
• Email your entry to Uni Watch HQ (note that this address is just for contest submissions — please don't use the usual Uni Watch email address). If you have more than one concept, feel free to enter as many times as you like.
• Deadline: Monday, Nov. 26, 7 p.m. ET.
The best entries will be showcased in one of my upcoming ESPN columns. Good luck!
• • • • •
• • • • •
The Ticker
By Paul

'Skins Watch: Talawanda High School in Ohio is the latest school to scrap its Native American team name and mascot. Interestingly, they'll be changing the name from Braves to Brave, which is exactly what I suggested doing last year for the Atlanta Braves (from Joey Braun). … Indians P Dan Otero is back from the MLB All-Star tour of Japan, where he became the last player to wear Chief Wahoo (from Jason Hillyer).

Baseball News: One observer thinks the Indians are turning into the late-2000s Twins (thanks, Phil). … The Reds won a court case involving bobbleheads and other stadium-giveaway items. The state had wanted to charge a "use tax" on such freebies, but the Ohio Supreme Court ruled in favor of the Reds (from Jason Hillyer). … Two Japanese baseball notes: Throwbacks for the Yokohama DeNA BayStars and new alternate for the Seibu Lions.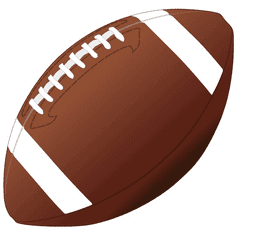 Pro Football News: The NFL is investing in flag football (NYT link), which now has more 6- to 12-year-old participants than tackle football. … The Jordan Brand is making a new push into football cleats (from @makatski). … The Tampa Bay Times says the Bucs need to change their uniforms. … The CFL's Calgary Stampeders will wear their standard red jerseys for Sunday's Grey Cup. "They wore their alternate black uniforms at home in the Western Final, but CFL rules prohibit alternate uniforms from being worn in the Grey Cup game," explains Wade Heidt. … The NFL Experience in Manhattan, which I wrote about earlier this year, has waived its admission fee from now through the end of the year. It's a fun time — highly recommended, especially now that it's free (from John, who didn't give his last name). … A current Visa commercial shows Giants RB Saquon Barkley wearing a T-shirt with the old NFL logo (from Curtis Galvin).

College Football News: A Utah artist has painted a portrait of President Trump scoring a touchdown in an old-style leatherhead football game. Appropriately, Trump is wearing red and the opposing team is wearing blue (thanks, Phil). … A member of the Ohio State marching band had buckeye merit decals on his hat underbrim on Thanksgiving (good spot by Jon Solomonson). … Here are this week's uni combos for Washington State, Virginia Tech, and South Carolina (all of those from Phil). … Looks like Kentucky will have chrome helmets tomorrow (from Travis Coffey). … Blackout this week for Missouri (from @CoachNebs).

Basketball News: The D League's Sioux Fall Skyforce will wear corn-themed jerseys tomorrow. … Kentucky F Reid Travis has been wearing protective eyewear after suffering a nasty eye poke the last weekend (from Josh Hinton). … Pitt has continued to wear the "Stronger Than Hate" warm-up tops with the Star of David (from Robert Brashear). … We've all seen ram horns on football helmets and football jerseys, but how about on basketball shorts? Seems like it'd be better if they were oriented in the other direction, though, no?

Soccer News: Nigeria has extended its kit deal with Nike. The new deal, which runs through 2026, comes on the heels of Nigeria's recent World Cup kit becoming a streetwear icon.

Grab Bag: Here's a look at how authenticators confirm or debunk supposedly game-worn jerseys (thanks, Phil). … AirAsia is upcycling old uniforms and other gear into lifestyle products. … Interesting piece on why the U.S. Copyright Office refuses to register American Airlines' eagle logo. … Formula 1 Driver Fernando Alonso will drive his last race for McLaren this weekend and will have a special livery for the occasion (from @The_Maddin). … Good article about the "mystery font," called Choc, that's overtaken NYC signage (NYT link), especially for Asian restaurants. … New indigenous rugby union jersey for the Australia Wallabies (from @TheBigJamesG).