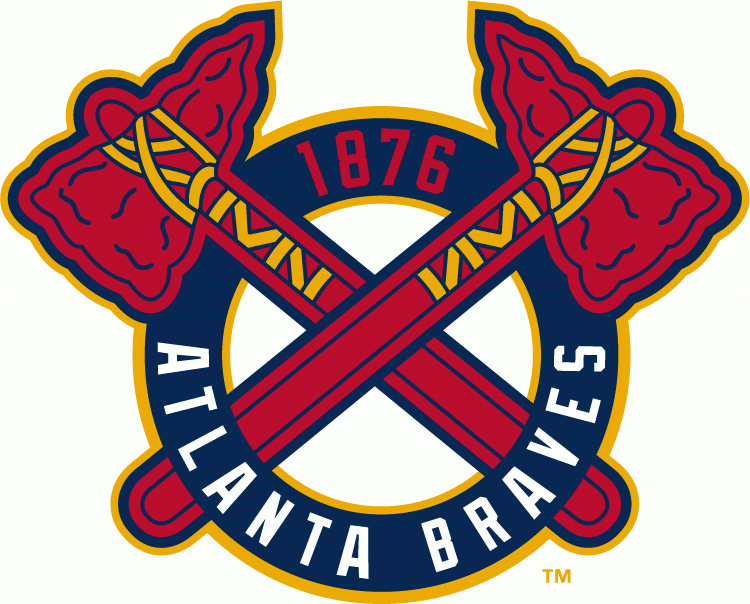 I came up with an idea the other day. It's such a simple, obvious idea that I'm sure other people have previously thought of it. But if they have, I've never heard anyone talking about it. So I'm going to share the idea with you today — my apologies if you've already heard it (or, for that matter, if you've come up with it yourself).
Here's the deal: Last Friday the Tugboat Captain and I had lunch with longtime Uni Watch reader/pal Marty Buccafusco and his brother, Chris. They grew up in Georgia, and Marty currently lives in Atlanta (he was in town for a friend's birthday party), so at one point the talk turned to the Braves — and their use of Native American imagery.
We all pretty much agreed that the team should scrap the whooping Indian (duh), scrap the tomahawk, ask fans to stop doing the chop, and even change its team name. That's the only way to make a clean break from the use of Native iconography, we figured.
But then Chris, who likes to engage in thought experiments (he's a law school professor), proposed a compromise approach, which led to an interesting back-and-forth between him and me. It all happened pretty fast, and we'd both had a few drinks, so this transcript isn't a word-for-word reproduction of what was said, but I think it captures the gist of it:
Chris: For some people, changing the team name would be going too far. What if they got rid of everything else — the tomahawk, the chop, all of that — but kept the team name?

Me: No. That undercuts the whole thing — you know it does.

Chris: I know, I know. But just try to work with me here. What if, hypothetically, they kept the team name but repositioned it to mean something else?

Me: What do you mean "something else"? The word braves, in our culture, refers to a Native American warrior.

Chris: But what if it meant something else?

Me: But it doesn't.

Chris: Yeah, but what if the team basically redefined it to mean something else?

Me: Like what?

Chris: What if it referred to brave people. A bunch of brave people are "braves." Firefighters, say — they're "braves," because they're brave.

Me: Why would you want to come up with some sort of convoluted meaning like that? Just scrap the name and come up with a new one.

Chris: I bet if you repositioned the meaning of the name, within 20 years nobody would view it as a Native American thing.

Me: Why wait 20 years, and why stand on your head trying to create new definitions of things? Just come up with a new name.

Chris: No no no — imagine an alternate world where, say, Rudy Giuliani is doing one of his press conferences with New York City firefighters, and he says, "I'm really proud of these braves!"

Me: I can imagine all sorts of alternate worlds, but we're living in this world. And in this world, Rudy Giuliani doesn't talk like that, and neither does anyone else. In this world, New York City firefighters aren't "braves." They're "New York's…"
And that's when it hit me.
New York City firefighters are known as "New York's Bravest." And as it happens, the word "bravest" is almost the same as the word "braves" — all you have to do is add a "t" at the end. But that one simple letter completely recontextualizes the word:
Braves –> Bravest
So that's my proposal: In addition to scrapping all of the Native iconography, the Braves should rename themselves the Atlanta Bravest (or, if they prefer, "Atlanta's Bravest"). They could use imagery relating to firefighters, or police officers, or other brave public servants (although they'd probably lean heavily on military themes, which we already have too much of in sports these days), and the name would function as a link to the team's former name without glorifying it.
When I proposed all of this to Chris, he said, "Hmmm — you're asking that 't' to do a lot of work. Do you really think it would make enough of a difference?"
Yeah, I do. And look, I know the Braves aren't changing their name anytime soon (and I also know many of you think there's no need for them to change their name, which is fine — we can agree to disagree on that point). But if and when they're ever ready to do so, I think "Bravest" would be a good solution. They can even turn the tomahawks into firefighters' axes — problem solved!
(Footnote: Some of you are no doubt rushing to the dictionary and preparing to tell me that a "brave" actually can be defined as "a brave person," just as Chris suggested. But come on — have you ever, ever heard anyone talk that way? Is there anyone in America who, upon hearing the word "braves," would not think of Native Americans? "Bravest" is way better.)
•  •  •  •  •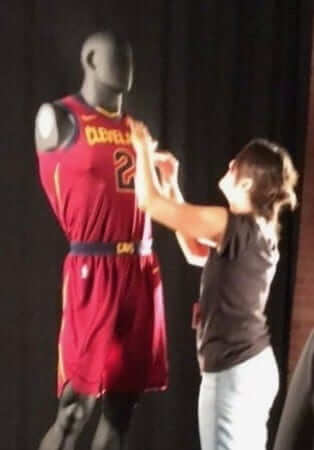 Kyrie Irving traded for mannequin: There was a bit of excitement yesterday afternoon when Cleveland-based photographer Josh Teplitz tweeted a photo of what he said was the Cavs' new red uniform (shown at right; click to slightly enlarge). Someone must not have been happy about that, because Teplitz soon deleted his tweet, but by that time the photo was circulating all over the place and there was no way to get the toothpaste back in the tube.
The number font shown on the jersey matches the new Cavs font that NBA uni watchdog Conrad Burry reported on Twitter last Friday, so I'd say that argues in favor of the uniform's legitimacy. (The font is also brutal, but that's another matter.)
Conrad used that photo, along with some inside info to which he's had access, to createkelly mock-ups of the Cavs' red and white uniforms.
One note: If you leave aside the leaks of dubious legitimacy and stick to images that appear to be trustworthy, I believe every full-view Nike NBA uniform we've seen so far — Raptors, Thunder, Kings, and now Cavs — has had a logo on the waistband. Granted, that's a small sample, and the Raptors already had that maple leaf logo there last season, so that one isn't new. But still, seems like a trend. Something to keep an eye on.
•  •  •  • •
Naming Wrongs update: Naming Wrongs continues to move along quite nicely. First, in response to many requests, we've added new color options for our line of Vet shirts, which are now available in green and grey/green (click to enlarge):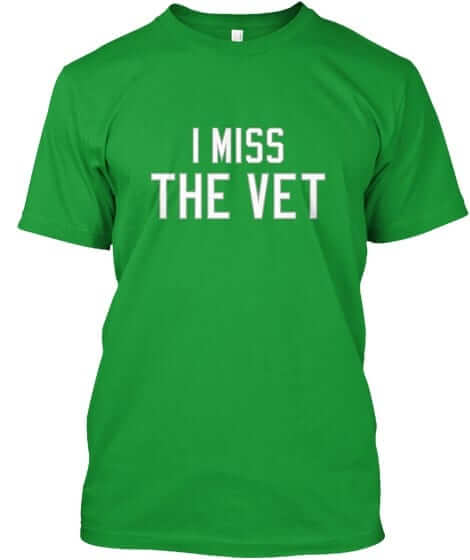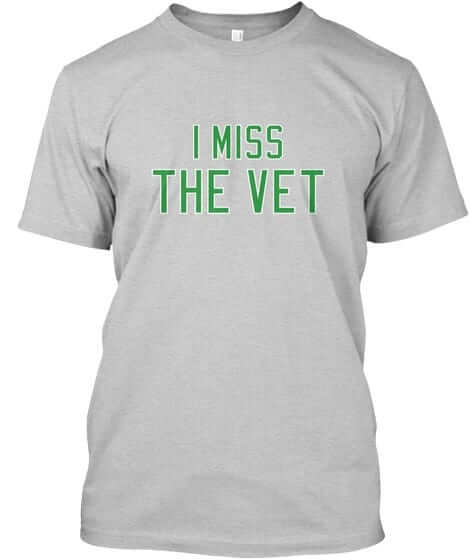 For the green design, note that Teespring's various brands of T-shirts and sweatshirts come in a variety of shades of green. I used kelly (or kelly-ish)kern whenever possible and settled for hunter when that was the only option for a given brand.
We also had requests for additional Candlestick color options, so we now have that available in red with white lettering, red with white/gold lettering (the gold outlining is easier to see if you hover your cursor over the shirt), and grey (click to enlarge):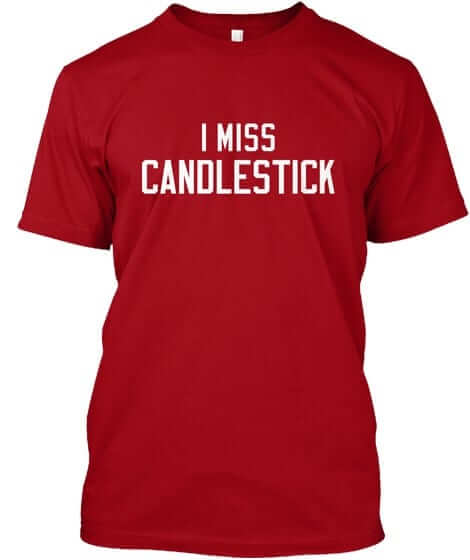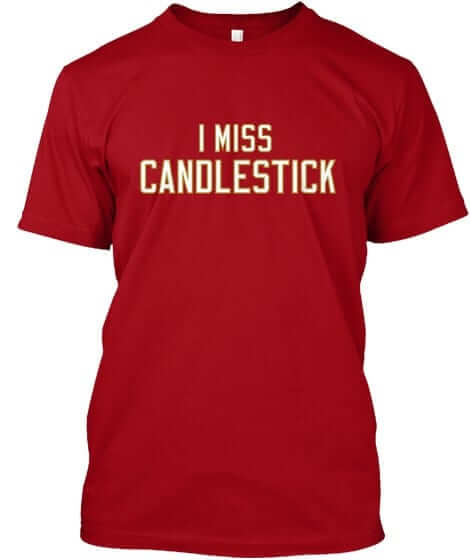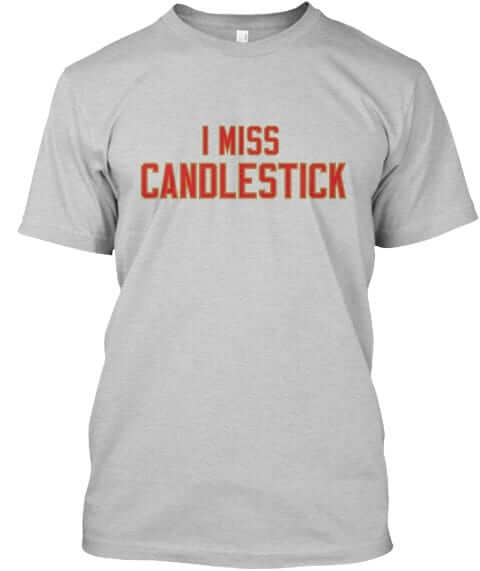 Also: We had lots of requests from fans in Houston who miss the Dome, and we've come up with a bunch of designs for that, beginning with a standard type treatment available in navy, orange, grey with orange lettering, blue, grey with blue lettering, and white (click to enlarge):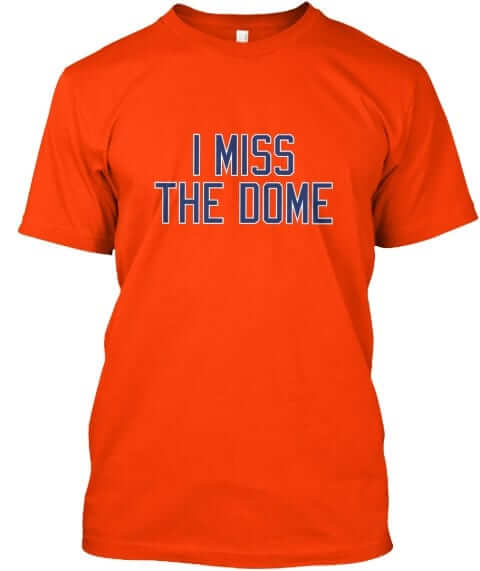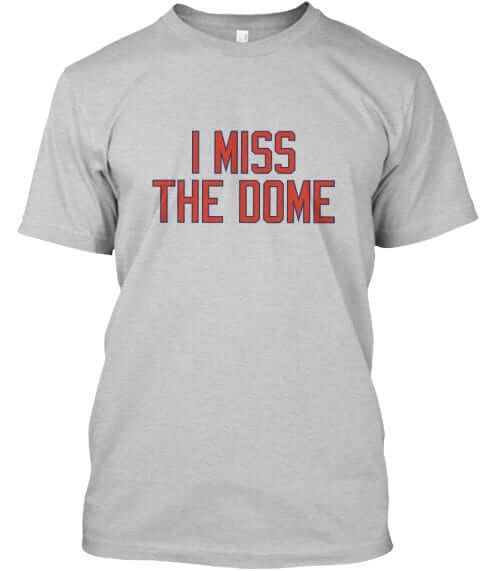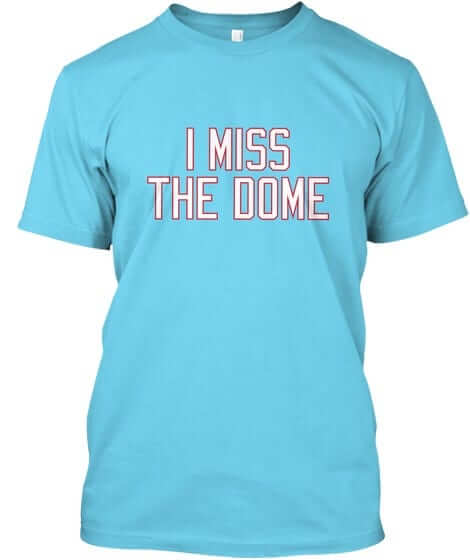 But here's the beauty part: Designer Scott Turner has also come up with a really cool dome-shaped treatment, which we're making available in navy, orange, white with orange lettering, blue, and white with blue lettering. Check it out (click to enlarge):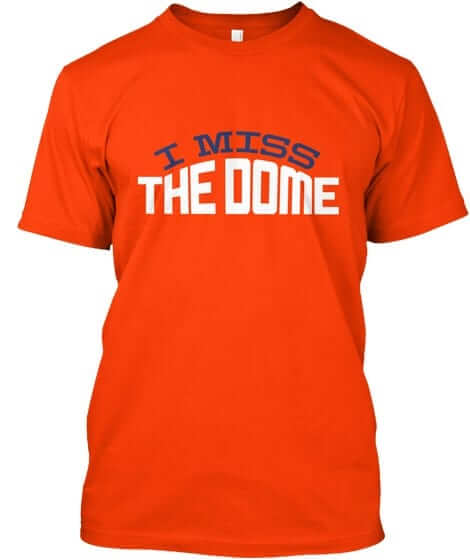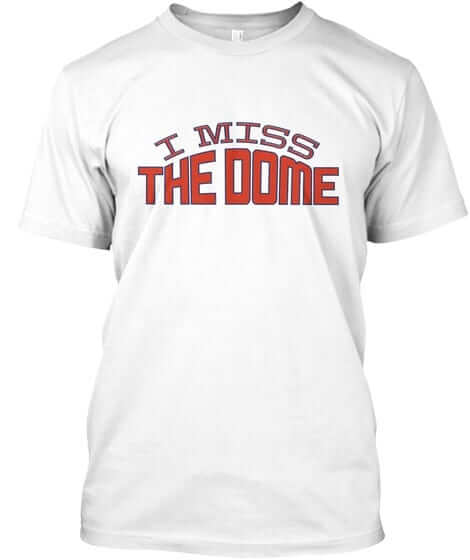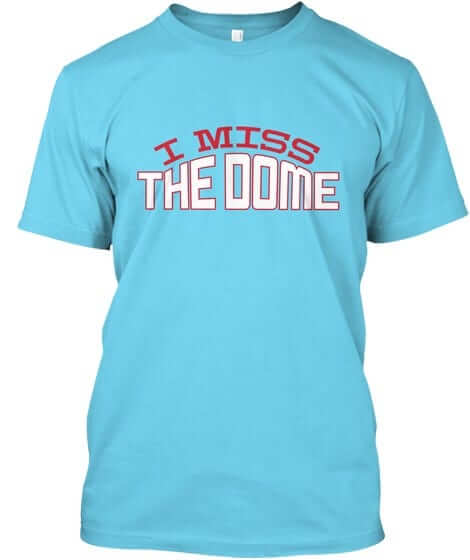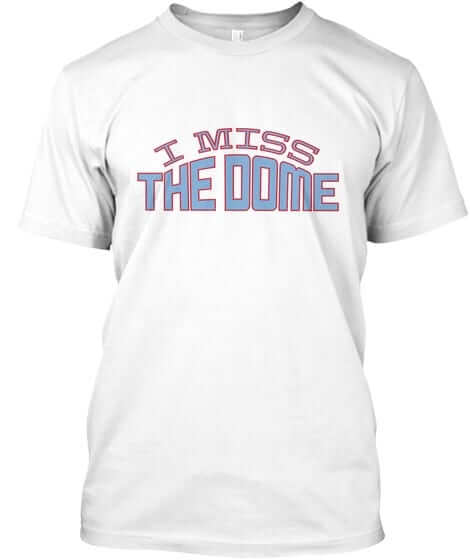 All of these designs are now available in the Naming Wrongs shop. They're also cross-listed in the Uni Watch shop, where card-carrying members can get 15% off. (If you're a member and need the discount code, send me a note and I'll hook you up.)
•  •  •  •  •
The Ticker
By Alex Hider

Baseball News: Indians P Mike Clevinger was forced to change gloves yesterday after the Angels lodged a complaint about his glove being too light-colored. Here's a good comparison (from Robert Hayes). … The Rangers will wear this patch this weekend to honor Hall of Famer Ivan Rodriguez (from TJE). … Before the Cardinals had a mascot, they had Miss Red Bird "" a Miss America-style contest that selected the team's "official hostess" for the season (thanks to all who shared). … Here are the logos for the teams in a new Argentinian baseball league (from Carlos Sánchez). … The President of the University of Northern Iowa threw out the first pitch at a recent Cedar Rapids Kernels game while wearing a softball jersey. According to Jesse Gavin, the school killed its baseball program in 2009. … The Johnson City Cardinals wore some nice-looking throwbacks last night. … The Wisconsin Timber Rattlers will wear Wisconsin Badgers-themed jerseys and give away a Sam Dekker bobblehead on "Strike Out Cancer Day" Aug. 22 (from Zachary Loesl). … Couple of notes from Japan: Rough dark blue-on-black matchup between Hokkiado Nippon Ham Fighters and Chiba Lotte Marines, and lots of color and stripes in the matchup between Hanshin Tigers and Yokohama DeNA Baystars (from Graveyard Baseball). … New baseball unis for Ohio Dominican University (from Danny Desch). … The American Legion, of all organizations, uses baseballs that are made in China (from Tris Wykes). … Padres P Buddy Baumann wore some classic-looking stirrups last night (from James Beattie). … Mets OF Yoenis Céspedes wears a lot of bling, which looks sort of ridiculous during his home run trot.

NFL News: Whoops: A store in in Michigan is selling Lions 2016 NFC North Champions gear "" of course, the Packers won the division last season (from Brinke). … The Giants will wear their Color Rush throwbacks on a Sunday "" Week 14 against the Cowboys. Here's the rest of their uniform schedule (from Phil and Devon). … It looks like a bunch of teams have received shipments of the new Schutt F7 helmet, including the Lions, Bills, and Washington (who were the only team to take the trouble to cut the striping tape as it crossed the helmet's flex panels). … Baltimore's M&T Bank Stadium has new scoreboards (from Andrew Cosentino). … The Falcons' new stadium has a display of helmets of every Georgia high school football team that has won a state championship (from James Gilbert). … Arthur Savokinas found this photo of Irving Police Department patch that includes a Cowboys helmet. Must be old, considering the Cowboys now play in Arlington. … An NFL news Twitter account shared a photo of Robert Griffin III wearing an old Browns jersey "" a style he never wore (from Ryan Getty). … Spotted at a London rugby bar: This strange Junior Seau Chargers jersey (from Arash Markazi").

College Football News: San José State is now being outfitted by Adidas, which has saddled the team with the dreaded tire tread pattern. Also, note the accent over the "e" — much more prominent than on their previous jersey (from Carl). … North Dakota State is installing new field turf. Interesting to see those blank boxes on the field, which is presumably where the yard numbers will be placed (from Brett Baker). … Wisconsin seniors donned throwback uniforms for the team schedule poster in honor of Camp Randall Stadium's 100th Anniversary. … Looks like Purdue Pete left his hammer in Chicago during Big Ten media days (from Erik Spoonmore). … USF is among the teams that will be using the Schutt F7 this year (from Michael Princip). … Here's a ranking of the Pac 12's best unis (from Phil). … Remember this new logo the UNLV recently unveiled? Vegas reporter Ed Graney says they've apparently scrapped it already.

Hockey News: The Lightning are soliciting fan input on a new alternate jersey for 2018-19. … The Predators now have an extensive uniform and logo history page on their website. … On display at a Toronto museum: This "scalloped" Maple Leafs chest logo "" a design that was never implemented (from Devlin Ralph). … Not a great photo, but it appears that Providence College's red line will now feature the team's "Skating Friar" logo (from Dan Herr). … Scott M. Trembly found a Mack Truck hockey jersey at the company's headquarters store. Looks like they were inspired by the Golden Knights. … What's worse than jersey ads? Jersey ads that push the Captain's "C" into the wrong spot (from Rovitz).

NBA News: You probably won't catch Paul shooting at this purple hoop (from Tom Konecny). … This guy in Australia probably getting a little ahead of himself (from B.T. Knope). … New court apparently in the works for the Pacers.

Soccer News: We may have seen this before, but here is Manchester City's new away kit (from Wayne Muller). … This graphic shows every away and third jersey that Real Madrid has worn in its history (from Josh Hinton). … A kid in Edmonton used colored markers to draw a soccer kit and sent it to Adidas. The company surprised him by turning his concept into an actual jersey (from Phil).

Grab Bag: For years, a Utah state flag hung in the Kennedy Center in Washington with a typo "" until a Capitol staffer recently noticed (from John Muir). … Whataburger, a burger chain with locations primarily in the southwest, is giving away these custom Nike sneakers for the #WhataThoseContest "" a social media marketing campaign (from @hofhheinz). … New uniforms for France's women's rugby team (from Josh Gardner).