I realize anything involving President Trump tends to make people lose their minds, but I'm going to risk it anyway, because a few days ago I saw a really interesting cartoon, and I want to talk about it today.
The cartoon, which is about the California wildfires, was created by Ed Hall, an established political cartoonist whose work has appeared in major newspapers and magazines for many years. The notable thing about this one is that it's based on a famous sports photo (click to enlarge):
I'm not interested in the cartoon's message, at least for our purposes here. What interests me is this: As soon as I saw the cartoon, I recognized that it was based on Sports Illustrated photographer Neil Leifer's famous 1965 shot of Muhammad Ali standing over Sonny Liston during the first round of their second heavyweight title bout. (I used that same photo at the top of my Ali obituary two and a half years ago, and Leifer himself has it front and center on his home page.)
Editorial cartoonists base things on famous or familiar imagery all the time, of course. The Leifer photo, though, is famous and familiar to certain people (like boxing fans or, uh, athletics aesthetics obsessives), but lots of other people — maybe most people — probably wouldn't get the reference. I was curious to know more about Hall's thinking on that, and also about a few other creative issues raised by the cartoon, so I emailed him and asked if I could interview him. He readily agreed. Here's how our conversation went (with some light edits for clarity and length):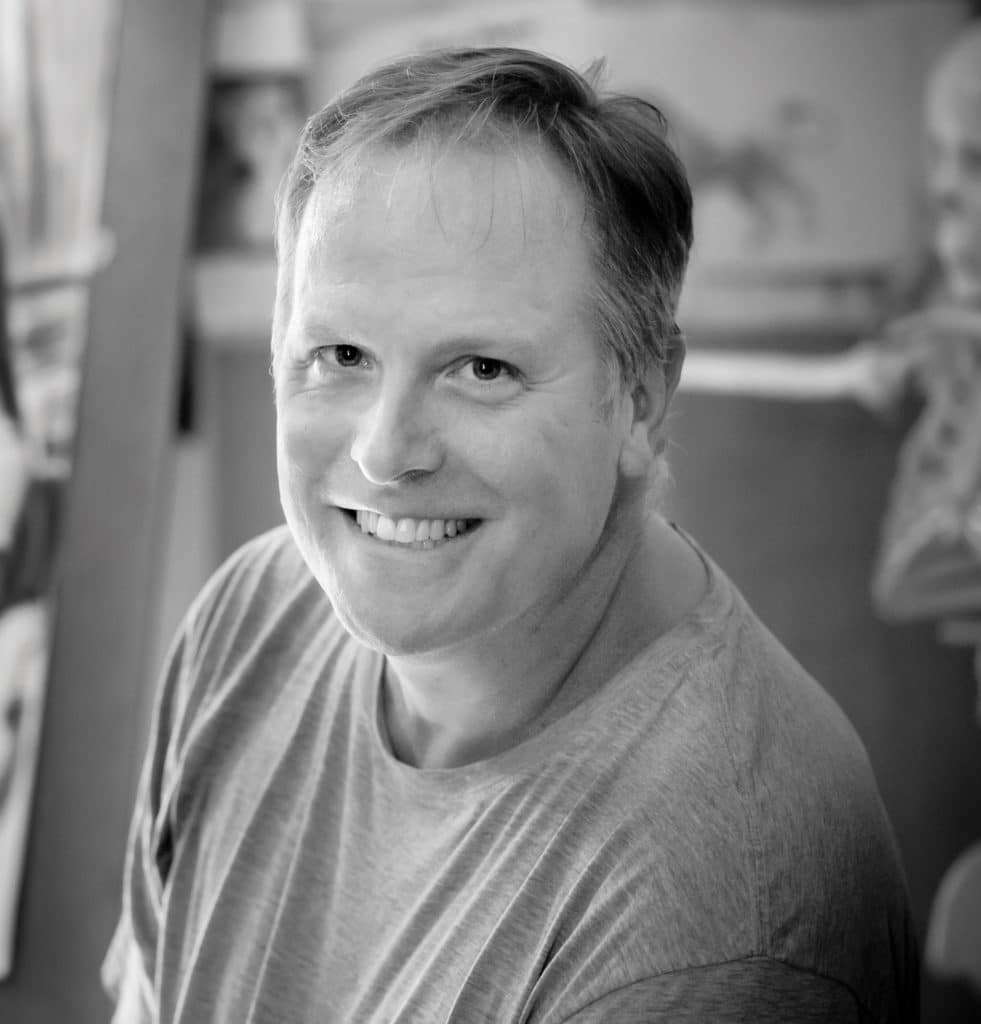 Uni Watch: First, let's get some basic info on you: How old are you, and where do you live?
Ed Hall [shown at right]: I live in Jacksonville, Florida, and I'm 56 years old.
UW: I know your work is syndicated, so which newspapers or websites might a cartoon like this one typically appear in?
EH: Any newspaper or website in North America. My work has appeared in The Washington Post, L.A. Times, New York Times, USA Today, Newsweek. I had one in Newsweek just this week, in fact.
UW: Are you a sports fan, and, more specifically, are you a boxing fan?
EH: I'm a huge college football fan. For boxing, I'd say I'm a mild fan. I go through phases — if there's a notable person who comes up through the ranks. Remember that one guy, the Prince..?
UW: Prince Naseem.
EH: Yeah, I really liked him, just the show aspect of him. So if there's a compelling figure like that, I'll get drawn in. I like those kinda guys. Ali was like that, too.
UW: Is it common for you to base a cartoon on a famous photograph, or even on a non-famous photograph?
EH: Not common, but cartoonists do use famous photographs, movies, art history references all the time. We do that because we know people will recognize an iconic image, and it's also kind of a nod — like, in this instance, it's a real nod to Neil Leifer.
UW: How did you get the idea to base this particular cartoon on that photo?


EH: I was looking for something that personified power, and the first thing that popped into my mind was that image. So I thought it captured that feeling of dominance and power, standing over what I considered to be a weak political stance.
UW: So you specifically wanted to reference a familiar image.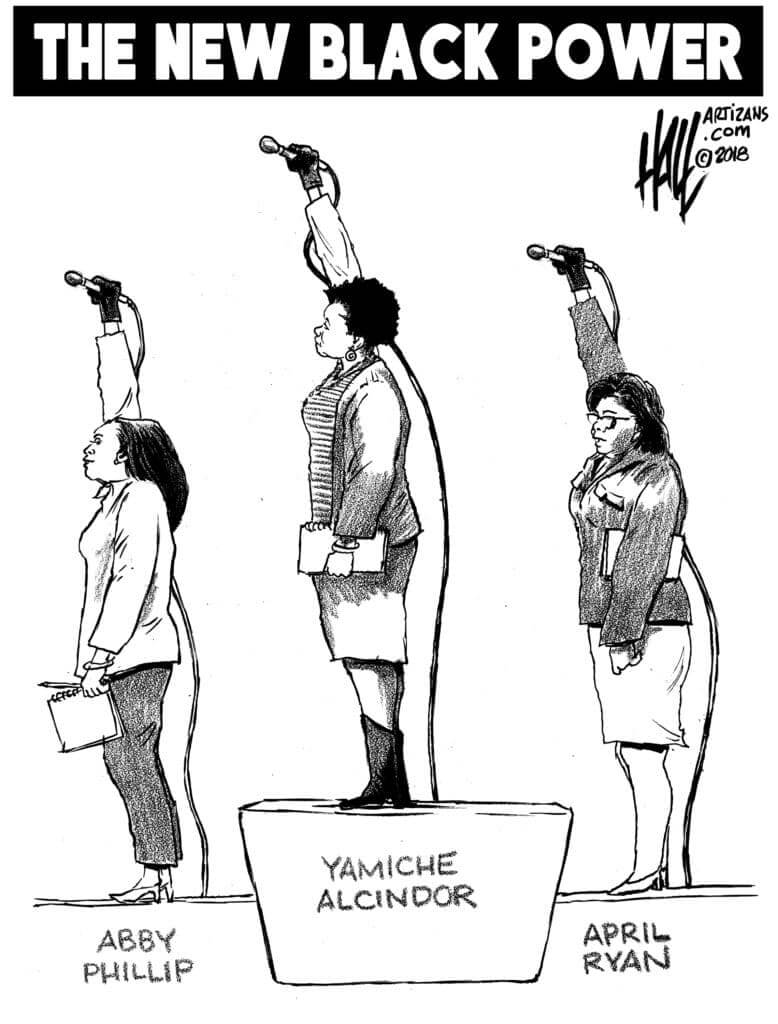 EH: Oh, yeah. It's funny we're talking about this, because this is the second reference to iconic sports imagery that I've done recently, and both of them have gone viral, with over 50,000 shares. The first one was based on the 1968 Olympics where the [American track and field athletes] had made the Black Power salute — I used that to represent the three black female broadcast journalists who had been belittled by Trump [see cartoon at right; click to enlarge]. That one went viral, and one of the women bought the original art from me.
UW: In the Ali cartoon, aside from the body positions of the two principle figures, are there any particular details of the photo that you incorporated into your cartoon? Any hidden Easter eggs?
EH: No. The pose itself is an Easter egg, in a way, because I didn't necessarily expect everyone to get the Ali/Liston reference, but a lot of people have mentioned it, so it's like an added bonus.
UW: Yeah, that's something that struck me about that photo — it's iconic and familiar to some people, especially if you care about sports or boxing, but it's not universally familiar, like if you were basing a cartoon on the Mona Lisa or something like that. It's sort of in that middle ground where some people will get it and some people won't.
EH: Right, exactly.
UW: It's interesting that you have Smokey Bear standing in for Muhammad Ali, because Ali actually taunted Sonny Liston by calling him "the Big Bear," so your cartoon sort of created a role reversal. Was that part of your intent, or were you even aware of that?
EH: No, I had no idea.
UW: About 10 years ago there was that legal controversy involving the Shepard Fairey poster for Barack Obama, which turned out to be based on an Associated Press photo, and the AP demanded compensation for the use of their photo. Are there any similar ethical or legal considerations when you base a cartoon on a photo like this, or is that just artistic license? Like, what if Neil Leifer saw your cartoon and said, "Hey, you're using my work without permission!"
EH: It's funny you should mention that, because after I posted the cartoon on Twitter, one of my Twitter followers brought that up to me, and I immediately contacted my syndicate and sent them an updated version that credits Leifer in the cartoon.
UW: Oh, like a little credit line?


EH: Yes, down by my signature. That version went out to publications through my syndicate. [Hall had posted the original version without the credit line on Twitter, and then it began circulating on social media, which is where I saw it. — PL]
UW: And when that was brought to your attention, did you think, "Oh, I should have done that"?
EH: Yes, so I immediately corrected it.
UW: What if Neil Leifer himself got in touch with you and said, "I don't like you using my photo that way"? What's your response to that as an artist?
EH: First of all, I don't think that would happen. Secondly, I think because I've changed it somewhat — it's not Ali/Liston anymore — it's more of an influence than, you know, a rip-off. And I've credited him, so I've acknowledged that influence. I think he'd be fine with it. [I tried to contact Leifer but haven't heard back from him. I'll post a follow-up if he responds. — PL]
We [political cartoonists] do this kind of thing all the time. We'll use Schulz images, like Snoopy, and we always put "With apologies to Charles Schulz" or something like that.
UW: Right, but it's tricky because, as we said, this photo is in that middle ground. It's not universal like Snoopy, so people might not know or recognize it as an obvious homage. I'm not trying to put you on the spot — I just think it's an interesting question.
EH: I think by adding that credit to the byline, I make it clear that it is an homage.
UW: Right — that changes the context from the version that I saw. But here's another question: Again, not trying to put you on the spot, but what about the ethics regarding the people being depicted? What if Muhammad Ali was still alive, and what if he said, "I don't like the message of this cartoon, and I don't want you using my likeness to promote that message"? Or, "I love President Trump, and I don't want you basically showing me punching him?"
EH: That's an interesting question, too. I think I'd have to take it on an instance-by-instance basis, if that makes any sense, and basically talk to the person if they were upset about it.
———
And there you have it. One thing that didn't occur to me until after the interview is that while the Leifer photo may indeed convey a sense of "dominance and power," as Hall put it, the blow that sent Liston to the canvas was actually the infamous "phantom punch" — an unimpressive-looking slide right that most observers (myself included) don't think could have knocked Liston down, much less knocked him out. Many people still believe Liston threw the fight. So the photo's portrait of dominance is somewhat deceptive, which just adds another wrinkle of interest to the cartoon.
Now, like I said up at the top, I know anything involving Trump tends to make people lose their minds. But if you look closely, you'll see that Hall and I didn't talk about Trump in our interview. We also didn't talk about climate change, wildfires, forest management, rakes, Finland, Russia, or the recent elections, because none of that has anything to do with Uni Watch. Instead, we talked about the cartoon being based on an important sports photo, which is right in Uni Watch's wheelhouse. Let's please stick to that topic today, shall we? Thanks.
• • • • •
• • • • •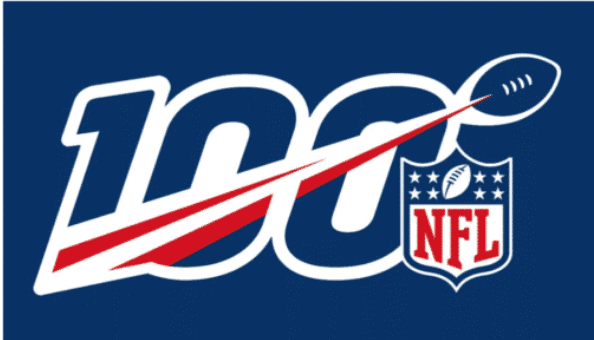 Oh, for fuck's sake: Remember that crummy NFL centennial logo that we'll all soon be sick of seeing? It will apparently be joined by a cringe-inducing made-up marketing term that we'll all soon be sick of hearing.
That word is — wait for it — Fantennial. According to a trademark application that was filed by the NFL last week, the league plans to use that word in a variety of promotional and merchandising contexts next season. (They've also applied for the same trademark in Europe.)
Man, that's gonna be insufferable. "Fantennial" — how do these people even say these things out loud with a straight face? We're close to hitting peak newspeak here. Ay-yi-yi.
(My thanks to attorney Josh Gerben, who tweeted about the trademark application yesterday, and to Michael Hayden for bringing that tweet to my attention.)
• • • • •
• • • • •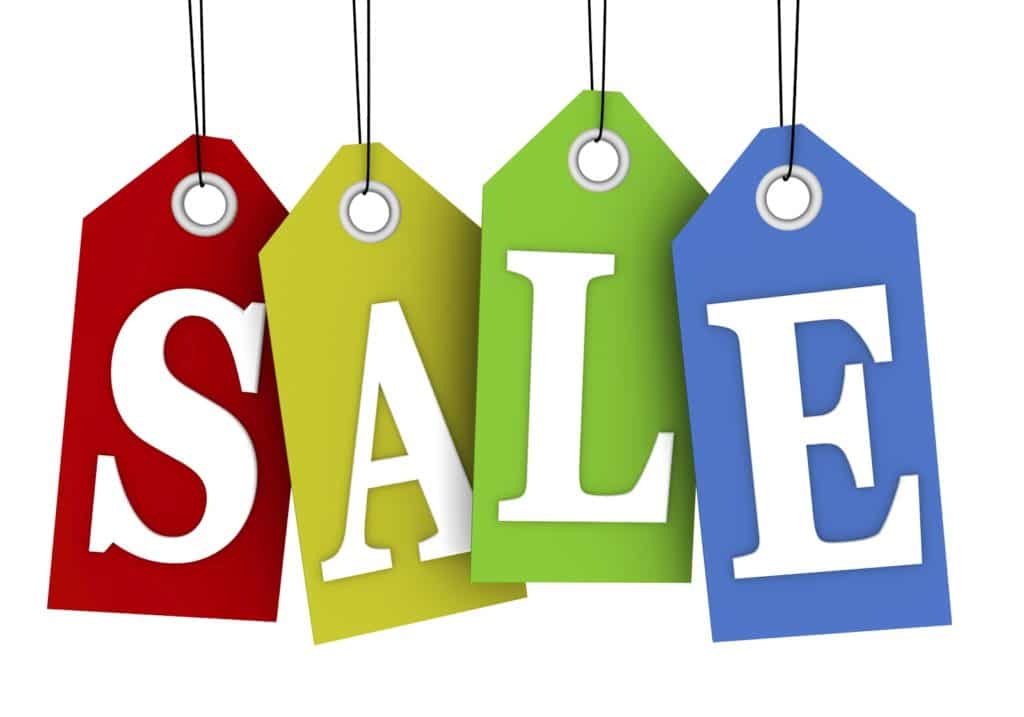 Sale reminders: There some bargains to be had over the next few days if you shop wisely:
• Our flex-fit Uni Watch alternate cap, originally priced at $29.99, is only $19.99 from now through the end of Monday. Order yours here.
• As you may have noticed, Ebbets Field Flannels is running a site-wide sale. From now through at least next Monday, you can get 25% off of anything on their site by using the checkout code CYBER18. That effectively reduces the price of our Uni Watch classic cap from $49 to $36.75.
• You can get 15% off of our StripeRite socks — and off of everything else on the American Trench website — by using the checkout code BFCM. This discount is available from today through next Monday. (Regarding, the socks, we've now sold out of the green design, which means the three-packs are no longer available either. But the blue and black designs are still available.)
You can see all of our other Uni Watch products, including a few that you may have forgotten about, on this handy one-stop-shopping page. My thanks, as always, for your consideration of our products.
• • • • •
• • • • •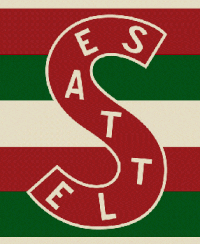 Contest reminder: In case you missed it late last week, ESPN.com's hockey editor has asked me to have a design contest for the potential new NHL franchise in Seattle. Here's the skinny:
• Your entry must include a team name, a primary logo, full home and road uniforms (jerseys, pants, socks, helmets), and an inaugural-season logo that can be worn as a patch. If you like, you can also include secondary logos, an alternate uniform, and a center ice design, but those aren't required.
• You can draw upon Seattle's rich hockey history or start from scratch. Up to you!
• Your designs can be created in any digital or analog medium (Illustrator, Photoshop, crayon, whatever) and can be submitted in any standard digital format (JPG, PDF, TIFF, etc.). You can also create a video presentation, upload it to YouTube, and submit the YouTube link as your entry.
• The files you submit should be named after yourself (PaulLukas.jpg, for example). If you're submitting multiple files, please either number them (PaulLukas1.jpg, PaulLukas2.jpg, etc.) or use some other designation (PaulLukas-homeuni.jpg, PaulLukas-logo.jpg, etc.). Files that don't follow this format will not be considered.
• In keeping with longstanding Uni Watch chromatic policy, entries with even a hint of purple will not be considered.
• Email your entry to Uni Watch HQ (note that this address is just for contest submissions — please don't use the usual Uni Watch email address). If you have more than one concept, feel free to enter as many times as you like.
• Deadline: Monday, Nov. 26, 7 p.m. ET.
The best entries will be showcased in one of my upcoming ESPN columns. Good luck!
• • • • •
• • • • •
The Ticker
By Lloyd Alaban

Baseball News: If you order merch from the newly renamed Amarillo Sod Poodles, it will come in a live cargo box, complete with a "LIVE ANIMALS" warning stamp (from Borchert Field). … Speaking of the Sod Poodles: A local firm had already trademarked "sod poodles" before the Amarillo team name was finalized, which could lead to a legal battle (from Jason Hillyer). … Holy cow indeed: Check out White Sox broadcaster Harry Caray wearing a fez (from our own Phil Hecken). … Here's some rare color footage from the 1940 World Series between the Reds and Tigers (from @POTUSBallMarker).

NFL News:  The Cowboys unveiled a new Lego sculpture of former TE Jason Witten at their practice facility (from Ignacio Salazar) … Former Broncos QB Chris Simms told Dan Patrick in a recent interview that, "it would sway me between a choice" if a school was outfitted under Nike versus another brand, such as Reebok or Adidas (from Griffin Smith). … The Broncos have a new social media avatar (from Blake Cripps).

College Football News: Virginia Tech will wear (matte) maroon/maroon/white for this Friday's matchup against archrival Virginia (from Andrew Cosentino). … Colorado will go black/white/black for their season finale at Cal on Saturday (from our own Phil Hecken). … Ohio State University Archives recently received a 1930s jersey worn by legendary Buckeye athlete and athletic director Tippy Dye (from Mark Krugman).

Pro Basketball News: The Raptors will wear their white uniforms for their next four games: two at home and two on the road (from Al Perfetto). … The Pistons will debut their City alternates on Friday against the Rockets (from our own Phil Hecken). … Also from Phil: The Celtics will debut their City unis against the Knicks tonight. … Warriors PG Stephen Curry tattooed his autograph on his tattoo artist's leg (from Mike Chamernik).

College/High School Hoops News: Creighton men's debuted new grey uniforms last night against Georgia State (from John M. Bishop). … Ole Miss men's will debut new powder blue uniforms on December 1. … Tennessee men's will be wearing these throwback beauties for tonight's game against Louisville (from Ryan Chung). … Chicago Vocational High School wore uniforms with the Chicago skyline on them. Of course, no Chi-Town skyline is complete without the Willis Sears Tower (from Michael Alper).

Soccer News: The following three entries are courtesy of Josh Hinton: The first teaser of Real Madrid's new third kit has leaked. … France F Antoine Griezmann wore boots with both the French and Uruguayan flags painted on them for last night's friendly against Uruguay. Turns out he's a really big Uruguay fan. … New boots for Senegal MF Sadio Mane. … We've seen lots of North American Big Four teams re-imagined as soccer clubs, but here's a unique twist: Rock bands reimagined into soccer clubs! Great find Jason Torban. … The Columbus Eagles of the WPSL have a new logo (from Ed Zelaski).

Grab Bag:  Longtime reader/contributor Jim Vilk is clearing out his basement and getting rid of some stuff, including an extensive collection of electric football players. … Federal authorities have come up with a novel approach to dealing with an outlaw bike club: seize their logo (NYT link) via a racketeering charge. … What do sneakerheads wear for Thanksgiving? Here's the answer (NYT link).
• • • • •
If you're traveling today for Thanksgiving, be safe. See you back here tomorrow. — Paul