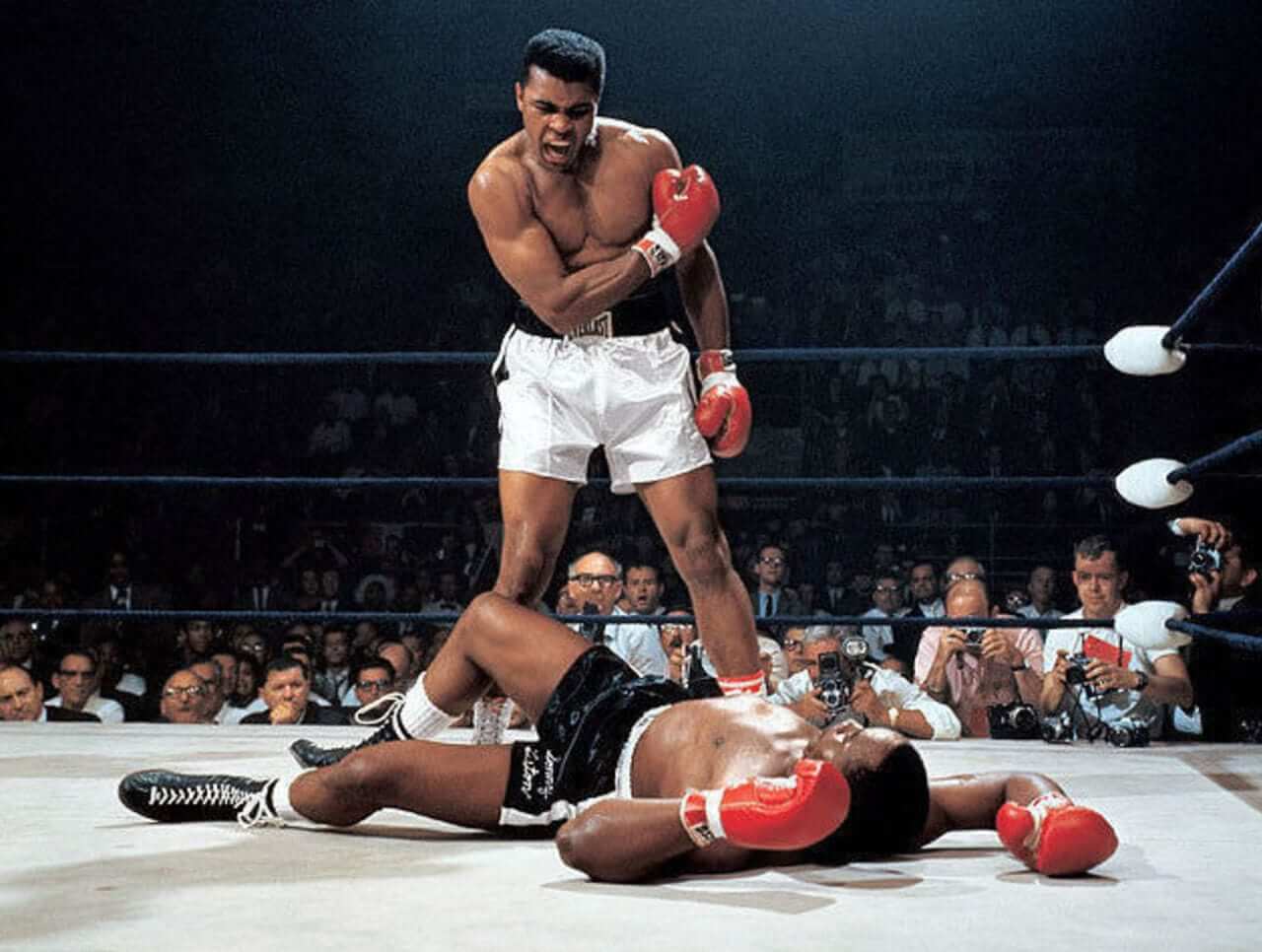 Click to enlarge
You know this photo; everybody does. It captures one of the signature moments in the career of Muhammad Ali, who died on Friday: his controversial first-round knockout of Sonny Liston in their heavyweight title rematch in May of 1965.
The photo also captures Ali's signature look: red gloves (he also sometimes wore brown), white boots (hard to see in this shot, but they're there), and, especially, the white trunks with black trim and the Everlast logo at 12 o'clock. When we think of Ali, this is how we instinctively think of him.
Or at least it's how I think of him. I'm not old enough to have witnessed the first act of Ali's career in the 1960s (the gold medal at Rome, the rise to heavyweight contention, his association with the Nation of Islam, his stunning upset of Sonny Liston to win the title, his first reign as champion, culminating in his title being stripped after his refusal to fight in Vietnam), and I have only sketchy memories of his transitional second act in the early 1970s (the comeback after the reinstatement of his boxing license, the losses to Joe Frazier and Ken Norton, the methodical dispatching of mostly lame opponents on the way to a title showdown with George Foreman). But I paid rapt attention to his third act. Of the 14 fights Ali had after reclaiming the title from Foreman in 1974, I watched six of them on live TV and caught most of the others when they were televised a week or two after the fact. He wore white trunks with black trim for all of them.
Still, there were exceptions to that rule during other parts of his career, the most notable of which was when he wore red trunks for his first bout against Joe Frazier in 1971 (the "Fight of the Century," and Ali's first professional loss). As I looked through the avalanche of Ali photos and videos that were circulating over the weekend in the wake of his death, I realized that the standard "white Everlast trunks with black trim" wasn't quite as standard as I had thought. So I decided to track what Ali wore on a fight-to-fight basis.
I didn't have time go to back through all 61 of his fights, but I started with his first fight with Liston in 1964 — the point at which he became a national and international star — and went from there. Of his 42 bouts from that point onward, I found that he wore his signature look — white trunks, black trim, Everlast logo — for 27 of them. The remaining 15 bouts are listed in this table:
[table id=29 /]
It hadn't really registered with me until now that he wore Ampro during much of his first title reign (although not exclusively — he wore the standard Everlast look for several of those mid-1960s bouts, such as his three-round demolition of Cleveland Williams in 1966).
The other interesting thing is that he was more likely to wear something other than the Everlast logo in the early '70s (when he hadn't yet regained his title) and at the very end of his career (when he had lost the title again). All of which, I suspect, means he needed money during those periods and was more willing to sell that spot on his trunks, even to something like Williams Furniture (which was really sad, right?).
There's one other thing about Ali I want to bring up. If you go back and look at that photo at the top of the page, he's yelling at Sonny Liston to get up. Right after that, however, he began dancing around Liston's fallen body and refused to go to — or remain in — a neutral corner, which led to chaos in the ring and is one of several things about the fight's outcome that remain controversial to this day.
It was, in short, a classic "Look at me!" moment, a triumph of narcissism over professionalism. Or to put it another way, it's precisely the sort of behavior many of us can't stand about so many contemporary athletes.
Ali was arguably the wellspring of that behavior in modern sports. Even as a kid, I found this aspect of him to be a turn-off — not because he was an "uppity black" or a political agitator (which is certainly why so much of the white establishment disliked him) but simply because he so often seemed to choose self-aggrandizement over dignity, hubris over humility, id over superego, all of which I found distasteful. I rooted against him in all of those fights I watched while growing up.
I later came to appreciate him on other levels, of course, and I can see now that he was a much more complicated character than I realized at that time. He clearly was a narcissist, with a constant craving for adulation and attention that often seemed childish. He also had some moral blind spots that I think have been bulldozed by the legend of his greatness. Mostly, though, I think Ali just liked to have fun, and the surest avenue to fun that he knew of was himself. It's captured perfectly in his famous "world's shortest poem": "Me? / Whee!"
There's an old Sonny Boy Williamson blues tune called "Clowning with the World," and I think that title nicely captures Ali's spirit. He was always clowning with all of us. It didn't hurt that the three signature opponents of his career — Sonny Liston, Joe Frazier, and George Foreman — were all witless dullards by comparison (this was long before Foreman's self-reinvention as a loquacious, self-effacing TV pitchman). Ali was able to run rings around them not just in the boxing ring but in the media and in the public imagination, turning them into foils while casting himself as Bugs Bunny to their Daffy Duck.
Obviously, Ali's affliction with Parkinson's was a terrible thing. But if there was a positive aspect to it, it's that the disease essentially pulled the plug on his "Look at me!" side, leaving his good deeds free to speak for themselves: the U.N. peace missions, the charity work, the hospital visits. If you've ever seen any video of Ali with children, it's clear that he loved them, and the feeling was mutual, even among kids who had no idea who he was. I always thought that spoke well of him.
And no matter what one thinks of the "Look at me!" school of sports behavior, I think even the most hardened critic would have to admit that of all the athletes who ever said, "Look at me!," Ali was the one most worth looking at. R.I.P.
•  •  •  •  •
And while we're at it…: That photo at the top of today's entry marked a signature moment for someone else besides Ali. It was a benchmark in the career of the great Neil Leifer, the photographer who took the shot. Incredibly, Leifer was only 22 years old at the time.
I love that photo — who wouldn't? — but the Leifer shot of Ali that I really love is this next one, taken from the rafters of the Astrodome during Ali's 1966 fight against Big Cat Williams (do yourself a favor and click to enlarge):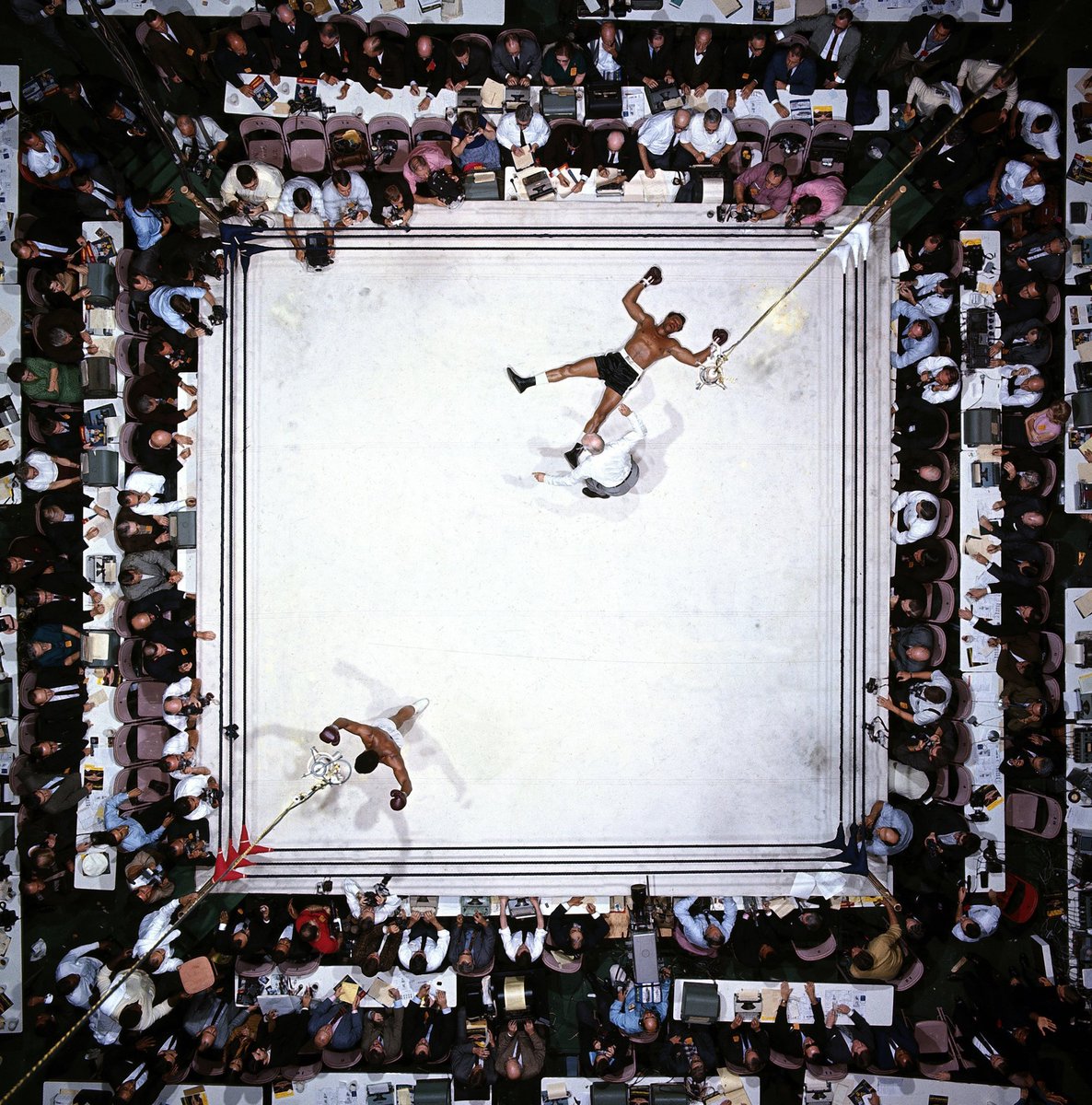 So much to like there, especially the symmetry of the fighters' raised arms. Leifer has said that it's his favorite shot, and it's reportedly the only one of his photos that he displays in his own home.
• • • • •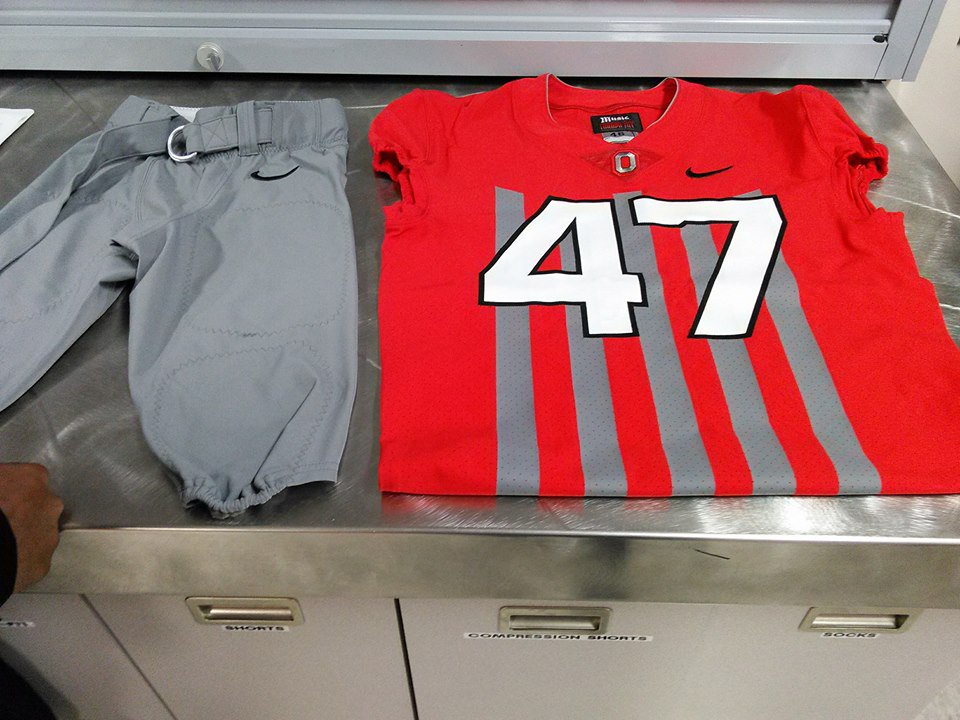 Click to enlarge
Throwing way back: Lots of buzz yesterday among Ohio State football fans regarding the photo above, which was taken by the father of a recruit during a visit to the school's training facility (further info here). It appears to be based on this OSU uniform from the late 1910s.
This could be just a shiny object to dangle in front of recruits. But Andrew Lind, who tends to get these things right, says this is indeed the Buckeyes' new alternate uniform. So there you go.
In a related item, Lind has created a new website devoted to Ohio State's uniforms — good stuff.
• • • • •
Photo by Mary Bakija; click to enlarge
Birthday gift that keeps on giving: As some of you may recall, longtime reader/pal/neighbor Marty Buccafusco gave me a gigantic pinbone steak for my birthday back in March. I promised to grill it with him when the weather and our schedules allowed. This past Saturday was that day, as Marty and his wife, Jesse, and their son, Gus, joined me and the Tugboat Captain in the backyard.
The steak didn't have much marbling (based on the butcher Marty got it from, it was probably grass-fed, which tends not to yield much marbling), but that was okay, because it had clearly been dry-aged for a long time. That dry-aged flavor — a distinct mineral funk — came through with every bite. Sooooo good (for all photos, you can click to enlarge):
As you can see, I actually overcooked it a bit, at least by my usual standards, but it was still sensational. Thanks so much for the great gift, Marty, and for helping me to extend my birthday into June — you're the best.
• • • • •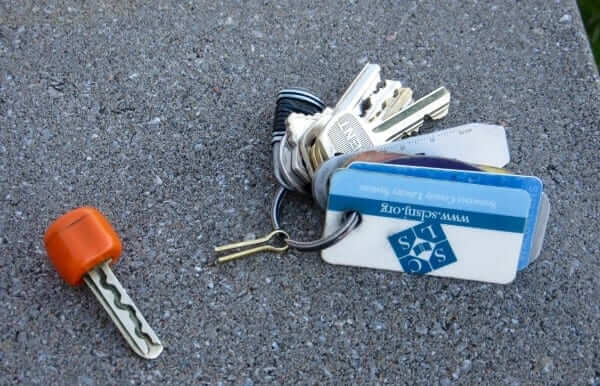 KRC update: The latest installment of Key Ring Chronicles involves a brass cotter pin that used to be attached to a gym locker key. Check it out here.
• • • • •
The Ticker
By Alex Hider

Baseball News: History was made yesterday, as two MLB teams wore pillbox hats on the same day for the first time in 40 years (from Ken King). … The Indians and Royals went blue-on-blue for the second straight day, this time with modern unis (from Jeremy). … Phil pointed out the other day that many Phillies wore red socks with darker maroon throwbacks. What's worse was the Phils gave away true maroon socks to fans during the game (from Michael Lipinski). … Another thing missing from the Phillies' throwbacks: radially-arched NOBs (from Frank McGuigan). … The Cubs' mascot may not wear pants, but he was wearing sunglasses and a custom jersey yesterday (from Dan Sagerman). … Louisville wore "Ali" on the side of their caps as a tribute to Muhammad Ali (from Tim Johnson). … SE Louisiana wore some classy unis complete with placket lettering during the College World Series regionals (from Josh Claywell). … UNC Wilmington wore some sexy teal-striped stirrups yesterday (from Brian Love). … James Jones of Rangers affiliate Round Rock Express was wearing pants with the MLB logo on the belt tunnel (from Malcolm MacMillan). … Dan Bewley passed along an interesting photo from the Oklahoma Historical Society. Are those primitive shin guards pictured in the bottom right of the photo, or is it a chest protector? Anyone have any more info? … Hmmm, why was Cubs P Jake Arrieta wearing a cap with the MiLB logo following yesterday's game? … An NYC softball team — Team Scotch — has had uniforms patterned after the Astros, Mets, and Expos (from Brian Byrne).

Hockey News: Did anyone else catch Joel Ward clipping his fingernails after scoring the tying goal in the third period of Game 3 of the Stanley Cup Finals on Saturday? I know Mike Bibby used to do this on the bench when he played in the NBA, and nail clippers are common in MLB bullpens, but is this the first time we've seen this in hockey? … Bay Area native Marshawn Lynch supported his Sharks this weekend in a custom "Beast Mode" jersey. … Awesome photo of the 1967 NHL expansion goalies (from Chris Burks).

Soccer News: Wondering what's written on the back of Ecuador's Copa America kits? Apparently, it says "forjados en la historia," which means "forged in history." (From @yellawkt.) … Not many teams in MLS have third kits, but Josh Hinton points out that the LA Galaxy have a pretty nice gold throwback. He also sends along new kits for Birmingham City and Cardiff City.

Grab Bag: Looks like a European basketball team confused Arabic and Roman numerals (from Adam Mangus). … The Philadelphia Eagles held a basketball event this weekend, and wore custom uniforms to boot. Too bad they were BFBS (from Jack Connell).