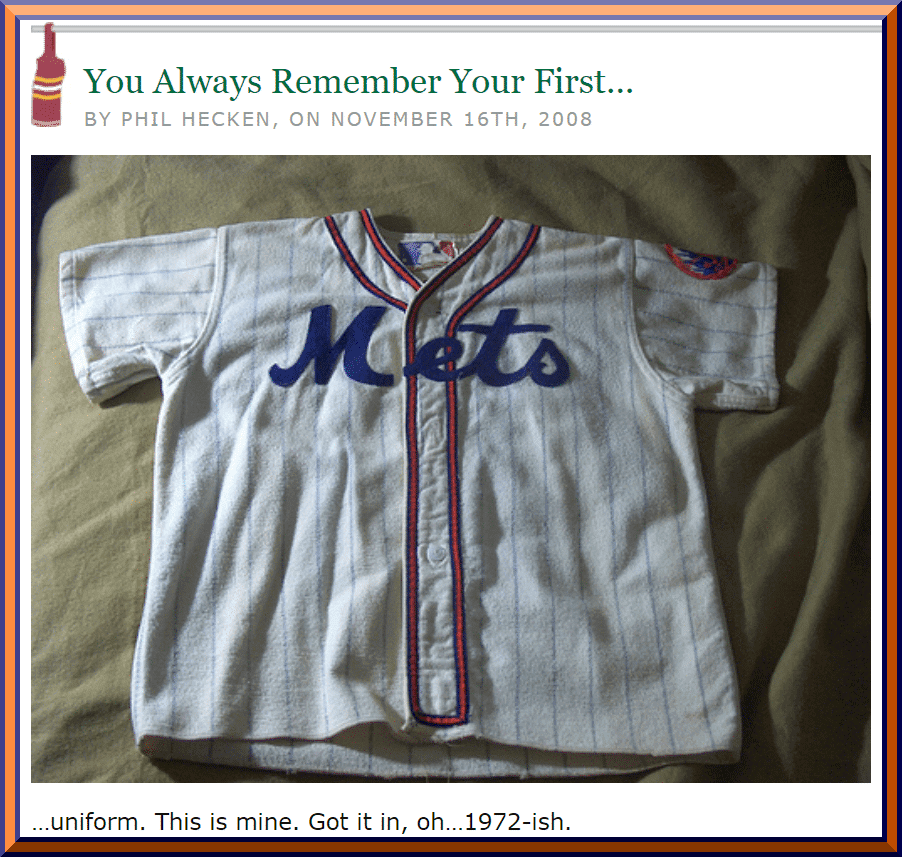 By Phil Hecken
Follow @PhilHecken

Wow. Ten years ago I began my tenure on Uni Watch as Bench Coach. It's hard to believe it's been that long. What you see above is a screenshot of my first (solo) post on this here blog. Some of you may remember it. I wanted to start out with a bang (after the changing of the guard from former BC Bryan Redemske). It's been all downhill been a great and fun ride ever since.
Paul mentioned my 10th Anny at the very end of yesterday's post, and to those who commented yesterday, thanks! I never envisioned doing this gig (one of the greatest jobs in the world, btw) for this long. Over the years, I've made countless friends on UW (many of whom I've met in real life) and I feel like I know many of you — even if we've never met or even corresponded. UW's like that. We're a community of uniform aficionados first and foremost, but we're also like a family.
Over the years, I have had tremendous help and assistance (in the form of articles, assistance with articles, advice, thoughts etc.) from too many to list here, but you know who you are. I thank you very very much for all your help (past, present and future) and love the bonds we've formed over the years. A couple names I have to mention who've provided incredible assistance to me over the years I do need to mention: Jim Vilk, Chance Michaels, Ronnie Bolton, Rick Pearson, Tim O'Brien, Graig Kriendler, Todd Radom, Robert Marshall, Catherine Ryan, Jerry Reuss, and Larry Torrez, to name a few; the entire SMUW Crew (Terry, Dennis, Joe, Rex, Ethan & Kyle); everyone who's ever sent in a submission or design, and anyone who ever suggested an article. Thank you all! I'm sure I'm forgetting some folks, but thank you as well.
And of course, my biggest thanks of all goes to Paul, who plucked a (admittedly vociferous) reader out of the crowd of UW followers and asked me if I wanted to become the next Bench Coach. I'm sure neither of us realized that, 10 years later, I'd still be doing weekends (now as Deputy Editor) and Paul is not only a rock solid, outstanding human and great boss, he's also one of my best friends. Suffice it to say I wouldn't be near the person I am now had I not met Paul. There aren't enough superlatives in the dictionary for me to properly thank him for all he's done for me.
Hey…maybe I need an anniversary logo?
You guys know a little about me: you know I love to curl, I have a love/hate relationship with the University of Oregon, my favorite baseball team is the Mets (who've given us all a lifetime worth of agita, but then again — whose team(s) haven't?), I lost my pop a few years back (and Paul wrote one of the most wonderful pieces ever memorializing him) and pup (another great piece from Paul — scroll down) and probably many other things I wish you didn't know. But after 10 years I wanted to tell you a bit more.
• • •
On a much sadder note, I have some bad personal news to impart to you all. Many of you know me and know what I do (when I'm not writing for UW), but I'm sure the vast majority do not. For the past 30+ years, I have worked for a New York State lawmaker. He is up for election in two-year cycles, so I've been with him for 16 re-elections. This past Tuesday I was expecting we'd win another (especially since our opponent ran a lackluster campaign, was not well funded, and basically didn't expect to win). Despite the political headwinds, we all felt another two-year term would be in the cards. It was not to be. My boss was defeated in a close race (they're actually still counting absentee votes and the like as I write this, but having been in this game long enough, I know we don't have the numbers).
So, after 30+ years having one employer and job (yes, different titles and responsibilities over the years — I moved up with time, but with the same boss), I will find myself shockingly, and devastatingly, out of a job come January 1st. To say that I'm still in a state of denial, shock and anger — yep, I'm about 2/5ths of the way there) — would be an understatement. I'm still waking up every morning like this was all just a bad dream. But elections have consequences, as they say, and my boss — a moderate who has always been a great legislator (what they actually get elected to do) and whose constituent service (myself and my coworkers always prided ourself on this) was second to none — fell prey to the whims of the electorate. I don't say that lightly or with any tinge of regret. My boss was not the greatest politician, but he was easily one of the best legislators there ever was.
So, in this highly-charged political climate world in which we now reside, he (and I, and my coworkers) become a casualty of that. Two of the people I have worked with for almost 30 years, another 25, and two more for 20-plus. One of those has a terminally ill husband; another a 10-year-old special needs child; we've all got some problems but we've also all stayed with this job and this employer because we believe in public service. We're a close knit group and while not quite a family, we've all been through a lot together. And now we're all about to become unemployed. We all knew going in the "risks" of working for someone whose employment was dependent upon the voter's whims every two years, but we all worked hard (as did our boss) and every election cycle, we were "rewarded" with two more years of public service. Our luck ran out this past Tuesday. I don't think any of us was prepared for it to end this way.
I have had this job since I was in college. I've never had another full-time job. I had this job through a marriage and divorce, through resulting personal chaos, through sobriety (12+ years without touching a drop and I'm doing great there, although that was tested earlier this week), through relationships, through grad school, through family deaths, through 9/11 (where I lost a cousin and several neighbors in the terrorist attacks), through recessions, through…well, pretty damn much everything. It's the one constant I've had in an ever-changing world. And now it's gone.
Time to move on to the next chapter in life, whatever that may be. I'm the ultimate free agent now. And I hope there are still teams out there who can use my services. If you're one of those, drop me a line.
Thanks for listening. Here's to the next 10 years at Uni Watch.
[adrotate group="2″]
Huskers Try The Leatherhead Look
Today, the Nebraska Cornhuskers will wear 'Memorial Tribute' alternate uniforms when they take on Illinois. They're becoming (at least) the third college team to try to affect a throwback leather helmet look with their unis.
The uniforms "pay tribute" to the end of the Great War, the peace for which was signed 100 years ago, tomorrow. According to adidas, the "'Memorial Tribute' alternate uniform was specifically inspired by the first team to play in Memorial Stadium and continues the school's age-old tradition of honoring Nebraska's veterans. The field hosted its first football game on October 20, 1923 and this will be the Huskers' 96th season at the stadium."
Here's a couple looks at the uni:
In those shots, you can see not only how the team has tried to mimic the look of the old leather helmet, but also the friction strips common to teams back in the day.
Allow me to indulge in the semantics of the corporate-speak to describe it further:
Similar to the 1923 Huskers' jerseys, the 2018 Nebraska 'Memorial Tribute' uniform features a throwback tonal, paneled front. The buff-colored pant is designed to resemble the first façade of Memorial Stadium, which was also a characteristic of the 1923 uniform. Additionally, the new alternate uniform showcases key aspects of the 85,000-seat arena, including the numbers and fonts which were inspired by the original clock in Memorial Stadium.

Four quotes are inscribed on each corner of Nebraska's stadium that communicate honor and glory of the state's fallen heroes. University of Nebraska Athletics chose to showcase the quote in the Southwest corner, which is centered above each number on the back of the jerseys. It reads, "Not the victory but the action; Not the goal but the game; In the deed the glory." The words have gone on to become famous among Husker Nation and are a motto for the team.
As with all unis, I'll need to see how these look on the field to render a true judgment, but I'm especially interested in seeing how the hat looks. (At least) two other teams have tried to mimic the leather look in the past, with (IMO) somewhat mixed results: aTm and ND. Here's how those looked on the field:
In the case with Texas A&M, those helmets looked OK to good, even from afar. Notre Dame's were barely noticeable unless you were on the field. We'll have to see how this one looks for Nebraska. I hope it's not a dud:
[adrotate group="2″]

Kreindler's Korner
I had the distinct pleasure of featuring the wonderful artwork of artist Graig Kriendler on two occasions over the summer and fall of 2017, and more recently, in August of 2018.
For those who don't wish to click the links, Graig paints baseball heroes (and regular guys) from the past, and is an immense talent.
Occasionally, I will be featuring his work on Uni Watch.
Here's today's offering (click to enlarge):
• • •
Title: "Birds Sweep Series"
Subject: Brooks Robinson, Dave McNally and Andy Etchebarren, 1966
Medium: Oil on linen
Size: 32″ x 40″

From the outset of the 1966 World Series, it was fair to say that not too many people gave the Baltimore Orioles much of a fighting chance. Though they carried the American League MVP and Triple Crown winner Frank Robinson, they had a very young pitching staff inexperienced in October baseball. Additionally, facing the premiere National League dynasty of the 1960s in the Los Angeles Dodgers, the Baltimore underdogs had quite the mountain range to surmount – stalwart hurlers Don Drysdale and Sandy Koufax being the most daunting of those peaks. Having swept the Yankees in an improbable performance in 1963 and winning a hard-fought battle against the Twins in 1965, The Dodgers proved that their two great pitchers and stellar staff could silence any line-up, as both opposing American League teams were held to an anemic total of 14 runs in eleven World Series games.

For the first two games at Chavez Ravine in Los Angeles, the Orioles took this ideal to heart, winning both contests with spirited performances from 23-year old Dave McNally in the former and 20-year old Jim Palmer in the latter. After a day off, coming home to Baltimore for the third game provided the blueprint from which they would hope to emerge victorious in the series, with the young Wally Bunker shutting out the Dodgers on a six hit performance.

Returning to the mound in Game 4 was opening game winner McNally. With only one run scored by a solo home run from World Series MVP Frank Robinson, the contest was a pitcher's duel from start to finish. In the hopes of redeeming himself for a poor Game 1 start, Dodger pitcher Don Drysdale gave up only one run; though unfortunately for Los Angeles fans, it was the only one that mattered in the 1-0 Oriole victory. Pitching brilliant ball, McNally allowed a measly four hits and no runs against the boys in blue. The lefty's performance was indicative of that of the entire Baltimore pitching staff during the postseason, as the Dodgers were held without a run for the last 33 innings of the World Series.

Pictured is the precise moment after the last out of the series – a catch by Oriole centerfielder Paul Blair – which spread jubilation across the field in Memorial Stadium, as well as all of Baltimore. With the ecstatic crowd beginning to rush their heroes to join in the celebration, Brooks Robinson is shown emphatically jumping into the arms of winning pitcher McNally, and the Bird's rookie catcher, Andy Etchebarren.

Baltimore would see their team reach the top of the American League standings every year from 1969 to 1971, capturing the title again in 1970. The Orioles talented pitching staff and smooth defense would come to define their era, the likes of which had not been seen in the American League since the New York Yankees. Certainly, this dynasty was a far cry from the woeful performances of the hapless St. Louis Browns, the team which in 1954, was embraced by Maryland when they became the Baltimore Orioles.
• • •
Thanks, Graig! You can (and should!) follow Graig on Twitter.
[adrotate group="2″]
ND Going Green
Let's play the home finale the way our fans started it.#GoIrish ☘️ #BeatSeminoles pic.twitter.com/HgrXhH7Ybr

— Notre Dame Football (@NDFootball) November 9, 2018
This item was in yesterday's ticker, but I wanted to elaborate slightly on the tweet. Much like the NFL (do we see a trend coming?), which permitted teams to pair parts of their Color Rash costumes with "regular" attire, this appears to be sort of what Notre Dame is doing here. If those jerseys look familiar, it's because they wore something very similar back in 2015 as a part of their "Shamrock Series" costumes. If you don't remember those (or you forced yourself to forget them), here's how they looked back then:
These "new" green jerseys appear to be the same shade of green, but with some slight modifications — the blue and gold shoulder piping has been removed, the "Irish" script wordmark is now scrapped, and while the number fonts look identical, they also have removed the gold/green slash/striping from the lower right of the numbers. I'm not in love with the shade of green, but removing the extraneous striping from the shoulders and numbers is an improvement. I did kinda like the "Irish" script.
Fans have always wanted the team to break out a green top (as they have periodically over the years — here's an old article from 2010 which gives a history of the green jersey wearings), so they're getting their wish.
UPDATE: After I had written this, I received an update from ND about the unis. Here's what they'll wear today:
..and their official statement:
The players and fans asked, and Notre Dame answered. This Saturday, at the request of its seniors, the Fighting Irish will wear green UA jerseys when they take on FSU, as they compete towards a berth in the College Football Playoffs.
You can read more about the Senior Day unis here.
[adrotate group="2″]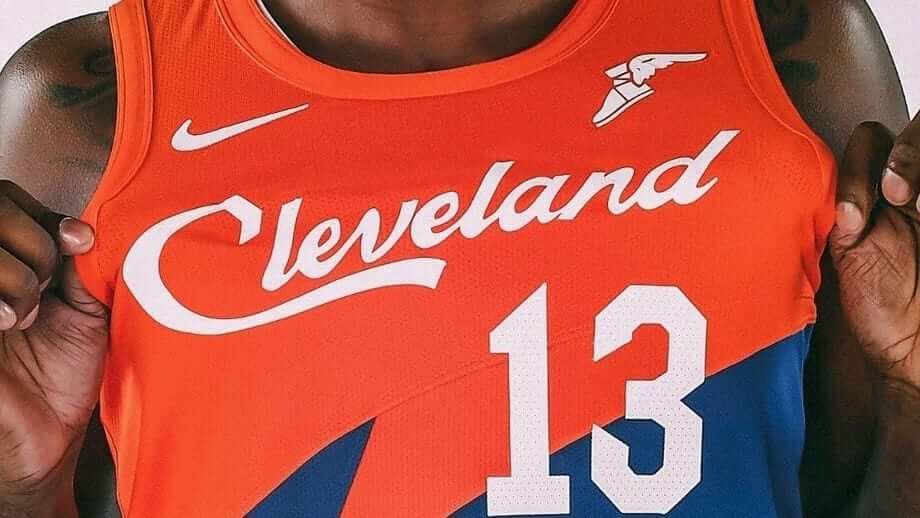 And now a few words from Paul: Hi there. In case you missed it on Friday, my take on the latest round of NBA alternate uniforms is availble here. If you want to see my thoughts on the previous two batches of uniforms that were part of this same rollout, those are avaialble here and here.
[adrotate group="2″]
Last year, reader Ed Kendrick provided uniform tracking for us for four teams: the Arizona Diamondbacks, Washington Nationals, Boston Red Sox and Baltimore Orioles. This year, he's added a fifth team, the San Francisco Giants.
While this was also a ticker item this week, I had been running Ed's updates periodically throughout this season as a sub-lede, so I'll conclude that here.
Now that the season has ended, Ed has updated all the combos for all the squads.
You can check them all out via this link.
[adrotate group="2″]
The Ticker
By Anthony Emerson

Baseball News: This tweet from the Cardinals' official Twitter account seems to tease a potential baby blue alternate uni (from Ted Frank and Kenneth Traisman). … Unfortunately, this excellent Athletic article on the minutiae of the Reds' 15 throwbacks for 2019 is paywalled, but it might be worth signing up for the free trial just to check it out (many thanks to Jason Merkel our own Alex Hider for sending this our way). … In the official team photo for the 2019 Japan Series, Tigers P Daniel Norris was clearly wearing an old cap with the smaller "D" logo. Wonder where he got that? (from Anthony Wilder Puzzuoli). …The 2019 Little League World Series logo has been released (from Nicholas Schiavo). … A Massachusetts man has won the lottery by picking the uniform numbers of five Red Sox players: Rafael Devers, Andrew Benintendi, Jackie Bradley Jr., Rick Porcello and World Series MVP Steve Pearce (from Mike Chamernik).

NFL News: The Cardinals are going with white jerseys and red pants against the Chiefs on Sunday (from Ed Kendrick). … Bear with me on this one: the online third-person-shooter video game Fortnite has partnered with the NFL to create "skins" — that is, outfits that your in-game character wears — that are the 32 teams' unis. 31 are accurate, but the Chargers skin has the bolt logo outlined in black and backwards. … A recent episode of the TV series Fresh Off the Boat featured characters watching an NFL game in 1999, wearing extremely anachronistic jerseys.

College/High School Football News: Another paywalled Athletic article, but this one has insight into Washington's conversion from Nike to Adidas (from Vinnie Donati). … Here's a rundown of Nebraska alternate unis through the years (thanks, Phil). … Mizzou is honoring the 100th anniversary of the end of World War I with special helmets featuring the medal given to Missourians who fought in that conflict (from Brendan Shaughnessy). … UConn has new helmets for their matchup against SMU (from Blaise d'Sylva). … Youngstown State is going with stars-and-stripes helmets (from Robert Hayes). … Also from Blaise: for the second year in a row, Eastern Michigan is honoring seniors by putting their uni numbers in the "E" helmet decal. … The following are all from Phil: ASU is honoring alum Pat Tillman with their Salute to Service unis. … Lehigh is going white-brown-brown today.

Hockey News: The Rochester Americans of the AHL went with military appreciation sweaters last night (from @jeffreybigmoney). … The AHL's San Diego Gulls also went with stars and stripes sweaters last night, and they'll wear them again tonight (thanks, Phil). … Michigan Tech has nameplates beneath uni numbers, a rare sight for hockey even in the more uni-adventurous NCAAH ranks (from Chris Vallette).


NBA & College Hoop News: So we all agree the City unis for the Pacers and Grizzlies look a little bit too similar, but apparently they're even too similar for the folks at the NBA's official online retailer to tell apart! (from Timothy Medeiros and @cu11enM). … GFGS unis for Georgia State (from @KingCTaylor).

Soccer News: CNN's Montez Bishara has a great piece on "Bands FC," an art project combining famous bands with famous soccer crests (from Marc Viquez). … The colors for next season's Manchester City away kit have already been leaked (from Josh Hinton). … Also from Josh: The 2018-19 FA Cup ball has been released.

Grab Bag: Mexico City is getting a new logo, and here are the finalists (from James Gilbert). … The US Army has a new camouflage pattern (from John Chapman).
[adrotate group="2″]