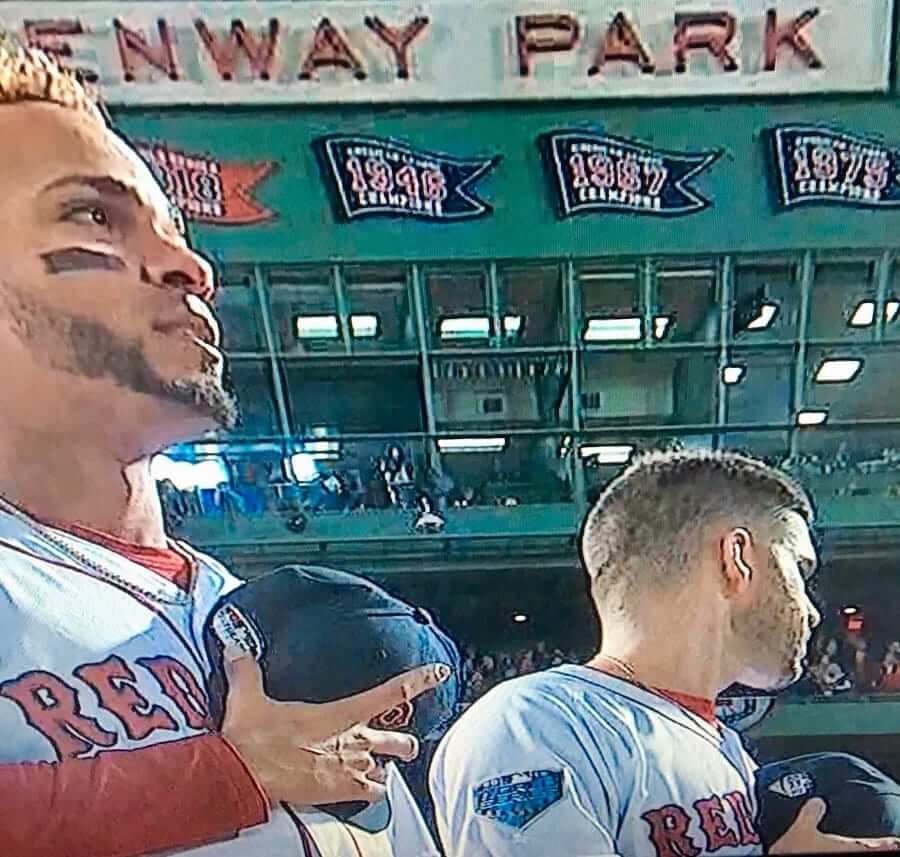 Click to enlarge
There was a uni-related anomaly in last night's World Series opener even before the game started, as Red Sox shortstop Xander Bogaerts (above left) had a cap with the Postseason patch, rather than the World Series patch (as shown on the cap of teammate J.D. Martinez, above right), during the pregame introductions.
Interestingly, Bogaerts had also been wearing a Postseason cap — but a World Series hoodie — during Monday's off-day workout. I'm not sure he switched to a properly patched World Series cap for the beginning of last night's game, but he had definitely made the switcheroo by the 7th inning.
Bogaerts cemented his status as the last night's most uni-notable player by wearing a 2013 World Series undershirt: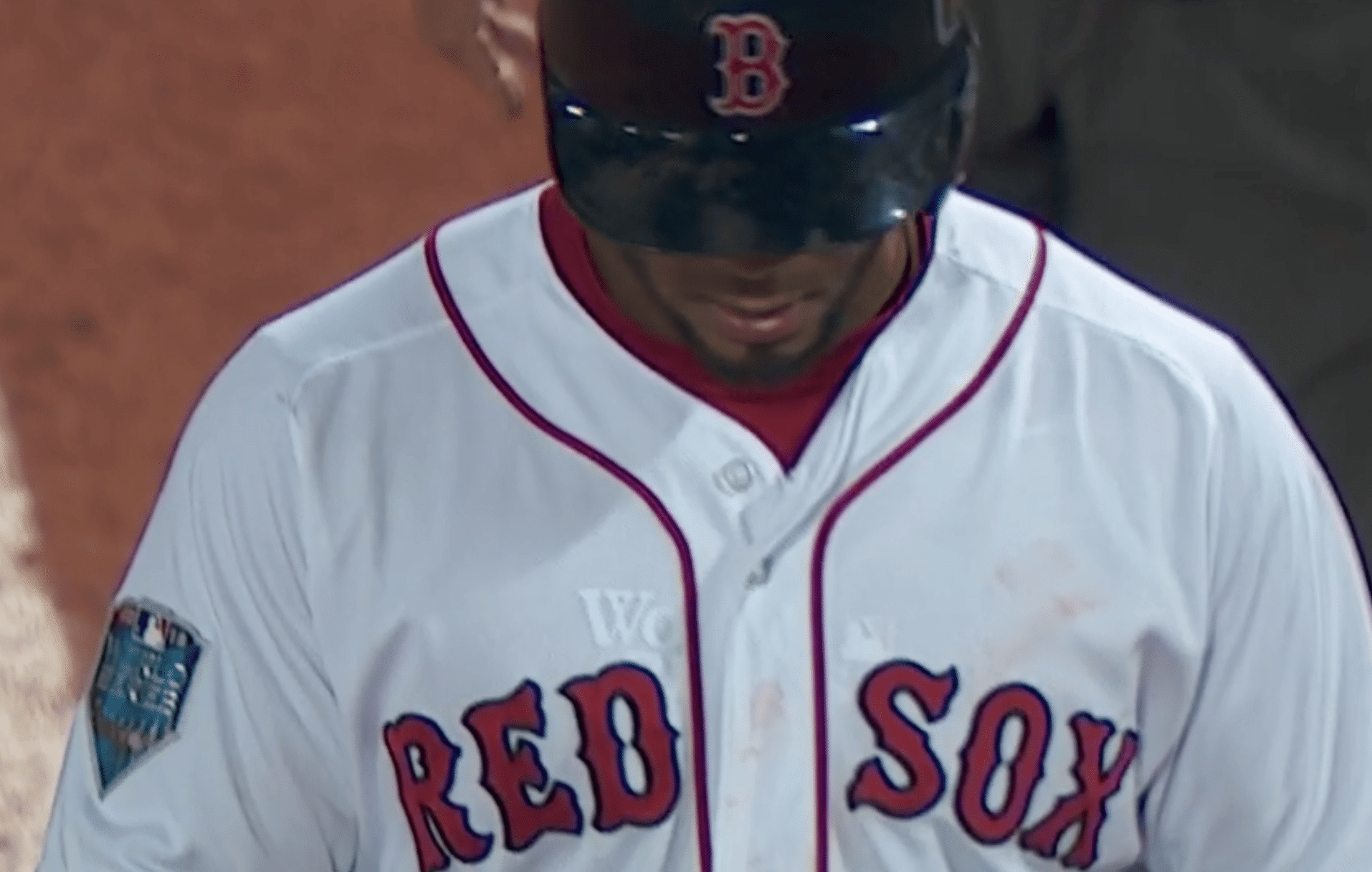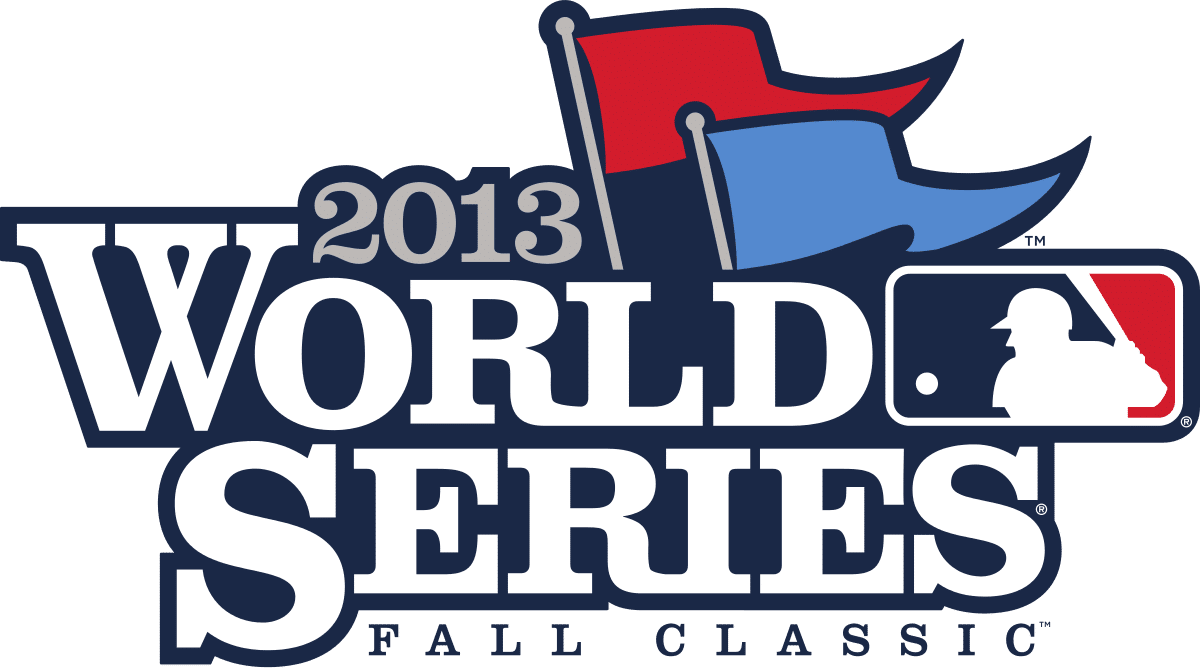 Bogaerts did play in the 2013 Series, as a 20-year-old rookie. He must have saved his undershirt for his next Fall Classic appearance!
In non-Bogaerts news from last night's game:
• The Dodgers' 60th-anniversary-in-L.A. patch, which was worn in the regular season and the playoffs, has been removed for the World Series. Here's a side-by-side comparison — NLCS with Postseason and anniversary patches on the left, World Series patch all by its lonesome on the right (click to enlarge):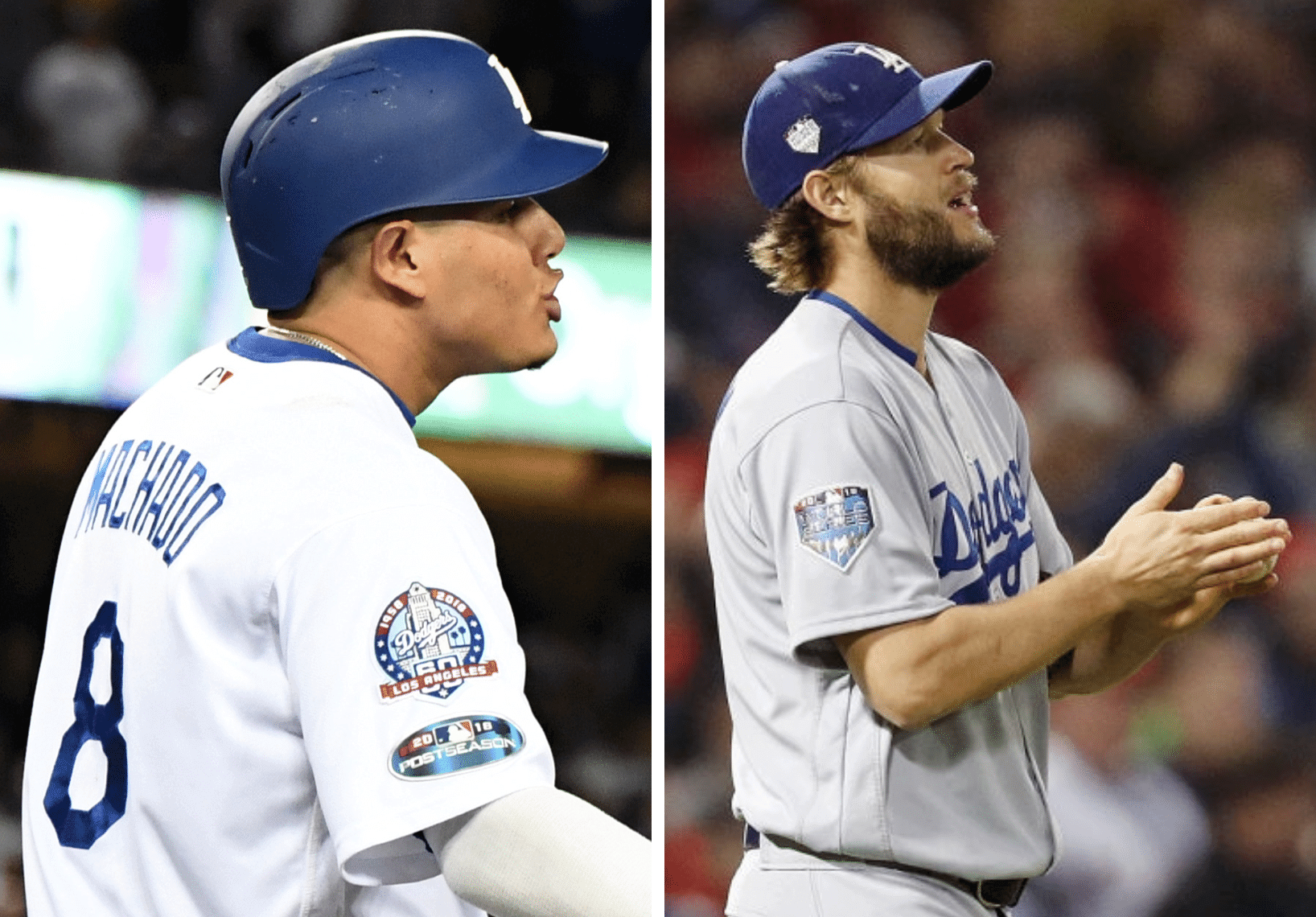 I asked Dodgers design director Ross Yoshida about this. He said, "I believe it's an MLB call. New sets of jerseys are issued. The previous set was the same set used at the end of the regular season, so they moved the anniversary patch up and applied the Postseason patch."
Wow — I'm super-surprised to hear that they didn't issue new jerseys for the playoffs. Not saying they should have, just surprised to learn that they didn't.
Meanwhile, I'm trying to think of other examples of a team-specific commemorative patch being removed for the Series. Has this happened before?
• The Red Sox wear red base-layer undershirts. But outfielder Jackie Bradley Jr. wore black, instead of red: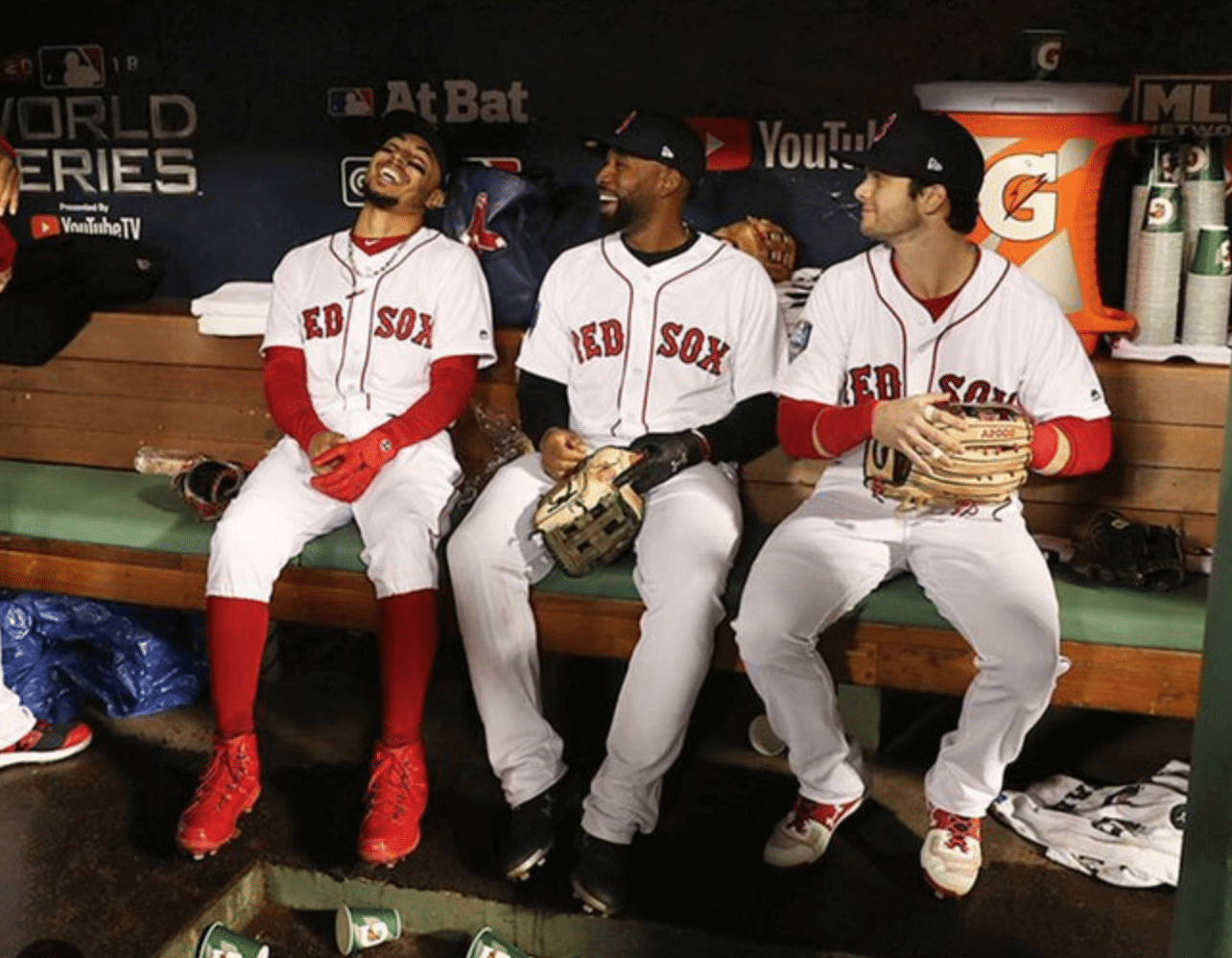 That's not uncommon for Bradley, but I was wondering if he'd continue to do it in the World Series.
• Speaking of undershirts, Dodgers pitcher Clayton Kershaw continued his usual practice of breathing Ethier: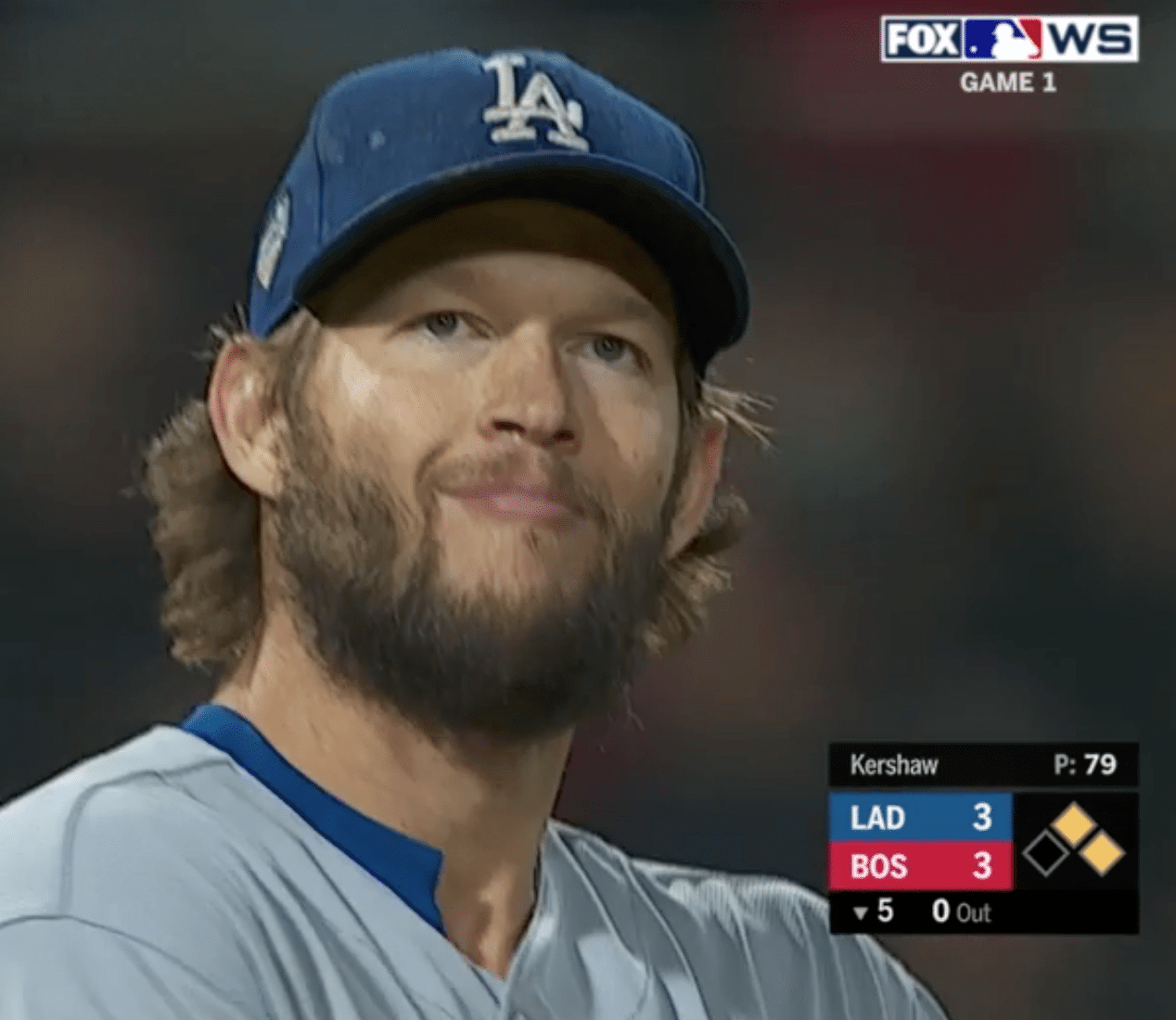 • Each team had a bespectacled pitcher work the 6th inning — Joe Kelly for the Red Sox and Julio Urías for the Dodgers (click to enlarge):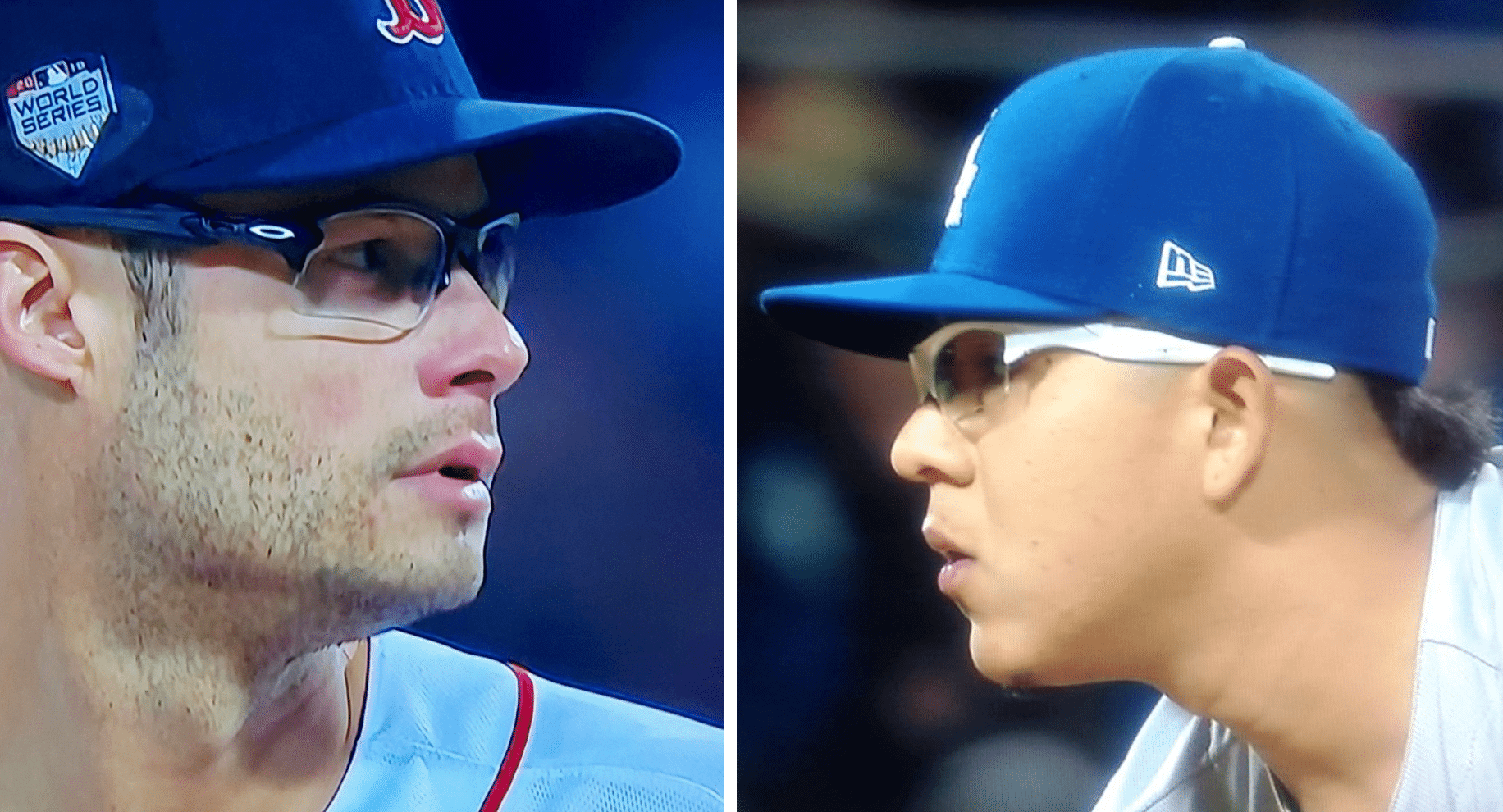 • In that screen shot of Kelly, you can clearly see the ghost of his Postseason cap patch. He must be superstitious about his headwear.
• Dodgers beat reporter Fabian Ardaya says Urías had "Nana" written on his underbrim as a shout-out to his late grandmother, who passed away after Game Six of NLCS. I couldn't find a game photo of this, but the inscription is clearly visible in this shot from Monday's off-day media session: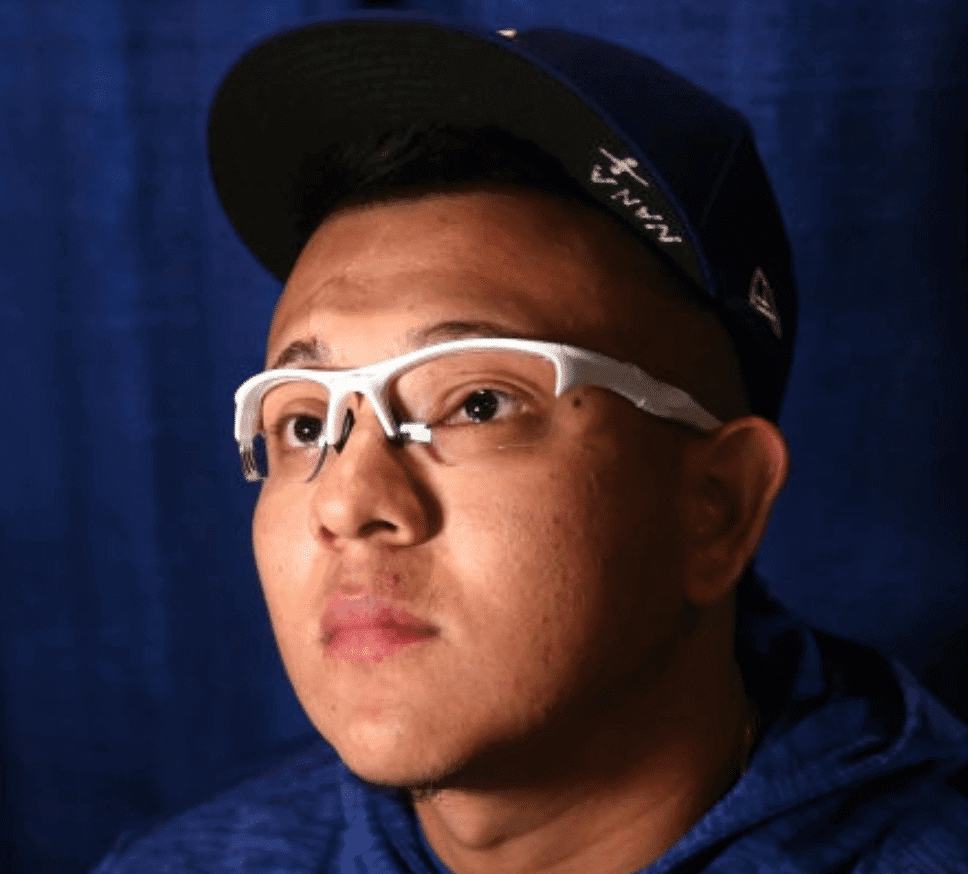 • I'd never noticed this before, but Red Sox outfielder and Tennessee native Mookie Betts has a detail from the Tennessee state flag on his batting gloves: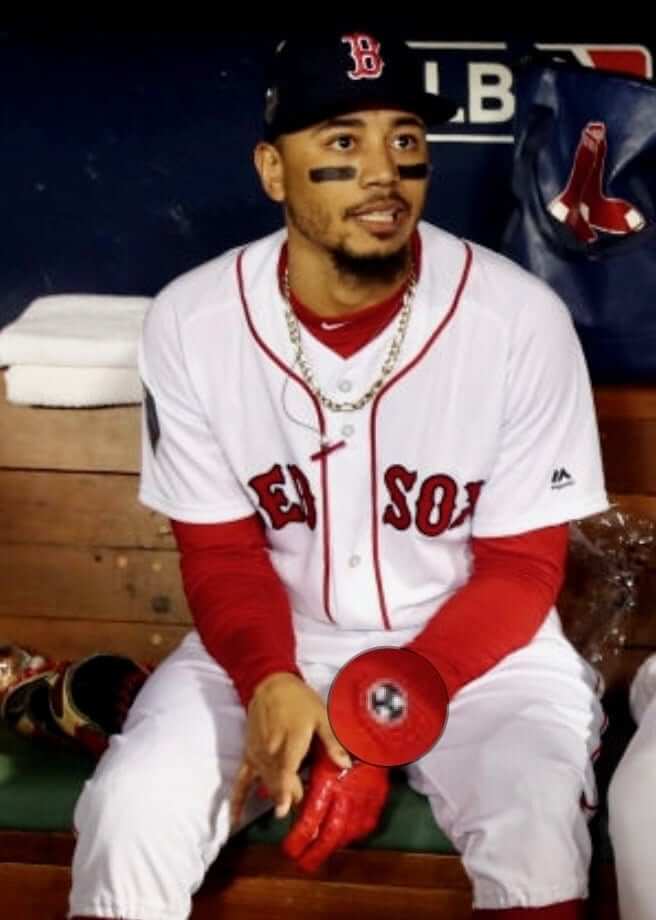 He's apparently been doing this for a while.
That's a pretty good amount of stuff for a single baseball game, right? Game Two is tonight.
(My thanks to all contributors, including Tim Cooper, Mark LaFountain, Patrick Lavery, Jordan Mayblum, @Brevity_Wit, @SenatorCalhoun, @ttriblazor, @ShyMarcus, and, especially, our own Anthony Emerson. Thanks also to Lloyd Alaban for working later than usual on Ticker duty last night so I could concentrate on the Series.)
• • • • •
[adrotate group="2″]
• • • • •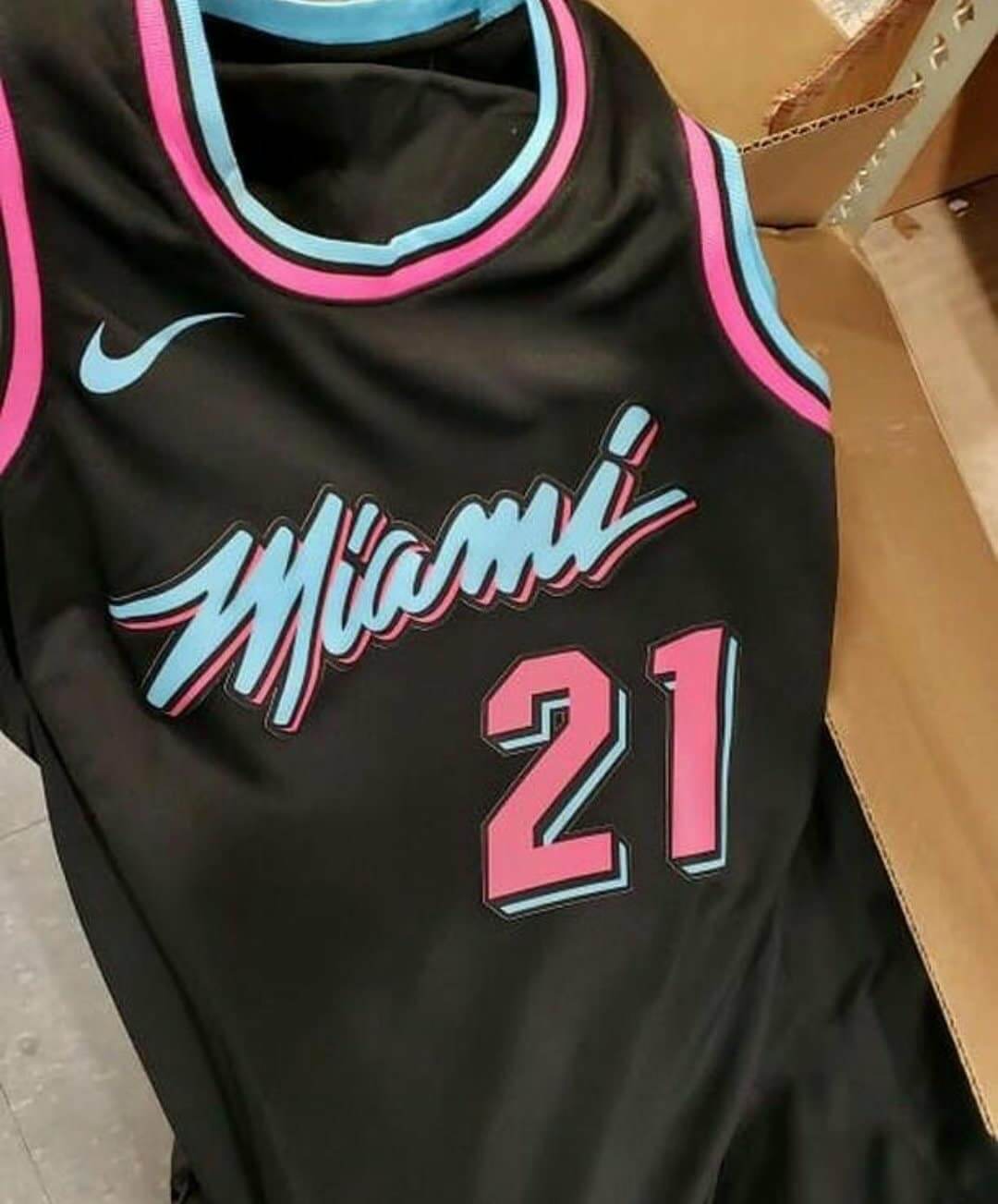 Click to enlarge
Still more NBA leaks: We now have a better look at what is apparently the Heat's upcoming City alternate. This matches the blurry leak we had seen earlier. It's not clear where this photo originated; it was brought to our attention by Mike Chamernik, who saw it on a Reddit thread.
Also: Yesterday I posted the leaked jersey for the Timberwolves' upcoming Prince-themed alternate. Now we have the matching shorts:
The @Timberwolves Prince inspired City Edition uniforms have been leaked.#uniswag pic.twitter.com/iSNQKIAY0D

— UNISWAG (@UNISWAG) October 23, 2018
Also-also: The Bulls have announced that their new alternate will be unveiled next Thursday, Nov. 1. It's not yet clear if that will be a league-wide date for unveiling all of the new alternates, or if the new designs will be rolled out on a team-by-team basis.
• • • • •
[adrotate group="2″]
• • • • •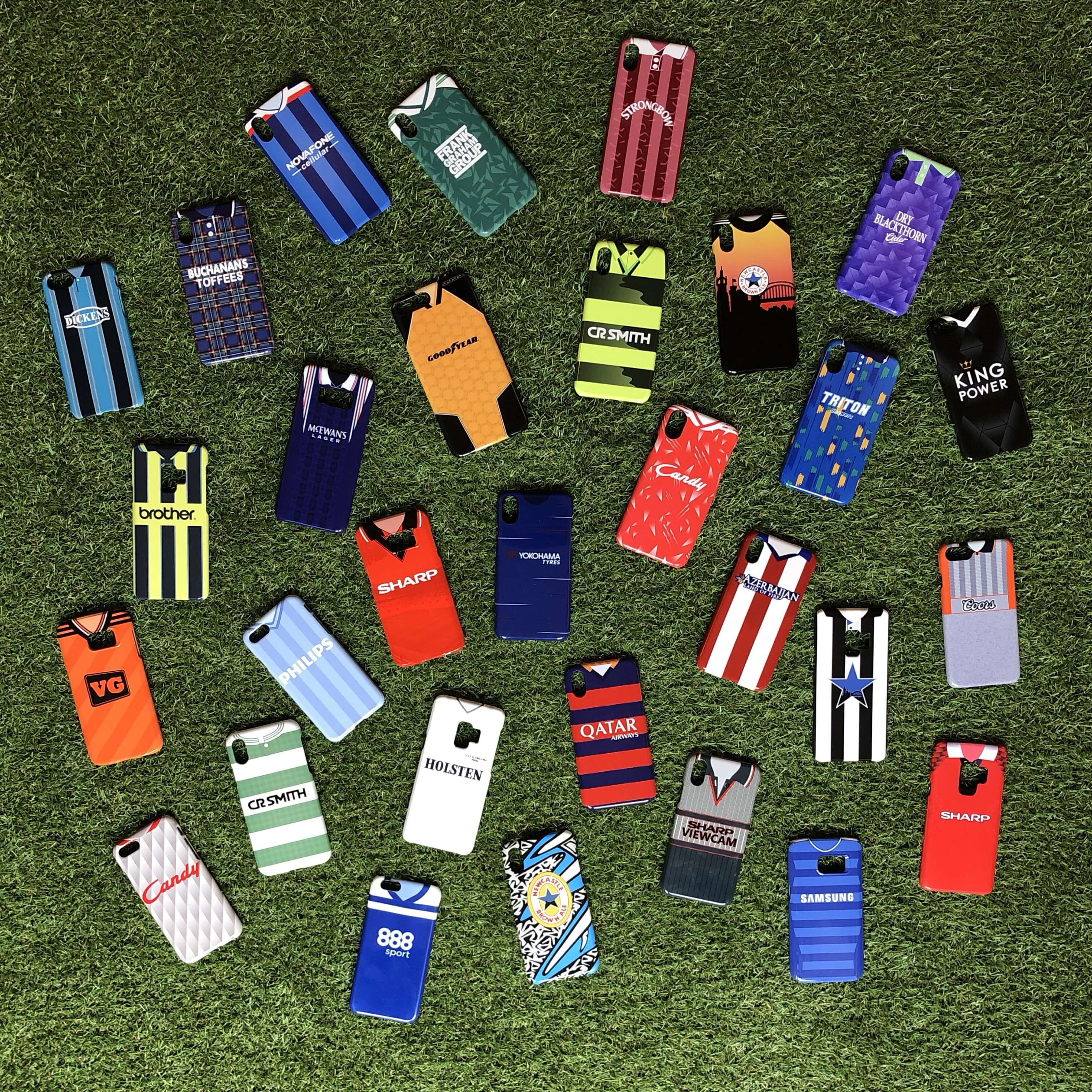 Click to enlarge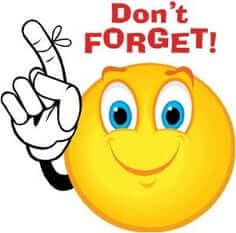 Assorted reminders: In case you've missed it over the past few days, here are some things to keep in mind:
• Our friends at Nostalgia Cases, a company that sells smartphone cases with designs based on old soccer jerseys (as shown above), are offering a 10% discount to Uni Watch readers this week. Full details here.
• I'm currently raffling off a free print from Art of Words artist Daniel Duffy. Full details here.
• We recently lowered the price of our flex-fit Uni Watch alternate cap from $29.99 to $24.99. Get yours here.
• • • • •
[adrotate group="2″]
• • • • •
The Ticker
By Lloyd Alaban

Baseball News: Speaking of the World Series: The chief of the L.A. Fire Department has authorized firefighters to wear Dodgers caps while on duty for the duration of the World Series (from Hugh C. McBride). … Niko Goutakolis observes that this Series is taking place in two ballparks that haven't sold their naming rights: Dodger Stadium and Fenway Park. … Baseball dump from @BSmile: The last time the Red Sox and what would become the Dodgers met in the Series was 1916. Here's a photo of two child mascots shaking hands at a game from that WS. … Here's the cover of the "1916 World's Series Souvenir Score Book." … Here's how the Brooklyn Robins (soon to be Brooklyn Dodgers) looked in that Series. … One more WS-related item: A program from the 1903 World Series — the very first Series — is being auctioned off next month. There are only two other known copies — one owned by the National Baseball Hall of Fame and a second copy that sold for nearly $250,000 at the 2011 Louisville Slugger Museum auction (from Samuel Heller). … Turns out the 1920 World Series program used the same template as the 1916 Series (from @History_Cle). … A very interesting read: When baseball card makers Topps and Bowman caught wind of the St. Louis Browns moving to Baltimore in 1954, the companies had to make new baseball cards for the relocated franchise. Here's how they did it (from Jeff Katz).

NFL News: Left over from Sunday: Chargers QB Philip Rivers has adopted the Riddell SpeedFlex helmet (right picture). He previously wore the now-league-banned Riddell VS4 helmet (left picture). Players who have worn the VS4 include Patriots QB Tom Brady, Saints QB Drew Brees, Chargers TE Antonio Gates, and Washington RB Adrian Peterson (from Daniel Torres). … The NFL tweeted a Madden video game clip featuring Cowboys WR Amari Cooper in his new team's uni. They didn't get his number correct, though: Cooper wore No. 89 with the Raiders and will wear No. 19 with the Cowboys, not No. 88, a number he has never worn in the NFL (from Joel Mathwig). … The Steelers will wear their 1970s throwbacks this Sunday (from Phil). … Yet another look at the fascinating job of equipment managers — this time it's Bills Director of Equipment Operations Jeff Mazurek (from several readers). … Bears logos, Blues Brothers silhouettes, and an anti-Packers bumper sticker. Can this van be any more Chicago? Side note: Check out the old-school NFL logo (from Seth Winnie). … From Pro Football Journal: Rams LB Mark Barron and S John Johnson III both decided to stick it to the Rash and wore blue hosiery against the 49ers on Sunday. … Also from Pro Football Journal: The 49ers used to have huge TV numbers. According to some of our Twitter followers, this photo is from the 1974 season. … The Chargers' equipment room apparently has a calendar that includes little helmet magnets — many of them outdated — to track the team's upcoming opponents. That comes from the 0:30 mark of this video (from Jack Barteck).

College Football News: West Virginia is going blue/blue/gold this Thursday against Baylor (from our own Phil Hecken). … Dozens of high school senior players received their All-American Bowl jerseys this week. Here's a photo of what they look like (from Josh Claywell).

Hockey News: Retired C Ron Duguay spotted rapper Fabolous wearing his jersey in an old photo (from Alan Kreit). … The Toledo Walleye of the ECHL will celebrate Marvel Super Hero Night on Nov. 2 and 3 by wearing Black Panther-themed jerseys. Fans can get their own replicas, if they're willing to shell out the big bucks (from Steve Johnston). … Missouri State is going with a Star Wars-themed sweater for their Nov. 3 matchup (from David Beerman).

Basketball News: A Michael Jordan fan got MJ's Bulls jersey tattooed across his back. Whether you like the idea of a jersey tattoo or not, you have to admit that is one well-detailed tat (from Griffin Smith). … The Texas Legends, the Mavs' D-League affiliate, have a new logo (from Ahmad K.). … New unis for Buffalo and Appalachian State.

Soccer News: Possible leak of Mexican League club Pumas' Dia de los Muertos shirt (from Ed Zelaski). … Not quite the same Puma, but here's a shot of soccer legend and Puma spokesperson Pele in a gorgeous jacket (from @Throwback_Sport).

Grab Bag: Two University of Miami students have started a petition to update school mascot Sebastian the Ibis's tobacco pipe to a vape pen (from Kary Klismet). … WWE celebrated Pinktober on Monday by handing out custom pink championship belts to some fans in attendance who are breast cancer survivors. The pink belts are based on the Raw Women's Championship and SmackDown Women's Championship belts.