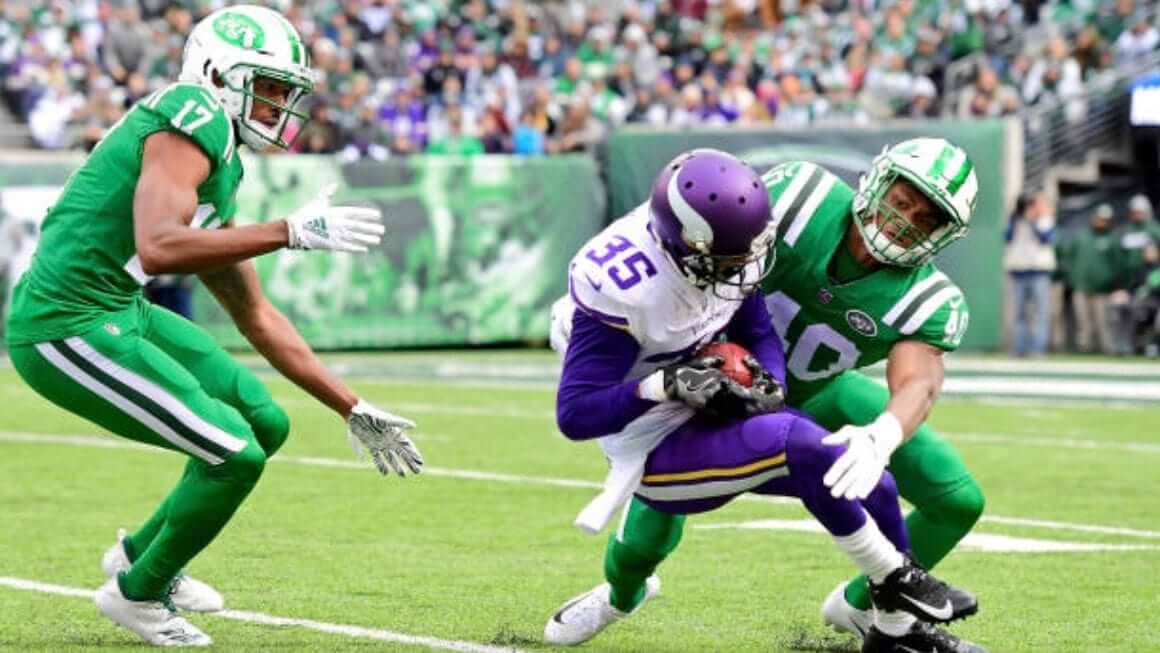 The Jets wore their mono-kelly alternates against the Vikings yesterday. They also set what I assume is an NFL record by wearing their fourth different facemask color — kelly green — in only their seventh game of the season. They had previously worn white, dark green, and grey. And hey, the season is still young!
Speaking of the Jets' helmets, yesterday they didn't bother to cut the striping tape on Riddell SpeedFlex helmets the way they usually do:
The Jets usually cut their striping tape when it crosses the flex panel gap on a Riddell SpeedFlex helmet (left). But they didn't bother to do that today. pic.twitter.com/a3B4TB7Nfx

— Paul Lukas (@UniWatch) October 21, 2018
Or at least that's what I initially thought. But after I posted that tweet, a sales rep from the helmet manufacturer Schutt got in touch and told me that the Jets' standard dark-green helmet stripes are actually painted onto the shell. So they applied yesterday's kelly striping tape over the painted stripes (which you can actually see under one of the kelly stripes). There's still no excuse for not cutting the tape as it crosses the flex panel, but it's interesting to learn that detail. The Schutt rep said the Saints' stripes are painted on as well.
In other news from around the league yesterday:
• The Jaguars wore their teal alternates — clearly their best look: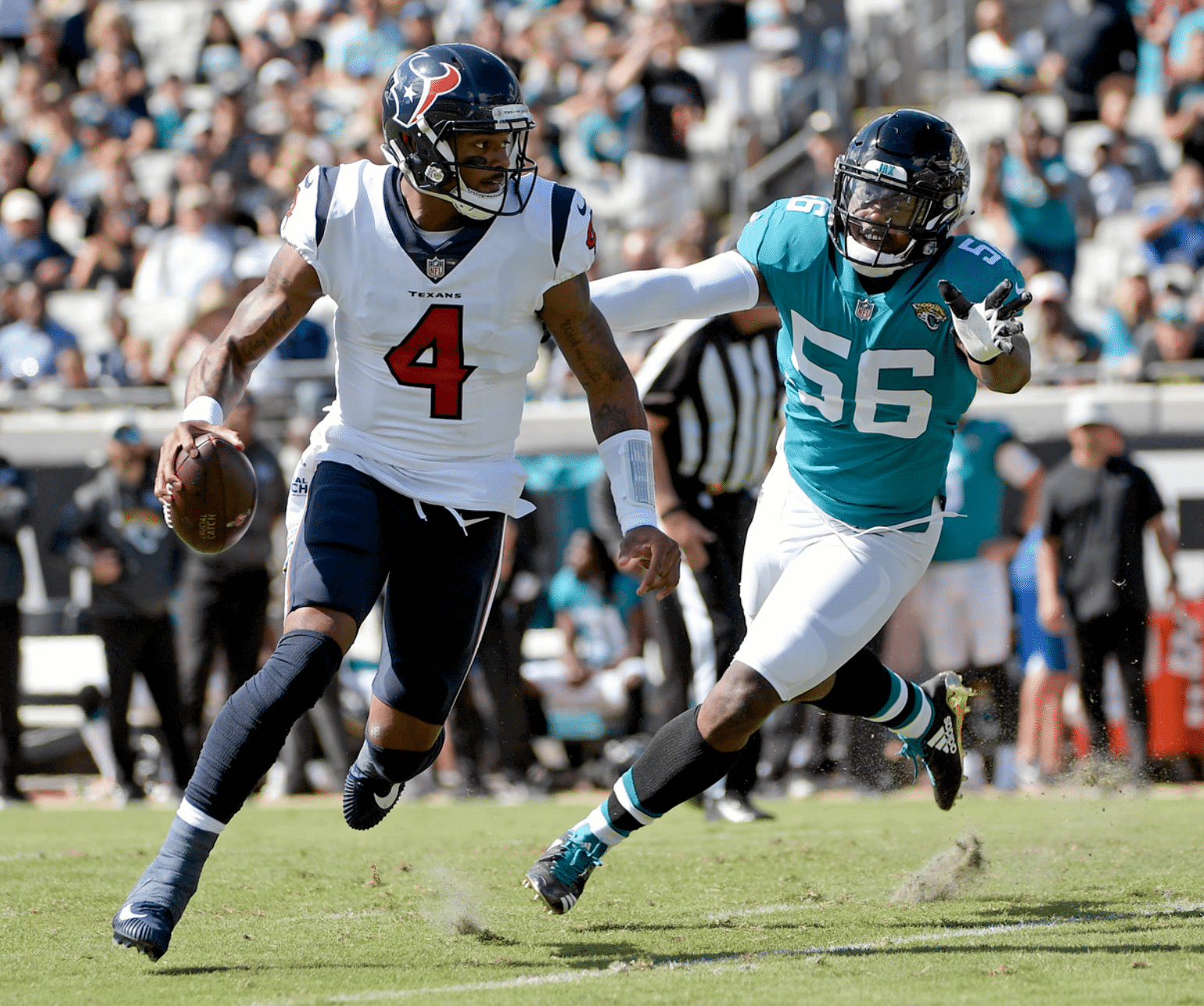 • Speaking of the Jags, defensive back Jalen Ramsey wore white socks, while everyone else wore black.
• The Panthers rolled out yet another first-time uni combo — white jerseys, black pants, and black socks (click to enlarge):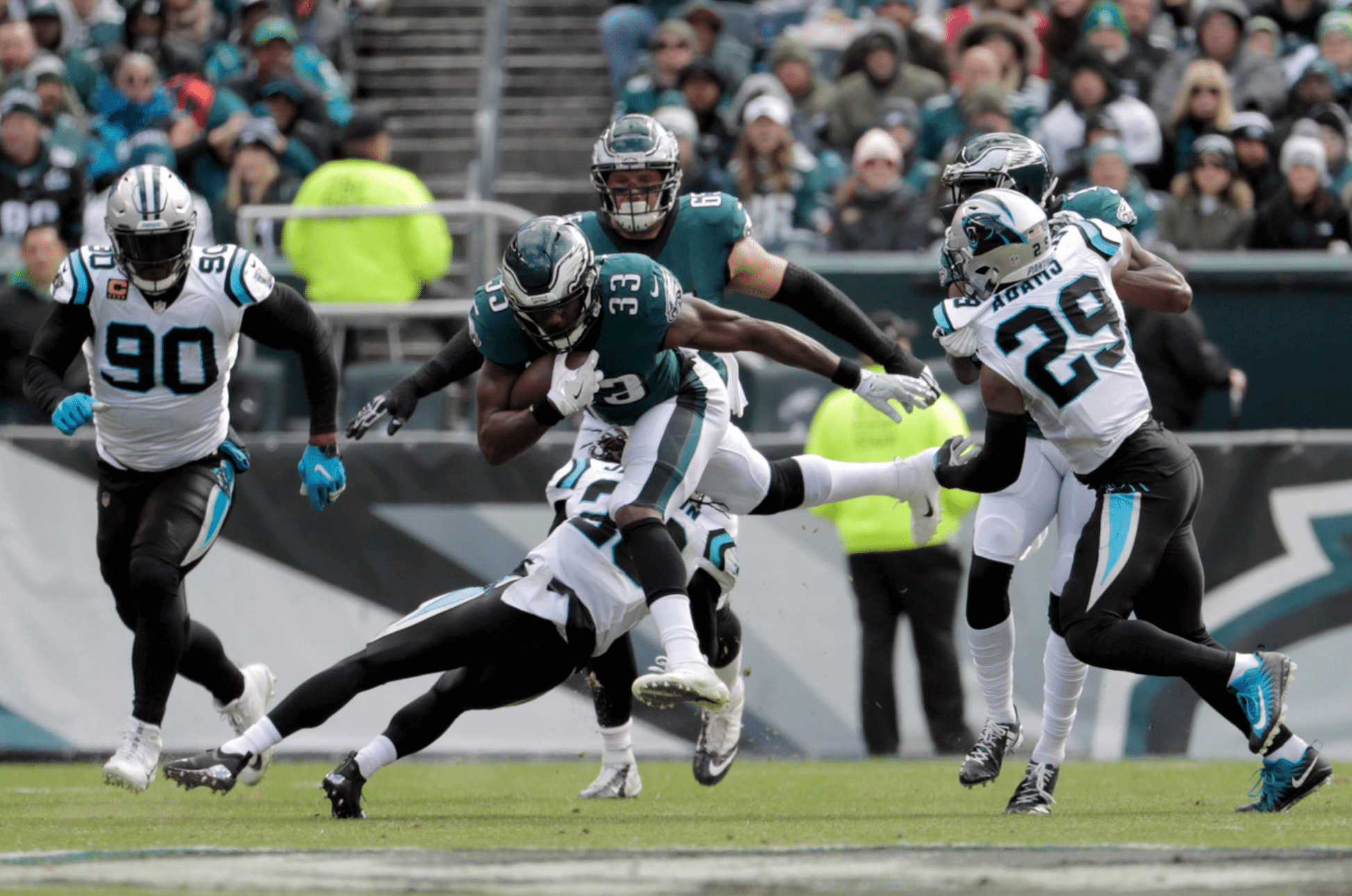 They had previously worn that same jersey/pants combo with blue socks, but not with black.
• The Chargers wore their powder blue alternates against the Titans, who wore white over navy. The result was a bit confusing:
Ayyy, @UniWatch, the Chargers look like the Titans and the Titans look like the Chargers 🤔 pic.twitter.com/lEWwm7ZGd3

— Keith Claverie (@KeithClaverie) October 21, 2018
• Mayo vs. mustard: The 49ers debuted their mono-white throwbacks against the Rams, who went mono-yellow:
.@samysosa_3 with the strip-sack, @TreYoung35 with his first takeaway! #LAvsSF pic.twitter.com/jBS94PazrX

— Los Angeles Rams (@RamsNFL) October 21, 2018
• Those Niners throwbacks, incidentally, featured their retro wordmark on the nose bumper (instead of the helmet logo, which usually appears there) and their standard wordmark on the neck bumper (click to enlarge):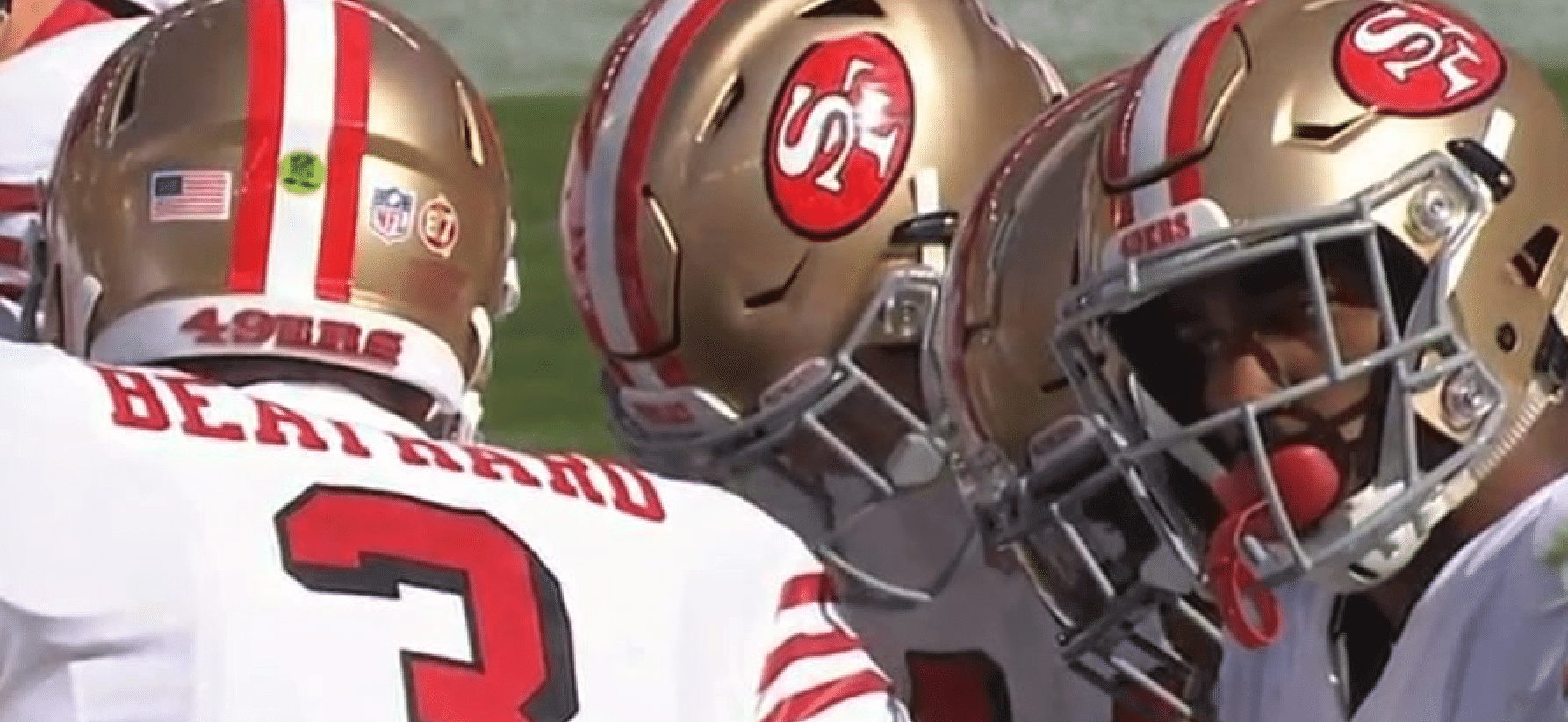 • Speaking of the Niners, they unveiled their Dwight Clark statue and also added an "87" marker in the end zone, designating the spot where Clark made The Catch in the 1982 NFC Championship Game (click to enlarge):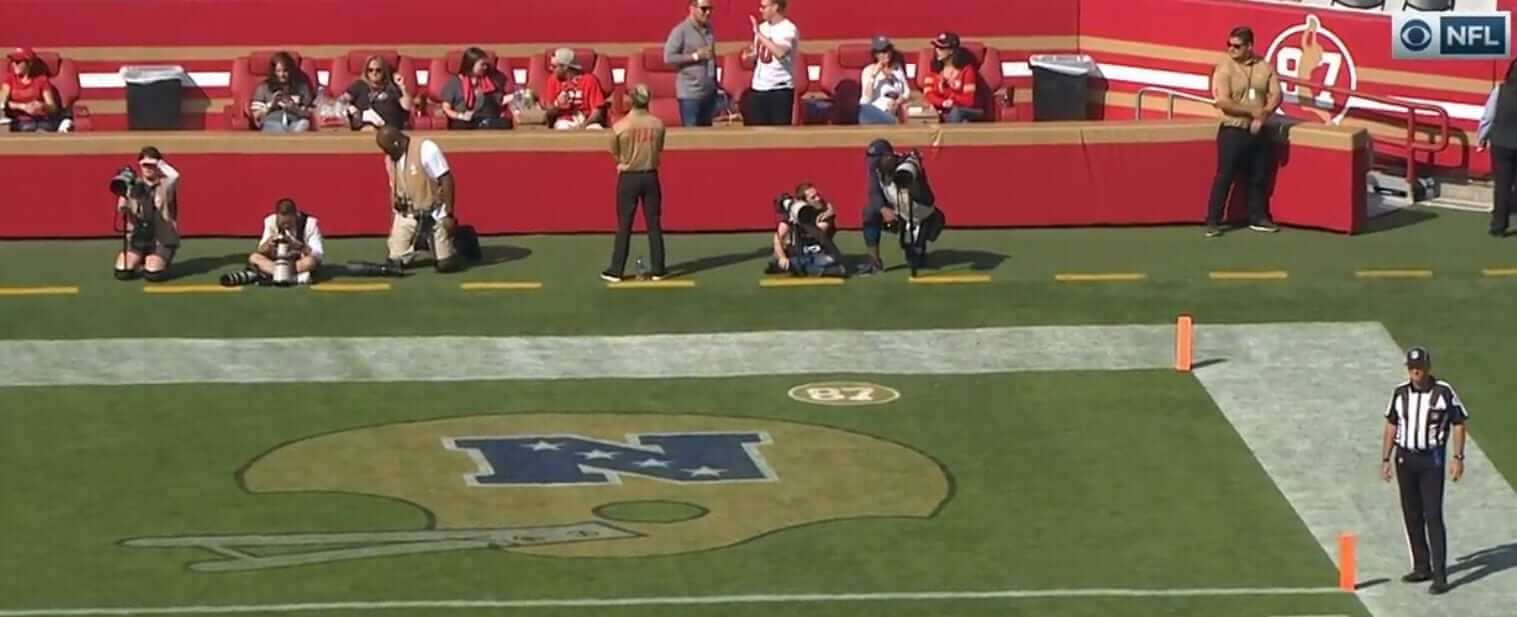 • In a truly revolting development, the Ravens went mono-purple: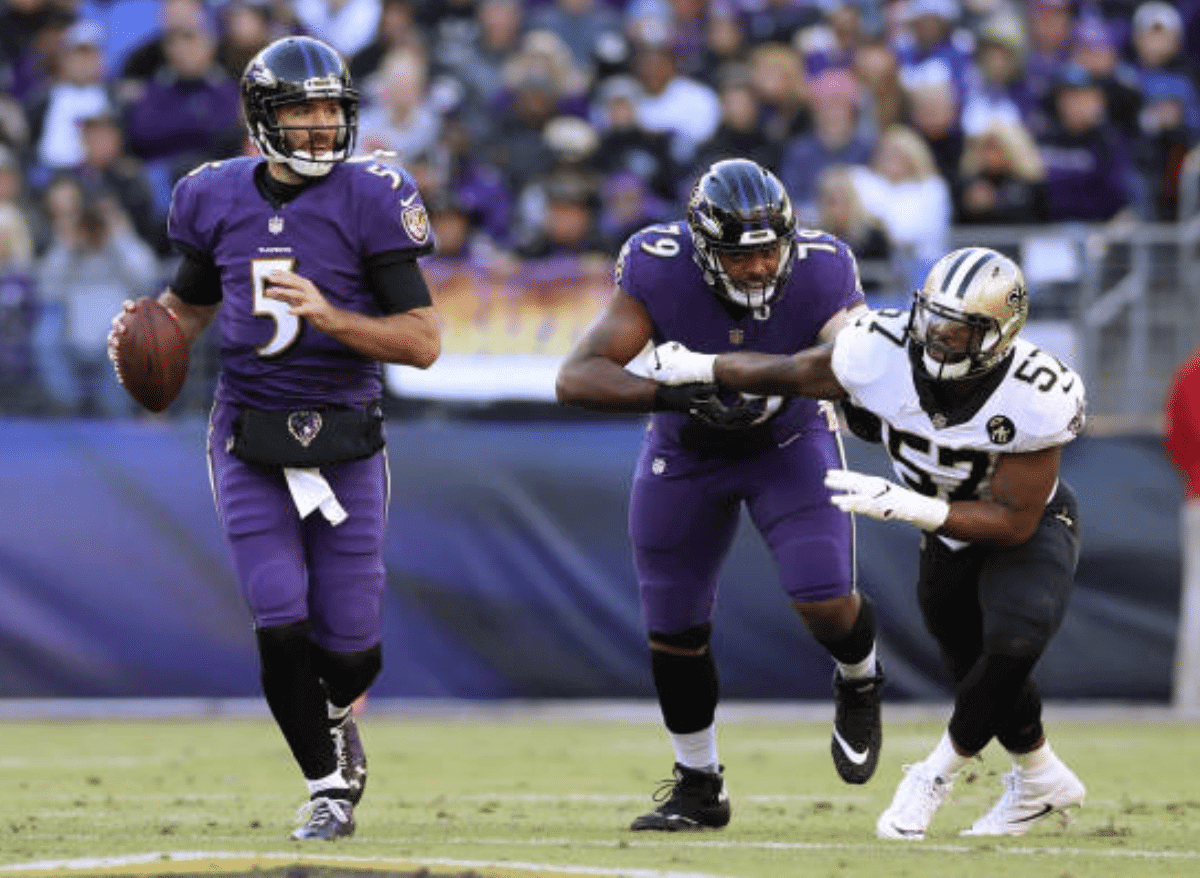 • The Chiefs went mono-red: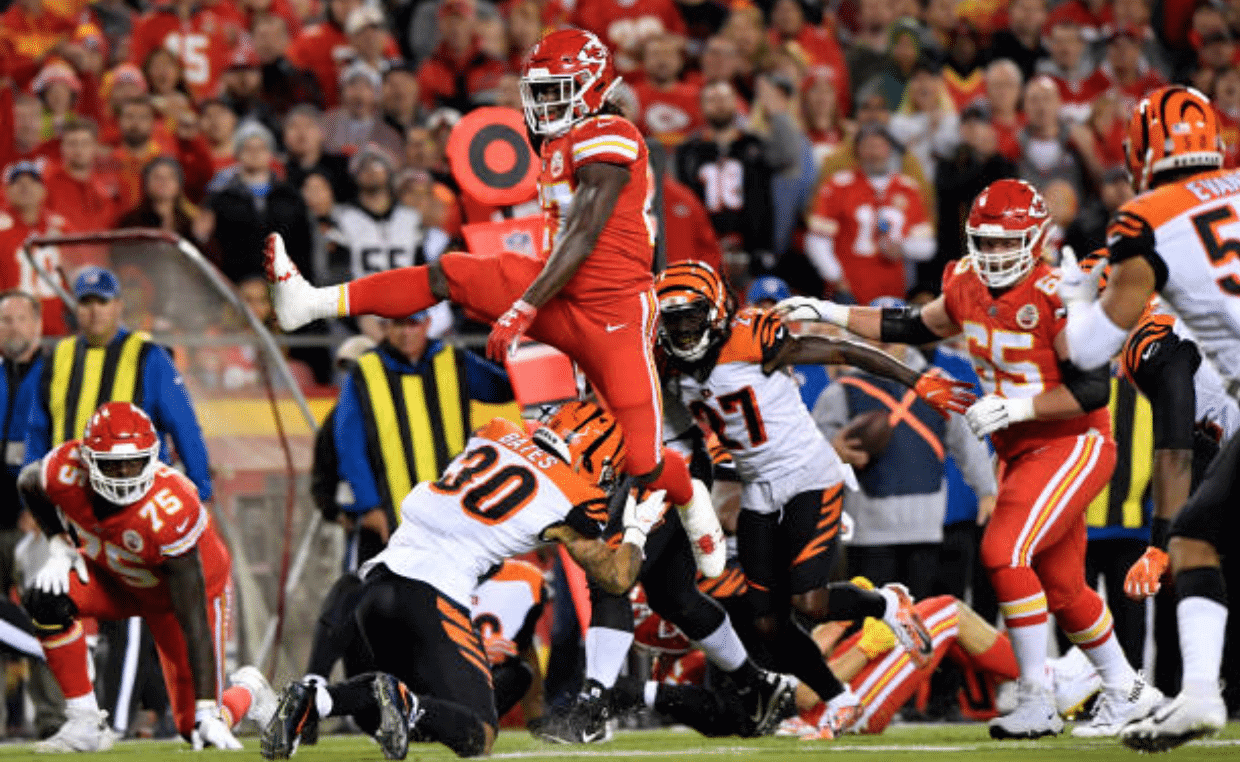 • Speaking of the Chiefs, quarterback Patrick Mahomes, who's the son of former MLB pitcher Pat Mahomes, wore his father's old Mets jersey to the postgame presser:
Mahomes on wearing the Mahomes Mets jersey:

It's my dad's Jersey. He didn't even know I was going to wear it. It's a prime time game and hopefully he likes it pic.twitter.com/hFusRJwrhG

— Brooke Pryor (@bepryor) October 22, 2018
• Patriots coach Bill Belichick wore an upside-down headband:
Bill Belichick has headband issues @UniWatch @PhilHecken #Bears pic.twitter.com/H3J8MDUwGX

— MBDChicago (@MBDChicago) October 21, 2018
• Four teams wore white at home: the aforementioned 49ers plus the Dolphins, Bucs, and Washington.
(My thanks to all contributors, including Gabe Cornwall, Mike Chamernik, and our own John Ekdahl and Brinke Guthrie.)
• • • • •
[adrotate group="2″]
• • • • •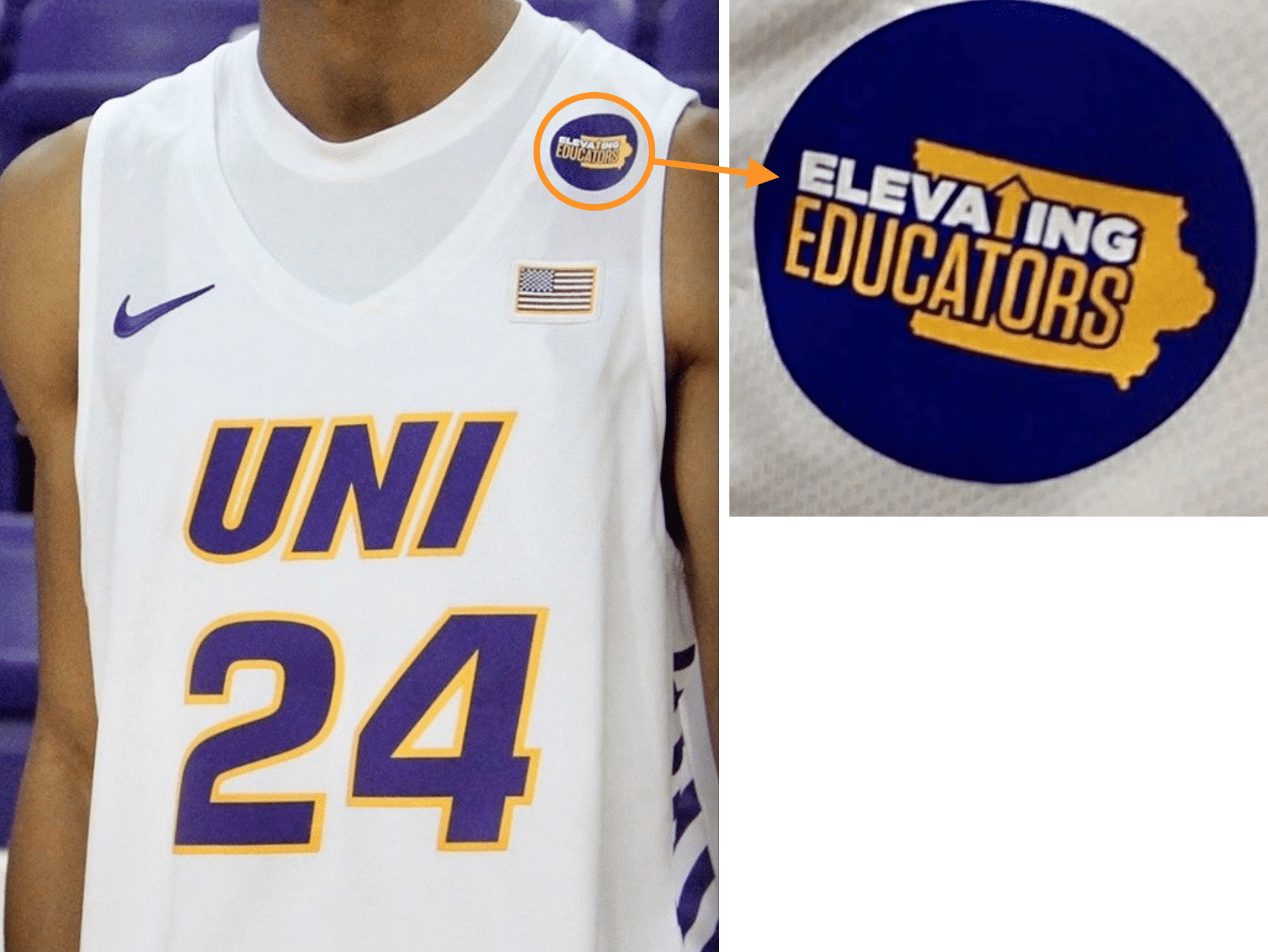 Click to enlarge
UNI watch: For years now I've critiqued the sports world's tendency to pander to cheap notions of rah-rah faux-patriotism by celebrating the military to the near-exclusion of all other sectors of society. As I've said many times, where are the special uniforms and patches for teachers, civil servants, social workers, and other everyday heroes?
So let's give credit where it's due to the University of Northern Iowa (one of my favorite schools, for obvious reasons, even with all the purple), whose basketball team is supporting teachers this season by wearing an "Elevating Educators" patch. It's part of a larger UNI initiative "that seeks to recognize and elevate professional educators in Iowa, nationwide and throughout the world." UNI even made free tickets available to Iowa-based teachers for the university's Nov. 17 football game against Missouri State.
Good for them. Remember, kids, not all soldiers are heroes and not all heroes are soldiers. Nice to see there's a school out there that recognizes that.
• • • • •
[adrotate group="2″]
• • • • •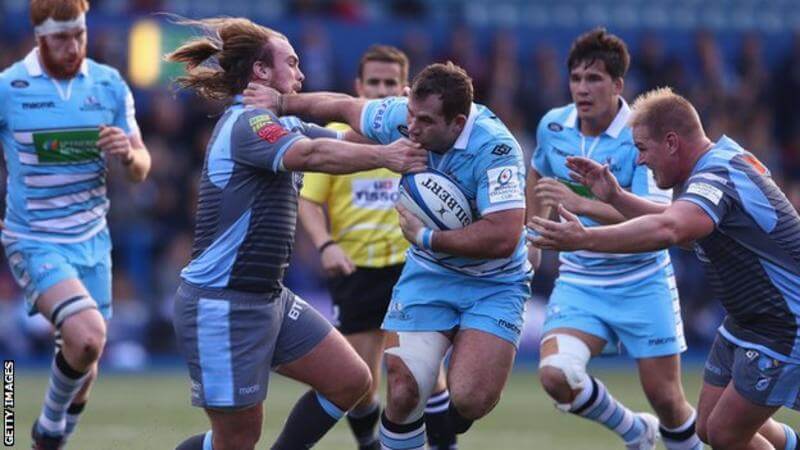 Rugby Kerfuffle
By Jamie Rathjen
Rugby union teams Cardiff Blues and Glasgow Warriors played a rather odd matchup of Cardiff's grey and sky blue European kit and Glasgow's sky blue and white hoops in the European Rugby Champions Cup yesterday. The kits were by no means identical to each other, especially from certain angles (though they may have been difficult to tell apart on TV), but that didn't stop various UK media outlets from describing the teams as either clad both in blue or both in the same color, neither of which was really the case.
Adding to the confusion, Blues fly-half Gareth Anscombe said he complained to the officials about the clash but was told that his team, as the hosts, would have to change. Cardiff's other kits are white and two shades of blue, so it's perhaps better they stuck with what they had.
• • • • •
[adrotate group="2″]
• • • • •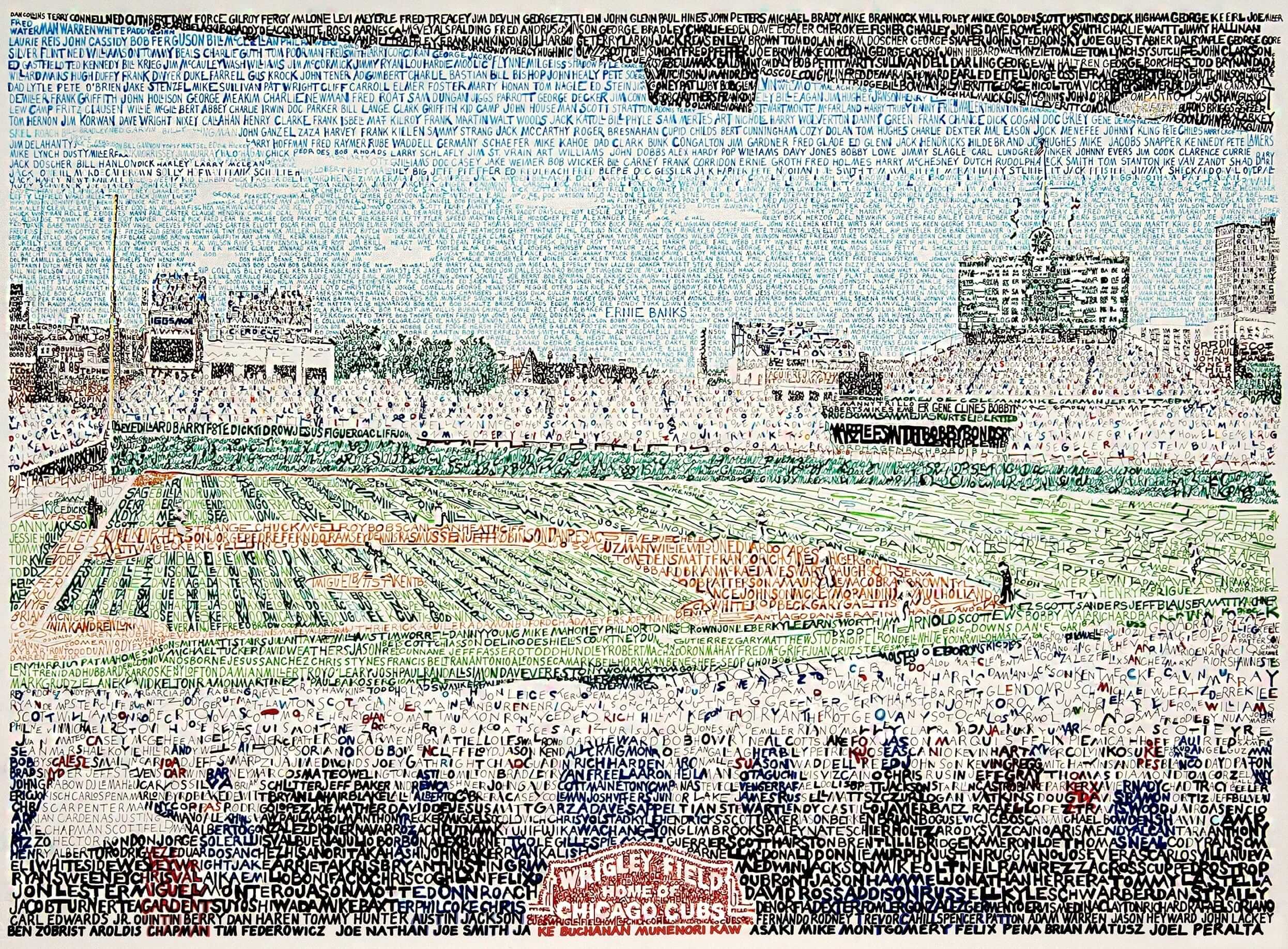 Courtesy of Daniel Duffy/ArtOfWords; click to enlarge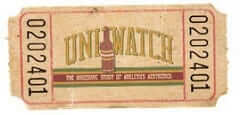 ITEM! New raffle: We've occasionally run Ticker items about Dan Duffy, who creates amazing artwork consisting of written words (including his depiction of Wrigley Field, shown above, featuring the name of every Cub ever to play for the team). Now Dan is generously raffling off one of his prints to a lucky Uni Watch reader. The winner will be able to choose any unframed print from Dan's website, Art of Words.
Here's another one of Dan's pieces — a depiction of Astros star Jose Altuve, comprised of the date, opponent, score of every game in Houston's 2017 championship season (courtesy of Daniel Duffy/ArtOfWords; click to enlarge):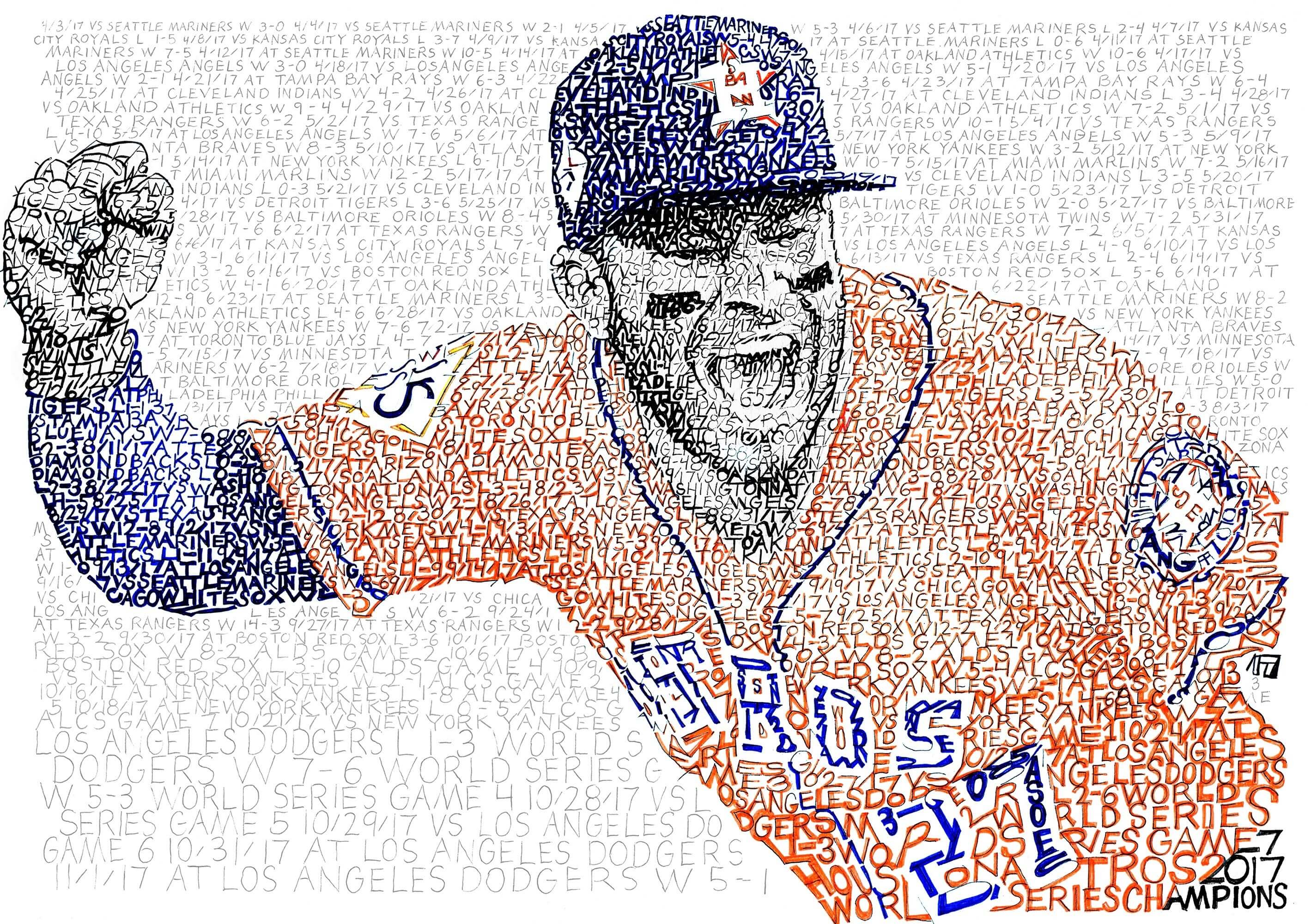 Pretty cool, right? To enter the raffle, send an email to the raffle address by this Friday, Oct. 26, 7pm Eastern. One entry per person. I'll announce the winner next Monday.
• • • • •
[adrotate group="2″]
• • • • •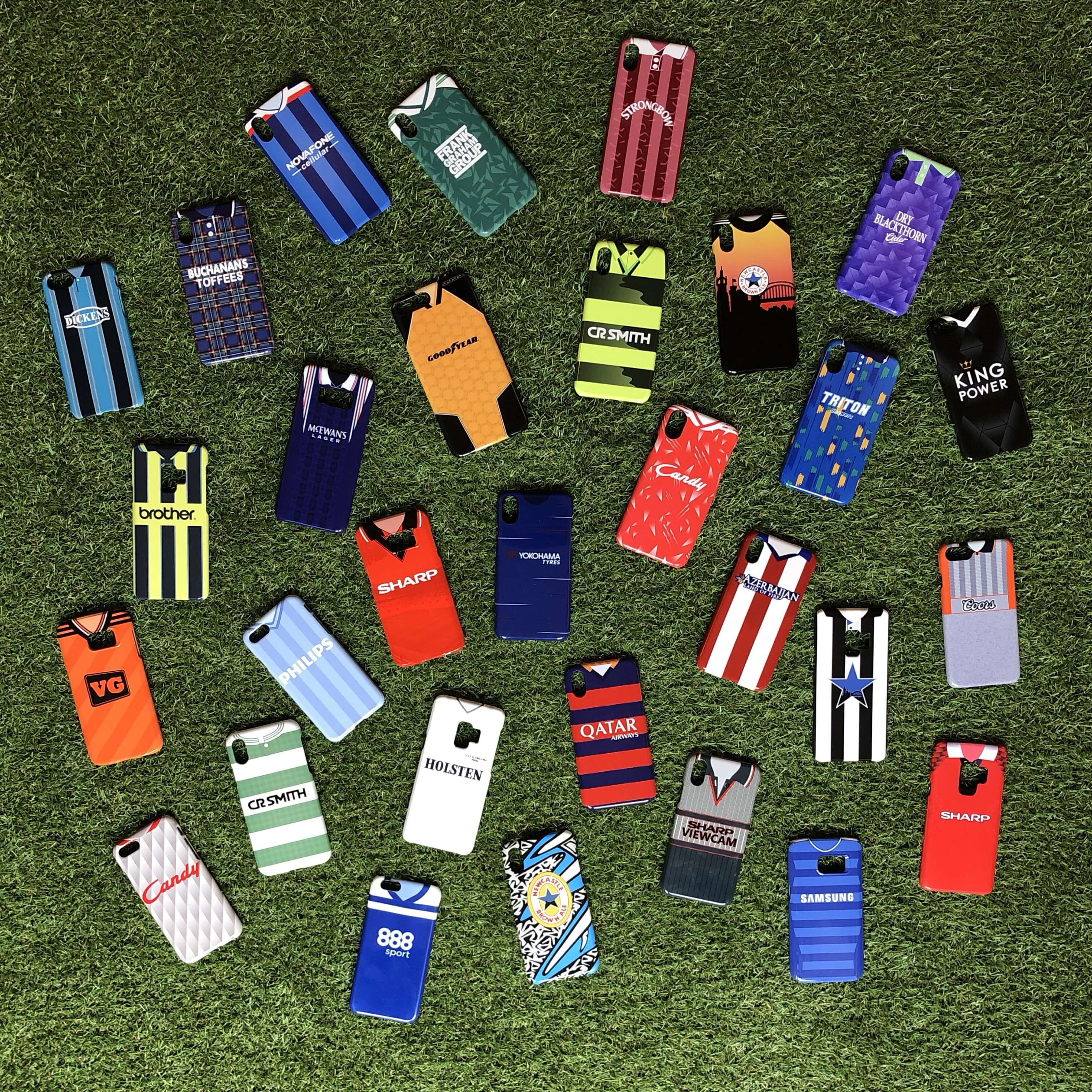 Click to enlarge
Discount reminder: In case you missed it last Friday, we're currently offering a special discount code from our friends at Nostalgia Cases, a company that sells smartphone cases with designs based on old soccer jerseys. They have over 650 designs to choose from, each available for over 100 phone models, and worldwide shipping. If you want a kit design that they don't currently offer, you can request it and they'll produce it at no extra cost.
Uni Watch readers can get a 10% discount to Uni Watch readers for this week. To get the discount, just go to their site and use the checkout code UNIWATCH by the end of this Friday, Oct. 26.
• • • • •
[adrotate group="2″]
• • • • •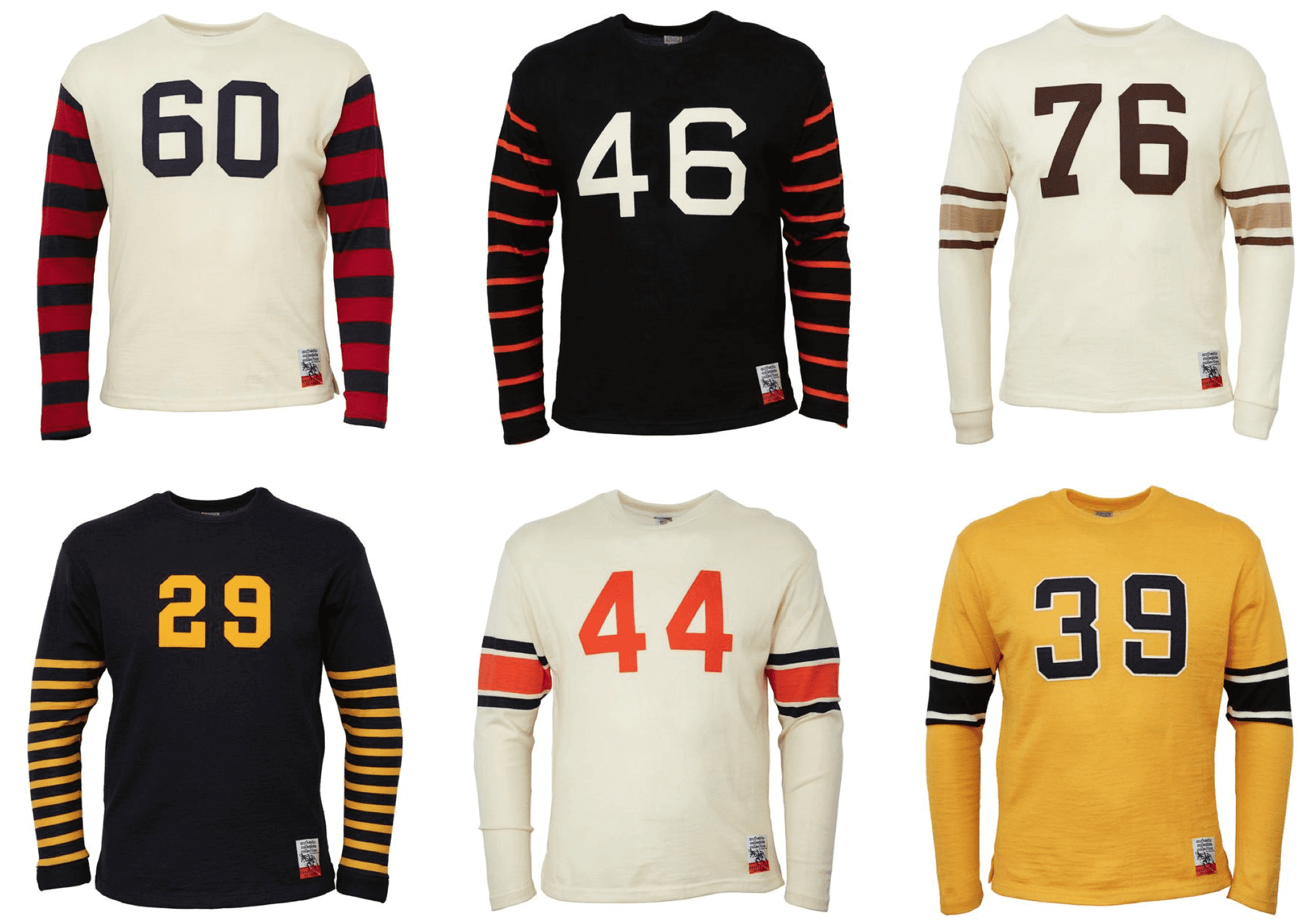 Click to enlarge
Merch that doesn't suck: Anyone who likes striped sleeves as much as I do is going to love the new college football collection that Ebbets Field Flannels just launched. The ones shown above are, clockwise from top left, Penn, Princeton, Brown, Cal, Morgan State, and Missouri.
And that's just the tip of the iceberg. Check out the whole collection here (and while you're over at the Ebbets site, remember that our Uni Watch Classic Cap is available in all fitted sizes).
Frankly, I'd love most of these jerseys even more without the uni numbers. Striped sleeves for the win!
• • • • •
[adrotate group="2″]
• • • • •
Lord of the flies: We've had a fruit fly problem here at Uni Watch HQ, so I set out a trap the other day. As you can see above, it was extremely successful.
There's something very satisfying about making something that works, especially when it's so simple. A glass, a strip of paper shaped into a cone, and a single grape tomato. Voila!
• • • • •
[adrotate group="2″]
• • • • •
The Ticker
By Jamie Rathjen

Baseball News: Pinktober uniforms for Dominican team Águilas del Cibao (from Jorge Cruz). … We've Tickered this in the distant past, but some may not have seen that Mariners CF Ruppert Jones wore "Rupe" as an NOB at least in 1979 (from Johnny Garfield).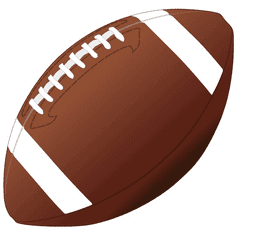 Football News: Former NFL kicker Shayne Graham now works with Michigan State's special teams and is putting together a mini-helmet collection of every helmet in the team's history. … Reader Sean Marenkovic's wife knitted him a pair of white Bears socks. … Looks like Florida might be wearing white helmets against Georgia (from Moe Khan). … The CFL's Calgary Stampeders wore black alternates for the last game of the season (from Wade Heidt). … Some college teams use giant placards with pictures on them to call plays, so of course Hawaii's have ads on the back (from Joseph Andersen). … Reader Jake Snyder sent us pictures of a good-looking game between Cazenovia HS and Homer HS in New York. … Tris Wykes spotted a Vermont youth football team with ads for a certain insurance company. It's ironic because "so many parents today won't let their kids play the sport because of the perceived risk," he says.

Hockey News: Two QMJHL teams wore Pinktober uniforms: the Saint John Sea Dogs and the Blainville-Boisbriand Armada (from Wade Heidt). … The Sharks wore Los Tiburones warm-up jerseys (thanks, Phil). … Here's a Capitals jersey concept from Tyler Duchaine.

Basketball News: The Thunder are honoring NBA photographer Layne Murdoch, who passed away this summer, by painting his initials on the baseline (from Mike Chamernik). … Warriors F Kevin Durant has started the season wearing mismatched shoes (from @Zanerzas).

Soccer News: Liverpool midfielder Adam Lallana had a vertical tear on his shorts Saturday (from @akaggie). … Manchester United apparently wore red/white/red in a competitive game – if you count the socks as red – for the first time since 1971. … English National League team Leyton Orient revealed a fourth kit which commemorates the 100th anniversary of the end of World War I and is to be worn Nov. 17. It's a throwback to the kit the team, then called Clapton Orient, wore in 1918 (also from Josh Hinton). … This picture shows Scottish team Aberdeen, who normally wear red, in blue and white at home in a 1971 league game against white-clad Airdrieonians. Changing at home isn't the weird part, as that was the practice in Scotland at the time, but it's unclear why they would have changed against a non-red team.

Grab Bag: Shirts with logos from Jesse Jackson's 1988 presidential campaign are currently popular in South Korea for no discernable reason other than people like how they look (from Rob Walker). … Formula One team Red Bull continued the 'Murica theme at the United States Grand Prix in Austin (for more, see Saturday's Ticker) with cowboy-themed firesuits (from Chris Foster).
• • • • •
[adrotate group="2″]
• • • • •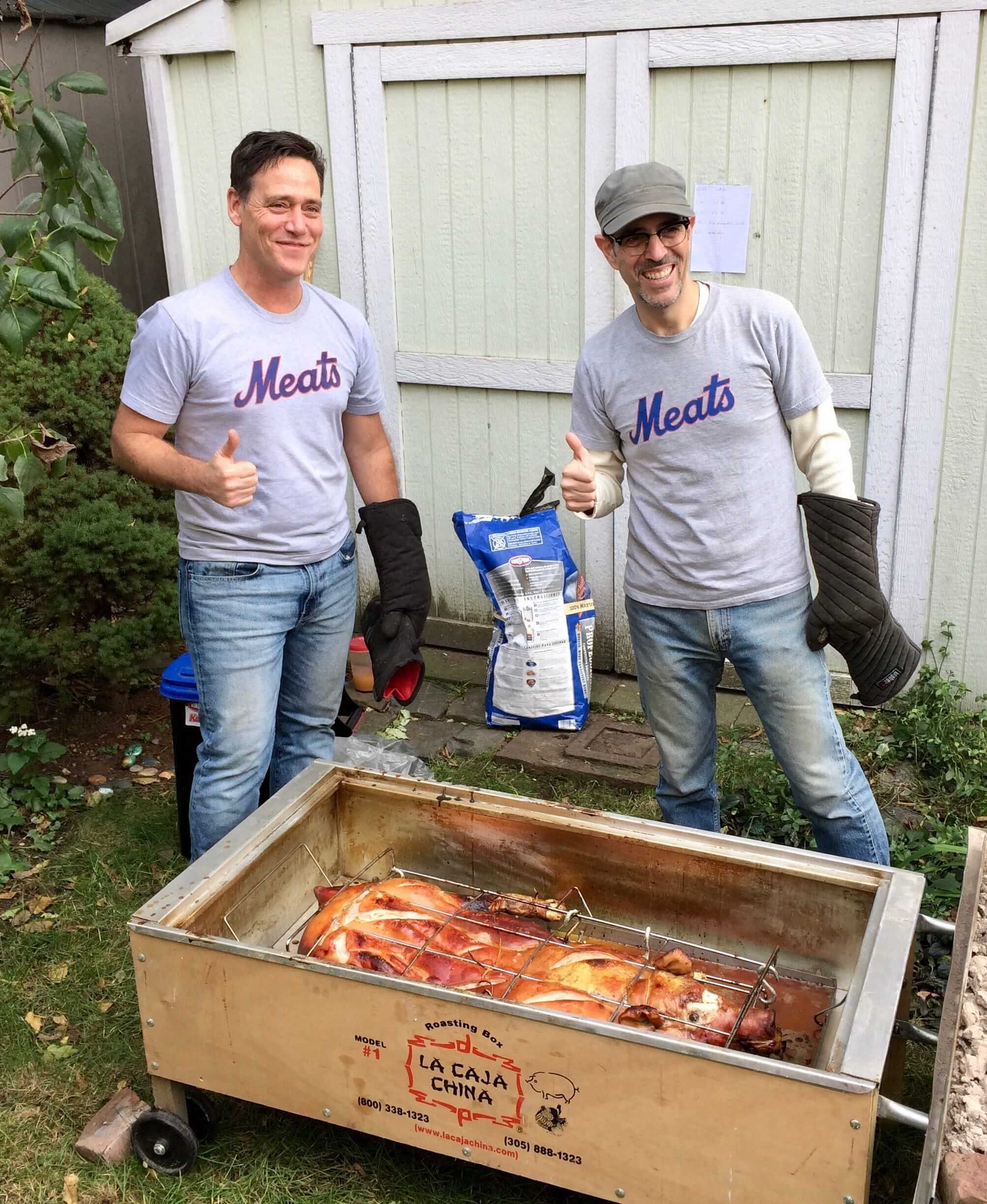 Click to enlarge

What Paul did last night on Saturday: On Saturday the Tugboat Captain and I had the pleasure of attending a pig roast hosted by Mets by the Numbers poobah Jon Springer and his lovely wife, Heidi. The Captain and I wore our Meats T-shirts for the occasion and were surprised to see Jon also wearing one when we arrived — nice. That's Jon and me about to remove the guest of honor from the roasting box. He turned out beautifully bronzed and mighty tasty: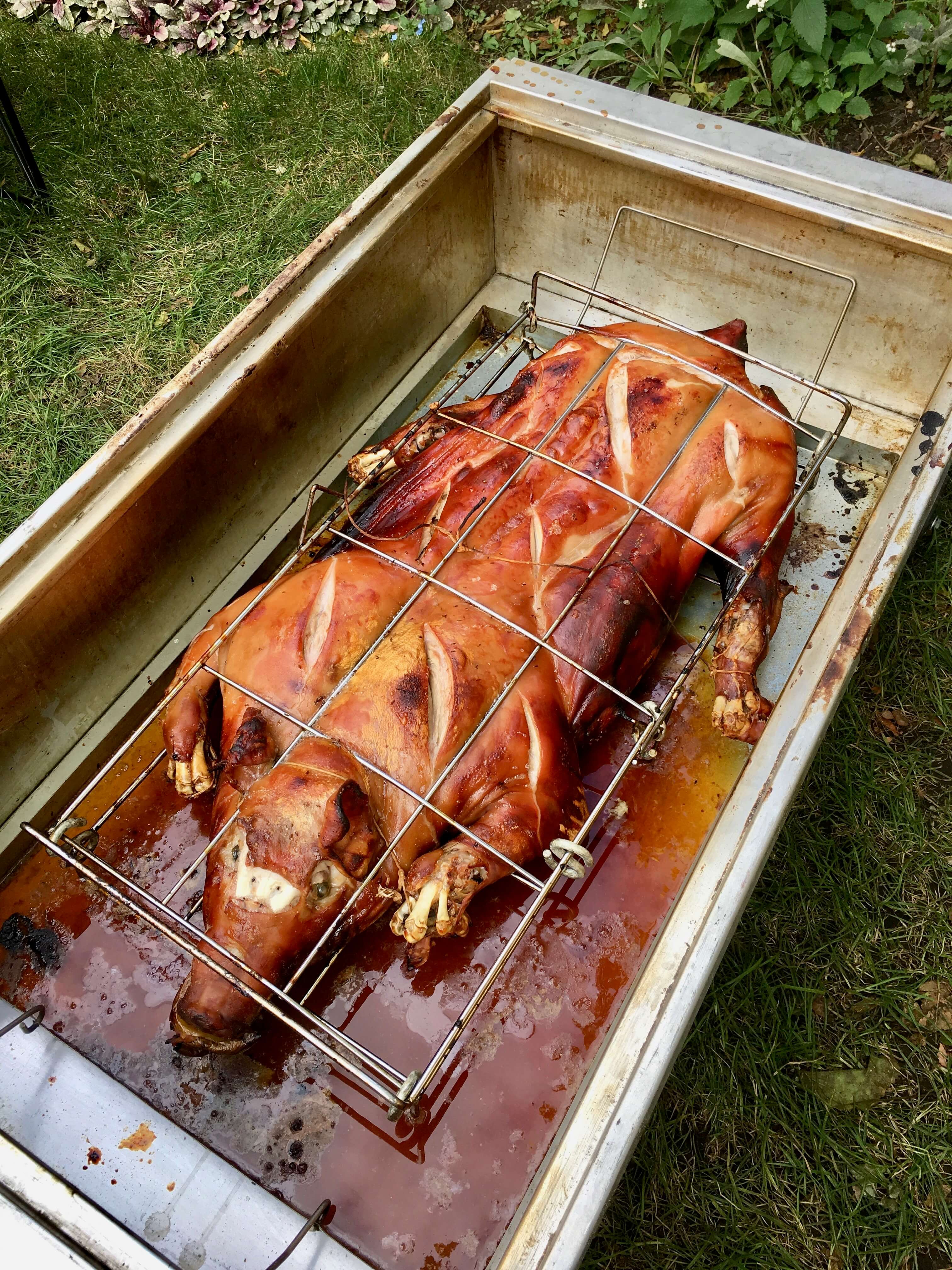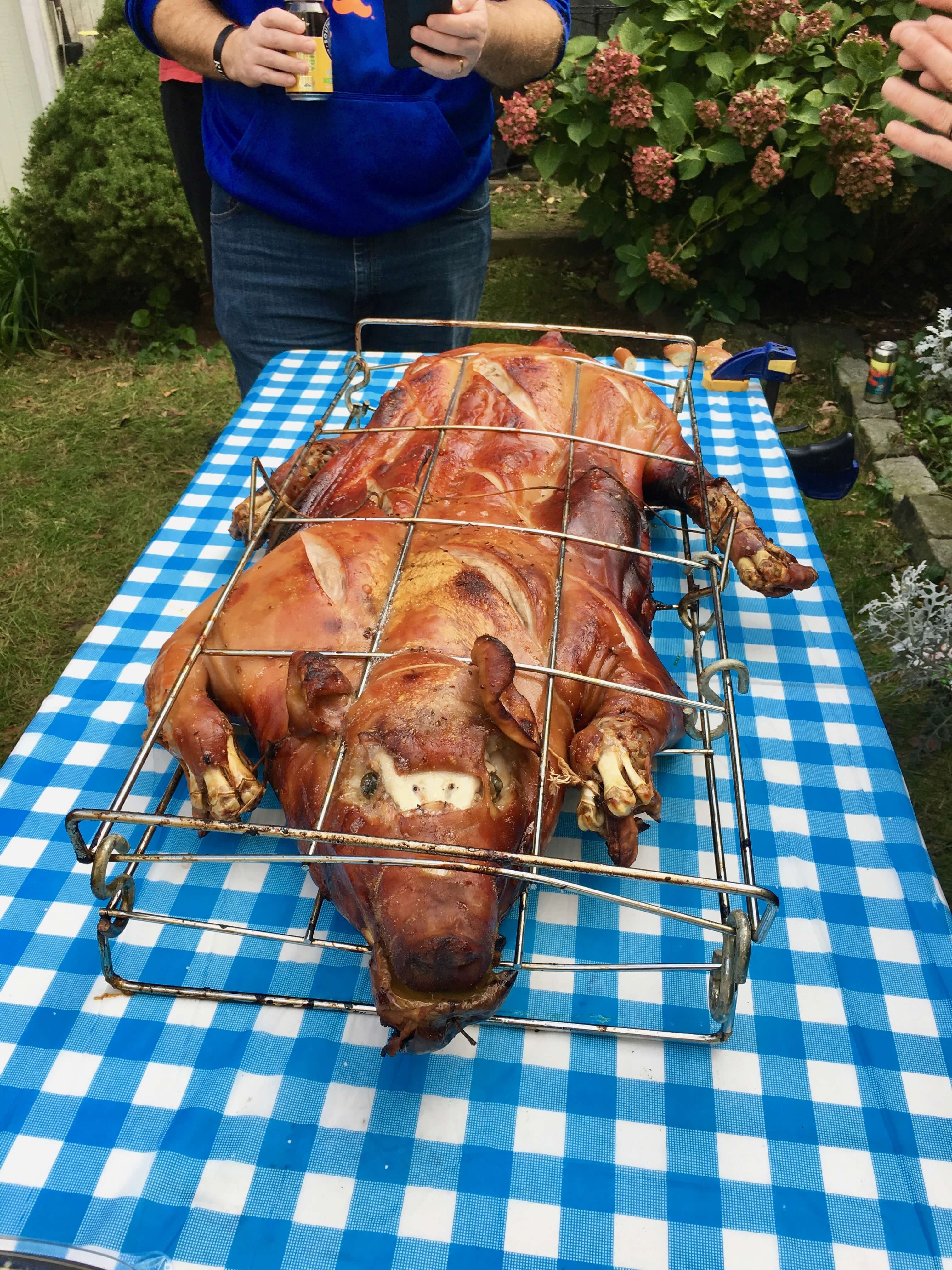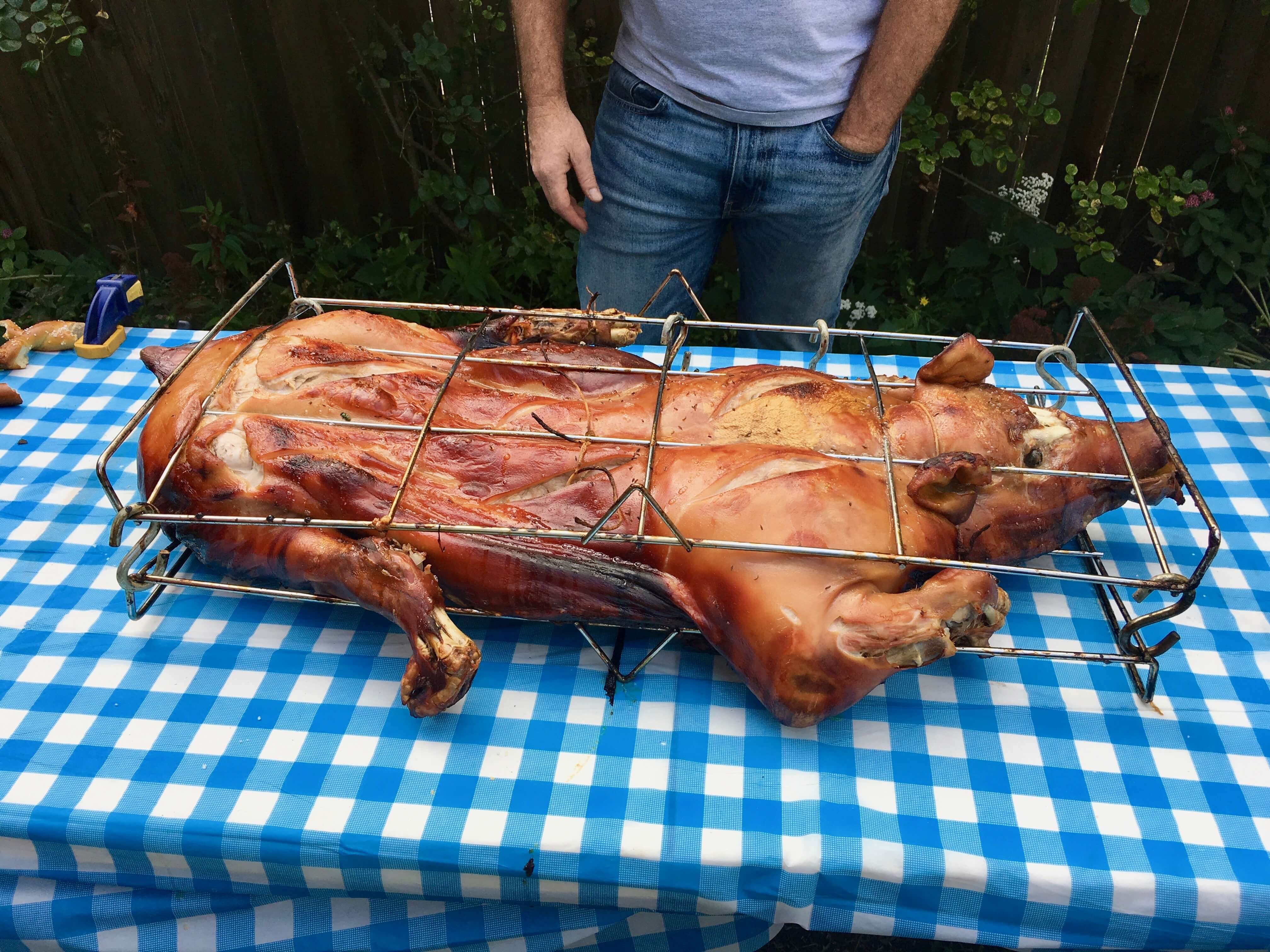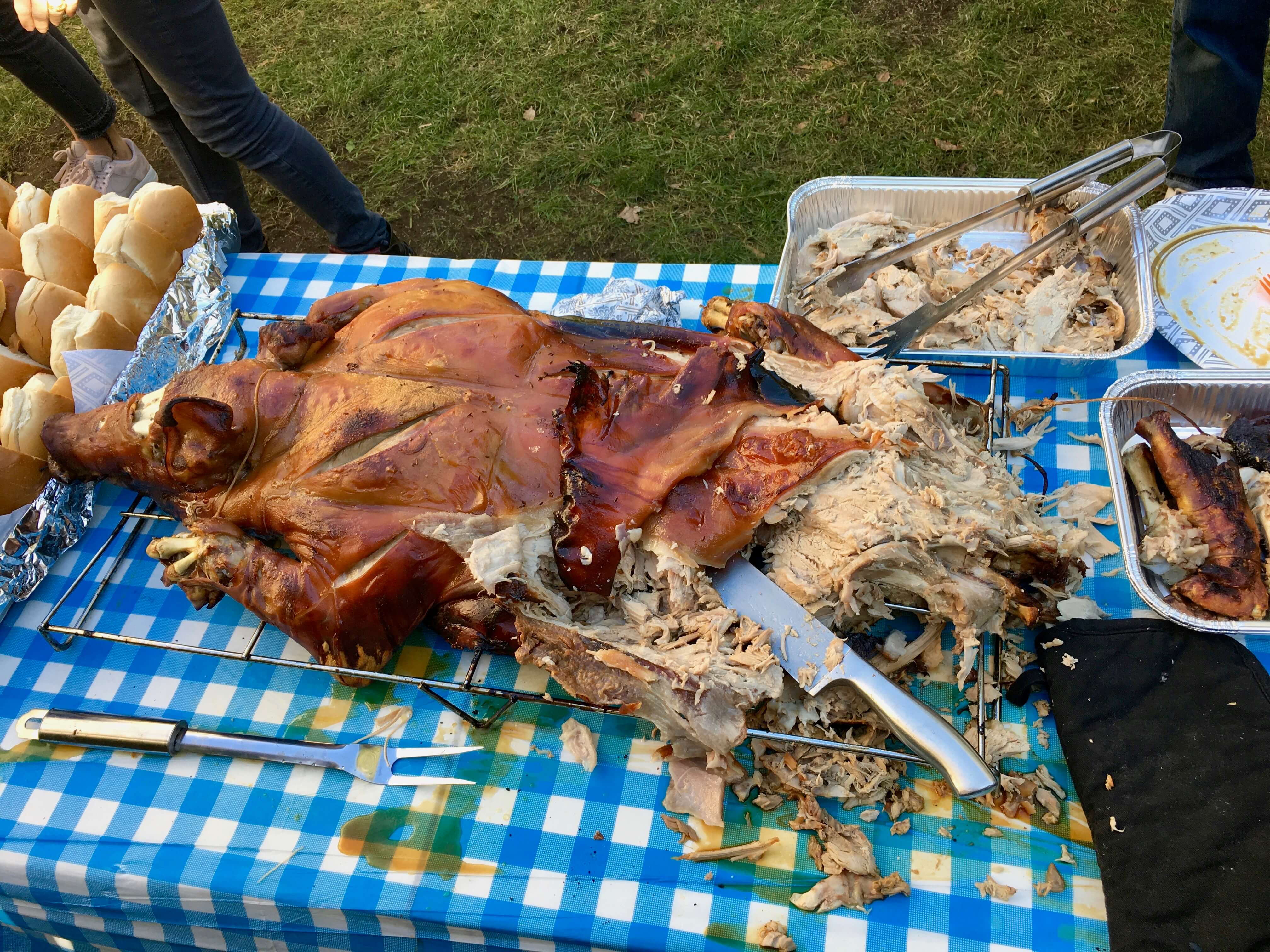 But man cannot live on pig alone, so I made a new friend while roasting marshmallows over at Jon's fire pit: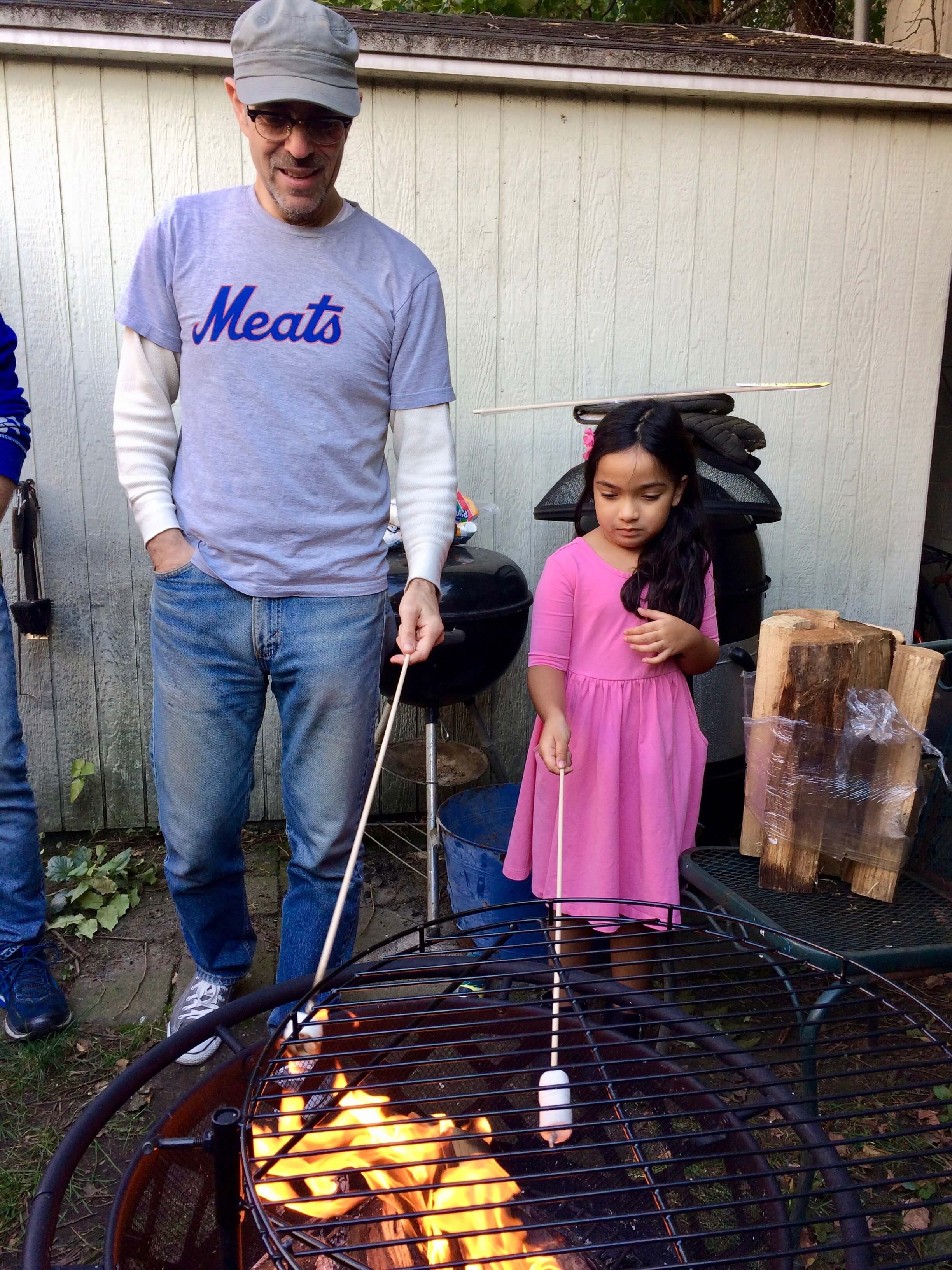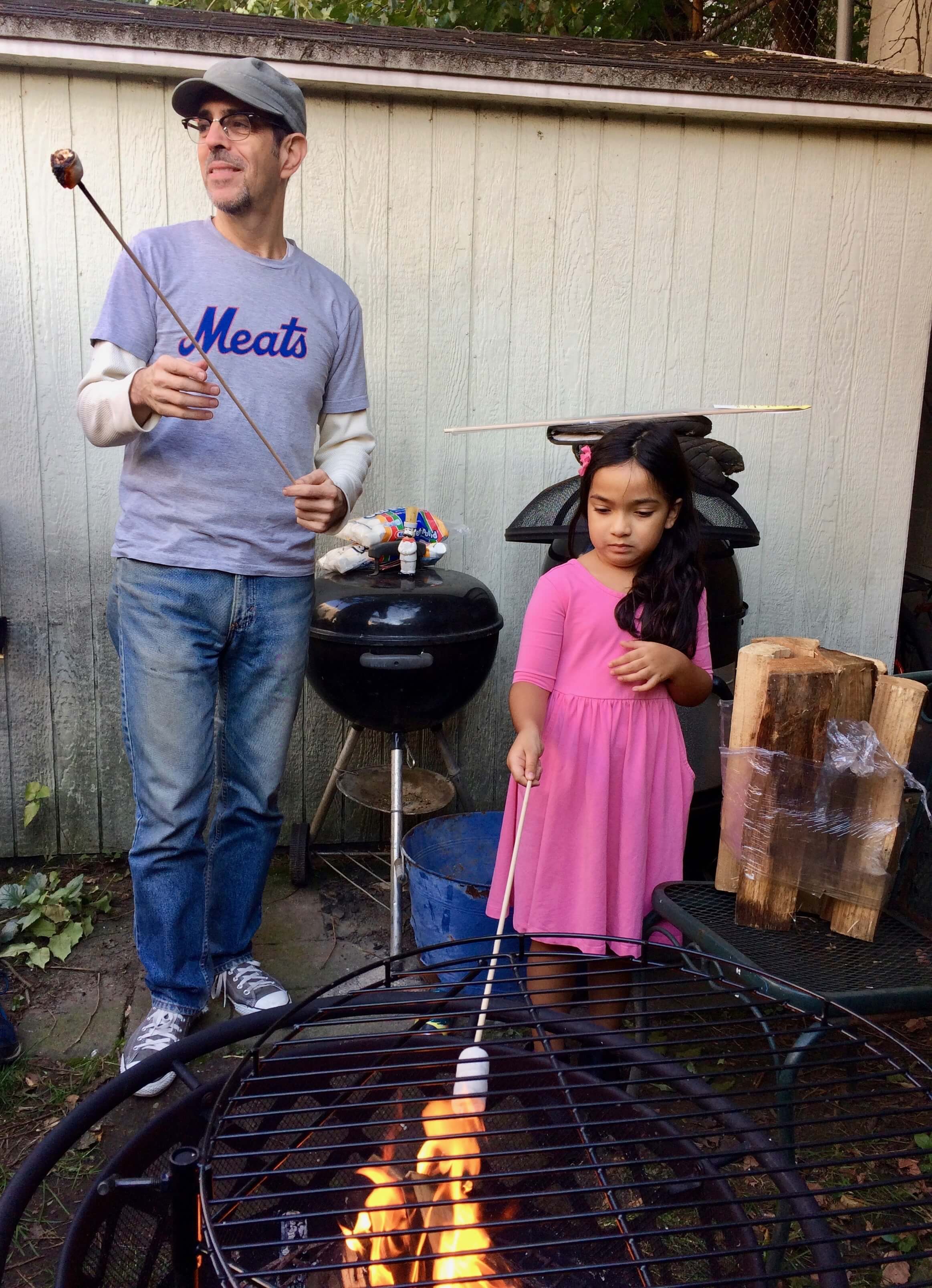 It was a swell time — good people, good food and drink, perfect weather. Big thanks to Jon and Heidi for hosting!