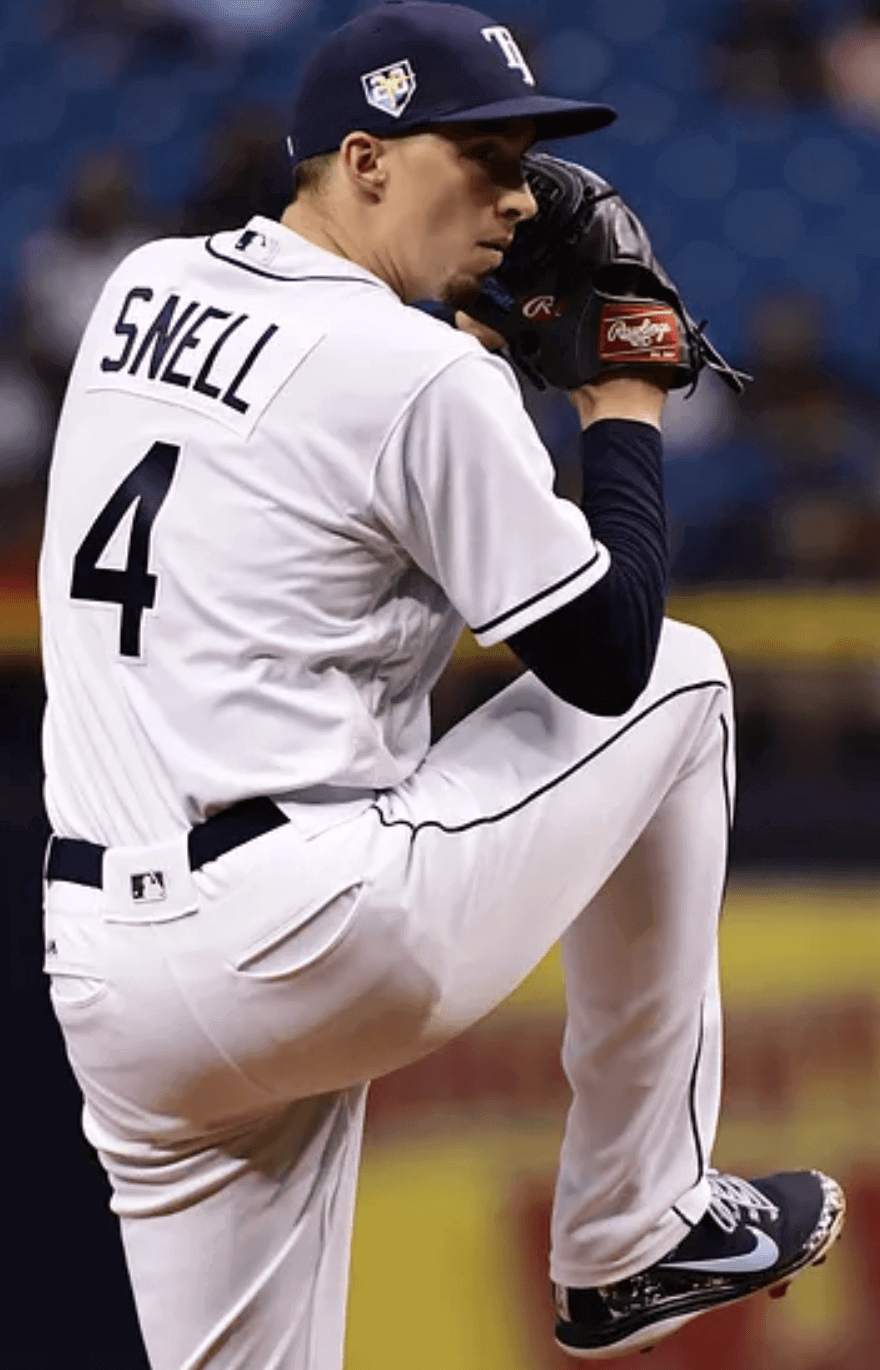 [Editor's Note: Today we have a guest entry from reader Bryan Duklewski, who's taken a very in-depth look at a question I posed yesterday. Enjoy. — PL]
Bryan Duklewski
Yesterday Paul noted that Rays pitcher Blake Snell might be bringing his single-digit uni number to this year's MLB All-Star Game and then wondered aloud who was the last single-digitized pitcher to appear in the Midsummer Classic. I got a little down in the weeds trying to figure out the answer to that question.
First, here's the list of every pitcher who has been selected for an MLB All-Star Game, and here's a 2005 Wall Street Journal article that includes a list of all pitchers who'd wore a single-digit uniform number up to that point. (I'm assuming we would remember if a single-digitized pitcher had appeared in an All-Star Game post-2005.)
I copied both of those lists into Google Sheets and filtered out any players who weren't in both lists. That yielded the following list of players who wore single digits and were selected for an All-Star Game:
Cy Blanton
Bob Feller
Eddie Fisher
Mike Fornieles
Hal Gregg
Atlee Hammaker
Art Houtteman
Bob Lemon
Bill Monbouquette
Hugh Mulcahy
Billy Pierce
Schoolboy Rowe
Ray Scarborough
Hal Schumacher
Eddie Smith
Bill Voiselle
David Wells
Matt Young
However, just because a player wore a single-digit number at some point in his career and was named as an All-Star at some point in his career does not necessarily mean that the player was wearing the single-digit number when he was an All-Star. A bit of additional digging allowed me to eliminate the following players:
• Cy Blanton: Wore Nos. 6 and 7 with the Phillies in 1940. Was an All-Star in 1937 and 1941, not 1940.
• Bob Feller: Wore No. 9 with Cleveland in 1936. Was not an All-Star until 1938.
• Eddie Fisher: Wore No. 7 for three games with the Giants in 1960. His only All-Star Game was in 1965.
• Mike Fornieles: Wore No. 4 for four games with the Senators in 1952. His only All-Star Game was in 1961.
• Hal Gregg: Wore No. 8 for the Brooklyn Dodgers in 1947. Was named as an All-Star in 1945, but the game was not played because of wartime travel restrictions in World War II.
• Atlee Hammaker: Wore No. 7 for the Giants in 1985. His only All-Star Game was in 1983.
• Art Houtteman: Wore No. 6 for one game for the Tigers in 1946. His only All-Star Game was in 1950.
• Bob Lemon: Wore No. 6 for Cleveland in 1946. His first All-Star game was in 1948.
• Bill Monbouquette: Wore No. 8 for seven games for the Giants in 1968. His last All-Star Game was in 1963.
• Billy Pierce: Wore No. 5 for five games for the Tigers while Hank Greenberg was in the military in 1945. He wasn't an All-Star until 1953.
• Schoolboy Rowe: Wore No. 8 for the Brooklyn Dodgers in 1942. He was an All-Star in 1935, 1936, and 1947, but not 1942.
• Hal Schumacher: Wore No. 9 for the New York Giants in 1946. He was an All-Star in 1933 and 1935.
• Eddie Smith: Wore No. 6 for the White Sox in 1939. He was an All-Star in 1941 and 1942.
• Bill Voiselle: Wore No. 5 for four games for the New York Giants in 1943. He was an All-Star in 1944.
• David Wells: Wore No. 3 for the Red Sox for the first part of 2005. His last All-Star Game was in 2000.
• Matt Young: Wore No. 1 for the Mariners in 1990. His only All-Star Game was in 1983.
That leaves us with only two players — Hugh Mulcahy and Ray Scarborough — who were chosen for an All-Star Game in the same year they wore a single-digit number. This is getting exciting! Let's look at those two players:
• Ray Scarborough: Wore No. 7 for the White Sox in 1950 and was named as an All-Star that same year! However, he also wore No. 46 for them that season, and it's not clear which number he was wearing at the time of the All-Star Game. Also, while he was chosen for the American League All-Star squad, he did not appear in the game.
• Hugh Mulcahy: Wore No. 9 for the Phillies in 1939 and 1940 and was chosen for the All-Star Game in 1940 — but he didn't get into the game.
So based on my research, no pitcher has ever appeared in an All-Star game while wearing a single digit uniform number. If Blake Snell gets to do so, he will apparently be the first.
———
Paul here. That's a great deep dive by Bryan — but there are some follow-ups that I want to append to his work:
1. That Wall Street Journal list of single-digitized pitchers did not include Phillies southpaw Ken Raffensberger. But as reader Chris Hickey pointed out in yesterday's comments, baseball-reference.com indicates that Raffensberger wore No. 7 for part of the 1944 season before changing to No. 15. He was also the winning pitcher in the 1944 All-Star Game. It's not clear whether his uni number change came before or after the All-Star Game. (Footnote: Raffensberger went 13-20 in 1944, which I suspect makes him the losingest pitcher ever to win an All-Star Game.)
2. Reader Scott Johnston noted in yesterday's comments that the 1933 National League All-Stars did not wear their usual team jerseys. Instead, they wore special "National League" uniforms with a fancy number font. It's not clear whether the players wore their usual roster numbers or if new numbers were assigned to them just for the All-Star Game. If the latter, it's possible that a pitcher could have been assigned a single-digit number.
3. Scott also points out that 1934 was the year that the All-Star players, for reasons that have never been satisfactorily explained, had new numbers pinned to the backs of their jerseys. The American League starter, Lefty Gomez, who usually wore No. 11 for the Yankees, was clearly wearing No. 9 during pregame warmups and presumably wore it in the game as well:
So it appears that Lefty Gomez wore a single-digit number in the 1934 All-Star Game. But given that it was a temporary number pinned to his jersey, does that even count? Is it a separate category? An asterisk?
• • • • •
[adrotate group="2″]
• • • • •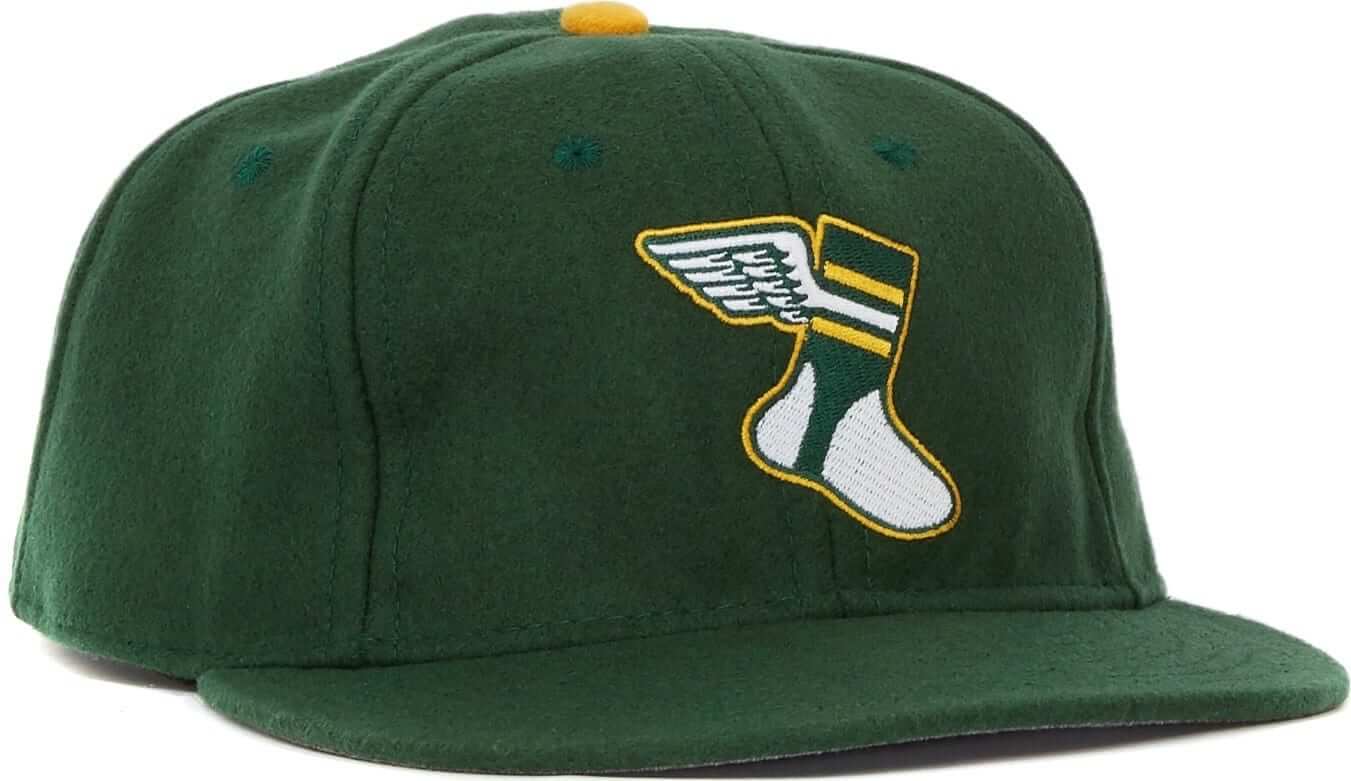 Cap update: After some production delays, I'm told that all of the fitted sizes of the Uni Watch "classic" cap have finally been restocked and will once again be available for purchase today from Ebbets Field Flannels. I'm not sure what time today (keep in mind that EFF is on the west coast), but you can go to this link to check on the availability.
Also: Within the next day or two, I expect to have a page set up where you can pre-order the XXL size of our "alternate" cap. If we get enough pre-orders to justify making the XXLs, we'll do so; if we don't get enough pre-orders, we'll issue refunds to all the pre-orderers. (Meanwhile, the S/M and L/XL versions should be available around the end of July, no pre-ordering needed.)
• • • • •
[adrotate group="2″]
• • • • •
A Houston chronicle: By now most of you are probably familiar with the prototype design that served as the basis for the Astros' famous tequila sunrise uniforms. But here's something you might not have known: The prototype wordmark had pride of place in the 'Stros clubhouse for well over a year into the tequila sunrise era.
That revelation comes from a photo of Houston pitcher Larry Dierker following his no-hitter on July 9, 1976. That's Dierker in the cap — look at what's painted on the wall behind him (click to enlarge):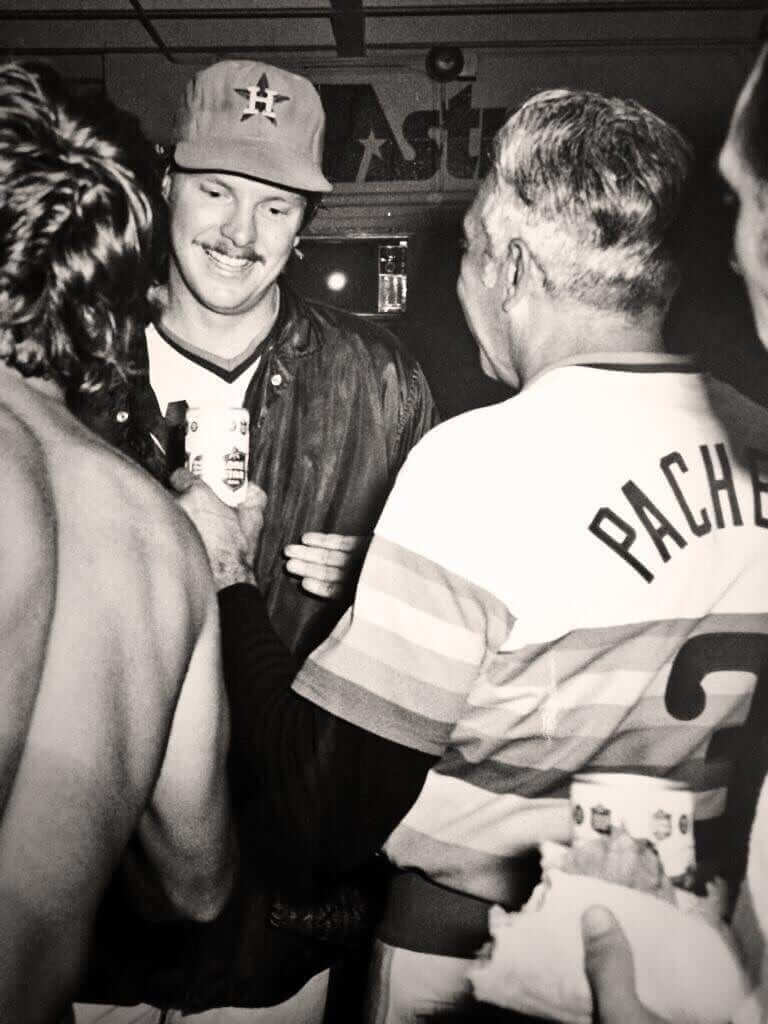 As you can see, the "A" on the wordmark painted on the wall matches the one from the prototype uni. And keep in mind that the 'Stros began wearing the tequila sunrise design in 1975 while this Dierker photo is from midway through the '76 season, which means the proto wordmark was up there on the wall for at least a season and a half. Bizarre!
(Photo tweeted by Mike Acosta and brought to my attention by Clint Loerwald. My thanks to both of them.)
• • • • •
[adrotate group="2″]
• • • • •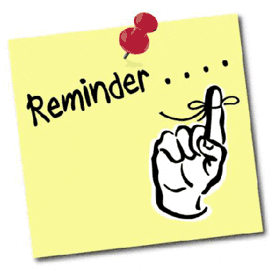 Friendly reminders: In case you missed it on Monday, there was some news that you'll want to catch up on.
First, we're currently running a new raffle for a bunch of old Kansas City Chiefs nameplates, which are being generously provided by a Uni Watch reader. Full details here.
Also from Monday, I provided a bunch of new details about my upcoming stoop/open-house sale, which will give you a chance to literally own a piece of Uni Watch HQ. Full details on that can be found here.
• • • • •
[adrotate group="2″]
• • • • •
The Ticker
By Alex Hider

Baseball News: Less than a month after Phillies OF Rhys Hoskins became the first MLBer two wear two C-Flaps at one time, he has now removed one of them but will keep the other one (from Frank McGuigan). … The Rays unveiled renderings of their proposed new ballpark. It may look sleek, but this Twitter thread from @MLBcathedrals has some interesting critiques. … The T-shirts the Reds have been wearing in warmups for their series against the Indians contain an apostrophe catastrophe (from Casey Hart). … Speaking of the Reds and Tribe, both starting pitchers wore No. 47 last night (from B.S. Brewër). … Players with Adidas endorsement deals, including Aaron Judge and Aroldis Chapman, will wear these cleats during the All-Star Game. … The Red Sox serve popcorn in red batting helmets, even though the team doesn't wear them on the field (from @kleiny42). … The Missoula Osprey, the Rookie League affiliate of the D-Backs, have been wearing 1950s Missoula Timberjack jerseys on Saturdays this season, and gave away a Timberjacks poster last Saturday (from Ronald Yaworski). … The Sussex County Miners of the Independent Can-Am League wore Relay for Life jerseys in support of cancer research on Saturday (from John Cerone). … The Lansing Lugnuts will wear Backyard Baseball-themed uniforms in August, and are letting fans pick the team's temporary nickname (from our own Kris Gross). … The Rochester Red Wings will wear Naked Mole Rat caps on July 16 (from Daniel Knapp).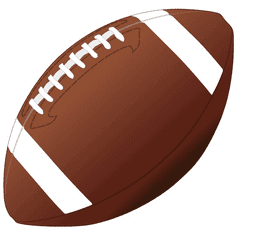 Football News: Team USA wore these helmets during the International Federation of American Football U19 championships on Saturday (from Griffin Smith).

NFL News: New signage has been added to Broncos Stadium at Mile High (from Brinke). … New Panthers new owner David Tepper said yesterday that the team is required to keep the statue of former owner Jerry Richardson in front of the team's Stadium despite the sexual misconduct and racial allegations against Richardson. … 49ers DE DeForest Buckner is donating football equipment and cleats to the youth football association in his hometown in Waianae, Hawaii (also from Brinke).

College Football News: Iowa State unveiled their new uni set yesterday. … Arkansas is making some minor alterations to their uniforms, including dropping the matte finish from the helmets. … New GFGS jerseys for NCAA D-II West Liberty University (from Yancy Yeater).

Hockey News: The NHL unveiled the logo for the 2019 Winter Classic at Notre Dame Stadium yesterday (from our own Anthony Emerson and Benjamin Kassel). … Twenty-fifth anniversary logo for the Chicago Wolves of the AHL (from Griffin Smith).

NBA News: NBA uni sleuth Conrad Burry and beat writer Ben Axelrod may have some new potential leads on new Laker unis. … Speaking of, the NBA store is now fully stocked with Lakers jerseys that LeBron James will never wear (from Bobby Caivana ). … Staying in LA, Brendon mocked up a new concept for the Lakers. … Ryan found this Bulls-esque Philippine Athletic Association of Chicago basketball jersey on Etsy.

Soccer News: Why do soccer players touch their heads (NYT link) after missing a penalty kick? Psychology has the answer. … Lots of soccer news from friend of the site Josh Hinton: A World Cup referee was spotted wearing indoor shoes instead of cleats during the Croatia-Russia on Saturday, C.F.  Monterrey of Mexico's Liga MX have a new home kit, RCD Espanyol of Spain's La Liga released their new jerseys yesterday and jerseys leaks from Bundesliga's Wolfsburg. … New jerseys for the UNC Asheville men's team (from William I. Wells). … More from Josh Hinton: Fulham FC released their home and away kits, and new home kit for Wigan Athletic.

Grab Bag: Golfer Justin Thomas will wear a tie during his Sunday round of the British Open later this month. Here's the rest of his planned outfits. Does anyone know the last golfer to wear a tie during a professional round? … For those who have wondered why Williams College goes by the Ephs (from Paul Friedmann).