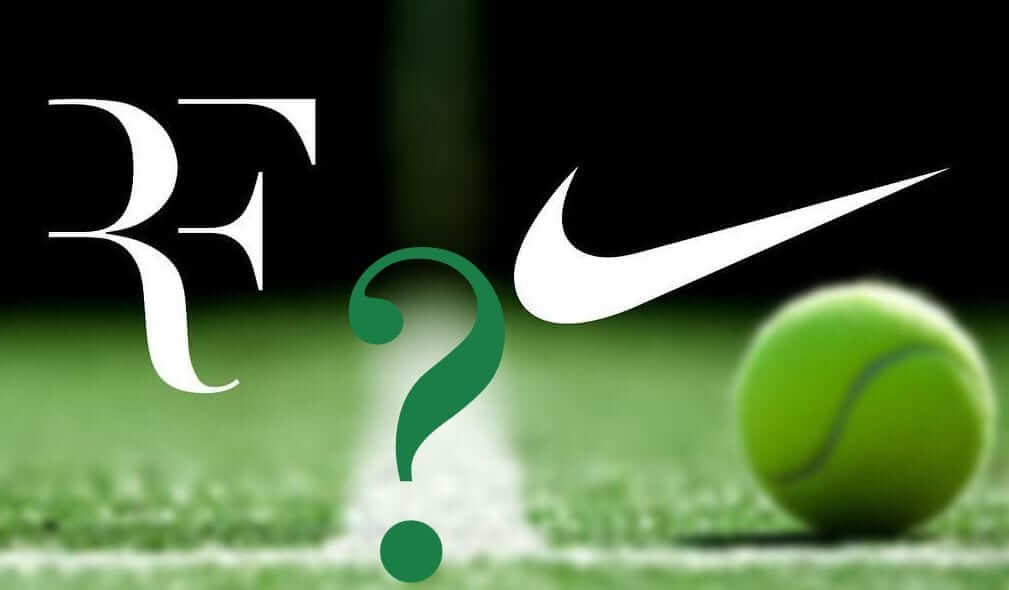 By Phil Hecken, with Brinke Guthrie
Follow @PhilHecken

Earlier in the week, Collector's Corner guru, my pal (and virtual doubles partner) Brinke Guthrie asked me if I wanted "something for Wimbledon." Now, I know most of you probably don't give a rat's ass about tennis or tennis gear, but Brinke (and I) do — but Wimbledon? I mean, there isn't really anything fashion-wise there, because everyone is required to wear white. So, I told Brinke I'd love something, but it would probably be a sub-lede because I expected to lede with the Back-To-The-Future unis worn last night by the Mariners and Royals (that's below). But, I remembered something I saw on the twitter (and kinda dismissed) a little while ago — and when I received Brinke's writeup, it struck a chord: Is Roger Federer, the greatest tennis player of our (and probably every) generation going to dump Nike (or be dumped by Nike) after 20 years and the most successful run of Grand Slam Tennis victories for upstart Japanese company UniQlo?
Players change clothing manufacturers all the time — and have been doing so for decades (back in the day, Jimmy Connors wore Sergio Tacchini, as did John McEnroe and Pete Sampras — even Novac Djokovic wore him) only to change brands. But Federer has been with Nike forever and been an ambassador for the brand. The only other high profile tennis player I can think of who had been with Nike forever, Andre Agassi (remember Image Is Everything Andre?), did switch late in his tennis career to adidas. But he's the only one I can think of to do this. And well, Andre was no Fed.
This may not seem like big "uni" news to you (and in the larger scheme of things, it probably isn't), but for Roger Federer to possibly be taking the Wimbledon court wearing something besides the swoosh? Don't forget they gave him custom sweaters and jackets for warmups at the hallowed grounds, and of course there's that whole sneaker thing with the number of Championships he's won over the years — he'll have a new number this year if he is still wearing Nike sneakers.
Anyway…sorry for babbling — let me turn the remainder of this over to Brinke, who'll give you the white-only-Wimbledon rundown, with his take on the Fed sitch.
Enjoy. Here's Brinke:
• • •
Wimbledon Uni Watch
By Brinke Guthrie
So here we are on the doorstep of Wimbledon, the third Slam of the year. Or as they say in in the UK, "The Championships." It starts tomorrow, and the various apparel and shoe makers will have new gear to roll out, but unlike the Australian, French or U.S. Open, they won't have any flash to them. In London, the rule is "predominately white." (Even for practice.) That even goes to the soles of your shoes, as no less than Roger Federer was told a few years back after a first round win to leave those orange soled sneakers in the locker room, which Nike loved.
There really hasn't been much new equipment news of late. Rather quiet. Brands like Lacoste and Fila have special collections for Wimbledon, and they're basic white as you'd expect.
But back to Nike and the GOAT, Roger Federer. He's been with them for 20 years- he's never worn another clothing line or shoe brand for a professional match. (Same for Nadal.) While some top guys like Djokovic jump around (adidas to Sergio Tacchini to Uniqlo to Lacoste) Federer has remained with Swoosh. But is their association at an end?
Fed revealed he hasn't been under contract with Nike since March, when his latest deal ran out.
The frantic rumor online has been that Uniqlo, currently with Kei Nishikori as their sole ATP pro, will give Federer gobs of cash to wear their clothing. As Uniqlo doesn't make shoes, he'd have to go elsewhere for those.
I understand the company wanting to do it- he's the epitome of the elegant gentleman family-man athlete. What I don't understand is why he'd want to do it at this stage of his career. I perceive Fed to be a precise, orderly guy who doesn't like change. (He's Swiss.) His clean, spare Nike line is the epitome of this. If he signed with the Japanese company, he'd probably be required to do a lot of appearances to promote the brand globally. Why does he need that? Does he care about additional exposure in the Asian markets when he only has two years or so tops left? Is the cash really worth the trade-off when you've made so much already?
(Personal note here: I don't pretend to even understand Uniqlo's business model. They have a few stores here in the SF Bay Area including a massive store in The City, and whenever I've looked for adult men shirts, they come in like XS, S, and M. And that's it. Whenever I used to inquire about the Djokovic line, all I would get were blank stares. Novak…who?)
So, while the rumors continue to swirl, there has been precious little info, and Federer has continued to wear his Nike line in warm-up events leading up to Wimbledon. (He hasn't played since March, skipping the clay season. Nadal owns the clay, recently winning the French for the 11th time.)
The real news on this is locked down tighter than Area 51. A prominent tennis retailer has already rolled out the new Nike RF line for summer/fall, and they are really taking minimalism to an extreme- that's a tiny RF on the chest, and a white on white swoosh on the sleeve.
It's also unclear who owns the RF logo. The New York Times said in 2009, "The idea for a monogram emerged from the logo that Mirka Vavrinec, now Federer's wife, and her father developed for his fragrance, RF-Roger Federer, introduced in 2003. The result was a freehand squiggle. If you knew what you were looking at, you saw the R and the F; if you didn't, you didn't. (A three-letter monogram was apparently never an option because Federer has no middle name.)"
My feeling is they are prepping a Federer Brand much like MJ's Jordan Brand. (They tested something like this out in 2016 – really expensive.) Let's face it, he's the Jordan of tennis and one of the most popular athletes in the world. I can't believe it's gone this far, but I'm not privy to the negotiations, and Fed never returns my tweets. If Nike has been low balling Fed and he feels disrespected, I can see him taking his business elsewhere. He may be a humble guy, but make no mistake, Fed knows his place in tennis history. But Nike has this guy Phil Knight who is a gonzo tennis fan, and while he's no longer running the show, I can't see him letting Fed walk.
Maybe as an unapologetic Fed Fan I am making too much of this. But some brand associations are just meant to be in tennis. There's adidas/Stan Smith. Fila and Borg. (They just signed him to a new deal and signed his son, too.) And there's Fed/Nike.
Oh yes, and he's the defending champion, too.
• • •
Thanks, B. I'll be very interested to see how this all plays out when Wimbledon begins tomorrow!
[adrotate group="2″]
20 Years Later, Royals & Mariners Throw Ahead to 2027…
Last night, in a reprise of a game played 20 years ago in which both teams "turned ahead the clock," the Royals and Mariners did it again. The Mariners ostensibly wore the same uniforms they busted out 20 years ago, while the Royals have apparently updated their 2027 unis (Hopefully they gave 18 months to Nike to prepare those bad boys unis).
For some reason, photos of this game were at an absolute minimum at midnight Eastern, and, for reasons not worth explaining here, I was absolutely exhausted yesterday and needed to get this section ready for you this morning. If you missed yesterday's article about the game 20 years ago (which details the unis the Mariners wore last night), click here.
A few takeaways from what I did see: Some the Mariners spray painted their shoes silver; most of the Royals came out in just their vested jerseys, sans underhirts. So did the Mariners — most of the M's played sleeveless; the teams came out with their jerseys untucked. The M's played the top half of the first inning with their jerseys untucked; As happened 20 years ago, the umpires did not permit batters to come up with untucked jerseys. Lots of guys wore their caps backwards. The Royals wore their regular gray road pants (booo!!!!!). There's probably a lot I missed too…please fill us in in the comments below.
So, with apologies for delaying the load times on your phones, here's a pretty decent recap of the game and festivities, via twitter…
Mariners are embracing Turn Ahead The Clock Night. Many are spray-painting their cleats to color coordinate. Here are Dee Gordon's: pic.twitter.com/4rLHgWDOyX

— Adam Jude (@A_Jude) June 30, 2018
#Mariners out of town scoreboard on #TurnAheadTheClock night @PhilHecken @sportslogosnet pic.twitter.com/B3xbmoqZ1d

— Ryan Wetstein (@ryanwetstein) July 1, 2018
Danny Duffy throwing a bullpen in a TATC jersey for KC: @UniWatch @sportslogosnet pic.twitter.com/Vy3fsFQk1d

— Daniel Carroll (@tworsandtwols) July 1, 2018
So much good stuff coming out of #TurnAheadTheClock @PhilHecken @sportslogosnet pic.twitter.com/Z6rmglh5uy

— Ryan Wetstein (@ryanwetstein) July 1, 2018
1998: Turn Ahead the Clock game with my dad at the Kingdome
2018: Turn Ahead the Clock game with my daughter at Safeco Field.#WhereiRoot @Mariners @ROOTSPORTS_NW pic.twitter.com/Ma7KbnPQ0h

— Derik Briggs (@DerikBriggs1) July 1, 2018
#Mariners helmets are ready for launch. #GoMariners #TurnAheadTheClock pic.twitter.com/rfg6U3SpxT

— Kevin Martinez (@Kevin_Martinez) July 1, 2018
Tonight's standard-issue dress is ready. #TurnAheadTheClock pic.twitter.com/rCtHgoUBrc

— Mariners (@Mariners) June 30, 2018
Felix Hernandez warming up for tonight's Turn Ahead the Clock game. Shirt untucked and hat backwards. pic.twitter.com/KbmPtJ8TV0

— Mariners HQ (@HqMariners) July 1, 2018
@PhilHecken @UniWatch @sportslogosnet @mariners if this isn't one of the coolest thing I've seen in a while, I don't know what is. #TurnAheadTheClock pic.twitter.com/omof5xVile

— HOLLYWOOD (@nateolsen_) July 1, 2018
Dee had to tuck in his jersey to be allowed to bat pic.twitter.com/KSYjPogseB

— MLB Insider Dinger (@atf13atf) July 1, 2018
Dee Gordon getting asked to tuck in his jersey lol @PhilHecken @UniWatch @sportslogosnet #Mariners pic.twitter.com/haHFSpShA5

— Josh (@JoshDO7) July 1, 2018
Hey @UniWatch on top of the @Mariners back to the future Jersey's, Dee Gordan is rocking the backwards cap and no sleeves! pic.twitter.com/Pu7KZSO9R9

— Austin (@Darkmamba50) July 1, 2018
Check 'em out 👀 pic.twitter.com/avktiE3m2K

— Kansas City Royals (@Royals) July 1, 2018
Wave of the future? 💪 pic.twitter.com/YkAYYe8Tem

— Kansas City Royals (@Royals) July 1, 2018
Mariners… hello pic.twitter.com/tJ43HV1Mni

— MLB Insider Dinger (@atf13atf) July 1, 2018
More Turn Ahead the Clock shots from Seattle. pic.twitter.com/2N4441tdFp

— Paul Lukas (@UniWatch) July 1, 2018
This ball would've made a great souvenir but it burned up on re-entry.#TurnAheadTheClock pic.twitter.com/07P17fmgrI

— Mariners (@Mariners) July 1, 2018
Watch it fly 💥 #RaisedRoyal pic.twitter.com/jj6HuiN4iQ

— Kansas City Royals (@Royals) July 1, 2018
Not only were photos at a premium, even the ever-reliable Getty had no game photos as of 12:15. I expect they will add them, and you click here to check.
Again, apologies for not having more photos for a writeup. But you get the idea.
[adrotate group="2″]

Old Time Base Ball Photos
Readers will recall I featured Ronnie Bolton (who posts on Twitter as @OTBaseballPhoto and who you should definitely follow) earlier this year with some great football played on baseball field photos and writeups, some MLB Opening Day specials, and more recently with some old baseball stadia (here and here). As his twitter handle implies, Ronnie's specialty is old baseball photos.
With the Seattle Mariners throwing back to the future last night with their 1998/2027 uniforms, Ron and I decided today would be a good time to look back at some Seattle ballparks of years past.
Enjoy. Here's Ronnie:
• • •
Sicks' Stadium, Seattle, April 11, 1969
From the very get-go, the Major League's first venture into the Northwest was an epic disaster after the league rushed the Pilots expansion team into the 1969 season. Here in the Pilots inaugural home opener against the Chicago White Sox, the game has started and construction workers are feverishly still adding bleacher seats, some fans had to wait till the third inning to get seated! Despite the snags in getting Sick's Stadium ready, the Pilots did give their new but brief fans a 7-0 win. The next season the franchise would move to Milwaukee and become today's Brewers.
++++++++++
Lincoln Playfield, Seattle ca 1915
It's as if the individual who built this baseball diamond had never watched a game of baseball in their life. Either way, it produced one of the most interesting baseball fields I have ever seen. Three things stick out to me 1) the shape of the baseball mound, it reminds me of a rattlesnake, 2) the narrow basepaths and the sharp 90-degree turn a baserunner would have to make to stay in the paths, 3) the infield – there is none.
Little else is know of this photo or the teams involved. Apparently, the German United Church of Christ in the top right still stands today as the does the building to the left. In distance, the body of water is the Lincoln Reservoir.
++++++++++
Yesler Way Park, Seattle (1907 – 1913)
A band box not friendly to pitchers was built at the cost of $10,000 by Dan Dugdale, a former Major League catcher and who would later become known as the "The Father of Seattle Baseball". The 8,000-seat ballpark was home to the Siwashes (managed by Dugdale) and both the ballpark and team helped solidify professional baseball in Seattle. By 1912, the popularity of the team would lead Dugdale to build yet another ballpark (Dugdale Field) that would hold 15,000 and make Yesler Way Park obsolete.
• • •
Thanks, Ronnie. He'll be back periodically with more wonderful old photos and the backstories that go with them.
[adrotate group="2″]
Uni Watch News Ticker
By Phil

Baseball News: On Friday night, A's catcher Phillip Pohl was wearing the 1968 throwback instead of the Kelley green alternate. Oops (but in a good kinda way, sort of). From Rich Paloma. … The Sugar Land Skeeters must be fans of Jimmy Buffett: "These ugly as sin jerseys are for the Sugar Land Skeeters' Parrothead night," last evening writes David Staples. "They also gave 2000 to fans. Just to make sure we saw them. :)" … The Toledo Mud Hens held Harry Potter Night at Fifth Third Field last evening. Here's a look at the front of the jersey, and here's the back (from John Wagner. Looks like they played for Slytherin. … For you beer lovers, a Baseball themed IPA by @KneeDeepBrewing (from Henry Wu). … I'm sure no one foresaw any problems with purchasing BP caps this year: Nope, none at all (from Duderibe Forever). … The Frisco RoughRiders wore First Responders jerseys last evening (From Doug "Bear" Hazard). … "Indians wore Wahoo cap with their road grays in Oakland (Friday) night," writes Mike Andrews. "I think that's the first time they've done it since introducing the block Cleveland jersey in 2011." … Speaking of Wahoo, looks like he made an appearance at Cooperstown after all (from JBeck132). … What happens when a Cubs helmet gets ghosted? Pretty much what you'd expect (from Dave Ebert). … The Trenton Thunder wore these, um, jerseys last night. … Artist Andy Brown, who I've featured on here before, did a really nice watercolor (progression) of the corporately-named park where the Texas Rangers play.

NFL/CFL News: "I was going through old boxes and found a collection of old pennants, found this one," writes Jason M. Greening. "It's generic as all get out, but it has the 'Officially Licensed' badge, and yeah, Broncos Super Bowl XXII Champions. A man (or at the time a kid) can dream." … Here's a really awful opinion piece on the worst logo in each NFL team's history (from Jason Hillyer). … Tweeter Gregg Elkin says he "Might be late to party but BC Lions (were) rocking Michigan Panthers style helmet (Friday) night."

College Football News: In the past ten years, the Tennessee Volunteers have dived into wearing different jerseys other than the regular orange and white. The Vols have attempted wearing black, orange on orange, and even grey. This article asks, What are the "Best uniform combos for the Vols in recent history?" … Bernie Bernstein writes, "Notice how @UMichFootball's new blue end zones are different from the (not really all that) new Jordan word mark. I thought they would've changed that, but they didn't."

Hockey News: Our own Alex Hider notes "Revisionist history bobble: Preds never touched the Campbell Bowl when they won the West in 2017." He adds, "He was injured when they clinched and was in a suit…pretty accurate outside of the pose." … More great work from UW friend Wafflebored: "Norvans V2 sweater complete. This one features my best guess on the stripe patterns that are not revealed in the only known photo. The goal is to work with @NitzysHockeyDen to get this displayed somewhere in North Vancouver."

College Hoops News: With the Arizona Wildcats not slated to get uniforms for at least another year or two, there is a bit of news for fans of the vintage and nostalgic. There is a strong likelihood Arizona could integrate some of their old uniforms into their rotation this season.

Soccer News: The World Cup has now moved from the Round Robin stage (where it seemed like every team wore — or was *required* to wear — both their home and change strips). It's all about the merchandising, obviously. But what's involved in designing these World Cup uniforms? … New kits for Sporting Club de Portugal featuring a classic crest on the home shirt (from Joey). I really like that white jersey with the hoops! … "Since 1864, only four players had hit the 300-game milestone for the historic Melbourne-based Carlton Football Club," writes James MacNeil. "This weekend, 2002 draft pick Kade Simpson made it five. In a subtle nod to their dependable veteran, Carlton elected to wear the number "300" above their monogram on all players' guernseys. Nike elected to heat-press the digits. Pretty embarrassing results by the end of the game." … Here's a bit more on that (from jonnyforeigner). … Our own Anthony Emerson checks in with this: Love it when @timbersfc reaches out to the original Portland. Full page ad in today's @PressHerald.
[adrotate group="2″]