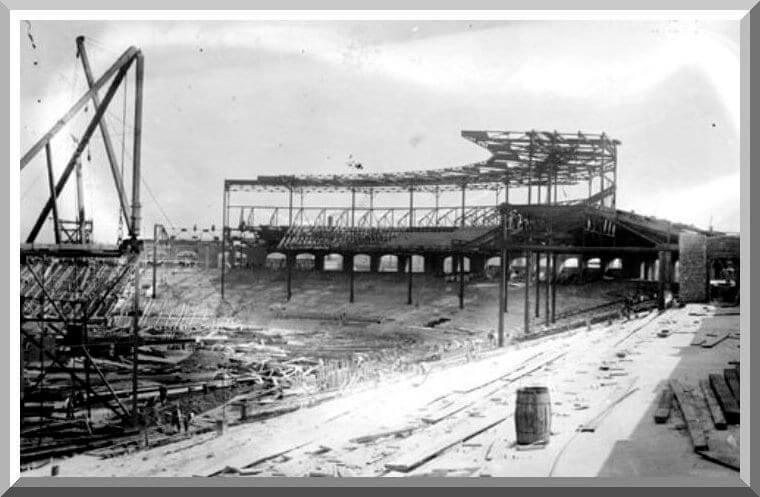 By Phil Hecken, with Ron Bolton
Follow @PhilHecken

Readers will recall I featured Ronnie Bolton (who posts on Twitter as @OTBaseballPhoto and who you should definitely follow) earlier this year with some great football played on baseball field photos and writeups, and more recently with some MLB Opening Day specials. As his twitter handle implies, Ronnie's specialty is old baseball photos. I frequently have Ronnie in for sub-ledes showcasing players or uniforms relating to the lede for the day.
Last weekend, Ron provided another great lede, Building Baseball's Cathedrals, which proved to be quite popular, and several readers and tweeters asked if Ron had any more photos and writeups of baseball stadia in their construction stages, and early use. Well, of course he does! The only thing better than one serving of OT Baseball is two. Here's Ron with …
• • • • • •
Building Baseball's Cathedrals, Volume II
By Ron Bolton
Angel Stadium

The final touches are being done on the California Angels new ballpark, you can see the light towers laying on the ground past the outfield walls. Ground was broken on August 31, 1964 and in less than two-years time it would be opened for the 1966 season.
When an expansion team was awarded to the Southern California area in 1960, its new owner Gene Autry had hoped to keep it in city limits of Los Angeles, but fearing they would always play second fiddle to the Dodgers and plus a lucrative offer from Anaheim to build a stadium Orange County it was.
1965. Note the open land that soon would be gone
Before Angel Stadium, the Angels spent one year (1961) at Wrigley Field, but with max capacity there just over 20,000 they would bite the bullet and move into Dodger Stadium the next year and where they stayed through 1965 calling the ballpark "Chavez Ravine".
On April 19, 1966, Angel Stadium hosted its first game as just 31,660 fans filled the 43,250-capacity ballpark to see the Angels fall to the Chicago White Sox, 3-1.
The "Big A"
• • •
Comiskey Park

In 1909, Forbes Field and Shibe Park started a ballpark revolution, out with the old ballparks (mostly wood), in with the new (steel and concrete), and White Sox owner Charles Comiskey is keenly aware of this, especially after he visits both ballparks and sees the future.
So, now having steel and concrete ballparks dancing in his head and looking at his team's current home, the charming but now outdated South Side Park, Comiskey hires architect Zachary Taylor Davis (he also was the architect for Wrigley Field) to design a new ballpark and ground is soon broken in the south side of Chicago on February 15, 1910. Construction of White Sox Park required 100,000 cubic yards of cement, 52 tons of rebar steel and to transport the infield dirt (550 tons) from South Side Park it would take 22 dump trucks. All done for under a million dollars ($750,000 to be exact).
Comiskey Park in 1912. Photo taken from inside the ballpark just a few years after it opened
On July 1, 1910, the new state-of-the-art 28,000-seat White Sox Park opened as nearly 30,000 rooters were on hand to see the St Louis Browns beat the Sox 2-0.
After the 1912 season, the ballpark's name would be changed to Comiskey Park.
Comiskey Park in 1927. Park enclosed and capacity was increased from 28,000 to 52,000
• • •
Candlestick Park

According to lore, it was a warm spring morning when Giants owner Horace Stoneham was shown what is known then Candlestick Point, and it had it all, location, parking, view of the bay and a developer eager to do something, anything, with the undeveloped land. The only thing missing was the howling winds and cold that would come at dusk, which was ironically about the same time an MLB game start time was.
But ole' Horace was sold and ground was broken August 12, 1958, and construction was started on the first modern ballpark to built entirely of reinforced concrete. It was also the first to have radiant heating under the seats – which was an utter failure and never worked because the heating pipes were installed too deep into the concrete.
April 1, 1960: photo taken a couple weeks before Candlestick opens as the final touches are being added
On April 12, 1960, Candlestick Park was open and saw its first game on opening day as a full house packed the 43,765-seat ballpark and watched pitcher Sam Jones throw a three-hitter in a 3-1 win over the St Louis Cardinals. What followed that was forty years of a love-hate relationship between a windy ballpark and its Bay Area residents.
April 12, 1960: the first game at Candlestick Park as fans arrive by the boatload
• • •
Ebbets Field

Keeping with the trend of steering away from the wooden ballparks, Superbas owner Charles H. Ebbets is building a new steel and concrete ballpark in Brooklyn and discreetly as well so not to drive up the price of the land, not even the realtor knew who the real buyer was.
Starting construction in March of 1912, it would take 13 months and $750,000 to build Ebbets 25,000-seat ballpark on land that was formerly a garbage dump called Pigstown. It wasn't particularly a pretty place but it was cheap and Ebbets did see its potential.
April 5, 1913 – the Yankees Ray Caldwell pitching against the Brooklyn Superbas in a exhibition game marking the opening of Ebbets Field
On April 9, 1913, the Superbas hosted the Philadelphia Phillies in the first game at what would be called Ebbets Field. Originally, Ebbets wanted to crown it Washington Park, but at the urging of many of the Brooklyn press, it would come to bear his name. When the press did arrive on the day of the opening game and realized that Ebbets had forgotten to build them a press box, one can only imagine what they would have wanted to name the ballpark.
Ebbets Field in 1913
• • •
Shibe Park

Shibe Park, the father of the modern ballparks began here and in no surprise the state of Pennsylvania, one of the top manufacturers of steel. When the Philadelphia Athletics along with the American League entered the national scene, manager and part-time owner Connie Mack probably never envisioned his club would take Philadelphia by storm and make their first home Columbia Park (13,500 capacity) inadequate in size.
So bigger was needed.
April 12, 1909 – If there is an empty nook and cranny, you bet you'll find a Philly crank wedged in there to see the A's beat Red Sox 8-1 at the inaugural game of Shibe Park
At 21st Street and Lehigh Avenue and just blocks away from National Baseball Grounds (Baker Bowl), construction started on baseball's first steel and concrete ballpark in April of 1908. Within a years time a new steel cathedral designed in a French Renaissance style was ready for baseball and crowned Shibe Park. Its first game was on April 12, 1909, and while the official capacity listed for the ballpark at 23,000, the actually number that witnessed the Athletics routing the Boston Red Sox 8-1 was anyone's guess but was easily over 30,000, including those watching from the famous roof top seating across the street. The demand for Shibe Park's inaugural game was such that thousands poured in free after breaking down one of the entranced gates, many of these were part of the 7,000 that was estimated to watch from the outfield.
And at the end of the day it was clear that wooden ballparks and the fires that destroyed them were a thing of the past and Shibe Park was the future.
Steel beam construction of Shibe Park
• • •
Metropolitan Stadium

Up to this point, all the ballparks we have profiled the last two weeks were built for existing teams, but Metropolitan Stadium was different, it was done with the thought process of "If you build it, they will come.". And it worked.
After seeing Braves relocate from Boston to Milwaukee in 1953, city officials from Minneapolis got energized and started exploring building a new modern ballpark in hopes of doing the same. Neither of the two minor league parks (Nicollet Park and Lexington Park) in the area were adequate to be temporary homes for a MLB team, so if Minneapolis wanted a team, they had to be proactive and build one.
Photo taken December 22, 1955 during construction
So after purchasing 160 acres of farmland in nearby Bloomington, construction would start in June of 1955 and Metropolitan Stadium would be completed in less than a year. They built it and indeed they did come. First it was the New York Giants and Philadelphia Athletics who showed in interest, but in the end it would be the Washington Senators chosing the Land of 10,000 Lakes as their new home and moving in time for the 1961 season.
Metropolitan Stadium, Bloomington, MN, 4/24/56 – Tensions arise between Wichita Braves & Millers in inaugural game at new Minnesota ballpark.Millers played at the ballpark while the city tried to lure an MLB team
• • • • • •
Thanks Ron! Outstanding job, once again.
[adrotate group="2″]

Kreindler's Korner
I had the distinct pleasure of featuring the wonderful artwork of artist Graig Kriendler on two occasions over the summer and fall of 2017.
For those who don't wish to click the links, Graig paints baseball heroes (and regular guys) from the past, and is an immense talent.
Occasionally, I will be featuring his work on Uni Watch.
Here's today's offering (click to enlarge):
• • •
Title: "Charlie"
Subject: Charlie Bennett, 1886
Medium: Oil on linen
Size: 12″ x 16″

A lot of casual baseball fans might not know that Detroit used to be a National League town in the 19th century. Before the Tigers came along, baseball cranks would file into Recreation Park and root for the Wolverines. An average ballclub throughout most of their existence, it was in 1887 that they had their best year, winning the pennant and beating the St. Louis Browns of the American Association for Detroit's first World Series title.

Though loaded with future Hall of Famers Dan Brouthers, Ned Hanlon, Sam Thompson and Deacon White, perhaps their most beloved player was catcher Charlie Bennett. Though he compiled a .256 BA and .340 OBP, his greatest value was in his defensive abilities, as he was always among the league leaders in Defensive WAR and fielding. He also revolutionized the position in being credited with inventing the first chest protector used by catchers. The man was beloved in Detroit that when the Western League Detroit ballclub opened their new park in 1896, it was named Bennett Park after the great man. Despite losing his legs in a train accident, he caught the first pitch at the ballpark, and would continue to do so at every home opener through 1926.

This particular portrait of the was especially challenging in the realm of uniform colors, especially considering the Wolverines used three different suits that year, with color shade of the word 'Detroit' being either red or navy. As it turns out, the answer came from the work of Fred Tomlinson, who had photographed the club. that April. I was aware of a few cabinet cards depicting portraits of individual players, but throughout a lot of digging, found ones of each player in full-body poses, as well as a team shot. In those versions, the players wore darker trousers and stockings, which only match to one of the three uniforms they wore, one which had the chest lettering in red.

Boom.
• • •
Thanks, Graig! You can (and should!) follow Graig on Twitter.
[adrotate group="2″]
And now a few words from Paul: Hi there. In case you missed it on Friday, I'm auctioning off a full set of 2015 Uni Watch T-Shirt Club shirts in a custom-made box. Full details here.
Also: Bobblehead doll restoration artist extraordinaire Chris Callan is willing to make custom Uni Watch bobbles for up to three customers. Full details here.
Also-also: Sunday is the last day to enter the raffle for a super-cool Santurce Cangrejeros T-shirt, courtesy of our friends at Ebbets Field Flannels. Full details here.
Thanks for listening. We now return you to your regularly scheduled PhilFest.
[adrotate group="2″]
Uni Watch News Ticker
By Phil

Baseball News: On Friday, Francisco Lindor took BP in a custom Cavs jersey then lead off the game with a home run. … This is awesome: Hawaii's FB head coach Nick Rolovich threw out first pitch to a Hawaii Baseball game sporting a "Wild Thing" Rick Vaughn haircut (from Rob DeMello). … The Fort Wayne Tin Caps will be doing that Star Wars jersey thing, and you can bid on the jersey from now thru Star Wars Day (May the Fourth). From MiLB Promos. … Also from MiLB Promos, the Jacksonville Shrimp wore a "Jock" Cousteau Guy Harvey designed jersey last evening. … Still more from MiLB: check out the unis the Bowling Green Hot Rods wore as they became the Bowling Green Bootleggers last evening. Here's another look at the jersey (from Eric Leach). … The Salem Red Sox celebrated their Star Wars Night last evening (from Al Jones). … Throwback unis for the Softbank Hawks and Orix Buffaloes who went retro to Nankai Hawks and Kintetsu Buffaloes for the Kansai classic matchup (from Graveyard Baseball). … The Frisco RoughRiders, Double-A affiliate of the Texas Rangers, will commemorate Cinco de Mayo with specialty uniforms and a Spanish-language nickname, Los Jinetes, which translates roughly to horse riders. … Here is another article about how baseball may possibly be able to survive. "The best part about it is the photo they used of the 1979 Pirates Championship Series. (Stargell Stars, piping on hats not lining up, pinstripes, HUGE font for NOB)," writes Eric Bogh. … Kris Bryant has become the latest All Star to add the C-Flap guard to his helmet in return to Cubs lineup. … Tweeter Sean Krull asks, "Why would you ruin [Old Miss'] gorgeous powder blues with a camo helmet/hat?!?" — Here's how they normally look (from Randy Morgan). … Both BYU and San Diego wore blue yesterday in Provo (from Steve Carter). … Very green uniform for Oregon Softball yesterday vs. Washington (from Sarah Beccio). … "I can't confirm this, but it looks like the Phillies have already stopped using the 3D [logo on the] batting helmet," writes Blake Fox. … Last night the Lynchburg Hillcats went with Autism Awareness jerseys (from OT Sports). … "Former Pirates usher Phil Coyne turned 100 and they threw him a party," writes Steve Dodell. "There were two different custom t-shirts for the occasion. One had two interesting uni elements…a triple digit number and vertically arched FNOB, which Pirates have not used in years."

NFL News: "The bears Instagram account posted this video showing their 1st round draft pick Roquan Smith in the Madden video game, but it appears that the helmet he's wearing has an orange facemask," says Zach Carlstrom. "The internet consensus is that they're coming out with a new look for the orange jersey, but can never believe anyone without a source." … Paul Bastia has some observations from the NFL Draft: "With all the hoopla around new uniform releases you would hope the teams/NFL would coordinate to have it right: Miami using old helmet image (with blue piping); and Jags using a chrome mask (which actually looks good)." … Since 1969, Vikings seamstress Penny Bryce has tended to uniforms. Now, after 49 seasons, she's hanging up her needle. … Check out this Atlanta United/Falcons Josef Martinez/Michael Vick crossover jersey (from Cody Fortune). … A Ravens fan pasted "Jackson" over his Joe Flacco jersey for newly drafted QB Lamar Jackson (from Andrew Cosentino). Still not elite. … And if that's not enough disrespect, here's more (from Brad Darby). Geez, your guy wins a Supe, and now this. … Reader Bill Kellick noticed Raiders' TE Dave Casper had a rip in the seat of his pant in this clip from 1977.

Hockey News: From our Canadian friend Wade Heidt comes this: Canada will wear a green and yellow version of their logo on the helmets at the 2018 IIHF World Hockey Championships in honour of the Humboldt Broncos' bus tragedy.

NBA/WNBA Baseketball News: Here is a look at all of the WNBA Icon and Statement lighter color and darker color uniforms for the 2018 season. Since all WNBA games are color vs. color, the unis are all a lighter color and a darker color (that actually go pretty well together). Several of the teams mimic the colors of their NBA counterparts. … Someone has undertaken a pretty serious uni tracking/analysis of the Portland Trailblazers in their various uniforms. … When you can't afford (or won't pay for) a uni, well, you just make your own damn uni! (nice spot by Joe Nocella). … Shouldn't it have been the Harley-Davidsons? "ABC Los Angeles discussion the Bucks/Celtics series," writes Robert Stokas.

Soccer News: The Milan 2018-2019 away kit is made by Puma who take over from Adidas, and it has leaked (from Josh Hinton). … Also from Josh Hinton, "This isn't new, but hasn't been on the ticker: Las Vegas Lights FC away kit on right." … Still more from Josh: Chelsea's 2018-19 home kit has leaked and Luton Town FC released their 2018-19 home, away, and third kits, all of which have a different sponsor.

Grab Bag: A new 'Diversity is Strength' ad is part of NZ Rugby's "emphatic diversity declaration," in which the All Blacks and Black Ferns are shown wearing a rainbow infused playing jersey (from Jason Reed). … "Here's a story from The New York Times that I thought you'd find interesting," writes Paul. "Complaints about bad behavior by men and a lack of advancement for women long went ignored, employees said, but now change seems to be afoot." At Nike, revolt by women leads to exodus of male executives. (also sent in by Tom Turner).
[adrotate group="2″]