Lots of news and counter-news bouncing around the uni-verse yesterday evening, as it looked for a minute like we might finally be free of the scourge of Color Rash uniforms. As it turns out, that was premature.
It began with a late-afternoon report that an executive from Fox Sports — the network that has acquired the NFL's Thursday-night package for this season — had said that the Rash was finished:
Bill Wanger of FOX Sports says alternate uniforms on Thursday Night Football are going away. Hardcore fans don't need gimmicks to watch. The game schedule will also be stronger. #NABShow

— Jason Barrett (@sportsradiopd) April 10, 2018
But a few hours later, NFL Network reporter Mike Garafolo basically said, "Not so fast" — and hinted at other potential changes in the league's uniform policy:
On color rush, the uniforms aren't going away completely. It's just that they might not be exclusive to Thursday nights anymore, sources say. Could be some other tweaks to the uniform policy as well. Also, this is subject to votes from ownership.

— Mike Garafolo (@MikeGarafolo) April 10, 2018
A subsequent report on the NFL's website explained that Garafolo's line about how "this is subject to votes from ownership" referred to an owners' meeting in May, when all of this will presumably be on the table.
A few thoughts:
1. The idea that the Rash "might not be exclusive to Thursday nights anymore," as Garafolo put it, is not exactly news, because the Rash had already spread to non-Thursday games last season. It began with that Patriots game in October, and several other teams got the Rash for Sunday games as well. So contrary to the initial reports of the Rash fading, it actually looks like the Rash may be spreading. Sigh.
2. A retail source of mine confirms that his chain bought Rash jerseys "under the impression that they could be worn at any time."
3. The more interesting development is the tidbit about the other potential changes to the league's uniform policy. What might those be? A few possibilities:
• They could eliminate or modify the one-shell rule.
• They could eliminate or modify the five-year rule. Hell, I'd be happy if they just clarified the five-year rule, since it's been applied so inconsistently over the years.
• They could change the restriction that limits teams to having only one alternate or throwback uniform, and/or change the restriction that alternates or throwbacks can be worn no more than twice during the regular season.
• They could allow nickNOBs for one week, sort of like MLB's Player's Weekend promotion.
• They could extend the "My Cleats, My Cause" promotion beyond one week.
• They could allow maker's marks on helmets.
• They could come up with some sort of waiver for the Rams, just so they don't look so ridiculous this season.
• My personal favorite: They could allow color-vs.-color games. This is what the Thursday-night program should have been all along — forget the mono-on-mono Rash costumery and just let the Raiders and Chiefs face each other while wearing their home uniforms (or the Packers and Bears, or whatever).
I'm sure there are other possibilities that I'm overlooking. Anyone..?
Anyway: Before we all get excited, let's keep in mind that some uni-related proposals at last spring's owners' meetings ended up going nowhere. It's entirely possible that the same thing could happen this time and we'd just be left with the status quo.
• • • • •
[adrotate group="2″]
• • • • •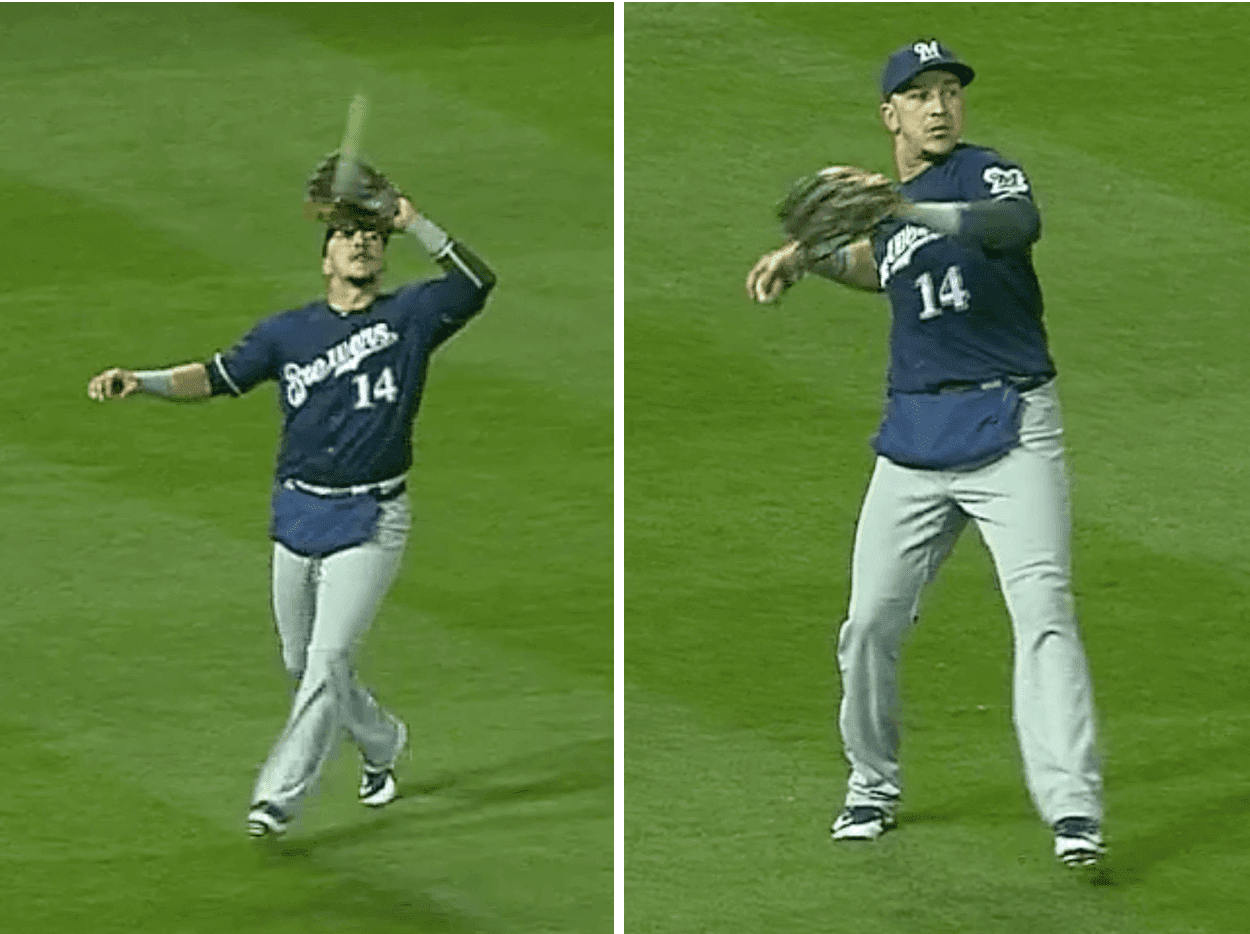 Never seen that before, Vol. 739: So here's a new one, at least to me: Brewers left fielder Hernan Pérez was wearing one of those NFL-style hand-warmer pouch thingies for last night's game in St. Louis. Can a shortstop wearing a dugout jacket on the infield be far behind?
In case you're wondering: He did not wear the pouch while batting — only in the field.
Update: Reader/commenter Joshua reports that Cleveland outfielder Bradley Zimmer wore a pouch emblazoned with the team's block-C logo in the field and at the plate on April 3, which I had not been aware of!
(My thanks to Mike Chamernik and Ryan Ziegler for letting me know about this one.)
• • • • •
[adrotate group="2″]
• • • • •
The Ticker
By Alex Hider

Baseball News: The A's and the White Sox will wear 1968 throwbacks on April 17. Note that the A's jersey is a true vest, narrow across the shoulders and with big armholes as opposed to a standard jersey without sleeves (from @UntillTheNight). … Speaking of the White Sox, here's a fascinating story about what New Comiskey Park could have been. It also includes a late-'80s concept logo for a potential White Sox move to Florida (from Nordstern Countermedia). … Staying in Chicago, Loyola Chicago's most famous fan, Sister Jean, threw out the first pitch on Opening Day at Wrigley. Cubs anthem singer Wayne Messmer also wore a maroon and yellow Loyola scarf (from and Chris Howell). … Pirates P Felipe Vázquez, who recently changed his name from Felipe Rivero, will have an accent mark on his new NOB. … Per Griffin Smith, Cubs pinch hitter Efren Navarro wears No. 50 because he was selected in the 50th round of the MLB draft. … Wow, Griffith Stadium in DC, where the Senators played, had some seriously weird infield cut-outs in 1955. Another view here. … Robert Breshear was at Boog City's "Baseball, Poetry and Music" event Sunday in the East Village. Among the readers was artist Basil King, who's done plenty of really good baseball art. … Delorimier Stadium, former home of Jackie Robinson's Montreal Royals, was torn down in the late '60s, but a marker still lies where home plate once stood (from Malcolm MacMillan). … GQ has a piece on fashion-forward baseball merch (from Andrew Cosentino). … Here's as good a look as you'll ever find of the Yankee Stadium 50th-anniversary patch, which the Yanks wore in 1973. It was the first stadium patch ever worn by an MLB team (from Ray Hund). … P.F. Flyers cleats are starting to show up around MLB. Mariners INF Taylor Motter wore them during last night's game against the Royals (from Tim Dunn and Mike Chamernik). … Nationals manager Dave Martinez wore a Washington Capitals cap at a press conference yesterday (from @terp11).

NFL News: The NFL has released the designs for the 2018 Draft caps. This year, the caps will bear team-specific slogans. … Lots of vintage NFL jerseys were spotted at Tecmo Madison XIV, an annual Tecmo Bowl video game tournament (from Jeff Sharon). … Steven Lobejko found these these not-exactly-authentic football pennants at a vintage shop in Minneapolis. … Ed Hughes was at a conference in Denver, which included a reception at the Broncos' stadium, where he spotted this throwback helmet cart.

Hockey News: In honor of the victims of the bus crash in Humboldt, Canada, involving a junior hockey team, Penguins star Sidney Crosby had the team's equipment manager, Dana Heinze, make this Pens jersey with a "Broncos" NOB and special tagging, which the entire team signed and sent up north (from @GKG_77). … We recently had a Ticker item about how a section of the Stanley Cup was being removed and sent to the Hall of Fame — the latest of several such moves over the years. Here's how the Cup would look if no sections had ever been removed (from Jeremy Brahm). … Cross-listed from the baseball section: Washington Nationals manager Dave Martinez wore a Capitals cap at a press conference yesterday (from @terp11).

Basketball News: The Sixers have installed a new banner with a team logo outside of their arena. They're rolling out some additional playoff promotions as well (from  @PhillyPartTwo and Shawn Bleiler). … Per a press release from the WNBA's Connecticut Sun, the new WNBA jerseys made by Nike will be unveiled at the WNBA Draft on April 12 (from  @TheSkyShowCHI). … Jazz G Donovan Mitchell lobbied for Rookie of the Year honors by wearing a "rookie" hoodie.

Soccer News: There were two UEFA Champions League games yesterday, both of which featured light blue and red matchups (from Angelo Fico). … More photos of Manchester United's home kit for next season have leaked (from Josh Hinton). … Leicester City had an embarrassing typo on a large banner that was unfurled during a recent match (from Moe Khan). … Newcastle United has been fined £7,500 for allowing its U18 to wear jerseys with a payday loan ad (from Griffin Smith). … New Earth Day unis for MLS teams, including jerseys made from recycled materials. All jerseys are in black or white. They'll reportedly be worn between April 20 and 22. (from Ed Zelaski and Josh Hinton). … You can now buy Pearl Jam soccer jerseys, modeled after national team jerseys (from Jason Hicks). … Here's why West Ham midfielder Arthur Masuaku tears holes in his socks (from Neil MacLeod).

Grab Bag: The U. of Washington has agreed to a 10-year apparel deal with Adidas. The deal begins in July of 2019, so this fall will be the school's final season with Nike (from Tyler Keefe). … A boy who lost his eye to cancer has a new prosthetic with an Iowa tigerhawk in the iris (from Kary Klismet). … Not only is bull leaping — or recorte, in Spanish — a sport, but competitors wear uniforms! Recorte is considered a non-violent alternative to bull fighting in Spain (from Jon Solomonson). … The New South Wales Waratahs of the Australian professional rugby union will wear retro jerseys on Saturday. The jerseys will not be sold at retail, and the players will give the jerseys they wear to a club or school that played a significant role in their development (from Eric Bangeman). … If you've thought the lowercase "g" in Google's wordmark looked strange, you're not alone (from Jason Hillyer). … The NLL's Saskatchewan Rush added a helmet decal for the Humboldt bus crash victims (from Brett Thomas).
• • • • •
[adrotate group="2″]
• • • • •

What Paul did last night: The news about the Rash being scrapped began circulating just as I was getting ready to go to the movies, so I was all stressed about a big story breaking on my beat while I was going to be stuck in a movie theater. Then I came out from the movie and learned that the Rash wasn't being scrapped after all. Moral of the story: Just go to movies and don't worry about work — everything will turn out fine.
The movie I saw was A Quiet Place, the new post-apocalyptic sci-fi thriller about fearsome aliens who can hear but can't see. The family at the center of the movie has to remain quiet, so they communicate almost exclusively in sign language, which is really interesting (and avoids the common movie problem of unrealistic dialogue). Plenty scary, too. I really liked it. Recommended.