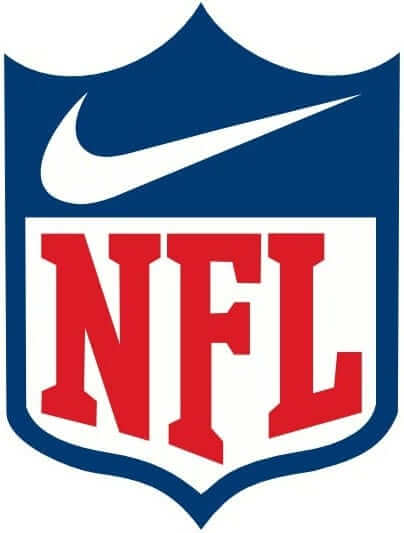 It's been the most compelling storyline of the past week: A landmark legislative proposal emerges out of Washington with the potential to reshape American life, both sides brace for a titanic vote — and then the proposal is pulled at the last minute because the legislation's sponsors conclude that they don't have enough votes.
I'm referring to, of course, the Washington NFL team's proposal to allow teams to opt out of wearing Color Rash uniforms for Thursday-night games. NFL owners were set to vote on that yesterday, but several media outlets reported that Washington withdrew the proposal because it didn't have enough support. At least one other owner — John Mara of the Giants — would have voted in favor of it, but it's not clear who else would have done so. (Rumors that the proposal was torpedoed by a small cadre of hardline owners who want to do away with Color Rash altogether, and who referred to the opt-out idea as "Color Rash 2.0," are almost completely untrue. Paul Ryan could not be reached for comment.)
As for the Eagles' proposal to allow teams to have an alternate helmet, thereby effectively killing the one-shell rule, that one never came to a vote either. According to this NJ.com story, the proposal "was withdrawn after [team owner Jeffrey] Lurie was told it would not pass."
But the people who speculated that the Eagles' proposal might indicate the team's desire to revive their kelly green throwbacks turned out to be correct. That same article included the following:
Lurie did not hold back when asked about adding a kelly green uniform to the team's wardrobe.

"We're going to keep at it," Lurie said. "We're determined."

Could a permanent change be coming, from the team's midnight green to the throwback kelly green they last wore in 1996?

"First I want to try it as an alternate," Lurie said. "Try it for two or three games. See if people like it. That was the goal, to try to make that happen."
Too bad about the kellys. But the worst part is that they didn't even bother to have a vote. Why not go ahead and see where each organization stands? Like, were they worried about a filibuster or what?
(My thanks to Uni Watch's own majority whip, Phil Hecken, for sending me the news about the NFL votes.)
• •  •  •  •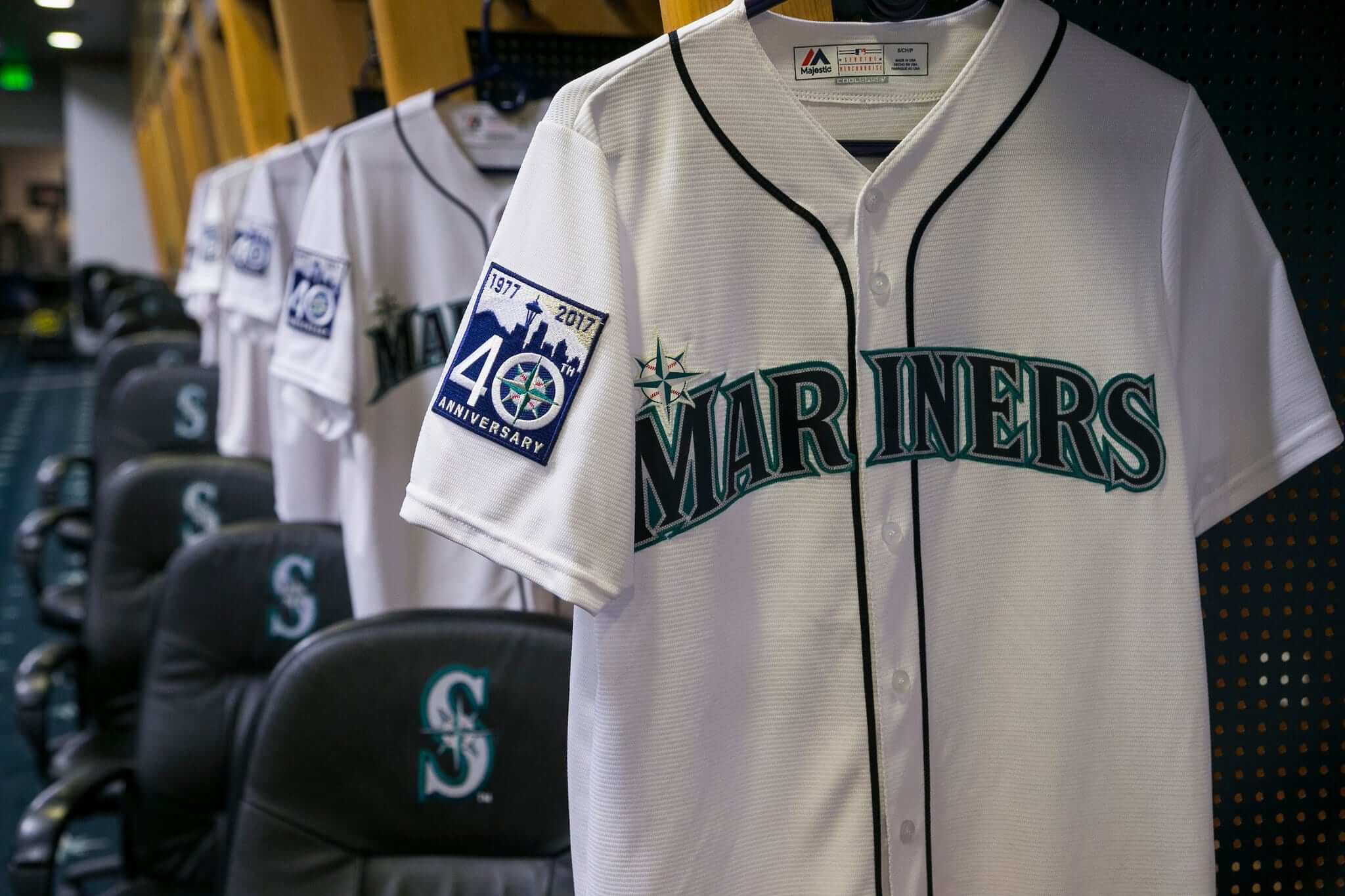 Click to enlarge
Play ball! It's one of my favorite days of the year, people: the day we publish the Uni Watch MLB Season Preview, now in its 19th annual edition, featuring a comprehensive rundown of all of this season's uniform changes (well, at least the ones that I'm allowed to talk about). That includes the Mariners' new 40th-anniversary sleeve patch, shown above. They'll also be wearing a cap patch for their home opener on April 10, but not for the rest of the season.
Check out the full MLB preview here.
•  •  •  •  •
Contest reminder: In case you missed it yesterday, my latest ESPN design challenge is to redesign the Raiders for their move to Las Vegas. Full details here.
•  •  •  •  •
T-Shirt reminder: In case you missed it yesterday, our latest limited-edition T-shirt in the Uni Watch Artist's Series is by the great Larry Torrez (aka Eltee of DC). In the spirit of his Meatscots caricature series, he's imagined a fictitious Japanese baseball team called the Kyoto Yakitori, whose mascot is a baseball-playing samurai with a sword that serves as a baseball bat and as a yakitori chicken kebab skewer (click to enlarge):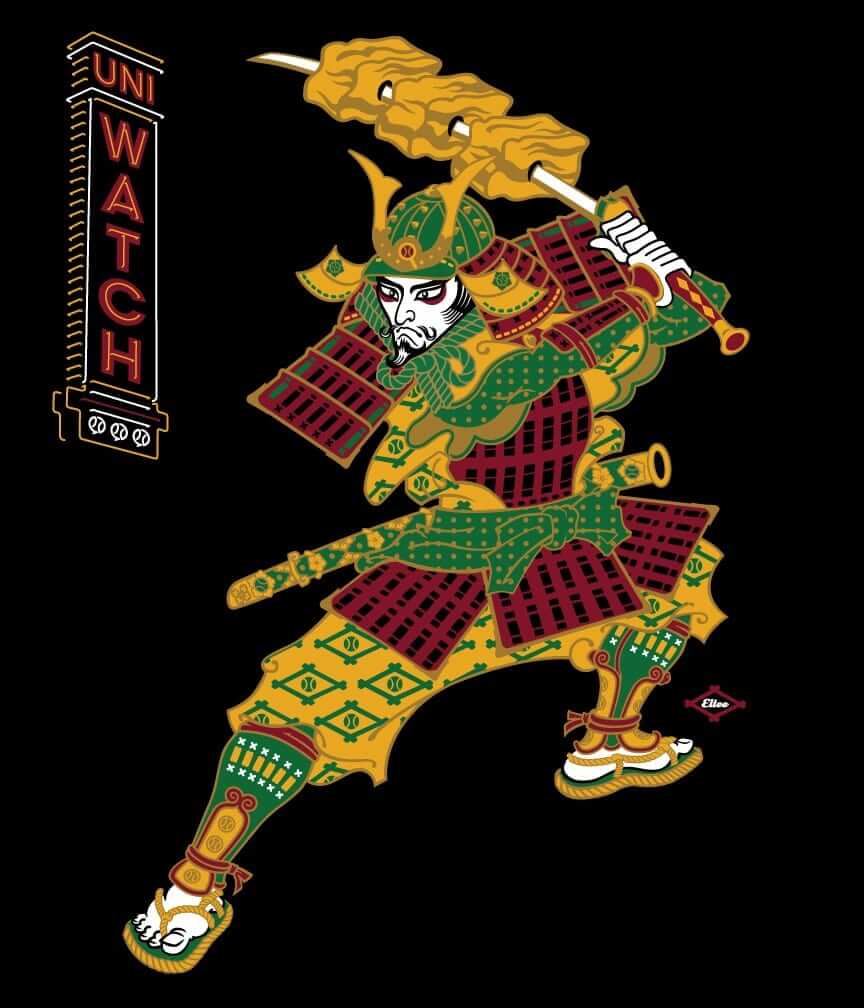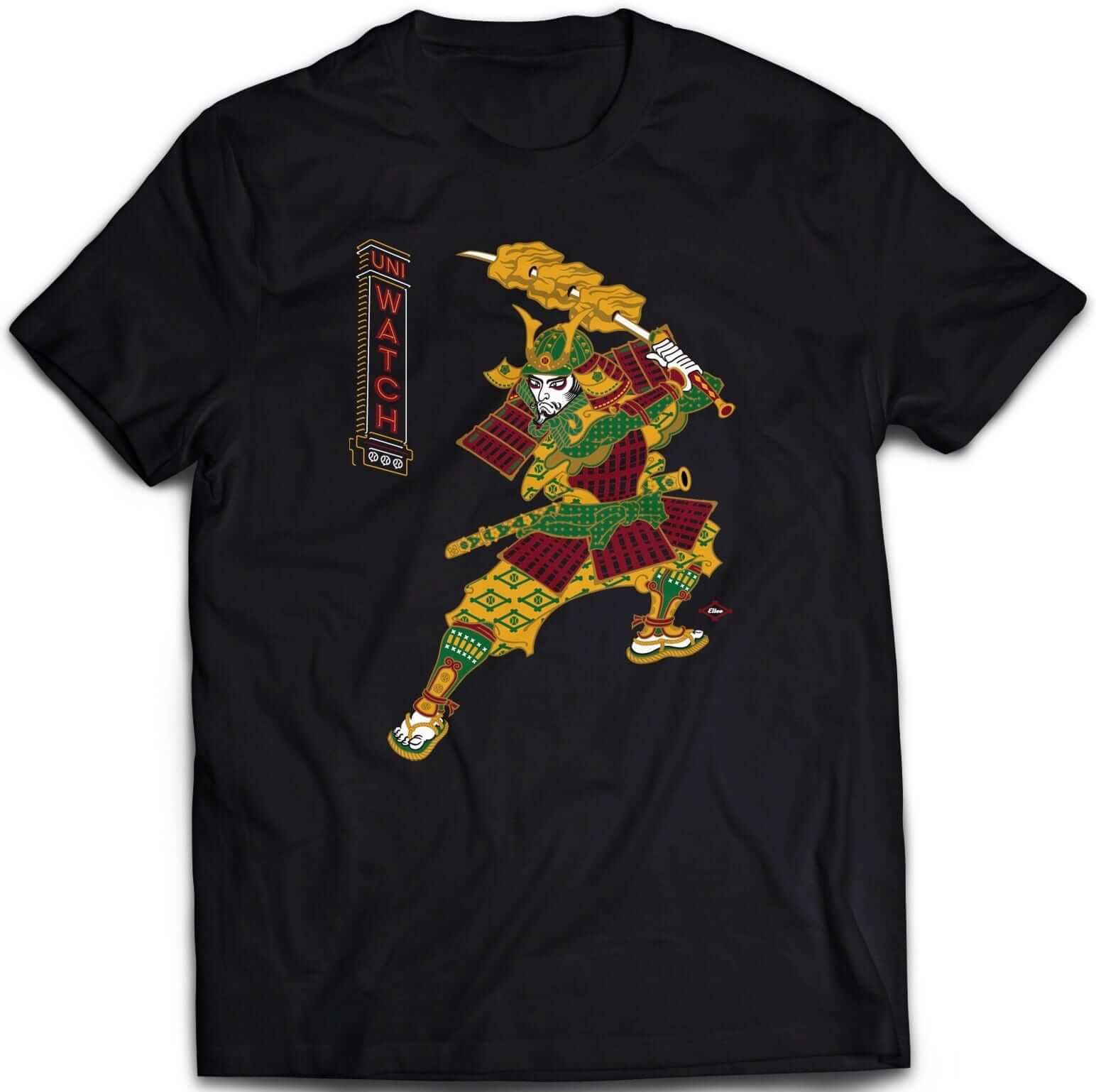 It's available in three different black short-sleeve options (two of which come in sizes up to 5XL) and one long-sleeve option (up to 5XL). Plus I've also made the design available as a sticker. Haven't done that before with any of our T-shirt designs — let's see how that goes.
Some of you have also asked why I'm okay with this design if I have issues with Native American-based sports designs. That's a perfectly valid question, and I've created a separate page to address it. Look here.
The shirt is available here through next Thursday, April 6. My thanks, as always, for your consideration.
•  •  •  •  •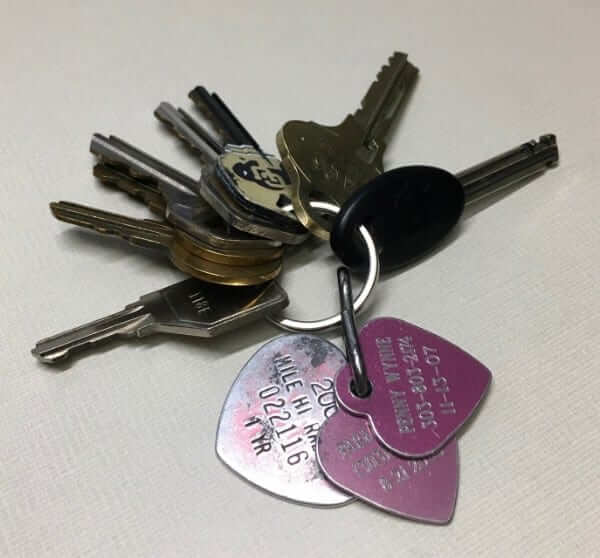 KRC update: The latest installment of Key Ring Chronicles is about a guy who has the tags from three cherished pets on his key ring. Check it out here.
Incidentally, I am very much in the market for new KRC content. If you have a special item on your key ring with a good story behind it, please get in touch. Thanks.
•  •  •  •  •
The Ticker
By Alex Hider

Baseball News:  Red Sox P Joe Kelly, who usually wears No. 56, was wearing a NNOB No. 80 jersey for yesterday's spring training game. His uniform apparently didn't make the trip (from Brian Dankese). …  Here's a list of the  new features at Nationals Park  this season (from  Tommy Turner). … Remember Precious Moments figurines? They've made a series commemorating the Cubs World Series win (from Chris Viel). …  Burrill Strong  found this  old Tigers pennant in his Dad's office. … If the designers of this pack of tissues were trying to make the packaging look like a Yankees jersey, they got it wrong. They used the cap version of the logo (from Anthony Nuccio). … These are  Scranton Wilkes-Barre RailRaiders batting practice caps for this season (from Mike Slesinski). …  Arizona State wore Barry Bonds-era throwbacks yesterday (from Joe Farris). …  LSU wore throwback uniforms last night (from Sean Vanderbrook). …  Alexandria High School in Alabama has some pretty slick Orioles-inspired unis (from  Phillip Tutor).


Pro and College Football News:  Check out the FIOB nameplate on  former Bronco Jim Turner's 1972 jersey: It appears they had to hastily add the "J" after another Turner was added to the team (from  @BroncosQBClub). … The Chargers are giving a free Philip Rivers jersey to all season ticket-holders (from Brinke). … James Gilbert noticed an error  in a display in at North Carolina's football facility "" the decal is on the wrong side of the helmet.

Hockey News:  The Wild will wear North Stars jerseys during pregame warm-ups before their regular season home finale against the Hurricanes on April 4. …  Nick Jones  caught ESPN using an  old Maple Leafs logo in one of its stories. … This logo mocked up for a story in The Onion looks suspiciously like the Blue Jackets' logo (from Kevin Pedigo). …  Check out these classic North Dakota hockey programs from the 1950s and '60s (from  Greg Enkers). … When the Sabres played the Rangers at MSG in their first game after the Sept. 11 attacks, Buffalo expressed solidarity with NYC by wearing jerseys with Rangers-style "New York" lettering. A fan was wearing one of those jerseys at last night's Sabres/Blue Jackets game in Columbus. Were those ever offered at retail? If not, it's possible that the fan was wearing one of the gamers that were auctioned off for charity back in 2001 (from Joe Pitzonka).

NBA News: The Wizards will wear their  stars and stripes unis at home during the playoffs this season. … Michael Kidd Gilchrist, a Kentucky alum, lost a bet with North Carolina alum Marvin Williams over Sunday's game, and had to wear a Tar Heels varsity jacket (from  James Gilbert).

College Hoops News: Here's a story behind  the guy who wrote the CBS March Madness theme "" you know, that song that's been stuck in your head for the last two weeks (from  Gabe Oppenheim). … Cutting down the net after winning the national championship can be a risky operation. … Sometimes, moms force you to get creative (from  Kevin Pedigo).

Grab Bag:  This story about the Raiders moving to Vegas shows a guy wearing a hat and shirt with what appears to be a  modified old Columbus Crew uniform (from  James Walker). … NASCAR driver William Byron visited the officers for Axalta "" a company that paints some stock cars  "" and received a  branded football helmet  (from Dell Michaels).