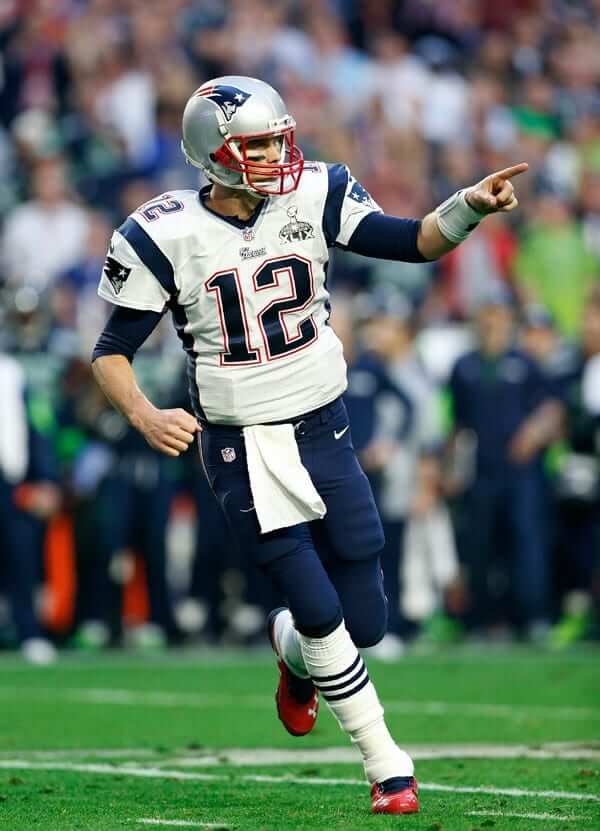 On Saturday, the Tugboat Captain and I were at a bar in deepest Brooklyn, watching the Eagles/Falcons game. When that game ended, they switched to the Titans/Patriots game, and they showed Tom Brady walking onto the field.
I realize that a lot of people hate Tom Brady. Some people hate him because he married a supermodel (which I don't care about because celebrity culture means less than nothing to me). Other people hate him because they hate Boston and/or hate teams from Boston (I like Boston fine, and I'm a Yankees-hating Mets fan, which means I'm predisposed to liking the Red Sox). Others hate him because of deflategate (he served his suspension).
As I explained to the Tugboat Captain as we watched the game the other night, I really like Tom Brady. Not so much because he's a great quarterback, but because he's a great-looking quarterback. When I think of what I want a quarterback to look like, aesthetically, I think of Brady or someone very much like him. Everything about his body and posture looks and feels Just Right. The ratio of his torso to his legs, the ratio of his thighs to his calves, the width of his shoulder pads, his height, the way he plants his back foot after fading back to pass, even the way he wears his eye black. From an aesthetic standpoint, he is immensely pleasing to watch. He's like the dictionary definition of how a quarterback should look (at least in my dictionary). About the only thing I don't like about his look is the knee brace on his left leg, which looks particularly clunky with the Pats' striped white road socks.
Brady also happens to be tremendously successful, but on-field success doesn't always correlate with aesthetic appeal. Peyton Manning was a great quarterback, but I never enjoyed watching him play. His body, and the way that body moved, never appealed to me. Another example: Dan Fouts. When I was a kid, I was always surprised that Fouts was so successful, because he didn't look like he'd be successful. His body was stubby (well, relatively speaking, compared to lots of other quarterbacks, or at least it looked that way, in part because he was one of the first QBs to wear a flak jacket under his jersey) and his movements weren't graceful.
Quarterbacks I've loved to watch over the years, aside from Brady, have included Roger Staubach (although I've always hated the Cowboys and therefore always hated Staubach) and Randall Cunningham (great posture, and I loved his shoulder pads and even his thigh pads, if you can believe that). Quarterbacks that have kinda bugged me have included Fran Tarkenton (too small), Drew Brees (too small), and Joe Namath (terrible posture with those sloping shoulders). I don't mean to take anything away from those quarterbacks, each of whom, obviously, is an all-time great. I just haven't found them as visually satisfying to watch.
The two teams I root for — the 49ers and Giants — are both in the NFC, so I rarely have any emotional stake in Brady's games. I'm free to observe him on a strictly aesthetic basis, and I usually like what I see.
As for yesterday's playoff games:
• Jaguars running back Leonard Fournette wore his old purple and gold shoulder pads from LSU: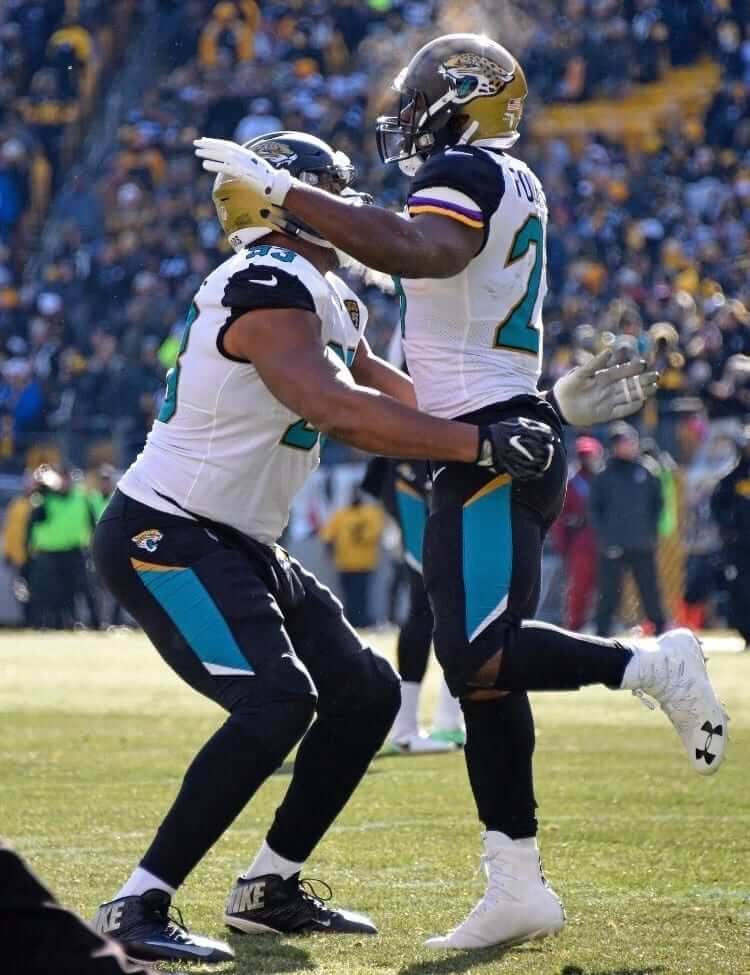 Leonard Fournette did indeed wear #LSU shoulder pads in today's playoff win, sent to him by the school's equipment guys, per people who would know such things. https://t.co/SpgPrMiRVP

— Ross Dellenger (@RossDellenger) January 14, 2018
• Steelers linebacker Vince Williams wore a backplate emblazoned with the uni number of injured teammate Ryan Shazier:
• The Jags celebrated their win with teal champagne — gross.
Jaguars contingent in Pittsburgh celebrates trip to AFC title game with teal champagne. pic.twitter.com/TbADFLChzq

— Darren Rovell (@darrenrovell) January 14, 2018
• Vikings wide receiver Stefon Diggs, who caught the miracle game-winning catch against the Saints, wore solid white socks with no purple:
Meanwhile: Only three games left to go in the season. There's still a chance that we could have our first mono-black Super Bowl team (and history's worst Super Bowl helmet), if the Jags win in New England. There's also the unsettling possibility of the Jags facing the Vikings, which would be an aesthetic shitshow of epic proportions. You know who I'll be rooting for next Sunday.
(My thanks to Robert Hayes, Ryan Miller, and Griffin Smith for their contributions to this section.)
• • • • •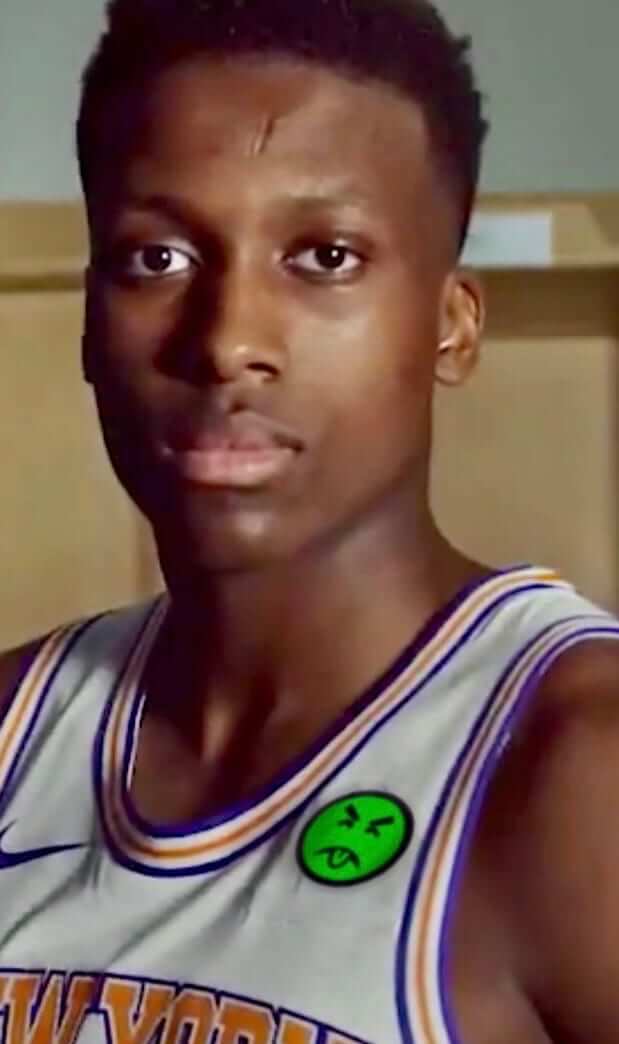 NBA uni ad update: When the NBA season tipped off on Oct. 17, 17 of the league's 30 teams were wearing corporate advertising patches. Less than 10 days later, that number ticked up to 18, as the Pelicans got on board. Less than three weeks after that, the number reached 19, as the Hornets revealed their ad patch.
At that point, it seemed plausible — or at least not implausible — that there'd be a steady drip-drip-drip of additional teams joining the ad program as the season progressed. I recall one longtime reader (hi, Dan!) posting a comment that basically said, "Well, now it's obvious that every team is going to do it."
It has now been exactly two months since the Hornets became the 19th ad-clad team, and we're still stuck at 19. With the season now a bit more than half over, I'd say it now seems plausible — or, again, not implausible — that the number is likely to stay right where it is.
I think the primary lesson here is that this is all uncharted territory and that we should refrain from making strong predictions, or even having strong expectations, because the whole enterprise has turned out to be extremely unpredictable.
All of that said, while I'm disappointed that so many teams have gone ad-clad, I'm very pleased that more than a third of the league's teams have remained ad-free, at least so far. A nice surprise. #NoUniAds
• • • • •
NBA Uni Tracking
By Collin Wright
The three possible types of color matchups are beginning to level out, but we'll probably see more home teams wearing colors and color-on-color games as teams begin wearing their two alternate uniforms, most of which are colored (click to enlarge):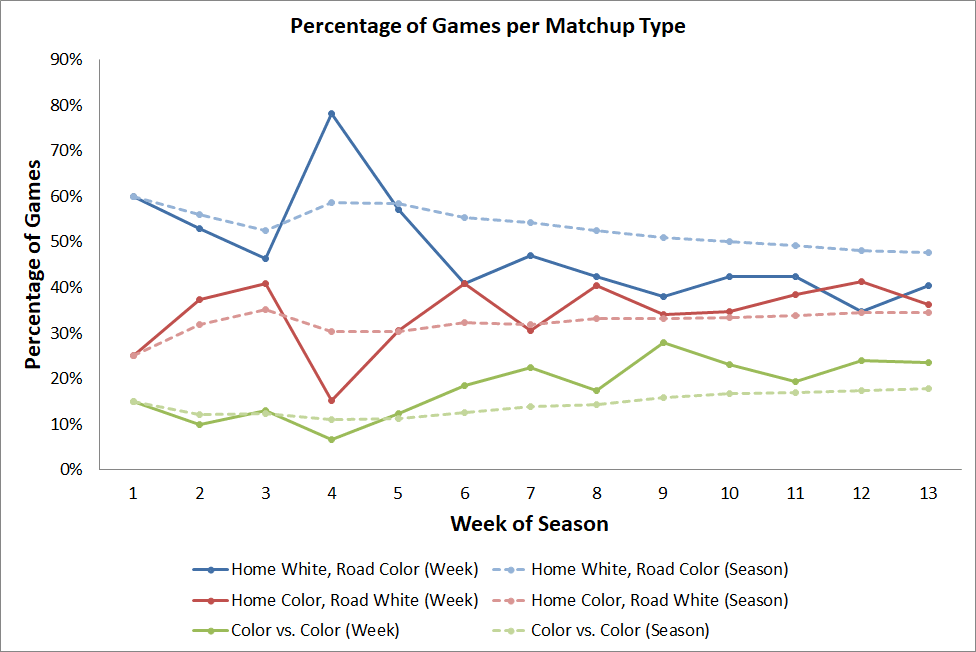 • • • • •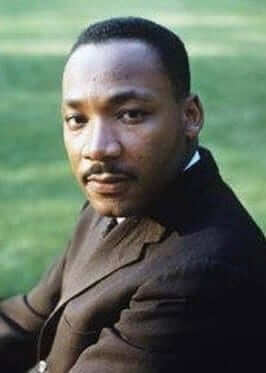 Just think about it: Today is Martin Luther King Jr. Day, the day when we celebrate the life of history's greatest American. It's astonishing to think how short that life was — King was only 39 when he was assassinated nearly 50 years ago. If he were still alive, today would be his 89th birthday. Imagine what he could have accomplished in those 50 years, and imagine how much better off we'd be for it. What a waste.
The Grizzlies, who are playing the Lakers today, will honor King today by debuting their new alternate uniform, whose design is based on signage from the 1968 Memphis sanitation workers' strike — the final civil rights campaign of King's life. The full story behind the design is nicely spelled out here — definitely worth reading. The game will tip off at 5:30pm Eastern and is being televised by TNT.
In addition, the UMass-Lowell basketball team will be wearing King-themed uniforms for this afternoon's game against New Hampshire:
Check out the special #MLKDay Jerseys the @RiverHawkMBB team will be donning Monday afternoon when we host UNH. Built around MLK's Life Blueprint speech. #AEHoops #UnitedinBlue #Dream
Tickets: https://t.co/cuO9MZdZ0Z pic.twitter.com/Wa6YZ1WcZ1

— UMassLowellAthletics (@RiverHawkNation) January 12, 2018
(My thanks to Tommy Coyle for his contribution to this section.)
• • • • •
Membership update: If you made a New Year's resolution to finally sign up for a custom-designed Uni Watch membership card already (like Ryan Koslen's card, shown at right, which is based on the Trail Blazers' new Dr. Jack Ramsay-themed alternate), there's no time like the present to make good on that resolution.
Remember, a Uni Watch membership card entitles you to a 15% discount on any of the merchandise in our Teespring shop. (If you're an existing member and would like to have the discount code, email me.) As always, you can sign up for your own custom-designed card here, you can see all the cards we've designed so far here, and you can see how we produce the cards here.
• • • • •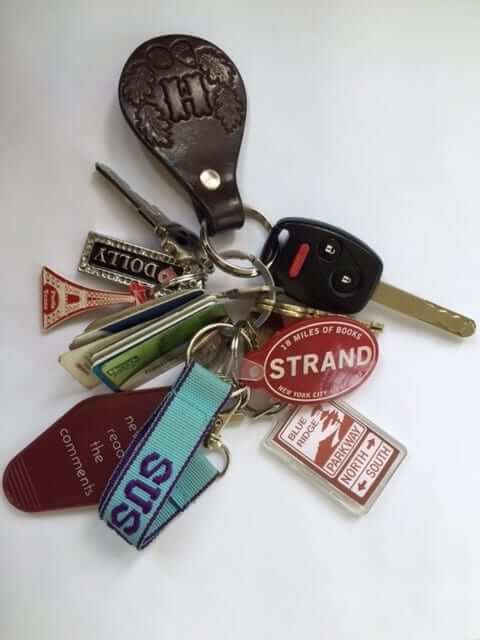 KRC update: The latest installment of Key Ring Chronicles is about a miniature Blue Ridge Parkway sign (among lots of other trinkets, as seen above). Check it out here.
I am low on KRC content and in need of new entries. If your key ring includes a special object with a good story behind it, please get in touch.
• • • • •
Click to enlarge
Curling update: My curling team won its final game of the season with a very solid 7-2 victory last night. That's me holding the "Curler's Crying Towel" that reader Will Scheibler recently sent me (and that I showcased on the site last week). Fortunately, we didn't need any of those excuses this time time around.
• • • • •
The Ticker
By Jamie Rathjen

Baseball News: Cardinals third base coach José Oquendo is reclaiming No. 11 in his second spell in the position, moving the current occupant, infielder Paul DeJong, to No. 12 (from Braden Claassen). … Reader Chris Flinn found a baseball-themed Sesame Street book with great visuals, including a bullpen cart as well as Bert and Ernie et al. wearing stirrups.

Hockey News: The Tulsa Oilers (ECHL), an affiliate of the Blues, wore Blues-themed jerseys on Saturday (from Mike Iles). … Former Blackhawks winger Éric Dazé was invited onto the ice before his team's game yesterday against the Red Wings, appearing with the CCM jersey he would have worn instead of a current one (from Michael Alper).

Basketball News: Vanderbilt did a blackout yesterday against Kentucky, except the team wore gold instead (from Josh Hinton). … The officials in yesterday's Indiana-Northwestern game were wearing stripes of two different widths (from @Adam_PHN).

Soccer News: Everton striker Cenk Tosun, who joined the team this week, wears FNOB. He's not the only Turkish-German player in Liverpool to do so, as Liverpool defender Emre Can does as well. … American winger Landon Donovan recently un-retired to play for Mexican team Club León. Donovan is to wear No. 20, which "must be a reference" to the seven times that the U.S. have beaten Mexico 2-0 since 2001 (collectively known as "Dos a Cero"), says Mark McGinnis. … New white third shirt for Scottish Championship team Queen of the South. … Japanese team FC Tokyo revealed its new home kit (from Jeremy Brahm). The team's website also shows the away and three goalkeeper shirts. … Future USL team Nashville SC has one of those explanations of the elements of its crest, except you can't see all of it here (from Josh Hinton). The guy standing in front of it is pro wrestler Eric Young. … Also from Josh: An Arsenal fan at yesterday's game at Bournemouth was wearing a mashup of this season's home shirt, last season's away shirt, and the team's 90s-era crest. … The NOB of Sevilla's Danish center-back Simon Kjær has what Charlie Eldred calls "AshOB," as in the name of the letter "æ." … English second-tier women's team Millwall Lionesses have a rare advertiser-free kit, except for the maker's mark.

Grab Bag: The NLL's Rochester Knighthawks wore teal alternates at home, creating a color-on-color matchup with the New England Black Wolves (from Wade Heidt). … The chair umpires at the Australian Open tennis tourney now have motorized seats (from Blake Fox). … Several new paint schemes for NHRA Funny Car driver Matt Hagan (from David Firestone). … Reader Preston Salisbury sent us a view of British Airways' 1984-1997 livery. … New brown berets for the U.S. Air Force.