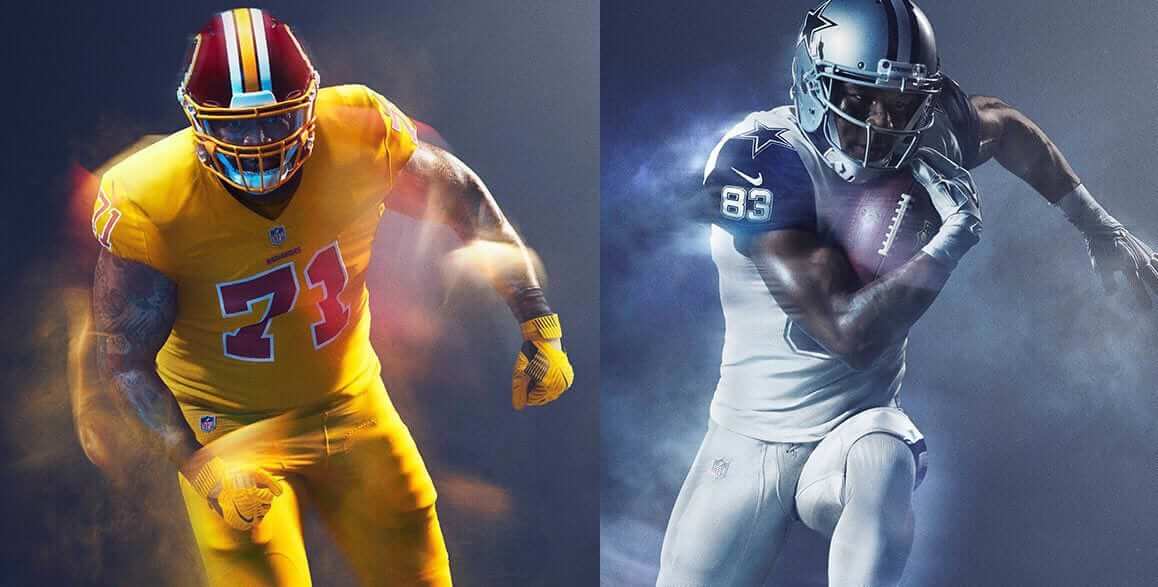 The Cowboys will be wearing their mono-white Thursday-night uniforms for tomorrow's game against Washington. But what with the 'Skins be wearing?
That's the question that began spreading around uni-verse yesterday, as it became increasingly apparent that some sort of Color Rash drama was unfolding.
Some quick background: Washington has never had to wear the Rash. Their only Thursday game last year was on Thanksgiving (which wasn't a Rash game), and they opted out the year before that, when the Rash was optional. Team brass has never liked the Rash. Back in March, they even tried to enact a Rash opt-out bylaw, citing "Garish uniforms" as the reason, but the proposal didn't have enough support to pass.
That would appear to be that. But word began spreading yesterday that the team was pushing back against the idea of wearing the mono-yellow unis this Thursday. J.P. Finlay, who covers the team for NBC Sports, had this to say:
Here's what I know about Thursday's color rush, from multiple sources, NFL wants #Redskins to wear them. Members of #Redskins front office do not.

— JP Finlay (@JPFinlayNBCS) November 28, 2017
When Washington coach Jay Gruden held his regular Tuesday press conference yesterday, Washington Post reporter Dan Steinberg asked Gruden about the uniforms. It didn't go over well (click on image after the tweet to enlarge):
Jay Gruden 1) doesn't know if the Skins will wear Color Rush uniforms on Thursday 2) made fun of me for driving to Ashburn to ask him that

— Dan Steinberg (@dcsportsbog) November 28, 2017

Steinberg later clarified that Gruden was just fucking with him, but the issue remains: Will the team wear the Rash or not? What if the league says, "Yes, you will," but the team decides to disobey? Would there be fines? Would the officials get orders from the league to prevent the team from playing?
Just this morning, Steinberg posted this article. Here are the key bits:
A team spokesman has said for weeks that he doesn't know what the team will wear Thursday night; he repeated that message on Tuesday. An NFL spokesman referred all Redskins uniform questions back to the team.

…

[P]layers were actually discussing this very issue when reporters entered the team's locker room [on Tuesday], with one starter asking another whether it was true that the team would wear all-burgundy uniforms against the Cowboys. I don't want to dabble in fake news, and clearly there was no confirmation to be had in the locker room, but here's what I learned:

• One player said he had been told that the team would not be introducing any new pieces of clothing Thursday. Since the team has never worn the gold tops [that were shown in promo images], this would imply that any monochromatic outfit would either be all-white or all-burgundy.

• Another player said that players who wear Nike cleats had already been given burgundy cleats for the game and added that he was expecting the team to wear all-burgundy.

• A third starter, asked directly what the team would be wearing Thursday night, answered that it would be all-burgundy.

• But three other starters professed ignorance. A fourth other starter, asked what the team would be wearing Thursday night, said, "That's what I'm trying to figure out myself."
It's a lot of potential intrigue, although I think we all know the likely outcome: The team will just go ahead and wear the Rash. But we'll find out soon enough.
Meanwhile, speaking of the Rash, it's spreading to the Chargers this Sunday.
Update: A few minutes after I posted this entry, former Washington tight end Chris Cooley, who co-hosts a sports talk radio show in DC, tweeted this:
As of now… color rush for Redskins will be burgundy on burgundy.

— Chris Cooley (@thecooleyzone) November 29, 2017
(My thanks to Phil for his contributions to this section.)
• • • • •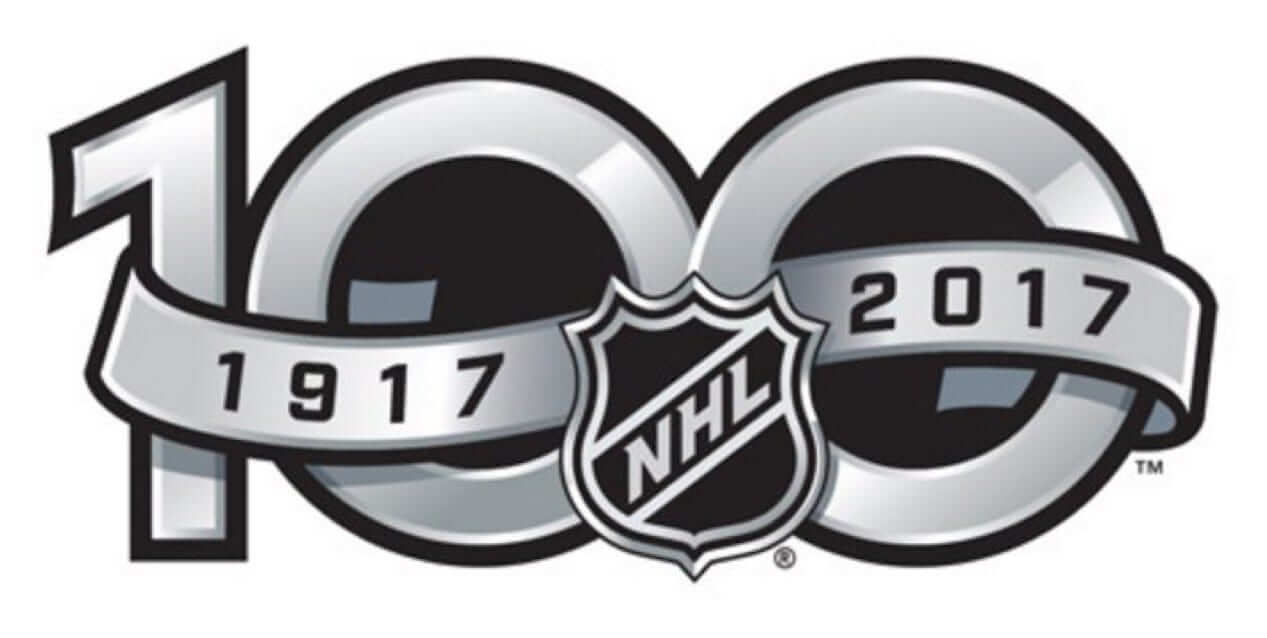 NHL uni vote: With the NHL winding down the celebration of its centennial, the league has come up with an interactive website that lets fans vote on the 100 greatest uniforms in NHL history.
Basically, the league has chosen 100 uniforms, and you get to rank them via a series of knockout votes. The rankings are based on the best "winning percentages" from the voting. Of course, you might not necessarily agree with their choices for the 100 nominees. SportsLogos.net honcho Chris Creamer, who worked on this project with the league, gave me this explainer:
We chose 100 uniforms to put into a pool. We tried to do a set amount for each team depending on how many seasons the team played — we aimed for four uniforms for each Original Six club, three for the Second Six, etc., picking the best or most unique uniforms each team wore to give as much representation across the board as possible.

We also tried to pick at least one design from every season in league history. You can see the full list of 100 uniforms/teams by clicking on the "Gallery" link in the top-right area. This will also give you the photo galleries and historical write-ups.
And there you have it. Happy voting!
• • • • •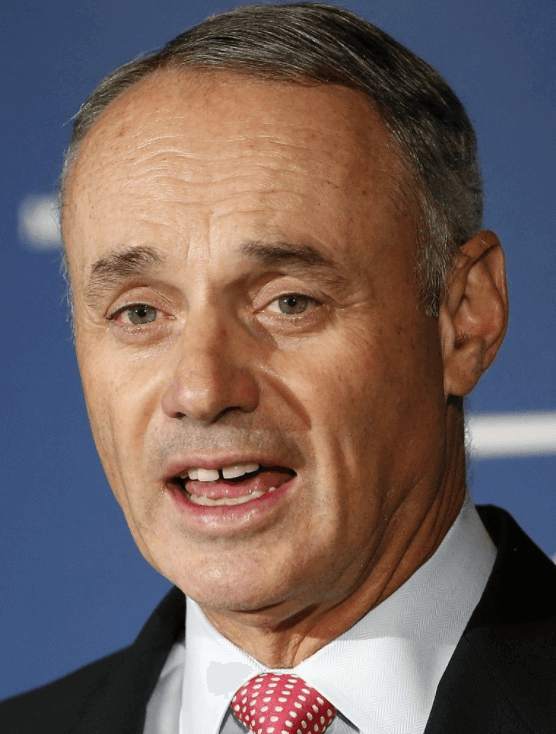 MLB uni ads update: MLB commish Rob Manfred (right) appeared on radio talker Mike Francesa's show on Monday, and their discussion briefly turned to a subject of great concern (if you want to hear the audio, go here and skip to the 28:15 mark):
Mike Francesa: Are we going to see advertising on player uniforms?

Rob Manfred: You know, we're gonna have in 2019, for the first time, the Under Armour logo will actually be on the front of the uniform, as opposed to the sleeve. That's a big change for baseball. We're gonna work through that change before you see any other changes in that area. I'm not sure that we're headed in that direction.

Francesa: We're not looking like race car drivers, though, anytime soon, right?

Manfred: No. I think you can put your head on your pillow and sleep easy on that.

Francesa: I mean, for me it's hard enough for these teams to have extra uniforms. When they have 27 different uniforms that they're selling, that's enough, you know?
This is consistent with what Manfred has said in the past about uniform ads. Basically, he won't rule it out but he doesn't even want to talk about it until they get through the Under Armour transition.
It's a fabulously slippery position to take, because it allows everyone to project their predisposed notions onto the situation. If you expect the worst, you can say, "He's totally gonna go for uniform ads in the early 2020s." If you're more of an optimist, you can say, "No plans in the works, no trial balloons being floated — we're good."
(My thanks to @mike3783 for the tip.)
• • • • •
The Cincinnati Bengals, Straight Out of the Kitchen
By Alex Hider
I grew up in Cincinnati as a Browns fan, but uni-watching knows no rivalry. The other day I stumbled across this recent article, written by my wonderful colleagues at local ABC affiliate WCPO (disclaimer: I work for E.W. Scripps, WCPO's parent company).
As many know, the current Bengals weren't Cincinnati's first pro football team. The original Cincinnati Bengals played in a few different pro and semi-pro leagues from 1937-1941. For whatever reason, I was always under the impression that the original Bengals drew inspiration for their name from the Cincinnati Zoo's rare collection of Bengal tigers.
But according to a 1987 interview with Hal Pennington, who coached the original pre-NFL Bengals franchise, "The Jungle" got its start in the kitchen:
I looked at my mother's old range, and right on the range there was a picture of a big tiger with his teeth snarling and everything. But right underneath it, it said "BENGAL."
Fascinating! So that's how the original Bengals got their name. (The piece goes on to mention that Floyd, Wells & Co., a Pennsylvania company that produced stoves, held the trademark to "Bengal" at the time.) The NFL Bengals then based their name on the original team's name.
So, if you're looking for a gift for the Bengals fan in your life this holiday season, hop on over to eBay and search on "Bengal stove." There are a few available for purchase now.
• • • • •
Culinary Corner: For Thanksgiving, which the Tugboat Captain and I spent upstate at her brother's house, I decided to make a really wonderful dish that I learned from my mom: scalloped potatoes. Of course, mashed potatoes would be a more traditional Thanksgiving option, but someone else was already making that, and I figure you can never have too many potatoes, so there you go. Here's how to make this excellent dish:
1. Get yourself three or four medium to large-ish potatoes. The waxy varieties are better if you can get them, but standard baking potatoes are fine if that's all you can get. Peel them and then use a mandoline or other slicer to slice them very, very thin — almost paper-thin.
2. Working in concentric circles, arrange the potato slices in a 9.5-inch pie dish or other round or oval baking dish. After you've made one layer of slices, sprinkle the layer with salt, pepper, and some chopped garlic (for all of these photos, you can click to enlarge):
3. Add a new layer of slices on top of the first one, and then continue adding layers, sprinkling every second or third layer with additional salt, pepper, and garlic. Continue until you've done about six or seven layers, or until the dish is mostly full, or until you've run out of potatoes.
Here's a side view of how the finished layers look:
4. Pour 1/3 cup of heavy cream over the layered potatoes. Wait a few seconds to allow the cream to settle into the layers and then add another 1/3 to 1/2 cup. Tilt the pan back and forth a bit, if necessary, to ensure that the cream is evenly distributed. Then dot the top surface with butter:
One nice thing about using a glass pie plate is that you can see how the cream is distributed along the bottom:
5. Bake the potatoes in a 325º oven for about 90 minutes (but check on them after an hour or so, just to make sure they're not burning). They're done when the top is golden brown. I went ahead and made three batches for Thanksgiving, including one in a big cast iron skillet:
Doesn't that look good? Trust me, it is. And everyone at our Thanksgiving dinner agreed.
As long as we're talking about Thanksgiving: A few weeks ago I mentioned that I'd spatchcocked a chicken (i.e., removed its backbone, which allows for faster and more even cooking), which prompted several of you to ask if spatchcocking would also work on a turkey. As it turned out, the Tugboat Captain's brother Peter spatchcocked our Thanksgiving bird, with excellent results:
There's one more Thanksgiving-related cooking project I want to share with you, but I'll save that one for tomorrow.
• • • • •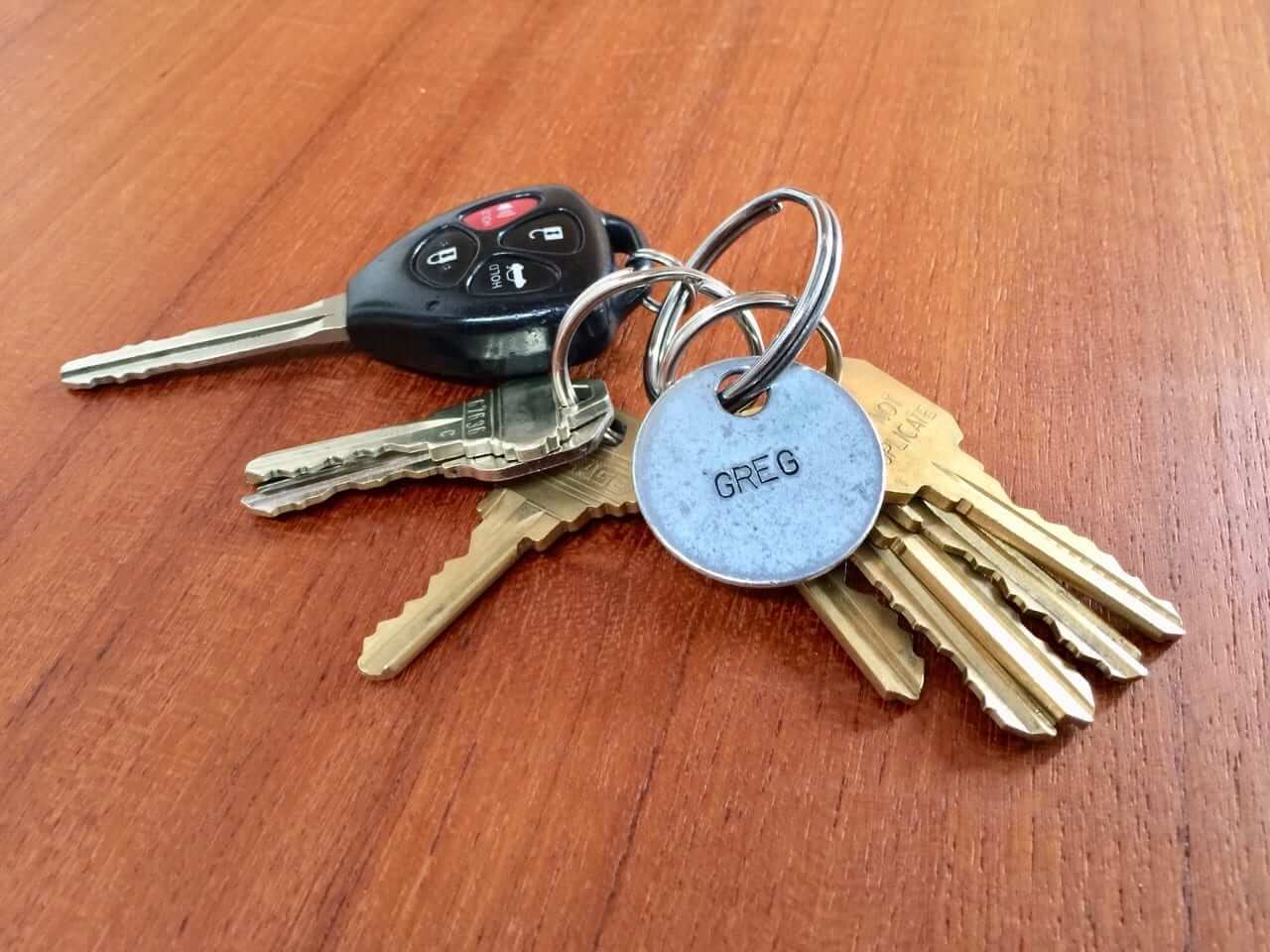 Click to enlarge
KRC update: The latest installment of Key Ring Chronicles is a very short but very sweet item about a name tag. Check it out here.
• • • • •
The Ticker
By Alex Hider

Baseball News: Here's a good look at one of the new BP caps … The Indians shared a photo on their Instagram page of a 2001 ceremony that honored the top 100 players in team history — a photo that has quite a variety of unis throughout team history (from @History_Cle). … New 80th-anniversary uniforms for the Fukuoka SoftBank Hawks.

NFL News: Lots of teams unveiled the "cleats for a cause" shoes that players will be wearing this weekend, including the Bills, Bears, Broncos, Browns, Colts, Cowboys, Jaguars, Jets, Raiders, Seahawks and Washington. Even Bill Belichick is playing along. More photos of cleats here. (from David Goodfriend and Brinke).

College Football News: Georgia will wear white on Saturday in the SEC Championship game, meaning Auburn will be in blue (from Phil). … Here's a ranking of all the uni combinations Syracuse wore this season (from Bryan Prouse). … Ohio State will wear white for the Big Ten championship game.

Hockey News: The Blackhawks wore purple warmups on Monday for Hockey Fights Cancer night. The Golden Knights did the same thing last night (from Ken Traisman and Robert Hayes, respectively). … Some of the new NHL retail jerseys come with a tag that can be scanned by a smartphone for exclusive content. According to Ryan Feuerstein, the league is using old logos on the smartphone app.

Basketball News: The Trail Blazers will wear their red alts for the first time on Thursday (from Phil). … According to Seth Horowtiz, Knicks PF Kyle O'Quinn played the first eight minutes of Monday's game with his jersey untucked without being called for a violation. He was then taken out, and later returned with his jersey tucked. … The University of Akron went GFGS last night (from @Steve_424).

Soccer News: FIFA is reportedly struggling to find advertisers ahead of the World Cup, thanks to the governing body's scandalous reputation. … Whenever one of Real Madrid's players gets injured, they continue to train in a pool with a buoyancy suit. The man who developed those suits has quite the story. … Torino will honor the victims of the Chapecoense plane crash by wearing green uniforms for this weekend's match against Atalanta (from The Boot Room).

Grab Bag: Diamondback Beer, a brewery in Baltimore, is releasing a beer named after sportscaster and Maryland native Scott Van Pelt (from Andrew Cosentino). … Ivan Zaytsev a volleyball player for Italian club Sir Safety Conad Perugia, took the court recently with a temporary tattoo advertisement and could face disciplinary action. … Knoxville Christian School in Tennessee is using a lightly modified version of the Royals' logo (from Derek Brownlee). … New jersey advertiser for the New South Wales Rugby League team (from E.P. Conrad).