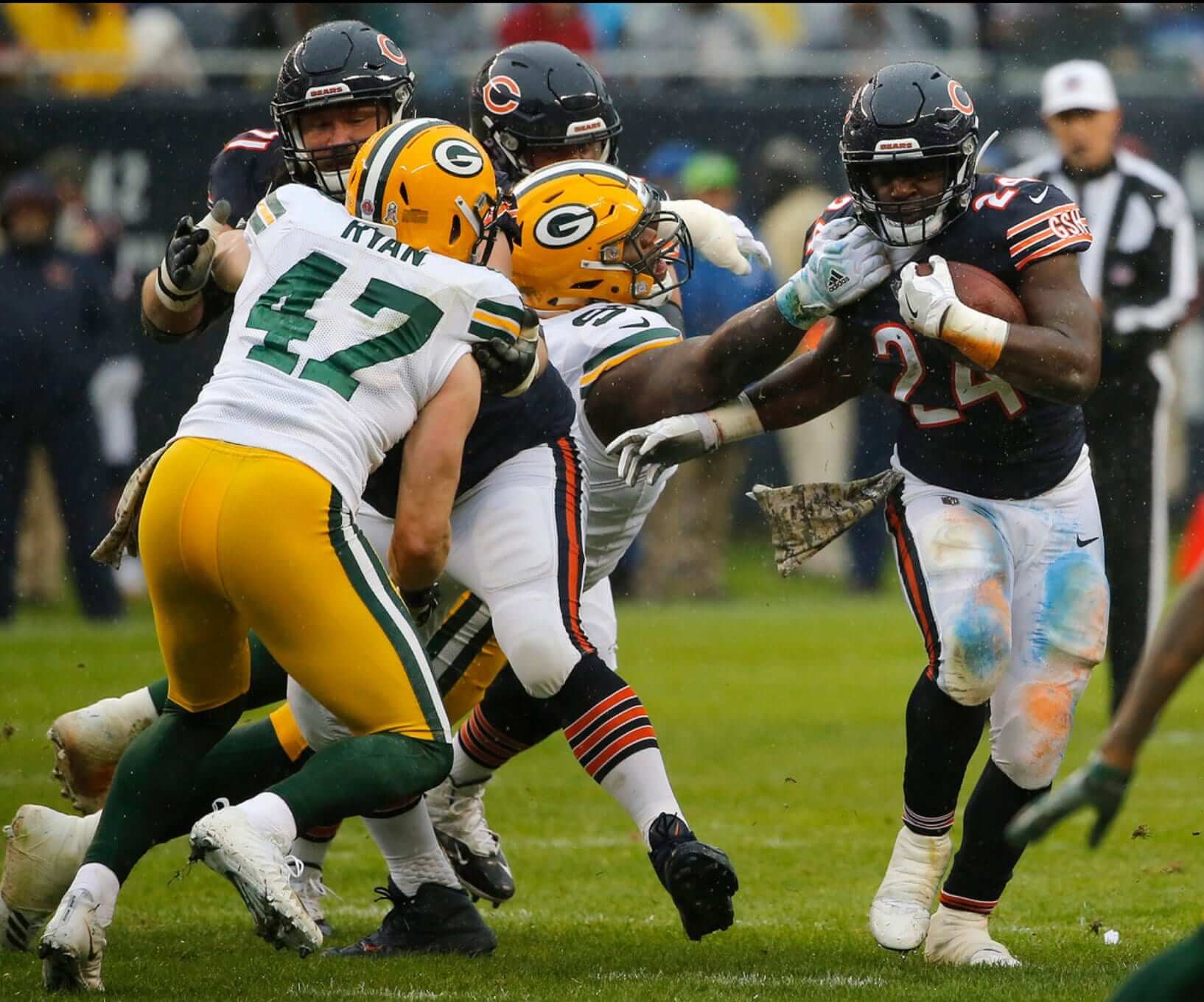 Click to enlarge
Some weird Technicolor action in yesterday's Bears/Packers game, as Chicago running back Jordan Howard ended up with a lot of field paint on his pants (see above). Bears wide receiver Josh Bellamy suffered a similar fate when he caught a touchdown pass and ended up wearing a goodly portion of the NFL logo on his back:
.@mtrubisky10 goes DEEP to Josh Bellamy!

It's a 46-yard @chicagobears TD! #DaBears pic.twitter.com/Mi2DikwN13

— NFL (@NFL) November 12, 2017
In other notes from a fairly uni-uneventful day around the league:
• The Chargers and Jags went mono-black vs. mono-white (the latter of which appears to be the Chargers' preferred road look these days):
• Brutal-looking game in Tennessee, as the Titans wore mono-navy while hosting the Bengals:
• Here's a weird one: After Browns wideout Kenny Britt scored a touchdown against the Lions, it looks like punter Britton Colquitt, who's the holder for extra points, took Britt's helmet right off of his head and then ran onto the field for the PAT try. Check it out:
Did Britton Colquitt just steal Kenny Britt's helmet for when he had to hold the extra point? #Browns @Reflog_18 @UniWatch @PhilHecken pic.twitter.com/noArgEqF0U

— Kevin J. Chmura (@KJChmura) November 12, 2017
• Newly acquired Patriots tight end Martellus Bennett, who signed with the team just a few days ago, was wearing last year's jersey template with the full, non-truncated collar striping:
Bennett had previously played with the Pats last season before signing with the Packers, being waived, and ending up back in New England. I wonder if they just gave him one of his own jerseys that they had laying around from last year.
• I don't usually get too hung up about TV networks using an out-of-date logo in a graphic, or showing a file photo of a player in last year's template, but this is pretty funny: NBC ran a graphic showing Saints running back Mark Ingram wearing last year's template and teammate Alvin Kamara wearing this year's (click to enlarge).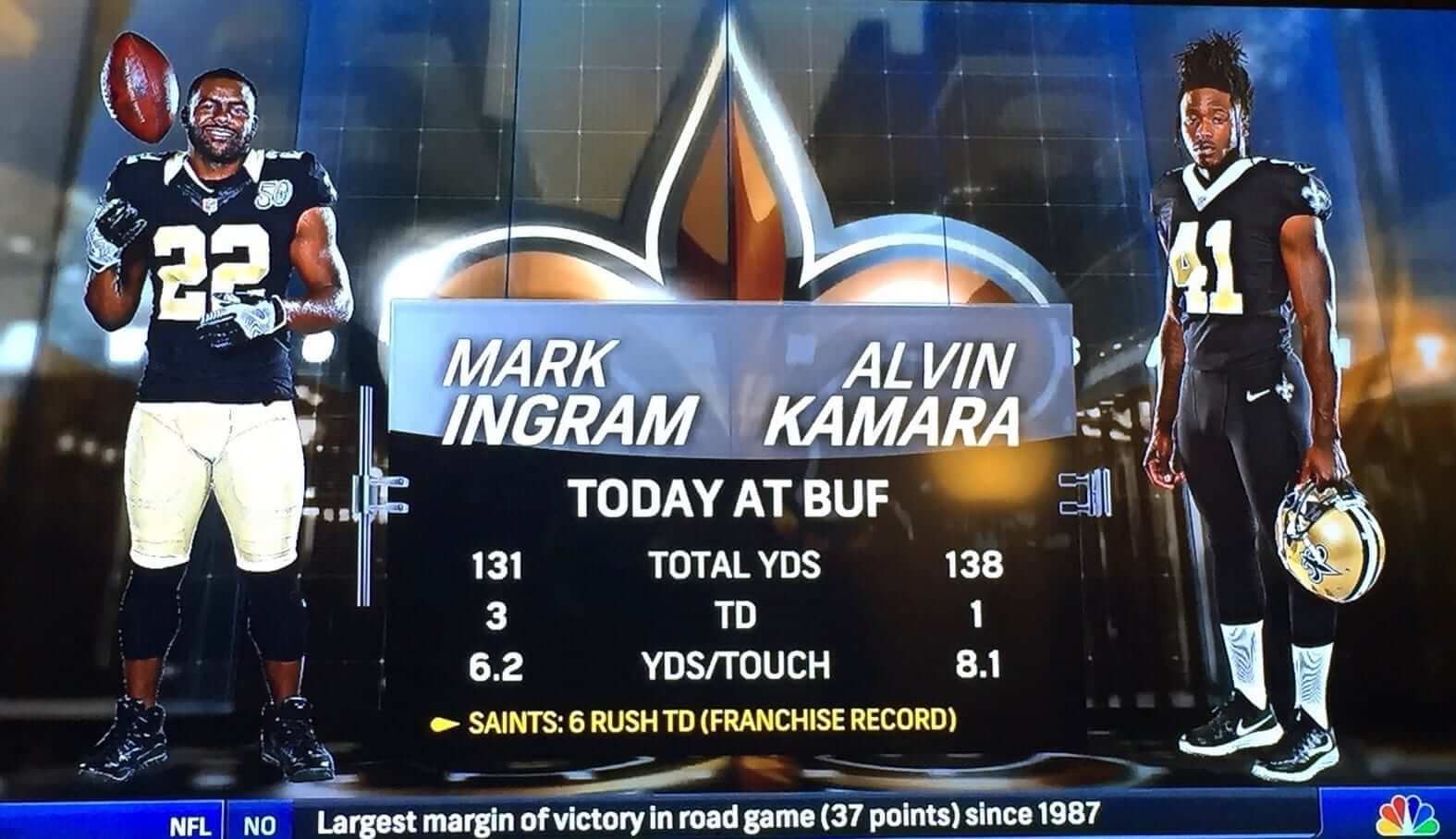 • Only one team wore white at home: the Rams.
• The number of players protesting during the national anthem dropped significantly yesterday, apparently because of Veterans Day.
(My thanks to Jeff Ash, Kevin Chmura, Andrew Kneipher, and Stephen Ratz for their contributions to this section.)
• • • • •
NBA Uni Tracking
By Collin Wright
It was a pretty big week in terms of traditional matchups with the home team in white, with easily the highest percentage of games with that matchup of any week so far this year. Here are the numbers:
[table id=35 /]
Some additional observations:
• The Kings finally wore their white uniform this past week, so now every team has worn their basic white and colored uniforms at least once.
• Interestingly enough, the Kings went 2-0 in the whites, then wore purple on Saturday against the Knicks and promptly lost.
• The Cavs wore their white uniform in back-to-back games, becoming the final team to wear the same uniform in consecutive games.
• The Pistons have worn their white uniform in ten consecutive games, surpassing the Kings (purple, nine games) for longest streak of games played in the same uniform.
• The Heat have not worn their standard black uniform since debuting their throwback set on November 1st. They've worn the throwbacks five times and the white set twice over the past seven games.
(Collin Wright's NBA tracking updates appear each Monday. In addition, reader Brian Sanford has put together a site in which he lists and ranks each game's color matchup.)
• • • • •
Naming Wrongs update: We have a bunch of new Naming Wrongs designs for you today. One at a time:
Cap Centre: Got lots of requests for this one from DC fans, and I love the design treatments that Scott M.X. Turner has come up with. It's available in red, grey, blue, and white: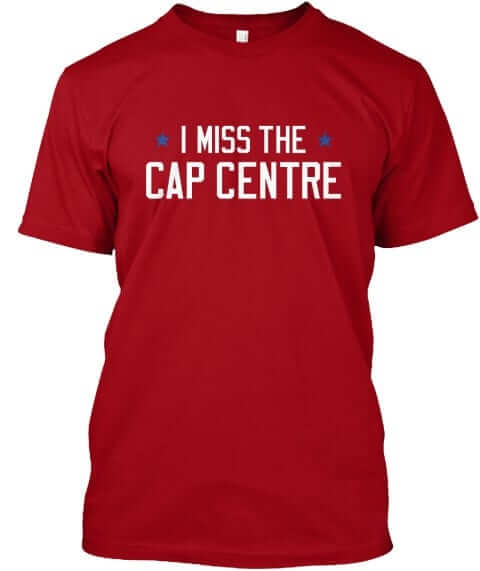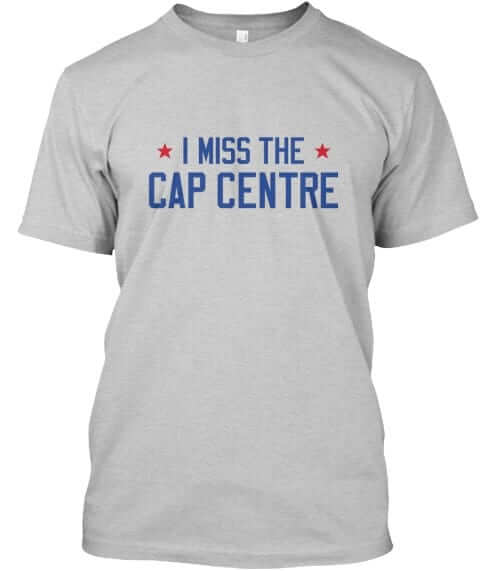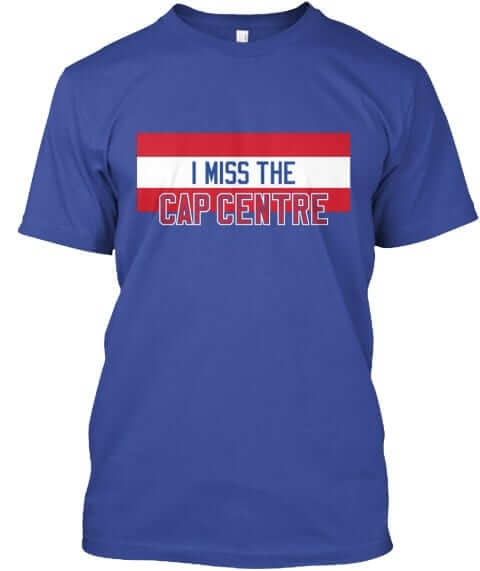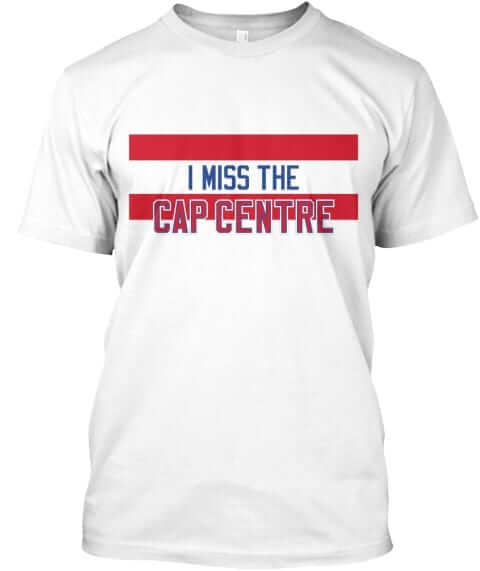 Market Square Arena: Indiana fans have been asking for this one. It's available in blue and yellow: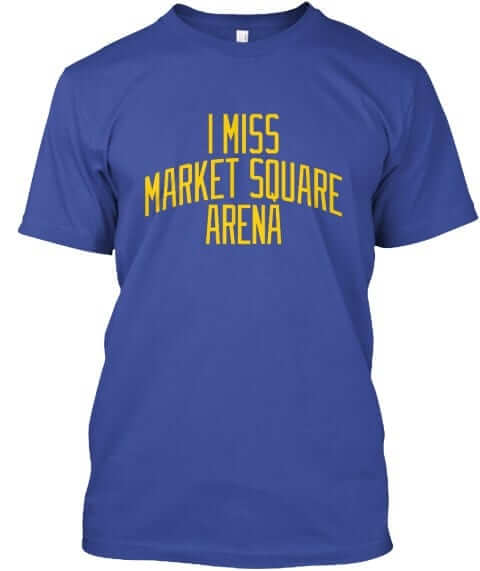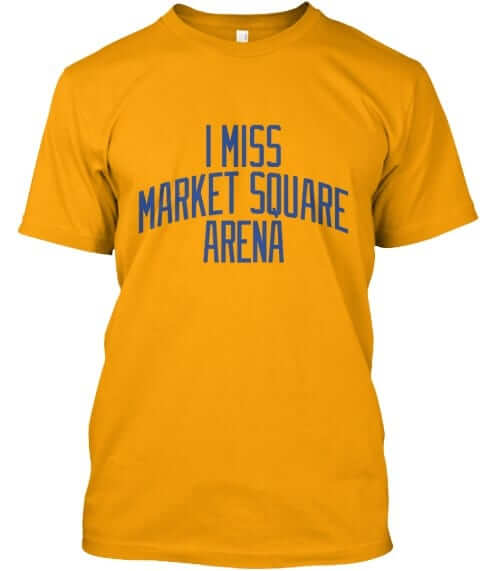 Freedom Hall: With college hoops season underway, I wanted to make this one available for Louisville fans. It's available in black, red, and grey: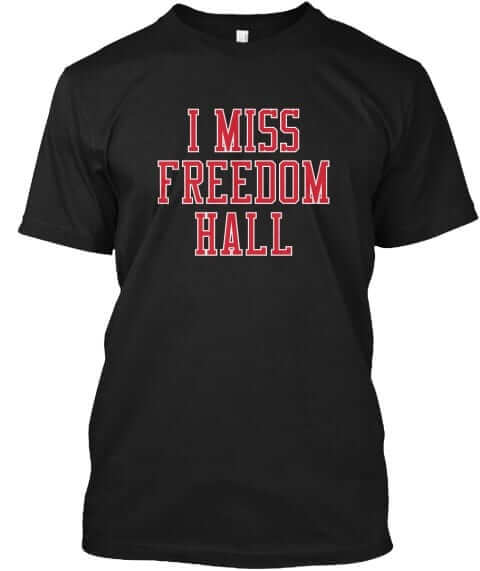 Raleigh Entertainment & Sports Arena: The nice thing about this one is that the colors work equally well for NC State and for the Hurricanes. It's available in black, red, and grey: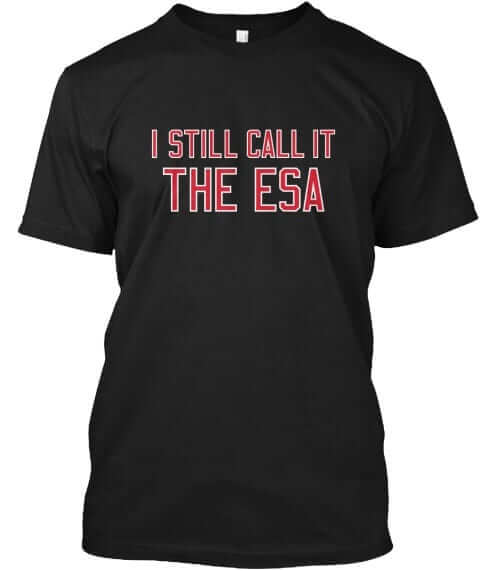 Ivor Wynne Stadium: We've had some requests for shirts based on CFL stadiums, so we're trying a few of those, beginning with this one, which is available in black, gold, and grey: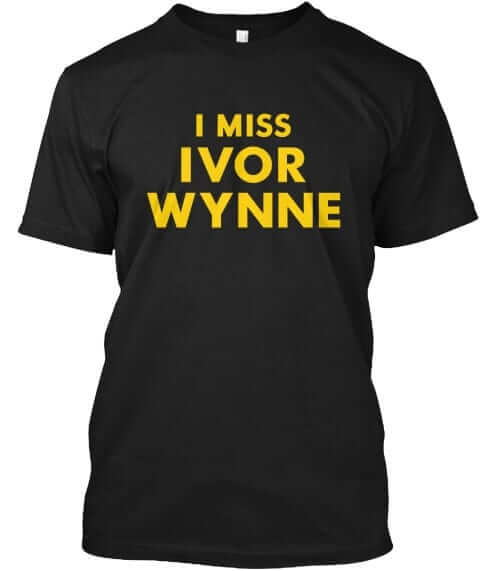 Commonwealth Stadium: Another CFL design. When I posted this one on Twitter yesterday, some fans said the stadium is still called Commonwealth, but that's not entirely true. Anyway, the shirt is available in green, gold, and grey: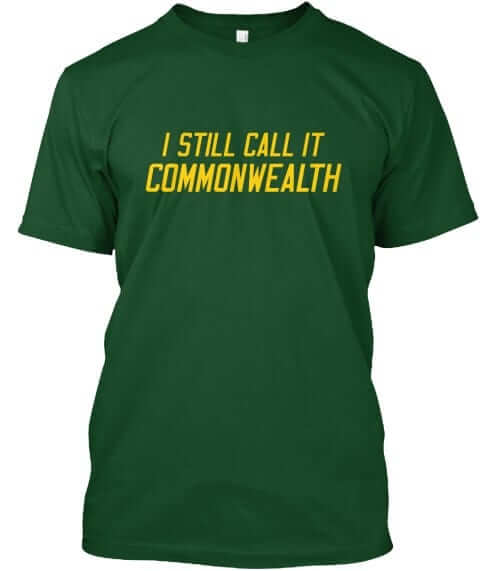 All of these designs are now available in the Naming Wrongs shop. They're also cross-listed in the Uni Watch shop, where card-carrying members can get 15% off. (If you're a member and need the discount code, send me a note and I'll hook you up.) My thanks, as always, for your consideration.
• • • • •
Mini-helmet reminder: In case you missed it on Friday, the Uni Watch mini-helmet (shown at right) is now available for ordering. Full info here, or just go straight to the ordering page.
Also, we have a new T-shirt, designed by Rob Ullman. Full details here, or go straight to the ordering page. The design is also available as a coffee mug.
My thanks, as always, for your consideration.
• • • • •
Culinary Corner: I don't often cook a whole chicken, mainly because I don't much care about white meat. I usually just buy a pack of thighs and cook those. If those ag scientists were really on the ball, they'd bio-engineer an all-dark-meat bird already.
Occasionally, though, there'll be a brisk, chilly day when roasting a whole chicken seems like just the right comfort-food move. This past Friday was one of those days, so the Tugboat Captain and I bought a bird and decided to spatchcock it.
For the uninitiated, spactchcocking is a preparation method that entails removing the bird's backbone (and sometimes the breastbone as well, although I don't think that's necessary). This allows the chicken to lay flat in the roasting pan, which in turn allows it to cook faster and more evenly. It's basically the same as butterflying, although it's way more fun to say, "spatchcocking."
If you have poultry shears, use them. But I don't have poultry shears, and I can attest that a good chef's knife works fine. You start cutting on one side of the tail and cut along the backbone, all the way down toward the neck, and then repeat the process on the other side. Unfortunately, I didn't document the process until I'd already finished the cutting, but here's how our chicken looked all flattened out in the pan and slathered with butter, garlic, and herbs (click to enlarge):
While the chicken was cooking, we prepared some green beans. We also used the chicken's backbone and giblets to make a quick stock, which we then used to make some rice, all of which turned out quite nicely (click to enlarge):
One more time, just 'cause it's fun to say: spatchcocking.
• • • • •
The Ticker
By Jamie Rathjen

Baseball News: Reader Ray Hund sent us this view of a Dodgers vendor from 1958 at the Los Angeles Coliseum. Note the "LA" within the baseball on the logo. Has anyone ever seen that version of the team's logo before?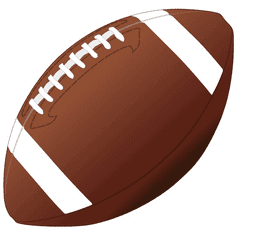 Football News: Several observations from Saturday: Alabama DB Hootie Jones's red hair dye bled onto his uniform (from Chris Perrenot). … Boise State DE Durrant Miles was missing one of the digits from his helmet number (from @bsuorangecrush). … In the same game, Colorado State was wearing state flag-themed uniforms, but QB Nick Stevens's play-calling wristband was still green (from @BackAftaThis). … James Madison had a total of six rear-helmet decals (from Jon Solomonson). … Ohio State will wear alternates against Michigan on Nov. 25 (from multiple readers). … Speaking of Michigan, coach Jim Harbaugh marked the anniversary of the sinking of the SS Edmund Fitzgerald in Lake Superior on Nov. 10, 1975 — the subject of the famous Gordon Lightfoot song — with two of his players' NOBs, (from Teddy Tran and Don Lehman).


Hockey News: The Swift Current Broncos (WHL) wore Remembrance Day uniforms on Saturday, but in somewhat of a departure from the "military appreciation" tropes, the uniforms were dark grey with red and white trim (and a poppy, of course). The team usually wears blue and green. Submitter Wade Heidt says the uniforms made Swift Current look a lot like their rivals, fellow Saskatchewan WHL team the Moose Jaw Warriors. … Two items from Mike Chamernik: The rink used by the Rangers from 1991 to 2013 was recently sold at auction. … Ever wanted to see Jaromír Jágr peanut butter? That's just one of the weird things kept in the Hockey Hall of Fame.

NBA News: The latest ripped NBA jersey comes from Pacers F Thad Young (from Robert Hayes). … Thunder G Russell Westbrook was initially wearing orange shoes yesterday, but changed to black after he shot poorly in the first half (from Kyle Key). … Update on that last item: According to this article, Westbrook routinely changes his entire uniform during halftime of every game (from Timothy Pontzer).

Soccer News: A German supermarket made a Borussia Dortmund-themed stadium display entirely out of cartons of beer, complete with a miniature Europa League trophy (from @dgmllkn). … From the ACC soccer championship: Wake Forest's gold shirts have white numbers which are nearly invisible from anywhere except close up. … Northern Ireland and Heart of Midlothian striker Kyle Lafferty has spoken out against soccer's relationship with bookmakers in the UK. Gambling addiction affects pro athletes in the country, including Lafferty, at a higher rate than the rest of the population, yet bookmakers remain common shirt or naming-rights advertisers. … The USWNT played a pair of friendlies with Canada, wearing white once and red once, while each time Canada wore the other of the two colors. This created two identical-looking white-on-red matchups, as last month's WNT opponents South Korea also did. … The end of each quarter of San Diego Sockers games has a different advertiser. So you have the "Adidas end of the first quarter," the "LA Fitness halftime," and so on. … Between the start of the 1984 European Championship and the end of 1997, the Romanian national team played 146 games with 48 different kit combinations (from Denis Hurley).

Grab Bag: Several participants in this weekend's rugby union internationals, including England, Scotland, Wales, Australia, South Africa, and New Zealand, wore poppy sleeve patches. Besides the usual ceremonies, Wales set aside 16 empty seats for the 16 Welsh rugby internationals killed in World Wars I and II. … Wales also has a new change kit with a new jersey advertiser (from Jacob Allaman).