[Editor's Note: Greetings from Virginia's Eastern Shore, where I'm currently enjoying a mini-vacation. More on that later. Today we have a guest entry from Ticker intern Jamie Rathjen — his first main entry for the site. One reason I hired Jamie is that he's very strong on a sport that's one of my big weaknesses: soccer. He's done a nice job with this piece. Enjoy. — PL]
The Scottish soccer team Celtic embraced an unusual tradition from their founding in 1888 until 1994: The backs of their shirts were completely blank except for the familiar green and white hoop stripes. There were no numbers or NOBs (the latter of which would not become common in soccer anyway until the early 1990s).
The club's website notes that the first time Celtic used numbers at all, at a time when every other Scottish team had been wearing them on their shirts for about 10 years, was in a friendly against Dutch side Sparta Rotterdam on May 14, 1960. But those numbers were on the shorts, which is where they remained for the next 34 years, in an oversized and rounded font, always on the left front and right back:
An exception to the no-numbers-on-back style occurred in European competition after 1975, when organizers UEFA first required black numbers on the back of the shirt. In such instances, the same kit was worn, just with the black numbers added, resulting in two sets of numbers being visible from behind, as seen in this example from 1988:
Here's a better look at one of those jerseys, with numerals added per UEFA regulations:
To the present day, Celtic's first-choice shirts are still slightly different for European competition in that most of the back of the shirt becomes a plain white square. This is to comply with a more recent UEFA regulation requiring the numbers be placed on a solid color, but the white square first appeared in the mid-1990s and has grown over time. Here's the team's European kit for this season as an example (click to enlarge):
Celtic's alternate kits at first did not have rear-shirt numbers during the 1960-1994 period, as they had used the same change shirts since 1955 and initially placed numbers on the shorts as with the first-choice kit. A mid-season change of alternative kit in 1965 saw green shirts with numbers-on-back worn at home (in Scotland, the home team changed if there was a kit clash until the end of the 1980-81 season) against Queen's Park in the Scottish Cup on March 11, 1965:
Future alternative shirts continued to carry numbers-on-back, as seen on this yellow example from 1990.
The team's goalkeeper shirts did not have numbers-on-back for a much longer period, but YouTube footage of Celtic's Old Firm rivalry with Rangers reveals that goalkeeper numbers-on-back appeared sporadically beginning in 1980 and regularly starting in 1984. Again, this seems to have been precipitated by a change in goalkeeper kit: Past shirts had been plain yellow or burgundy, while the first regular numbers-on-back kit was grey with green sleeves, shorts and socks. As makers' marks, club crests, and shirt advertisements became more commonplace throughout soccer in the 1970s and '80s, the front of Celtic's shirts became more crowded, while the back remained pristine.
The numbers-on-shorts era finally ended at the beginning of the 1994-95 season. According to the Historical Football Kits site, a referee claimed to have been confused by the numberless shirts, causing him to issue a yellow card to the wrong player. After being directed to add numbers to the shirts, the club complied, but did so with small black numerals high up on each sleeve, much in the same position as hockey TV numbers, while maintaining the numbers on the front of the shorts, like so:
The Scottish Football Association finally had to specify that the numbers needed to be on the back of the shirt. The numbers eventually appeared there a few games into 1994-95 season, although they were green, perhaps so as to blend in as much as possible with the green hoops (click to enlarge):
The green numbers-on-back arrangement persisted until the 1998-99 season, when the numbers became black and the team added NOBs for the first time.
This season, the numbers, along with the rest of trim on the kit, are gold for domestic competition, to honor the 50th anniversary of the 1966-67 team that won the European Cup (now the Champions League). As the kit is so steeped in history, it may be fitting that it uses gold on green and white. This unintentionally evokes the old no-numbers-on-back appearance, as the gold numbers are illegible from a distance (click to enlarge):
• • • • •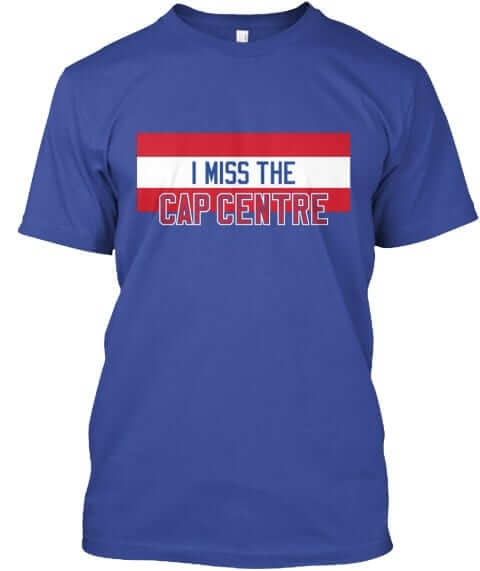 Assorted reminders: In case you missed it yesterday, we have a bunch of new Naming Wrongs shirts (including the very cool Cap Centre design shown at right). Check them out here.
We also have a new Uni Watch T-shirt, designed by Rob Ullman. Full details here, or go straight to the ordering page. The design is also available in a modified version, as a coffee mug.
In addition, the Uni Watch mini-helmet is now available for ordering. Full info here, or just go straight to the ordering page.
• • • • •
The Ticker
By Alex Hider

Baseball News: The Single-A Frederick Keys will have a 30th-season logo next year, which is based on the Orioles' 60th-anniversary logo from 2014 (from Mark Johnson). … In this blog post, the author describes how his fandom for the Astros began because they had the "coolest uniforms" (from John Chapman).

NFL News: The Chargers will be going mono-navy on Sunday (from Brock Jackson). … Keith Winney found this 1986 NFL VHS board game he played as a kid. "The game is in pristine condition because it was so terrible and I never played," he said.

College Football News: Cincinnati will be going white on black with black helmets and white facemasks this weekend against East Carolina (from Brian Spiess). … Virginia Tech will go white/maroon/white against Pitt on Saturday (from Andrew Cosentino). … Navy is promoting an on-campus Thanksgiving celebration by putting a bib on its mascot, Billy. They'll even give away "Billy's bib" to the first 250 students at the feast (from Alex Toltzis). … Yesterday's entry mentioned that Akron DB Shawn Featherstone lost his helmet decal in the Zips' win over Ohio. Steve Schneider sent along a screenshot of Featherstone's decal hanging on by a thread earlier in the game. … Clips from Emu's Pink Windmill Kids, an '80s Australian kids show, has become a meme of sorts on the internet. In one video, Dan Baglio spotted a kid wearing an SMU football uniform.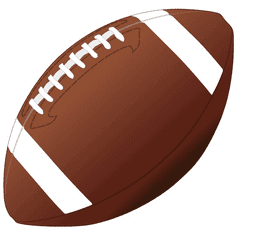 Canadian Football News:  The NHL's Calgary Flames did their best impression of the hometown Stampeders, as the CFL playoffs begin this weekend (from Jeff Ingalls). … Miles Filbert sends along some photos of some 1960s Winnipeg Blue Bomber collectibles.

Hockey News: The Cincinnati Cyclones will wear three different jerseys in one game on Jan. 27 — jerseys representing the sweaters worn by the Mighty Ducks in the movie trilogy (from Jeffrey). … ICYMI from the CFL section: The Calgary Flames did their best impression of the crosstown CFL team, the Stampeders, as the Stampeders begin their playoff run this weekend (from Jeff Ingalls).

NBA News:  The Hornets wore their '90s throwbacks last night (from Eric H and Ryan Maquiñana). … It was comic book night at the Pelicans game on Wednesday, and C DeMarcus Cousin gave away some signed comic book-themed posters on Twitter (from Chris Edwards). … The Celtics and Nets went color-on-color on Tuesday (from Israel Zwick). … After that Celtics/Nets game, Boston PG Kyrie Irving gave his jersey and shoes to military personnel in attendance (from Brinke).

College Hoops News: Marist has new road uniforms this season. … Indiana G Devonte Green lost his shoe during play last night, and still ended up recording a steal while holding his shoe in the other hand (from Kenny Ocker). … Players for NCAA D-II Pittsburg State wore "Equality" shirts during warmups last night (from Matt Newbery). … Not everyone his happy with the abbreviations ESPN is using on its new scorebug (from Josh Hinton).

Grab Bag: This company is selling cycling shoes that look like classic Nike basketball shoes (from Ted Taylor). … Mario Rini sent along this photo of a 1950s UCLA megaphone .
• • • • •
Happy birthday to our own Brinke Guthrie. May all your eBay searches turn up cool stuff, buddy!